We finally dragged ourselves out of Patzcuaro. That was an easy place to spend a couple of weeks. From there we drove north, navigating around Morelia, to a middle of nowhere in particular place. A guy recently opened up an RV park near Cuitzeo, and was happy to have us stop by, even offering us a free week. Turned out however, that the road in was way too steep for our little 318 V8. So instead he pointed us just down the road to a balneario. 
These are all over the place in Mexico—water parks usually consisting of three or four swimming pools and maybe a water slide or two. As with most businesses down here, they are perfectly willing to let you boondock for a small fee. The pool here was fed by a hot spring and was actually about ten degrees too hot, but the kids didn't complain. The next morning when we went in again, before they opened up the spring, it was perfect. And hey, the view over the lake and of the nighttime lightning storm was pretty great too.
Next stop, SMA.
I've been avoiding San Miguel de Allende for years because I've heard nothing about it except how many gringos have moved there. Twenty percent of the population, or some such craziness. On our VW trip we were essentially right down the road, yet we drove right past it. I've just been in no mood to give the place a chance.
I changed my mind a bit when I heard there was a campground right in town. Any time there is a campground in town where you can just walk out the door and be in the middle of things I get excited. It's a small place, so right before leaving I shot them an e-mail just to confirm that they had space. They replied back and told us we were too long. Not because the park is too small, but because the roads in town are so narrow. Experience had shown them that twenty-six feet was the absolute maximum around one particular turn—we're twenty-eight with our bumper. So with that option out we were left with the only other place, three miles out of town. My mood, which had been softening, was right back to disliking the place before we even arrived.
When we pulled into the RV park I knew for certain that I hated San Miguel. Nothing more than a small parking lot behind an empty hotel, yet inexplicably it was the most expensive RV park in all of Mexico. They actually charged us an extra 150 pesos for our kids. In the States, this wouldn't surprise me much, but in Mexico, where children are revered, I couldn't believe it. Yep, San Miguel sucks.
This morning we hopped the bus to town. I was still pretty sure I hated the place. Then we got off the bus and started walking up Hidalgo toward the center of town. After about three blocks I was thinking, okay, maybe it's not as bad as I thought. We hung out in a couple of the smaller plazas, then wandered over to the cathedral through absolutely gorgeous colorful colonial streets. And then there it was, the Parroquia de San Miguel Arcángel—also known as the big pink church. Wow, this place could almost convert a heathen like me on the whole religion thing.
It really is a beautiful town, and man, I know all the gringos go back north because summer is on its way up there, but right now has to be one of the best times of the year as far as weather goes here in Mexico. It's perfect—low 80s with big puffy white clouds against the thin-air blue sky.
So, okay, I get it now. San Miguel doesn't suck at all—I take that back.
This here is the most expensive RV park we've ever found ourselves in Mexico. Nice.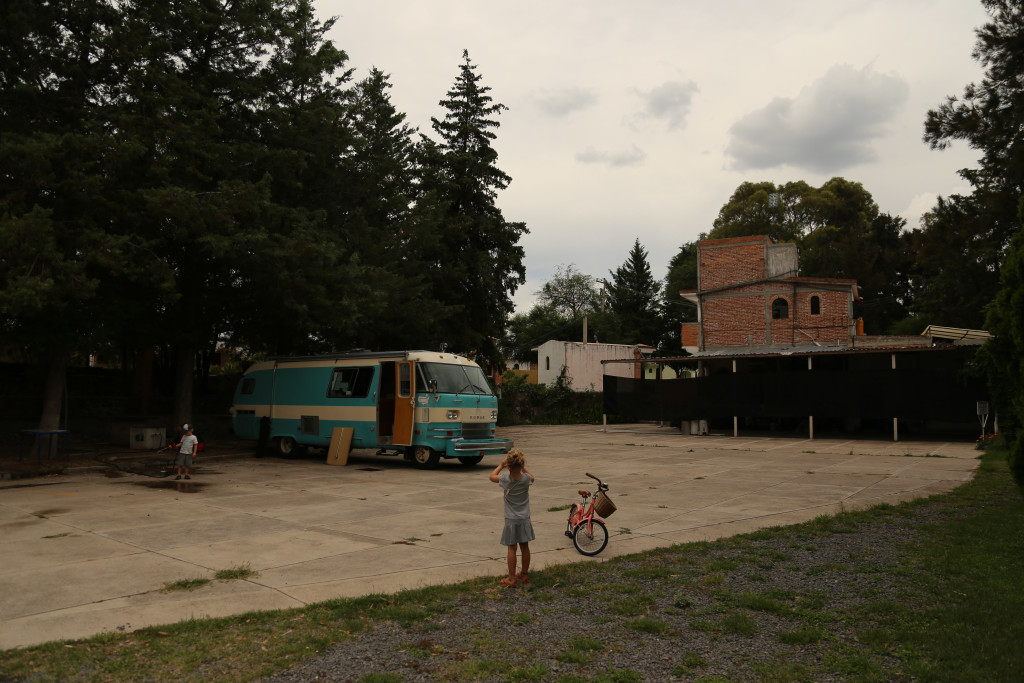 Our table finally gave in to the forty or fifty pound weights that seem to be constantly clambering over it. I cut it down another inch and reattached the rail. We really need to stop in somewhere and have a hardwood table cut for us.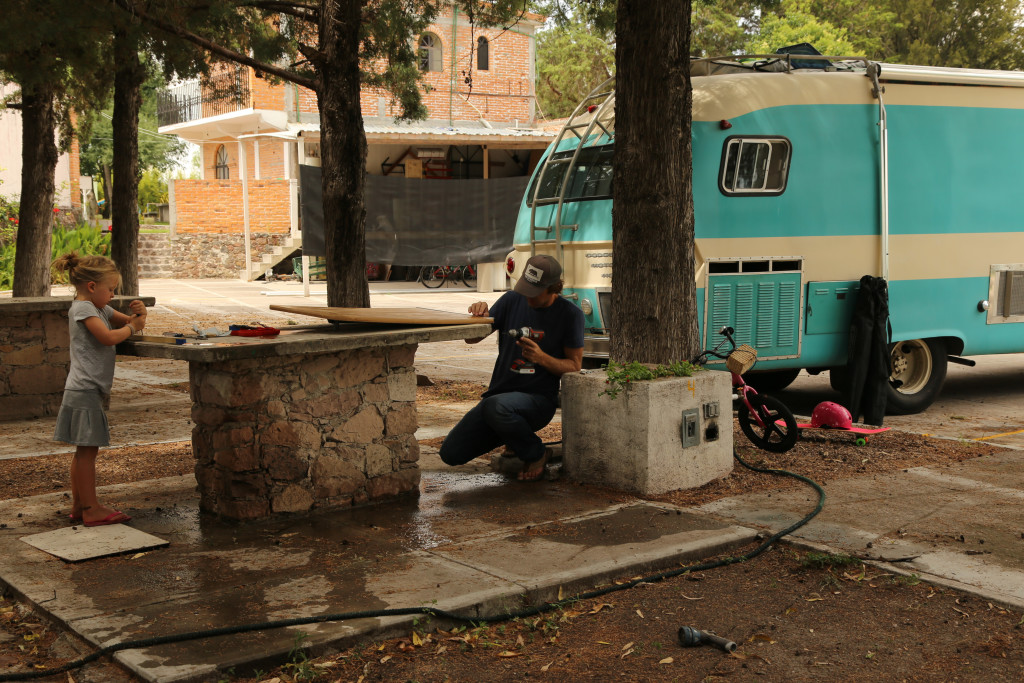 Everybody working.
A day in San Miguel de Allende.