december 2 2003 : bimini, bahamas
It's hard to believe we are in to December. It is amazing what a difference a year makes. Last year we would have been getting ready to have Ali's parents, older sister (Toni) and our niece (Lea) and nephew (Curtis) down to visit us in Chicago this weekend. We took Lea on her first ice skating trip to the outdoor rink on Michigan Avenue. This year we are going to miss them a lot, but we are getting into a whole new kind of holiday season atmosphere this year. Just about every day we say, "Can you believe we should be doing Christmas shopping?"
We have been pinned down here in Nixon's Harbor, South Bimini, for the last four days. The winds have been blowing steady at 20 knots. It's no big deal, but once again we are getting antsy to move on. This time however, we are sitting tight until calmer weather appears. Besides, sitting in a virtually empty bay, reading books, listening to music, and soaking up the sun isn't such a bad thing.
We had one of our two laptops die on us this week. It is a brand new Compaq, and it just stopped charging. It still worked fine until the battery died, and now there is no way to charge it. You plug in the power cord and nothing happens. I don't know why this couldn't have happened a week earlier while we were still in Miami and it would have been relatively painless to get it taken care of, but what can you do.
We did get the other engine tuned up and ready to go. We got the whole thing done in just over an hour with no oil explosions. I figure we'll have it down to a half hour soon. We have also taken to having our daily meal at around three o'clock and calling it "lunner." Today our feast included a can of chicken with wild rice soup and tuna fish sandwiches. The twist for the meal today way toasting the sandwiches in the George Foreman grill. I know, I know, you are probably all thinking, Why can't I cook fancy feasts like that? But don't despair, with a little practice you too can indulge in these culinary delights.
december 5 2003 : great harbor cay, berry islands, bahamas
All right, here is a recap of the last two days. Yesterday was a nice day, we woke up, had breakfast, made plans for leaving that night, and stopped a massive flood onboard the boat! We were sitting on the couch reading, meanwhile we were running the engines to charge the batteries, and running the watermaker. So it was pretty noisy on the boat. After about an hour of this I went to check the batteries amp meter to see if they were charged up. I walked down the steps and right into a big puddle. I turned and opened the door to the engine room and found it was ankle deep in water. We scrambled to find the source of all this water and quickly found it was the outdoor water hose. The hose runs out through the engine room to the back transom for washing up with freshwater after swimming. It seems the hose somehow came undone from the spray nozzle and water was just gushing out of it.
So to make a long story short, the boat didn't sink. We spent the next few hours drying out. I also realized that we were running low on diesel. So now we had to go to the marina a couple miles away to fill up the tanks before we headed out that night. We went to the marina around 4 o'clock and filled up. Then we asked if they would mind if we hung out there until 10 o'clock when we planned to leave for the Berry Islands. "No problem man." We had dinner at the marina restaurant. Then when walking back to the boat we noticed they had restrooms with showers for marina guests. Remember, we had been on the boat for five days because of the crappy weather, and showering on the boat isn't quite the same as having unlimited hot water on land. So we snuck in there after dark and took the best shower in weeks.
At ten we left for Great Harbor Cay. This trip was roughly twice as far as coming over to Bimini from Florida. The weather had been brutal for the last five days and Friday wasn't supposed to be that much better, but the winds were predicted at 10-15 knots from the south, which sounded pretty good to us. We raised the sails as we left the marina but the winds were only blowing about 7 knots. We needed to average a minimum of 5 knots to make it into Great Harbor Cay before dark the next night. So we fired up the engines and motorsailed. For about an hour. Then the wind died completely. It was unbelievable that it could blow like crazy for a week and then give up right when we needed it. So we motored on through the night with the sails down. It was a great night though, with nearly a full moon lighting everything up for us. There also wasn't all the big ship traffic that there was in the Gulf Stream.
We ended up motoring the entire trip; 17 hours and the engines never overheated. It was a pretty uneventful trip over until I decided to throw a couple of fishing lines out. Ali started right in with the smart-ass comments like, "Do you want me to start the grill now?" And, "I put out the fish fry and put the tartar sauce on the table." So when I had a fish hit the lure and jump out of the water ten minutes later she had to eat those words.
I lost that fish, but a couple hours later both lines got hit at the same time. Now keep in mind that I really don't know anything about saltwater fishing. So I reel the first one in and he's got these huge teeth on him. I didn't know what the heck it was, but I knew it wasn't tuna. (Turns out it was barracuda, I got out my book to check.) I'm pinning him down with a leather glove on and trying to free the hook while Ali's yelling, "He's dead isn't he?" I finally got the hook out and released him. Alive.

I wasn't really interested in cleaning fish today, especially when it had bigger teeth than me. We successfully released the other one as well. So I count that as a pretty successful passage, sailing or not. Though we are starting to wonder if we will ever get any use out of these sails. For now we have a new island to explore. Oh, tonight's culinary treasure was a can of chili and a couple hot dogs with no bread, so I don't think you can call it chili dogs.
december 9 2003 : great harbor cay
Well here we sit at Great Harbor Cay. Right now we are anchored about 100 yards out from a tiny little strip of beach on a deserted little island. The weather has been calming down the last couple of days and today the wind finally shifted to the east, southeast. We have been getting nothing but north winds for the last 2 weeks and today you could definitely feel the change in the air temperature. It was nice.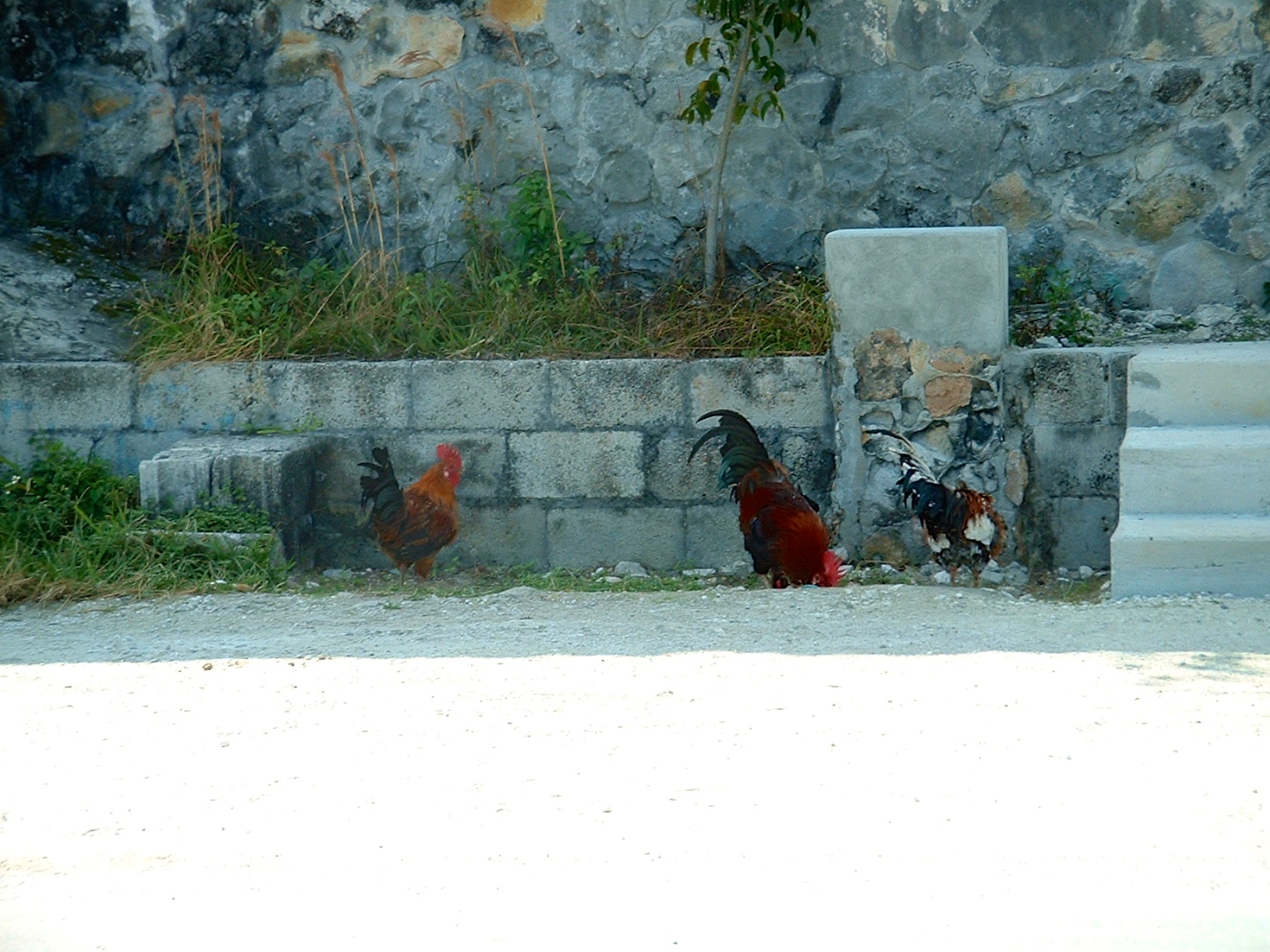 That of course prompted us to load up the dinghy with Coronas and snacks and head in to our own private beach for a hard earned day, well maybe not too hard earned, of rest and relaxation. The first couple of days that we got here we anchored inside the harbor, which we later found out we weren't supposed to be doing. But hey, it was windy and wavy anchored outside, and inside was like glass. Luckily nobody bothered us. Probably because the island is like a ghost town. They have this marina with like 70 slips and there was only one boat in it. I guess these places won't get busy until around March. Which is fine by me, as it means there won't be many boats around my own personal islands.

We walked around the town the other day, and it's funny, in the guidebook it will list a restaurant to get good chicken at, and when you get there you find out it is a shack about the size of a toll booth. Anyway, Bullocks Harbor, which is the name of the town, is tiny. We walked it in about 15 minutes on Sunday. Unfortunately, nothing was open, as everyone was at church. We also had to search high and low for a working phone and finally found one on the side of a shack in a little park so we could call my family. We had gotten some bad news by email the day before. My uncle Maynard had passed away on Thursday. It's one of those things that you think about when you leave on a trip like this. You hope that nothing bad will happen, and that things will be the same when you get back. We both felt terrible not being able to be there to support my dad and be there for the funeral. I hope our family is able to pull together and get through this hard time.
december 12 2003 : fowl cay, berry islands, bahamas
We left Great Harbor Cay yesterday and headed south. We only went about 10 miles south but the trip was 22 miles. We had to do a lot of dodging around in the shallow water. The first 3 hours the water was between 4 and 6 feet the whole time. We love our shallow draft. Most boats would not have been able to make the same trip because of the depth. It's always a trip when you know there is only about a foot of water underneath your boat. Get's the heart pumping. We left in some crappy weather again. The wind was blowing out of the west about 20 knots. Not a big deal except when it came to finding a suitable anchorage. Since we were traveling along the west side of the islands we would have gotten hit by some big waves in any anchorage on that side.
So we looked at the charts and found this little island called Fowl Cay that we could sneak behind to get out of the wind. What a great choice. We pulled in here and the waves were tiny and the view was incredible. We are actually anchored in between about 6 islands. All very small and uninhabited. There is three perfect beaches right outside our boat. We had the whole place to ourselves yesterday. Then today, as we were loading our cooler into the dinghy to go explore the islands, not one but two boats came around the corner five minutes apart. So much for our private islands.

december 16 2003 : little harbor cay, berry islands, bahamas
We moved south yesterday to Little Harbor Cay. It was actually only four miles. We got ourselves all excited because the guidebook said that there was a restaurant called Flo's Conch Bar & Restaurant. We were talking about how we were going to eat there twice a day for a couple of days, and dreaming about having a hamburger. Well those dreams were shattered. After anchoring we headed ashore.
Flo's was a big pink building right on the shore. We went up to the door, and it was locked. We walked around back where there were giant white geese hissing at us, mangy dogs barking at us, and ducks honking at us, as well as quite a few chickens walking around. Unfortunately, no people.
We went back a few hours later. There were two guys there. I asked him if the restaurant was open, and he gave us the terrible news. "Cook's off." What about tomorrow? "She off fo da week." Ouch, no restaurant, our dreams were shattered. We talked to the guy for a few minutes. He told me that they had been gone all day bringing a part for the generator to the next island so that it could be sent on to Nassau to get fixed. He also told me that it was just these two guys and the cook that lived on this island. Interesting place to open a restaurant, huh? So we are just hanging out here for another day or two and then heading farther south.
december 17 2003 : bonds cay, berry islands, bahamas
A beautiful sunny day today. We decided to move a few more miles south. We are anchored off of Bonds Cay tonight, and tomorrow we will go to Frazer's Hog Cay. On our way over here today we caught another barracuda. This one was about 24″ long, a little bigger than the other ones. This one we kept and had for dinner. Excellent. We have been seriously craving something new to eat. This was the first time I ever filleted a fish this size and I'm sure I wasted a ton of good meat, but we still had more than enough. Before I even took this guy off the hook I poured a shot of vodka right down his throat. That was all it took to knock him out.

december 18 2003 : bonds cay
What a night. It is five a.m. and we are anxiously awaiting sunrise. Last night at about four o'clock we had a storm front roll through bringing a lot of rain. It passed in about 15 minutes. However, within the hour the wind shifted from the south to the NW and increased from a relatively calm 15 knots all the way up to 30 knots. We had tucked in pretty close to shore to stay out of the waves from the south wind and now were in danger of being pushed right into the rocks by this crazy NW blow. This all happened so fast that we hardly had time to think about our options.
By the time I looked at the chart searching for an alternative anchorage to hide from the wind, darkness had settled in. There was no safe anchorage to head to. We decided that we had to give ourselves some room from the rocks though. Ali went to the front of the boat to raise the anchor. You guys wouldn't believe this was the Ali you know. She looked like a sailor from a movie with huge waves blasting the front of the boat and sending the spray right over her. It was pretty wild. So we motored out a couple hundred yards farther from land and luckily got the anchor to bite on the first try. Like I said, now we are waiting for first light so we can get out of here.
december 20 2003 : nassau, new providence islands, bahamas
Well we escaped Bonds Cay without any mishaps. Not a good night of sleep though. By eleven we were on our way to Frazer's Hog Cay. We had a nice little trip over there and even got to sail for a while. We anchored there for two nights and it was so quiet and peaceful that we finally got caught up on our sleep. Of course the restaurant was closed there also. Our luck continues. PB&J for dinner.
This morning we left for Nassau. The wind was blowing 15-20 knots right on our stern, and we were flying with just the screecher sail. We hit 12.1 knots at one point! When we got into Nassau Harbor we called up East Bay Yacht Basin for a slip. It sounded like a nice place in the guidebook. I guess that guidebook is a little out dated. The place is a dive. In fact, the sign at the front door says, Closed for Renovation. Apparently they had no qualms about letting in a paying customer though. We decided to stick it out for the night and went walking around to try to find a better place to stay for the next two weeks. We went to all the marinas and not one of them had space. We were really starting to worry that we would be stuck here.
Then I decided to go back to the Yacht Haven. The guy there seemed really nice and I thought maybe with a little persuading he might find us a spot. We went back and begged, telling him we had family coming to visit, and what a huge favor he would be doing us. He told us to come back in an hour, he had to do some measuring. So we went upstairs to the Poop Deck Restaurant. It's a cool place, and they've had a ton of celebrities there who have signed menu's for them. For some reason they didn't ask for ours though. Oh well, we had our first non-home cooked meal in three weeks, and it was heaven. After that it was back downstairs to see what our good friend Dino could figure out for us. We walked in and he had a big gap toothed smile for us and told us to come on in tomorrow at eight.

december 24 2003 : nassau
Well we continue to enjoy being back in civilization. We have been eating out every day and keeping busy getting errands done. We spent $75 to mail our broken laptop back to the States. The same laptop that broke two days after we left Miami.
Yesterday we went to the mall. We took a local bus called a jitney. These things are great. There are hundreds of them so you never have to wait more than a minute, and they have the destinations written right on the front. Best of all they only cost $1. The mall was pretty much like any mall back home. And we even had time to catch a movie.
Ali and I had our picture taken with Santa Clause and quickly drew a crowd of giggling children. Unfortunately the pictures came out all blurry. I also bought a spear for spear fishing from the local dive shop at the marina. I can't wait to get out of the harbor so I can try it out. So be aware that you may be subjected to more pictures of me with fish. Other than that, we are pretty much just hanging out and waiting for Katy, Ali's sister, to show up on Saturday.

december 28 2003 : nassau
Our first visitor showed up yesterday. We picked Katy up at the airport and brought her back to the boat. She said the boat was huge. Seems she was pleasantly surprised by her accommodations; we'll see if she still thinks it's huge after two weeks. She also brought Christmas cookies and mail which was very exciting for us.
Today we went over to Paradise Island to the beach. After a couple hours the clouds rolled in so we decided to go to another movie. I know, it's not what you are supposed to be doing while in the Bahamas, but we have lots of time to show her what this cruising lifestyle is all about. Ali and I are bored of staying in the marina and are anxious to get out of here and get out adventuring again.


december 29 2003 : nassau
We had a busy day today. This morning we went downtown to do some shopping. After a while of that we stopped off at Hard Rock Café for a couple drinks. Then it was back to the boat to get changed to go to the beach. It was a little chilly at the beach again because of the breeze, so we snuck into the Atlantis Resort's pool area and laid out there. Wow, I guess that doesn't sound like such a busy day does it? Well, it was a nice day anyway.
I also got our propane tanks filled and went to the marine store to buy some more fishing tackle; all in preparation for leaving tomorrow morning. The weather is supposed to be perfect. So hopefully Katy's first sail won't be too crazy and she'll be able to enjoy it.

december 31 2003 : royal island, bahamas
New Year's Eve! We are usually very disappointed by all the hype of New Year's Eve followed by a less than exciting night. So it is nice to finally get to ring in the new year our own way, in a beautiful anchorage on our own boat and with Katy to boot. This is our kind of celebration.
Anyway, going back to yesterday. We left the marina in Nassau around eight am. When we first set out the wind was only blowing about 7 knots and we weren't making very good time. And on top of that it was cloudy. But after a couple hours the wind kicked up to 15 knots and we were cruising along nicely at about 6.5 knots in 2-3 foot seas. Katy handled it like a true sailor and didn't show any signs of seasickness. Then the sun came out and we had a really nice sail into Royal Island, arriving around three o'clock. This is the greatest anchorage we have been in yet. It feels like the boat is sitting in a parking lot. There isn't a wave to be found. Totally quiet solitude. Everyone is sleeping well, which is the true sign of a good anchorage.

Today we woke up to find a perfect blue sky and temps around 85. We lounged around, I took out my new spear for the first time, and we went exploring on the island. There are some ruins on the island. It looks like it might have been a resort at one time. Judging by some of the graffiti it looks like it has been abandoned for about 30 years. The buildings are still in pretty good shape though, and it was fun to walk around on the concrete paths running all over the island.

Another nice thing about this anchorage is that when you enter the harbor there is deep water on one end of it and the other side goes down to about 5 feet. Therefore we are able to anchor in the shallow side. And tonight when five boats all of the sudden showed up, they all had to squeeze into the other end where their deep draft boats could anchor.
Tomorrow we are heading over to Spanish Wells. It is only about six miles away. It sounds like a nice little town where we can hang out and explore for a couple days. After that we are hiring a guide to lead us through the Devil's Backbone. Our guidebook calls it one of the most notoriously nasty stretches of water in the Bahamas. But it is the only way for us to get over to Dunmore Town on Harbor Island which is supposed to have the most beautiful beaches in all of the Bahamas.
Socialize