july 1 2004 : pacific ocean crossing
This sucks. Our nice steady trade winds have abandoned us. We have eight knots of wind right now and are making very slow progress. The forecast for the next two days doesn't look any better. So what was looking like a very fast passage is starting to look a lot more average. We'll see I guess. One thing that hasn't let up at all is our fishing. Snagged ourselves another nice mahi mahi today.
Ali and I are having a little debate on who actually gets credit for catching the fish. She puts the lines out in the morning and has been the first to spot that we have a fish on the last three times. Meaning my only job has been to pull them in and beat them senseless with the billy club. Anyway, despite the fact that our only pictures of the fish are of me holding them up in the air triumphantly, it's really all Ali's doing.
Also, a friend of ours emailed me the other day and said to try putting a squirt of WD40 on the lure. I wasn't sure if he was just pulling my leg, but I tried it, and I'll be damned if that lure hasn't caught three fish in the last couple of days. Alright, I know you are probably sick to death of seeing pictures of me holding fish, but I don't care, it's my website. So here is another one.

july 2 2004 : pacific ocean crossing
A very slow day of sailing today, averaging just four knots in very light winds. Beautiful weather if you aren't trying to sail across the Pacific. We had a bird show up this afternoon that seemed to be looking for a place to land, but never did.

july 3 2004 : pacific ocean crossing
Yesterday we were pretty depressed after realizing we were too far away to be able to motor and the forecast was bleak with no wind for a couple of days. Then this morning the wind suddenly went from three knots to fifteen, and after pulling the mainsail up we were rocking along again. Our spirits soared. I sent an email for an updated forecast and we figured that we were going to find out that the trade winds had returned and were ready to carry us the rest of the way.
Then we got the new weather forecast. There are no winds at all predicted for the next three days. Essentially we are looking at being becalmed seven hundred miles from land. Right now the wind is still blowing ten knots and we are managing a pretty good speed. After it's gone I suppose we will be firing the engines up and hoping that they can get us through the next couple of days, after which we will need the wind to return again. It seems amazing that you can be out in the middle of the Pacific Ocean and have no wind and glassy seas. After that forecast came through I think we both sunk back into a mild depression. We are dying to get there at this point.
Today I was once again reminded how very little I know about boats. I was searching through a West Marine catalog for a winch cleaning and repair kit. As I was reading through it I realized that it kept referring to one or two-speed winches. Judging from the description, our winch didn't seem to fit the one-speed category, but the catalog was saying that the two-speed winch should crank in either direction. Counterclockwise at a 1:1 gear ratio, meaning for every turn of the winch handle the drum makes one revolution, and the other direction at a 6:1 ratio.
Intrigued, I went over to the winch and turned it clockwise. Sure enough it spun six to one. I have been raising the main by turning the winch handle six times more than I need to be. What a moron. No wonder I would be so exhausted by the time I got the main all the way up. In my own defense, the winches were both broken before I took them apart and I'm 90% sure that the two-speed cycle wasn't working before. Of course that just shows that I should have fixed them earlier. Anyway, I'm now looking forward to the next time I get to crank up the main.
We just remembered that one year ago today is when we first saw and ultimately bought Bumfuzzle. We flew down to Ft. Lauderdale to look at boats over the long holiday weekend. The 4th was on Friday last year so we flew down Thursday morning and figured we would also look at boats on Saturday. Instead we arrived at our brokers around 10 a.m., looked at a few boats, including Bumfuzzle and over lunch at the bar down the street we decided that this was the one we wanted. We went back to our broker after a two (maybe three) cocktail lunch and made our offer. Within an hour we had a deal, pending the inspection of course. We went back to the hotel and decided that was enough Florida humidity for us, so we changed our flights and were back in Chicago the next morning for the 4th of July.
july 4 2004 : pacific ocean crossing
Ali and I were having a good day today. She was busy making all sorts of junk food for us in the kitchen, and best of all, the forecast from yesterday was proving to be wrong. In fact under main and screecher we were making six knots in twelve knots of wind. We were sailing happily along when, BANG! we both jumped up and ran outside to find that the screecher had fallen and was dragging in the water.
A second later we realized that the bang was the screecher halyard exploding. The line snapped right in the middle of the mast, with the top of the line snagging somewhere inside as the sail was flailing about, halfway up to where it should have been.
We quickly dropped the mainsail and started hoisting the screecher sail out of the water and onto the deck. I then heard a really nice ripping noise before noticing that it was snagged on one of the cleats. This produced a foot long tear in the sail. Then we wrapped up as much of the sail as we could with sailties to keep the wind from filling it, which it was doing since the top half of the sail was still up in the air.
The next step was for Ali to haul me up the mast so I could unhook the sail and secure the remaining halyard. We did that without incident, though I was grateful the seas weren't any rougher than they were, and a half hour after the bang we were back underway. Unfortunately now having to use the jib instead of the screecher has slowed us down over a knot in these light winds.

july 5 2004 : pacific ocean crossing
We didn't even bother trying to motorsail today. The wind was non-existent. Instead we spent the entire day running the engines one after another. According to the forecast there is wind on the way south of us. In an effort to catch it we altered course and headed that direction. It's now five o'clock and we still haven't found any. We've only got 450 miles to go at this point. My best guess is that we have enough diesel to motor 300 of that if we need to.
Despite the lack of wind the weather has been really beautiful. Today was 90 degrees and sunny. The water temperature is even warmer than that. In fact it was so hot today that at one point we shut the engines down and I went for a swim with nothing underneath me for 10,000 feet. It's spooky swimming in water that deep but it is the clearest water I have ever seen, none of the miniature particles of sand and weeds that we are used to. It truly feels like you can see down thousands of feet into the beautiful blue abyss.

july 6 2004 : pacific ocean crossing
Man does this suck. It took us just 13 days to cover the first 2000 miles of this trip and it looks like it may take another 11 for the last 1000. We have 390 miles to go and the forecast looks terrible. Today we had 5 knots of wind from directly behind us all day. There is no way to sail in weather like that without the screecher.
At one point today we tried to rig something up to get the screecher going again. After an hour of messing around with that we gave up. The spare halyard that we tried to use is about 3 feet below the old halyard. So basically the sail just hung too low and couldn't fill up. It is beyond frustrating not being able to sail. We even started trying to motor into the squalls that we can see all around us. We were never able to get into one today despite the fact that they had us surrounded. And to top off the day I found out that my raw water pump is leaking again.
july 8 2004 : pacific ocean crossing
We finally got some wind again. Not a lot, but enough to get moving and shut down the engines. The wind is coming from directly behind us so we had to figure out a new way to set up the sails unless we wanted to tack way south and then back north again. We found that we could still sail wing-and-wing without the screecher by running the jib line out to a cleat on the side of the boat instead of through the normal blocks on the top of the cabin. This worked out surprisingly well and the boat sailed straight as an arrow. We ran through the night like that with ten knots of wind. Eventually the wind changed direction to the north allowing us to sail on a beam reach straight for the islands this morning.

Only 200 miles to go and we are feeling 100% better now that we are sailing again. We even caught a nice wahoo this morning within five minutes of putting out the line. So it looks like we should have a Saturday arrival in Hiva Oa making this a 23 day passage. Better than the 25 days we originally planned on, but worse than the 19 we were hoping for after the first two weeks.
july 9 2004 : pacific ocean crossing
It is now the middle of the night, and we're 160 miles from land. As if to play some cruel joke on us Mother Nature is doing everything she can to keep us from getting there. The wind started out yesterday morning out of the east, by noon it had clocked around to the north, and now it is directly out of the west. I took out the Pacific Pilot Chart, which is a month by month historical breakdown of expected winds, waves, and temperatures for every 5 degree square of the Pacific Ocean. According to the pilot chart we can expect west winds like these exactly zero percent of the time. ZERO!
Now because of the weather we had today we have waves bashing into us from at least three different directions and we have strong winds coming directly from our destination. All this is combining to make for some very slow, unpleasant motorsailing. Oh yeah, it's also pouring rain and there is a lightning storm thrown in for good measure. God this sucks.
Well we made almost no forward progress at all today. It's 9 p.m. and we are still 125 miles away. The wind was blasting away all day from the W-NW which of course is right where we need to go. Tacking our way there isn't working either because of the terrible condition of the seas. There is still a swell from the SE which runs into these waves from the west creating some really crappy, steep, choppy seas. To use the old cliché, it's like being in a washing machine.
So it looks like we spoke too soon yesterday by predicting landfall for tomorrow. The winds are supposed to die down but still be from the west so who knows if we'll make any more progress tomorrow. Sunday the normal trade winds are supposed to kick back in. Who would have guessed that this passage would turn out so crappy. It is feeling a lot like a repeat of our Galapagos crossing now. Ali pretty much summed it up today when she said, "There is no f@*%ing way I would ever do this crossing again." Potty mouthed sailor. Enough said.
july 10 2004 : pacific ocean crossing
After a few more storms throughout the night and early morning we are now in almost dead calm again. The sails are down and we are finally pointed in the direction we need to go with the engines chugging away. Both engines have a thirty gallon tank and this morning one of them finally started sputtering. We carry twenty gallons of diesel in jerry cans so I dumped five more in each. It looks like we are going to limp in with just a few gallons to spare.

july 11 2004 : hiva oa, marquesas, french polynesia
After twenty-four of the longest days of our lives we are officially in paradise. We motored all day and night to cover the last hundred miles, and when the sun came up this morning we had the islands in sight. We motored past rugged sheer cliffs with waterfalls that seemed to spring out of nowhere and shoot down the sides into the ocean below. Dolphins joined us and performed some jumps and something new we hadn't seen before. They hoisted their tails high in the air and then slapped them down making a big splash. They stuck with us for an hour and then we cruised right through a big group of blue footed boobies, which we hadn't expected to see here.

With just a mile to go the skies opened up and dropped sheets of rain on us, as if to say, "You're not getting in that easy." We came around the corner into the bay where we found four other boats tucked in. The cruising guide, which is written by a monohuller, said it is a terrible anchorage because it is so rolly. I tell you, I can't understand why they even build monohulls any more. The monos in the anchorage were swinging back and forth like pendulums, while those of us on the catamaran sat there nice and steady.
Of course leave it to us to sail 3100 miles only to arrive on a Sunday. We can't check in and therefore can't go ashore until tomorrow. Which is okay, we'll get the boat cleaned up and go to bed really early tonight.
Pulling in today was sort of weird, almost anticlimactic. We weren't really excited, just happy to have the hook down again. Maybe it just hasn't settled in yet. We recorded the mileage every twelve hours and gave a quick recap of what had occurred during that time. Pacific Ocean Passage Log

july 12 2004 : hiva oa
Paradise! Where? To say that we were a little disappointed with our first day in the Marquesas would be a huge understatement. On our passage over here there were a couple of things that we were really looking forward to. Number one was getting something to eat at a restaurant. Preferably pizza, but really anything would do as long as we weren't the ones cooking it. The number two thing we were looking forward to was updating the website and letting everyone know we made it. So here is how our day went.
This morning we woke up to more rain. Hard rain, like you can't see 100 yards in front of you sort of rain. Around nine o'clock I left to go check us in at the Gendarmerie office. The cruising guide said it was about a one km walk to the town of Atuona from the anchorage. Well unless it takes 45 minutes to walk one km it is farther than that. I get to the Gendarmerie and find the door locked. After a minute he pulls up in his truck and after trying to figure out what we are saying to each other I offer him my French/English dictionary. He looks up a couple words and tells me to come back tomorrow morning. So an hour and a half after I left I return to the boat. Ali is busy cleaning every inch of the inside so I figure I should probably do my part and scrub the outside. The stuff that manages to grow on a boat even while it is sailing is amazing.
Around one o'clock we walked back into town. First stop the bank. Unfortunately the ATM is inside and they were closed. They are supposed to open again at 1:30 so we sit around and wait. Around two I finally go into the Air Tahiti office next door to ask her if she knows when they will be coming back. She says they are closed today and tomorrow but will open on Wednesday. She says it is a holiday but she doesn't know which one. She says it is a new holiday, whatever that means. Well we know that Bastille Day is on Wednesday so we doubt they will be open then either. So we decide to check out the grocery store.
At the grocery store we ask them if they will take U.S. dollars and she says they will give us an exchange rate of 80 CFPs to $1. Well I think the exchange rate is somewhere closer to 120 so we decide just to grab a couple of sandwiches and croissants. I will admit that the bread here is incredible.
Next stop was to get some beers and something to eat. We walked down the main street and found the two "snack" shops already closed for the day. We walk farther up to one of the pensions (hotels) who's sign said they serve lunch and dinner. Sorry they aren't serving any food right now. With no place in Atuona to eat, we order a couple of beers. Now as we are trying to pay our tab, with no local currency and not wanting to use our U.S. dollars at a crappy exchange rate, we pull out a credit card which they proudly proclaimed to accept. They tell us they don't know how to use the credit card machine. So we end up paying in dollars after all. Cost: $16 for four beers.

We had accomplished nothing the entire day. Oh, and it had been raining the entire day as well. And we had asked a girl about internet and she said they have it at the post office but that we wouldn't be able to use our own computer. Things are not looking good. Maybe when the sun comes out our moods will change and things will start to look a little better.
In the mean time Ali is making us canned tuna fish sandwiches and mashed potatoes. Our food situation onboard is dire. We are out of everything. We had expected a lot better selection in Panama and found nothing. Then again in the Galapagos there was nothing. Now here there isn't much of a selection either. Right now we have one can of soup left from our Florida stock up. We are out of granola bars, which is our normal breakfast. We have no snacks left- no chips, crackers, sunflower seeds, peanuts, no nothin'. For dinner we have tuna, we have a few cans of vegetables, some pasta but no pasta sauce, and some rice. Not what you would call a well balanced diet at this point. We are hoping and praying for big things in Tahiti where they are supposed to have big supermarkets. But again, that is at least six weeks away.
Anyway, this isn't meant to make you say "Oh, poor Ali and Pat" it's just for us to vent our frustration a little bit. After 24 days at sea you tend to have high hopes for your landfall. Apparently our hopes were a little too high. Bring on the sun!
A lot of people have asked us for our thoughts on what it was like to make a twenty-four day passage. What do you do all day? How do you sleep? Things like that. So here are our thoughts.
It was boring. Long, tedious, monotonous. Those are the best words I can think of to describe it. Basically, looking back on it, there isn't much to say about it.
The first two weeks were perfect sailing. We didn't have to do anything. We enjoyed the sun, read about a dozen books each, played a whole lot of cards, and thumbed through a big stack of magazines we had been saving since Panama just for this trip. The most exciting times of the day were when we would check email and when we would update the passage log and see how many miles we had covered in the previous twelve hours.
The last ten days of the trip we were plagued with bad weather. Not scary, rough sea type of weather, just crappy weather that you can't sail steadily in. We spent the days making constant sail changes and adjustments, trying to keep sailing at a decent speed and going in the right direction. Meanwhile we kept playing cards and reading. Occasionally the boredom would be broken by dolphins or catching a fish, but that excitement would be over in twenty minutes and then we were back to doing the same thing again. We need a new hobby. Maybe I could knit an afghan.
I think a lot of cruisers won't ever make a crossing like this because of fear. Fear of being at sea for that long. Probably fear of bad weather and rough seas. But based on our experience, there is no reason not to make the trip across other than boredom.
With all that said though, there is still a very real sense of accomplishment. A sense that we have just completed something that many will dream about, but only a few will actually set out and do. However even that feeling is subdued. Maybe it's because this wasn't something we dreamed about for years and years like most people, it's just something that we decided to do one day not too long ago. And maybe that is why we weren't afraid to do it. We just don't comprehend all the danger that's involved in doing something like this. And maybe, just maybe, that's a good thing.
july 13 2004 : hiva oa
I was reading SAIL magazine the other day and ran across something I found amusing. It relates to how there is so much fear about sailing offshore. The editor of the magazine wrote an editorial making a mockery of how in his day nobody wore helmets to ride a bike, there were no seat belts in cars, people ate red meat, etc., etc.. The article was meant to blast the legislature for trying to pass a law requiring everybody on a boat to wear a life jacket at all times. In it he said, "Safety is on the way to becoming a national obsession, and I find it dismaying." The funny thing is that I agree with him. However, on the cover of the magazine is a headline that says, Sailing at night: Essential safety tips and then on the previous month is, Sail Safer: Efficient boomvangs. Then looking through these magazines I found at least eight articles that were related to safety. And this editor had the gall to write about how he finds all this safety talk dismaying. Give me a break. This is the guy that perpetuates all the fear mongering. And we wonder why people are afraid to ever leave the safety of their home waters. Anyway, I just wanted to call this Peter Nielsen out because I find it amusing.
It's official. We hate Hiva Oa. Here is our morning recap. We left at seven this morning to go see the Gendarmerie again as we are still not cleared into the country. A nice lady in a pickup truck stopped right away and gave us a lift into town. We got to the bank and found the locals already lined up. We used the ATM and got some local currency. Then over to the Gendarmerie. Check in was a breeze and he was a nice guy. Then he sent me back to the bank to post our bond. Basically they make you post $800 U.S. per person to show that you can afford to leave their country.

We waited in line for about half an hour, then when we got up to the counter the lady looks at us and says, "No bond today, come back Thursday." Thanks for telling us, you only saw us standing there for the last half an hour, and had to know what we were there for. Anyway, we walk up to the grocery store and bought some more pastries, a couple 2 liters of pop, two loaves of bread, and two pasta sauces. That only set us back $36. If the prices weren't clearly marked on everything I would have thought we were getting screwed.

Then we walked down to Snack Kaupe. A little restaurant that advertises that they have internet. We wait around another hour or so for them to open up, then when they do we walk in and grab another one of their internet fliers and the lady looks at us and says, "No internet." Then why are you advertising it?!
Okay, we're done, it's noon now and we have accomplished nothing again. We aren't cleared in, we didn't get to use the internet, and we spent a small fortune on nothing. Thankfully when we stuck our thumb out, the first guy to drive by picked us up and gave us a ride back to the boat. We thanked him and walked down to our dinghy where we find that we have been robbed. Someone had stole our gas tank and fuel line. Why?! Did somebody really need a gas tank and fuel line and they have just been waiting for somebody to have one? Or did they take that because it was the only thing not locked down?

Then we look over and see that our garbage had even been rifled through. I bet that was really impressive. Cookie and Kool-Aid wrappers. Anyway, we are so disappointed. We don't understand what makes people feel it is okay to steal. And I don't accept that it is because they are poor and feel that we are rich. These people live well enough to buy $20 worth of vegetables and drive new trucks. I couldn't afford to live here for a year. Anyway, tomorrow is Bastille Day, so we are stuck here until at least Thursday, probably Friday. I hope the next island is a better example of what the Marquesas are hyped up to be. Paradise.

july 14 2004 : hiva oa
Things are looking a lot better today. Today is Bastille Day, whatever that is. We decided to hike up to the Hanakee Pearl Lodge which we can see up in the hills from the boat. We brought along the computer, with hopes of updating the website, and a load of laundry, which they proclaimed to do. But the real reason we went was to use the pool and have lunch.
We finally got up there after a much tougher hike than we expected. The manager greeted us and was very friendly, however they were setting up for a wedding that evening so they wouldn't be able to do our laundry. And unfortunately the internet does not seem to be working today. But we were to feel free to use the pool area and have drinks and lunch. Beer was an astronomical $5.50 per can, setting a new Bumfuzzle record. But the pool and the views were worth it. We could even see Bum from the balcony. And we managed to get a couple of hours without rain. The first break in four days.

Tomorrow we are heading back to the bank to pay our bond and finish clearing in so we can get out of here in the afternoon. Our next stop is just a few miles away.
july 16 2004 : tahuata, marquesas, french polynesia
Yesterday we went into town again, did a little more food shopping, and had lunch at Snack Kaupe. This restaurant only opens from 11-1:30 every day. So you would think that the reason they only open for lunch is because they get so busy and make so much money that they don't have to open for dinner. Wrong. We were the only people in there for almost two hours. The food was pretty good though and the beer was cold. Also, not to harp on this fact, but food prices are unbelievable here. A few examples: a package of turkey cold cuts with 3 slices in it cost $4 bucks, small bag of Doritos that would be $1.29 in the U.S. is $6.50 here, and a 2-liter of Fanta pop is $6. Alright I won't mention it again.
Today we were back in town again bright and early. I should mention again that the locals here are great about picking us up and giving us a ride. Everybody drives a pickup, so they just let you hop in the back. We've even had a couple of rides where the person would drop us off and then turn around and go back the way they came, like they went out of their way to give us a lift. One odd thing is that only the men give us a ride though, the women will drive right past like they don't see you.
Back to the bank to pay our bond. The bond came out to roughly $1900, $53 of which was a commission for the bank which they earn for the pleasure of holding $1900 for us, upon which they will also earn interest for a couple months. Pretty nice scam they've got going here. But other than that there are no fees for checking into their country, like the $150 in the Bahamas, so we shouldn't complain too much. After we picked up some more bread we headed back to the boat to get ready to leave.
We upped anchor and headed for Tahuata just a few miles south. Ten minutes outside the bay a nice squall rolled in out of nowhere, as they tend to do here the last few days. This one brought winds over thirty knots. Luckily after a couple of miles we were able to turn west and ride the wind and waves towards Baie Hanamoenoa. We flew along at 8 knots with just a little bit of jib out and an engine running to charge the batteries. After two hours we had the anchor down in what the cruising guide calls, "One of the three most beautiful anchorages in Polynesia." And it is beautiful.

july 17 2004 : tahuata
First day without rain since we got to the Marquesas. We enjoyed it by snorkeling into shore to look around and lay in the sand. Then this afternoon there was this horse grazing at the top of the hill right in front of us. What a perfect setting.

july 19 2004 : hiva oa, marquesas, french polynesia
The goal the last couple of days has been to get to Baie Puamau on the northeast coast of Hiva Oa 30 miles from Tahuata. We left Tahuata yesterday morning with a nice 15 knot breeze out of the SE. As we got to the west side of Hiva Oa the wind died down to nothing since it was blocked by the island. An hour later we came around the corner and found 20+ knot winds from the NE. We needed to go NE to get around the northern tip of the island, so we gave up for the day and motored in to the nearest anchorage, Baie Hanamenu. A nice little anchorage with a copra plantation at the head of the bay.

The wind was screaming right into the bay all afternoon but finally died down right before nightfall allowing us to get a good nights sleep at least. This morning we woke up to find winds out of the SE at only about 10 knots, so we decided to make a run for it. We still had about 20 miles to go to Puamau but there was one more bay midway if the weather didn't hold out. It didn't. The winds came up to the east and made it rough to be motoring straight into, so we pulled into Baie Hanaiapa. At least it is well protected from the east. So that's where we sit right now. Still 11 miles from Puamau. One cool thing we saw while motoring in here today was a group of wild horses up in the hills. You wouldn't have noticed them except for the white one that really stood out against the green hills.

This afternoon I went to work to try to get a gas tank working for the dinghy. I had bought a one gallon tank in Atuona and used the extra gas line we still had. I cut off the fitting from one end of the gas line and ran it into the new tank. A couple squeezes on the bulb and she was purring like a kitten. This one is probably far less likely to be stolen as well.

After that we went to shore for a walk around the small town of Hanaiapa. No stores or anything, just a little one lane road running through the hills with small houses here and there and incredible views everywhere you looked.

A couple other things I've been meaning to mention. Number one is that we will no longer take the U.S. mail for granted. We mailed a batch of postcards and a couple small packages nearly 8 weeks ago from the Galapagos and they still haven't arrived. I can't even imagine where those are sitting right now.
Number two is our dire propane issue. We have 2-20 pound propane tanks for the stove/oven and a 4 pounder for the grill. One of the 20′s ran out in the Galapagos which was no big deal since they usually last a couple of months. Then the other day in Atuona we met a cruiser who was getting butane (which you can substitute for propane), but was having trouble transferring it from the European tanks into his American tank. Well he said that in Nuku Hiva there is a guy who will do the whole thing for you. So we decided to wait. The next night when we were in Tahuata, Ali was boiling potatoes when phhhhhhhhhhhht, no more gas. What timing.
So I hooked up our 4 pounder and she finished what she was doing. Then we hooked it back up to the grill. So now we have only been able to use the grill for the last few days which has been okay since we had bought some hamburger patties in Atuona and Ali made potato salad with those boiling potatoes. However, now that stuff is gone, we probably only have about 2 pounds of propane left and we won't be in Nuku Hiva for another few days. Once again our food prospects are pretty slim. Tomorrow will probably be peanut butter and jelly again. God what we'd give for a Taco Bell.
july 21 2004 : hiva oa
Yesterday we finally made it to Puamau. The wind was blowing right into the anchorage all day and producing pretty big swells but we were pointed right into them and it wasn't too bad. Then as soon as it got dark, the wind shifted and the boat was suddenly sitting 90 degrees to the two foot swell. Making a ton of noise and not allowing any sleep. We tried to set a back anchor, but as I am finding, it is impossible to accomplish anything on the boat after dark. It was so pitch black out that we couldn't even tell which way the beach was. So we gave up and got almost no sleep until morning when we could get the back anchor out and the boat pointing into the swells again.

This afternoon we went to go see the Oipona archaeological site. Since that was the whole reason we came over here. As soon as we got out of the dinghy and started walking down the dirt road toward town a nice local in a brand new Toyota pick-up truck stopped and told us to get in. He didn't speak any English, so we managed to make each other laugh as we tried to communicate. He ended up driving us up to Oipona about a mile through town. He pointed out the noni fruit and conveyed that selling it to America is why he has such a nice truck. When he dropped us off he grabbed a handful of big limes out of the backseat and gave them to us with a big smile and off he went.
The tiki's were pretty cool, they date to the 1700s and one of them called Takaii is the largest ti'i in French Polynesia at eight feet tall. Takaii up there on the second level. Then there is Maki Taua Pepe which represents a woman lying on her stomach with her head stretched out. Apparently this represents a woman giving birth. You can kind of see that. And the last one is Manuiotaa, they say this is a woman also. We're not so sure.

While walking around a French couple drove up in their rented jeep. They offered us a ride up the hill farther where the Lonely Planet said there was a great lookout over the bay. So we hopped in with them and drove up the hill. The road quickly disappeared and became just an overgrown trail. The guy kept going though, slamming through the bush and crushing the suspension over fallen logs. Good fun. Eventually the little Suzuki couldn't go any farther so we backed out and they gave us a lift back down to our anchorage.

july 22 2004 : hiva oa
Yes, that is spaghetti on the grill. We also warmed up the sauce and made garlic bread on it. But better still was yesterday's dinner of hamburgers and Ramen noodles on the grill. How many people can claim to have made ramen on the grill? A very select few I'll bet. What a glamorous life we live.

Today I was sitting at the kitchen table when I suddenly saw some movement outside on the water. As I turned my head I saw a huge manta ray leap entirely out of the water just a few feet from the back of the boat. Pretty cool. These guys have scared the crap out of me the last couple days. The water here is 30 feet deep and a little cloudy so you can only see about 15 feet down. Well I went out to check on the anchor and make sure there was no coral or anything nearby and as soon as I dove down there was a flash of white in front of me as a manta ray swam right at me and then turned up his white belly at the last second. This happened twice and about gave me a heart attack both times. Visions of being swallowed whole by a shark I never saw flashed before my eyes.
july 23 2004 : nuku hiva, marquesas, french polynesia
We left Hiva Oa yesterday afternoon and sailed overnight to Nuku Hiva. This morning we pulled into Baie de Taiohae, a huge bay that juts into the island a mile and a half. By far the safest anchorage we have found in the Marquesas.

This is the biggest city in the Marquesas, so we had high hopes of finding a restaurant today. We finally did, and I'll tell you, Ramen noodles are sounding pretty good again. I decided to try the local specialty Poisson Cru, which is a raw fish meal. That was okay, but the stuff they served on the side took a strong stomach just to look at. However the beer was cold and there is a lot of stuff we are going to be able to get done here. Such as refill our propane tanks, update the website, and get laundry done.

I feel like lately all I've done is complain about the Marquesas. I should say that they just aren't what we expected or had hoped for. For a lot of people they would feel exactly the opposite. Ali and I are just more interested in having a lively town with restaurants, and bars where we can people watch and mingle with the locals. Here there just isn't any of that sort of thing. If you are looking for a quiet and beautiful place it's great. The other thing is that at least once we are anchored somewhere secluded and beautiful, the number one thing I want to be able to do is go snorkeling, or spearfishing. But the water here with only one exception has been dark and cloudy. Alright, that's off my chest. We are still having a great time, just a different time than what we expected. So no emails telling me to quit my bitchin'.
july 26 2004 : nuku hiva
Let's see, what have we been up to the last couple days? Saturday was the big day. We were determined to get that pizza we have been craving forever. We knew the place to go, they had pizza right on the menu. So after braving yet another torrential downpour we walked in soaking wet and ready to eat. One quick side note here. In the Lonely Planet it talks about people called mahu's. It is a custom that the missionaries to these islands were unable to get the people to stop. It is a traditional Polynesian practice whereby the eldest son is raised by his parents as a girl, and goes on to live life as a woman. Nobody has a problem with these mahu's and they are perfectly acceptable members of society.
So anyway, our mahu came to take our order, saw us looking at the pizza menu, and told us, "No pizza until 6:30." Seeing as it was noon, that was a little too long to wait. So once again denied my pizza I went ahead and ordered the spaghetti that was listed as a special of the day. It came out and it was spaghetti noodles in a butter sauce with nearly raw, fatty bacon chunks all over it, and a raw egg sitting in the shell right in the middle. Now maybe the French think us Americans are uncivilized, but come on, who's kidding who! I can't get a decent thing to eat in the entire Marquesas. At least Ali just got a salad, nothing raw except vegetables on that.

Yesterday was engine day, we changed the oils and found that the oil in the reverse gear box looked like milk in each of the engines. That's not good. I ended up having to change the reverse gear oil 3 times each to get it cleaned out. I don't have any clue how water got into each of them. After that I went to work on the raw water pump. This thing has been a never ending problem for me on the port engine. After finally getting the assembly off and replacing the seals again I went to work putting it back on, which is always the worst part. This time I counted how many turns of the wrench it took to get the inaccessible bolt tightened again. It came out to over 300 attempted turns. Since I can't really see it as I'm doing it I'm sure I didn't always actually have the wrench on the bolt. Also, because of the angle I have to flip the wrench over after each turn. Thankfully everything seems to be working and there are no leaks. It better hold up for a while this time.
The other day we had come back to the boat and found a wedding invitation in the cockpit. Seems a couple of cruisers were getting married up at the Pearl Lodge Resort and everyone in the bay was invited. So we dusted off a couple of pairs of khaki's and went out to see a traditional Marquesan wedding. The couple was pretty young and had put the wedding together in just five days, though apparently had been planning to get married for longer.
The ceremony was very cool. The male dancers carried the bride in over their heads, then there was some intense dancing with the men on one side and the girls on the other, the priest chanting, the girls singing, and the guys stomping around while the couple was wrapped up in a tapa cloth. It was great. We had a stack of Hinanos, met a bunch of cruisers, and had a really nice night out. Good luck to the new couple. Hopefully their parents forgive them for the five days notice that made it impossible to get them here. Also, our waiter/tress was a mahu again. So we got a lot of native culture in one night.

One other thing Ali and I can't quite figure out is that nobody ever seems to think we are cruisers. The other day at lunch a cruiser from the table next to us said, "You two must be backpackers, huh?" Then last night at the wedding, where every guest there was a cruiser and we were sitting at a table with eight cruisers at it, a guy asks us, "So are you two guests at the hotel here?" We are trying to figure out what makes us so different from the other cruisers. Is it the fact that Ali looks so young, or that I don't have a scraggly beard? Whatever it is, we find it amusing and hope that it continues.

july 27 2004 : nuku hiva
That's it, I can't hold back anymore. The Marquesas suck. That's the only way to describe them. I was withholding final judgment until after I finally had pizza. So just 15 days after landing in the islands we finally got our pizza last night. We figured we better keep it simple so we ordered cheese and onion. It somehow managed to be the worst thing we have eaten yet. I swear my body is wasting away from a lack of a decent meal.
And just so you don't think we are the only ones, we met a whole bunch of cruisers last night and everyone felt the same way. The conversation would start out with, "When did you get in?" Followed by, "So what do you think?" As if everyone is afraid to be the first to mention how disappointing the Marquesas are. The next comment would usually be something along the lines of, "I feel bad for not liking it here, but…" Or, "It's beautiful, but…" But it's boring. But it's too expensive. But the food is terrible. But the water is murky. But it sure rains a lot. Just go ahead and say it people.
One group we met were crewing on a 76-footer whose owners had to go back to the States for a few weeks leaving them to sit here in Nuku Hiva the whole time. After three weeks of it they are about ready to abandon the boat and fly home. They are so bored, mainly because even if they wanted to go ashore and do something they wouldn't be able to afford it.
So that's it for sure this time. I won't complain anymore. We are just going to leave in a couple of days and head for the Tuamotus instead.
Okay, all is well in the world again. I love it here now. Today after the rain died we went up to the Pearl Lodge Resort. Same resort as the one we visited in Hiva Oa and where the wedding was the other night. We dragged a huge bag of laundry up there with us. They were happy to do it for us for 50 bucks, but even better was spending the afternoon lounging around in their pool for the price of just a couple of beers. Once again the view of the harbor and the surrounding mountains was incredible.

Anyway, we are feeling refreshed and ready to get going now. Tonight we are going to pick up our propane tanks, tomorrow morning we are making one more run to the grocery store, and tomorrow afternoon our laundry should be done. So the plan is to head over to Daniel's Bay, which is only about five miles away, tomorrow evening. Then the next day we are going to hike up to the waterfall. It is supposed to be the second or third tallest in the world. Then Friday we are off for Rangiroa in the Tuamotu's, about a five day passage. I'm not sure we are too excited about another passage so soon, but there isn't much choice. I'm sure it'll be fine.
july 28 2004 : nuku hiva
I finally got good pizza. Of course it wasn't at a local restaurant, it was onboard Lady A. We had met the crew the other night at the wedding and yesterday we ran into Alexis the cook, in town and she invited us over for dinner. The owners are back in the States and tonight was pizza night. Uh let's see…we accept! We had a good time, and it was fun to get a chance to snoop around on a 76-footer to see how the other half lives. Not too bad, but we'll keep Bum.
Today we made one last trip to the grocery store to pick up some hamburgers and hot dogs. At least we think they are hot dogs. By the time we got back to the boat the wind had picked up and you could see white caps on the water outside the bay which is a mile and a half away. So we have decided to stay put for the night and head over tomorrow morning instead. The good thing about that is since we aren't leaving we have time for another swim at the hotel when we pick up our laundry. Nice.
A funny thing happened this morning. For the last couple of days the three local dock mutts have been following us around. Ali loves to talk and play with all the dogs no matter how filthy they are. So these guys have been tagging along right behind us as we walk to the store, then they wait outside for us, and walk back to the dock with us. So this morning, as soon as we get out of the dinghy, the leader of the pack, who is always picking fights with the other dogs, came trotting up to us wagging his tail as Ali talked to him and pet him. Suddenly this other cruiser sitting nearby turned to us with an appalled look on her face and said, "Is that your dog?!" As if she were about to lay into us for something he did. We just said, nope and walked away with all three dogs falling into formation right behind us.

july 29 2004 : nuku hiva
This morning we headed over to Daniel's Bay, which is just around the corner. We got outside the harbor and found the wind howling with gusts near forty knots. Thankfully we were only going a couple of miles and it was downwind. Arriving we found a wonderful bay with 360 degree protection. Once inside we almost couldn't tell where the exit was as we were surrounded by huge cliffs on three sides and a beautiful beach on the other.
Today was hiking day. The guidebook said it was a long and strenuous hike up to Vaipo waterfall, so we grabbed a bottle of water and our flip-flops and took off. It was a great hike, if not a bit rocky and muddy. But the views and the scenery were amazing. After about three hours we made it to the waterfall. The cliffs completely surrounded us and towered 1000 feet straight up. The waterfall itself is mostly hidden behind a cliff. I went swimming in the pool at the bottom to try to get closer to it but it was like swimming upriver in rapids. It was incredible how much power the falls had.

It was pretty cool, but once again not quite what we expected. We had visions in our head of this beautiful little valley with a waterfall gently cascading down into a pool, where young maidens went to bathe. Or something like that. Instead we found Niagara Falls. We're off for Rangiroa in the morning. Another five days at sea. Yippee.
july 31 2004 : en route to rangiroa
Last entry for July finally. What a long month. We have covered a lot of ground this month. And we are on the move again. Yesterday morning, a Friday, loaded with bananas onboard, and even a woman, all bad luck according to some crazy sailors, we set off for Rangiroa.
We knew the winds were going to be whipping once we got out of the bay and they didn't disappoint us. Fortunately the direction was perfect as we were headed dead downwind. So with gusts as high as forty-two, the highest of our trip, we put out half the jib and sailed along very comfortably. Gradually the wind calmed enough to raise the main with a double reef. Yet by late afternoon the wind was down to twelve knots, and by nightfall we were motoring in calm weather.
Today we caught a monster of a wahoo. Ali and I are poetry in motion now when we catch a fish. It's like a choreographed routine. I grab the line and keep tension on it while Ali holds the gloves open for me one at a time, like I am a doctor. Then as I pull in the fish she grabs the hook remover, vodka, billy club, and the camera. I've gotten pretty good at getting the fish onboard and can usually dispatch them without too much of a problem. Pose for a quick picture. Then Ali hands me the filet knife, a cutting board, and a plate. I carve up the fish and hand the plate off to Ali, who takes it inside and cleans it up nice, getting rid of the yucky stuff, and putting it all in Ziploc bags. Meanwhile I am cleaning the cockpit area of all the fish debris. All of that and we are usually back to lounging around within fifteen minutes.
One other note, every fish we have caught the last couple of days has been on the same fishing line with a six inch pink and blue squid. On the other line I have tried at least four other lures and haven't gotten a thing. Go figure.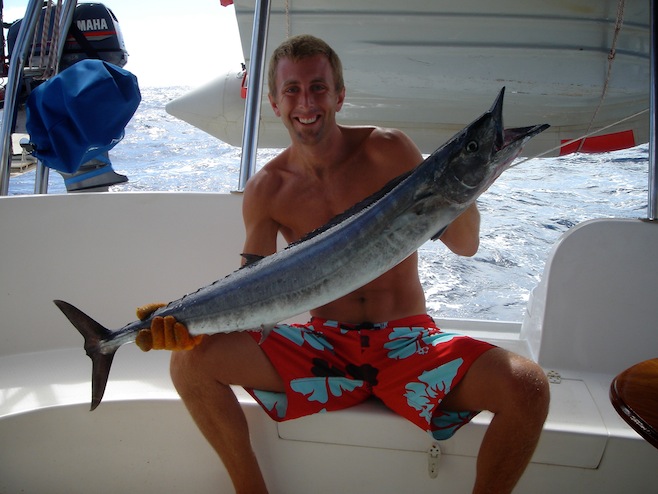 Socialize