january 3 2006 : phuket, thailand
2006! A big year for us. We've got a lot of sailing to do in our last full year on the boat. Hopefully at some point boat repair costs will start to decline, while our sailing will continue to go well. The other day my mom and brother, Josh, showed up. Two days late by our reckoning, but just five minutes late according to their actual airline tickets. We picked them up at the airport and then proceeded to drive around for over an hour getting lost on an island that only has about three roads in total. Eventually we made it to the hotel with their three bags of luggage, the largest and heaviest of which was entirely our stuff. After checking them in we had to have a quick Christmas in the hotel room by going through our bag.
Anyway, we spent the rest of the day down on the beach. The hotel has two Indian elephants that roam around the hotel grounds all day with their trainers and keep everybody entertained. Ali was ecstatic. The elephants are only about six feet tall and are really cute and well trained. They walked around the beach and then even went in the water for a swim. The elephant seemed to love it. He swam out through the waves and would dive completely underwater. Then back on the beach he rolled around in the sand before walking over to the fresh water lagoon to rinse himself off. Good entertainment.

That night mom and Josh crashed early so Ali and I went down to the beach at midnight to watch the fireworks and ring in the New Year. The fireworks were set up right on the beach about 10 feet away from the chairs. We picked a couple of beach chairs a little further back and settled in to watch. The bay is a few miles around and there were displays all around going off simultaneously. It was pretty fun to be sitting directly underneath our set of fireworks right up until one of them suddenly blew up before takeoff. We thought for sure the guy who had been lighting them with a torch was dead, but before the smoke from the explosion had even settled enough for us to see him, he was lighting off the next round. After that we decided it might be a good idea to slip back through the crowd a little bit though.
The next day we drove over to Monkey Hill in Phuket. This time taking with us as much of the fruit from the hotel as we could fit in our bags. Once again the monkey's were there and were more than happy to eat a few bananas out of our hands. We caught a couple of them rifling through the contents of the car when we had our backs turned but they didn't get anything but an empty plastic bag. After that we drove down to Patong Bay for lunch and a little shopping.
Yesterday was the "lay by the pool all day" day. And then today we ventured out again. This time we went on an elephant "trek." It's called a trek but it is actually just a short walk around a hill with a nice view of the bay below. None of us had ever ridden an elephant before so it was kind of fun. Elephants are really sweet animals. The best part was probably the end when we bought a whole bunch of bananas to feed them. They would just shove as many in their mouth as they could get in. They have these big, soft pink mouths that they will eat directly out of your hand with, or they will take it with their trunks and then put it in their mouth themselves. One elephant took so many that he couldn't even finish them so he just walked around with a whole bunch wrapped up in his trunk for later.

After that we went Kart racing. Kart racing is billed as the closest thing to Formula 1 racing as you can get and they are big fans of it here in Thailand. Most people would think of it as go-kart racing, but these things are much faster than any go-kart I have ever been on. They are powered by 100cc engines and they fly. There are a couple of tracks in Phuket, one is a little "go-kart" track right on the main road, but across the street is a small sign that says "Professional Karts" and has an arrow pointing up a small road. We drove up here and found a serious race track. There were a group of guys racing when we got there who obviously knew what they were doing because they were going through turns in full speed slides. Josh and I watched for a few minutes and then got geared up. Then we were off.
These things are some serious fun. Josh and I had some awesome side by side racing trading the lead back and forth. At one point we were right alongside each other going through this set of s-turns when he suddenly slid out. I swear there was no contact, but rubbin' is racin'. The karts have to be push started by the crew on the track so I continued to fly around the track while he got going again.
On the next lap I was behind two other racers as we came around the corner towards Josh. There was a cart giving Josh his push start and the two guys in front of me must not have noticed the yellow flag because they were side by side and going full speed at him. Whipping around the last corner the guy on the right suddenly saw them and realized he had nowhere to go and had to veer off just inches away from the other carts and slam right through the tire wall at full speed. It was awesome. The tires flew up in the air, a cloud of dirt exploded all around us, and the guys cart was smashed and out of action. Now that is some good fun. It cost about $20 for 10 minutes though, so isn't exactly the kind of fun you can enjoy all day long.

Follow that up with a great lunch at a little local Thai place overlooking Patong Bay and a swim in the pool back at the hotel and you've got a pretty good day.
january 6 2006 : phuket
The other morning we woke up planning on going for a sail out to one of the nearby islands. However, it was pouring rain once again so we changed plans and headed for the Gibbon Rehabilitation Project (GRP) instead which is inside a National Park here on Phuket. The park entrance fee was a steep $5 per person. I say steep because the only thing in the park is one small waterfall and a few food stall vendors. The guy at the gate did have himself an official looking uniform and a little booth to sit in so we paid up. The only other thing in the park of course is the GRP, but since not one penny of the park fee goes towards the GRP it doesn't really count.
The Gibbons here were mainly confiscated from pet owners, street side acts, and barroom entertainment. The goat of the place is to rehabilitate them and get them ready for a life in the wild again. Because they are trying to train them to be wild again visitors aren't really allowed anywhere near them. We could see them through the trees and we could certainly hear them with their super loud calls, but we didn't get to see one of them smoking a cigar, drinking a shot of whiskey, and playing a game of eight ball. It was a nice place and for a good cause. Afterwards we wandered up for a quick look at the waterfall and then back to one of the little stalls for a quick lunch. About that time the sky cleared up and we had the most beautiful day we've seen since arriving in Thailand. So another afternoon was wasted away poolside.
Yesterday we finally got out on the boat for the day. It is about a three hour motor out to the nearest of the big, tall, beautiful islands so that's where we went. Josh did a little sail work for me which was nice. Once at the island we went ashore for a swim. Josh managed to stub his toe on a piece of coral and get a nice little cut. Then as I was pushing everyone back out in the dinghy I stepped right on the sharpest piece of coral ever. I only took two quick steps which produced a whole bunch of razor sharp cuts and then as I scrambled to kick myself back up onto the dinghy I sliced another toe wide open. Having the floor of the dinghy fill up with blood was a nice vision of the sailing life for mom.

This morning mom and Josh were back on the plane headed home. We were so happy that they came. It's a lot of work to fly this far for a visit. They end up spending practically as much time in the air as they did on vacation. But we all had a great time so hopefully it was worth it.
After they flew off Ali and I made a run to the grocery store before returning the car. We're ready to get out of the marina and are trying to get ready to leave tomorrow. We bought 40 gallons of drinking water ($5 USD) so that we can try to avoid making water until we are back out in the non-silty water. Then we arranged to have our diesel fuel delivered. There is no fuel dock here so instead a little boat with 50 gallon drums comes to you. We'll pay our marina bill and we should be ready to go, after one last boat washing of course.

Oh, and we also got a little satisfaction regarding our laundry. They asked us for a fair settlement and we said 4000 baht ($100 USD). That's probably about a fifth of what it would cost to replace the clothes, but we figured this amount would be reasonable enough to maybe get something. They agreed and paid us the 4000 baht plus the 400 baht we had paid to have them washed.
january 8 2006 : phuket
Yesterday we got out of the marina and sailed (i.e. motored) a few hours away to a nearby island. When you are in a marina it feels like you constantly have to be doing something, either working on the boat, or the computer, or going out to eat. So when we get out of the marina and back to a nice quiet anchorage with nothing to do but lay in the sun and read or swim it feels pretty good. Of course living on a boat you can never go a full day without working so I did go in and scrape the barnacles off the bottom of the boat and Ali attacked a big pile of dishes before doing nothing the rest of the day.
We just finished reading Dove, which is a book that probably just about every sailing dreamer has already read. It's about a sixteen-year-old who sails around the world. I liked some of the book, the sailing and adventure parts, but throughout the book he would also go on and on about how terrible modern society is, and how bland and pointless everybody's life is, except his, because they are working to earn a dollar while he is free as the wind. It's almost like he completely forgot that it was his father whose pointless existence had paid for his boat in the first place. Ali thought she was going to throw up because in the second half of the book not a sentence seems to go by without him professing his love for his girlfriend. And then at the end of the book he is suddenly a born again Christian trying to convert us heathens while living in the middle of the woods of Montana under a lean-to shelter with his wife and baby. Good book, just a bit to high and mighty sometimes. Probably exactly how I sound critiquing it. Guess we just don't understand all the hype the story of Dove gets.
january 10 2006 : phuket
We are back over in Ao Chalong Bay getting ready to leave Thailand. In fact tomorrow we have to check out as it is our last legal day here. Today we rented a scooter and drove up to the Boat Lagoon Marina. A friend from the States had asked us if we could have a look at a 55 foot monohull that is for sale here. It was kind of fun to poke around on a big monohull, but even at 55 feet I have to say that I am still happier on my 35 foot cat. Monohulls just don't compare. Hopefully this guy will come to his senses and buy a nice cat instead.
On our way back to the boat we stopped at the mall to see a movie. King Kong was playing in English so we went to that. Before all movies here they play the national anthem and everybody is expected to stand during it. Along with the anthem they show a video montage of the King. The respect they show to the King in Thailand is amazing. There are huge pictures of him plastered all over the roads and just about every business has a framed picture of him on the wall. We even had one taxi driver open up a folder he had next to him on the front seat that was full of pictures of the King from when he was a child all the way up to now. He showed them to us with the same pride as a new father whipping out his wallet full of newborn baby pictures. Of course they expect 100% respect for their King but still sell all sorts of dirty joke George Bush t-shirts. Guess the respect doesn't have to go both ways.
One thing we've found amusing here in Thailand is that when eating at a restaurant you don't necessarily get to all eat together. They always just bring out a plate here and a plate there so that inevitably one person will be finishing their meal about the time the other person is getting served. Back home if one plate comes out ahead of the others you would normally just wait and within a minute the rest of the food will be out. Make that mistake in Thailand and you'll have some awfully cold food.

january 11 2006 : phuket
The first airing of our National Geographic show is on January 29th at 8PM EST. Here is what the National Geographic website has to say.
Hunter and Hunted
Vanished [TV-PG] An enormous saltwater crocodile attacks a group of tourists swimming in the Australian outback. One of them, a 23 year old German woman, disappears below the surface of the water, never to return alive. Why were these people swimming with crocodiles? Who took them there? And who will find the killer? Hunter and Hunted returns to the remote scene of the attack, interviews eye witnesses and examines forensic evidence to discover some surprising and disturbing answers.
A little running around to do today and then we are off. This morning we have to go clear out of the country with immigration. A quick stop at the post office to mail a couple of things home, a stop at the grocery store and bakery for some last minute fresh food, and finally swing by and pick up our last batch of laundry. Our first stop after we leave is to the Similan Islands which are about 60 miles off the west coast of Thailand. The diving is supposed to be incredible there, so hopefully we will get nice weather and can chill out there and enjoy the water for a couple of days before heading on. After that we'll have about a 10 day passage across to Sri Lanka. The cruising guides list this as one of the nicest sails on any circumnavigation due to the steady winds from behind the whole way. Hopefully that will prove true and we'll pull in to Galle with no problems about two weeks from now.
january 14 2006 : similan islands, thailand
We left Ao Chalong the other day and sailed around the island to Patong Bay. The wind was blowing around 30 knots most of the day but we were sailing right in close to land so we didn't get the big waves. Sailing like that is a little tricky though because the wind often drops way down as you are hidden behind land and then suddenly is gusting at 30 knots.
We anchored a long way back from the beach because of all the fishing traps and floats laid closer in. We were only stopping there to get a little sleep anyway, and at 2 a.m. we set out for the Similan Islands about 60 miles off the coast. We left at two in order to make it out to the islands before dark. It was a beautiful night with a full moon, no wind, and total quiet out on the water.
A little after the sun came up we had a big pod of dolphins join us. It was nice to see something in the water again. The waters of SE Asia are so busy with fisherman that you start to wonder how anything can live through it. Later in the afternoon Ali was hanging up a towel to dry when a whale suddenly breached right behind us less than 100 feet away and heading in our direction. We stood there holding on and waiting for him to surface again, which he did, this time a little further back. I'm not sure what kind of whale it was because he never showed us his tail, just his huge arcing back with a tiny little dorsal fin on top. Ali was thrilled to see a whale again, but I was actually hoping we wouldn't see any for a while. It seems every story I've ever read about boats hitting whales happens in the Indian Ocean. Granted, it would be a cool story, but I'm not sure I feel like testing the strength of our boat on the back of a whale.
We didn't have detailed charts for the Similan Islands and were counting on picking up a mooring when we got there knowing it was a huge dive charter destination. However we were still a little surprised by the huge number of boats that were there, especially since it is a National Park. There are Park Service moorings all over the place and we grabbed one 100 feet off the island. The mooring is in water over 100 feet deep, but just 50 feet away it shelves straight up into beautiful light blue water filled with coral. I jumped right in and went snorkeling. It was some of the best coral I've seen anywhere. Up close the coral is really pretty colorful, which is a big change from most of the coral we've seen on this trip which has been bleached white and colorless. Then last night we went to bed early with at least a dozen large charter ships moored near us and dive lights shining in the dark waters below us.
This morning we found thousands of bright blue and yellow fish swimming around the back of the boat. Unfortunately the water was disgusting and had a film of diesel fuel across it as well as what was probably the waste water of the fully loaded dive boats. So now I'm typing this and hoping the sun comes out and the water clears up.

january 15 2006 : en route to sri lanka
Snorkeling yesterday was great. The water did clear up and the visibility was close to one hundred feet right under the boat. We spotted a few big green eels and a turtle that didn't mind having us follow him around.
This morning we left for Sri Lanka. It turned out to be our best day of sailing in at least 5000 miles. We didn't make great time, averaging only about four knots, but the wind was nice and steady, perfect for just throwing out the screecher sail and relaxing.
We had a huge pod of dolphins join us in the afternoon. There were about fifty swimming all over each other in our bow waves. Eventually they peeled off, but three of them stuck around for close to an hour. At one point I noticed that the water in front of us was going to change. The water we were in was a little choppy, like it gets when there is a current opposing the direction of the waves, but up ahead I could see a clear distinction where the water went completely flat. Just as we sailed into the flat water one of the dolphins jumped completely out of the water and smacked his tail to make a big splash on his way back down. Kind of weird.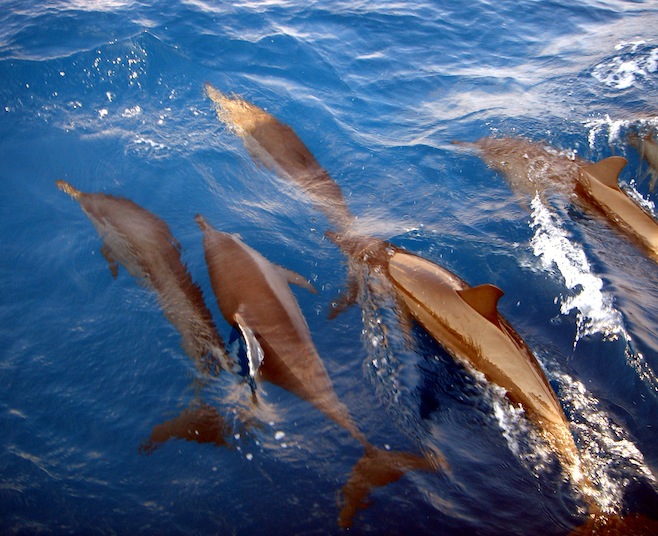 january 16 2006 : en route
There are some strange things going on in these Indian Ocean waters. Throughout the day it went from choppy to glassy in an instant. We see that occasionally, but here it seemed to be every fifteen minutes.
Then last night while I was on watch we were motorsailing in calm seas with the wind under five knots, when suddenly the boat started slamming and bouncing up and down. I raced outside and found the boat bashing through big white cap rolling waves. Our speed dropped to just one knot, which clearly showed that there was a strong current running up against us with the wind causing the standing waves. I kept an eye on the depth finder though since it felt like some uncharted island was about to rear up from underneath us. Five minutes later our speed was back up to normal and the seas were flat again. It was just long enough to get my heart pounding and to wake Ali from a fitful sleep.
january 17 2006 : en route
Well it sounds like things at Charter Cats haven't changed much. Seems that they submitted their new Jaguar 36 to Cruising World magazine for consideration in the Boat of the Year contest. Here is what the judges had to say.
"I looked at the price ($230,000) and thought we might have a Best Value from the multihull class," said Lee. "But no matter what the relative cost, a value boat still has to be a good boat. Layout-wise, you had to walk through a head to get to a stateroom, and that's faulty no matter how good the workmanship is. And it was the only cat we sailed that had underwing pounding." "I saw delaminated wood and thin fiberglass laminates," said Sherman. "In my opinion, the build quality on this vessel was very low."
You just can't buy that kind of advertising. Shouldn't be long now before they manage to put themselves completely out of business. The funny thing is that they continue to be the masters of spin. I hear that they are still proclaiming the Jaguar 36 a "Boat of the Year Nominee!"
january 18 2006 : en route
This passage has certainly been living up to the hype, becoming our most pleasant ever. We left three days ago, hauled up the screecher sail and haven't touched it since. With a steady ten knot breeze, we manage 100 mile days without seeing a whitecap on the water. The forecast for the next four days looks exactly the same. It'll be great if it holds up.
Here is something quirky that we have heard from every long range cruiser. Upon meeting a cruiser for the first time and exchange pleasantries, about the third question in, the conversation goes like this, "So how long have you been out?" We tell them two years. Their response every single time is, "Oh, you guys are hurrying." Then it's, "Yeah, me and Bobbi Jean have been in Thailand for three years now." Or, "We spent five years in the South Pacific." Then usually a little later in the conversation they'll let slip that they fly home for six months out of the year to visit the grandkids and go to work.
Our goal is to sail around the world, not to live the rest of our lives on a boat. If that is their dream, great, but it isn't ours. Long-distance cruisers are a strange bunch, I don't think Ali and I will ever fit in with this group. In fact we find ourselves avoiding interactions with them more often than not lately.
january 20 2006 : en route
Nothing has changed out here in four days, and for once that is a very good thing. We're still only averaging about 100 miles a day, but can't complain since the wind has been so perfect and the temperature has been great with beautiful sunny skies. We are as tan as we have ever been and are a dermatologist's worst nightmare. We've only had to touch the sail one time and that was to roll it up for about a three hour lull when the wind disappeared. So we're at the halfway point now and can begin counting the mileage down.
Not much else to report about. We've only managed to catch two tiny tuna and a plastic bucket so far. I was expecting us to start catching mahi mahi again and could really use a fish dinner so hopefully we'll hook up with one soon. Ali lost her favorite bra overboard so we stood at the stern and said a silent prayer that it would find a new owner to love it.
Yesterday at sunset we were sitting outside jabbering away, when Ali looked over my shoulder and jumped up. Without us even noticing a ship had appeared less than a mile away, headed straight across our path. I don't normally radio these ships, figuring they've got better things to do than talk to every sailboat that they go by, but this time I hadn't been watching long enough to know his path or speed. I gave him a call on the VHF and he came right back saying he would be passing six tenths of a mile in front of us. No problem, but at night that would have scared the heck out of us. It truly is amazing how fast ships can appear from over the horizon. The only ship in four days and we cross paths within half a mile of each other. Sometimes the ocean doesn't feel so big.
january 22 2006 : en route
Still truckin' along. Last night the wind piped up to twenty knots, which is the strongest we've had on this passage. That's a little high for our light wind sail but since the forecast didn't show any strong winds we just rode it out through the night. This morning the wind did die down a bit although it felt like it could come on stronger again, so we decided that maybe after a full week it was finally time to roll up the screecher and raise the mainsail.
It seems unbelievable, but this is the first time we have raised our main in over three thousand miles. The last time we had the sailbag open was on our sail to the Wessell Islands on the top end of Australia. After that we had the passage to Bali in which we were practically becalmed the entire 1100 miles. Then we had the 1200 mile passage up to Malaysia where we went from being becalmed for days on end to having strong headwinds in which we just motorsailed with the jib.
Granted, a "real sailor" would have raised the main during a lot of that and done some tacking. But tacking is my nemesis; I love to stay on my rhumb line. From Malaysia we had the quick hop over to Thailand where again we motored and motorsailed. Then from Thailand we sailed 700 miles with the screecher until this morning when we finally gave in. We weren't sure what to expect when we raised the main. We were half expecting bird nests to fall out of it, but it was clean and looked good. With the wind around twenty knots it turned out to be the right choice.

We're getting anxious for landfall. We've been talking about food, which is always a sure sign that we are ready to get off of the boat. We're not sure what to expect upon arriving in Galle. We are hoping that there are still a couple of floating docks in the harbor, but with the damage from the tsunami last year we aren't sure if they'll be there or not.
Still no luck on the fishing front. There are tons of flying fish around which is usually a pretty good indication that you'll get some fish, but hasn't been the case. However, tonight when I was rolling up the lines I brought in my favorite lure and found it was gone. The line had been cut. I haven't had that problem in the past so I don't use a wire leader and instead just depend on the 250 pound test line to take care of the fish. But apparently whatever hit it today had some teeth to it. I'm now down to just two of my favorite squid lures remaining.
january 23 2006 : en route
Only eighty miles to go and I haven't been this excited about a landfall in a long time. I'm not really sure why though. Maybe it's the excitement of the unknown, of not having any idea of what to expect. I mean, I don't know a single person that's ever been to Sri Lanka.
The sailing the last couple of days has been fast, with winds around twenty knots and following seas. Our good mileage has us arriving a day earlier than anticipated, something that never happens. Today we had a few ships cruise by and even a small fishing boat, the first signs of life in a while. For some reason, despite all the fishing boats, we haven't managed to catch anything ourselves.
After losing that lure the other day I guess I should have taken it as a sign and rigged a wire leader on the next one because today when I brought the line in it had once again been bitten off. I'm quickly running out of fishing supplies. Don't know if we've got sharks out here attacking our lures or if we've just had some big fish with teeth. Definitely not mahi mahi.
january 24 2006 : galle, sri lanka
After one of our most successful passages to date. Ali woke me up this morning as were being surrounded by fishing boats. I came outside and there were two large boats on either side of us with a half a dozen men on each. They were all happily waving at us and a few were yelling hello. Then they started making the international sign for, do you have cigarettes? They wanted to trade for the fish they were holding up. Well the last thing in the world we need on our boat once we get to a new place full of restaurants is fresh fish, so we politely waved them off and they turned and headed for home.

We motored along the coast for the rest of the morning. The south coast of Sri Lanka is almost one continuous beach, occasionally broken into different bays by a outcropping of rock. Just before noon we came around the corner and entered Galle Harbor. We could see a few masts sticking up from behind the breakwater so we headed in that direction. As we approached the entrance in between the breakwater we were approached by a small boat and a couple of guys wearing blue uniforms. They told us to stop and informed us we could not enter. They spoke some English and eventually we figured out that we had to contact an agent, who would send out the proper authorities to the boat. We knew already that we had to hire an agent but had been unable to contact him by VHF.
Eventually the port authority called us up and told us to try channel 69, and right away we were talking to the Don Windsor Agency. They are sort of a Galle institution. Our conversation with them was hilarious. We knew he was speaking English but couldn't understand a word he was saying. Ali and I would concentrate as hard as we could while he was speaking and as soon as he finished we would look at each other hoping that one of us had understood something. Then inevitably I would have to ask him to repeat, to which he would speak even louder and say it again in the same unintelligible voice. We recorded a short video of one particularly hard conversation, and replayed it this morning but still couldn't figure out a thing. Occasionally though we did pick out one word and were able to get through the list of questions. After that he contacted the Navy and told us to wait.
About an hour later the Navy came out to the boat. Two very nice guys who seemed to just want to poke around the boat a little bit. And finally we all motored over to the dock. The dock here is actually just a narrow floating plastic pontoon about 100 feet long. There is only room for 10 boats, and we were number 9, so we got stuck on the inside closest to the rocks. With this kind of dock you have to drop your front anchor directly in front of where you want to tie up. Then you back down on the anchor to make sure it is set good. Next, you let out more chain as you back toward the dock where you tie off the back of the boat. The trick here of course was that we were sandwiched pretty tightly between the rocks on one side and a boat on the other. We nailed it on the first try though. The next trick with a dock of this sort is getting all of your lines adjusted correctly so that you are close enough to the dock to get on and off, but not so close that when the swell rolls through the boat hits the dock. We spent some time that night getting that dialed in.

After the Navy left we met our agent. He was a nice enough guy who made repeated comments about my wonderful t-shirt. A none too subtle hint that he would like a t-shirt from us. We ignored it for now and got him to carry on with his work. Not that we won't give him a t-shirt, we almost certainly will, but we just weren't in the mood for that right at the moment. Soon the agent and I set off for the office to fill out more paperwork. He had an old rickety one speed bike and he told me to hop on. By that he meant for me to sit sideways on the bar between the seat and the handlebars. We made quite the sight, a thin old man pedaling a rusty bike with a big white guy twice his size balancing precariously between his legs. This was my first chance to see some of the devastation from the tsunami. He pointed out where huge ships had been lifted right up out of the harbor and transplanted into the middle of the neighborhood. One large boat was still sitting next to his office about 500 yards away from any water.
After the paperwork was done there was just one thing left and that was for customs to visit the boat. This really is for no other reason than for them to come and collect a bribe, otherwise known as baksheesh. They finally arrived and after filling out a couple more simple forms they asked to see our liquor cabinet. Ali took them down and showed them our wine and liquor. We don't drink much of either of these so they seemed a little disappointed by the selection there. Then I showed them the beer container on the other side of the boat. He gave me a sly smile and kind of stuck his hands out. I asked, "Oh, would you like some beer?" Again, just a sly smile. So I handed him 4 beers. He turned and told his "assistant" to bring down his big empty briefcase to him. He put the beers in there and then asked for more. I gave him two more cans and then he asked for two more. I laughed and said, "No, there is only two of you." And with that he shook my hand and they left to go put their six pack on ice. It was now 4:30, and after five hours we were officially cleared in.
We immediately closed up the boat and headed out. The walk to the front gate here is at least a half mile away. At the end of the hike we hopped in a tuk-tuk and for 2 bucks an hour he'll take us anywhere we want to go. We just zipped in to the town of Galle to hit the ATM for some cash. It looks like a great place, really hectic, and not a foreigner in sight. After cash, we drove back to the town Unawatuna, which is just a couple of miles on the other side of the harbor. It is more of a laid back touristy spot, with a few small shops and a beach lined with hotels and restaurants. By hotels I mean a handful of rooms located above the restaurant.
On the drive over there we really saw the devastation of the tsunami. I believe upwards of 70,000 Sri Lankans died in the tsunami and this area was one of those that was extremely hard hit. There were sections of beach where before had stood wall to wall homes, but now there was nothing. The homes that were left were just gutted out shells in which people still lived, many without a roof over their heads. There were small tent communities, which were of course meant to be temporary, but now with the tents in tatters, families still were cooking on small fires out front of them.
Our driver showed us his home, which was down a small dirt road and was just yards from the beach. He lost five family members there, but 13 months after the disaster he seemed in good spirits. Mainly because he has a nine month old daughter and a beautiful wife, who, he pointed out to us, "Has brown skin." He told us he was black. Not sure what the importance of that statement was, but I assume they prize lighter colored skin here. He dropped us off and Ali and I wandered along the dirt road through Unawatuna. Everything here had been completely washed away so the buildings were almost all brand new and there was construction going on everywhere. All of this makes our Lonely Planet guide virtually worthless, since there is hardly a guest house or restaurant listed that is still there. We picked out a nice looking place with tables set in the sand overlooking the beach and settled in for a celebratory dinner. We had a few Three Coins, the local Sri Lankan beer and a dinner that wasn't all that good. We did however end up with three very happy cats sitting under our table meowing contentedly after dinner.
Back to the boat just after dark we made our way through the customs checkpoint and down the long dark waterfront to the boat. Normally you might be a little leery about walking in an area like this after dark, but here there are patrols everywhere carrying machine guns. Sri Lanka has been in a civil war for I believe about thirty years now. It is between the Tamil people, who mainly live in the north and east, and the Sinhala majority of the rest of the island. The Tamils want independence, and I believe their own "state" in the north, and are fighting for it with militants called the Tamil Tigers. Not much violence finds its way to Galle, but there have been many bombings in the capital of Colombo. Most of the fighting is in the north between the Sri Lankan forces and the Tigers. There had been a cease fire for a couple of years but recently the fighting has resumed, so there are security forces everywhere we look standing by alertly with their machine guns at the ready. In fact, they used to close the entrance to the harbor here at night and even detonate depth charges throughout the night which would have killed any Tamil Tiger divers that were in the water trying to blow up ships. Anyway, safely back on board we called it a night.
january 25 2006 : galle
Turns out they are still detonating depth charges in the harbor at night. We figured that out after jumping out in to the cockpit the second time wondering who had been shot. The explosions sound just like a gunshot on the boat. So no night diving in Galle Harbor I guess.
Today we went into Galle to wander around the city. A large section of the city is actually inside the walls of a fort which is located on a point of land on one side of the entrance to the harbor. Sri Lanka has been ruled at different times by the Portuguese, the Dutch, and the British. So these old colonial powers needed to protect themselves and built this huge fort. The walls are still in tact and rise high above the water on three sides and separate the fort from the rest of the city on the other. It's cool because it is all open to the public for walking around and exploring.
Ali and I felt like we stepped back in to the 1950s while we were there because every time we came around a corner we found a Sri Lankan couple snuggling up and making out underneath an umbrella. It seems the fort is their make out point. The inside of the fort has very narrow roads with old original homes and shops lining the streets, still in use. We visited the museum which was really just a mish mash of strange things, a few of which may have actually been dug up around the fort. Others, like the American $1,000 bill and the 70s style Kodak instamatic camera I'm not really sure the significance of.

We then walked around the newer section of the city, much of which is located directly across the street from the beach and was still showing signs of destruction. We had lunch at an Italian restaurant located on the top of the tallest building in Galle, way way up on the fifth floor. The food was pretty awful again, but we had to try out a pizza here in Sri Lanka so that's what we get. While sitting up there though we could see a bunch of elephants walking down the street towards a nearby field right underneath the fort walls. A guy at the restaurant told us they were practicing for the elephant polo match the next day which is only held once a year. So after lunch we walked over there.

Along the way we came across a crowd that had gathered to watch a concert. We stopped and listened for a while and realized it was one of those concerts that radio stations put on to advertise and promote themselves. The DJ was up on stage trying to get the crowd fired up between songs and quickly singled us out and was clearly happy that we were enjoying the music. Then it seemed like he was getting volunteers to come up on stage for some sort of contest. After a while he pointed to me and asked me to come on up. Well I don't have to be asked twice to go on a stage and embarrass myself, so up I went.
The crowd seemed to get a kick out of it and were all looking at Ali and pointing at me. Up on stage I watched as the music started up and the first two competitors started dancing. At least I thought they were dancing. For those of you who watch Seinfeld, it looked just like when Elaine dances. Then the DJ told me that it was a muscle competition and we were supposed to go up and flex our muscles. So I went out and did my best Arnold Schwarzenegger impersonation. I could tell by Ali's hysterical laughter that she was super impressed by the display of rippling muscle bulging at my shirt sleeves.

In the end, the judge came up and whispered in to the DJ's ear, and yes, you guessed it, the big goofy American took home first prize! Then they started filling my arms up with my winnings. There were two different kinds of dish soap, toilet cleaner that came complete with a toilet brush, a polo shirt, and two baseball caps. Not a bad days haul. Usually when I put on my muscle flexing displays for Ali I get nothing. And best of all, it was all being recorded for Sri Lanka Independent Television. Yes, television show number four for the trip.
After grooving to a few more songs we quietly snuck away from the crowd and made our way back to the fort. We climbed back up on the walls and sat right above where the elephants were being worked out for the big match the next day. Looks like a pretty slow game, but it is pretty impressive to see an elephant running across a field. We actually had more fun watching the elephants off the field. It was just like in professional sports when a guy comes off the field and the trainer hands him a water bottle, only these guys came off the field and walked up to 50 gallon barrels full of water. They'd stick their trunk in, fill it up, and then spray it all over themselves. Then take a big trunk full and shoot it in to their mouth. They are really cool animals.

Ali and I have also really been amazed that every single person we have met has told us a story about the tsunami and without exception they have told us how grateful they are to the United States and many other countries for helping them get back on their feet. It seems every tuk-tuk drivers tuk-tuk has been purchased for him with donations. Others have told us about their new homes that the U.S. built for them, "…two bedrooms, two bathrooms, and a kitchen!" And still others have told us how amazing it was to see the Armed Forces show up right after the tsunami and begin the clean up. One guy was especially impressed with the amphibious vehicles they used. He told us in awe about how the ship anchored outside the harbor and then they drove up in these boats right on to the land and just kept on driving, only they were cars now. Pretty cool. We've been approached constantly on the streets by people wanting to know where we are from, how long we are staying, and if we are enjoying Sri Lanka. Occasionally they are trying to get something out of us, but most of the time they are just genuinely interested.
One other thing. Once again everybody asks us about children. They ask how old we are, how long we've been married, and why no children. The customs guy the other day got in to a long discourse explaining to me the way it should be done. He was at first very happy to hear that we married when we were 23 since apparently here you must marry between 19 and 23. So we made that cut off. Then he explained that you then get two years for "fun," wink wink. "Or maybe just one year." He asked how many children people in America have. I told him usually two these days and this seemed to really please him since they usually have two as well. "Or sometimes three. Maybe four." Ali and I decided that the new simple answer to the kids question will just be that we are on our honeymoon. That will explain everything.
january 26 2006 : galle
Alright, so this morning we set off for the Galle fort again to pull up our free seats to the most exciting sport on earth. Yep, elephant polo. Well, maybe not the most exciting sport on earth, but I would definitely rank it above soccer. We watched the defending world champions (by world, we mean Sri Lanka, Thailand, and India) Chivas Regal team take on The Tickles. The Tickles jumped out to an early 6-0 lead that the Chivas Regal team just couldn't recover from. It's a strange sport because the players don't actually do much. The elephants are controlled by their mahouts (elephant trainers), while the players sit behind them swinging their big polo sticks at the ball. I say it ranks above soccer in my sports rankings because at least there was some scoring.

After polo we walked back towards home. It is about a two mile walk from town to the harbor and was probably one of the most fun walks we have taken on our entire trip. We were like the life of the party for some reason. Every car or tuk-tuk that drove by waved to us, all the kids were happily screaming hello to us, and all the construction workers stopped what they were doing to smile and wave (much like when we walk by a construction site anywhere else in the world). We stopped at a couple of restaurants along the beach for lager refreshments and then finally grabbed a tuk-tuk to take us to Unawatuna, the beach community a couple of miles down the road. The beach here is beautiful, uncrowded, has some of the cleanest water we have seen anywhere, and is full of nice cheap places to stay and eat. We picked a little joint over the water and ordered up dinner. About an hour later we got our food, which was hot, but once again not very appetizing. I'm fairly confident we won't be putting on any weight while in Sri Lanka.
Back at the boat we had a strange encounter. It actually started the night before when these three Sri Lankan guys were hanging around on the dock. Ali and I were inside and kept seeing these guys staring in the boat at us. I went out and talked to them and they basically tried to invite themselves on our boat. We told them no, but for hours afterwards they kept staring in the back of the boat at us as well as walking back and forth along the docks peeking in other boats and generally looking about as suspicious as three guys can look.
Eventually we saw them jump onto a boat across from us. The owner was on the boat and allowed them to sit out in his cockpit but didn't give them any of the stuff that they really wanted. Basically what they were doing was trying to intimidate people into giving them alcohol, cigarettes, clothes, or anything else of value. They weren't friendly at all and just kept saying they were with the Navy. Ali and I kept an eye on them and as they finally left the neighbors boat Ali thought she saw them stick something in their pants.
So this afternoon Ali and I come home and find the same three guys hanging around the dock again. The guy on the other boat told us that they had ripped off some clothes from him, but apparently he was too scared to tell them to get the hell out of here today. So again as soon as we were on the boat they were staring at us. Just standing on the dock and staring. I chose to ignore them and go do email, but as anybody who knows Ali will know, she wasn't about to let these guys get the best of her. She asked what they wanted and they said they wanted to come on the boat. Ali said no, rather forcefully, but still they wouldn't go away. So I came back up and went through the same thing with them. By this point we are pretty pissed off and telling them to stop staring in our boat and leave us alone. They wander away and I go back downstairs. Then I hear Ali yell, "What do you want?!" And then apparently they decided to make an obscene gesture to her. That was it, both of us were flying out the door yelling at these guys to leave. This time they knew we had had it with them and they started to retreat off the dock yelling, "No problem, no problem." And then they took off down the breakwall and behind some nearby building.
We'd had enough of these guys at this point so we called our agent up on the VHF and told him what was going on. Within a couple of minutes they were down at the dock and on the phone with the Navy commander. I pointed out one of the guys that I could still see hanging out on one of the watch towers behind the building and within a few minutes they had all been rounded up. Ten minutes later the Navy commander came down to see me and I explained the situation to him. I told him we didn't want any problems but that all the cruisers were feeling intimidated by these three guys who were robbing us. He was a really nice guy and was obviously not happy about the situation. For one thing, the agents were pissed off because cruisers are their livelihood and if we are being robbed by the Navy then we'll stop coming here. And for another thing, as the station commander, having his men do this was a direct insult to his leadership.
He asked me if I could identify the men. I told him I could and we hopped into the Navy tuk-tuk and drove over to the barracks. We pulled up and he gave his men a command and within seconds about twenty-five guys had lined up in front of me. Despite having changed their clothes I was quickly able to identify two of the men who had been causing the biggest problem. I wasn't sure about the third so let him slide. The one guy who had really been the worst of them and the biggest intimidator was just staring me down which made pointing him out that much more fun. With a sharp command the men filed away and the commander and I climbed back in the tuk-tuk. He told me that there was no way we would have any problem from here on out and to inform the rest of the cruisers as well.
I feel like sort of an asshole writing this now, because we really didn't want to get anyone in trouble, but these guys were trying to intimidate everybody here and went over the line. The commander has given me his word now, so we're pretty confident that we'll be okay to leave the boat for our inland traveling.
january 29 2006 : hikkaduwa, sri lanka
We spent the last two nights over in Hikkaduwa, which is a small beach community about 15 miles up the road. It's probably the closest thing to Kuta, in Bali, that Sri Lanka has. There is a main road through the town that is lined with small shops, surf clothes, internet, and dozens of guest houses. We had our tuk-tuk drop us off in the middle of town near the main surf break and just wandered up and down the road checking out a few guest houses before finally settling on one. Most of the places were pretty rough, but only cost about ten bucks. We ended up at a place that was way overpriced but had a nice bathroom and was directly in front of the surf.
The surf wasn't great, since there was virtually no swell on the ocean, but there were still plenty of waves to catch. There were only about a dozen surfers out at any given time, compared to the hundreds in Bali. The break itself covered a much smaller area though. The break was also over coral in only about three feet of water, which was a little nerve wracking for me at first, but after a couple of wipe outs without any harm, other than a few small cuts on my feet, I forgot about it. The coolest thing about the surf here was how clear the water was. Between sets you would float there and just watch the parrotfish swimming around underneath you, and a couple of times I even had a sea turtle with a head as big as mine come swimming up to the surface five feet away from me.

During the day we just laid out on the beach, surfed, ate bad food and drank good beer. At night we wandered around town and looked for better food and a place where we could sit and watch some television, which is quite a luxury here and something that no hotels have. On our last night we finally discovered rotty, which is sort of like a crepe that they fill with whatever toppings you ask for and then fry it crisp on the outside. The best local food we've found so far, and the cheapest at only 50 cents.
We got back this morning and picked up our laundry which was done perfectly and only cost a little over four bucks. Easily the cheapest we've ever had it done for. The boat was untouched and there were still a half dozen cruising boats at the dock, so we unloaded our stuff and started getting ready to leave again tomorrow. This time we are going to take the train up to Colombo, the capital, for a night. The cruising guide doesn't list much to see or do there but we figure we can't just bypass a big city without having a look around. The next day we'll continue on the train up to Kandy, which is supposed to be a beautiful place and also has the elephant orphanage that we want to visit nearby. A couple of nights there and then back to the boat again to get ready for still another surf trip, this time in the other direction down the coast.
january 30 2006 : colombo, sri lanka
We left this morning at about eight thinking we were going to catch the 9:00 train. When we got there we found out the 9:00 train wasn't an express train and would take 6 hours to get to Colombo. The 2 1/2 hour express train didn't leave until 10:40 which was actually a good thing because we had forgotten our passports on the boat and didn't think going to the capital city, and civil war bombing hotspot, would be a good idea without them. Back at the train station we patiently watched as the train came in and stopped. Then we watched dumbfounded as hundreds of Sri Lankans hurtled forward and threw bags and bodies on to any available space on the train. We stood there outside the train holding our worthless first class tickets and looking like a couple of suckers. We climbed on and started to look through every carriage and finally found two empty seats. Of course they were located between two window rows leaving us with nothing but a wall to stare at and a window behind us that didn't open. Obviously the least desirable seats on the train.
This was our first experience on a third world train and it was great. The train itself was loud, falling apart, and totally dangerous. We were sure the car in front of us would leap off the tracks at any second the way it was bouncing up and down. The people in that car had to be sick by the end of the trip. There was plenty of food to be had because at every station new hawkers would climb aboard with baskets full of fruits, nuts, and assorted deep fried things for which we had no idea of the contents. There were also some lively beggars, some singing, some just holding their hands out, and one guy without any legs or fingers dragging himself down the aisle.
The train ran right along the coast the entire way from Galle to Colombo and the devastation from the tsunami was in your face. Hundreds of cement foundations were swept clean beneath the palm trees, sections of train track were sticking up out of the water in every direction, and the occasional skeleton of a building was still standing as well. But everybody was rebuilding what little they could and they didn't seem afraid to settle down right at the waters edge again. The homes right along the train tracks were the worst we've seen anywhere. I guess like everywhere in the world, land values aren't very high with a train running through your backyard. The houses along here were generally one room shacks cobbled together with any stray pieces of lumber, tin, or brick they could find. Garbage was burning everywhere along the way and by the end of the day our clothes were filthy from the ashes. It was weird though, in the midst of all this poverty there were mile after mile of beautiful beaches, hundreds of children running around in their spotless white school uniforms, and women diligently sweeping out their dirt floored homes.

We met one guy on the train who worked for the railway and insisted on telling us every time the train was stopping even though it was painfully obvious by the way the train slowed down and the wheels squealed that we were stopping. He was very nice though and we had a pleasant enough little chat with him, and I also got my first taste of just how different Sri Lankans sense of personal space is from ours. He stood hovering over me for an hour completely blocking out the only view out of the train that I had previously had as well as the breeze from the overhead fan that had been doing a good job of keeping me cool. A seat finally opened up for him though and we were left to figure out for ourselves when the train was stopping from then on.
Finally in Colombo we hopped in a tuk-tuk and went to our hotel, which was overlooking the harbor. Lonely Planet had called the views from the 4th floor restaurant "superb." We checked in and immediately headed for the 4th floor bar to take in this view. The employees were extremely anxious to show us their beautiful view and insisted we walk straight over to the windows to see for ourselves. Ali and I stood there looking at one of the ugliest harbors we have ever seen. If you've ever seen Los Angeles Harbor then you have a good idea of what Colombo harbor looked like. It was packed solid with huge cranes and container ships. There wouldn't have been a space to anchor even if you had wanted to. The 4th floor bar did however have "superb" cold beer. I'd go so far as to call it the coldest beer in Sri Lanka. And the bartender was a really nice guy as well who continued training us in getting over our personal space issues.
Next we wandered around the city. The Fort area of the city is where we were staying and seemed to have the most going on. The streets were pretty busy with stands selling all sorts of junk and there was a market outside the train station where we loaded up on a few new t-shirts for cheap. As soon as we stopped and pointed out one t-shirt we had a dozen sellers clambering around us holding out their shirts. We said we were looking for an orange shirt in a large and suddenly there were 30 of them in every brand name and design imaginable. It was quickly clear that they all worked together though so we didn't have any fighting over our business, just so long as there was business to be had. We had to do some of the hardest bargaining we've done anywhere, but they were all smiles about it and I think we were all pretty happy in the end.
By now it had been weeks since we had had any fast food and so we next set off in search of a Macca's. We took a tuk-tuk to another part of town and went for a walk along Galle Road, the main street, looking for it, as well as taking in the sights. Everywhere you looked in Colombo there were armed guards. There were bunkers set up on every corner, on every bridge, and in front of every building. The Tamil Tigers regularly bomb areas of the city in the ongoing civil war, which is probably why we weren't running in to any other tourists as we wandered the streets. The locals crowded the streets though, and we never felt like we were in any danger. The only danger it turned out was that we would die of starvation while looking for a Macca's that doesn't appear to exist any longer. No Big Mac attack tonight.
january 31 2006 : kandy, sri lanka
We were up extremely early this morning to catch our 7 a.m. train to Kandy. Wandering the streets of Colombo in the dark and heading for the train station was a strange experience. About the only people out at that time were the guards manning their posts and holding their machine guns. Fortunately today's train had assigned seat numbers, which gave us a fighting chance of actually having a view out a window. Our seats turned out to be at the front of the car where the first two rows of seats face each other and yes, we had a good view.
The train left the station just as the sun was coming up and the scenery was beautiful. There were tons of rice paddies with the morning mist rising out over them and burning off as the sun warmed it up outside. Eventually the train started climbing in to the hill country, which again, to our Midwestern eyes looked a lot like mountains. As it turned out the view out of the other side of the train was the better while climbing through the hills since our side of the train was the side that hugged the side of the mountains.
A nice local couple noticed our craning necks and insisted that we switch seats with them. So now Ali was sitting in the best spot looking out over the valleys that dropped off right outside the train window and fell hundreds of feet straight down. Now the lady that was sitting across from Ali who had the other window seat insisted that I take her spot. So now three people had given up their great seats so that Ali and I could enjoy the incredibly beautiful views of their country. And when we got to Kandy the guy even gave us his business card and told us to call if we needed anything during our visit. I feel like I say this all the time, but the Sri Lankans are far and away the nicest people we have ever come across. They are always talkative, always thrilled to hear we are from America, and never ask you for anything in return.

Kandy is a medium sized town which is easily walkable in just a couple of hours and that is what we did when we arrived. We checked out a couple of different rooms before settling on the Queens Hotel which was directly across the street from the Temple of the Tooth and the lake which was built in 1807 by a nasty ruler who forced his people to build it for him. If they didn't want to then he tied them to stakes in the center of the lake and left them there to die. This was before unions I think. I was standing out on the balcony having a look around when Ali came out and joined me and immediately spotted the Pizza Hut which was directly across the street next door to the Temple of the Tooth, which fittingly, is where the sacred tooth of the Buddha is housed. I have no doubt the Buddha would have approved.

It was around noon when we got settled in and so we went to walk the town. The streets were absolutely packed with people. It amazes us how many people are out and about in the middle of the afternoon. Walking by one small food stand I saw a sign for kotthu rotty, which is vegetable rotty. These were a smaller size than the rotty I had the other night and are more of a snack food. We picked one up for 15 cents and continued walking down the street. A block later I was ready to go back, it was the best thing we have eaten in Sri Lanka. Just the right amount of spice, and for the price I could stuff myself for a buck. We continued down the street until we came across a tiny little local restaurant. We went in and ordered up a couple more rotty and a coke and grabbed a table. It was probably the strangest place we have ever sat down to a meal.
Anyway, not much else today, just a lot of wandering around. We didn't go in the temple because I didn't bring any long pants and it is such a sacred place to the Buddhists that we would have felt out of place anyway. We did discover another local food favorite though, homemade potato chips with plenty of salt and hot spices. One of the other things we noticed was that at these food stands they always make their own bags for the food. They fold the paper up in to perfect little pouches and glue up one side. So far we have had math homework and a 1990 edition of Time magazine in English. We did get a lot of curious stares today which we thought was weird since Kandy is probably one of the top three tourist destinations in Sri Lanka. All friendly though. The kids seem especially happy to see us and will giggle and tell all of their friends if we say hi to them.
We were also happy today to hear that so many of you saw us on National Geographic last night. Sounds like we got quite a bit of air time which is pretty exciting. In fact, Ali just mentioned that is probably why we were getting so many stares today. It wasn't just that we were foreigners it was that we are famous television star foreigners! Here is a short clip from the show.
Socialize