january 2 2008 : san blas, mexico, central america
Ali and I spent New Year's Day on the beach in Mazatlán. It seemed like the right thing to do. It turned out to be an excellent beach for strange happenings. Actually, a parasailer crashing into the water a hundred yards offshore requiring a company to rush out on jet-skis to pull the huge parachute off of him before he drowns isn't all that strange. In fact it's probably a pretty regular occurrence. A group of four baby turtles being murdered by a kid building a sandcastle is probably a bit more strange though. It was an accident though, so I suppose it could be ruled manslaughter, but neither of us are lawyers.

I have to admit I was pretty surprised last night at the park when a Mexican walked up behind me in the dark and asked me in perfect Spanish, "Your money or your life?"
No, actually he asked me what year the bus was. "Cincuenta y ocho! Muy bien, muy bien." Actually the reason I was surprised was because this was the first local I'd seen in an RV park. And to top it off, he was in a '72 VW bus with his wife and two kids. We stumbled along with my struggling Spanish and showed off our respective buses to each other. He really seemed to like the bus, and he also liked my Spanish name, Patricio. Pat gets nothing but blank stares in Mexico, Patrick seems utterly unpronounceable, but Patricio, well that simply rolls off the tongue. No problems with Alison, but don't even try Ali.
We hit the road this morning eager to find someplace a bit less mainstream. We were headed for San Blas a couple of hundred miles to the south. We opted for the non-toll road, which took us hours longer, but also saved us a bunch of money, and allowed us to see a bit more of the countryside and the small towns. Along the way we stopped at a small roadside restaurant. It's placement all by itself in the middle of a long empty stretch of road just screamed out, Good food here! And actually it was. For the first time we had a bit of trouble ordering. There were no menus and the girl reciting the food options to us was too shy to repeat herself after the first run through, leaving us to just throw out food words until we hit something. We eventually ended up with a huge plate of what I guess would probably be considered fajitas. Like I said, the food was good, but even better was the price. In Baja we ate pretty much exclusively at local taco stands, yet it still wasn't cheap. Here on the mainland we had an immediate price drop, and that went for the beer too. Things are looking good.

Rolling through San Blas we immediately liked the place. The entrance to town is lined with small restaurants, all with the grills fired up right next to the road, with piles of meat, chicken, and whole fish cooking away. We made our way to a nice campground close to the beach and wandered down to the water for sunset. The locals were out in force, and so were the jejenes, tiny gnat-like insects. We'd read about these things being a nuisance here in San Blas, but had no idea just how serious they were. We borrowed some bug spray from a surly fella in a nearby restaurant, and made our way back to the bus to call it a night.

january 4 2008 : sayulita, mexico
The next morning the bugs were driving us absolutely insane. We had no more bug spray and were being swarmed and bitten mercilessly. So by nine o'clock we were down the street at the beach with a fresh bottle of bug spray. Under my arm I carried a surfboard, which when we saw the state of the ocean must have seemed pretty silly. The mighty Pacific had gone flat. Hardly a ripple stirred the surface. With our bodies sprayed down the bugs only bit us occasionally and we were able to spend a pleasant three hours on the sand watching the Navy officers patrol slowly back and forth carrying their machine guns and taking pictures for people. It was sort of amusing watching one older couple who gave a soldier a camera and then proceeded to make him walk out into the water with them so they could get just the right picture. They sort of had that attitude of, Our taxes pay your salary, so do what I tell you.

In the afternoon we loaded up the bus and drove downtown to find some lunner. We went straight for the row of fish restaurants lining the way into town and parked across the street from the busiest one. Our waiter was happy to explain what each fish on the grill was and I eventually picked out a gigantic piece of Marlin for the two of us to split. It was over two pounds of fish served with all the accoutrements and a heaping pile of tortillas. It was the sort of meal you couldn't rush through, so we just sat back with our Pacificos and ate slowly.

After each beer we'd order another and watch as our waiter ran across the street to the store and back. They did this for all drinks. Eventually it dawned on us that they didn't have any refrigeration, which could be viewed either as a positive (the fish must be fresh), or a negative (the fish sat in the heat all day long). We thoroughly enjoyed the local atmosphere here, and didn't pry ourselves out of our curbside seats until nearly five hours had elapsed. By which time our plans to drive the ten miles to the next beach side campground, reportedly with fewer bugs, were long forgotten. We rolled right back to our spot at the bug infested campground and prepared for another night.

We quickly came to our senses this morning, packing up immediately and getting on the road. The drive south from San Blas was a nice one. The road was pretty much empty and wound through a whole bunch of small towns. We stopped along the way for banana bread, empanadas, and a market. At the market I was able to score the 11mm wrench I'd been needing. It was used and rusty, but despite that I still paid the 10 pesos ($1) that was asked. Ali gave me crap, but I always find it tough to haggle over things that small. Give me a blanket or a taxi ride across town and I'll argue over the price right down to the penny, but start out at a buck and you've got me.

When we stopped for gas today the attendant was enamored of our bus. Bonito, bonito, he kept repeating. Yes, beautiful. Funny thing was that while we discussed the bus he felt the need to kick the tires and pound on the side to test out just how nice she really was. Meanwhile Ali is sitting inside where these noises were amplified about a hundred times and she quickly has her head out the window asking what the hell is going on.
Sayulita is where we pulled in to spend a couple of days. It's a small-ish town that's been gringoized, but not to the extent of the resort towns just yet. It's also a great surf spot and we were able to find a campground right on the beach to take advantage. Unfortunately the Pacific had gone even more flat in the previous twenty four hours. I paddled out, paddled around in circles for half an hour, and paddled back in. The other reason I'd been looking forward to stopping in Sayulita was that in the Lonely Planet there was a restaurant reported to have the best fish tacos in Mexico. It also mentioned that the owner was an American. I don't know why it didn't dawn on us that it would just be stupid to think that an American could make the best fish tacos in Mexico, but it didn't. It should have though, because they weren't anywhere near the best.

An email came in today telling us that the chat room that we just linked to four days ago has already been shut down and moved by the moderator of the forum. They also deleted a bunch of the postings. Why is it that talking about our trip causes so many problems on these things? My favorite part of it is that they moved it into a group called Around the Campfire, which is where people talk about things like Sodoku and the presidential race. Apparently we didn't even qualify for the group called Mexico and South America Travel. Banished to the depths of crossword puzzles. (update: The thread has been reopened under the Mexico and S.A. topic. The moderator emailed us to tell us he moved it because he doesn't like the guy who started the thread. Aren't these forum moderators supposed to be neutral?)
january 7 2008 : laguna juanacatlán, mexico
We spent another day in Sayulito, chilling on the beach, surfing, and hanging out with some new friends. January 6th is the big holiday in which kids here in Mexico get to open presents. Some kids get the double whammy opening up on Christmas too, but for the most part the 6th is the big day. Apparently they set out shoes with hay in them the night before. Then the three wise men show up in the middle of the night with their donkeys, who eat the hay, while the wise men pile presents up on top of the shoes. We obviously didn't pick up all the nuances of this holiday. The point is though, that the beaches and the towns we've been to here on the mainland have been packed with locals, making it a much more interesting scene than normal.

Yesterday morning after one more paddle out in to the surf we packed up the bus and headed south out of town. Our destination was rather loosely planned as turning off at a dirt road and driving up into the mountains. It took us a while to find the road, helped along by some gas station attendants who gave us the first accurate directions of the trip. As it turned out the road wasn't dirt at all, but was a reasonably new smooth road. I'm starting to think that our map is from around the 1950s.

It was a nice drive through small towns, jungle canopies, fields of blue agave, and rocky peaks. Lately I find myself driving in constant fear though. The roads here, especially through the small towns, are littered with topes. These are speed bumps that act as replacements for police. The thing is, these speed bumps may or may not be marked. Sometimes there is a sign, sometimes not. Sometimes they are painted yellow, most of the time not. The fear comes from the fact that hitting one of these in our bus at even 30 mph would send Ali and I through the roof, breaking all of our suspension, and our necks in the process. The other thing about the topes is that they don't seem to be very official. In other words, the most likely place to find one is directly in front of a small roadside restaurant with a grill full of chicken fillet smoke blowing in your window.

The road through the mountains that was heading in the general direction that we wanted to go was closed for some reason, which led us to the town of Mascota. On the way through town we spotted a sign with a map of the area. We hopped out and saw that there was a laguna somewhere nearby that had a little picture of a campground next to it. We decided to make that our destination for the night, but before leaving town we had to eat. We drove around a little bit before finding a busy little place with the word Birrieria and two goat heads mounted above the door. I remembered reading somewhere that goat tacos were a specialty of the area, so we sat down and ordered them up. I hate to talk about food all the time, but Mexico requires it. In our opinion they have got the best food in the world, hands down. We have yet to order one plate of food in which we didn't mop up every crumb on it, and that includes the times that we have no idea what the restaurant is even serving.

Anyway, after eating goat tacos and getting directions from the chef, we drove out of town along a quickly deteriorating road. The narrow road climbed virtually straight up at times, requiring us to inch along in first gear and pray that we didn't have to turn around for some reason. It took us well over an hour to make our way up the ten miles, and then at the top our jaws dropped.

There was a huge gate, a guard, and a sign stating we had arrived at the Sierra Lago Resort and Spa. This didn't look at all like the kind of place we could camp for free. The guard opened up the gate and we drove up. After our Spanish greetings and asking if we could camp he suddenly switched to perfect English and explained that we were welcome to camp. He seemed surprised and happy to see us and told us right where to go. We drove past the gates, past a nice hotel, past a bunch of guest cottages, past the tennis courts, and finally around to the back side of the perfectly landscaped lagoon, where we had a beautiful area to camp all by ourselves complete with bathrooms, a loaded fire pit, and tiki torches. And all for free. It seems the resort can't really own the entire lagoon, but they can restrict access to it. Leaving anybody who checks in at the guard gate free to visit. But nobody does.
The guard came by a little while later. We talked about his time in Utah and about his family down in Puerto Vallarta. Then he suddenly walked away and went behind the bus.
"Amigo," he said, motioning me to come over.
I figured he wanted a little tip for letting us in and walked over.
"You smoke weeeeed?" he actually sounded a little like Cheech as he dragged out the eeeees.
I told him no, but thanks. He told me he didn't either, but he knew some people who did. Walking back around to where Ali was sitting he abruptly switched subjects and asked if we believed in God. That touched off an awkward conversation in which we couldn't tell if he did or not, which is how we've generally gone about answering that question around the world. Eventually he bid us farewell, hopped on his bike, and rode off, leaving us all alone on the mountaintop.
Ali and I sat around and watched the birds, went for a walk along the water, had ourselves a roaring fire, and went to bed with the temperature plunging. Why do these lagoons always have to be located way up at the top of a mountain? By morning it was hovering near forty degrees and all we could think about was how quickly we could get back down the mountain.

january 8 2008 : magdalena, mexico
After the sun came up in the morning it wasn't long before it was eighty degrees and we found ourselves lounging around the lagoon, drinking coffee, and working on a couple small projects around the bus. By the time we finally got back down the mountain it was noon and we had no real destination in mind. We were headed towards Tequila though and had a great day of driving on our way in that direction. This was farm country, nestled in between mountains in every direction. The biggest crop was sugar cane which gave us long views of bright greens and golden yellows to the horizon. The sugar cane also became a big road hazard when trucks, which were stacked to twice their heights, would begin losing one cane after another.

Around four the sun started dropping and we started to wonder where we'd spend the night. That's when we stumbled across another little area map along the side of the road. On it we noticed that there was another lagoon, and figured that since these lagoons had worked out so well for us so far that we'd try it again. When we got to the turnoff we found another map, this one marked with a little picture of a tent next to the lagoon. Sweet.
It took a little searching, but we found Laguna La Colorada and couldn't believe we'd stumbled across yet another perfect spot. There was the tranquil lagoon filled with ducks in front of us, a field of blue agave plants behind us, and not another soul in sight.
In the morning we found ourselves once again surrounded by cows who didn't seem the least bit disturbed to be sharing their land with us. One cow was so brazen that he walked up to the open cargo doors and stuck her head all the way in, taking a good whiff of the coffee maker, and a nibble at the garbage bag, before sniffing the door itself. As her head slowly came up from the bottom of the door she found herself staring right at her reflection in our mirror. Startled at the sight of another cow inside the bus looking out at her, she stumbled backward and hurried away.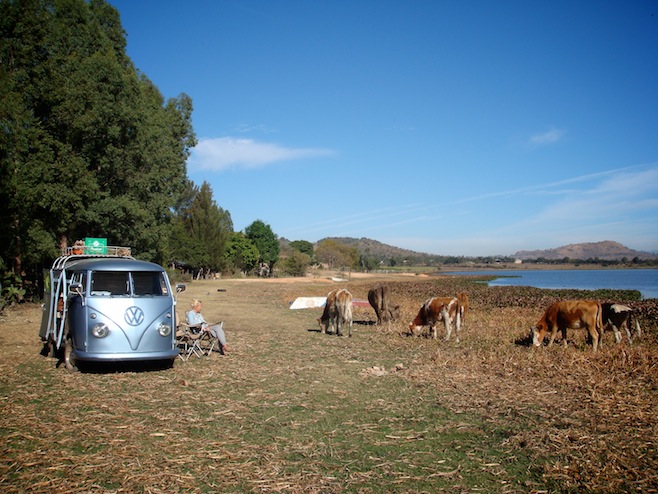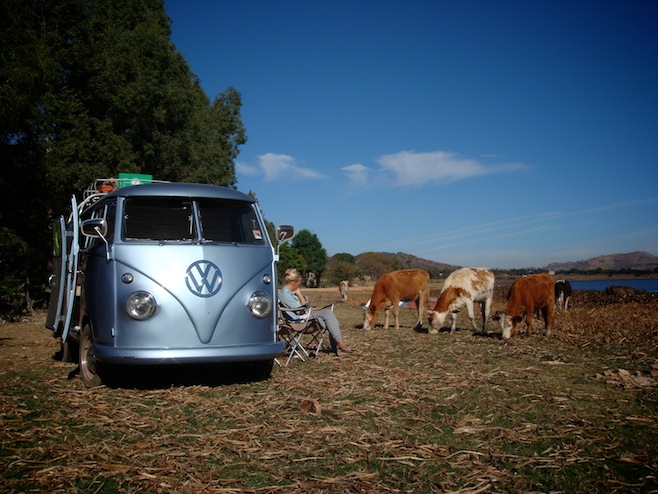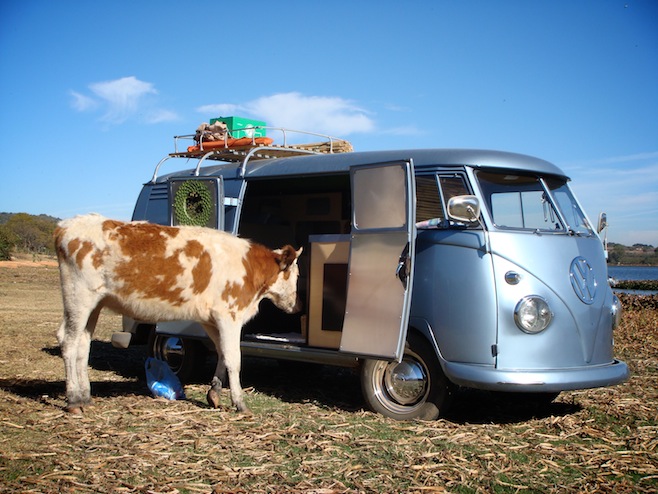 After that we decided it was time for some tequila. The city of Tequila was about an hours drive away. It was a nice town with long narrow streets lined with hundreds of shops, a good majority of which carried nothing but tequila and mezcal. Of course no visit to Tequila would be complete without a visit to the Jose Cuervo factory for a look inside the liquor that erased all memory for me of the '92 Mötley Crüe concert, among other things. The tour was reasonably interesting, taught us a few things about the history of tequila, and included a few tastings and margaritas. Not a bad way to spend a hundred pesos.

Actually only the first margarita was included the next couple cost us a buck apiece, which might have something to do with us driving out of town with, once again, no clue where we'd spend the night. We took a look at the map and saw a lake about twenty miles away down an unpaved road. High on the success of our previous two waterfront nights, and tequila, we decided that three times was the charm. A few miles down the road, driving at 15 mph we were sure we'd made the right choice when we saw a sign for a campamento just ten miles farther on. By the time we finally got there we were ready to stop, exhausted and tired of the bone rattling ride, but for some reason there appeared to be a guard shack and a barrier at the entrance.
Turns out this campamento was not a place to camp at all, it was a camp for the employees of the huge dam right down the street. The guard was friendly and even seemed to understand our misinterpretation, but couldn't help us out with any ideas for a place to spend the night. Dejected we made our way back up the long drive. Out of ideas we decided to just backtrack the hour or so to the previous nights spot.  It would be getting dark by then, but at least we knew where it was. Along the way we passed a hotel that looked halfway decent, and had a courtyard to park the bus in. As we drove past I offered it up to Ali. She asked, "How much do you think it cost?" "Can't be more than thirty bucks." "Well for that price I'll take it."
We flipped a u-turn in front of the first cop we'd seen in weeks and pulled in to the hotel. After a minor bit of haggling we had a deluxe room for sixteen dollars.
This is our first room in forty days, which really surprised us both. When we were talking about this trip we decided that a VW bus would be fine because rooms would be so cheap. We actually thought we'd spend every second or third night in a hotel, but now that we're on the road we don't even think about it.  In fact we prefer the bus.
january 10 2008 : guadalajara, mexico
The next morning we drove in to Guadalajara, Mexico's second largest city. Surprisingly it wasn't that hard to maneuver through, and by following the city centro signs we quickly found our way to the area we were interested in seeing. It took a bit of driving around to find parking for the bus, since we don't fit in parking garages because of our height, but we eventually found an outdoor lot.

Walking around the city we were amazed at the number of pedestrian areas and especially by the huge plazas scattered all over the place. One plaza stretched for nearly half a mile, a block wide, and ended at the base of the Cathedral. The Cathedral was built back in 1558 and has two huge towers you can see from virtually anywhere in the city. It's also the place that the heart of the city seems to branch out from. We walked around in every direction, checking out the shops, the statues standing all around the plazas, and the cavernous three story market where if you knew where to look you could find anything imaginable.

After a few hours we decided we'd better head out. We had found an RV park on the internet that seemed easy to get to and was close to downtown. In fact it appeared to be the only sort of campground anywhere near downtown. The directions really did seem extremely simple, but once we set out we realized it might not be so easy after all. We were supposed to find our way to the road towards Colima, which we did. We missed at least a half dozen turns along the way, but always managed to get turned around and pointed the right way again. The problem seemed to stem from the placement of arrows on the road signs. Maybe there is some method to it, but we can't figure it out. For instance, a sign will have your city name on it with an arrow pointing left. But it won't necessarily be the first left, it might not be for another three blocks, or worse still it may be the street whose intersection you are currently passing through. The other trick they have, which we'd find out later, is on the highways. Say the highway is four lanes, they will have signs above each lane with a city name and an arrow pointing straight down, apparently indicating you should be in that lane for that cities exit. But that never worked, usually the minute I moved into the second inside lane the exit would rear up in the far right. I eventually learned to always stay to the outside. I would never fall for the trick of getting myself caught inside again.
Anyway, we were driving along what we thought was possibly the right road and were looking for signs for a numbered highway. Another mistake. There are rarely, if ever, numbers for the highways. It's city names or nothing. Soon we realized that we had no idea where we were, what the directions meant, or where we were going. It was now rush hour, we had about an hour left of daylight, and we were still basically in downtown Guadalajara. My plan B was to drive about a half hour south of the city to Chapala, which is a town that sits on Mexico's second largest lake. The guidebook made it sound as if it was a magnet for North American retirees, and expats looking for something besides a beach. That seemed like an RV park no brainer to me.
Without too much trouble we found our way down there just as the sun disappeared behind the mountains. We pulled over and asked a group of policemen where we could find a campground. "No, no campemento, no camping." Seriously, there is no camping anywhere around the area. "Ahh, San Antionio, trailer park." This brought some welcome relief to Ali and I and even the policemen who seemed disappointed at first that they couldn't help us out.
Ali and I quickly drove down the road to San Antionio, found a sign for an RV park and drove down the road. Nothing there. We thought maybe that wasn't it, turned around and continued down the road a little farther to San Antionio. Still nothing. We drove back to the RV park sign, asked a local guy riding by on his bike. No, there used to be a RV park here, but not any more. He seemed to remember one by the big Coke sign in San Antionio though. We turned back to San Antionio again, found a big Coke sign and asked a farmer. With a big toothless smile he indicated to us with a strange wavy motion of his hand that it was back down the road somewhere, perhaps to the left. We spun around and tried a road to the left. Nothing.
We asked some folks standing outside the church if they knew where we could find a trailer park. No, there is none. No camping. By now it was pitch black and we had four different answers regarding the existence of a campground. We gave up. On the first RV park road we had noticed a large RV with Arizona plates parked underneath a street light. By the looks of the weeds around the tires it seemed it had been sitting there unused for a while. Which we took to mean that it was a nice safe spot. We pulled in next to it along the small town side street, made the bed, and crashed. It had been a long afternoon of driving for nothing.
In the morning I was able to bring up the RV parks website from the cache on the computer. Looking at the directions as if coming from the opposite direction it was immediately clear to me where we had gone wrong. So we fired the bus back up and headed back north to Guadalajara. Along the way we only made two wrong turns, and after an hour were tucked in to an RV park built for 200, but holding about 6. The place had obviously seen more prosperous times.
We spent the day lounging around the bus, cleaning out the filthy engine compartment, fixing a leaky water hose, and generally not moving too fast. We, or rather I, decided that I was ready for one more attack on Guadalajara, so tomorrow we're going back in to see some more of the sights. Ali has promised me that a repeat of yesterdays driving debacle will have severe and lasting repercussions.

january 11 2008 : guadalajara
Fortunately our second foray into Guadalajara went much more smoothly than the first. Without a single wrong turn we made it to our same parking spot and set out on foot to see a few things we'd missed the other day. My main interest, for reasons I don't even know, was the woolly mammoth skeleton gracing the Museo Regional de Guadalajara. I thought the big beast with the giant tusks was pretty cool, and I caught Ali taking a picture of him on the sly too. The rest of the museum was pretty good too, focusing a lot on the War of Independence, though it was all in Spanish and therefore not the most enlightening to those of us whose language skills consist of ordering food and asking directions. Oh, and counting to a thousand. Slowly.

After that we crossed the street to the Cathedral where we pulled up a pew and watched the nuns for a little while. The over the top architecture of these 400+ year old cathedrals always amazes me. I would have liked to see the scaffolding setup they used to put the finishing touches on the dome. Back outside we just wandered around enjoying the plazas and the afternoon sun before driving back to the campground for the night.

january 13 2008 : angahuan, mexico
Yesterday we made a quick drive south from Guadalajara to Jocotepéc. It was a fairly forgettable day, though we did get pulled over by a traffic control cop in town. He asked for my license and our vehicle permit, matched the names on them, and handed them back. "Muy bonito, muy bonito," he kept telling us as he ran his fingers along the paint. He was a friendly guy who obviously wanted nothing but to have a closer look at the bus. The rest of the day was spent in front of a laundry machine in a campground.

The drive today only looked like a couple of inches on the map. That couldn't take too long. In fact it was about a 150 mile day, but driving on Mexicos back roads does not make for quick, efficient travel. I would say without exaggeration that we encountered at least 200 topes today. Add to that a few wrong turns and we just barely made it to Angahuan before dark.

The town of Angahuan is an extremely dusty place with roads just barely wide enough for us, a small cow, and a young boy to fit on. The reason the town is on the map is that in 1943 a farmer was out plowing his field when a volcano started bubbling forth from the ground. For the next 9 years it continued until it had consumed two towns and had grown to 6000 feet tall. Even though that's kind of a cool story, it wouldn't be that remarkable a sight if it weren't for the one remaining remnant of those two towns, a church that stands tall in the middle of a giant field of lava.
The moment we pulled in to town we had a man trotting alongside of us on a horse. He was one of dozens of guides around town who take tourists out to see the church, or even up to the top of the volcano. We told him no thanks though, and made our way the rest of the way through town by only asking old ladies, who clearly weren't guides, where the tourist campground was. It was pretty clear that the campground doesn't see a lot of overnight camping gringos, but after shaking a couple of more friendly guides we now have this quiet place pretty much to ourselves.
january 14 2008 : pátzcuaro, mexico (65 nights in the bus : 10,052 miles)
Knowing that the guides and horses probably wouldn't arrive too early, Ali and I set out at a little after seven in search of the church in the lava. The campground was at the top of a hill with sweeping views of the entire countryside, so it didn't take us long to zero in on the location. From there it was a relatively simple process of following the horse trail down. At the bottom things got a little tricky though. The lava field was like a wall about thirty feet high and stretched for miles. The horse trail petered out and we eventually took to climbing the lava looking for a way in. Once we decided we were as close to the church as we could get from the edge of the lava we continued climbing directly for it.
There was about 500 yards of lava separating us from the church and it turned out to be pretty challenging. It was that nasty sharp kind of lava that can cut you just by touching it and it wasn't long before I was bleeding. Fortunately we had opted against wearing flip-flops for this hike, because our shoes are now in tatters, and our feet wouldn't have faired so well. It was a fun adventure though, and before long we were standing in front of the second story of a church that had been consumed by lava 50 years ago.

The sun was just coming up over the mountains behind us, but we weren't the first people out there. In fact, a teenager and his parents had beat us to it. They were gathered in the arched window of the church and appeared to be having some kind of religious service. We stood back in the lava almost out of sight and watched. Soon we noticed that they were holding a rooster. He appeared to be dead, but they were trying to cut its head off. They were having a heck of a time with it though and it seemed pretty gruesome from where we were standing. Then we noticed that the mom was holding a video camera, and at one point she handed the boy a vial of red liquid that he poured all over the place. Eventually it dawned on us that they were shooting some sort of low budget movie. At least we hoped that's what it was.
The church and the setting really were beautiful, and it was great to be out there early in the morning to see the way the light transformed the place. We took a few pictures, admired the scenery, and watched an animal sacrifice. After a while the boy came clambering over the lava to us, his hands full of a mix of fake blood and chicken feathers, and announced apologetically that he was shooting a movie and he'd be done in ten minutes.
Of course, after climbing over and through 500 yards of sharp lava, we found that there was a much easier route out that was 100 yards long and required about as much skill as walking on the beach. That would be the advantage to hiring a guide I guess, though our route was a lot more fun.
After our hike we loaded up and headed down the road to Uruapan. We really enjoyed the town there. It's actually a fairly large city, but the city center itself is the perfect size to wander around. The town was really lively with tons of school kids all over the place. We had lunch, walked around the main plaza, and then went and checked out what claims to be the world's narrowest house, though I think it is actually in second place. At just over 4 feet wide and 30 feet long the house is pretty darn narrow, and was good for a laugh.

Just a mile out of town was a national park that the Lonely Planet indicated may have camping. It took some searching, but we found the park seemingly in the middle of a busy neighborhood and drove up to the camping area. At least that's what we thought it was. The guys running the place seemed pretty amused to see us, and even more amused by our inquiries for camping. There were a few buildings, some nice grassy areas, a huge bathroom complex, and tons of nice landscaping, yet the place was deserted. The young guy in charge said we could camp for the night right there in the parking lot, which was fine by us. We were just happy to have found a place so off the beaten track. An hour later we were sitting in the sun, reading, and just about sleeping, when the boss came back over and told us that he was sorry but we couldn't camp there. We didn't catch all of what he was saying, but he seemed quite concerned about the gates being locked at six o'clock.
With two hours of light left we were cast back out onto the streets. We had another place to go though, in a town just an inch away on the map. This time though, there weren't a dozen other small towns in our way, and with plenty of light to spare we found ourselves at a campground in Pátzcuaro.
This little campground/hotel is filled with RVers and after talking to a couple of them we found out why. There's a caravan in town. We had never heard of these things, but just like cruisers and their rallies, RVers have caravans. It seems a group of about twenty of them pay some company to lead them from RV park to RV park across Mexico, taking them on shopping excursions, and out to eat. And just like with cruising rallies we can't even begin to see the appeal of traveling this way.

january 17 2008 : guanajuato, mexico
For the next couple of days we hung out in the Pátzcuaro area. Pátzcuaro itself is a really nice walking around sized town with a couple of main plazas that are always filled with people. Flowing down the alleys from Plaza Grande is a huge market where everyone in the area comes to do their shopping before circling back to the square for an ice cream in the sun. We found a couple of good restaurants and a whole new set of local foods to eat, seeing as our fish tacos have been left behind on the coast.

Just north of Pátzcuaro is a lake surrounded by a string of dusty small Purépecha villages. The Purépecha are the indigenous people of the area and a few interesting archeological sites are still around to check out. The sites were presented very well, with big plaques describing everything in three languages. We had the places to ourselves and spent an afternoon walking around them.

Then last night in an effort to get away from the RV park we drove down to Zirahuén. It was another small town set along a lake. This lake was much smaller than Lago de Pátzcuaro, but was also much cleaner and more scenic. It took a little searching, but just outside of town we found a nice grassy park/camping area. We made ourselves a spot next to the water, next to the local kids making out in their car, and enjoyed the last of the sun's warmth. The elevation in this area is close to 7000 feet, and at night it has been dropping down to 40 degrees. Traveling inland is definitely more interesting than the coast, but compared to the beach the weather sure does suck.

At ten o'clock last night, after everything had gone dark and quiet, we had a truck come roaring up alongside of us. We heard a door open and I was out our door in seconds. Just as I hit the ground and turned around a man with a machine gun stepped out from behind the bus. Fortunately he also had on a police uniform. We exchanged greetings and I explained we were camping for the night. He told us no problem. He was very friendly and left quickly so we were surprised when the truck came back five minutes later. Again I raced out to meet them, but they stayed in the truck. It was freezing by now and they had the heater cranked. This time the other guy did the talking. We talked about the cold weather, I again explained we were just staying the night, and he told me they would be patrolling the area. I think they just wanted to assure me that we were fine there and would have no problem. And for the rest of the night we slept like babies. Very cold babies.
In the morning the scene was beautiful. Steam rising off the lake, ducks paddling nearby, a horse standing knee deep in the water drinking, and the fisherman getting their nets ready and launching out in their canoes. We enjoyed the scene as long as our bodies could take it before firing up the bus and making our way out through town headed hopefully for warmer weather.

Ali and I have begun to take a perverse pleasure in the fact that in 3600 Mexican miles we have yet to drive one foot on a toll road. That's no easy feat considering that nearly every major town in Mexico are connected by tolls. The nice thing about the toll roads here are that there is always an alternative. When you are driving down a road and are confronted by a road sign saying Cuota, there is a turnoff with the same town name stating Libre. The non-toll roads of course take much longer and go through small town after small town, but since that's what we're looking for it works out perfectly, and has the added benefit of getting a lot of the traffic off our road.

We drove in to Guanajuato in the afternoon. Guanajuato is a Unesco World Heritage site and the town is built straight up the steep hillsides. It's incredibly scenic, with narrow winding streets that disappear into tunnel after tunnel as you make your way around and through it. We were a bit put off when we first rolled in to town though, by tour guides standing on the side of the road screaming at us to stop as we drove by. Apparently that's a good way to drum up business. We blew past and soon had made our way to a neighborhood clinging to a hill with four neat little camping spaces overlooking hundreds of homes perched on another hill across a ravine. It looks like it'll be a great spot to enjoy the town from for a couple of days.

january 19 2008 : guanajuato
Well in a very short time Guanajuato has become one of our favorite Mexican cities. The city is built in a ravine with homes climbing every direction, many of them with no roads even accessing them, just long steep stairways all the way up. The town center was just a ten minute walk down the hill from us, winding every direction along streets with no name. I was actually a little concerned that we'd never find our way back up. The town was buzzing, people were everywhere, going about whatever their daily business was. Ali and I just wandered aimlessly through the streets, snacking at street vendors, and watching the occasional Japanese tour group amble past with their earphones on.
Our favorite thing about cities is the ability to get whatever you want just by walking a few blocks. In Chicago we never drove anywhere because everything we needed was within a five minute walk. Today in Guanajuato we needed an oversize envelope. Within two minutes we found a shop selling nothing but notebooks and envelopes. Then we needed to find a post office. Again, without even looking we had stumbled across it within three blocks. Tacos, pizza, churros, donuts, tennis shoes, fabric, PVC pipe, all right there. And in the middle of it all were perfectly manicured plazas with statues, fountains, and the ever present church. The city just had a great vibe about it. And best of all, because it is a Unesco World Heritage site, the look and feel of it should never change. There are no traffic lights, and even the fast food restaurants have to fit themselves in to buildings hundreds of years old.

january 21 2008 : ocampo, mexico
The last couple of days have been more or less travel days. From Guanajuato we drove south to Querétaro, which surprised us only by how sprawling the entire area was. We were still about a hundred miles north of Mexico City but it felt like we were just on the outskirts.

The next day we continued south to San Felipe de los Alzati, a small town just down the road from the El Rosario Santuario Mariposa. The road was a scenic one climbing through the mountains and took us hours longer than we had expected, due in large part once again to the abundance of topes. We spent a quiet night by ourselves in a field next to a hotel and woke up this morning to temps in the 30′s. It is starting to feel like the entire country is situated between six and eight thousand feet above sea level, giving us clear skies with 78 degree days, and nights that hover just above freezing.
By nine o'clock we were at the parking lot for the butterfly sanctuary. We were the first people there other than a couple of kids trying to make a buck by directing us to a parking spot with a flag, despite the fact that there was probably enough parking for 2000 cars. There was a long line of restaurant/snack shacks leading up the hill, but only a couple were coming to life at that hour. The guides hadn't even shown up yet to offer their services, so within just a few minutes Ali and I were disappearing into the woods on our own. We picked up a well worn horse trail and I assumed that it would lead us to the monarchs.
The climb was extremely steep, and within ten minutes we found ourselves stopping often to catch our breath. We were up around 9000 feet and it was a serious climb. We went on like this for over an hour, climbing and climbing, yet never reaching the top which always seemed just beyond our reach. By this point we knew we had screwed up, there was no way this was the trail that the tourists would be brought up on. But when you are nearing the top of a mountain there is really nothing you can do but keep climbing. Eventually we reached a clearing and we thought, or rather hoped, that we'd find millions of monarchs fluttering around. We didn't. In fact we had yet to see a single butterfly.
We picked up another trail on the other side of the clearing and began a much slower descent. We were not happy at this point, figuring we had just climbed an entire mountain for no reason whatsoever. But then suddenly we had a butterfly flutter past us. Then another, and another. Pretty soon they were everywhere. And then, in an instant, there were billions of them. A grouping of trees in front of us were dripping monarchs. They were so thick that their weight bent the branches straight down. It was truly an amazing sight, and certainly one of the most remarkable things we'd ever seen. Butterflies littered the ground, both dead and alive, making it hard to walk. It was like a living carpet on the forest floor.
After finding a safe spot for our feet we turned our attention upwards. The trees were heaving, and as the sun shown through the forest canopy the entire place came alive in a burst of orange. When the sun hid behind the clouds everything became very still, but the minute the suns rays warmed things up everything around us began to move. It sounded like a cave full of bats flying over our heads.

Ali and I stood for hours, afraid to move our feet while the butterflies made themselves comfortable all over our bodies. They seemed especially attracted to Ali's head where she almost always wore at least one as a fashion accessory.

Eventually we left them and continued down the trail. The butterflies really only hung out in that one small area and we were incredibly thankful that we had stumbled across it. Nobody else had come along the entire time we were up there, which I suppose means that there was another group of butterflies somewhere else, but we had these to ourselves. The trail we had locked on to meandered down the hill one way and then another. When we finally broke out of the forest it was on to a farmers field. We hadn't seen any fields like that when we started up in the morning, but I was fairly sure I knew where we were. When we finally came across a road I turned right and we continued on. I was sure the parking lot would be just around the next hill. After a couple of miles things weren't looking so good. Everybody we had asked for directions had happily agreed with the direction we were headed. But when we finally came across a road sign for our town it was pointing back in the direction we'd just come from.

I wasn't ready to believe the sign just yet so we continued on another half hour, rounding a couple of more hills with nothing but farm fields stretching as far as we could see. Eventually I had to concede that I had gotten turned around and we had walked a long, long way in the wrong direction. Our bottle of water and bag of Ritz had long ago disappeared and we were both exhausted, hungry, and dehydrated. Backtracking now, everybody we asked once again assured us that we were going the right way. It seemed that no matter what direction we were headed that El Rosario was in front of us somewhere.
Seven hours after setting out in search of butterflies we stumbled back to the bus. It was an excruciating hike, but definitely worth it. I thought the whole thing was sort of a fun adventure, Ali not soo much. But for now we were both just happy to pull in to a little campground down the road, pay the exorbitant 200 pesos, and call it a day.
january 24 2008 : mexico city, mexico
Our toll road avoidance has become a challenging and probably rather stupid game for us. Our drive from the butterfly park to Tepotzotlán was our toughest section of roads yet. We could have made the drive in about two hours if we'd just hopped on the tollway, but instead, doing it our way, it took us seven hours to cover the 137 miles.
There isn't a ton to do in Tepotzotlán except eat gorditas and ice cream. The reason to stop here is the RV park, and the fact that the park is just 25 miles north of downtown Mexico City. It's the ideal place to leave the bus for a few days while we explore the city. We spent one day around the park getting bus projects done: oil change, valve adjustment, air filter cleaning, and fuel filter replacement.

Today we caught a bus headed to the city. An hour bus ride and a quick trip on the subway and we were there. The subway was clean, fast, and full of wandering bootleg CD salesmen with stereos strapped to their chests. We got off at the Zócalo stop, the heart of Mexico City, and the first thing that struck us when we came outside was how quiet it was. For a city of twenty million people it didn't have the frenetic pace we expected. Instead it felt a lot like other small towns in Mexico, relaxed and friendly.
We spent our first couple of hours going from hotel to hotel trying to find a room. It was more of a project than we expected it to be. At one we checked out three rooms, each time being told it had a balcony, and each time finding that it didn't. In fact in one room there were no windows at all. At another hotel we checked out a private room that actually had six beds in it, and again, no windows. Finally at hotel number six we scored a big room with a balcony overlooking busy Avenue Cinco de Mayo and a location just two blocks from the Zócalo, all for under thirty bucks.

january 26 2008 : mexico city, mexico
Yesterday we got out to see the sights. We left early because we had seen what looked like an interesting museum/exhibit set up on the zócalo (the main square) the day before. It was a huge building set up temporarily there that had long lines stretching around the block. By showing up a half an hour before it started we figured we could beat the morning crowd. We were wrong. The line stretched around the building twice, one side was 200 yards long, and must have contained at least 5000 people. We're terrible line people so we had to give it a miss.

The Metropolitan Cathedral was right across the street. Built in 1573 on top of Aztec temple ruins, the gigantic stone building has been sinking ever since. From the outside you can clearly see the unevenness as it slowly disappears. Inside you feel like you are in an amusement park fun house, with organ pipes leaning precariously overhead. We were visiting during mass so we could only visit the very front altar, which was gaudy, gilded, and full of worshippers on their knees praying to a black statue of Jesus which is said to have turned that color by absorbing the poison from a priest who had an evil enemy trying to kill him. It was a beautiful and cavernous place which was fun to sit in for a little while listening to the hymns ring out from somewhere towards the back of the church.

On another side of the zócalo was the Palacio Nacional, home to the President's offices, and a huge mural by Diego Rivera which is what visitors come there to see. It's a pretty interesting painting that traces Mexico's history from the arrival of the Aztec god, to the Revolution. After checking out the mural we sat down in the sunny courtyard and watched groups of school kids mess around as their teachers tried to teach them something.

Most of the rest of the afternoon we just wandered around the city from one plaza to another. We found that the rest of the plazas scattered around the area were pretty uninteresting though, unlike the small towns that always seem to put a lot of effort into the upkeep of the squares, many of these were just places for bums to hang out. The big exception was the Plaza Templo Mayor where dancers were performing ancient Aztec rituals that reminded me of the Native American dances I've seen with smoke blown all around the bodies of those who come to be cleansed by dancers with huge feathery headdresses and loincloths on. The surprising thing was that this wasn't being done for tourists but instead for local women, children and business people who lined up all day to have the ritual performed for them. We ate at one of the hundreds of hole in the wall taco places scattered around the city where diners get their plate of tacos with simple fillings like beans, potato, and chicharron (shredded jerky type meat), then fill the sidewalks standing shoulder to shoulder eating. At 40 cents a taco it is an awesome snack.

Rounding out a busy day we decided to take in a Mexican tradition, Lucha Libre, Mexican wrestling. It was a bit of a challenge getting to the stadium. We took one subway train to another where we had to transfer. At the transfer station we found that it was still rush hour despite the fact that it was 7:30. We watched as the first train came and went.  When it arrived about a dozen people spilled out our the door in front of us, one person falling and nearly being trampled before being pulled back up, then as soon as the way was clear what seemed like a hundred men began shoving their way inside. Elbows were being thrown and for the first time in Mexico we saw what seemed like some angry people. They all shoved until there was absolutely no space left inside the subway car, and it sped off.  As we stood on the platform Ali's jaw was on the floor and her eyes were wide, "I'm not going in there, I'll get killed," she said. And she was serious, it was no place for a woman.
Fortunately the government realized this problem and had set aside, during rush hour, a number of subway cars at the front of the train for women and children. I saw that there were quite a few men with children standing there also, so I walked over and asked the police who were guarding the area if we could join them. They didn't hesitate in letting us through and when the next train arrived we climbed aboard with just a little jostling. Two stops later I realized that we'd transferred onto the train going the wrong direction. I think Ali could have killed me at that point. We jumped off, and when we caught the train going the right way there was hardly anybody on it. All that for nothing.
It was easy to find the Arena once we got off the Metro. There were fans everywhere wearing their wrestling masks. Elaborate full face masks with just a couple of eye holes and usually a mesh mouth opening. After finding the ticket booth we made our way to the gates where we were frisked. Ali had our camera confiscated which we were pretty unhappy about. How can we go to Lucha Libre and not take pictures of the festivities? We solved the problem by telling the lady that we were going to bring it back to our hotel. She turned it over and we walked to another entrance around the side of the building where I stuffed the camera down my crotch. The locals were getting a pretty serious frisking, including the groin, but I figured, correctly as it turns out, that being a tourist I'd get a pretty cursory inspection.
Once inside we realized that just like at museums that don't allow cameras they don't include cell phones in the ban. The entire crowd was taking pictures, even posing on the ring itself, right in front of security. Despite the fact that there are two or three of these wrestling matches every week there was still a crowd of around ten thousand. The atmosphere in the place was electric, the crowd was definitely excited. Entire sections of the stands were filled with supporters of one wrestler or another, setting up lights, drums, and horns; much like the end zone fans of just about every professional football team in the States.
I should mention that I'm no fan of wrestling, and I think it goes without saying that Ali isn't either, but nonetheless we were hooked right off the bat. This was definitely a show for all ages, and all types. Kids loved it, girlfriends enjoyed it, and men went crazy for it. The matches were best of three and most of them were three against three, giving the action a frenzied pace. Obviously it took an effort to suspend disbelief as it was so obviously set up and fake. But we do that for television and movies all the time so why not wrestling? These guys were obviously athletic, more like gymnasts than fighters. And the spectacle and atmosphere of the place just forced you to have fun.

We were having a great time, laughing nearly every moment, which may or may not be the reaction the promoters are going for. Then they brought out the midget. Come on, nothing is better than a midget wrestler in a purple monkey costume, with a yellow face and giant goofy smile painted on. Actually he was supposed to be the team manager, or maybe mascot, but there was no doubt that he'd be in on the action before it was over. Sure enough, the other team got hold of him, tossing him through the air and swinging him by his feet. The crowd went nuts. Of course after the tables were turned the midget got to perform some leaps off the ropes and exact his revenge on the bad guys.
january 26 2008 : mexico city, mexico
This morning we went to the Templo Mayor, site of Aztec ruins right in the heart of downtown next to the Zócalo. The ruins are in fact only about 500 years old. This was once the site of a great city with pyramids towering 150 feet in the air above what the Aztecs believed to be the exact center of the universe. Of course Cortez and his Spanish buddies didn't care about all of that, they showed up and in the 1520s razed the place, building their proper colonial city and eventually a big church right on top of it. After exploring the ruins we visited the museum which held some pretty amazing artifacts found during the excavations. It's hard to imagine just how much more is hidden underneath the Cathedral next door.

In the afternoon we moved across town to the Zona Rosa area. After walking around for an hour we were bored. It was more of a business area with nothing but a dozen Starbucks scattered around the streets. We killed a few hours and then hopped on the bus to the futbol match. We had checked the team website three times making sure we had the right time for the game and knew where we were going. So when we arrived at our bus stop we were a little confused by how quiet things seemed. The stadium was only a couple of blocks away and when we got there we found the place completely dark and locked up. Somehow we had misread the website, never noticing that it was in fact an away game. Crap. Back at our hotel we turned on the television and there it was.

january 28 2008 : tepotzotlán, mexico
We made our way out of Mexico City with no problem. We were actually a little surprised at how well we found our way home. The bus station stretched over a couple of acres, but almost immediately upon exiting the train station we turned our heads to the left and saw a sign for our city. Five minutes later we were on our way.
Today we took off in the morning to go see Tula, an archaeological site just an hour or so north of us. We were taking the back roads so it wasn't a big surprise when we got stuck in a traffic jam caused by a semi that had somehow gotten itself stuck sideways across both lanes. While we were sitting there Ali was thumbing through the guidebook and noticed that Tula was open Tuesday through Sunday only. Of course today was Monday. Our timing seems to be a little off the last few days. We turned around and went back to the campground, got a few errands around town done and ate gorditas once again at our favorite stand in Tepotzotlán. The gorditas here may even rival our beloved fish tacos for our number one Mexican fast food.
january 29 2008 : teotihuacán, mexico
Early the next morning we made it to Tula, which, as it turns out, was indeed open the day before. The Tula site is most famous for a group of big stone warriors that stand at the top of a pyramid. We climbed up to see them and got a nice view of the surrounding countryside, which actually wasn't very scenic with a refinery belching flames and black smoke into the air nearby. But the site was really nicely laid out and we enjoyed walking around the place for a couple of hours. We then spent the rest of the afternoon getting lost in one small town after another on our way to Teotihuacán, Mexico's biggest ancient city and the capital of what was probably Mexico's largest pre-Hispanic empire.

We got pulled over at one point during the day as we drove past a cop who was standing alongside the highway buying oranges out of a pickup truck. He wasn't all that friendly, but after checking out our vehicle permit and license he waved us along. We didn't think much of it until this morning when we got pulled over again. This time it was a lady traffic control cop stopping us for going the wrong way down a one way. We had only gone a half block, the road was wide enough for traffic both directions, and there were absolutely no signs indicating it was a one way, but she wanted to see some paperwork. We were happy to oblige, but while Ali was getting out our vehicle permit the traffic was backing up, cars were honking, a truck was blocking two roads trying to turn on to our road which I was stopped in the middle of, and the traffic cop was starting to get panicky. She finally spoke some rapid fire Spanish which seemed to be telling us not to drive the wrong way again and told us to get going without even waiting to see our paperwork.
All of which now reminds me that just three days ago we were driving through a town when a cop sitting in his car on the side of the road tried to wave us over. I make it a point not to make eye contact with the police, so it was easy to pretend that I hadn't seen the motion he'd made with his hand, but Ali wasn't playing along very well. "I think he wants us to pull over," she said while looking directly at the cop in the rearview mirror. Fortunately there was a lot of traffic and he wasn't able to pull out until three more cars had gotten between us. Traffic inched along and by the time we got to the town square the cop lost interest in us and pulled over to talk to a bus driver instead. We're hitting the road again tomorrow so hopefully we can end this little streak of ours.
The Teotihuacán site is huge. We started out on the south end where there is a courtyard about 450 yards square, with 15 small pyramids lining three sides and a much larger pyramid standing on the other. This area is where the supreme ruler lived. From there the Avenue of the Dead ran straight north for about a mile with dozens of matching building on each side of it before it ran right into the Pyramid of the Moon. We could only climb about half way up this pyramid, but from there you could see the perfect geometry of the entire site. With the road running down the middle the buildings on one side seemed to always have a mirror image on the other. Except for the Pyramid of the Sun which towered over everything from the east side.
The Pyramid of the Sun is the third largest pyramid in the world and was an impressive site to see. Though compared to the pyramids in Egypt it really didn't compare. There's something about pyramids in the desert that give them that extra impact. It was fun though to get to climb to the top of this pyramid, 238 steps, and even more fun to just sit at the top and watch people come wheezing up. The hawkers here were plentiful but not overwhelming. They don't even seem to put too much effort into Ali and I, preferring the easy pickings of the older folks in the tour groups.


Socialize