december 1 2008 : playa tamarindo, costa rica, central america
The weather didn't clear much today as we took off for Costa Rica. We had planned to spend quite a bit more time in Nicaragua, but found the lack of camping to be a little off putting. Also, the roads leading to any of the other beaches from San Juan were made impassable by the rains. We liked the country, just not living out of a hotel room.
For some reason this border seems to have a nasty reputation as being a very painful and long process. We couldn't figure out why that is. We had absolutely no problems at all with it and cruised through the entire thing in just a couple of hours.
The roads here in Costa Rica are magnificent so far. Smooth and ridiculously well marked for a change. The problem in Central America though is that everybody uses the roads. You are hardly ever on the road without at least one person or animal walking along somewhere in sight. And when roads are this smooth people tend to drive much faster. So it wasn't too surprising, though it was pretty sad, to come around a corner through a small town today to find a couple of hundred townspeople along the side of the road staring blankly at a covered dead body. We drive pretty darn slow normally but the rest of the drive today was done under forty.
We arrived in Tamarindo in no time at all and drove straight to the campground listed in the Lonely Planet. Honestly I don't know why we even bother any more. These places simply do not exist. There was nothing left even remotely resembling a campground. I know by the time these guidebooks hit the streets they are like three years out of date but you'd think one out of ten of these places could survive. At least we weren't pushing dark yet and had time to do some driving around. We cruised the roads through town slowly until we spotted a deserted looking hostel with an empty flat parking lot alongside of it. We convinced the girl to let us camp outside and use the facilities inside. A perfectly agreeable situation for all of us. After parking we walked through the yard right onto the beach. The weather was so crappy today though that I'm going to reserve any judgments on the place until the sun comes out.
december 4 2008 : playa tamarindo
I have to admit, Ali and I came into Costa Rica heavily prejudiced against liking it. Why? Because everybody, including seventy-year-old women were saying things like, "Oh, you'll love Costa Rica, Hank and I have been there eight times and have even bought property." We thought great, sounds just like Florida.
So coming in with a dislike of the country already, maybe Tamarindo wasn't the best place to make our first stop. The few locals left here apparently call the place Tamagringo. Restaurant menus are in 100% English and list the prices in U.S. dollars. Just like Florida. No Spanish and no local currency needed here. Wait, that's not like Florida. Prices are three times what they are fifty miles up the road in Nicaragua, and the surf is crowded with hundreds of surfers. Honestly we just don't see the appeal. However, we made the best of it, eating Chinese take-away, joining the hordes of surfers on the very easy beach break, and tracking down the best happy hour in town. Waking up and looking into the trees above the bus to see a whole family of howler monkeys was pretty cool too. Two days is enough though, so today we're going searching for someplace a lot less gringo.
december 5 2008 : playa avellana, costa rica
What an unbelievable difference sixteen kilometers can make. A couple of days ago we met a drug dealer, a seemingly common profession around here, who thought he had himself a sure thing when he saw our bus. He didn't make a sale, but he did tell us about Playa Avellana, which we had heard about previously but had thought the road was supposed to be impassable. He assured us we'd have no problem and said we'd be able to find camping too.
So this morning we drove over here. He was right on both counts. The road in was no problem and almost immediately we spotted a sign for camping. The owner of the little plot of land was happy to see us and show us around. Right away we could see that this was one of the most beautiful campsites we'd ever been in. It's really just a local guys yard, but the setting is incredible. We parked in the sand underneath a palm tree just twenty-five feet from the ocean and maybe fifty yards from the amazingly uncrowded surf break. To top it all off the owner had three dogs, including a puppy named Princessa. Ali was in heaven.
Just when we thought the day couldn't get any better we walked down the road a few hundred yards and found an Israeli family that had set up a tiny restaurant serving only two things, schwarma and falafel, both the best we've ever eaten. Playa Avellana has single-handedly bumped Costa Rica way up on our list.
december 7 2008 : playa sámara, costa rica
After a couple of days on Avellana we started to feel like we might grow roots if we didn't get moving again. In fact I even asked around to see if any of the neighboring lots were for sale. They weren't, but Ali and I did get a good laugh at the turn-around in my thinking of this place. Just a couple of days ago I was ripping on the old ladies for loving Costa Rica so much and now I'm becoming one of them. Next thing you know I'll be wearing black socks with my flip-flops.
After tearing Ali away from Princessa the puppy we drove out and headed down the long dirt road along the coast. I had asked if the road was good and gotten the reply, "Si, si, muy bien. No problem." That was good enough for me, though as it turns out it may have been a better choice to backtrack a bit and take the paved road to Sámara.
The next sixty miles took us five hours to cover. Five hours in which we never once shifted into third gear. Five hours in which we crossed seven rivers, without the aid of a bridge, before finally being stymied by a waist deep gusher just three miles from town. These roads would be impassable by just about anything in the wet season. In fact the only bus we saw was just a giant dumptruck with a couple of dozen people standing in the back. Despite the fact that the roads were so horrendous the land along it was covered with real estate signs and towns with only three buildings in them contained at least one Century21 office. It seemed to me that the locals didn't own any of the land anymore, but that it was all just being flipped over and over again. It seemed as if this entire stretch of road was going to have a very different look to it in another ten years. Gated communities, the horror!
Anyway, after being turned back at the final river crossing we made it into Sámara and on our first pass down the beach road spotted a sign for camping. Seconds later we were parked, once again, just twenty-five feet from the water's edge along a huge half-moon shaped bay. The campground was a beautiful lot, well groomed with dozens of huge palms. We were surprised to be the only people there on a Saturday, but were warned there'd be some others coming in.
We went out for a walk along the beach and by the time we got back our little home had been invaded. At least twenty tents had sprung up, some with their tent poles actually underneath our bus. A huge group of young local kids had moved in ready for a party. We pulled the bus forward and out of the way as far as we could and then went out for a few drinks. When we came back this time there were six motorcycles parked next to us, three more tents, and six guys peering through our windshield with flashlights.
Never before have we seen people so excited about the bus. These guys were out of their minds they loved it so much. "Muy linda, muy linda," they repeated over and over again as they ran their fingers across every inch of chrome and piece of glass. I started up the engine for them and one guy actually grabbed his heart he was so shocked by the smooth running sound.
Fortunately one of the guys spoke English, having lived in San Francisco for a number of years, and served as our translator throughout the night. They shared their beer and their barbeque with us and we all had a great time. At one point Ali remembered our stickers. We had some Bumfuzzle bus stickers made a while back and she grabbed a bunch to pass around. To show they were stickers she peeled off the back of one and stuck it on one guy's shirt. He looked down at it as if she had just bestowed upon him the greatest gift of all time. A minute later he was at his tent taking off his shirt, carefully folding it, and packing it away. The rest of the guys were equally pleased with their stickers and were soon in their tents packing them away as well.
Later on our friend Miguel, the English speaker, invited us to his home near San Jose. He wants us to meet his wife and said he'd have all the guys over for a big dinner. When I asked him if his home was south of San Jose he sort of embarrassedly admitted that he didn't know directions. He had never been taught to use a map he said and didn't know which way was south or north. I found that amazing, but played it off as if it were no big deal. Then he said, "When you get to San Jose just call me and I will come and get you." No doubt that will be a fun adventure for us as well since San Jose is a city of a million people.
december 9 2008 : monteverde, costa rica
Yesterday we drove from scorching oceanside heat to jeans and sweatshirt weather in the space of just three hours. From sea level to five thousand feet in a hundred miles or so, again on some of the worst roads of our trip. There is one main highway linking all the major towns which is in good shape, but go anywhere else and the roads are more like donkey tracks. This particular road was great though, with panoramic views of what seemed like the entire country. From near the top we could look out over the water and straight across the peninsula we'd just spent the week on.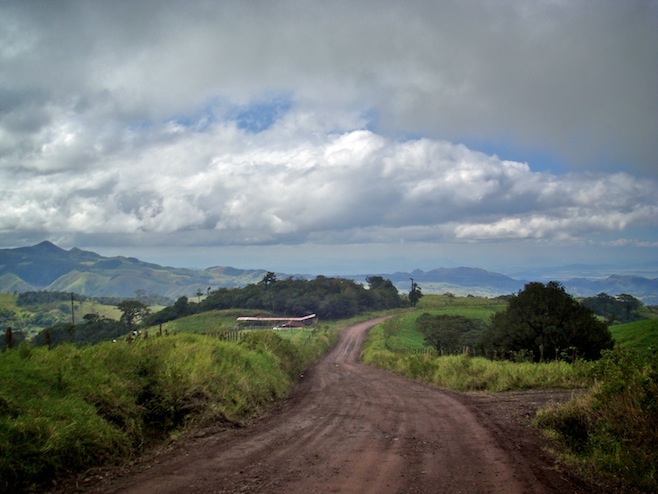 The town of Monteverde caught me a little off guard. It's just a tiny place, but was absolutely crawling with gringo backpackers. Apparently this is the jumping off town to the sights of the area. The cloud forest is the big draw here and I guess is a bird watchers heaven, slogging through the wet forest and the muddy ground in the hopes of spotting a quetzal. We ate another overpriced meal in a local restaurant, unable to comprehend the prices in the tourist spots, and drove down the road to a lodge with a small campground out back. It was overgrown and muddy, but worked for the night. The owner was an outgoing American lady who had a constant stream of American friends coming and going. They all live in the area and there seemed to be a steady procession of white kids walking up and down the road, often with an oxcart hauling firewood nearby. None of it seemed to fit into place in my mind, but a bunch of Quakers came down here years ago, bought the land and got the ball rolling, so I guess it makes sense.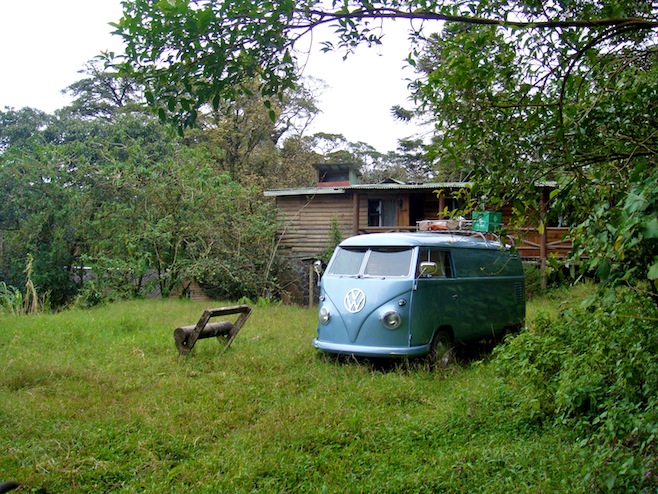 The weather up in the mountains was crap though, so we set off this morning in search of a blue sky. We wouldn't have gone anywhere if it hadn't been for the help of some friendly local guys who saw that we were spinning our wheels in the mud of the campsite and came right down to give us a push. I swear three or four guys could lift this thing right off the ground if they wanted to. Without much effort we were out of the mud and back on the road.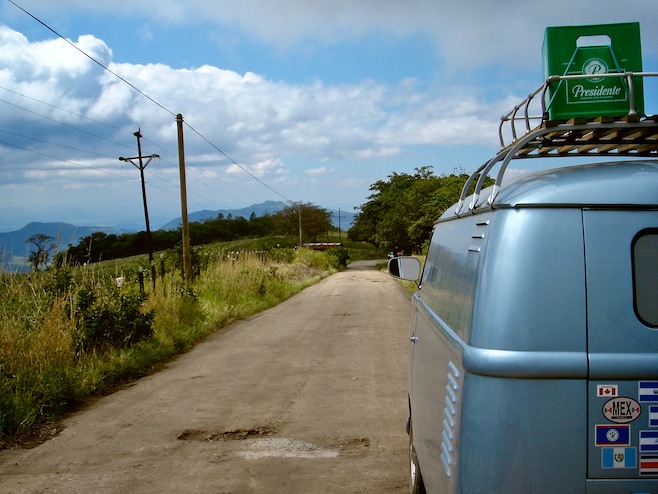 In the afternoon we stopped to eat at a German restaurant in Nueva Arenal, a small town overlooking lake Arenal. These German places are always fun to park the bus in front of. It was pouring rain so we sat for hours on the covered deck watching people take pictures of the bus on the street below us. We also talked to a bunch of people about the bus. One guy we met told us he lived in a '59 for the first eight years of his life with his hippie parents bouncing around California between San Francisco and the desert. He got a little choked up when telling us that his mother's one regret in life was selling that bus. He said he still hopes to show up at her door with one someday.
We also talked to the owner of the restaurant a bit and as we were leaving he asked where we were going. We told him we didn't really know, but because of the rain we were probably just going to look for a cheap hotel. He then excitedly gave us directions down the road to a lakefront park with a huge covered parking area. Which is where we sit right now, warm, dry, and, thanks to the rain, utterly alone right along the edge of the lake.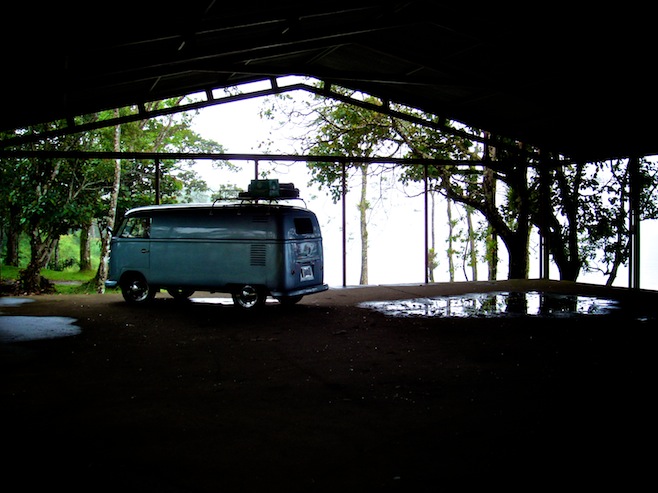 december 11 2008 : jacó, costa rica
Not sure what happened to our gorgeous weather, but yesterday we got to experience a bit of what the folks here in Costa Rica and especially in Panama have been feeling for the past few weeks. Driving through the mountains and heading for the coast yesterday was a lesson in patience. Slow, slow going all day long in dense fog and hard rain. At one point we inched our way down a mountain only to find the road at the bottom gone. The rains had washed what looked to be half of a mountainside away in one swoosh. There was no warning at the last cross road thirty minutes back up the mountain, and nobody at the bridge that they appeared to be attempting to install either. I told Ali that it would perhaps be the greatest VW video ever shot if we made a run at the goopy mud pit, but she was having none of it.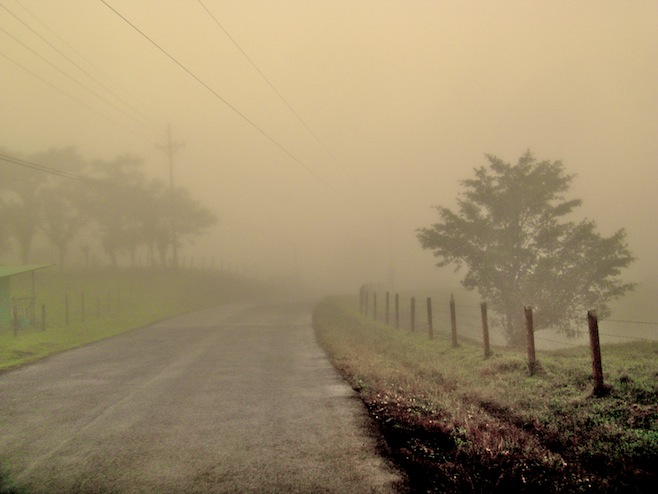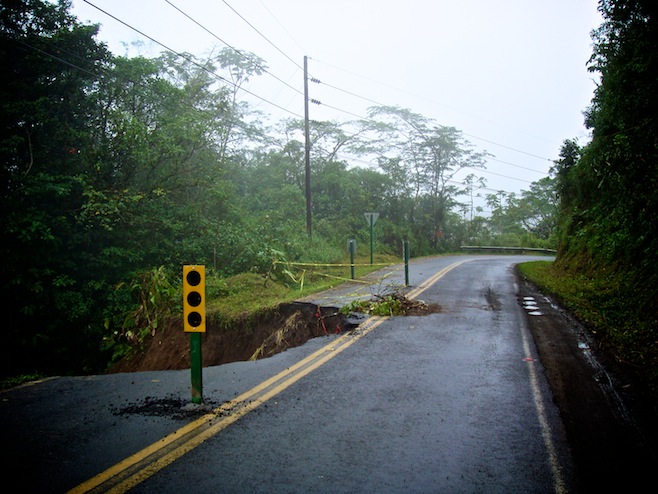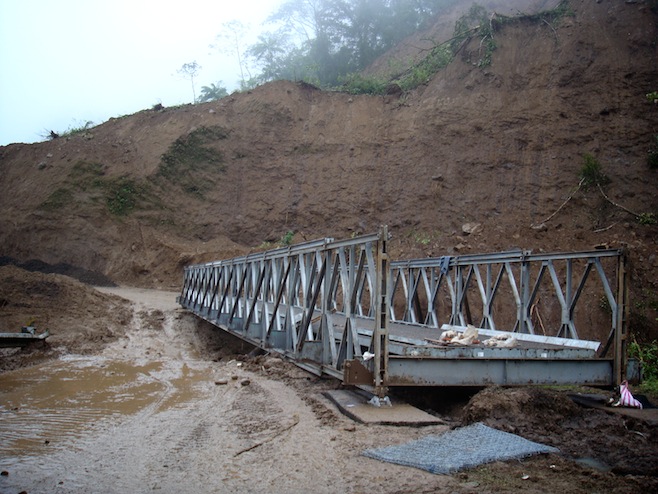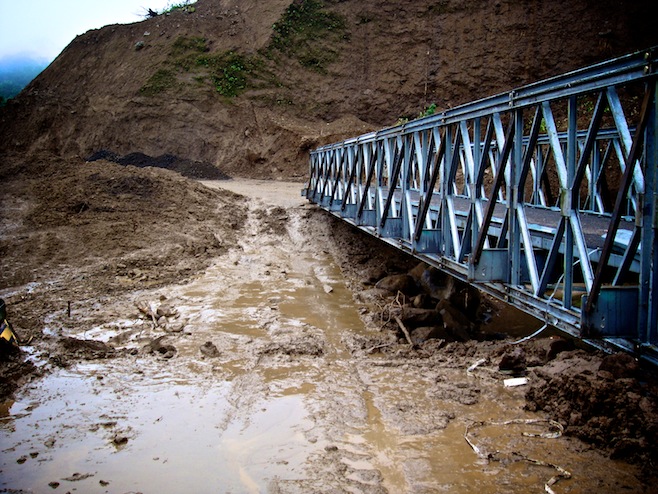 We ended up arriving in Jacó pretty late, but found a campground half a block from the beach without any problem. The place seems to be set up to receive about fifty full size RVs, but as always there isn't another person here. In fact we got to talking about that and realized that we've only shared a campsite twice since leaving the States this time around. Once in Mexico and once in El Salvador. There just doesn't seem to be anybody else down here, which quite frankly is just fine by us. Though I struggle to see how some of the places we've visited can possibly afford to stay in business.
Today we're at the beach but are socked in by clouds again. Which is fine as we really needed a chore day. We dropped a huge pile of laundry off, washed the bus for the first time since Belize, went to the store for things like Windex and WD-40, and are attempting to sort out the shipping for the bus.
Yesterday's drive also got me thinking that I'd better have a look online and see what kind of shape Panama was in. Our plan had been to cross Costa Rica and visit the Caribbean side before crossing the border there and visit Bocas del Toro, Panama. Turns out it's a good thing we checked because that is the area that has been hardest hit by the flooding with roads and bridges completely washed away. Not to mention many of the towns and people living there. It sounds pretty terrible for them and I'm glad we won't be bumbling along right into the middle of it.
We saw the craziest thing along the road yesterday; a motorcycle cop with a radar gun. In all of Central America we have never seen a police officer actually out enforcing laws. Sure they stand along the roads and wave you over so they can peek around inside your car, but if you felt like blasting right by them there doesn't seem to be much they could do about it since they have no means of transportation. But here these Costa Ricans are with all the tools necessary to be cops. Amazing.
Not until the past couple of days did it begin to dawn on us that we ought to figure out the shipping of the bus question. With Christmas coming up it seemed we'd better decide where we wanted to be because from everything we've read Navidad is a crazy week with high prices and no vacancies.
A few months back we had decided to ship to South Africa and had found a shipping agent to facilitate it. There were always problems with that option though. The main problem being the cost. The shipping quote (the one and only one we could manage to get out of thirty some inquiries) was for $4900. Yeah, expensive. On top of that we'd have to get ourselves over there and stay in hotels for a month waiting for the bus to arrive. The other main issue against Africa is the carnet. A carnet is basically prepaid insurance for countries that don't want you to sell your vehicle there. We'd have to deposit three times the value of the vehicle, a value that people greatly under estimate, in a Canadian bank earning zero interest in order to receive a booklet that gets stamped as we cross the border of each country.
Essentially the entire project was looking far too expensive. The alternative of course, and a rather good alternative, is to ship to South America. With some internet searching for shipping agents the same name kept popping up, Evelyn at the Barwil Agency. The same lady who had helped us with figuring out the Africa shipping. We gave her a call and within minutes she had the whole thing squared away. For $1400 we'll load the bus in a container in Panama, and for another $200 or so we'll unload it in Cartagena, Colombia two days later. Our ship leaves the day after Christmas, but we need to arrive at her office five days earlier in order to get the paperwork necessary for the half dozen police, customs, and immigration officials to fill out. So south we go.
Oh, Ali just mentioned that I haven't said why we're shipping the bus instead of driving. For those that don't know, there is a little section of land between Panama and Colombia called the Darién Gap. The one and only break in the Pan-American, 150km long, it forces those that want to continue on to load onto a ship to make their way around it. There are any number of reasons for this break, logging and deforestation, drug running, illegal immigration, all of which would be made easier by the completion. It seems like a safe bet that Panama won't be hurrying to complete their side anytime soon.
december 13 2008 : dominical, costa rica
The rain hasn't really stopped for long the past few days and Dominical is not the kind of place that accepts rain well. The town sort of has the feel of a giant compost heap. That sounds worse than it is. The town is actually sort of cool, just one road with a handful of restaurants and cheap surfer lodging. But the past couple of days you could hardly walk down the muddy road. Every person in town has calves caked with mud from the flip-flop slap against their heel.
The beach here is narrow and covered with forest debris washed down the river and deposited into the ocean at the edge of town. The ocean crashes in a long, consistent beach break perfect for just about any surfer and it's not crowded. Along the entire stretch of beach is about a thirty yard width of tall palms underneath which a person could set up camp and spend the summer if they were so inclined. It's a great boondocking beach, though we opted to spring the five bucks for a campground across the street with a few amenities such as a toilet and shower. We're fancy like that.
Actually it's too bad the weather was so gray and wet because I'm sure this place has a completely different feel under a blue sky. Though we'd hate to be here during the rainy season, it would be a swamp.
Tomorrow we leave Costa Rica, but before we do I really have to say that the country did a good job of winning us over. The scenery is first rate, the beaches are pretty good, and best of all there is camping available everywhere. About the only downside to the country is the influx of us gringos. In most of the surf towns along the coast it is hard to spot a local, which of course drives up the prices of everything to about double what they cost in the rest of Central America. In fact Costa Ricans do their shopping across the borders in Panama and Nicaragua. But hey, as travelers passing through it is a pretty great place.
The answers are yes, we do know that Bumfuzzle (the boat) is for sale again. Yes, to our knowledge the problems with the boat were fixed in New Zealand. No, we don't have any idea what the current owner has been doing with the boat. And lastly, no, we don't know why he is selling her so cheap. Yeah we've gotten a lot of those emails this week. Anybody researching the boat for purchase inevitably comes up with our website, assumes we are the owners, and begins asking us questions.
We hate that people don't give their boat a name of their own. Not to pick on the current owner of Bum, it seems most new boat owners leave the name, but when people asked him what the boat name meant how did he answer them? It has a meaning to us, but it would have meant nothing to him. Not changing a boat name has got to be the most ridiculous superstition there is. Use some imagination and make the boat your own.
december 14 2008 : santiago, panamá, central america
So today we hopped on the Pan-American highway, something we've spent surprisingly little time on, and headed for the border. I actually sort of like border days now, treating them like a challenge. This one turned out to be about the easiest one of all. We breezed through the exit procedures in Costa Rica before driving the few hundred yards to the Panama side.
You have to drive through a large crowded market area along the way. It's a duty free area and is a madhouse, but once through that and to the customs and immigration building things are a piece of cake. The only problem came with our vehicle permit. We'd been told by our shipping agent to be absolutely sure that everything on it was correct, so when I spotted that my passport number was wrong I asked the girl to fix it. She happily did so, but when she returned with the new sheet ten minutes later it was still wrong. I sent her back for a third copy and this time she nailed it, all nine numbers.
Down the road we were stopped at a customs checkpoint. The officer pointed out that a section of our form hadn't been signed at the border. Apparently the car should have been searched and signed off on. We could smell a shakedown coming and were reluctant to shut off the car and get out, but eventually didn't have a choice. The officer asked me to open the back, took a two second look inside, and told me to follow him to his office. He signed the paper, all the while explaining to me that now I wouldn't have to return to the border. Now I was positive extortion was next on the list. I guess I shouldn't have been so quick to judge though. The officer handed me the paperwork, asked me for a Coke, which I truthfully answered with, "No hay." And that was it, we were back on the road.
We're writing a series of articles for VW Camper and Commercial, a very cool bus dedicated magazine in the UK.
december 17 2008 : santa clara, panamá
What an incredibly uneventful couple of days. After crossing the border the other day we pressed on down the coast. It had been a long day of driving so when we stopped in Santiago for gas, spotted a Macca's next door to one side and a reasonably cheap looking hotel to the other we knew we'd reached the end of  the road for the day. Some days you just need these things.
The next day we found ourselves in Santa Clara, a place well known to overlanders. There's only one campground in this country and this is it. It's not a scenic place, located just off the highway, but it does make a convenient stop to finish up a few final details and get the bus ready to go before heading into the city to arrange our shipping.
december 17 2008 : panama city, panamá
We drove into Panama City this morning. We both got a little nostalgic as we drove over the Bridge of the Americas, looking left at the canal locks and to the right at the yachts tied up at the Balboa yacht club. The last time we were here we had just completed our first real passage and were preparing for the big one ahead. Now this is sort of the first time our sailing and our bus trips have crossed paths.
We found the shipping agents office where they set up our shipping date and filled out our bill of lading. We then booked our flights to Cartagena. So we're set for a Christmas day spent traveling from Panama to Colombia. Tomorrow we begin dealing with the actual officials.
After that we began the process of trying to find a hotel for the night. Usually not a big deal, but today traffic was crazy and holiday shoppers had booked pretty much the entire city. We were turned away at a bunch of them before returning to the one we really wanted for a second time. The desk clerk took pity on us and found a room this time. With that finally done we had some running around to do.
One of the great things about Panama City are the cabs. These guys will run you all over the city for a couple of hours for about what a ten block ride in Chicago would cost. Our first stop was out to the marina to check out marine deep cycle batteries. Our house battery in the bus was completely shot and we'd been needing a replacement for a month. The only one at the marine store cost $250, about double what it should have. We walked out empty handed and I asked our driver if he knew where we could get one. I should have asked him first. He drove us to some shady looking area of town right to a shop where we scored just the battery we needed for half the price.
One of the other things on our list was to send a small package home. We went to the post office with our box all taped up and ready to go. The lady took one look at it and told us no. Packages cannot be taped, they have to be wrapped in paper and glued. Glued! I love my super glue more than anything, but it seems to me that tape would be a little more practical in this instance. When we finally tracked down the right store to buy this stuff we found an aisle practically overflowing with dozens of different glue sticks. You just have to shake your head sometimes.
december 19 2008 : santa clara, panamá (240 nights in the bus : 38,016 miles)
A very long day. We were up at six this morning in order to be at the Policia Nacional building by eight. It was only a mile or so away, but Panama City is not one of the easier cities we've driven around and there is a strict limit of forty permits handed out per day for the sort of thing we were going there for. The police building was located in one of the sketchiest neighborhoods we'd ever driven through, but we found it quickly enough and took our place in line, parking in a garbage strewn lot ten feet away from a series of homeless men's dirty mattresses lined up underneath the building's overhang.
At eight sharp a group of officials came outside carrying tool boxes. All the cars that were waiting there for permission to import or export their vehicle had their hoods open and ready for inspection. The critical matter here was to have your vehicle numbers match up with your paperwork. Two days earlier I'd been thinking about the fact that we have no engine number, but our paperwork listed our engine number the same as our VIN number. I decided to stamp my own. I grabbed a hammer and a screwdriver and punched the numbers onto the engine block. I then wiped dirt all over it until it was almost illegible. It's a good thing I went through the work because they scrutinized that number before checking it off and telling us to return at two o'clock.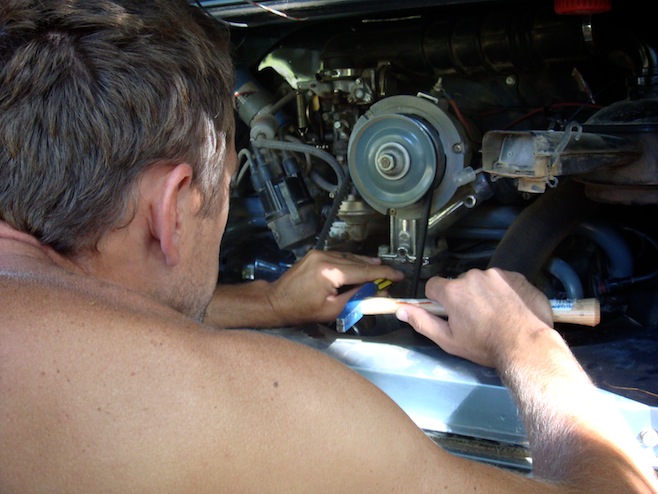 We had no idea we had to wait six hours for the paperwork and had already checked out of our hotel, but because it was the only safe parking spot we knew of we drove back there anyway. We spent the next few hours killing time at the post office and Macca's trying to figure out our plans for the next week. The post office was hilarious. Ali had dutifully glued our package in paper and then watched as the clerk glue sticked stamps, routing numbers, and customs declarations all over it. All of these things were soon peeling up at the edge and we wondered if any of it would even make it out of the building, much less to the States. DHL had wanted $125 for the one pound package, but they took it for six bucks. It should arrive at its destination sometime around July.
Back at the offices at one thirty we had hoped for a quick turnaround. There was no pushing perfection though. Ali waited at the car while I waited in the lobby. At two o'clock sharp three of us were called into the office to turn over another handful of copies for the lady to check off against some other paperwork before sending us all back to the lobby. Over an hour later we were summoned back into the office and told to look over the papers and make sure they were correct. Of course mine wasn't. She had totally screwed up our license plate number. I pointed it out assuming she'd make a quick correction and send me on my way. Nope, please go wait in the lobby. Thirty minutes passed and I was called back in. I looked at the papers, wrong again! Please wait in the lobby. Another thirty minutes and I was almost sick with the anticipation. At last, she got all seven letters correct. The paper she filled out for us consisted of ten empty spaces that she filled in by copying the information directly off of our passports and vehicle title. An eight-year-old could have completed the exercise in five minutes. It took this lady three tries and over two hours.
Now we fought traffic across town to our agents office where they filled out a bit more paperwork, gave us a bunch of copies and some instructions, collected our $1300, and said good-bye and good luck. It was now closing in on five o'clock on a Friday night and we had no hotel. Our plan had been to finish up the paperwork in the morning and drive back out to the campground for the weekend instead of wasting a lot of money on hotels downtown. We stuck to the plan and hit the road, knowing the sun was going to go down in an hour and we had a two and a half hour drive back. Let me just say, nothing lends itself less to marital bliss than driving at night along the Pan-American highway in a '58 VW with taillights the size of silver dollars and headlights you could hardly read a book by.
When we got to the campground I got some sad news by email. Today was the last day of open outcry trading at the Minneapolis Grain Exchange. A little background: When I graduated state college with my 2.0 average the job offers weren't exactly hard to choose from. There was only one. It was with what I like to call a bank, but was actually a predatory lending agency. Not exactly the kind of place I planned to work my way up the ladder or that I expected my parents to brag to their friends about.
Six months into this, Ali and I were now married, and I was on the constant lookout for new jobs. One day I spotted it, the Minneapolis Grain Exchange (MGE) was hiring pit reporters. The MGE is a commodities exchange, just like the exchanges in Chicago and New York, except on a different scale. A much smaller scale. There was really only one thing being traded there and that was Hard Red Spring Wheat. I'd visited this exchange with the Economics Association when I was in college and watched as a group of about thirty futures traders wearing colorful jackets and tennis shoes stood in a trading pit yelling at each other. Up to that point I'd had no idea there was an exchange in Minneapolis. My life long goal, one that admittedly up until that time I'd done little to further, had been to be a New York Stock Exchange trader. This seemed to my eyes the next best thing.
I interviewed for the job and was offered it on the spot. It's no wonder, it was part time and paid eight dollars an hour. Ali and I talked it over and agreed to give it a try, even though it meant going back to my college summer job and working construction in the afternoons. Being a pit reporter is pretty much the lowest job on the totem pole of a trading floor, basically doing nothing but listening for trades to be made and then typing them into a computer so they can be reflected on the trading screen and thus relayed in real time around the world.
Fortunately after six months of this one of the biggest brokers on the floor came up to me and offered me a job. He told me that I was the only one of the reporters who seemed to give a crap about what I was doing. I took the job on the spot. With an identical salary and hours it wasn't exactly a financial step up, but my foot was now firmly in the door. I was a clerk, meaning that I worked for the broker, answering phones, taking orders, entering traders positions into the computers, and trying to pretend like I knew a thing or two about what I was doing.
The great thing about this job was that my boss, Scott O., actually cared about teaching me the business. He soon had me reading books, analyzing positions, and following different markets. He'd ask me what every order that came in meant, how it would be effected by different market movements, etc. Most importantly he introduced me to options. I'm a bit of a math natural and took to options, puts, calls, strangles, straddles, deltas, vols, and all the rest immediately.
After about a year of his tutelage, and now working full time for a whopping ten bucks an hour, I went to Ali for another serious talk. At the end of it we had decided to sell one of our cars, take the money, and start my trading account. Since I worked for a clearing firm I could open an account with a mere five grand in it and trade until my little heart was content. They knew that they could simply withhold my paycheck if I blew it all.
I didn't blow it though. From day one that account increased. I was learning more every day and after another year was feeling like a pretty confident trader. At twenty-five years old Ali and I were on top of the world. We'd even bought a house in the burbs that year (Yes, in Minnesota a couple could buy a house even with our tiny salaries). One day I took a $1500 withdrawal from my trading account. Ali and I took the cash, drove to Home Depot, and paid cash for the lumber to build a deck onto our house. Tell me that isn't the height of trader excess. Yes, we were living large.
Another six months or so passed before I sprung the big question on Ali. What would she think of moving to Chicago; as a commodities trader there's really no place like it. If you're serious and want to make serious money it is the only place to be. We made the jump and the risk paid off in spades, but I always get nostalgic about the MGE and am sad to see it go. For a guy fresh out of college there was no better place in the world to work. It was an old boys club and once you broke into the ranks the guys took care of each other.
We had more fun there than anybody deserves to have at work. Adolescent boy type fun. One day we'd have a hot sauce eating contest that would end with a trader being home sick for a week. Another day we took one of those fake $10,000 winner scratch off lottery cards and laid it on a bus stop bench directly under the huge picture windows of the trading floor; then watched as a lady picked it up, looked furtively around in every direction, and took off at a full sprint down the street. I know, we're not very nice. God did we have some laughs. Then of course there was the fact that the trading day ended at 1:30 in the afternoon. Some guys never revealed this bit of info to their wives, and a good chunk of the traders spent the rest of the day at the Little Wagon bar downstairs; a dark drinkers bar where everybody knew everybody, the drinks were stiff, and the food was surprisingly good. Best of all my boss never failed to pick up the tab with the company expense account.
Anyway, change is inevitable I suppose, and now the Spring Wheat market is going electronic. Some guys will make the transition, some won't stand a chance. Either way it's not ever going to be as much fun. I'm going to miss knowing it's there. Now, the Chicago pits are still hanging in there, fighting the good fight against going fully electronic. They'll probably manage for at least a couple more years. But when they capitulate I'll tell a few war stories about that place. Another ol' boy's club, no doubt about it, but with much more money at stake it was lot more ruthless and cutthroat. Good fun.
december 20 2008 : santa clara
Seems like there is some confusion as to the plans for our trip at this point. Right now we are shipping the bus to Colombia. From there we'll drive south, I suppose to Ushuaia, the end of the road, since that seems to be the obvious goal for any South American trip. Then we'll drive back north along the east coast and find a place to ship the bus from for our next destination, which at this point is Europe. We're hoping to spend the summer over there and then continue on either south into Africa, or east, or southeast across Asia. That's a long way off though.
december 21 2008 : santa clara
Last night Ali was walking back from the bathroom when she said, "Pat, there's one of your friends in the bathr–AAAAAHHHHHHHHHHH!" She suddenly started flailing madly at her hair until a cockroach the size of my thumb came tumbling out onto the ground. She knew it was on the ground because I was stomping on it, but she couldn't stop dancing around and screaming. That's how you know you're traveling a little differently than the tourist crowd.
A few days ago we were driving down the road when the speedometer quit working. So today I climbed underneath the bus and removed the cable. It's nothing more than a cable that screws into the back of the speedometer and runs to the hub of the wheel. Simple. As soon as it was removed I pulled on the wheel end of the cable and a four-inch piece fell out of the casing. This was good news because it meant that there was a possibility that if I could fix it, that it might still be long enough to reach.
I tested the speedo to make sure that it wasn't the cause of the broken cable since apparently the numbers can jam up sometimes, making the cable twist around on itself until it snaps. Fortunately everything was fine. I borrowed a drill (no, we don't have one of our own) to clean the cable out of the fitting, stuck some epoxy inside, laid the cable back inside the fitting nice and straight, and hoped for the best. Once it was dry I gave it a few good pulls and it all seemed to be holding together. I rerouted the cable made a quick test drive and concluded the repair a success. Sometimes I do manage to amaze my wife with my MacGyver-like skills.
The guy I borrowed the drill from today basically lives here with his wife and 30 some year old kid in a fifty something foot rockstar bus. I was telling him what I was working on and he said, "Yeah, I suppose it must be hard to get parts for that thing down here." I thought that was sort of funny considering there are probably about ten "parts" on the whole bus that can't be fixed with epoxy and baling wire. Meanwhile I can't even begin to imagine what happens when the rockstar bus breaks down on the side of the road. I have to say that I prefer my bus over his any day of the week.
The rest of the afternoon was spent washing the bus, packing a bag for the next few days, and generally getting ready to put the bus in the container tomorrow for its trip to Cartagena. With a bit of luck we'll be meeting it there on Friday.
december 23 2008 : panama city, panamá
Yesterday was loading day. A brutal day. Things started off at 4:30 a.m. when we left the campground for the drive to Colón. After missing a couple of turns we stopped a taxi who pointed us back in the right direction. So far so good. Our eight o'clock stop was at the customs office where I met probably the best multi-tasker in all of Panama. In five minutes the lady answered ten phone calls, handed out fifteen new jackets to employees, and completed all the paperwork we needed to load the bus and then to leave the country without it.
Just a minute down the road was the port, where our first task was to find our Colón office Barwil agent. We did, and immediately got a bad feeling. The agent didn't even bother to acknowledge us, instead giving the secretary instructions to pass on to us while we waited in the six foot square bullet proof glass reception area. It was then up to us to go to a couple more offices to get miscellaneous port related paperwork. As with everything that we can actually do ourselves this part went smoothly.
Next step was to find the correct port gate where we'd get drug sniffed and then load the bus into the container. We found this okay and I made my way through the crowd to a trailer office to the guy who would stamp a few more papers and make the call to have somebody sent to get us and take us into the port. It was ten thirty and our agents had said everything would be done by eleven.
At quarter after eleven I asked the guy, Omar, to call the port container people again. He did and was told thirty minutes. At noon I did it again and was told there was a problem, that I didn't have a pass to go inside the port. So Ali and I jumped in the bus and drove back to our agent. The secretary made some calls and then told us there was a different problem; there were no containers available. We made a fuss and miraculously a container was found, the only problem now being that everybody was off to lunch until one. After finally retrieving passes we returned to the port gate to wait for the person who was supposed to meet us there.
Thirty minutes, nobody. Another call from Omar. Fifteen minute promise. Thirty minutes, nobody. Another call from Omar. Twenty minute promise. Thirty minutes, nobody. Another call from Omar, who by now was really tired of me. I begged with them not to lie to me again, explaining that we hadn't eaten, we were hot, dirty, soaked from the rain, and still had to return to Panama City on the other side of the country. Ten minutes, I promise, I promise. Twenty minutes, nobody.
At three o'clock we drove back to the agent again. This time we sort of flew off the handle. The secretary took the brunt of it since our agent still wouldn't grace us with her presence. Phone calls were made, an English speaking employee was dispatched to the waiting area to try and calm us by explaining that it wasn't their fault it was somebody else's, and finally an errand boy was sent with us to try and expedite things before the entire place shut down at four o'clock.
At three thirty the port container employee miraculously appeared. We all drove into the port together past thousands of stacked containers and a dozen ten story tall shipping cranes to one lone twenty foot container sitting forlornly in the rain. The loading itself was simple. I drove it in, and two dock workers secured it with tie down straps and wheel blocks. Then they closed the doors and sealed it. A seal that isn't to be broken until the Colombian customs opens it with us in their presence. A padlock of our own ended the process.
Bus-less we walked back out to the muddy dirt road to wait for a bus. Two of the biggest thug looking gangster types we've ever seen were waiting on the corner. I asked the guy with the two black tear drop tattoos under his eye if we were in the right spot. We were. After about ten minutes in the rain a taxi came by. I flagged him down and then invited the thugs to join us. They were all smiles. When we dropped them off they shook hands and thanked us profusely.
Colón is the armpit of Panama. A place where Lonely Planet guidebooks won't tell you anything except how to get out of the place. After having spent a week there on our boat a while back we concurred. The taxi dropped us off at the bus station and in no time we were on a plush express bus to Panama City. An hour later Ali put my love with her to the test.
"I shouldn't have drank that Coke, I really have to pee." Ten minutes later she asked, "Pat, what am I going to do? I really have to go bad." Five minutes passed. "Pat, oh my God, seriously, what are we going to do?" Two more minutes, "Pat???"
There was a bathroom on the bus, but it didn't have a doorknob and was obviously not meant to be used. I looked outside at the dark road and the pouring rain and didn't have a clue what she was supposed to do.
"Pat, we have to do something, please," she pleaded with moist eyes.
This is when I made the ultimate sacrifice. I walked the length of the bus and knocked on the door separating the passengers from the driver. Inside the cab next to the driver were three eighteen-year-old boys. I leaned down to them and quietly began to try and explain our predicament. The problem of course was the language barrier. How could I ask these kids to open the bathroom for my wife without them thinking that she had a case of, how do we say, traveler's stomach?
"Really, she just needs to pee really bad. Yes, I agree she is like a four-year-old child. She hasn't gone all day long, and we've been stuck outside in a port parking lot, and she's been drinking water out of our bus all day, and now she guzzled down a Coke, and…" Of course I couldn't say any of this. They denied me the bathroom. They laughed at what they thought I was trying to tell them about my sick wife and her stomach. And finally I had to tell them to stop the bus. Fortunately at that moment lights appeared on the road. We were coming up on some tiny town.
Ali and I piled off the bus directly into ankle deep mud puddles, in the dark, in the rain, with no clue in the world where we were. We ran across the street to a Farmacia where she was able to use the bathroom. Thirty seconds later she came out a new woman. We were both just laughing now at the absurdity of our situation. What grown woman has to go pee so bad that she can't, absolutely positively can not, hold it for one more hour? Her birthday was the next day and I told her that I hoped the embarrassment and shame she had put me through had been present enough for her. She smiled and said it was.
We spotted a few guys standing underneath a shelter that appeared to be a bus stop. After asking a few of them about buses to Panama City a young guy motioned for us to follow him onto a passing bus headed somewhere else. We blindly followed. The bus appeared to drive up into the hills even further from anything resembling a route to the capital. Fifteen minutes later though our new friend explained to us that he was getting off but that we needed to stay on. He then gave the bus driver some instructions and hopped off. After a few more minutes our bus stopped, honked at one going the other direction, and motioned for us to switch over. We did so and found ourselves to be the only two people on the new bus. A minute later we were on the autopista driving seventy miles an hour towards the city. We love how, when traveling, people go out of their way to be helpful to us as complete strangers. At eight o'clock we checked into our hotel.
We realized that we've got a whole lot of pictures on our hard drive that never make it onto the website for one reason or another. To try and rectify that we put together a video compilation of Central America with over a hundred new pictures beginning at the Mexican border and running straight on down to the Panama shipyard.
december 26 2008 : cartagena, colombia, south america
Ali and I spent the buildup to Christmas hanging out in Panama City. We really didn't do much of anything for a couple of days. Hung out at the bar listening to 80s rock that the waitress was extremely proud of, hit the Dunkin' Donuts every morning, and basically just got to know every street in the neighborhood. We also visited the shopping mall just to see what holiday shopping was like down here. It was quite a bit different. First off there was hardly anybody there two days before Christmas, and secondly there wasn't one single store with a SALE sign in their window.
Christmas day was our travel day. A whopping one hour flight from Panama to Cartagena on a crop duster. There were a grand total of six people at the Cartagena airport and without a single question asked of us we were stamped in and cleared through customs. I was slightly concerned that our one small bag and no onward ticket would cause us problems, but nobody raised an eyebrow.
We quickly found an overpriced hotel on the beach and went out to join the scene on the street. There were people everywhere. Sidewalks were packed, buses were overflowing, and restaurants had no tables available. We found a "bar" and sat down on the bench outside. The bar looked more like a small store selling chips, ice cream, bottles of liquor, and lots and lots of beer. The place was only ten feet wide with one row of tables and one long concrete bench out front filled with families.
It wasn't long before we had friends. Ali and I soon had conversations going with guys on each side of us. "This is your country," they said to us. When there was a break in our conversation a man approached Ali with his ten-year-old son. We had seen them watching us and were curious to see what it was they would have to say. The two stood in front of Ali and the man sort of nudged the boy, urging him to go ahead. "Feliz Navidad," he said shyly before leaning in to kiss her on both cheeks. We had a nice conversation with them. The man was a truck driver and once he heard we planned to drive across his country he became very animated, telling us about all of the beauty we would see along the way. Basically everybody we talked with was very happy to meet a couple of Americans hanging out with them at their local bar on Christmas Day. We're both really looking forward to the rest of the country.
december 27 2008 : cartagena
Yesterday we switched hotels from the expensive tourist beach strip to a hostel in the old town. This part of the city is the heart and soul of Cartagena, a walled city filled with centuries old Spanish colonial buildings and narrow streets. This city is truly alive, with shops everywhere, hundreds of street vendors selling some of the best street food anywhere, tons of small hotels, apartments, and every kind of restaurant you could want. We spent a great day doing nothing but walking the streets.
This morning we went to the shipping agencies office to see about getting our bus back. Being a Saturday we accomplished basically nothing of this task, though we did manage to spend ninety minutes in the office having one piece of paper filled out by four employees. Nothing gets done quickly and nobody seems to care much. Until at least Monday the bus will continue to cook in its container.
When we got done with that we decided to change hotels for the third time in as many days. The previous night's room hadn't been all that great and now that we knew we were going to be spending at least three more days in the city we figured we'd better find something else. Once that was sorted we headed for the beach.
This had to be one of the most fun beaches we've ever been to. This is not your tropical vision type beach, this is a Colombian weekend getaway beach. The long strip of sand has an unbroken line of plastic tarp beach cabanas where thousands of locals were hanging out enjoying the weather. Vendors were thick, selling t-shirts, massages, necklaces, sunglasses, ceviche, fruit, candy, cigars, and just about anything else a person could possibly want. As far as vendors go they were a pretty laid back group. These Colombians know how to have a good time, and we had a great time too, just watching and talking with them until the sun went down.
december 28 2008 : cartagena
Today we just did a bit more sightseeing. We checked out Castillo de San Felipe, a Spanish fort built around 1650 and never overtaken, despite numerous attempts. Aside from that stop we just walked the town. After just a couple of days here we already feel like we know the place inside out. But still, around every corner there's something new. The place is just filled with nooks and crannies. It's a very cool city to chill in.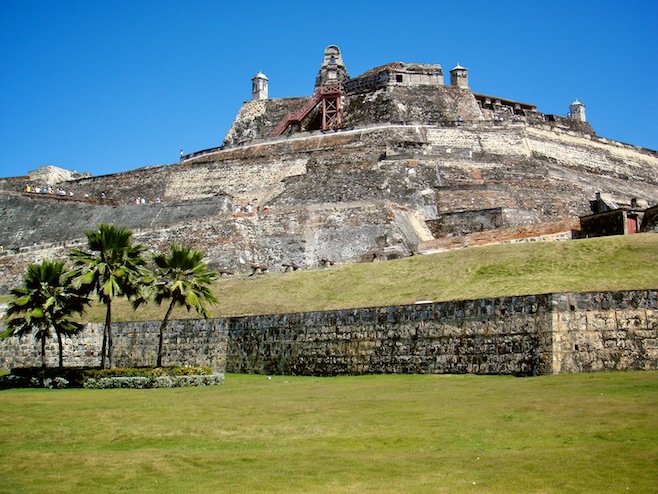 december 29 2008 : cartagena
And the cargo unloading process begins. At 7:30 this morning Ali and I got in line at Citibank to make a direct payment for some port handling charges. In countries like this it is crucial to arrive at banks well before they open because, especially on Monday mornings, the lines stretch around the block. The local banks seem to be especially hit hard with hundreds of people in line, while at Citibank we were able to be first in line. By the time the doors opened we had about fifty people behind us. I don't know how they stand it. Fortunately we were in and out and on our way in no time.
Next up was a stop at the customs office. A hectic office where we had basically no idea what we were there to get. As usually seems to happen though, an inquisitive trucker who was eyeballing our paperwork pointed us to the right person. This guy grabbed our paperwork, enthusiastically filled it out, and sent us on to the port for the next step.
Here the mood was a little different. It took us about an hour to get our paperwork into the hands of the right girl. We then began to meet men who had essentially been living in the office, most of them for four days or more, trying to extract their shipments. One of these guys, an Argentine trucker, began chatting us up and then decided to take us under his wing. He had been there four days and knew all the steps involved, the most important of which was getting the girl that had our paperwork in her hands on our side. They rattled on together in rapid fire Spanish for a while and by the end she had a big smile on her face. We took that as good news and took a seat with the others to pass our day patiently doing nothing.
During the day the two four-day guys whose paperwork was in front of ours both appeared to get their final papers, putting us at the top of the line. After four hours or so she finally looked up and waved us over. She gave us instructions in Spanish which usually I can decipher enough of to figure out but this time I wasn't catching any of it. She wasn't fazed by it though, she came out of her office and motioned for us to follow her. She took us to the next step and told us to come back to her when we were done. We paid for a bunch more port fees and then went back to her window where she was busy on an internet translator program. After a couple of minutes she looked at us with a huge smile on her face and handed us a note in English giving us instructions to come back at nine the next morning when we could begin unloading the container.
Our shipping agent had told us that if we hired a helper we could expect to get the container in a day and a half, or he said, he knew a person who did it on his own in just five days. He had told us this with a straight face as if it was totally normal business. So Ali and I were very happy at the end of the day that everybody had taken us under their wings again and it appeared we were well on our way to extricating the bus. It's amazing how far a friendly smile can get you, even when nobody speaks the other's language. We'll see how it goes tomorrow.
Back in the old town we found a hole-in-the-wall bar next to our hotel, and celebrated a day in which we'd done pretty much nothing, but still felt was somehow a huge success.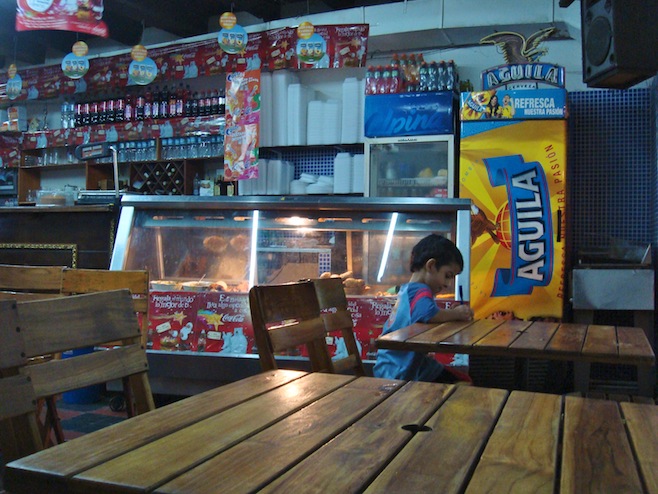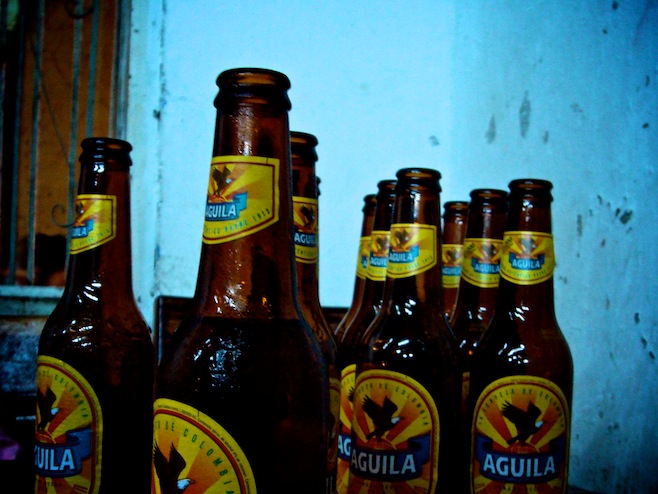 december 30 2008 : cartagena
Unloading day two started off great. Our girl Liliana was waiting anxiously for us with more notes in English. As it turns out she wasn't getting the translations online, she actually knew English fairly well but was simply too shy to speak it. There were half a dozen people to see and get signatures from which we managed quickly.
Then we ran into the first snag of the day. It was finally time for me to go back into the port to unload the container. As I went through the checkpoint the guard noticed my flip-flopped feet. That did not pass the shoe test. Either did the explanation that my shoes were in the container I was going to open. Liliana tried to track a pair down for me but came up empty. Ali had a pair of shoes in our bag but couldn't go open the container because her name wasn't on the paperwork. The only solution was for me to put Ali's narrow size eights onto my fat tens. Walking around a dirty port filled with hard working Colombian men with nothing but my toes inside a pair of women's shoes wasn't my proudest moment. Again. I seem to be having a series of these incidents lately.
But hey, I got in and got the bus out of the container. I then moved it about a hundred yards and parked it next to roughly a thousand cars and trucks that looked as if the owners had long since abandoned their attempt to free them from the port. A couple more hours of waiting ensued, followed by another half dozen offices, stamps, and signatures before Liliana came to us beaming. It was time! In minutes I was in the bus pointed out the exit. I made it fifty feet. My paperwork was wrong. Two more offices, a new sheet of paper, and this time I broke the bus out. We were seriously finished. And in just a day and a half. That might sound like a long time, but we, along with everybody else, considered it a huge victory and possibly even a record. For those of you looking for more info on shipping you can read about our experience on our Borders page.
It was too late in the afternoon to drive up north like we had hoped so we settled on Playa Blanca, a beach about ten miles away. On the map it looked easy enough. The only issue with our plan was that we were flat broke. Cash machines have been a hassle here. There are tons of them, but for the first time we're having trouble getting them to work. Only about one in three wants to give us cash, which considering that only about one in three of them are even working at all, makes for a bit of a pain in the butt. The other problem is that they have a maximum of 300,000 pesos, or about $140 USD. So between hotels and port fees we have been constantly finding ourselves out of cash.
Anyway, we drove around, couldn't get any cash, were just about out of gas, couldn't find a station that we could charge at, and finally gave up getting ourselves to a place to camp for the night. We turned around and drove to Bocagrande, the beach strip where we knew we could find a cheap hotel and parking. Cheap hotel by the way means about thirty-five bucks here in Cartagena during the holidays. We've stayed in six hotels in the past seven nights, and each place has been a dump not worthy of half of their price tag. For such an inexpensive country the lodgings here in the city sure don't reflect it.
Speaking of money, we've now got a final tally of what it cost us to get the bus from Panama City to Cartagena. This includes the container and Panama port fees ($1305), the airfare for the two of us ($435), ten nights in hotels ($502), and Colombian port fees to get the bus out ($374); total $2,616. Somebody on that Samba forum earlier this month said that they drove from Oregon to Argentina for under $5,000. All I have to say is that that is impossible. If all we did was ship the bus and pay for gas we would spend that much. That wouldn't include eating, camping, oil, border fees, tourist attractions, and of course getting the vehicle home again. I think people tend to seriously underestimate expenses unless they write them down.
Oh yeah, as we were driving around this afternoon I noticed that the brake pedal was going soft again. I knew this wasn't good. When we got to the hotel I took one look under the bus and could see that the same wheel cylinder was spewing brake fluid. We've got an extra but we're not too thrilled to have this project to take care of again. One thing is for sure, that brake drum better slip right off this time.
Socialize