april 1 2009 : torres del paine, chile, south america
Crossed the border once again this afternoon, this time just down the road from Torres del Paine National Park. This place is the hikers mecca, which for us doesn't really mean much. We did know there would be some killer views though. We paid our fifty dollars to get in and then watched as the dark clouds rolled our way. Fortunately we did get those postcard views of the Towers of Paine just before the sun disappeared for good. We then drove through the park looking for what appears to be the only campground. The scenery was great, with snowy mountains tumbling sharply down into large glacier lakes and the guanacos wandering around everywhere. But by this point it was simply a race to get settled in before the black clouds overtook us.
april 2 2009 : outside Punta Arenas, chile
Today was just one of those days that don't seem to work out quite like planned. Looking at our map I tend to just pick out a spot and say, "Yep, that ought to be about right, we'll head there."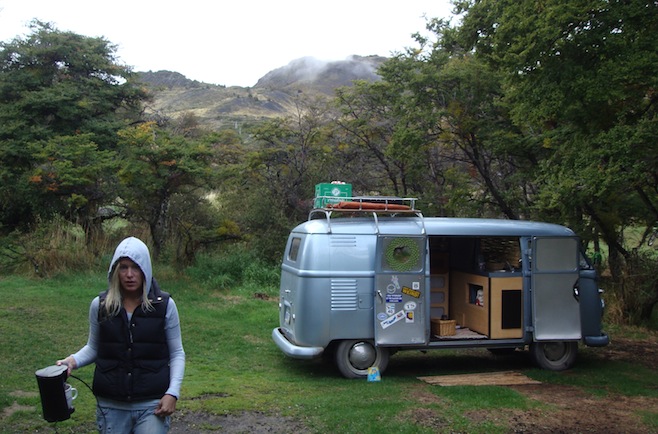 Then we hit the road and ten minutes later the tarmac ends and the whole plan for the day is shot to hell. Actually though the rough roads didn't kill us today so much as the fenced in roads. You tend to think of Patagonia as this untamed expanse of nothingness, but in reality it seems every square inch of it is owned by somebody and they've fenced it all to keep their sheep in.
We stopped in the small town of Puerto Natales where we found a restaurant with at least a hundred locals inside having lunch. Always a good sign. We pulled in and had by far the biggest and best meal of our entire time in Chile. We got gas, and then we even found the road we needed out of town without circling around even one time. These simple things left us highly impressed with the town.
Our plan from there was to head towards an area a couple of hundred miles away where there are ten thousand penguins lolling on the beach. We figured along this route we'd spot a campground or at least a place we could pull off and boondock for the night. But for the entire two hundred mile stretch we couldn't get more than ten feet off the road because of all those fences. An unbroken line on each side of the road stretching infinitely. Or so it seemed. By the time we reached our turnoff for the penguins dark was settling in. Then the rough road started and for another hour we plopped through the mud puddles at ten miles an hour unable to see anything. Fortunately there wasn't any sign of life out here, so when we finally spotted a dirt cross road that didn't seem to lead anywhere we pulled off on it and camped right there, sopping wet and angry. Angry at what or at whom I don't really know, though Ali did take out a bit of rage on some apparent rain God. She admitted later that she may have lost it just a little bit there. I've said it before, but there truly is nothing worse for us and our way of living than rain.
april 3 2009 : río grande, tierra del fuego, argentina
We woke up this morning, took a look around and were happy to see that we weren't parked in somebody's front yard. We were out in the middle of nowhere and according to our guidebook were just five miles down the road from the penguin sanctuary. So on we went, and went, and went. Ten miles beyond where the parking lot and the restaurant and the penguins should have been there was nothing at all, just a road stretching along the water as far as we could see. The penguins must have taken the building and left.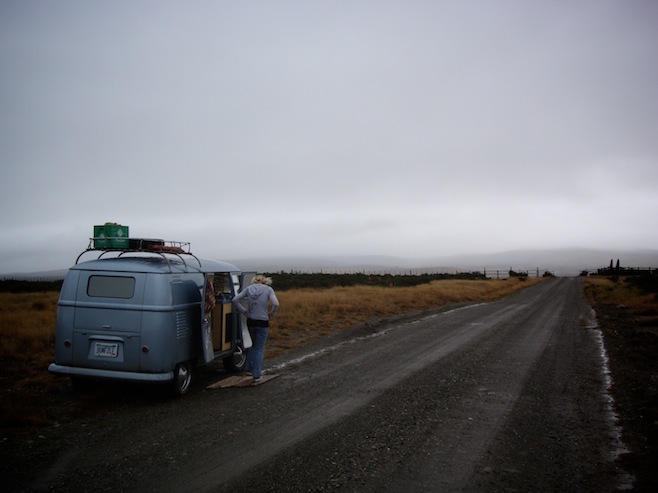 We backtracked our way out of there and continued our southward trek to Ushuaia. Sixty miles from yet another border crossing the road went from beautiful to disastrous in a second, and for the next three hours we bounced along what was probably the worst major highway of our trip. Halfway along this road I lost my marbles a bit when I started to have visions of a guy standing at the end of the road holding a sign that said he was responsible for the maintenance of this road and I just ran him over. In the end there was no guy, and worse still this road took care of my supposed tranny mount fix. I am reasonably certain I can salvage things tomorrow though. We'll see. As of right now we're heading for the end of the world with a vehicle that doesn't particularly like bumps.
april 4 2009 : ushuaia, tierra del fuego, argentina
deadhorse, alaska to ushuaia, argentina : 239 days, 26,510 miles
Ten minutes down the road this morning it was clear that something really should be done about the tranny again. Clear because Ali made it clear to me. Something about the bus being our only way out of Tierra del Fuego or something like that. So we pulled into a parking lot and I climbed underneath the bus. I could draw a picture of the bottom of our bus from memory at this point. And draw it to scale. I took with me a jack, a wrench, and my last length of baling wire. Ten minutes later I crawled back out, pulling the jack behind me with bloodied hands, and leaving behind my third wrench. This fix just keeps getting uglier. I'm utterly confident it will hold up to smooth roads, it's just that damn potholed stretch that we have to return through that gives me pause.
Anyway, back on the road we went from vast nothingness to suddenly being surrounded by snow covered mountains with green, red, and yellow trees running halfway down their slopes. Fall is in the air. Though it did snow for about ten minutes and everybody but the teenagers are wearing boots and parkas, so maybe winter is a lot closer than Ali and I like to believe.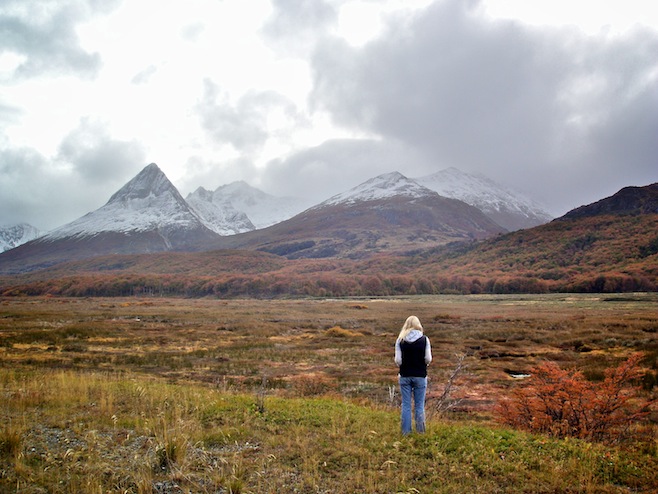 We hit the end of the road with very little fanfare. Ushuaia, despite all the hype as the end of the world, wasn't a bad town. It's a port city done right, and down by the water I found myself musing about what it would feel like to sail into a port like this with the colorful houses climbing the foothills and the two hundred degree arc of snowy mountains enclosing the bay. It's really a pretty beautiful place as far as these types of towns seem to go. Ali and I spent the afternoon browsing the shops, picking up a sticker that would prove we'd been there, and sinking a few beers before circling right back out again and heading down the road for a nearby campsite nestled in the mountains alongside a small river. We probably could have spent a couple of days, but we are ill-prepared for this sort of cold and figure the sooner we get the bus pointed back north the better.
april 6 2009 : coy aike, argentina
I feel like all we've done lately is complain about the cold and the bad roads. And although the scenery has been pretty fantastic those are the only things that have been on our minds. The cold wet weather pretty much rules our days. We drive around all day long with a big heavy blanket wrapped around both of us in the front seat and only tear it off to get gas. And while usually we wake up in the morning and I crawl outside to finish getting dressed, I now find myself putting on every article of clothing I have before daring to step outside. This can be a challenge in the confines of the bus. Yesterday we woke in Ushuaia to 42 windy degrees and I went through my routine. Picture a bear in a port-a-pot. Then picture Ali yelling at me, "Careful. Careful. Watch your butt, it's going to break something." I got the giggles at that point. God if people could only hear the things we say to each other.
We left Ushuaia and drove back to Río Grande, a pathetic place to spend two nights of one's life, but necessary because of the six hour rough road just after it. I don't think our pictures or my descriptions did this road justice. But I think it is summed up pretty well by the motorcyclists we met who were just about to finish their trip from Oregon. They had originally planned to drive up to Buenos Aires and ship their bikes home, but after this particular sixty mile road they decided to instead see if they could ship them home from Ushuaia. Anything to avoid repeating that road.
Fortunately this morning we woke to clear skies and a stiff wind. The two combined to dry out and smooth the road a bit, essentially doubling our speed to just a three hour crossing. We were thrilled and did a little jig upon finally reaching the other side and knowing that the next two-thousand miles were going to be paved. I don't know what's happened, I usually love the rough dirt roads, but at the moment we're both burnt on them and want nothing more than a quiet uneventful drive to BA.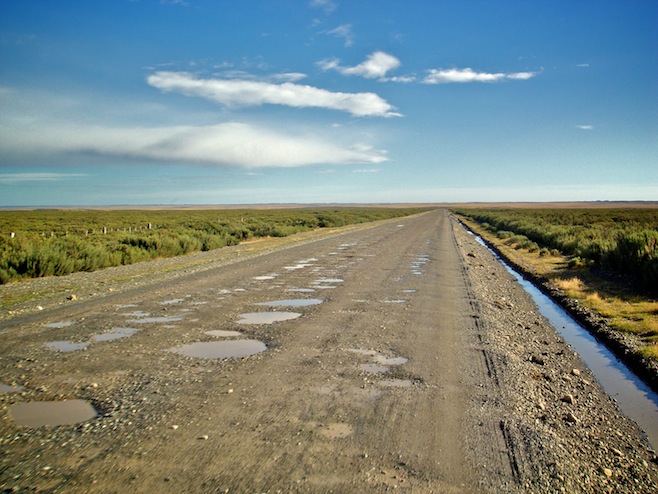 We drove all day and pulled off the road along the driveway to some estancia to camp for the night. These ranches are so huge that often the home is set five or ten miles off the highway so it's doubtful anybody will ever even know we were here. We watched the sun go down surrounded by sheep and two huge rabbits with a bushy-tailed fox nearby. Ali was ready to honk the horn to save the bunnies should it have become necessary.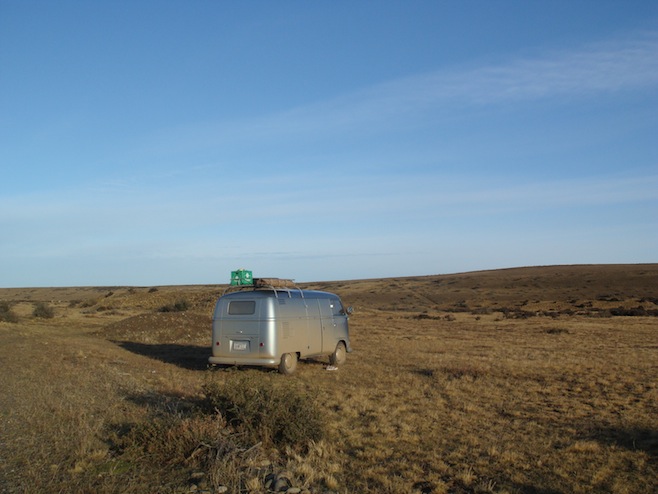 april 9 2009 : río colorado, argentina
The drive across Patagonia and the Pampas has got to be one of the most boring stretches of road on the planet. We're usually big fans of wide open spaces, but three days of solid driving and the scenery has started to wear pretty thin. It's flat scrub covered dirt as far as you can see. Nothing else except towns spaced every two hundred miles or so apart. If ever there was a poster child for banning the production and use of plastic bags this would be the place. From the air the towns would look like a giant bullseye with the town in the center and then a five mile radius of billowing white plastic beyond that. It's really hideous, and every town is the same. The wind is constantly whipping at thirty miles an hour. Combine that with the thorny knee high brush and you've got yourself a perfect storm for plastic bag collection. We've seen this phenomenon plenty of times, but it's really struck me in Argentina just how bad the problem is.
Maybe the bag problem has more to do with my mood. Driving these past three days has been tough. The wind is blowing so hard that I spend every moment steering the bus, despite the fact that the road stretches straight ahead for twenty or thirty miles without a curve. And every truck that goes by causes a squeal from the passenger seat beside me as we get blown from fifty miles an hour back down to forty. This road is enough to make a person think that maybe a new car wouldn't be so terrible after all.
But if we had a new car we wouldn't meet the great people that we do along the way. Yesterday we had a family come up to us at a gas station. The husband started things off and was duly impressed by the fact that we'd driven from the States. He called his wife and daughter over and then the fun really began. We opened up the back for them to see inside and suddenly the wife was talking a million miles an hour. Ali and I couldn't understand a word of it, but somehow, whenever she paused to take a breath we managed to catch the last sentence. Or at least the last word of the sentence. Donde? Yes, we'd come from Alaska we told her. Cama, bed. Yes, the couch folds down into our bed. Agua? Yes, we have a water tank under the sink. She would rattle on for five minutes and then end on one of those easy words giving us the chance to respond intelligently. By the time we said our goodbyes we'd probably even fooled her into thinking we spoke perfect Spanish.
And of course if we had a new car we'd never have a leaky gear box either. And really, what fun would that be? After the horrendous road to Ushuaia we spotted that tell-tale leak on the back tire. The gear box repair was leaking once again. This time we took to heart some advice we'd been given about the problem possibly being as simple as the axle nut not being tight enough. The truth is that I never had the right tool to properly tighten that nut and had been trying to tighten it in the past with nothing but a screwdriver and a hammer. It seemed pretty tight to me. But the other day we stopped at a hardware store and bought the half inch ratchet that I needed and sure enough I was able to crank that nut six more times around.
So tonight Ali and I ripped the gear box open again, gave the seal a few taps to seat it straight again, put it all back together, and then tightened the axle nut down as tight as she would go. Tomorrow we see if it worked. The nice thing is that now that we know how all the inner workings of that gear box work we don't even mind ripping it apart. We've got the system down. We had the whole thing done, including all the clean-up, which is the most time consuming part, in just one hour.
After cleaning up we walked down the road and were thrilled to find a small restaurant apparently serving nothing but beer to its customers. We watched a little soccer and drank a couple big Quilmes before walking back to the campground. It's a municipal campground and doesn't appear to be officially open any longer, yet it was still surprising to find that a family, a motorcycle, and two mattresses had been moved onto the floor of the ladies bathroom. Even more surprising was that we had to coax the guy out of there so Ali could use it. And still more surprising was that he stood outside sending text messages on his cell phone. How many people can afford a cell phone but sleep on the floor of a public toilet? Man, we're ready to get to Buenos Aires. At least there, we assume, the public toilet sleepers don't have iPhones.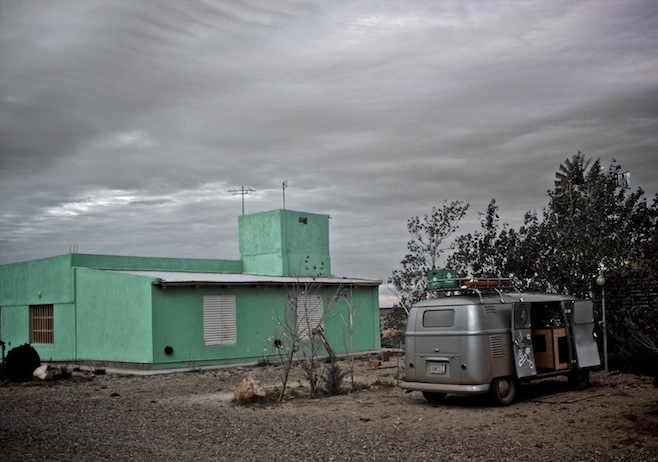 april 11 2009 : las flores, argentina
Two more driving days. We were sure we'd run across some camping at some point, but for some four hundred miles there was nothing but fields of waving grasses and fences. Somebody pointed us to the town of Azul, which we finally reached just after dark. We were happy to find camping signs on the outskirts of the city, but the great big blue signs gradually disappeared the closer we got to the campground until we were completely lost and couldn't see a thing. The only thing we did find in the dark were the ladies of the night, all dressed up and lining the highway every fifty meters looking for work. When a hotel finally appeared at the edge of the highway we admitted defeat and pulled in for the night.
This morning we woke to a puddle of gear box oil on the ground. Our latest "fix" had apparently made things even worse. The plan now is to replace the seal yet again, and hope that the combination of a fresh seal and a properly tightened axle nut will solve this issue once and for all.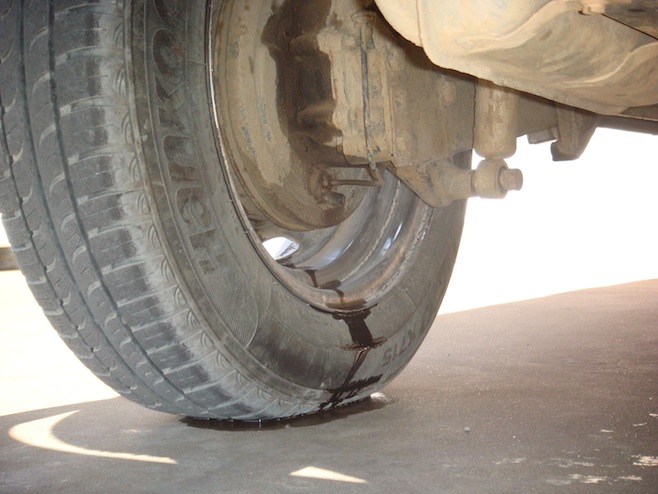 We drove until we were about a hundred miles short of Buenos Aires and figured that was good enough for the day. Once again campground signs along the highway led us nowhere, but after speaking to numerous locals we eventually got lucky and ended up at the town park. Hundreds of families were there strolling along the lake, having picnics, and drinking mate. We have yet to try mate, but it is omnipresent in Argentinean life. It's a hot water drink sort of like tea. Everywhere we look we see people carrying a thermos and a gourd with a silver straw. The women carry these items around as if it is the most precious thing in the world. Every gas station has a hot water vending machine solely for this purpose, and every garbage can inevitably has a pile of the chopped leaves in it. I just can't think of anything anywhere else that has been this ingrained in the lifestyle of the people.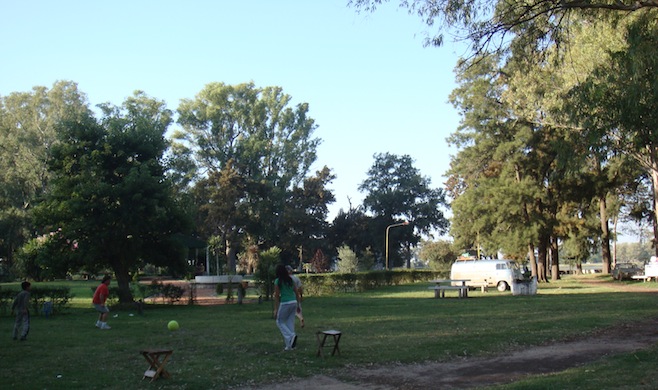 april 13 2009 : tigre, argentina
A friend had told us about a campground in Tigre, just north of BA, and we decided to head there instead of dealing with the city. This was easier said than done though. We didn't have a map of the city, or even of the general area, but I figured once we got close we'd spot signs for a highway skirting the city or at least for the town of Tigre. I was wrong on both counts and soon Ali and I found ourselves headed into the center along some massive toll-way with millions of other cars driving at least double our speed. Thank goodness it was Easter. When we finally got off the highway to turn around we got pulled over. We were not amused, however we did get pointed in the right direction, and back on the highway a toll road operator finally gave us some useful instructions.
A bit later than expected we rolled into Tigre, a sort of quick weekend getaway for the BA city-dwellers, along the river delta. The campground is just an old lady's home with room for a few cars to park right up next to the water, but it's the closest camping option to the city.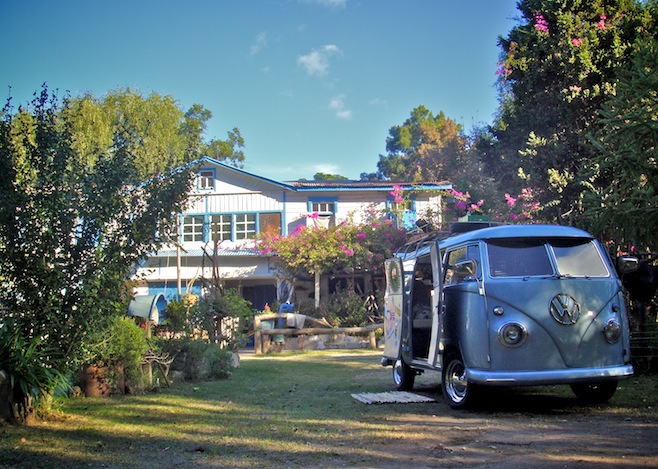 Today we hopped the train into the city. The reason we've been pushing so hard to get here is that the shipping company won't issue us our tickets until we have Brazilian visas. Apparently even though we aren't disembarking in Brazil we U.S. citizens still need visas. And as we found out when we reached the embassy, the Brazilians aren't just giving these things away. I don't know exactly what the U.S. policy is with regards to issuing visas, but it appears we're charging some really exorbitant prices just to apply for one. And now some countries are taking offense and turning things around by charging us the same fee to apply to their country. So for a visa to a country in which we won't even be stepping foot, we each paid $150, or roughly ten percent of the entire cost of our trip over to Europe.
It's a shame the U.S. is charging this high a fee for a visa application, though I'm sure an incredibly high rate of applications has something to do with it. The problem for us would be if everybody took this kind of action against U.S. citizens. We simply wouldn't be able to afford it and would have to pick and chose our countries and routes much more carefully.
Aside from the embassy we didn't do too much downtown, saving our city sightseeing for later this week when we return to, hopefully, pick up our visas.
We've put together a couple hundred unused pictures from our trip across South America. I think it gives a pretty good idea of what we've been seeing out the windows of our old bus these past few months.
april 16 2009 : buenos aires, argentina
Well our visa came through no problem, which was a bit of a relief as we'd already paid for the ship. I'm still ticked off about it though; three hundred bucks and we're not even setting foot on their soil.
The past couple of days we've been enjoying big city life again, which in Buenos Aires means spending a lot of time in lines. Every single place we go has lines: the copy/fax shop, the post office, the bank, the money changer, the embassy, absolutely everywhere. I read once that the more well to do of Buenos Aires society actually employ people whose sole responsibility is to run the errands that require line waiting. The post office was my favorite; forty-five minutes to buy four stamps. No, they couldn't save you that time by installing a vending machine, that would be far too helpful. The amazing thing to me was how patient the Argentines are with lines. At most places you take a number and wait, so that's easy enough, but we also saw lines at bus stops that stretched for over a block in perfect single file. No way that would happen in any other country between here and the Mexico/U.S. border.
Part of the patience seems to stem from cigarettes. Ever notice how nobody with a cigarette in their hand ever seems to be in a hurry? That's them. We've never seen so many smokers. And not since the 70s have we seen people so free to smoke anywhere they liked. Outside of third world countries this has to be the last place where every office desk has one of those big crystal ash trays perched prominently atop it.
We visited a nearby park today to see the Mothers of Plaza de Mayo. These ladies lost loved ones in the Dirty War, in which thousands of Argentines simply disappeared. Mainly, it seems, at the hands of the dictator of the moment Videla. It was nice to see so many people gathered to support them, as they have marched outside the Presidents Office every week for the past twenty-five years.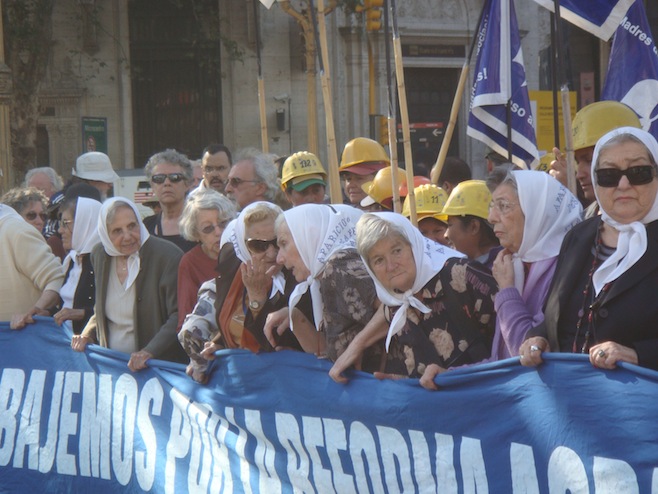 Our other big stop of the day was the Recoleta Cemetery where all of Argentinas notables are buried. Presidents, generals, and anybody else that had a ton of money in the eighteenth and nineteenth centuries. It's really a cool place as far as cemeteries go. Elaborate doesn't even begin to describe some of the family tombs. Others have fallen into disrepair and when we peaked inside we could often see caskets broken open with nothing but a pile of bones inside, any other contents having disappeared long ago.
The April issue of VW Camper and Commercial is out. Read our article and then go buy the magazine.
april 18 2009 : buenos aires
The main purpose of the past few days has been to get ourselves ready for the boat trip to Europe. To that end we met up with the shipping agent yesterday to discuss the details. We were very pleasantly surprised to be greeted in perfect English at the office and then be walked through the steps involved. The best thing is that there are hardly any steps at all involved. On the day of shipping we drive to the port where someone from the office will meet us. Then we'll check out with customs and immigration right there at the dock before driving the bus aboard. Compared to shipping the bus in Panama this appears to be about as simple as can be.
One of the great things about keeping this website is being able to meet people all around the world that we'd otherwise never know. Last night we got together with a rabid VW lover and his equally addicted wife to swap stories and pictures. Somehow at their home they've managed to squeeze in eight VWs, an old motorcycle, and some sort of tiny lawn mower motor powered car. I actually fear that because I now have this desire to own a VW double cab that I may be headed down the same path.
Then today we hooked up with a Costa Rican architecture student with an undying love of all things VDub. He's only been in Argentina for a couple of months, so it was fun to exchange first impressions of the country with him. We all agreed that we've never seen anybody smoke so much as the Argentines. But on the other hand they don't seem to drink nearly as much as the rest of us, generally sticking with coffee and mate. Seems like a wash in the healthy living department. The three of us also agreed that there would be no way that we'd ever be able to adjust to eating dinner at ten o'clock at night, no matter how long we lived here. Later on he blew us away with his apartment. Wood floors, eighteen-foot ceilings, moldings, balconies, this place had it all, and he shared it with one other student. Remembering the squalor I lived in as a student with three roommates almost made me cry.
Today we took a leap of faith. Tomorrow the Boca Juniors meet River Plate in what is called the superclásico. The UK's Observer has rated this the number one sporting event to see before you die and we just happened to be in town for it. The final five thousand tickets went on sale yesterday and today we saw a picture of the insane mob that waited to try and get them. We took another route, hopping on Craigslist and tracking down a guy who would part with a pair of 30 peso ($9 USD) tickets for just 400 pesos each. Hey, this is like some Frenchman showing up the day before the Super Bowl, having never been to a football game before, and trying to buy tickets. We were just happy to be able to get them at all. The leap of faith of course came when he delivered them to us and they were nothing but a couple of bus pass sized paper cards. God I hope we get into the game, I mean the derby, tomorrow. It's going to be insane.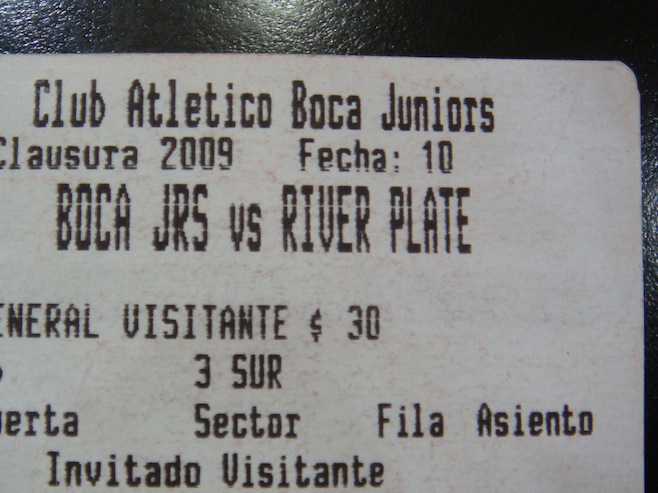 april 19 2009 : buenos aires
Superclásico Sunday. Boca Juniors versus River Plate. Three hours before game time Ali and I headed down to La Bombonera (the stadium's nickname) to claim our seats. We arrived on the Boca side of the stadium and got into a line assuming that we'd just walk around the inside of the stadium to the River Plate side where our tickets were for. But after walking a couple of blocks through fenced off areas and being searched one or two times somebody realized that our tickets were for the visitante side. The officers seemed a little frightened for us and quickly ushered us out of the line and told us we needed to walk four blocks this way, three that way, and around the end of the building to the far side where many more barricades would be set up around the neighborhood to herd us in safely to our section.
The River section was standing room only and was on the upper floor at one end of the stadium. Ali and I claimed a couple of square feet for a while but then changed our minds and moved over to some other seats right above the goal. This proved to be a big mistake later on.
We've never been to a fútbol match before so to actually see the club hooligans in action was pretty amazing. The stands weren't even half full, the real game didn't start for two hours, and already things were out of control. The real crazies were at the bottom of the section against the chain link barbed-wire topped fence throwing cups full of piss down on the Boca fans. Spitting, water balloons, cigarettes, they all rained down on the fans below us. We can't imagine what would possess anybody to sit in those seats. Fortunately no alcohol was served at the match, so serious pot smoking, and its calming influence settled things down just a touch by game time.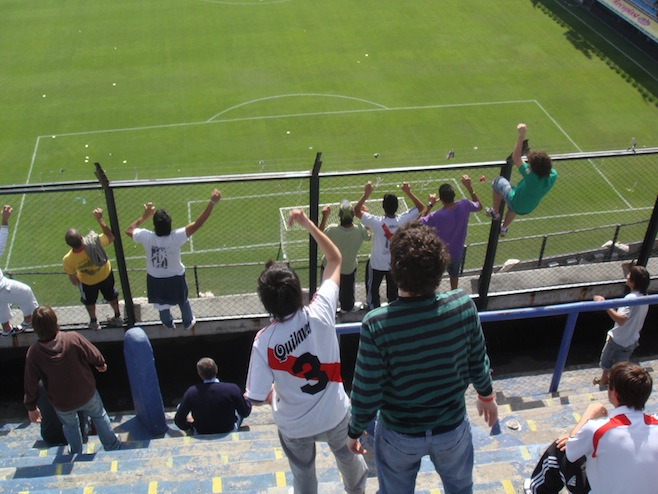 As the game approached the stands became a seething mass of people. It seemed as if there were at least twice as many people as there should have been there. The crowd, 99% guys under thirty and all sporting large River Plate tattoos, sang fight songs in a non-stop raucous chorus. Just before the start of the game the teams club started running huge banners over the crowd. First they ran them from the top of the stands to the bottom, which was okay, but then they began attaching horizontal banners to that, and within what seemed like just seconds half of the crowd was underneath what was essentially a tent and could no longer see a single thing. People had already been crushed in tight, but now suddenly everybody had to move to the outside sections of the stands in order to see the game.
When the game finally began we didn't see it. Either did a lot of other people. Twenty minutes in and we still hadn't seen a thing and were totally trapped with nothing but walls of bodies all around us. Eventually we decided the only thing to do was to try and climb out to the very top, which we finally managed just before halftime. The first half of the game was over and we hadn't seen a second of it. The crowd was rowdy as all hell, but hardly anybody seemed to be watching the field. For us American non-soccer playing folk it was all a little strange.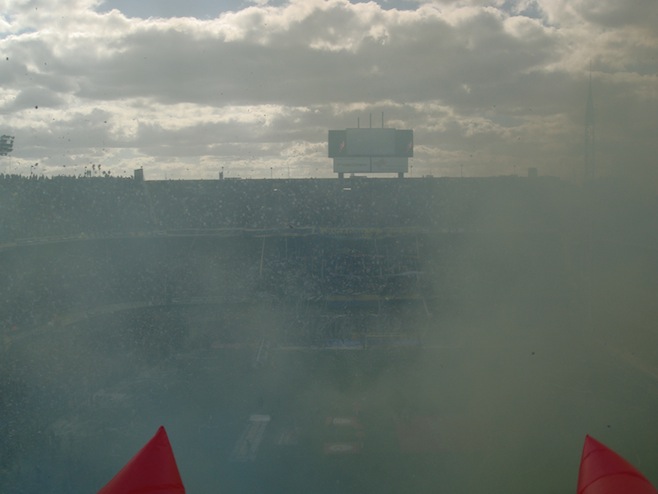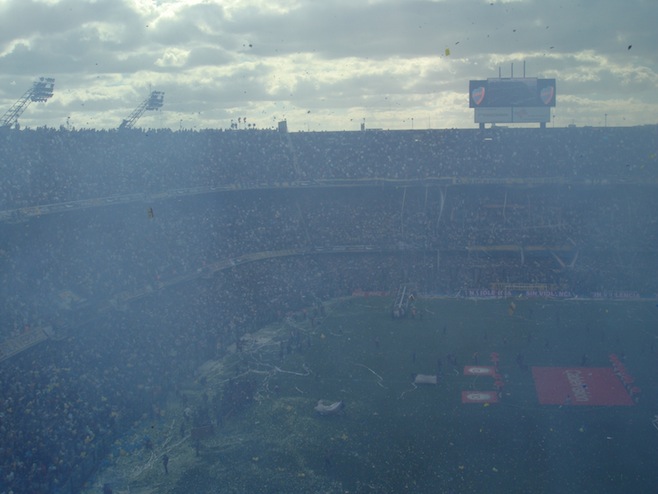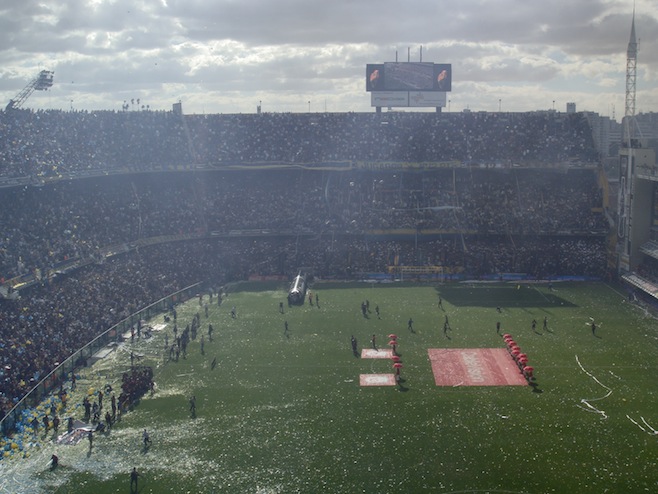 Being six-two I was eventually able to squeeze into a spot where I could see over the heads of people to watch the second half, but Ali didn't stand a chance. She never got near to seeing the field the entire game. She was a good sport about it but man did that suck. I really cannot explain just how thick the crowd was and how impossible it was to move. Absolutely crazy.
Boca scored first, but River tied it up later and the crowd went nuts. They were jumping around so much that the floor was moving. Not just a rumble under your feet, but literally you could look down and see the entire stadium was swinging six inches to and fro.
Honestly the whole thing was a little too out of control for us. It was cool to have been there and "seen" it once, but I don't think we'll be going anywhere near a soccer stadium again any time soon. Besides, the 1-1 score only confirmed what I already knew; soccer is the lamest sport on earth. If I had to watch one more sissy get tripped and then roll on the ground holding his shin as if it were the most painful thing that had ever happened I was going to launch myself over that barbed wire fence head first and show them real pain. Freaking fakers.
april 21 2009 : gualeguaychú, argentina
We drove out of Tigre today and headed for the country for a little R&R before our four weeks of R&R on the ship. There haven't been all that many road blocks in Argentina, but today we got stopped at the first one. We've now dealt with hundreds and hundreds of these, and most don't even warrant a mention, but today's cop was a little more persistent than usual. And as usual the first words out of his mouth were, "No placa." A statement rather than a question. We told him no, said it wasn't necessary in the United States, yada yada. At this point they usually drop the issue and wave us along. But instead this guy gravely informed us that we must pay a small amount for a ticket.
We went back and forth for about ten minutes, with him telling us that the ticket would ensure that we would have no further problems further along the road, and us telling him that we've never had a problem anyway. He wasn't giving up though, and tried a different tact, explaining that I needed to have an international drivers license. When we produced one you could sense the disappointment.
Finally, after about fifteen minutes Ali and I were ready to continue on. The "ticket," "no ticket," conversation was growing old. We gave him our biggest stupid smiles and started repeating over and over again that we were justtouristas and there was no problem. Then somehow for the first time he seemed to realize we were only there for tourism. His mood changed and he started to ask odd questions like, "Your wife?" and "How long your wife?" When I answered, "Once anos" he replied, "Oooooh, once. Long time." I thought, brother you don't know the half of it, then reached my hand out the window to shake. He grabbed my hand and said, "nice to meet you," as we drove off.
We both know we could solve a lot of our problems by simply installing our front license plate, but honestly we have so much fun and get such a laugh out of these stops that we've never even considered it.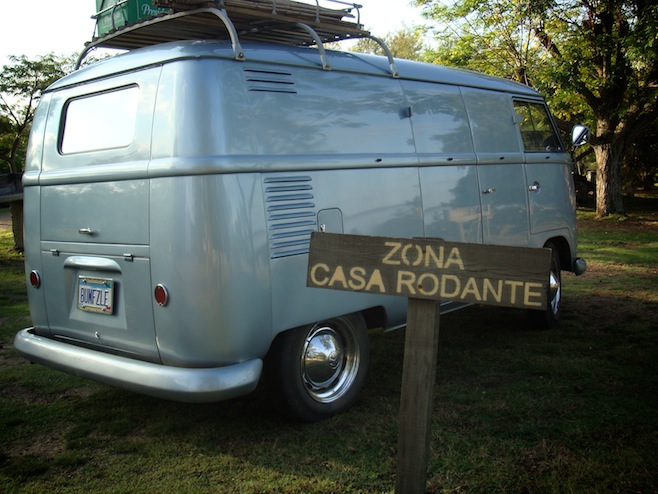 april 23 2009 : parque nacional el palmar, argentina
Of course the very next day after writing an update like that we would get pulled over by an even more thick headed cop. I know, I know, it's our own fault. It should have been taken care of long ago. But come on, a license plate on the front of this beautiful bus just throws off all her lines. Not to mention, we are just tourists, what good is a U.S. license plate anyway. It's not like we're going to be robbing a bank and they won't know who we are because there was no front plate on the vintage VW bus.
So we get pulled over today and the cop doesn't even waste any time telling us he's giving us a ticket for no license plate. He even double checked that my right turn signal had been turned on when I pulled over before telling me to get out of the car and come with him. Across the road was a small hut with a desk where they collect their dough. Fortunately for me there was already somebody in there being written out a ticket, which gave me time to raise a fuss. I started out nice enough with the usual wonderful country, we've never had a problem before despite the hundreds of police we've been stopped by, etc., etc..
None of it was budging this guy though. He just kept insisting that it was "Muy importante" to have a front license plate in Argentina. Obviously this was a very grave offense and was at the top of their list. Big problem he kept telling me over and over again. Which is when my savior came by in the form of a white pickup truck with no front license plate. I yelled and pointed; the cop turned and saw what I was blubbering on about and the look on his face was one of total defeat. He looked at the two other cops who were standing in the middle of the road waving the license plate-less truck through and he just shook his head. In my best belligerent Spanish I asked, "Muy importante por tourista, no importante por Argentino?" to which he folded up my paperwork and handed it back over to me while saying some things that I couldn't even begin to understand, but was pretty sure were not overly friendly. I didn't press my luck and just climbed into the bus and sped off without signaling, since, well, our left blinker doesn't work.
After that we decided that for our last few days here we'd tape our license plate up in the front window. And apparently they've been very happy with it because we've cruised through at least five more police checkpoints now without being waved over. But man, we just can't take a picture of the front of the bus looking like this. It's too unstylish.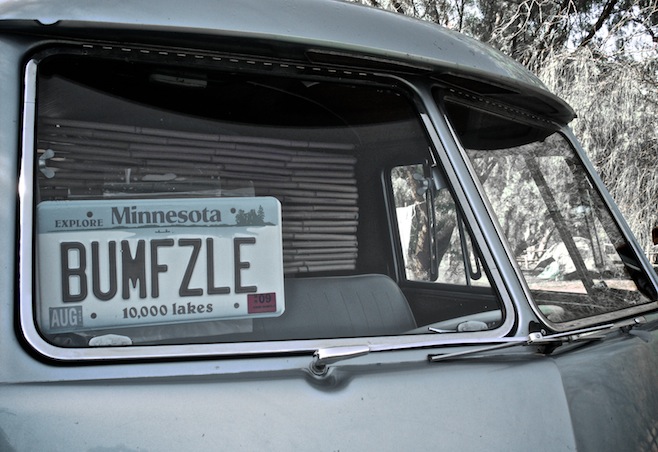 We've been sort of wandering the countryside the past few days killing time until the ship leaves on Monday. There isn't a whole lot to see around here, but we also don't have enough time to venture too far a field. We visited a big pink palace out in the middle of a corn field somewhere which was actually sort of interesting. The guy that drafted the constitution lived there and was in some sort of competition with another rich guy of the time to have the sweetest crib. Apparently an all pink country mansion did the trick.
Other than that we've just been staying in mostly uninteresting riverside campgrounds. One place did have a couple of dogs that weighed in at well over 150 pounds each which was sort of fun. But really, not enough fun to make these days pass any faster. We are anxious to get moving, get on our ship, and start the next stage of the adventure.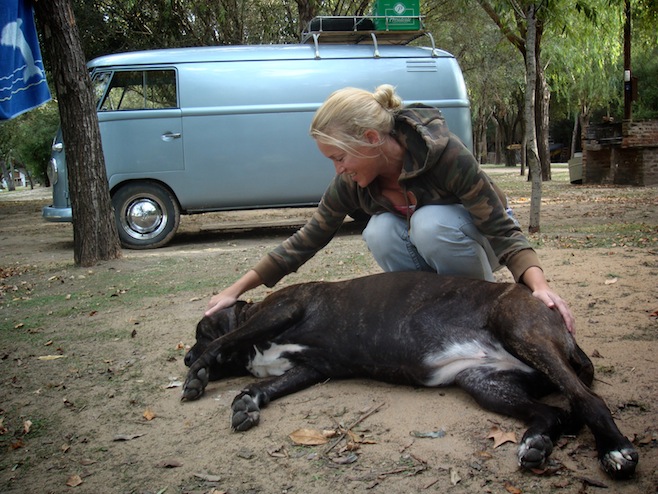 april 24 2009 : gualeguaychú, argentina
Last night we were awoken by the sound of our bamboo mat being moved outside. At first we both assumed it was a dog getting comfortable as has happened quite a few times. But when the noise kept going I decided to have a peek with the flashlight. I opened the door and the mat was gone. Ten feet away a strange looking guinea pig looking animal about the size of a basketball was standing there with one corner in his mouth dragging it slowly towards a gaping hole near the bushes. He looked at me with a look that clearly said Get your own. As I put my shoes on and headed for him he gave one last tug before clambering down the hole.
Speed bumps in Argentina are called lomo de burro, sleeping donkey. We like the visual, but don't think we'll ever be able to call a speed bump by any other name than Tope! A word almost always said with an exclamation mark on the end.
We randomly drove past a Hancook tire shop and completed the set of three tires that we'd bought back in Ecuador. Our front drivers side tire was worn down to the steel belts sticking out. Something is wrong there but I don't know what. That's also the side with the off and on styrofoam sounding squeak. Anyway, we were happy to get one more thing off the list and to have a full compliment of good rubber underneath us again.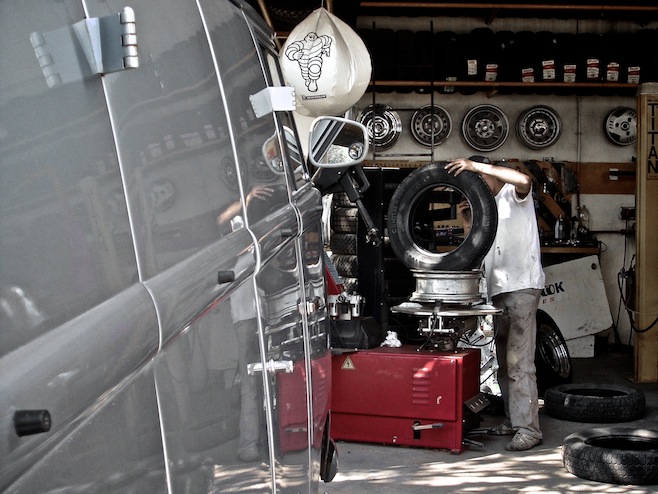 Today we pulled back into the big dog campground for some more slobbery loving and to get the bus ready for the trip ahead. We gave it a good wash and wax, emptied the roof rack, took off our hubcaps, threw away anything that hadn't been used in six months, and cleaned everything. We're ready to go.
april 26 2009 : buenos aires, argentina
Sunday market in the San Telmo neighborhood is the only place in the city with anything going on during the weekends. It's a big tourist draw, but the locals seem to come out in force for it too. We wandered around for a couple of hours eating giant empanadas, browsing through thousands of antiques and antique fakes, and watching the tango dancers and mimes wow the crowds for quarters. We also found the only English language bookstore in the city and scored mounds of reading material.
So tomorrow morning we load the bus and ourselves onto the ship where we'll spend our next four weeks making our way across the Atlantic to Germany, home of the mighty VW bus. We know we make a stop or two along the way but aren't really sure where, and seeing as it will only be for a few hours we don't really care too much either. Anyway, it should be fun.
april 27 2009 : argentina to germany by cargo ship
At nine this morning we were waiting at the port alongside four other European vehicles heading home. The other eight people are all much older than us and only one speaks even a lick of English, so Ali and I aren't expecting a whole lot of conversation. Not to make it sound as if everybody in the world should speak English, but I've often wondered how people who only speak something like German or Chinese can possibly travel the world. Today one of the guys didn't have some paperwork in order for Customs and it was a pretty major problem. The thing that amazed me was that the guy didn't speak one word of Spanish or English. Communicating with the shipping line's agent was absolutely impossible. Things didn't go too well for him, though with the help of another German who also didn't speak Spanish, but did speak English they were able to get it worked out. It's just got to be tough.
After a few hours of pretty easy port procedures we were all loaded up. The ship is a monstrous container ship with levels and levels of indoor parking as well. I'm not sure how many workers are onboard, but with only ten passengers it feels like we've got the run of the ship. Ali and I spent most of the afternoon just sitting up on the top deck watching the port operate and the ship unload. Exactly what it will be doing for the next twenty-four hours before we actually get underway.
We weren't sure what to expect out of the ship but are extremely pleased with our accommodations. The room is big, clean, and comfortable. Ali spent her first hour organizing it and making it our home for the month while commenting repeatedly how much she liked it. A good sign indeed. We also had dinner later on and it was excellent. It's like a cruise ship in miniature. Except that the ship is bigger than any cruise liner I've ever seen.
april 28 2009 : argentina to germany by cargo ship
We woke up this morning to find ourselves at sea once again. We had thought two o'clock meant two in the afternoon, forgetting that ships are on military time. At 0200 we pulled out. The day was spent lounging around on deck and being taken on a short safety meeting showing us where the locked up life jackets were stored and the room full of DVDs was located. Let's just say nobody seems too concerned with safety, which is just fine with Ali and I.
At dinner the captain finally made an appearance. Which in the end may have been a bad decision. We've never felt quite so unwelcome as we did at that moment. Here is the speech he gave, word for word.
"Hello everyone, I am your captain. (pause) This is the officers and passengers mess. We are often in a hurry, so step aside if you see one of us waiting to eat. (pause to eyeball all ten of us) Over there is also the officers lounge, we must all share that space. (eyeball the French lady who likes to leave her laptop on the table) If you bring any alcohol from your vehicles I will confiscate it. (pause to make eye contact with me for some reason) If you would like to visit the bridge and we say you cannot enter, that means no. (shake the finger back and forth) Once the ship reaches Europe you may leave with your vehicle at any port, even if your final destination was supposed to be elsewhere. Also, I will be leaving the ship in Brazil. Welcome."
april 29 2009 : argentina to germany by cargo ship
We're settling in to a routine on the ship. Up early for coffee and cereal, then back to the room for a shower and a little reading. Out on deck for some sun before a light lunch and then back outside for a little more sun and watching of the water. A little down time before dinner and then back to the room for some computer work, a movie, and sleep.
It's been a little weird around here with the other passengers. We've got three German couples with us but despite their similar ages, which I'd peg at sixty to seventy, and experiences driving around South America, they don't speak to each other. At meals we all sit at a table for ten but all you hear are the clinking of silverware and the occasional grunt. There is no conversation at all. Another couple is French and then there's Ali and I with our English. It's extremely quiet, and not helping my two years of high school German to come rushing back to me at all.
We ran into the maid (not her official ship title) in the hallway outside our room and she made two comments in a row, each of which have become so synonymous with our travels that we just had to laugh. The first was directed at Ali with an appreciative voice, "Your cabin is very clean." This goes hand in hand with the first comment everybody always has when they see the inside of our boat or our bus. Then as she walked away she turned back to me and said, "You know you look just like…" Something I've heard from dozens of people from all over the world now.
april 30 2009 : argentina to germany by cargo ship
This afternoon at lunch the captain spoke to me for the second time. As I walked over to my table with my plate of food he got up from his table and approached, touched me on the shoulder, and asked that I remove my hat when I ate. Never mind that I would have done this without his scolding, or that the ship is about as casual a place as is possible, or that he was sitting there in shorts and flip-flops. He felt it would have been far too much for him to have to witness somebody sitting at a table with a baseball hat on. As Ali put it, "I couldn't work for that guy." Sadly he'll be leaving the ship tomorrow and we'll have somebody new in the captain's chair. His friendly banter will be missed.
This huge ship only has twenty-seven people running it, which I found pretty amazing. I guess I knew that it didn't take a lot of people to work it, but the empty hallways and decks still seem eerie at times. It's also weird to stand up on the bridge deck and see just one person sitting behind the controls with a magazine in his hand while this moving island plows through the water. It makes me wonder if ships ever actually saw us while we were out sailing, or if the radar was the only alert that we were even out there. I'm hoping at some point to spot a sailboat just so I can see what it looks like from thirteen stories up in the white cresting waves.
Ali seems about as relaxed as I can remember her. She's reading a book that isn't any good, but still sits for hours with it totally content. The endless supply of coffee and tea doesn't hurt either.
Socialize