may 1 2009 : argentina to germany by cargo ship
We got to talking today about our honeymoon. It seems funny to us now but when we got married at twenty-three going on a Carnival cruise seemed to be the thing to do. That was the extent of our travel imagination at the time. Neither of us had ever been out of the country at this point. In fact it had only been a couple of years since Ali flew in an airplane for the first time when my family took an almost unheard of vacation to Florida.
The morning after we married we had to be up at four a.m. for our taxi to the airport. The hotel wake-up call came right on time; I answered the phone and then promptly rolled back over and fell back to sleep. A bit later Ali woke up to a second phone call, took one look at the clock, and screamed. Our taxi driver had finally grown impatient. We jumped out of bed, threw on our clothes and ran out the door. With hair sticking up all over the place and the smell of smoke and champagne permeating our bodies we made the plane with minutes to spare. That was the last time I was ever put in charge of waking us for anything. From that point on Ali has slept with an alarm clock on her side of the bed.
Amazingly we only took one photo during our honeymoon cruise. I guess we weren't quite as into documenting our life together as we are now. We love to talk about that trip now though. So young, but so grown-up.
may 2 2009 : argentina to germany by cargo ship
While this isn't exactly a cruise, it still contains much of the gluttony of the typical cruise ship. There's no casino and virtually no alcohol, but at meals there is plenty of food. Ali and I have been simply amazed by the amount of food that the people around us can put down. Actually the French people eat fairly reasonably, and their thin frames attest to it, but holy crap can those six Germans eat. With reckless abandon they return to the platters of food for at least three full plates per meal per day. We are burning roughly 100 calories a day so I'm pretty sure each of these people are going to add at least 30 pounds to their already hefty frames. This much at least is just like a Carnival cruise ship.
may 3 2009 : argentina to germany by cargo ship
One of the ladies separated her shoulder today. Looking at this group it seems to me it was inevitable. Strangely, we were in port, tied up and not moving a bit. This fact must have been embarrassing for her, but it was also fortuitous in that the ship's local agent was able to run her straight to a hospital to have it reset. One of the things the shipping line makes clear to us when we sign up is that there won't be a doctor on board. If they were to carry twelve passengers a doctor would be required, so they only carry ten. If this had happened in the middle of the Atlantic the captain would have had to yank her arm back into place while the rest of us held her down.
So this lady separated her shoulder and left me to marvel at the group we are traveling with. Eight people, all between 65 and 75 years old; and not a sprightly seventy years old either, but more the dawdling type. I find it absolutely fascinating that they all just spent months driving around South America in vehicles ranging from 4×4 Land Rovers to forty foot motorhomes. Turns out the motorhome was in that group that Ali and I spotted in Peru when we asked about a campground and they raced away from us practically running over my toes. Anyway, I guess the lesson here is that anybody, and I mean anybody, can travel South America if they really want to. And hey, when Ali and I are dawdling seventy-year-olds I guess that I hope we still have that drive in us, the will to get off our butts and do something besides knit sweaters and watch Oprah all day.
may 5 2009 : argentina to germany by cargo ship
We spent a day and a half stuck in the port of Santos, with nobody going ashore and not a lot going on. Then right around dark a storm came blasting through. We were in our room at the time, but even in there the noise outside drew us to the lounge to watch. It was a wicked storm with thick balls of hail raining down for half an hour.
During that time we had a near disaster when one of those giant container loading cranes broke loose on the rails along the docks. It's brake had failed and it slammed full force into another crane parked alongside our ship, as well as the ship's own crane. It seemed miraculous that neither of them tumbled down on top of us looking at the crumpled state they were in afterwards.
Watching the clean-up afterwards we feared we might be there for a couple more days. But sometime in the middle of the night we moved out, and now, twelve hours later we're anchored off of Rio de Janeiro, hoping that we'll pull into the dock at a decent time and get a few hours of shore leave.
may 6 2009 : argentina to germany by cargo ship
Around noon today we were finally set free to check out Rio. Unfortunately we only had about five hours before we had to be back aboard, which is not nearly enough time to visit even a boring small town. With so little time we decided on Copacabana as the day's destination. The first step in our outing was simply getting out of the port. With all the changes in the world this past decade it's hard to believe just how ridiculously lax security is in these ports. With nothing but a couple of laminated cards with our names typed on them Ali and I walked off our ship and right through the middle of the port past container after container, forklifts, and cranes. Eventually we found our way out to the interior port road where we hopped on an employee bus that carried us out to the main gate. Real criminals must have a field day with these places.
We grabbed a cab and headed for Copacabana beach. It pretty much fit perfectly the vision we all have of a beach in Rio. The sand was deep and soft, the men were almost universally muscled, and the women… Well, let's just say that there is no distinction between who gets to wear a thong here. They all wear them, the young, the old, the thin, and the not so thin. But holy cow were they all tan. There were also dozens of volleyball nets and they were all being used. The beach also had our favorite thing on it. Beer tents. They even sold beer on street corners. What a glorious place. We both thought that we wouldn't have minded spending some time here. But missing our boat would not have been good at this point, so with the sun slipping behind the condo towers we flagged a cab and headed back.
Back on the ship we decided to have a quick peak at the bus to make sure everything was okay. As we walked up we saw the requisite finger and nose prints on the windows, otherwise everything seemed fine. But then Ali glanced down and noticed a magnet stuck to our rear bumper. We use two magnets to hold up a window shade on the back window when we're away and for just a second thought, Hmm, what's that doing there? Then we opened the back gate and noticed a cabinet slid open and thought, Hmm, did I leave that open?
But pretty soon the realization hit us. We'd been robbed. The thief had shoved a screwdriver in our lock, breaking it, and let himself in. The thing is, our bus has absolutely nothing in it to steal. Or at least what we thought was nothing. In fact, after going through all of our cabinets the only things we discovered missing were my dirty baseball hats and two stocking caps. Yeah, stocking caps in Brazil. It's winter and eighty-five degrees outside. It wasn't until a little while later that we realized that in addition to these valuable items they had also stolen our hubcaps. The hubcaps that we took off the wheels and put inside the bus so they WOULDN'T GET STOLEN!
God if there is one thing I hate above all else in this world it is a thief. As a kid I stole a few things, and now, as a semi-adult, I wish I could beat myself up for doing it. Ali and I have been robbed our fair share of times, and I have no doubt that we'll be robbed a few more in our days, but if I could have one wish it wouldn't be to never get robbed again, it would be to catch a thief in the act just one time.
Ali worries about this sort of thing roughly one thousand times more than I do, and I'm always the gently condescending voice telling her she's being silly when we have to lock the door to run into a gas station or hide our laptop in our hotel room. Then somebody has to go and do this to me and totally undercut any say I might ever have had in the matter.
Anyway, we told the people in charge on the ship and they were all nice enough about it, but basically let us know there isn't a damn thing they can do about it. There is zero security on the ship when it is in port. With only twenty-odd crew there is no way they could watch over the whole thing while it's being loaded. So with no way to lock our bus now we can look forward to sitting in the cargo hold keeping our eye on it while we smolder in the African ports coming up. Yeah, those are supposed to be the bad ones.
may 7 2009 : argentina to germany by cargo ship
Today we read through our emails from the last ten days. Swine flu? Seriously? Everyone is talking about swine flu and we don't even know what the hell it is. One guy even wrote to tell us that he had cancelled his planned trip through Central America because of kidnappings and swine flu. I swear the world would be a much more enjoyable place for everyone if they would just turn the television off for a while. Call us ignorant if you want, but to me blissful ignorance is a much better way to live than to be worried about these ridiculous things over which you have no control.
I seem to recall something called bird flu about the time we were sailing around Indonesia. It's amazing any of us are still alive.
So we left Rio behind last night and are back out in the open ocean. For the next couple weeks we'll be crossing the Atlantic. Hopefully far enough out that there are no birds.
may 10 2009 : argentina to germany by cargo ship
We've been crossing the Atlantic for the past three or four days and it is about exactly as I remember it. Or at least how I remember many of our ocean crossings. The sky is clear with only a few low clouds skittering across it, the sea is largely flat with white caps few and far between, days are long and lazy filled with books and cards, and dinner is uninteresting and bland. It's nice to sit outside and stare out at the great big ocean again. I do love the immensity of the sea, the shade of blue that isn't seen in anything else but the ocean far out from land, the flying fish scattering furiously away from the bow wake, and the simple feeling of being all alone.
Last night we had barbeque night, which was really just an excuse to break out coolers full of beer and flip on the karaoke machine. The Philippine contingent love their karaoke, and Ali loves to volunteer my horrid voice while never taking the mic herself. We had a good time, finally talking to the captain and a few of the other guys. The second in command is a young guy who had lots of good stories for us about stowaways and strange passengers. Turns out that in his ten years we're the first Americans he's had aboard. He also told us that at night with waves over about six feet there was little chance that a sailboat would be seen. They keep a twenty-four hour watch, but it sounds like it's pretty lax.
We can only talk with one other passenger on the ship, which is a blessing. This guy drives me crazy. Even with all the traveling he's done he just lapses into idiotic stereotypes whenever he talks. His favorite seems to be that all Americans, save for Ali and I, are fat. He's spent a grand total of three days of his life in the U.S. but loves to recount how big they are, puffing up his cheeks and holding his arms out to his side. So when I heard him recounting, once again, this hilariously witty observation to the captain last night I couldn't help mentioning to him something I'd just read in our Germany guidebook. That being that 47% of Germans are overweight, and 11% are obese, including all six of his countrymen onboard this ship. Annoying as hell. Ali and I can't be around other people this long, that much is clear. We need more space.
may 11 2009 : argentina to germany by cargo ship
We heard a terrible crash in the room next door followed by moaning and crying. I could tell right away another old lady had taken a fall, and since I wasn't sure if her husband was with her I went over to investigate. After knocking and not getting a response I opened the door and found the lady in a heap on the floor as expected. Fortunately her husband was in there and waved me away saying, "Gut, gut." Turns out nothing was broken this time, but man the old folks sure are having a rough go of it. I can't imagine what would happen if the ship were actually rocking in bad weather. Ali and I talked about this and decided that we can simply never get old. That's really the only solution.
may 13 2009 : argentina to germany by cargo ship
One of our fellow passengers told us a joke today. We were coming in to Senegal and he decided that it would be terribly funny to make a racist joke. At the punch line Ali just walked away while I stared at him dumbfounded. He took my silence to mean that I didn't get the joke so then he explained it with a big stupid grin on his face. That's when I walked away. His wife laughed though. At least somebody appreciated it. I was pretty ignorant too when I was young, but this couple are in their sixties and just spent the last six months traveling around in foreign countries. I just don't get how you can do that sort of thing and still retain that sort of prejudice. And then share it with people you hardly know. I've really had it with our shipmates.
may 15 2009 : argentina to germany by cargo ship
A couple of nights back we pulled in at Dakar, Senegal. We came in right at dark, and first thing in the morning we were back underway. Life on the ship has gotten a little redundant at this point. We've had good weather every day which I've found rather disappointing. I was sort of hoping for a big storm at least one day, figuring that at least here on the cargo ship I'd be safe and warm. Ali and I never got the chance, or always avoided the chances we did have, to see really big seas firsthand and I thought maybe this would be the time for it.
This is the longest we've been out of touch with the world in quite a long time. I'm curious to see what the Dow is up to, if oil futures are bouncing, and where exactly that pesky Euro/Dollar rate is going to settle for our arrival on European soil. Ali is just ready for "normal life" again; ready to have choices to make again and to have a little more room to maneuver.
may 18 2009 : argentina to germany by cargo ship
Rummy 500, a dozen books, and an inexhaustible supply of DVDs supplied by the Swedish Seaman's Service are about all that are keeping us sane at this point. We realize now that it would have been very nice to have somebody on the ship a bit nearer our age bracket. But it's not bad really, we have plenty of time to talk. The future of our lives gets a lot of attention on trips such as these. If you're not sure what to do with your life all you really need to do is cross an ocean on a boat of some sort. By the other side you should have it pretty well ironed out.
Turns out we'll be getting off the ship in the town of Bremerhaven just down the coast from Hamburg. They'll be there unloading a few hundred Mercedes that were loaded on in Brazil and instead of waiting another day or two we've decided to bail out there.
may 20 2009 : argentina to germany by cargo ship
We're off tomorrow and are really excited to get moving again. Turns out in the end that we'd have rather have flown to Europe and done a bit of traveling while waiting for the bus to arrive. The ship was fine, but I think it's better for older folks who don't mind sitting around knitting socks all day. We're too antsy for it and highly prefer to be doing something, driving somewhere, walking around a new town, whatever. Not to mention that it's obvious that life onboard is far nicer on the way to Argentina than on the way back to Europe. The ship provisions in Europe and now, after nearly two months away, the pickings are pretty slim. The meals are utter crap at this point and they are just about out of everything. But really it just comes down to the fact that we can't stand to sit around one place for more than a couple of days.
So anyway the ship is due to pull in first thing in the morning. The only thing Ali and I are concerned about at the moment is that we've got no car insurance. From what we've heard we won't get past the very first customs officer without it. We'll see I guess. If they won't let us drive off with the bus I guess we'll have to hoof it into town and see if we can't get it sorted.
Though I don't think we shot a video after the first week on the ship we did manage to cobble together a few clips to show a bit of what life was like onboard.
may 21 2009 : bremen, germany, europe
As promised the ship was at the dock when we woke up this morning. Immigration came aboard, cleared Ali and I in, and told us we were free to go and enjoy Europe. We asked them about customs but they didn't even seem to understand what we were asking about and told us we were done. We're still a little nervous about not having any sort of vehicle permit in our hands, but are hoping that is just an Americas thing. At least nobody asked about insurance.
We didn't go far, only down to Bremen about thirty miles away along the autobahn. I had always thought the autobahn was just one road but it's actually the entire highway system (what we'd consider Interstates back home). And it isn't just a free for all everywhere either. In the urban areas that we were in they do have speed limits.
Anyway, we pulled into a campground here in town and found out today is some sort of major religious holiday and basically the entire country is closed. So it doesn't look like we'll be doing much today.
Ali and I are having a heck of a time shaking off our Spanish. We catch ourselves in just about every conversation speaking more of it than we are of German. At the moment I just can't see how we're going to get into the German. On the language subject, yesterday when we were checking out with immigration we asked them about customs. They didn't understand the word customs and asked if there was another word for it. We just shrugged and said hopefully, "Aduana." Nope, sorry.
We were excited to be off the ship and to eat something besides meat and potatoes. For the past four weeks every meal on the ship consisted of meat, frozen vegetables, white rice, and boiled potatoes. I guess this is the Swedes (all the officers were Swedish) only diet. For the Philippines they sometimes cooked fish heads. Normally I wouldn't have any complaints about meat and potatoes, but this food was so completely devoid of flavor or spice that with your eyes closed you would never have been able to tell the difference between the meat. In fact most of the time if you closed your eyes you couldn't tell the difference between a bite of pork and a bite of potato. The one night they finally made a curry Ali and I were the only ones on board that ate it. A few others tried it and were quickly fanning their gaping mouths with their hands. This is when our ignorant friend said, "Hah, I thought you Americans only eat hamburgers and french fries."
Anyway, when we finally sat down to a meal last night at a little restaurant nearby we were a little dismayed to find that the only thing on the menu appeared to be sausages and french fries. But lo and behold the food actually had a bit of flavor. I even spotted some spices in the bratwurst. Maybe this won't be so bad after all.
While driving down the road later this afternoon we were welcomed to Germany by a solid wall of white coming towards us. We hoped it was just rain, but when it hit the wind was incredible and hail the size of quarters pounded down on us. For five minutes we had to pull over because we couldn't see and listen to the bus being destroyed. Back at the campground the ground was covered in three inches of ice pellets. Fortunately looking over the bus it didn't appear to have been dented.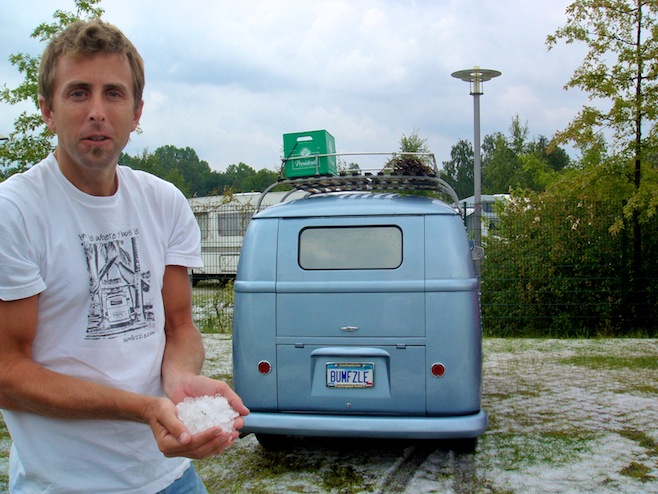 In the last six months or so we've maybe paid ten dollars for internet. WiFi was free, fast, and just about everywhere in Central and South America. Now back in the land of plenty we are back to being charged. A day of internet at this campground cost us ten bucks, and even that came with usage limits.
As we expected the Germans love the bus. We've already lost count of how many people have come over and taken pictures of it. They ask, How old? and we reply, "Acht und fünfzig." Eyebrows raise and they nod approvingly.
One guy walked up to Ali last night and said, "Is that your plate number?" while looking at our BUMFZLE license plate.
"Yes," she answered.
"Where are you from?"
"The United States."
"And it is valid there?" he asked, quite unsure that such a plate could possibly be considered legal.
"Uhh, yes."
"Hmmph," he muttered as he walked off.
It seems that most of the younger Germans, and a good many of the older speak pretty good English. When I ask, "Sprechen sie Englisch?" they usually reply yes with just a hint of, of course I do.
may 22 2009 : lüneburg, germany (312 nights in the bus : 52,501 miles)
We were pretty pleased with ourselves when we found a well stocked vintage VW shop today. We got the parts we need to get the transmission fixed and bought some replacement hubcaps. Turns out our stolen hubcaps would have cost $320 to replace here. That's for originals, the cheap knock-offs we bought were a fourth of that, but aren't nearly as nice. Then it turns out the item we really wanted to replace, the lock that was broken, is unobtainable. The shop hasn't been able to get any for months now we were told. Damn thieves always cause us way more headaches than anything else.
Most of the day was spent leisurely driving through the countryside ending up in Lüneburg where we found a campground and then were promptly doused by rain. The weather here is unpredictable to say the least. One minute blue skies, the next heavy thunderstorms.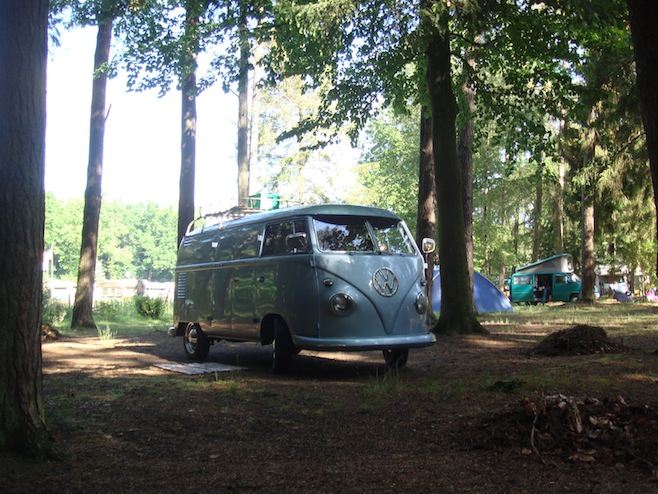 Germany is a great place for laughs if you happen to be really immature. Everywhere you look are words like fahrt and wiener. All I can do is keep telling Ali to grow up and act her age.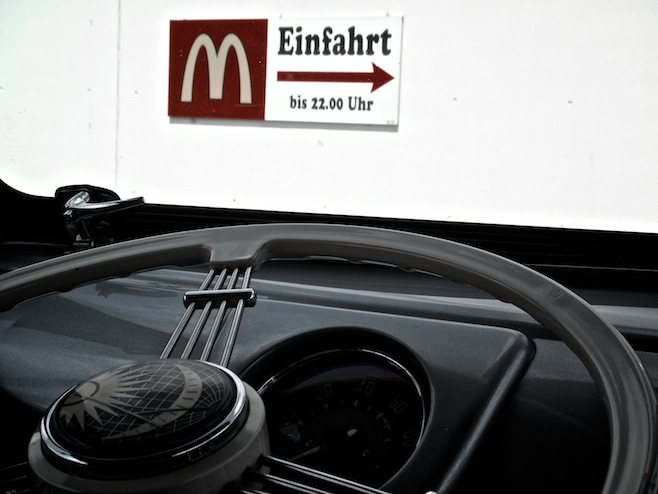 Something I didn't expect, despite the obvious fact that Germany is the birthplace of beer, is that beer would actually be inexpensive. We're talking almost South American levels. On the other hand gas is at seven bucks a gallon thanks to the horrible state of the U.S. dollar at the moment. More beer, less driving is what it comes down to.
may 23 2009 : lüneburg
Lüneburg is a great little town. It's famous for its leaning buildings and wavy facades. There's a bunch of reasons behind all the weird architectural flaws, but overall it just has the feel of a a fairytale setting. We spent the afternoon just wandering the streets, all of which were interesting and fun to walk along. We ate German bread, bratwursts with spicy mustard, and Big Macs until our hearts were content and then returned to the campground to lounge around in the very welcome sun. All in all a very nice day and really exactly what we had hoped for in our European travels.
Well somehow Ali and I have managed to offend the Germans after only having been here a day. Today we got email and found out that a small group of VW enthusiasts had been at the port yesterday awaiting our arrival. It seems that a surprise party of some sort had been arranged. We of course felt terrible that people had made this effort only to have us not show up. We got off the ship a day earlier without giving it a second thought. Meanwhile all sorts of plans were in motion in the next city along.
Anyway, from what we can piece together it was all arranged by the agent that we used to book our ships passage through. He got online with the VW Bulli club here in Germany and before you know it, being the friendly VW community that they are, they had put together a group to greet us. Well today, the day after the missed party, is the first that the two of us heard about it. Unfortunately this agent sent us a scathing email accusing us of making this appointment to meet these people and then not showing up. Obviously we didn't make an appointment, having not even known what day we'd arrive in Germany, and not even knowing the people he claimed we had the appointment with. Well, either way, in the end a bunch of nice folks went out of their way for us and we feel bad and look like jerks. We hope we can meet up with them at the big VW show in Hessich next month and there won't be any hard feelings.
And hey, we managed to fix the back gate lock. Due to a suggestion Ali made, and which she wants full credit for, we were able to simply switch around a couple of parts with the cargo door lock on the bus and voila, we can leave the bus alone again.
may 24 2009 : wusterhausen, germany
After buying a road map of Germany we've found it much easier to get around without roaring down the autobahn at fifty miles an hour. They do a pretty good job with their signage and today we bounced through one small town after another. The countryside really is beautiful. Not so much for the landscape which is largely flat and green, but for the towns and the buildings. Red brick architecture is the name of the game in this area. Each building is built solidly of red brick and topped by steep gables. My vision of Europe comes almost exclusively from old war movies and History Channel documentaries and driving through here now you can almost see the Allied soldiers split off from their company hiding out in one of the big old barns scattering the countryside here. Then of course a buxom blonde hausfrau would discover them there and sneak them food putting at risk her entire family. Anyway, that's how I've been seeing it as we drive along.
We stopped in Schwerin to see the Schloss, a giant of a castle hundreds of years old and home to the parliament for the past century and a half. It's hard to imagine that there were once people so rich and powerful that they could build these things for themselves. This castle has been constantly restored so that it looks like new. Ali and I admired it from the outside since we, like peasants, couldn't afford the steep price tag to get us inside. We then walked around town for a while. All the towns we've been through have been great for walking around. Around every corner is a step back in time. I wonder how long before you don't even notice it anymore.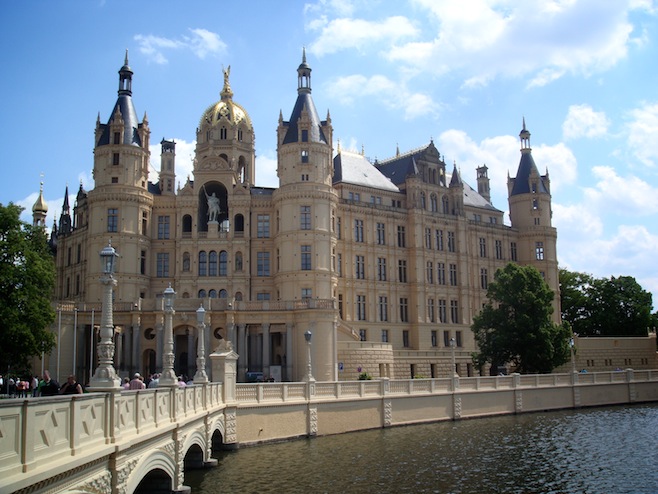 may 27 2009 : waldsieversdorf, germany
Transmission repair at last. After far too long driving around with a busted transmission mount we finally got to work the other day. We drove to Waldsieversdorf where some new Bum friends, and fellow VW South America veterans, put us up at their country place outside of Berlin.
On day one we dropped the engine. That's the easy part. An hour and it was on the ground looking awfully grubby. Day two we started in on the transmission. We unhooked the clutch, unscrewed all of the mounts, and unbolted the axle from the swing arm. After that I crawled underneath with a giant screwdriver and pried the whole thing backwards. It moved about three inches which was far enough by about the width of a fingernail. I replaced the three mounts and then quickly bolted everything back together. When the transmission was fully mounted back in place I got in and tried to shift, hoping that it would be smooth as silk. Instead I could hardly even move the shifter.
Back underneath I tried to figure out the problem. Eventually deciding that the shifter bar must have been bent. It was sitting too high and rubbing so badly that it could hardly slide back and forth. So I started trying to bend it back. When pulling down on the bar Ali could shift relatively smoothly, but after an hour of that the bar didn't appear to have moved. I just laid under the bus staring up at the very familiar frame until the solution finally appeared to me. I'd installed the front transmission mount upside down. We got to do the whole thing again.
The second time went much quicker and when I grabbed the stick shift it slipped through the gears perfectly again. Before we could get to the engine it started to rain.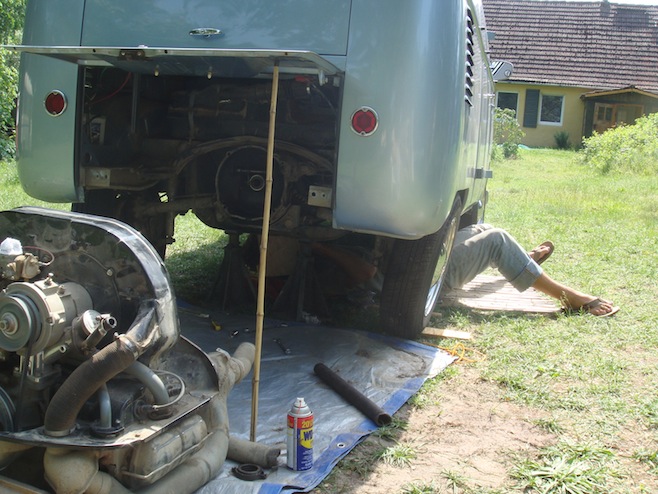 This morning we attacked the engine. This took much longer than it should have because I failed to read my book with the step-by-step instructions. We had the engine mount bolts lined up perfectly, but pushing and pulling we just couldn't get it to slide on. When I finally decided to have a look at the book the first paragraph told us that once it was lined up we needed to turn the alternator a tiny bit to line up the splines. We did that and watched the engine slide together instantly.
After hooking everything up, changing the oil, adjusting the valves, and double checking that everything was done, I climbed up front and fired it up. I thought maybe Ali would cheer but all I got was a questioning look through the window wondering what the loud noise was. It was clear right away something wasn't totally right. With the bus in neutral there was a pretty noticeable growling noise. I messed around with the clutch cable and took it out for a drive. Through the gears everything was just fine but sitting in neutral there is a small growl. It's all I can do for now though.
So I committed a couple of mechanical errors along the way, but in the end it was a fairly successful repair. All new mounts, a new TO bearing, and a cleaned up engine compartment. We're ready to hit the road again.
In addition to feeding and cleaning us for three days our friends took care of another pressing issue for us. With a couple of quick phone calls they had secured our auto insurance. At nearly a hundred dollars a month for nothing but liability insurance it certainly isn't what we'd pay for back home. But to have that coveted green card in our hand it is well worth it.
may 28 2009 : kolobrzeg, poland, europe
We'd planned to take the train into Berlin for a couple of days but the forecast wasn't looking too nice and after weeks without much travel of our own we were more anxious to see the countryside through our safari windows. So after three days with our traveling German hosts we were on our way.
In these three days I think we learned more about life in Germany than we could have in a year on our own. It was fun to eat their food and talk about their government, economy, and lifestyle. I have to say that one of the overriding themes was of government control. We've never heard of so many laws and regulations. Just getting your car on the road seems to take an act of God. We had already noticed that almost every car on the road seems to be a brand new model, and after talking about the hoops needed to go through to license a car older than a few years we realized why. In fact our host was busy sanding and painting a small rust spot on his camper because it hadn't passed inspection. He'd been offered a license plate for $2,000, but if he could get this rust taken care of it would only cost $200. Germany shall be rust free.
This morning, after our green card arrived in the Post, we waved goodbye and drove west towards the Poland frontier. We hadn't been gone fifteen minutes when we cruised through a small village and past a police car. He watched us go by and then immediately pulled out behind us and flipped on the siren. We weren't speeding so weren't too concerned until he came up to the car. There was no Peruvian friendliness in this officers voice. "Hallo. Passport. Registration." He walked away without our green card which was a little disappointing since we were all ready with it. Ten minutes later he walked back, handed us our stuff, and said while turning away, "Proceed." We still don't know what the problem was.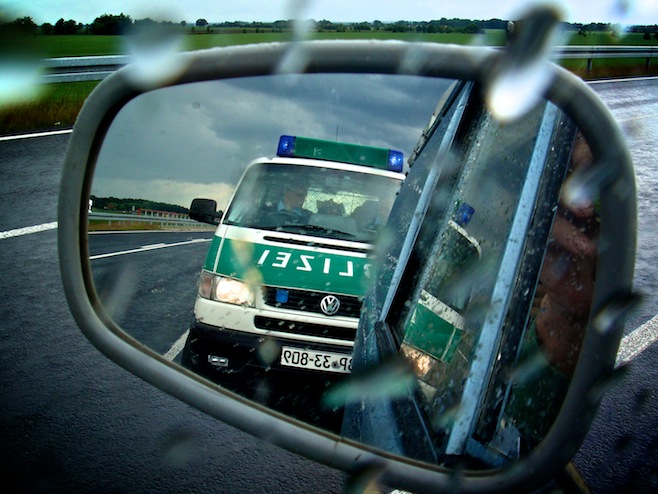 There was no border control in Poland, just a small sign letting us know we'd arrived. That and a whole bunch of signs with words that only a native could even begin to pronounce. Everywhere we looked were twenty letter words without a consonant.
We drove north to the coast of the Baltic Sea for some now unexplainable reason and eventually found a campground that was still unopened but did have an RV parked in it. We picked a spot and climbed outside. The wind was howling and the temperature was in the forties. In fact earlier in the day we'd had sleet. We've always tended to associate European weather with our own in the States, but it is clear to us now that their summer starts much later than ours. It eventually dawned on us that we are at 54 degrees north latitude, putting us in the equivalent of central Canada. I can't answer why we ever thought we could come to a seaside area at this time of year.
may 29 2009 : torun, poland
Overnight it got dark around eleven o'clock and the sun was up again three hours later. Clearly we were too far north. We abandoned the north coast and turned south. The drive took us through dozens of small villages where two things usually stood out. One were the giant nests on top of electrical poles. In Germany they installed fake mailboxes labeled STORK at the bottom of these poles where couples hopeful of becoming pregnant would leave their letters. Second was that from a distance the only thing visible in these towns were the spires of the church. No matter how small and frumpy the town was it had a ridiculously grand church standing over it.
may 30 2009 : torun
We arrived in Torun late yesterday and found ourselves a nice little campground just down the street from the Old Town area. Today was spent strolling the streets. It's a nice town with a bunch of old brick buildings and a couple of seven or eight hundred year old churches that were so dark and dank that while inside it felt like we were headed in the opposite direction of heaven.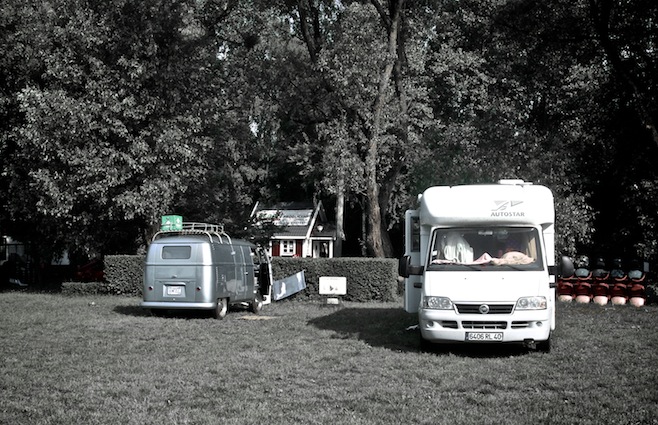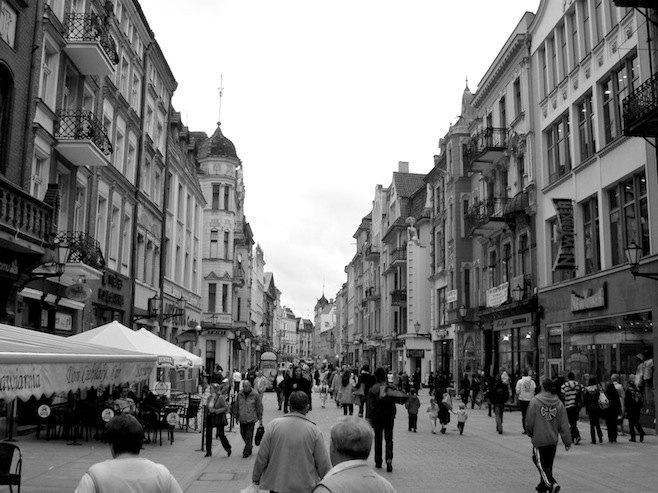 Besides being tourists we figured we'd better make a real effort at finding internet. So far it has been nearly impossible in Europe. Today we walked into the one internet cafe in the city and found two computers mounted to a shelf that you could stand in front of to use. When I pulled out our laptop to ask if we could connect they looked at us and asked, "You want to print?" We said no, we wanted to get on the internet. "Oh, no, we do not have that." Eventually we did find a signal that allowed us to download emails but rejected any attempt to send email or to update the website. This technological lapse reminds us a lot of being in the South Pacific about five years ago. Though it seemed a little more reasonable there.
may 31 2009 : wroclaw, poland
I'm still not really sure what I think of Poland. The landscape is quite boring, but the towns are historic and have a quaint feel to them. The town centers themselves are where the good looking old architecture is but at the edge of town are usually communist era apartment blocks that would fit in quite nicely on Chicago's South Side. They are the projects. The communities often try to dress them up with bright paint jobs, but it's like putting lipstick on a pig. And then there's the weather. Soul crushing gray skies have dumped rain on us every day. But then the people have been very nice and have been eager to switch to English the second they realize we are at a complete loss with Polish. This place gets mixed reviews from us.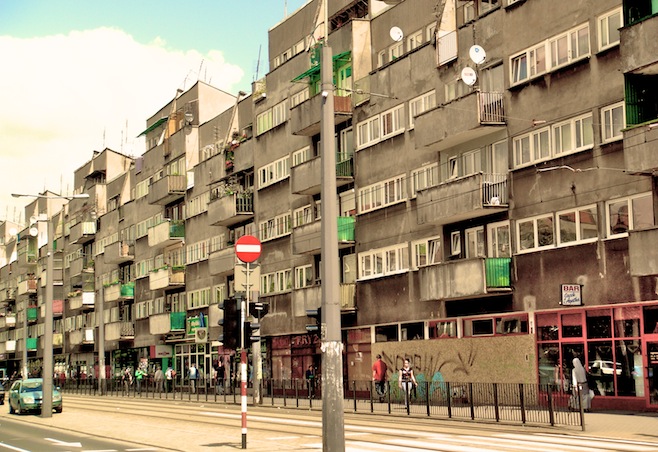 The Poles seem to like the bus even more than the Germans did. We're getting lots of big smiles and thumbs up. Campgrounds bring a steady stream of photographers too. Then this morning at seven o'clock I stepped outside to find a big burly biker with a ZZ Top beard and ponytails checking us out. In a higher pitched voice than I would have expected he sputtered, "I…am…old…hippie!" We attempted a conversation and I gathered that he'd been a bus hippie back in the 60′s. Now he tears around Europe on one of those three-wheeled motorcycle things. He concluded with a huge smile, nodding his head, and saying, "Congratulations."
We spent the afternoon driving to Wroclaw across flat green and gray fields. Today's stand out objects were the hookers. Many of the towns were encircled by a mile or two of forest and in the forest were a bunch of muddy roads that seemed to lead back just fifty yards or so to nothing. At the end of these roads were the "girls." Thirty-something women in white mini-skirts and high heels smoking cigarettes and looking bored. There was only one girl per road and it was pretty obvious how things would work from there.
In Wroclaw we drove straight to the campground which had obviously been shut down about five years before our guidebook had even been printed. We pulled down the narrow abandoned road and counted ourselves lucky to get back out in one piece after being stared down by all sorts of whacked out looking characters. We eventually found our way to the tourist office which happily supplied a map to a current campground just outside the city.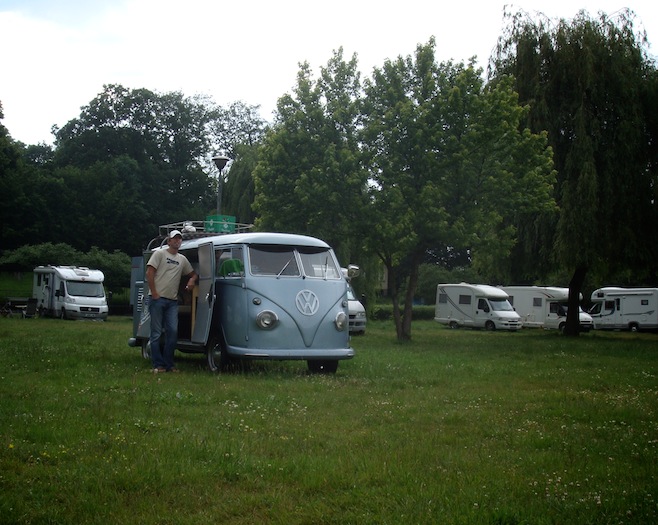 Today is our twelfth wedding anniversary and we used that as an excuse to track down our favorite food in the whole world. Mexican. We had managed to park just a block from the Mexico Bar and before we knew it we were scarfing down the best Mexican we've had since, well, Chile. Not that long ago, granted, but it was still pretty damn good. We emptied an entire bottle of hot sauce and then dragged ourselves happily down the road to another uninspiring city campground.
Socialize