june 1 2009 : wroclaw, poland, europe
I don't usually write about current events since this website is really just a diary for Ali and I and twenty years from now I don't think most things that seem newsworthy now will make a bit of difference then. But yesterday while having a look at the news all that was talked about was General Motors. I've been a trader and investor since I graduated college and my number one rule of investing has always been to stay far away from any unionized company. To me there is simply nothing less American and less likely to build a successful company on than a union. Hate me if you want too. But through the years that investment principle has served me well. At the absolute bottom of my list has always been automakers. And yet now I find out that my own government has made me a de facto owner of General Motors.
I didn't think there was anything worse than a company run by the UAW but now I realize there is. A company run by the UAW and the government. And anybody who doesn't think this company will be run by the government is fooling themselves. If I'm a Senator with a big plant in my district I'm going to be on the phone every day trying to ramp up my production line. And what about those fuel efficiency standards? We can forget about those ever improving. Is the government going to press their own company to raise the bar? Implement fines on themselves? Please.
It's funny, here we are traveling just the other day through East Germany where one of the biggest jokes to this day is the Trabant, the Russian East German built car. The communists thought their government owned automaker could crush that pesky Volkswagen being built in West Germany. It couldn't. Now the United States is doing the same thing. We'll beat those pesky Japs and their well built (many in America) fuel efficient non-union cars. Never mind that GM lost 43 billion dollars in 2007. Or that they even managed to lose billions in 2005 when oil was still relatively inexpensive and the economy was climbing ever upward. Unreal. I can't believe this is what is going on back home right now. I can't wait to see what happens when oil gets back above a hundred bucks a barrel and the airlines start screaming again. No doubt Ali and I will be the proud taxpaying owners of both an automaker and an airline. Two companies without any hope of ever being profitable. That's smart investing.
Anyway, here in Wroclaw we spent the day in the Old Town. The huge central square from the 1300′s was magnificent. Colorful building facades lined the streets and people were everywhere enjoying the cafés, the clowns, and the music. The city has about a thousand huge gothic cathedrals. We popped in on one and scanned a few more, but unless you are truly devout there is only so much church a person can take. We also went to visit the Panorama of Raclawicka which is essentially a huge 114 meter long painting that is housed in its own circular building. It sounded pretty amazing but when we showed up we found that the tour groups had bought every ticket for the next seven hours. Apparently this place takes a little forward planning.
There is something about these Eastern Europeans and their laws. It seems that they've lived life by strict rules and laws with severe consequences because even now everyone that comes up to us to discuss the bus has a question pertaining to one law or another.
"What country are you from?" asked a sixty-ish Pole who'd been circling the bus for an hour.
"America."
"And is it legal to drive without a nationality sticker there?" Here in Europe all new license plates look alike but have a nationality code printed on them. Older cars still drive around with the white circle and black letter stickers.
"Yeah, in the U.S. we don't need one. We would get one here, but I don't suppose anybody is selling U.S.A. stickers."
"Hmmmph. In Europe you must display your nationality or you will be pulled over." He turned and walked away. Apparently that was all he wanted to say.
The next morning I stepped out of the bus at seven o'clock to find another guy staring at the bus. "Where are you from?" came the standard opening line. U.S. license plates could really do with a U.S. flag printed on them somewhere. It would answer a lot of questions ever being asked while overseas.
"America."
"Is it legal over there for a vehicle to have a bumper so low?" He was pointing at our front bumper, which normally sits higher than most standard cars, but the bus today was parked in a slight depression and the grass was really long. It looked like we were sitting a little lower though certainly not low enough to be breaking a law.
"Yes, in the U.S. our bumper could be this low," I said while indicating one inch off of the ground.
"Hmmmph. I would think you would be stopped by the police for a bumper this low." With that out of the way we switched to the normal topics of how old the bus is and where we have been. But the whole time it seemed he still had in the back of his mind the burning question of bumper height.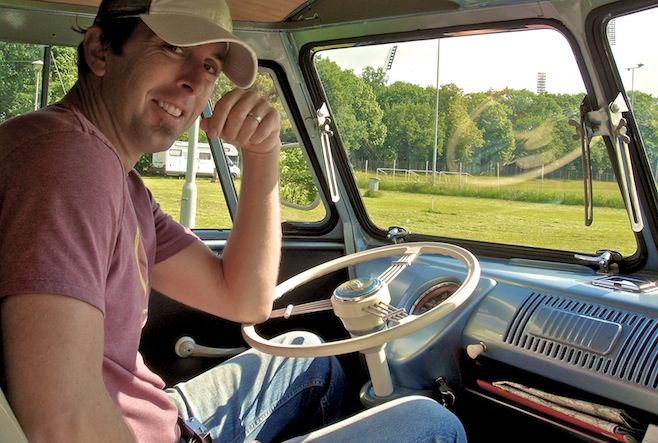 june 4 2009 : prague, czech republic, europe
Prague is a good sized city so Ali wasn't too thrilled with me yesterday when we were driving along the highway and I veered off towards the center of it. Somehow though, and this never happens, we drove directly through the heart of the city and to a campground which had only been hinted at in our guidebook. It also turned out to be one of the nicest of our trip, and at only ten minutes from the historic city center we couldn't have been more pleased with ourselves. It was an early afternoon arrival so we took the chance to get caught up on some laundry and then stroll down the road to a café for beers. So far one of the greatest things about Eastern Europe has been the beer. Not only the fine selection, delicious flavors, and high alcohol content, but also for the Latin American pricing. A nice half liter pour costs about a buck here. Even in Germany where we had the euro-dollar to contend with.
Downtown today we set out with our little map to play tourist. After about thirty minutes Ali was shivering. The temp was in the low fifties and it was windy. Pretty typical of our time in Europe so far except that today it wasn't raining. We ducked into a bookshop, then a café for a while and waited for the sun to come up before traipsing all over town. First up was the Old Town Square which is home to plenty of restaurants, old churches, statues, and the like. Tour groups in the hundreds were milling about. Around noon they all gathered in front of the 1400′s astronomical clock. We figured they must know something so we joined in. And sure enough at noon a golden skeleton began clanging the bells. Cute I suppose, but maybe amazing six hundred years ago.
Like everywhere the city is covered in ancient churches. We popped in on a couple to admire the stained glass and paintings. I wonder how many people way back when were able to support themselves their entire life painting nothing but Jesus on a cross or Jesus surrounded by children and sheep. Damn good work if you could get it.
Atop a hill downtown is Prague Castle. The guidebook said it feels more like a small town than a castle. That's right on. We really couldn't tell we were in a castle at all. The big draw inside is, you guessed it, a church. The St. Vitus Cathedral. Inside were dozens of tour groups shuffling slowly around between the velvet ropes.
At one particularly congested point we had sort of an odd occurrence. I heard sort of a smacking noise and just out of the corner of my eye thought I saw a man's hand near his girlfriends face. I asked Ali, "Did that guy just hit her?" But before she could answer the guy whacked the girl in the face with the back of his hand. They were just a couple of people in front of us so right away I reached out, grabbed him by the wrist and pushed him against the wall. They were Asian tourists and we were surrounded by foreign tourists of all sorts which made the whole scene sort of that more strange. Nobody seemed sure what to do and nobody could talk to each other. The guy pulled back at first like he might fight but didn't. Then the girl, already bawling, threw herself back to him keeping her head bowed down the whole time. Ali tried to step in between and asked her if she was okay, to which she just nodded while keeping her head down.
After a minute of this, not knowing what else to do, I let the guy go. Ali and I continued to follow them the rest of the way around, watching, sadly, the girl continue to apologize and make herself small. If this is what life is like for her while on vacation surrounded by strangers in a church it's terrible to think what her life must be like at home. The whole thing made me think about a time when I was maybe four or five years old and punched the neighbor girl. That night my dad and the red Betty Crocker cooking spoon taught me all I needed to know about boys hitting girls.
Prague is another of those very strollable cities, and by the end of the day we were wiped. Beer, ice cream, and a train back home pretty much sums up the afternoon.
june 5 2009 : cesky krumlov, czech republic
The plan for the day was to go to Plzen, home of the world's very first Pilsner beer. That seemed like reason enough to visit. What we forgot was just how small the Czech Republic is. By noon we were in the city. By two we'd finished an early lunner, knocked back some Pilsner Urquell, and walked around the city center. Temps were in the forties so it was definitely not a sit around a campground type day and we decided to just keep on driving. A bit later in the afternoon the sun came out warming us all the way up into those glorious June fifties and we found a campground in a pretty setting along a river. The place has space for roughly two thousand RVs but we were the only customers. This weather isn't helping anybody out.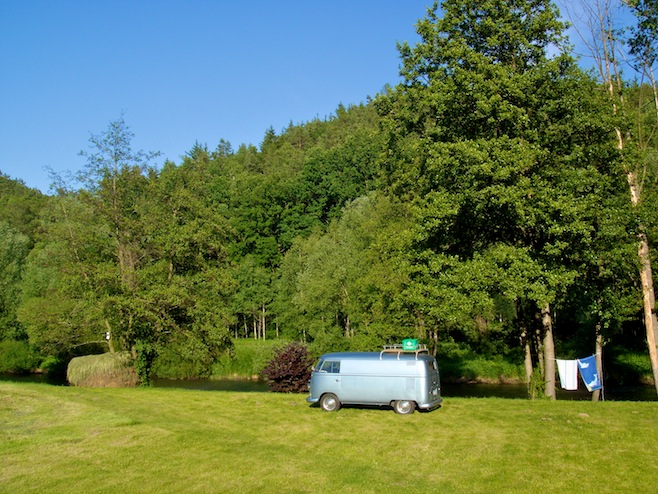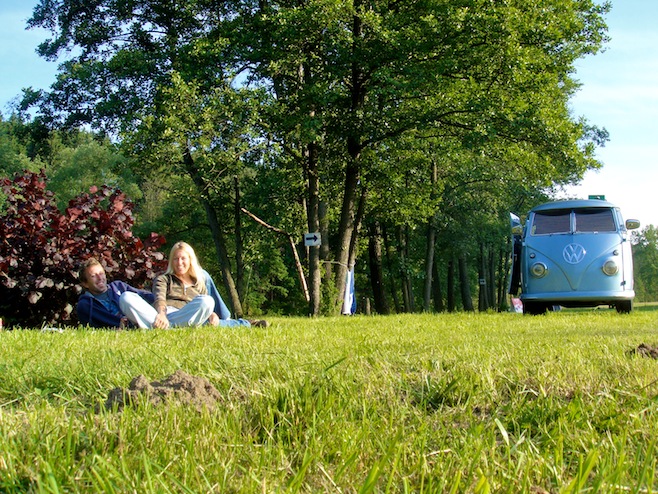 june 6 2009 : melk, austria, europe
We crossed into Austria today. The land of Arnold Schwarzenegger, the Sound of Music, and No Kangaroos in Austria t-shirts. We found ourselves a lazy road running along the Danube and cruised past dozens of castles and massive churches chipped out of stone on bluffs over the river. Along the way we were pulled over yet again. We'd just been talking about how the Czech Republic was only the second country we made it through without being stopped. The cops weren't friendly at all, but did their business and sent us on our way without, once again, telling us why they had stopped us in the first place.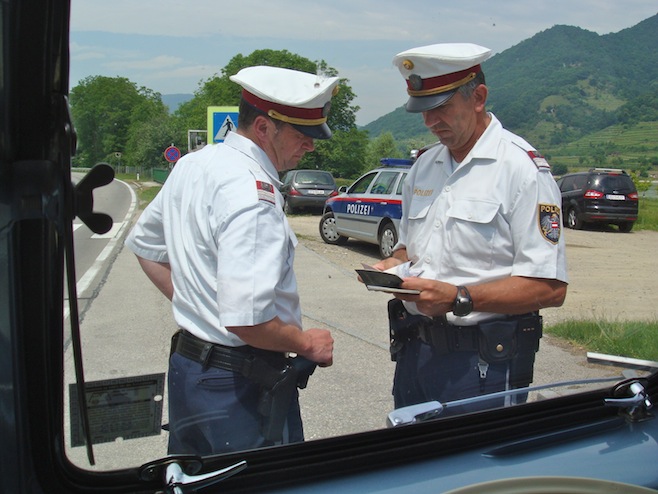 In the afternoon we attempted to squeeze in every stereotypical food into one meal. We had wiener schnitzel, wursts, Gulasch, and apple strudel all in one sitting. Ali melted over the strudel while I did the same with the beer. I never realized beer would be so good in Europe. They must only export the crap and keep the rest in house.
Our campground is right along the river with a great view of a large castle looking building. We walked down to it figuring it must be some sort of tourist trap but when we got there we found nothing but a sign on the gate saying it was private property. That is a sweet house.
june 8 2009 : vienna, austria
Yesterday was a Sunday which here in Europe is worse than anywhere else. Everything shuts down. Everything. Wait, gas stations stay open. And about one restaurant in ten. But aside from that it's closed. Great for families to spend quality time together I guess, but not much fun for those of us travelers. We pulled into a campground, office closed, right on the edge of the city and spent the afternoon walking around deserted streets before going to bed early. The whole thing with the continent closing on Sundays makes me wonder when anybody gets their normal weekend running around done. Grocery stores, hardware stores, school clothes for the kids, and all that sort of stuff. Saturdays must be hell.
Well rested this morning we joined the mid-morning commuters into the heart of the city. We got off the train took a left and wandered for about an hour after which we started to wonder what all the fuss was about. The buildings were nice but nothing too special. Then we realized we were in more of the business district area. When we finally stumbled on the Presidential Palace the beauty of the city became a lot more clear. Vienna was the center of the Hapsburg dynasty which controlled a large swath of Europe from the 1300′s right up through World War I. And their wealth and power is evident all over the place. The buildings were gigantic elaborate affairs and the statues rivaled Italy's.
We enjoyed hours and hours of nothing but walking, eating, and drinking. Food and beer prices have gotten out of hand now so we've had to make some serious decisions. What it has come down to is that we've had to cut out the schnitzel and replace it with the Macca's dollar menu in order to have enough left over for half pints of ale and apple strudel. Serious times call for serious measures.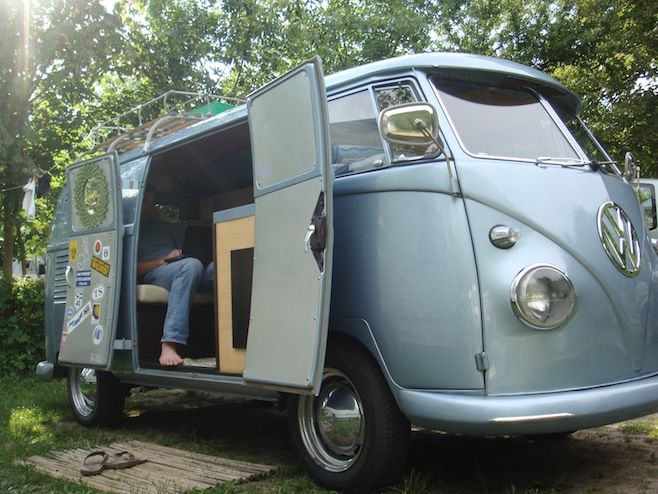 june 9 2009 : radstadt, austria
We finally reached the Alps today. I have to say that the European scenery up to this point wasn't doing much for us. Nothing but lots of green grassy fields with an occasional small plot of forest thrown in. But today the road started going up and down and before we knew it we were climbing fifteen percent grades in second gear again. Nice. We tried to stick to the yellow lines on the map and when we did we found ourselves to be the only people in the world. Hardly a car on the roads and through the small towns we never saw a soul. We joked that overnight there was probably a big swine flu quarantine announcement and we were the only ones not to hear about it.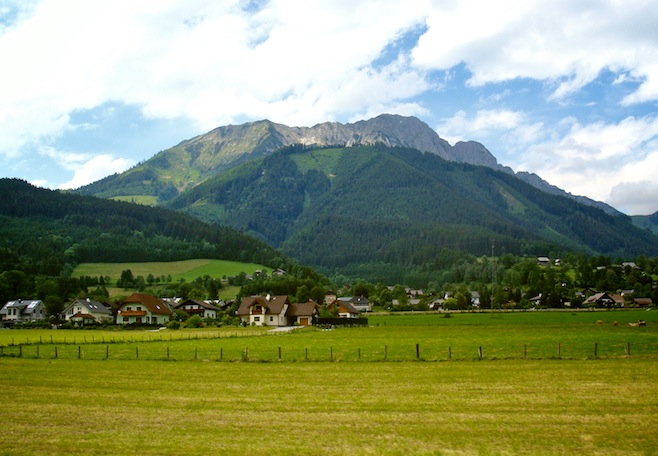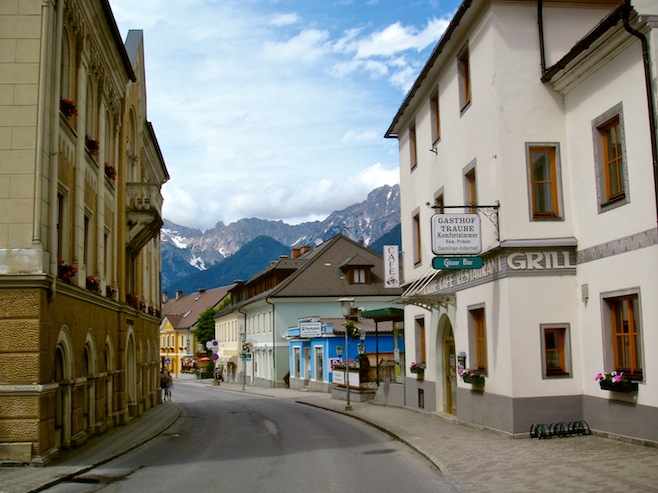 The roads here are some of the best motorcycle riding roads I've ever seen. Lots of gentle dips and curves and not a pothole or speck of dirt to be found. Austria is almost too perfect in that respect. The whole country feels a bit like a movie set. There is no trace of garbage anywhere, every house is freshly painted, not a single one has an old refrigerator in the yard, each window has a flower box underneath it just brimming with fresh blooms, and again, hardly a person to be seen anywhere. It's sort of strange.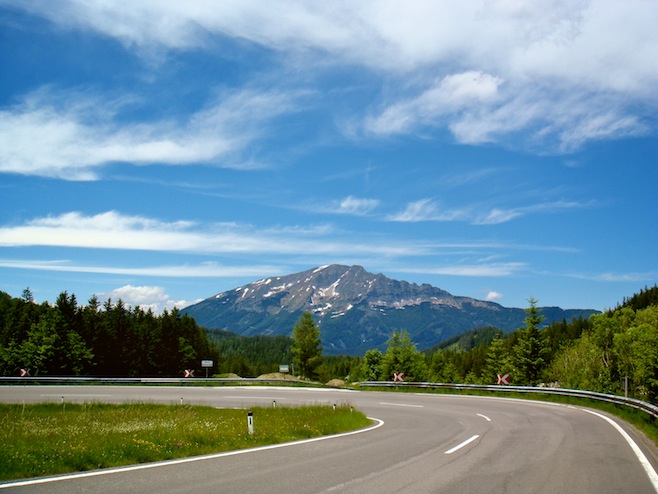 Ali and I have actually been fighting to keep from using the word boring. Not that Europe is boring, at least not in the ho-hum there's nothing to do sort of way, because there is obviously plenty to see and do, but boring in the four-door BMW station wagon, manicured front lawn, perfectly smooth roads, digital gas station pump, I wear pleated pants and my wife wears high heels on the weekend, suburban sort of way.
We've found ourselves longing for dirt roads, plastic bags blowing in the wind, raw meat hanging in the midday sun, and beer cans flying out of truck driver's windows. Everything is just too tame, clean, and perfect in the first world. Don't get me wrong, we'd never complain about being born in the U.S. (or Europe for that matter) instead of, say, Nicaragua. But there's a lot to be said for that way of life over ours. I don't know, I'm sure some day we'll be ready for the hermetically sealed way of life again, but right now there just isn't a whole lot of appeal to it. There's no adventure in it.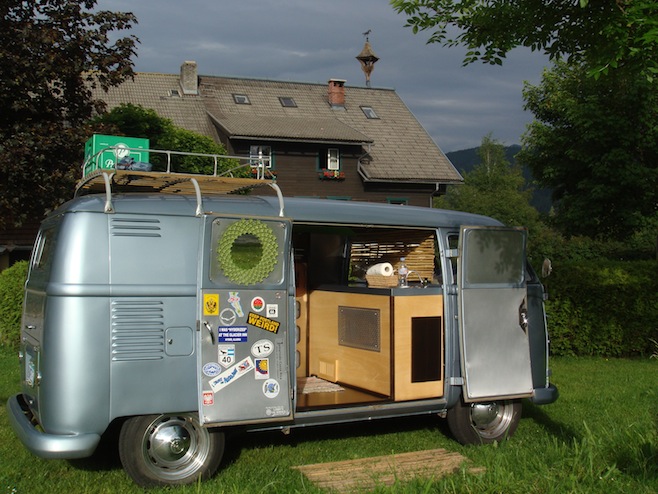 june 10 2009 : zell im ziller, austria
Tap, tap, tap. Rain on the rooftop at six a.m. is never a good sign. We both laid there for another hour not saying a word about it and not peeking out the window hoping it would just go away. It wouldn't though. By ten we figured we'd just get on our way and hope that it cleared. Today was supposed to be our drive along what was reported to be one of the most beautiful drives in the world. We couldn't see much through our wiper smeared windshield so when a Macca's appeared we thought we'd try and kill an hour there on the internet (the only free internet available in all of Europe by the looks of things) and wait for it to clear. It didn't and the forecast didn't expect it to. When we got to the turnoff for our famous road it was still raining and the cloud cover hovered just a couple of hundred feet over our heads. The Alps could have been just one thousand feet tall and we wouldn't have known the difference. About the only thing we could see at this point was the giant toll sign proclaiming the forty dollar entrance fee, one way, for the road. Ten seconds later we were plotting a new route on the map.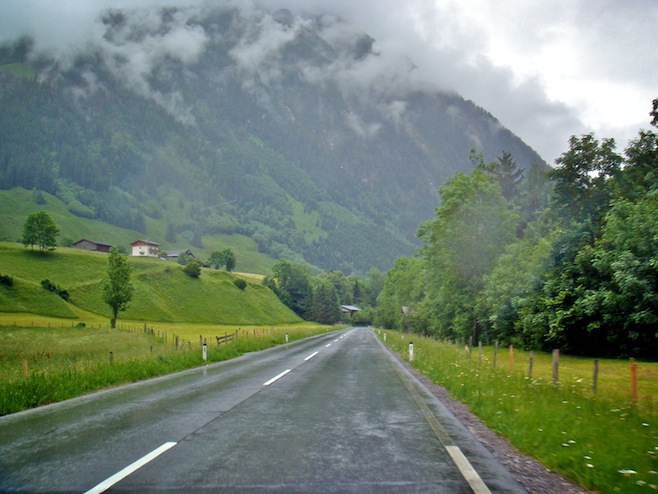 So not a great start to the day, but somehow later in the afternoon things did clear up a bit. Our new route took us through a national park at a much reduced price and still had some of the pristine mountain views we'd expected earlier in the day. We tried to stop around three o'clock for some refreshments but found that once again the entire country had closed down. We really can't get used to having siestas in Europe. We thought the whole reason for the afternoon shutdown was the heat of the day. Here in this tourist town it's sixty degrees outside a café directly across the street from the world's fifth highest waterfall with hundreds of people milling about and the sign says they're closed from 12:30 to 4:00. I can't get my head around that. Better still, tomorrow is some sort of religious holiday (shutting everything down on Sunday isn't enough for the pious) and half the businesses shuttered their windows a day early. I'm starting to wonder if anybody works over here. But then I suppose I'm not one to talk.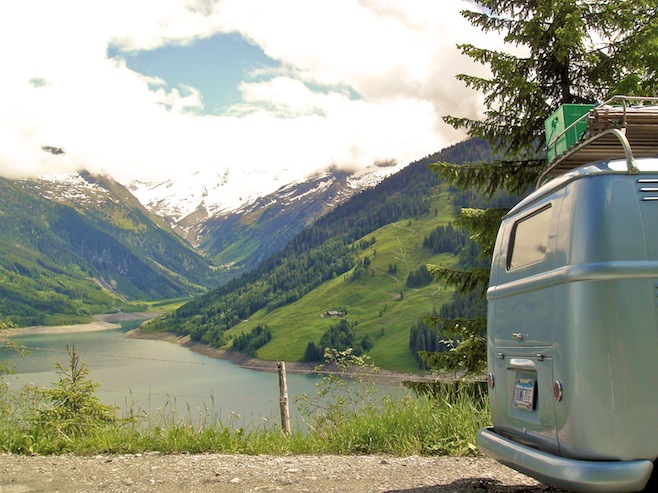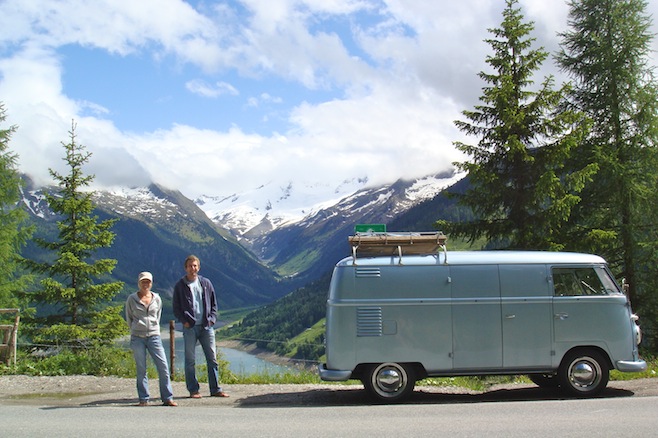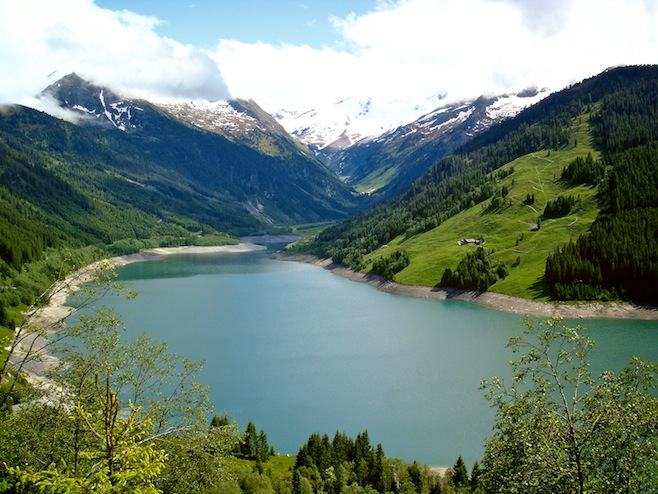 Eventually Ali and I settled in this small ski resort town nestled in a valley surrounded by green mountains, blue sky, and a hint of white at the top of the tallest peaks. It's quite nice, and unbelievably peaceful. You can't believe just how calm and quiet everything is.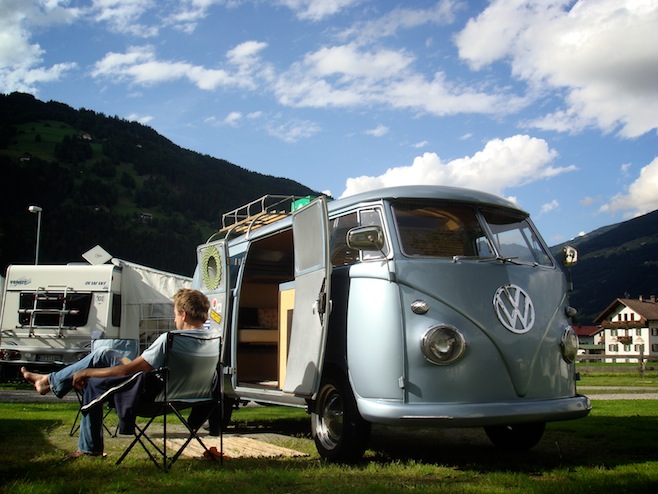 june 12 2009 : vaduz, liechtenstein, europe
After another rainy start yesterday the sun began to peak out here and there. We found what appeared on our map to be a sort of dirt road straddling the Austrian and German border but what turned out in fact to be a narrow tourist road with a toll at the start of it. The toll section wasn't much to look at as it wound through dark forest, but once we popped out the other side the sun was shining bright and the mountains continued to climb higher and nearer.
We eventually landed in Innsbruck where a Bum friend had invited us to spend the night. We showed up at his flat and were immediately escorted next door to a small pizza restaurant serving up some of the best pies we've had in ages. I considered him a lucky man for having this place so nearby. We waddled out overstuffed and pointed down the road towards the Old Town section. Innsbruck is a fairly good sized university town, but the center was nice and compact and perfect for walking. Ali and I were given the grand tour with multiple stops throughout the day and night for the cheapest beers in town. We learned about socialism and finally had the reasons that stores are closed more than they are open explained to us. It still didn't make much sense to us. We learned that Radler beer is simply beer with Sprite in it, and we also learned a bit about the history of the city and were able to take in some of the awesome views available everywhere. The city is ringed by mountains which rise up just a stone's throw from anywhere in the city. It was a really enjoyable day.
This morning we woke to clear blue skies for the first time in weeks, loaded up, said our goodbyes, and drove west out of Innsbruck headed for the yellow line on our map that seemed to crawl through all of the highest peaks in the area. The Alps did not disappoint on this day. We were stopping all over the place to take in the spectacular views. The colors were just popping. Greens, yellows, blues, and whites all standing in sharp contrast to whatever color was next to it. We took so many pictures that our camera battery died and we ended up just sitting on the side of the road with it plugged in and charging before driving on again.
Our road exited the steepest of the mountains and spit us back out on a northern fringe headed for one of the world's tiniest countries, Liechtenstein. We seemed to be the only car stopped at the border, but the officer was friendly enough and soon waved us along. He did however check our insurance papers which was the first time we've had to present them. We were happy to do so because we were starting to wonder if we'd simply wasted our money on that little green card.
Liechtenstein is fifteen miles long by three wide and is famous for exactly two things. Being the world's largest producer of dentures and for being a unique place to mail a postcard from. All anybody really does here is mail postcards. There is a big castle perched right up above the capital (pop. 4900), but it's not open since the prince lives there. We did the postcard and then drove three minutes down the road, out of the city and past the suburbs, to a nice little campground with fine mountain views which by the time we arrived had once again been socked in by rain clouds. Oh well, it was great to have finally gotten a beautiful day to truly appreciate the Alps.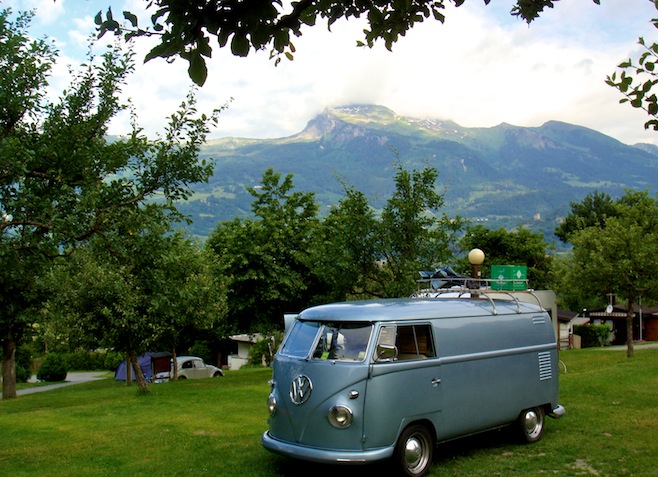 Also worth mentioning is that in the past couple of days we passed both a sweet looking splittie bus and a cherry Porsche 356. The 356 was the first we've seen on our travels and the bus only the second or third. It's always fun to see them out on the road.
june 14 2009 : frauenfeld, switzerland, europe (334 nights in the bus : 54,687 miles)
Five minutes after leaving our campground in Liechtenstein we were in Switzerland. We were surprised right away by how different some things were. The gas stations, which are always our first stop in European countries to buy maps from, were no more than gas pumps and mini car dealerships combined. It took us half an hour to find a map whereas it usually takes about fifteen seconds.
Then, with map in hand, we promptly got lost. Switzerland is one of those countries, like Guatemala, that has decided to mark roads only by town name, not numbers. At every roundabout we'd encounter one of those road signs that you usually only see as a tourist picture opportunity; the kind of road sign that has roughly a hundred towns listed on separate arrows pointing in every direction. Here, if you haven't grown up here and memorized the name of every small town, the only hope is to find a place to pull over and bury your nose in the map.
We spent most of the day driving around in this manner, stopping off once at a busy roadside rest area to lay in the sun along a river with everybody else. Ahh, the glorious sun.
Around five o'clock we pulled into Frauenfeld where we got lost again trying to find our way to the VW show which has been our destination the past couple of weeks. A Swiss Bum friend had emailed us a while back and mentioned the show to us. He said it would be fun and that as an added bonus the organizers were giving away a prize, paying the gas bill for the car that traveled the furthest to be there. We'd traveled 54,000 miles so we thought we might have a shot.
As soon as we pulled up our friend was standing there to greet us and introduce us around. We had emailed the organizer a week earlier to let them know we were coming and now we were told that talk was already circulating about what they were going to do with the Americans and the prize. We'd been driving all day at this point but right away we got in line and went for a drive around a nearby lake with about eighty other VWs. Back at the fairgrounds everybody made camp and settled in for the night.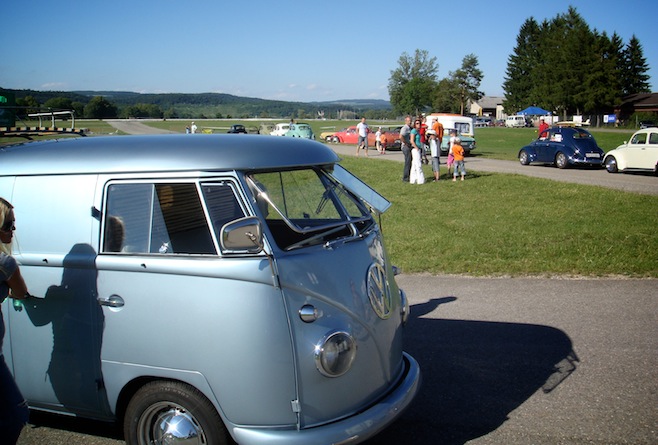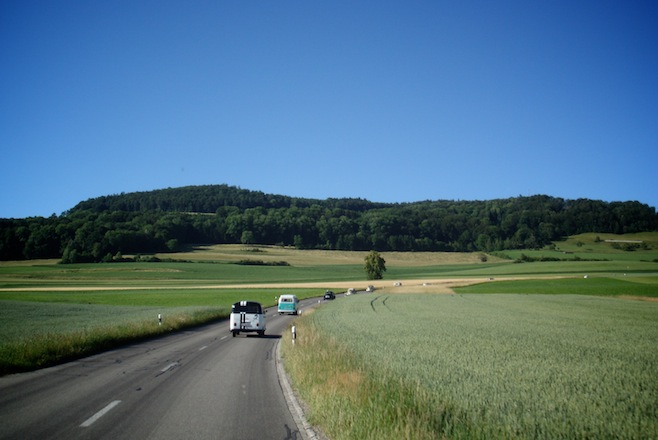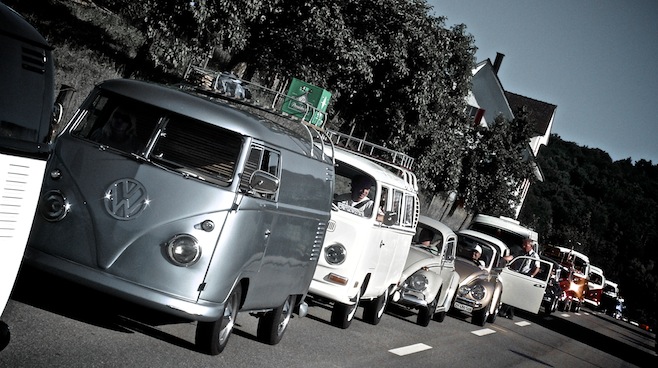 Today was the main show and around ten the cars really started to file in. Soon there were probably three hundred or so. Mostly beetles, but a couple dozen buses too. We hung up a few pictures from our trip and sat around talking, or at least trying to talk (the Swiss speak mainly German), with the couple of thousand people milling about.
Throughout the day the MC for the show was making jokes about how they had posted this prize on their website and then received an email from Americans a week ago saying they'd be there to claim it. They pleaded poverty and urged everybody to buy more beer and bratwurst. They even managed to get a couple of companies to throw in a few extra bucks. I eventually met the president of the club and he told me how happy they were to have us there and assured me they were making jokes about it and that it was all in good fun. He also told me they'd awarded us the Promoters Cup, which is more or less a prize for having a good story to tell about your VW. Then we got down to business. He basically said, "Listen, a deal is a deal. We made the prize and we want to make good on it. But we didn't figure on someone showing up from America. How would you feel about us paying for the gas from Bremerhaven, Germany to Frauenfeld?" I of course told him that would be great.
Ali and I drove up on stage to receive our awards and listened to more and more jokes which had the crowd really going. Before we knew it the crowd, which was much bigger than I would have ever expected for a car show awards ceremony, was roaring with laughter and clapping wildly. We of course didn't know 90% of what was being said, but it was clear that everyone appreciated seeing our bus and hearing a bit about the trip. Not to mention the fact that we were here to claim the only cash prize of the day. Ali handed out a few of our Bumfuzzle stickers during the ceremony. Immediately afterwards when we had parked again at least a hundred more people came over to pick one up. We just had to laugh at how fun the whole scene was. In the end we took home about $170 in cash and a big plastic trophy which we've got absolutely no room for. Getting paid for sitting in the sun, drinking beer, and making new Swiss friends. Not a bad couple of days at all.
Switzerland gave us the world wide web. Now, years and years later, we can't get access to it. It seems they believe that the internet is just a passing fad, so why invest in providing access to it. What a strange place. At tonight's campground when I asked if they had WiFi the manager looked at the computer on his desk and told me sheepishly that it didn't even work. I then paid him two dollars for shower tokens. Each token lasts one minute and fifteen seconds. Hot water cost more than a penny a second here. I have to say that we've been really disappointed with the quality of the campgrounds here in Europe. They cost twice what they do anywhere else in the world but give us maybe half of the amenities. Spots here don't even include a picnic table. I'm sorry, but that's simply unheard of.
june 15 2009 : lucerne, switzerland
We've only been in Switzerland a few days but, sadly, tomorrow we must leave. We've got sort of a rule that when all we can do is talk about the prices of things then we must move on. Here in Switzerland money is all we can talk about. This place is for millionaire travelers and nobody else. I can't imagine that there is a backpacker anywhere in this country.
Today we drove south to Lucerne. We got lost a dozen times again, mainly because we wouldn't spring for the toll pass that you must have to drive on the motorways here. They only sell one year passes and we figured that, like Mexico, we could just make a game of avoiding those roads. It's tougher than it seems from looking at the maps.
Anyway, we made it into the city here which is perched alongside a pretty lake with views of the snow-capped Alps in the near distance. We found a campground nearby and paid our highest price ever, forty-two dollars, for a camping spot. Once settled in we grabbed a bus into the city. It was only a five minute bus ride but still the cheapest tickets came to $2.60. In town we realized just how out of control prices are. A bottle of Sprite is $3.75, a pretzel is the same. Then there is the universal cost calculator, a Big Mac meal. Eleven dollars. That's just the fast food prices. A meal in a lakeside restaurant requires its own trip to the ATM for a stack of hundreds. Beer at a café in the old town? Ahh, forget it. Who could enjoy a pint at 25 cents a gulp?
So we've effectively been priced out of the country. Sure we could pay, and enjoy the Alps, but the whole time all we'd be thinking about is the cost. And that's no fun for anyone.
june 16 2009 : schiltach, germany, europe
The rain started just after we got back to the bus last night and by morning had flooded half the campground. We were at the high end so escaped with just soggy feet and damp clothes by the time we'd packed up and driven out of there. We pointed north and eventually came out of the rain and enjoyed a fairly leisurely drive in which we only got lost three or four times. Thing was, all we were trying to do was stay on one particular road from the campground all the way to the German border.
A quick shot of the lovely view from our world's most expensive campground.
Summer hasn't officially begun yet in this part of the world. Today, driving through the Black Forest, we followed the signs to three campgrounds before we found one that was open. It turned out to be a cute one along a small river with an old seldom used bridge spanning it just over our heads. Pay showers again, and I did find a jar with somebody's teeth in it in the bathroom this morning, but overall a pleasant place to spend the night.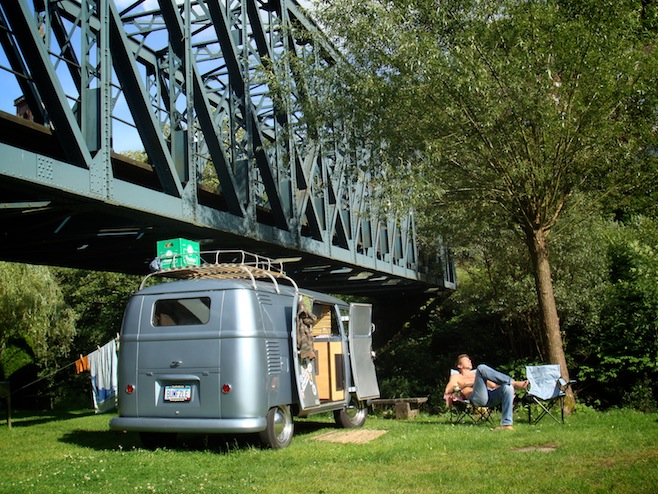 june 18 2009 : stuttgart, germany
After getting lost for a couple of hours yesterday afternoon while searching for the Porsche Museum we gave up and instead called in to a small campground on the edge of the city. The Mercedes test track is actually about fifty meters from us here but is cordoned off with an abundance of barbed wire.
So a day later than expected, by train, we visited the Porsche Museum. Fantastic. The building is brand new and houses about eighty cars. They tend to focus a lot on race cars and engines, but also have at least one of pretty much every important car in their evolution. The early 356s are still far and away our favorites. Nothing compares to their style. The 60′s 911s were a step in the wrong direction, the 70′s and 80′s an eyesore, the 90′s at least seemed tough, and the 2000′s look like they could leave just about anything in the rearview mirror if you can afford it.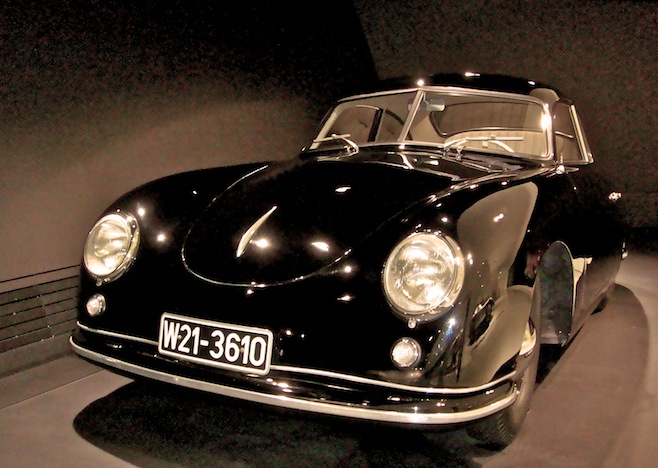 About halfway through the museum a fire alarm went off and we were all quickly herded down the fire escapes and out across the street. After a few minutes on the sidewalks most of us migrated inside the Porsche dealership. I'm sure these people had never had quite so much riffraff browsing through their cars. Fingerprints were soon covering the $200,000 models while camera bags swung precariously close to their paint. Only the $500,000 models were cordoned off from the sticky tourist fingers. Back outside the building it was sort of fun just to watch the cars drive past. The Porsche corporate building is right there as well, and of course each of them drives a Porsche. Everything from the old to the new went past on its way to lunch.
On the subject of cars in Germany. In America we still tend to drive everything until it officially dies. Cars tend to make their way down the socioeconomic scale as they age eventually ending life as a sixteen-year-old kids first car for $400. Here in Germany I have yet to see a single one of these cars. None seem to make it beyond maybe seven years of age here. I'm not exaggerating either. I've been looking and haven't seen a beater anywhere. Sitting in Stuttgart yesterday having a beer at a sidewalk bar we watched as the parade of BMWs, Mercedes, and Porsches drove past. Hardly anybody drives an under $50,000 car here. The other thing we've noticed is that we have yet to see a pick-up truck, SUVs are rare, and, thankfully, minivans are almost non-existent. The biggest cars are generally BMW or Mercedes station wagons. And yet somehow they survive.
Downtown Stuttgart was yet another harmless clean German city. We didn't find a whole lot to do but did manage to try the famous currywurst. A sausage with a sort of sweet sauce and curry powder on top. Sounds pretty gross, but didn't taste too bad. We still prefer ours with spicy horseradish mustard and sauerkraut though.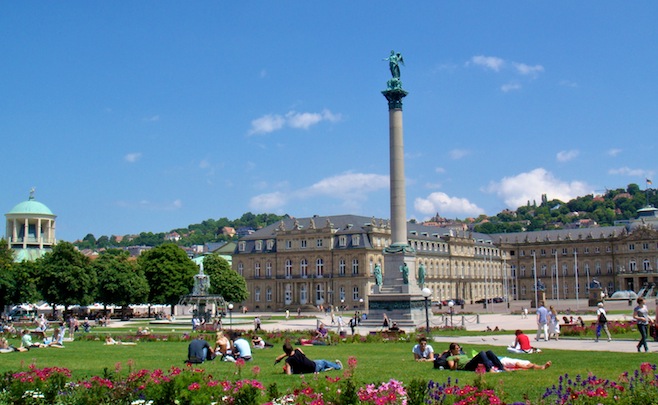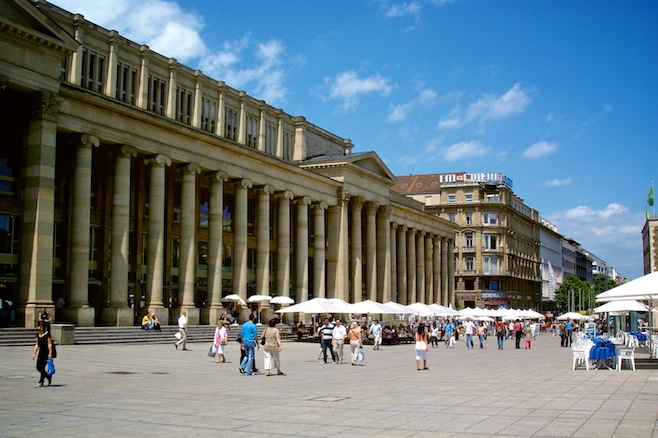 Check out our fourth article in this month's VW Camper and Commercial.
june 19 2009 : steeg, germany
I don't know what our problem is lately but we are constantly lost. All roads seem to disappear into the center of a city and leave it up to us to somehow find our way out the back side again. We've just never had such a hard time trying to get to places when in truth we really have nothing but a general direction in mind in the first place.
Today we finally ended up along the Rhine River. A nice little campground where we are literally on the water's edge with one huge castle right behind us and another just a half mile down the road. There are roads on each side of the river as well as heavily traveled train tracks. It seems like everything has been doubled up here.
Driving in Europe hasn't been all that fun so far. Tailgaters are horrendous here; some of the worst we've ever encountered. The truckers take the cake. Total asses that don't care a twit whether or not they are risking our lives to shave five minutes off their drive. The cars are a bit better but don't seem to have a clue as to how to pass. Instead they just sit and pile up behind us until we pull off the road to let them by.
Europe is quite a bit different than we would have expected. In a lot of ways they are really behind the times. It's mainly the little things. Things that we would have thought they'd be a lot more up to date on. Smoking is number one. At an outdoor café today sixteen out of twenty people were smoking. Everybody chain smoking and looking twenty years older than they are despite the fact that they just rode thirty miles on a bicycle. It's like America thirty years ago; minus all the healthy bike riding.
Gas stations. There is no pay at the pump. I still have to go inside and stand in line behind all the jokers there to buy their cigarettes. Filling up the tank takes twenty minutes. Back home I haven't gone inside a gas station in fifteen years. Internet. I've already talked about it, but it is truly impossible to get connected in these countries. If we do happen to stumble across a wireless signal we have to pay eight bucks an hour to get on it. Anyway, like I said they are all little things, but things that we would have expected our first world friends to be a bit more advanced on. I wouldn't make observations like this in Ecuador, but Germany?
june 21 2009 : diekirch, luxembourg, europe
It simply won't stop raining. We are having terrible Alaska flashbacks. Another summer spent in miserable cold rain. You wouldn't know it from our pictures, mainly because the camera never comes out if the sky isn't blue, but it has rained all but three days since we've been over here. Sometimes only for a couple of hours but other times, like the past couple of days, it drizzles from dawn to dusk. At noon yesterday it was fifty degrees and raining. We asked a local guy when summer was going to start and he told us, "Sorry, this is it."
The weather put a damper on what otherwise would have been a very nice drive. We cruised along the Rhine River which was lined with castles from one end to the other. Below the castles were small villages with narrow stone passageways snaking up the hills. Each of them had been turned over to the tourist dollar and were positively crushed with camera toting bus tours. In one town at least a hundred restaurants vied for the Bratwurst and Pommes title. $4.50, $4.25, $3.90. Below that their menus usually contained pizza or Chinese food.
Eventually we veered off the Rhine and onto the Moselle Valley. Another lovely winding waterfront road, this one with wineries instead of castles. The grapevines climbed straight up the sixty degree slopes and carefully restored 18th century buildings served up the products to still more bicyclists. Driving along these roads we realized the Germans love two things. Riding bikes and RV camping. There were dozens of campgrounds along the water. Each of them containing at least a couple of hundred campers.
European campgrounds are different than any others we've seen. In America everybody drives a huge RV. The kind that look like a Rock Star could climb out at any minute. Here in Europe they pull little campers behind their little Mercedes. The difference is that when they get to the campground they park the camper and then zip on this huge tent like structure that effectively doubles the camper space. It doesn't end there though. They then add on a second tent to the first. This one is their open air sitting lounge. By the time they are done they have created one of the most hideous contraptions ever to be seen in a park like setting. But they are happy with themselves because they've turned their 200 square foot trailer into a thousand square foot cave.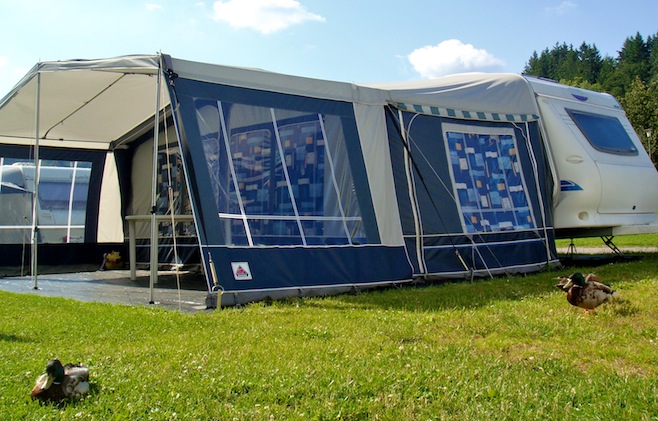 Luxembourg is about the size of a tiny Northeastern state in the U.S. The border towns are lively though. Luxembourg gas is about a dollar per gallon cheaper than all of its neighbors so each of these towns contains twenty gas stations with lines still stretching out into the road. We filled up and then drove aimlessly through the middle of the country. It took about fifteen minutes to reach the capital. It's a Sunday so the only thing open was a flea market. We walked around that and then left when the rain started again. Another twenty minutes and we were on the other side of the country. We gave up hoping the rain would stop, pulled into a campground and climbed into the back of the bus.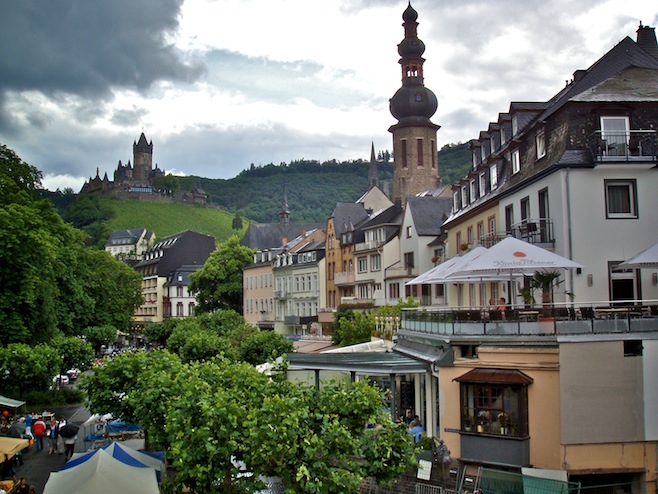 june 23 2009 : la roche, belgium, europe
Holy cow did we piss off the Europeans. We were inundated with angry emails and facebook postings today from people all over Europe taking offense to pretty much everything I've written about. The funny thing is that I don't even know what I said that was so bad. Internet is hard to get, they drive nice cars, they smoke a lot, they charge for showers, and they don't let you pay for gas at the pump. Ooooooohh. In response to those horrible things we got emails screaming about how we travel too fast (boy did that ever give us cruising flashbacks), how Americans are all obese (and your point is?), how shallow we are (like that's news), and on and on.
Usually we can kind of see the backlash coming before it happens, but this time I have to admit we were caught a bit off guard. Who gets angry over these sorts of things? Worse still, who gets angry enough to compose a lengthy email about them? The one that ranted on about us traveling too fast ended like this:
I'm sorry but your recent whinging on you site triggered this email, because in my view you're travelling far too fast…In the same time you went from Bremerhaven to Poland to Czech to Austria to Lichtenstein to Switzerland to Luxembourg – we took our time and travelled, only on country roads, from Xanten to Aachen, on to Trier, Karlsruhe, Heidelberg, along the Neckar valley to Heilbronn, Rotenburg o.d.T, Bamberg, Coburg, Weimar, Erfurt, Eisenach, Fulda, Kassel, Hannoversch Muenden, Hannover, Oldenburg and Bremen – and thought this was almost too much.
The couple that wrote this are driving around Germany in a full size RV. Good for them. The thing is that we've found that whenever people feel the need to go off on us and slam the way we travel is that they forget about our age. For us this is just a break. Granted, it's been a long break, but it's still just a break. We'll go on to do many other things in our lives, one of which will no doubt be to travel a lot more. For us going to Europe isn't a once in a lifetime experience. We don't feel like we have to see everything in one pass. If we did we'd still be in the Caribbean on our boat. And who knows, maybe our next time through we'll come in a decked out RV where we can lay on the couch watching television all day long when it's raining outside. I'll tell you that would improve our mood.
Anyway, we just don't get what prompts these things sometimes. If we worried about attacking what all the bloggers of the world who wrote things we didn't like about the United States said we would never get anything done. If everything I write isn't 100% accurate who cares? I don't Wikipedia everything I say. Ali and I drive around, we find things interesting, sometimes incredibly banal things, and I write about them. If I'm wrong and the average life of a car is ten years instead of seven is that fact really going to affect anybody's view on Europe? People, come on now, Bumfuzzle is our diary, not a diatribe on the state of European affairs. Nobody really cares!
So, what did we do today? Well the sun was out all day and we celebrated by dancing in the streets. We then went up the street to the Family of Man photographic exhibit. A Luxembourg guy put together 503 black and white photos back in the fifties to, as the brochure says, promote understanding of different peoples through the universal language of photography. The exhibit traveled the world for years before finally settling in this old castle here in Luxembourg. We don't tend to get too excited about museum type things but this was right up our alley and we really enjoyed it.
Afterwards we quickly found ourselves in Belgium, stopping off in Bastogne for lunner. This town is mightily famous for the WWII battles that were fought here. My favorite part of the history is when the Germans had the Americans surrounded and called for their surrender. American General McAuliffe's response was, "Nuts!" I can just hear his voice rising an octave when he said it. If you ask me that word needs to be brought back into the mainstream. Not, "He's nuts." Just, "Nuts!"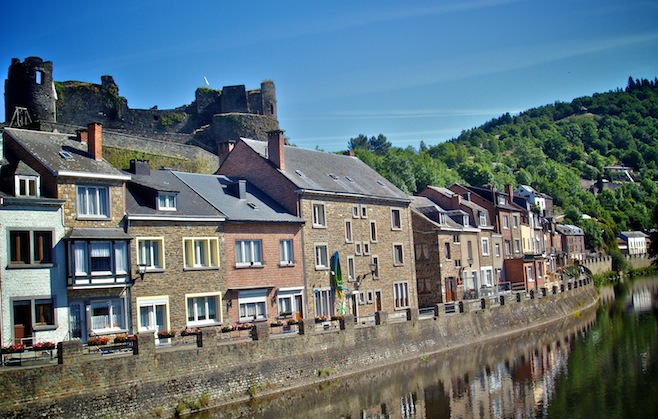 By late afternoon we were in La Roche drinking beer on a sunny square with yet another castle looming just above us. It's a nice quiet little town that our guidebook somewhat lazily called vibrant. At six o'clock on a Tuesday there wasn't a single shop open and only a handful of restaurants were serving drinks. Vibrant might not be the right term for it, but then again the guidebook writer might have been fearing the wrath of the European email writer if he had instead called it sleepy.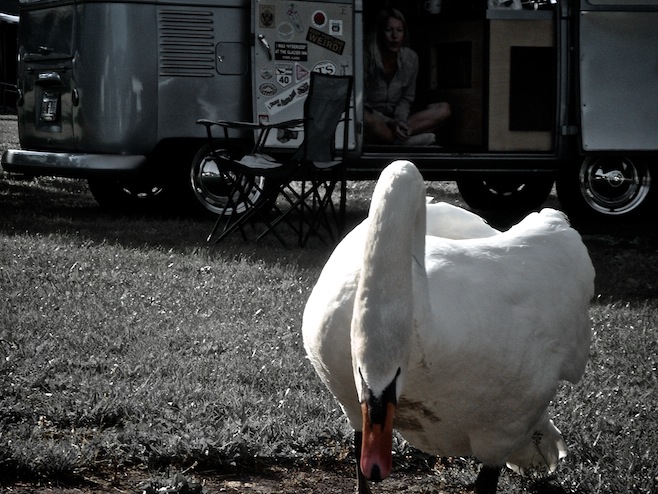 Okay, after reading a few more angry letters it seems that the main problem is that I grouped all Europeans together. It is after all a large continent full of diverse people. In the future I suppose I could isolate all observations I make into specific countries. But still, the comments I made really weren't too harmful to Europe as a whole were they? Now, if I could just add one last little teensy weensy comment on the matter, Europeans need to lighten up.
june 24 2009 : antwerp, belgium
Today was a driving day. We're on our way to a VW show so we just sort of pointed ourselves in the right direction and drove. After spotting a ton of camping in southern Belgium we couldn't find a thing in the north and eventually had to drive right into the city of Antwerp looking for a place. Somehow we stumbled on a municipal campground right in the city that only cost six euros. We were all happy with ourselves until the lady at reception asked if we had a reservation. With camping this cheap and with this location apparently you need to book well in advance. We were turned away at first, but after putting on quite a show of disappointment the nice lady took pity on us and let us in. We set up, had a walk around the nearby marina, and turned in for the night.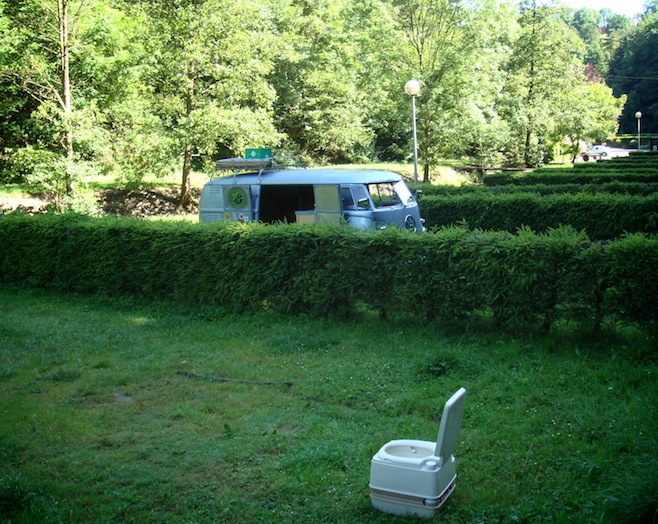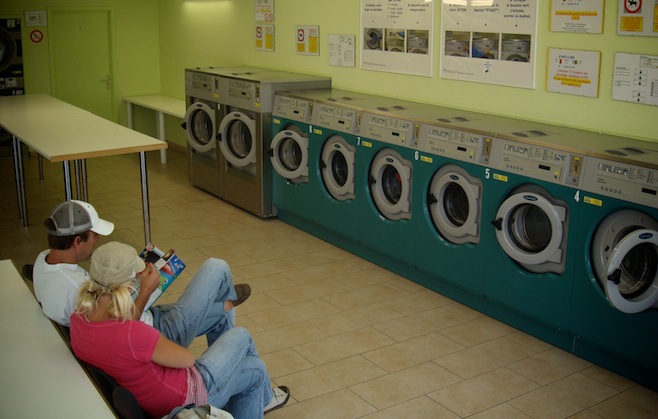 Along our drive today Ali suddenly burst with excitement, "She is real!" On this rather suburban looking stretch of highway we had come across a sort of red light district. Buildings were everywhere with large windows in front that usually contained a chair, a table, and a glass of champagne. Sitting in the chair were somewhat worn-out looking busty women wearing nothing but lacey undies. Ali had spotted them first but thought they were just mannequins in a sex shop until she saw one of them primping her hair. Fantastic.
june 28 2009 : bad emstal, germany, europe
We have just had a few of the greatest days of our trip so far. From Antwerp we drove just up the road a bit to the BBT. A massive VW shop with a highly successful owner who enjoys showing a little customer appreciation. He organized a convoy from his shop to Hessisch-Oldendorf, Germany, for one of the most looked forward to VW shows of the year (once every four years actually) in this part of the world.
After driving a full forty miles out of our way searching for a car wash we arrived at the shop to find a couple of hundred others already there. We were hardly out of the bus before meeting new friends. It was great. Within an hour we were talking with people from all over the world. And suddenly we were surrounded by folks speaking English; something we haven't done a whole lot of the past few months. We met our Belgium friends who had first told us about the convoy and drive one of the most amazing all original Westphalia buses in the world. We also found ourselves talking with people from the States and especially from the UK. We hadn't spoken this much English in ages.
The BBT owner had put on the full spread for us. Food, beer, souvenirs, camping, everything, it was all included. Amazing. We met John, who'd been following our stories for a while, and eventually fell in with his group of blokes and their lovely gals from England, the W.A.N.C.'ers. They all immediately adopted Ali and I as their own and for the rest of the weekend treated us like the oldest of friends.
Camping that night at BBT was pretty chill with everyone just hanging out having a few drinks, checking out the collection of cars in the "museum," eating, and listening to the band. Early the next morning we all fired up, and with dozens of police leading the way blocking traffic we filed out onto the highway. As far as convoys go this wasn't the most relaxing. There were about 250 vdubs looking to cover 250 miles in a few hours. It was pretty fun though with everyone stopping at designated gas stations along the way. It had a bit of a carnival atmosphere to it. At one point we all hit a traffic jam that stopped us dead in our tracks for an hour. Everyone just sort of wandered along the highway with buses stretching far off into the distance.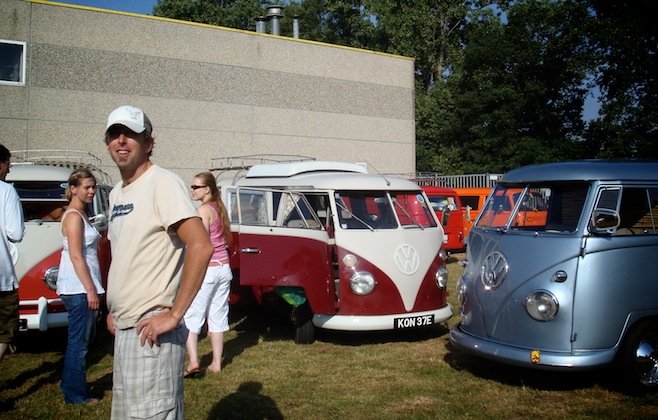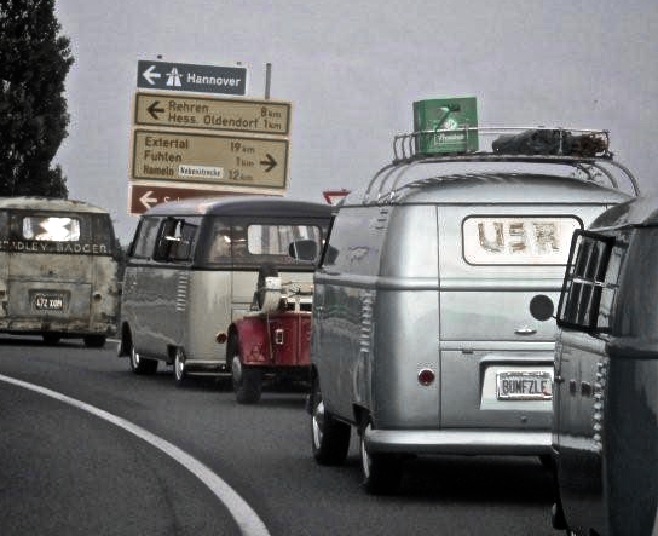 Ali, I, and our new British posse rolled into the Hessisch camp around ten hours after setting out, parked up the bus, and walked back down into town for a piss up. We sang along to bad music, told Michael Jackson jokes, and shut the small town down before carrying on back at camp until far too late.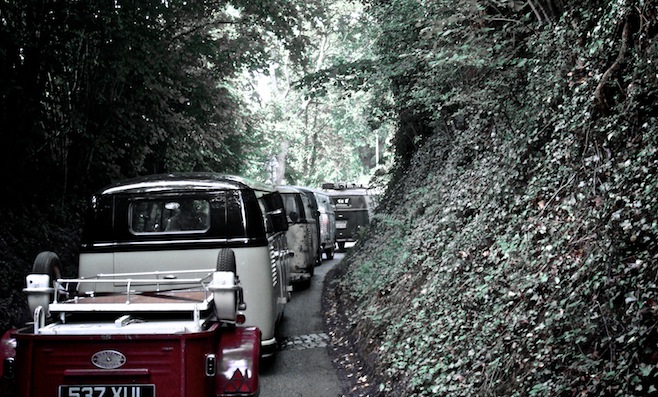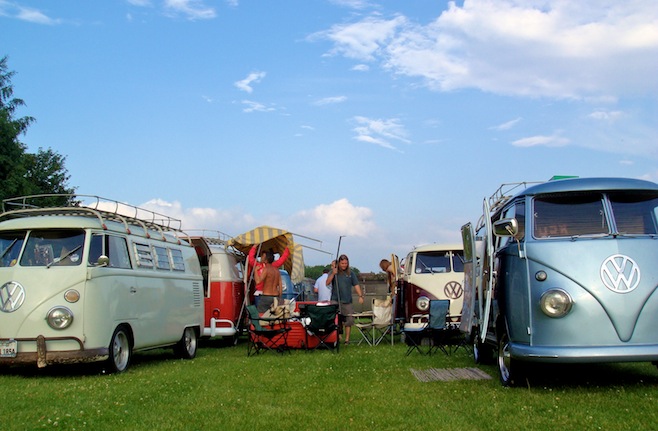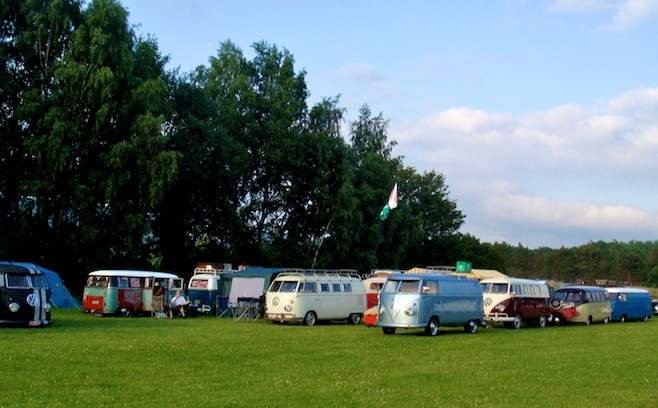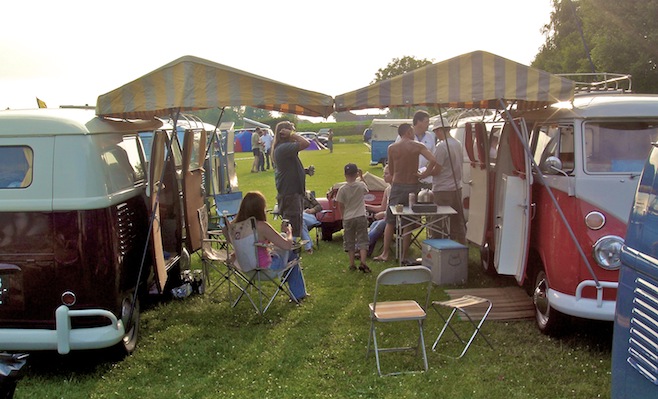 Ali and I had discovered this show way after official registration had sold out and had shown up without any tickets. A couple of these guys had paid for two but had come alone and without hesitation handed over their extras for the two of us. As if that wasn't enough they then they chipped in and bought us the metal show badge souvenir we would have gotten if we had signed up. The whole weekend went on like this, with Ali and I finding that the only way to pay for anything ourselves was to sneak off and buy a round of drinks without any one of them spotting us.
So Saturday morning a few of us drove down into town for the actual show. What an amazing set-up for a car show. The town is something like eight hundred years old with brick paved streets, historic buildings, small parks, churches, and restaurants; all of which was completely turned over for the weekend for all things VW. And especially the old, old, VW stuff. Buses were '67 and older, beetles '57 and older, and a good many of them were the oldest most original and hard to find VWs in the world. Without the story of our long drive behind it I would have been ashamed to include our bus in with this group.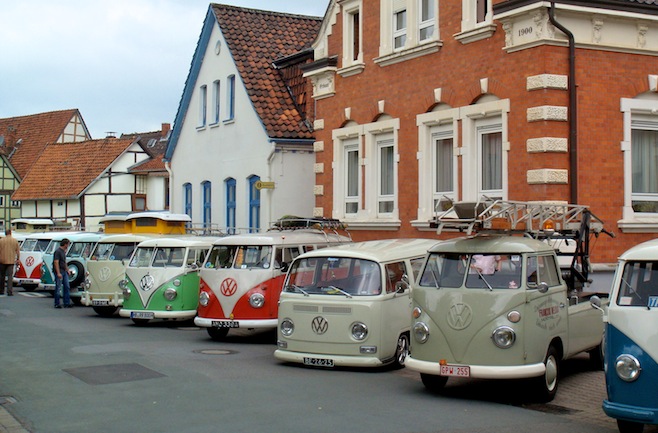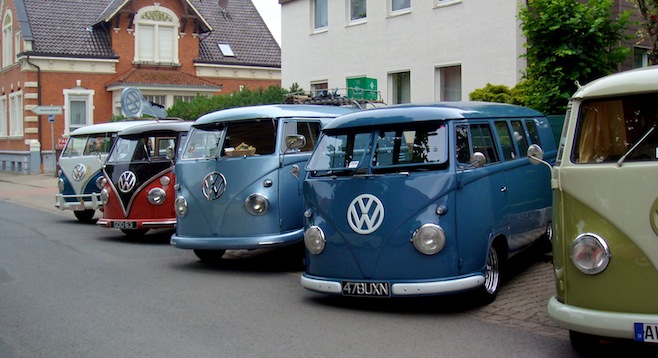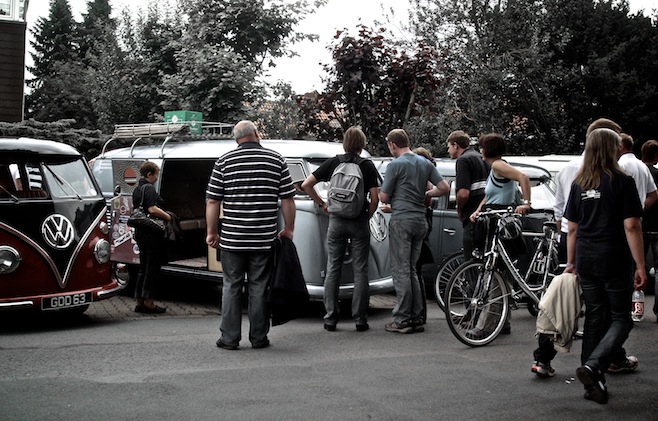 We all spent the day just wandering the labyrinthine streets looking at all the amazing cars and browsing the vendors market. Then that night we all went out to the big dinner and show. That bit was sort of uninteresting until the entertainment came on stage. A group of guys wearing funny looking American football uniforms made of pleather, and girls wearing mighty skimpy cheerleader outfits came out and immediately began throwing each other in the air. The guys were spinning the girls around on their heads and throwing them between their legs. It was completely bazaar and felt a bit like watching auto racing just waiting for the crash. When one of the girls was spun around too many times and became so dizzy that she had to be held up we sort of had to turn away in embarrassed silence. Sort of an awkward end to the festivities.
The car show carried on today as well, but most of us filed out in the afternoon with them heading for home and us heading for France. We've heard the sun might be shining down there so that's where we are going next.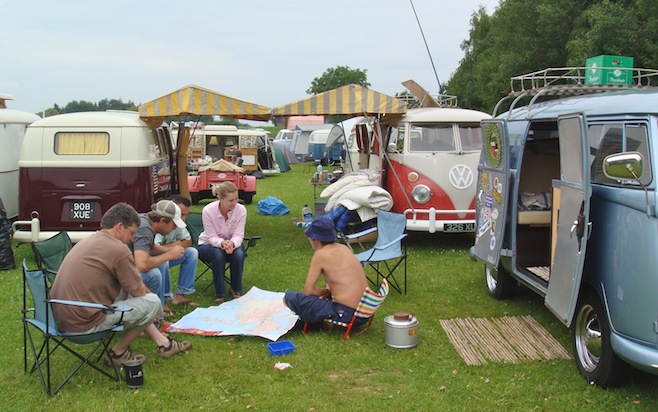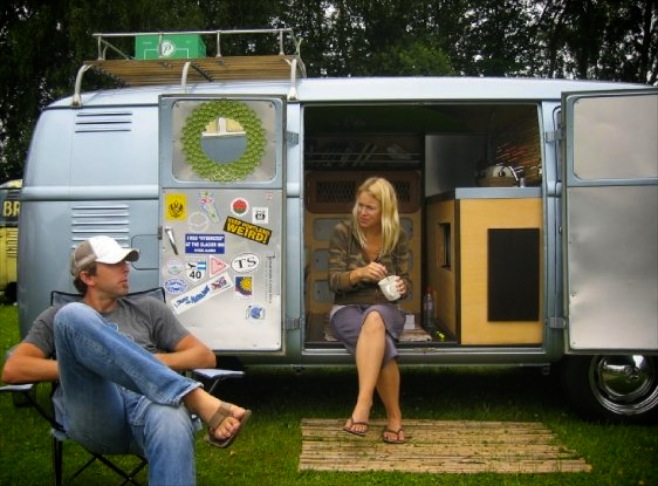 All in all that was one of the most fantastic weekends we've had in quite a long time. The BBT and the show itself were top notch, not to mention all the amazing new friends we made. We can't wait to meet up with them all again in England for another campout. We just need to work on our sweet British accents and self-depreciating humor. Bloody good show.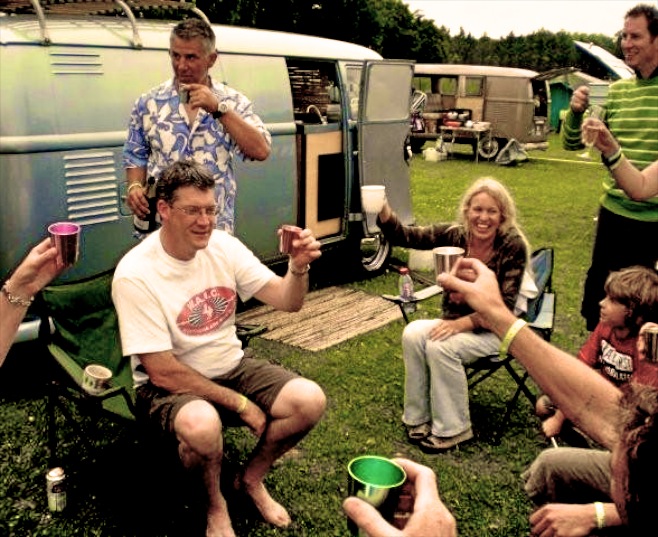 june 30 2009 : beaune, france, europe
The past couple of days we've just been burning down south. Today we woke to more dreary wet gray German weather, drove into France and were met by glorious sunshine. So, okay, tonight we've got a nasty thunderstorm pounding down on us, but still, we had warm sun all afternoon. France is feeling pretty good to us. A few more days and we'll be playing nude frisbee on the beach with the oil barons and the A-listers.
Sitting in heavy traffic yesterday while Ali was staring at the map a U.S. soldier came running up to us from behind and tapped on Ali's window. Ali, not expecting company in a traffic jam, screamed at the top of her lungs. The lady jumped back but then came back to her and said, "I'm gonna kill you lady," in a playful Puerto Rican New Yorker accent. She had been in Iraq but was stationed in Germany now and was just excited as could be by the sight of our American license plate.
We've eaten pretty well in Germany, often ordering unpronounceable items off the menu and being happy with them. The last time we tried this though, oh boy, did we get a surprise. I ordered a big old schnitzel, and Ali, not knowing what anything else on the small menu was decided to just go for the special on the board. When her plate came out neither of us could speak. Alongside a mound of french fries were chunks of meat and what I suppose were onions, encapsulated in some sort of clear gelatin. The effect was to make it look as if the cook had sliced one of those big Superballs in half. You know the bouncy balls you'd buy for a quarter out of the vending machine at the grocery store when you were little? To top it off it was straight out of the fridge. Being the husband I dutifully switched plates with her, sliced off a chunk of rubber, and slipped the fork in my mouth. That bite of food very nearly reappeared on the table seconds later. We've eaten some strange unexplainable food in our travels but that thing takes the cake.
I've been surprised along our drives by the amount of farmland in Europe. I don't know why I should be, but I guess for me it just isn't what I think about when I envision Europe. Yet for the past two days, while trying our best to steer around big cities it is pretty much all we see. And I have to say the crops look fantastic. Thick golden fields of wheat, shoulder high green corn, and acres of huge sunflowers are everywhere. As a commodities trader I always had my eye on the American crops, the Australian and the Canadian wheat harvests, and the Brazilian soybean crop. I really don't know why I don't have a better grasp of the European agricultural situation.
We met a guy the other day that cracked us up. What was said just goes to show what can happen when you make sweeping generalizations. Something I love to do. Anyway, this guy (to be safe I'll leave his nationality out, but let's just say no roads lead there from the U.S.) comes up to us and says, "You're from the U.S.A.?" We tell him yes and for a minute we all talk about the bus and the trip before moving on to other topics.
"I am surprised because I have been to America many times and the people there do not travel. When I tell them where I am from they always ask me, 'And you drove all the way here?'"
"Come on," I said, "There is no way that is true."
"I swear it is. Virginia, South Carolina, Alabama, they all say this to me."
I told him I didn't believe that for a second but dropped the subject and let him continue to believe that Americans are all Geographic idiots. Then not five minutes later the subject of our beer crates came up. Ali and I have four of them for holding our linens, extra books, etc. in the back of the bus. One of them says Belikin, the beer of Belize, on the side.
"Ahh Belize. So you have also traveled through Africa?"
I couldn't help it, I immediately called him out on his geographical snafu. He was completely unflustered by it though. To him this was not the same thing at all. Apparently nobody knows where Belize is, so the fact that he didn't know it proved nothing. Regardless, Ali and I had a good laugh about it.
Socialize