01-Sept-2009 1:29 PM
This morning we went down to the doctor's office to inquire about our new bill. I stayed in the waiting room while Ali went in to billing. Within a couple of minutes I could hear voices being raised. There was no glass breaking or loud screaming though, and after a short time Ali walked out quickly waving me to follow her out the door. When the billing lady had told her to write a detailed letter describing the dispute Ali had demanded instead to speak to the doctor. This had the desired effect and led to a quick meeting of nurses and a promise to call us later. The phone call did come this afternoon along with the news that the entire bill was being waved. About the only explanation we ever got was that a nurse had changed a code on the form. Whatever that means.
03-Sept-2009 10:20 PM
Portland, Oregon again. Two nights ago Ali and I arrived at the Amtrak station in St. Paul looking forward to a relaxing cross-country train ride. Right off the bat we could see some of the benefits to train travel. Checking in took a grand total of four minutes from walking in the front door to sitting on a couch in the lounge. No security goons x-raying my flip-flops, nobody taking my bottle of water away so that I could buy another just on the other side of the gate for five bucks, and no crowds.
We loaded on close to midnight and found our miniature room with the beds made up and ready for us to go to sleep. It really was miniature. Our carry on bag didn't fit inside and Ali and I had to take turns going in to climb into our bunks. Once wedged in we slept like babies as the train rocked quietly west.
The next day we woke up, had our sleeper converted into a couple of comfy chairs and went up to breakfast. Paying extra for the sleeper had bumped us up to first class train passengers apparently, and that meant three full meals and a train car attendant at our service. Not bad for nearly the same price as flying.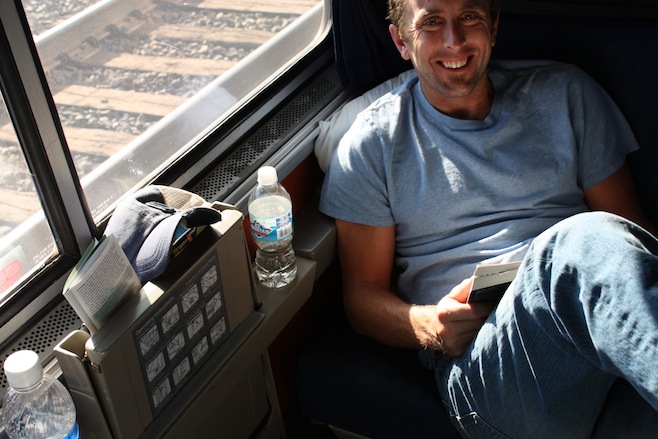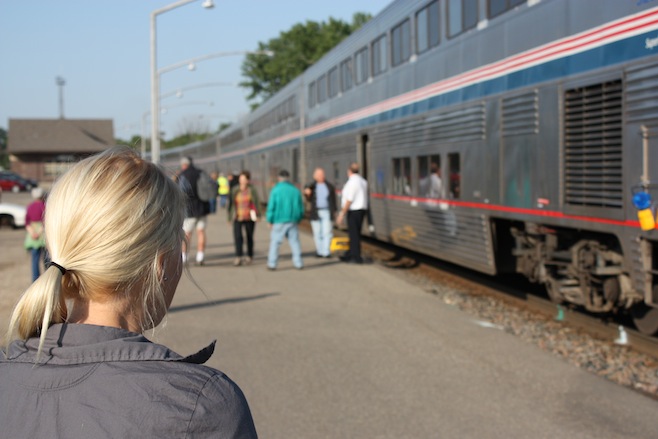 At breakfast we realized just how different train passengers are. They talk to each other. Incessantly. The favorite topic of conversation being how poorly they slept. Meals were nice though, sitting four to a table with friendly midwesterners sporting heavy country folk accents heading to places like Havre, Montana.
The big Chamber of Commerce sign on the train platform there told the story of two French homesteaders that got in a fight over a girl. The loser of the fight announced, "You can have 'er." And thus the name of the town. It must just be a really weird coincidence then that the original homesteaders of the town site, then called Bull Hook Bottoms, were from a town in France named Le Havre. I like that the C of C would make up a story like that and promote it as fact right there for all us visitors to see. The town I grew up in was named Maplewood and I'm sure there is absolutely no interesting story behind it.
Anyway we spent the day kicked back in our room watching North Dakota and Montana roll past and jumping out ever couple of hours for a couple of minutes of fresh air. One thing we found amusing about the train was the obsession the conductor had with smoking. Before each stop he would come on and announce that we'd only be stopping for five minutes or so and then inform the passengers on the best way to get ready. He actually said once, "This will be a very brief stop so you may want to have your cigarette in your mouth and your lighter in hand." And funny enough everybody seemed to follow his instructions. Getting off the train without breathing a lung full of smoke was an impossibility.
While rolling through these tiny towns with nothing but a gas station and a grain elevator I watched the young guys waiting in their pick-up trucks at the railroad crossing. I wondered if they stared at the Amtrak train and dreamed of all the exotic and wonderful places, like Whitefish and Spokane, that the train could take them if they could ever break free of their one horse town.
Ali and I, during just one of our fascinating conversations throughout the day, got to talking for no particular reason about telephones. And during that conversation we realized that neither one of us had called the other on a phone in close to seven years. Does that seem weird? In all that time we haven't been away from each other long enough to warrant a phone call to the other to discuss what we were having for dinner, or to let the other know that we had a hangnail, or whatever it is people talk about on the phone so much.
Back on the train we ate a surprisingly good steak dinner with cheesecake for dessert and then walked back through the sorry looking lot in coach where bags of Doritos and microwave chicken sandwiches littered the floors and bodies sprawled at uncomfortable angles. Clearly the extra two hundred bucks had been well spent. We wedged ourselves back into our mini Japanese sized bunks and went to bed, waking the next morning in Portland.
My mom and her little white fluffy dog met us at the station where we collected our baggage five minutes after arriving and walked right out the door to her car. Overall the train trip was a success. This was our first in the U.S. and I am now sort of disappointed that we didn't think of it sooner. If you're not in a hurry then it is a great way to travel. No stress, no popping ear drums, and virtually no limit on your checked baggage.
04-Sept-2009 2:48 PM
I've really been looking forward to working on the Porsche again and today was day one. First step was to change the oil. With that done I unhooked the battery charger and turned her over. But not before calling Ali outside since I knew she wouldn't want to miss it. I crawled into the car turned the key, listened as the engine made roughly one half of a revolution and then nothing. The battery crapped out on me. I wasn't too surprised as this was sort of a junker of a battery to begin with. So now we've got the long holiday weekend to deal with before we can get a replacement in and try again.
Other Porsche projects include replacing the windshield seal. As it is right now water just pours in freely and with a gentle push from the inside the entire windshield would plop out onto the hood. We also need to have the driver's side door lock fixed. For some reason that I can't figure out it won't lock. We took the door panels off and got the handle off so we can get that done. And really that's about it for now. Until that battery is in there isn't a whole lot more to do.
The car kicks butt though. We both love this thing. Climbing in it and smelling all that old car odor as we sink down into the ridiculously worn front seats. Can't beat it.
05-Sept-2009 1:57 PM
Success. The Porsche is up and running once again. We picked up a new battery today and within just five cranks she fired up. And even better it was idling smoothly and consistently. Beautiful. My mom laughed at Ali and I because we were just standing there in the garage with big dopey smiles on our faces watching the car run. Just a couple more small things to do before it's our full time driver.
05-Sept-2009 4:46 PM
Yesterday we were meeting a guy downtown at Starbucks. We had the address and drove down Burnside Avenue. When we knew we were close we spotted the familiar green sign and went inside to wait. About forty minutes later, well past our meeting time, I happened to glance across the street and notice that the address was about two hundred too low. We were sitting at the wrong Starbucks. Portland must be one of the most hippie-ish independent cities in the United States, but even here choosing Starbucks as a meeting place can be a tricky proposition.
08-Sept-2009 1:18 PM
Ali and I went down to this little local baby store today. More accurately a baby stuff store, not a baby store, as they don't sell babies. Anyway, as we're checking out I'm standing there talking to the lady for a minute or so before I even realize that she is breastfeeding the baby that is in her arms. I'm never very observant of strangers, Ali and I once sat in a strip club bar for five minutes before we realized it wasn't just a grungy dive bar, but holding a conversation with a lady squeezing a nipple into a baby's mouth and not even noticing it seemed a little spacey, even for me. Ali was standing right next to me the whole time and was apparently unconcerned by the boobie in the middle of our conversation. Good lord, are boobs going to become totally uninteresting to me too? Is this what happens when a baby comes along? I'm so confused.
09-Sept-2009 1:04 AM
It's officially 9 – 9 – of 09 and I know that for some reason this is important for Beetles fans, but I have no idea why that is other than there is a Beetles video game coming out today. Neither one of us has ever understood the whole Beetles thing anyway. I had a friend in college who had every LP they ever made, which was like a million of them, and meanwhile the rest of my buddies were listening to Hootie and the Blowfish and singing Only Wanna Be With You while drinking Busch Light Draft returnables. Funny thing is I'd still switch the radio off the Beetles and onto Hootie. Wouldn't drink a BLD again though.
09-Sept-2009 2:15 PM
In that last post I spelled Beatles, Beetles, every time. Still stuck on VWs I guess.
Current events today. In the paper was another poor-me-I'm-losing-my-house-because-I'm-an-idiot article. Who has ever heard of an interest only mortgage? For like five years these morons pay only interest on a home loan and then the payment jumps up to pay the entire loan off over the last twenty-five years. The article stated that people go into these loans expecting to refinance before the price increase kicks in. Well obviously in order to do that the home's value would need to increase considerably during that initial period. That is called gambling; price goes up, great, price goes down, bankruptcy. And the article was designed to make us feel bad for these people who had bought a home they couldn't even come close to affording.
The kicker that sent me over the edge though was when it said that the impending loss of their home had seriously curtailed their spending. For instance, it said, they were driving a 2005 Mazda instead of a new car, and, and this is the part that brought tears to my eyes, they'd had to forgo buying a flat screen television. The American Dream. Dashed.
If anybody wants to help this couple out you can send donations to us and we promise to pass them along.
09-Sept-2009 3:02 PM
My mom lost her wallet at the grocery store and before she even realized it was gone some lady was calling her on her cell phone. Her son had found it and they were on their way over to drop it off. How nice is that?
10-Sept-2009 2:02 PM
We were out at Home Depot with my mom today when a guy came up and said, "Are you the Bumfuzzles?" I love it when that happens with mom standing right there. Makes her feel like we've really made it. We haven't of course, as evidenced by the fact that an hour later she had to pay for our lunch. It cost fourteen bucks.
11-Sept-2009 4:53 PM
We went out for pizza with a new Bum friend last night. He's a huge VW nut but was also excited to see the Porsche. So I finished up a couple of small things on the car and took it out for its first drive since we got here. About half a block away the backfiring began. Pop, pop, pow. Mortifyingly embarrassing noises. At really low RPMs though it didn't sound too terrible. As we rolled up in front of the pizza joint and spotted the tables full of people outside along the sidewalk I made sure to coast in slowly.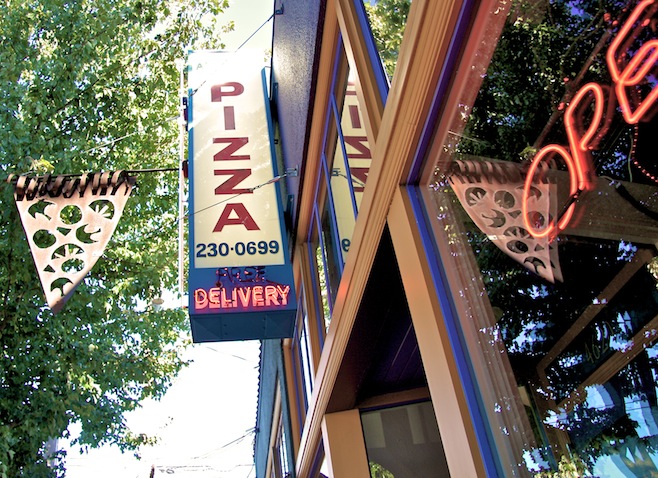 Today then I got to work. It's basically the same engine as the bus, except this 1600cc puts out a earth shattering 75 horsepower instead of the six or seven that the bus seemed to produce. First up was a valve adjustment. Nothing too revealing there. Then I noticed a little carbon buildup on the distributor points. Filed that clean and went for a spin around the block. No good. Then I yanked the spark plugs. Bingo. Black and gooey. We were definitely running too rich. After a new set of plugs I hopped back in and tore down the street. I was actually giddy. Yes, giddy. The sound of that engine when it's running smooth is music. I'll shoot a video soon. Gear heads will swoon, the rest of you will just roll your eyes.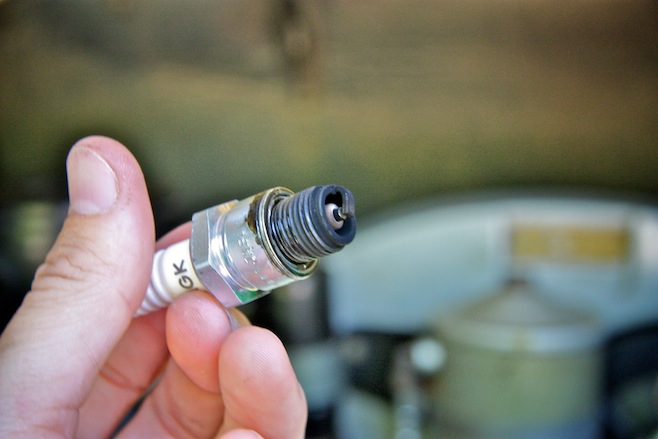 I should mention I haven't actually fixed the symptoms causing it to run rich. I'll begin tweaking the carbs and trying to remedy that tomorrow.
12-Sept-2009 7:10 PM
So I'm sitting here just now reading a book when I come to this sentence, "I wandered through the park that I'd first eaten Oreos and drunk Mountain Dew and played baseball in…" And as I'm reading it I am literally chewing a Double Stuff Oreo and drinking Mountain Dew out of a Taco Bell cup. Tell me that's not weird.
We went to the Portland Saturday Market this morning. But first we picked up my mom's car from the shop. Her dashboard BRAKE light kept going on. When we picked it up we were informed that they had been unable to duplicate this. We told them it happened every single time we drive the car and besides, couldn't they just take our word for it and investigate whatever it is that causes this light to come on? Perhaps the brakes would have been a good place to start. But they did nothing. So imagine our surprise when we got on the highway five minutes down the road and heard DING!
The Portland Market is a nice one. We go there with my mom every time we're in town. She always wants to buy us cool artsy stuff that we see there and we always say no. Before it was "home" stuff. Our excuse that we didn't have a home usually pacified her. Now it's "baby" stuff. It's a little harder to say no to that, so we assured her that she could haul that stuff down herself when she visits after the baby is born. I immediately saw her calculating in her mind just how much she could stuff in to her oversized luggage. I think our biggest obstacle to maintaining our stuff-free lifestyle is going to be our own families. Bastards. Always being nice to us.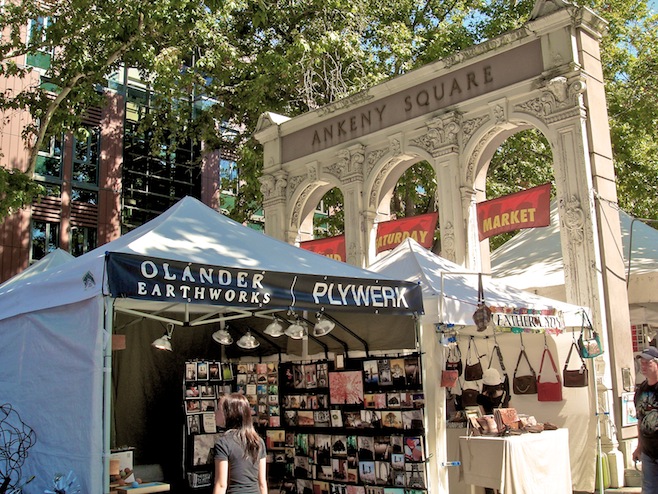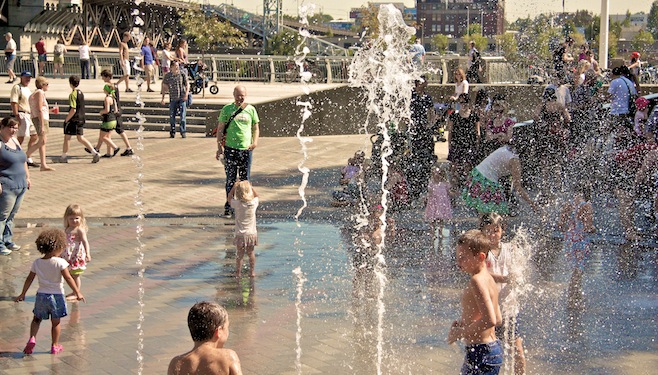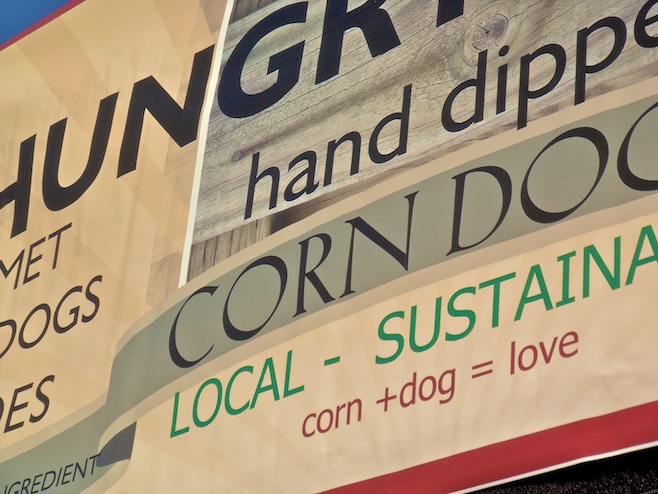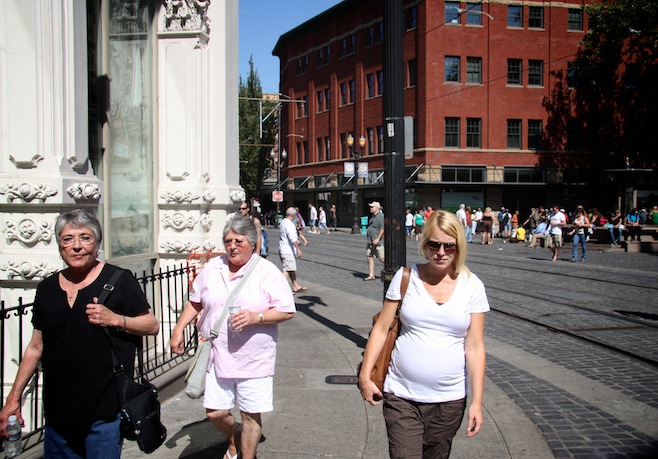 14-Sept-2009 5:31 PM
Ali and I are pretty much against taking drugs for anything. I really can't stand to even take an aspirin for a headache. Ali isn't quite that extreme, but when the topic of a flu shot came up neither of us even considered it. Until, that is, Ali's mom began "urging" her to get one. So much so that Ali finally decided to do some research on them. Eventually she came to the conclusion that it seemed like a good thing to do for a pregnant woman and we went in and got her the thimerosal-free (no mercury) shot. The one that's safe for the pregger ladies.
Twenty years from now when we all find out that flu shots from 2009 caused fingernails to grow an extra inch per year thereafter I'm blaming Ali's mom. You've been put on notice Susy.
15-Sept-2009 8:40 PM
The baby has been quite active lately. Just about every night Ali calls me over to show me her belly actually moving. And every night when I get over to her it stops. I've felt the baby moving around but never actually seen it pressing her skin out. Until tonight.
Creepy! But awesome at the same time. Truthfully, I always found pregnant women to be a little weird. Being pregnant just seems so animal-like. Doesn't it? It's kind of the one thing that we humans really don't do a whole lot differently than say, a hippopotamus. I'm picturing Jim Carrey right now. So watching Ali's skin being pressed at from the inside is just beyond strange to me. Thus, like I said, it's creepy, but awesome at the same time. I'm surprised by how much it moves me knowing that my child is in there rolling around, growing, and throwing stiff jabs into the ribs. That's my boy. Or girl.
16-Sept-2009 5:05 PM
Amarillo. That's Spanish for yellow, and is the new name of the car. We always called the boat, Bum, but never had a name for the bus. Nothing ever stuck. So anyway, we're testing out Amarillo and we'll see if it sticks. We're confident we'll be able to come up with something a little more thoughtful and original for the baby.
I nearly gave my mom a heart attack today. I was up on the roof attaching a cap on her chimney and she didn't like it at all. Ali told her not to worry about it, that I'd be fine. So a few minutes later she was in the backyard when she saw my leg come flopping over the edge of the steep roof line blindly feeling for the ladder. The ladder didn't quite reach the roof so it was a little tricky for me to climb on and off. I didn't think anything of it, but when my foot finally found the rung and I began climbing down I looked over my shoulder and saw this absolute look of horror on mom's face. She was sure I had been about to swing off the roof two feet to the left of the ladder. I thought it was pretty funny, but she ratted me out to Ali who then gave me a little lecture (one I've heard a hundred times) about not breaking my neck because she isn't going to take care of me when I'm crippled. Apparently "in sickness and in health" does not include breaking my neck being an idiot.
21-Sept-2009 8:18 PM
Ali is reclining in her chair right now and using her belly as a table. I won't even mention what she is eating off it though. I simply will not reveal that she is eating a chocolate cupcake off of there. I won't do it.
She's into the third trimester now. Woohoo.
22-Sept-2009 8:13 PM
Looking at our pile of stuff on the bedroom floor we really weren't feeling too confident about squeezing it into the car. But once Ali packed things up it didn't look too bad at all, and when it made it to the backseat it hardly looked like anything. We are officially the champions of traveling light.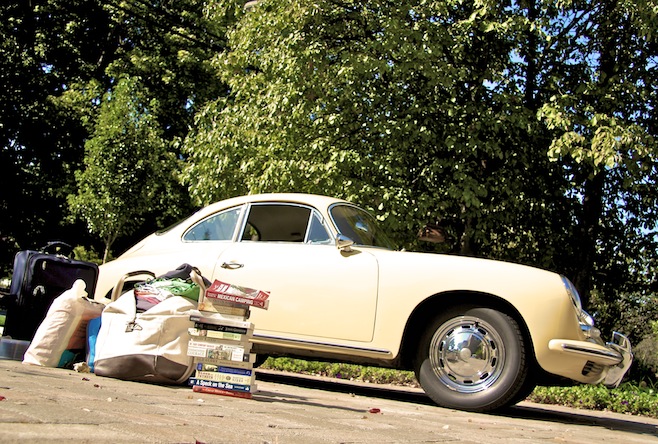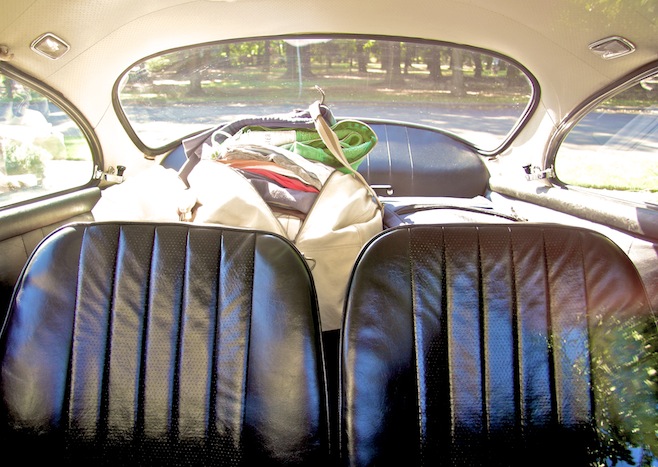 23-Sept-2009 6:41 PM
This morning we got back on the road. Mom cried a little bit and asked us to buy ourselves a phone, but eventually we got her to climb out from underneath the back tire and say goodbye.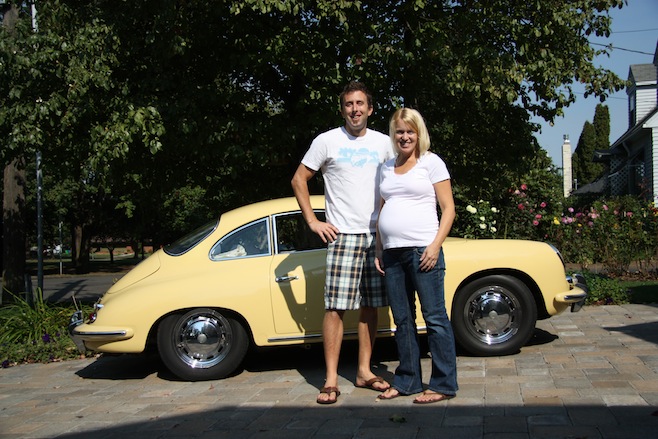 We cruised through the low coastal mountain range and on to the 101. In Portland it was ninety degrees and clear skies, along the coast it was sweatshirt and drizzly weather. Oregon weather is always weird.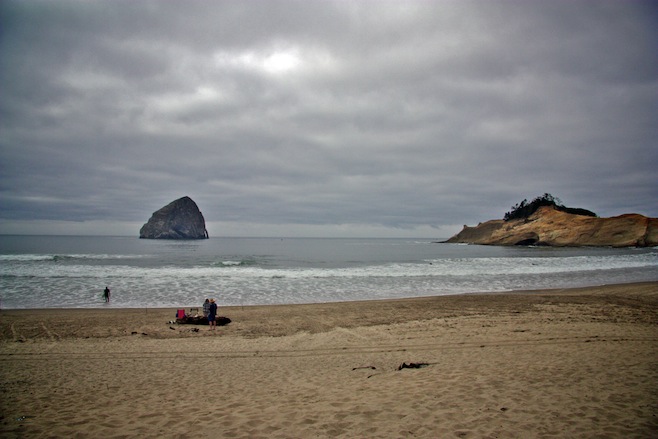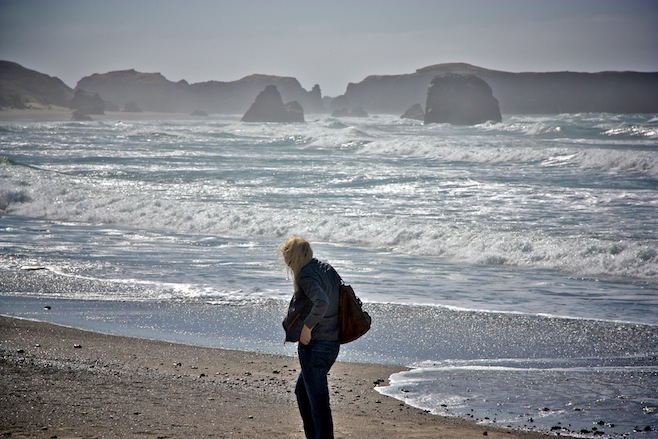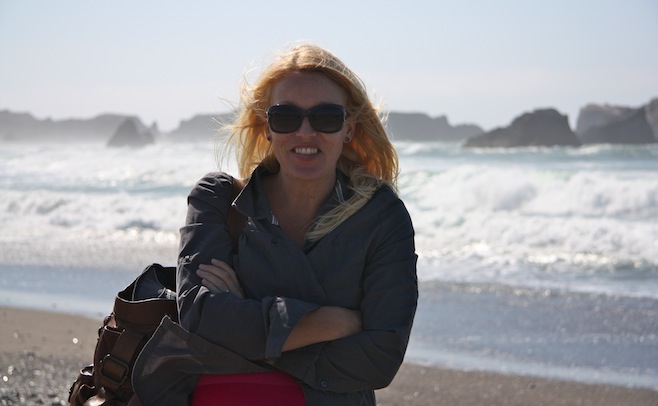 The car ran great all day. It's hard for me not to make comparisons to the bus. After so many miles in the bus puttering along below the speed limit it is a pleasure to be able to cruise comfortably at any speed. I mean sixty miles an hour in third gear! Who ever heard of such power? It's so self-indulgent. But even better than the power is being able to make a quick u-turn instead of a three or five point turn. Of course the downside to the Porsche is that tonight we're in beautiful Newport booked into the Days Inn instead of sleeping in the back of the bus somewhere overlooking the beach. I have to say that life on the road is a good one and seems to just suit us perfectly.
Last week we brought my mom's car in for some service, which included fixing the dashboard BRAKE light. They didn't fix it though. So when we got home I popped the hood and immediately found that the brake fluid was below the low line. I filled it up and the problem was solved. However, she had paid for an oil change which they said had included checking and filling all fluids. Obviously nobody had checked or filled the brake fluid. So I fired off an e-mail to the owner of the dealership. The next day the phone rang and they refunded us the full payment for the service. Nothing is more satisfying to me.
24-Sept-2009 7:46 PM
Had a nice drive along the coast today. We've made this drive a few times over the years, even getting engaged on the beach along the way during one trip. We stopped in to see the Sea Lion Cave but found out the lions weren't actually in the cave. Fortunately the girl at the counter told us this before we handed over our twenty-four bucks. It's cool to see hundreds of sea lions up close inside a cave, but not so cool to pay to see them a hundred yards away on the rocks outside the cave. We could do that from the road.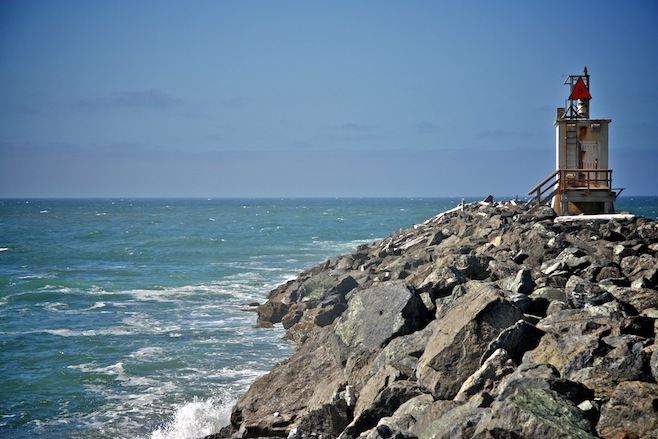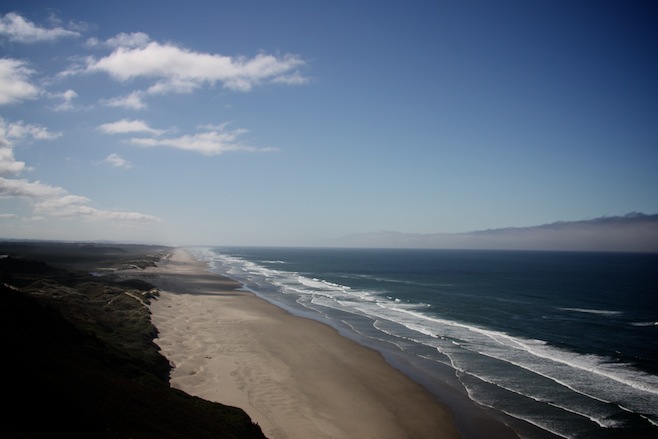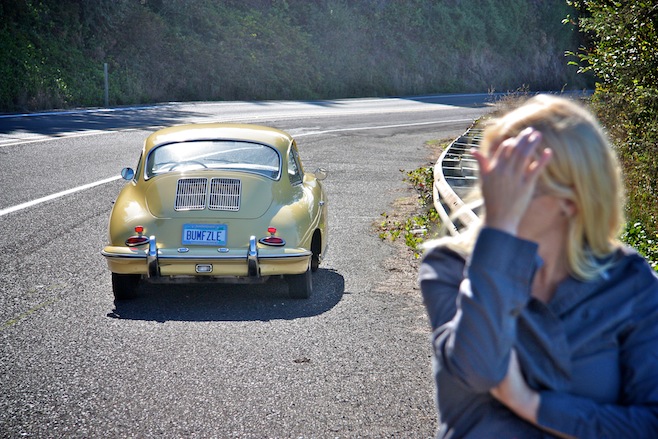 Aside from that we just sort of rolled on down the coast through the small towns along the way. Inside the car the sun was shining and the weather was beautiful. Outside the car we could hardly stand up against the wind. So there was a lot of parking at the beach overlooks, but not so much walking along the beaches.
There's been a few questions about how Ali is going to hold up on a long road trip in her current state. Truth is she still, at six months, isn't acting any differently than she ever has. The big bump hardly seems to affect her at all. Occasionally she gets stuck in an awkward lying down position and needs a little lift to get "un-turtled" but other than that not much has changed. There isn't even any of the peeing every five minute issues that seem so prevalent with preggo ladies. Really the only thing she ever complains about is that bathroom mirrors are always too far away for her to put on mascara. She can't lean over the counter so well any more.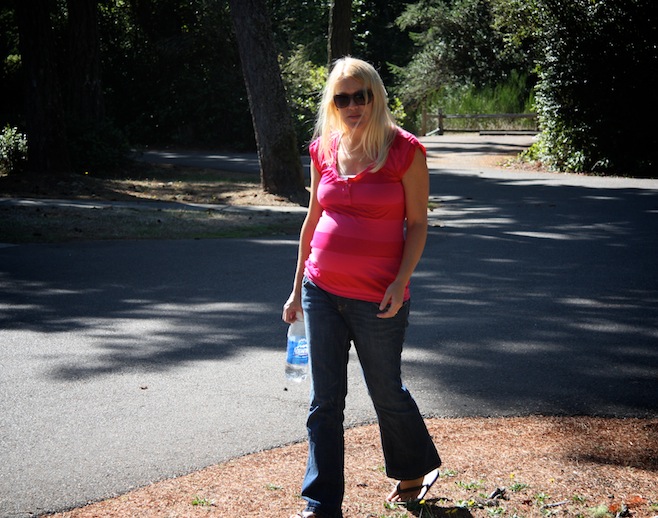 25-Sept-2009 7:30 PM
We woke up in the fog this morning and along the coast it never really lifted. One mile inland the weather was gorgeous while on the beach we couldn't even see the waves.
We passed another 356 on the 101 today. Mint, cherry red, and riding on a trailer behind a Ford pickup. Trailer queen.
Elk crossing signs litter the roads up here, but it was still a surprise to see a dozen of them wallowing in a pond at the edge of the road. One of the bulls was obviously protecting his women. He kept calling and circling the cows while three more large bulls stood off fifty yards away looking dejected. That was pretty cool to watch.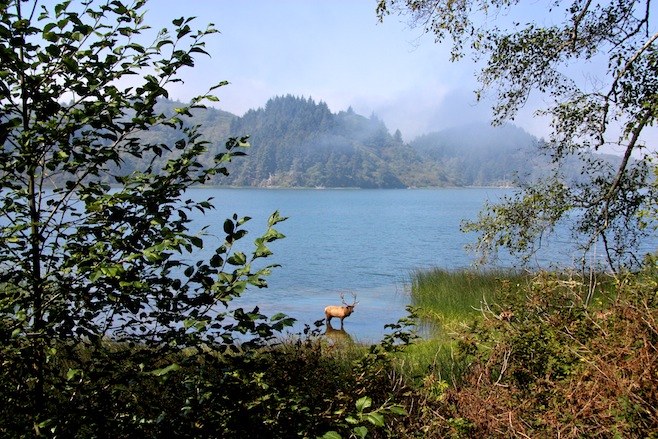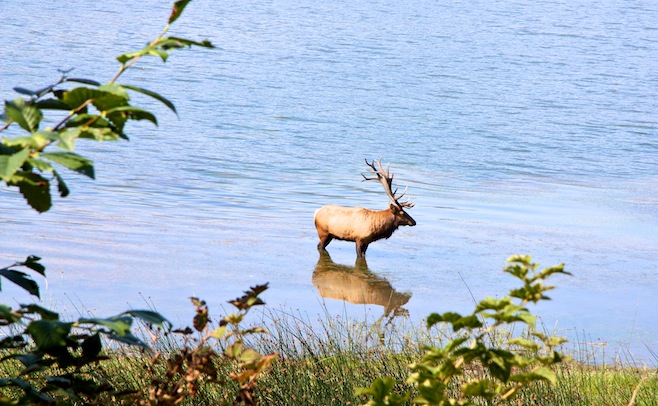 Along one stretch of road I looked over and spotted a beautiful looking swimming hole. We pulled off the road and walked down to the river. There was nobody else around, but with the 101 cruising by high up on a cliff above it wasn't exactly a secluded spot. I stripped to my boxers and went for a swim while Ali rolled up her pants and waded in. After a little while we were sitting on a rock at the water's edge when we heard some people coming down the path. Ever the prude I asked Ali if she thought I was okay in my undies. She said yes, so we just stayed where we were.
Two early twenties girls came out of the woods and walked right over to the rock we were sitting on. Directly behind me they stripped naked and jumped in. Ali was sitting in front of me slack jawed. I of course am smarter than the average bear and never turned around once as I stood up gathered my clothes and walked straight to the path. As we drove away Ali said, "We are so not hippies, we are (from) Minnesota."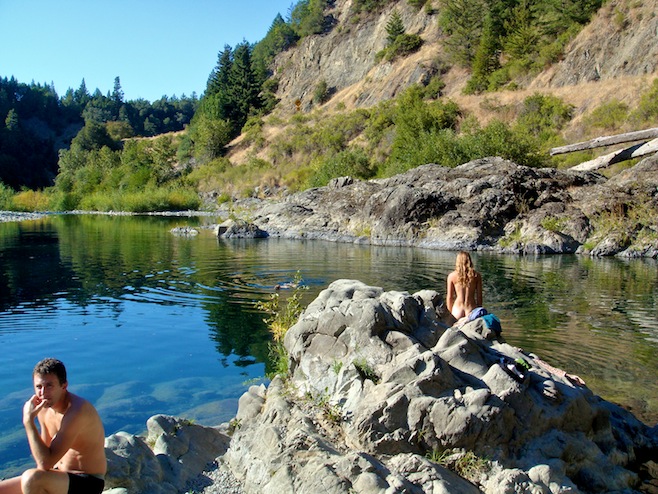 Highway 101 veers away from the coast in northern California leaving highway 1 to run along the water instead. That section of 1 was one of the most fun I've driven. This was one of those curvy mountain forest roads that would have been exhausting in the bus but in the Porsche was a blast. I really am having fun driving this car. Ali, despite her awesomeness behind the wheel of this car in the Great Race, has yet to take the controls this time around.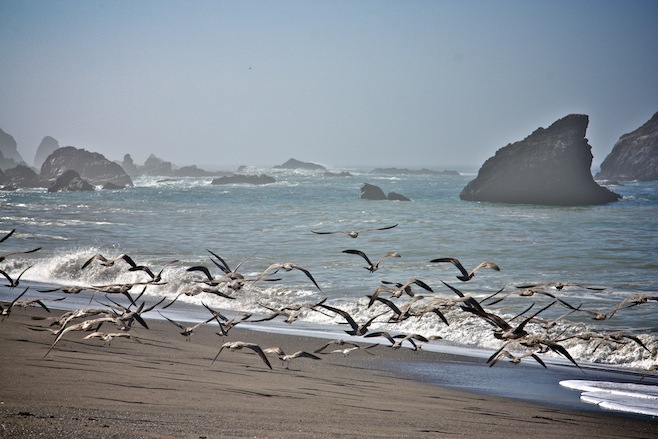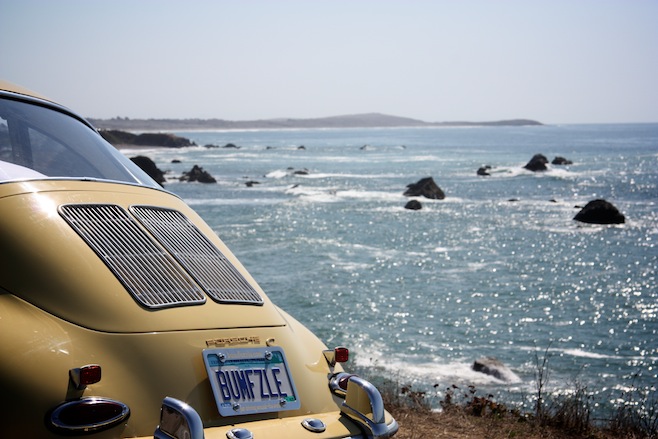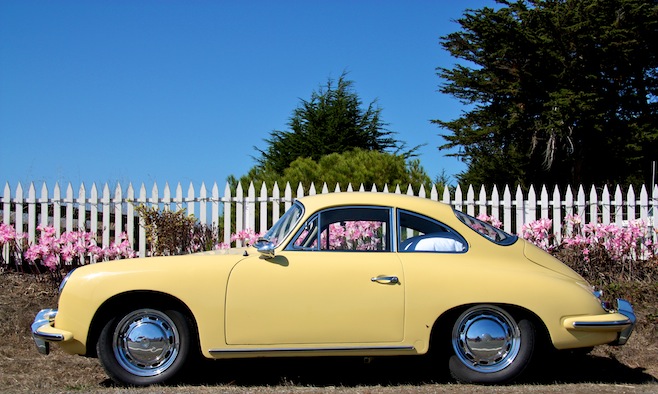 28-Sept-2009 7:47 AM
Let's just say that if I had been harboring any ideas of getting Ali out on a boat again that this may not have been the way to go. The past couple of nights here in San Francisco we've been staying on a friend's boat. A thirty-six foot monohull. Now, as a guest cabin this thing is ideal, but as a means to get a woman in the mood for the cruising lifestyle I just can't picture this working very well.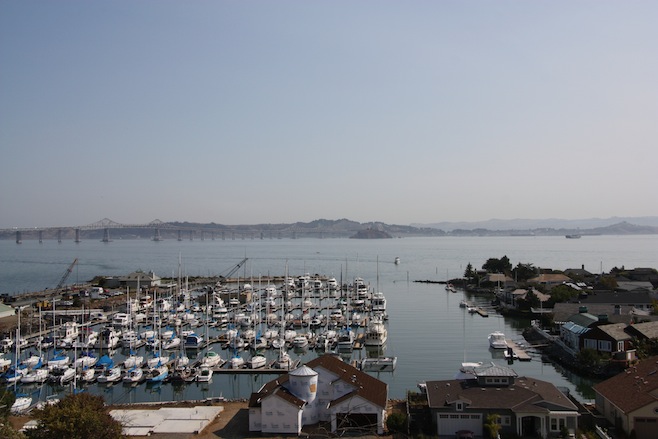 Honestly I've never understood how people can enjoy sailing in these one hulled torpedoes. Rolly dark coffins is what they feel like to us. This has to be the number one reason most people that have the dream to cruise the world's oceans never get further than the breakwater of their marina. A guy, sure, we don't really care about comforts and conveniences. But how in the world any guy expects that he can convince his girl to leave her nice home to travel around on water inside one of these creaky, leaky, dark wood vessels is beyond my comprehension. Women who go cruising in monohulls have my utmost respect. And sympathy.
Last night it got super windy and I found myself in the all too familiar position of running around on deck in the dark, and in my underwear, securing lines, sailbags, and dinghies. Good fun.
So the past couple of days we've just been hanging out with our old friends Nick and Megan eating pizza for lunch and cheesecake for dinner. It was fun getting together with them because the last time we saw them was in Portland a year ago. Since then we've traveled what seems like the entire world and gotten pregnant, and they've bought another boat, cruised the Pacific Northwest, and somehow ended up in San Francisco where one of them even got a real job. Big year for all of us.
29-Sept-2009 8:51 AM
Ali snores now. I don't know what is causing this to happen but she is now a snorer. I used to have to lay a kleenex over her face to see if she was still alive and breathing, but in the past month or so something dramatic has happened. This could be her one strange quirk of pregnancy.
Yesterday we drove back north a little bit to the town of Sebastopol where our good friends the Rainbows (this is why it is important to chose a good boat name) are busy building a house on a huge chunk of land with one-thousand-year-old redwood trees towering over it. It's always fun seeing them, seeing how much their kids have grown, and now seeing just what we've gotten ourselves into. This couple has lived the wandering hippie lifestyle seemingly forever now and whenever we get together Ali and I suddenly feel so much more normal. It's great.
Best of all on this trip is that with the house under construction everybody is staying in campers of all sorts scattered all over the property. Ali and I got our very own pickup truck bed style camper. It's the largest one of this type of camper built and is the size of a small Chicago loft or a large Manhattan one-bedroom. Despite all the camping we've done neither or us had ever stepped foot in one of these monstrosities before. We're now converts.
29-Sept-2009 10:45 PM
Had another great day with great friends. We went and hung out at the beach, played frisbee with the kids, and watched them scream with delight when the freezing water hit their feet. To top it all off we had pizza and Sierra Nevada Pale Ale for dinner. We have got the greatest friends imaginable.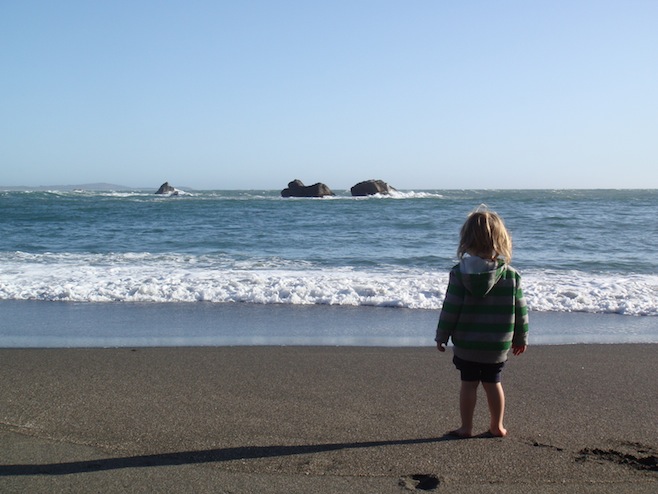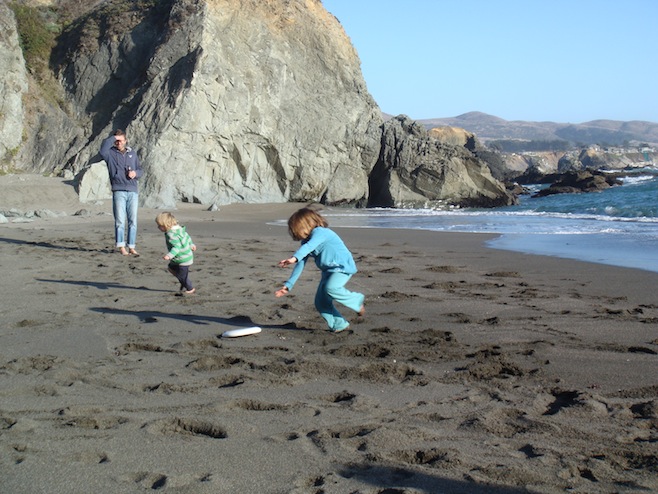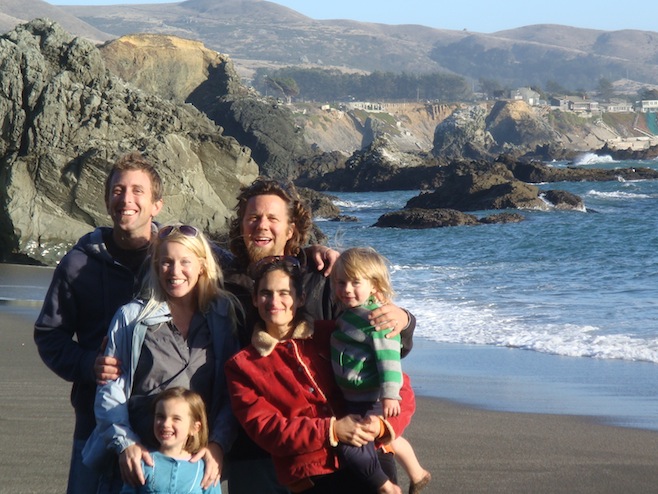 Socialize