01-Nov-2009 3:13 PM
At the grocery store Ali and I were picking up a six-pack of Sol non-alcoholic beer when a couple of young ladies in tight fitting Sol clothing approached and told us they were having a promotion. For buying their beer they were giving us a water bottle. Woohoo. The amusing part was that the guy in the suit standing nearby then asked if he could take a promotional photo. We obliged. Now picture this. A Sol girl on one side, a quite clearly pregnant Ali in the middle, and me with a stupid grin, a six-pack, and a water bottle. I hope the marketing department thinks this one through.
03-Nov-2009 3:22 PM
Why oh why does the little lady on the beach walk around trying to sell a wooden carving of a moose?
03-Nov-2009 6:02 PM
This time down to Mexico I decided to make a serious attempt to improve my Spanish. I actually do pretty well generally, and between Ali and I we can always get our point across or understand what somebody is trying to tell us, but when it comes to actual full speed conversation forget it. The problem for us is that our Spanish is just good enough to fool the locals when we first open our mouths. They invariably hear us and then proceed to launch into full on outbursts that leave us scratching our heads.
Anyway, a friend recently sent us the Rosetta Stone language system and for the past two weeks I have sat down every morning for an hour and plugged away at it. So far I'd say that my vocabulary has greatly improved, and I think I can probably read Spanish a lot better, but I still don't think I've gotten anywhere closer to intricate conversation. The hope is though that combining a few more weeks of this along with just our everyday interactions that things will improve.
04-Nov-2009 12:19 PM
This morning we considered what we had done to be quite an accomplishment. We had three objectives. Post office, internet office, and water. We thought we knew where the post office was on at least three previous occasions but could never find it. Today we drove up, found that it was actually open, and mailed the package that's been on our counter for two weeks. Then we swung by the internet office in the hopes that they would have a wireless router instead of the old school plug into a wire router they originally gave us. Our last trip they didn't have any but told us to try again in a week or a month. Well today they had it. And lastly we swung in and picked up a couple new bottles of water. When we got home we couldn't believe that we knocked all three errands off our list in one fell swoop. For some reason even the simplest things are never simple in another country.
04-Nov-2009 10:01 PM
Ali was just going to bed when she started to squeal. A cockroach was running around the bedroom floor. I can't tell you how many times I've been called on for late night cockroach termination. Boats, buses, hotels, rental homes, you name it we've had a cockroach in it. This house is so sparkling clean that I almost felt sorry for the poor little guy. I'm sure he was looking for the grocery store across the alley out back but got drawn in by our two full walls of open doors. Anyway, he was caught and flushed, and now in about three hours Ali's heart rate will return to normal and she should be able to get to sleep.
You know, neither of us had even seen a cockroach in our lives before we began traveling. Even cockroaches can't survive Minnesota winters.
04-Nov-2009 11:12 PM
Yankees have completed their purchase of another World Series. That was a very uninteresting postseason.
05-Nov-2009 3:05 PM
The baby wasn't moving at all today. It's crazy how important seeing that little guy/girl rolling around has become in our everyday life. You just don't get to see inside there so that movement is all you get each day to feel that they're happy and safe. So about two minutes ago you could sense the relief, no matter how slight the concern had been, when Ali looked down at her belly as an elbow, knee, or head, rolled across her stomach. "Ahhh baby, there you are. Time to wake up lazy bones."
06-Nov-2009 3:38 PM
Our building has just six units, but it's got a full time cleaning lady, and a maintenance man. The cleaning lady is a little grandma who loves to chit chat. These chats are in full on Spanish and she doesn't care a bit that she often needs to pantomime and repeat things five times before we get it. Patience is her virtue.
07-Nov-2009 5:04 PM
Ali and I have been having a slightly difficult time lately. We've been trying to be all adult and make our own lunner at least a couple of times a week. We made a vow when we moved off of our boat that we would never cook again, and we did pretty good, more or less keeping to that for the past two years. But now being settled into an apartment, with three frying pans as the only included cooking utensils, we've decided to try the cooking thing again.
Quite frankly it's not all it's cracked up to be. The thought of having to cook a meal every day for the next fifty years is too much for us to even consider. Honestly, we don't know how people do it. Or even want to do it. Coming up with an idea for something to eat is exhausting. And really about the only thing we make that can be considered cooking are tacos. Seeing as we live in Mexico it seems like a rather silly thing to cook for ourselves. A taco on the street or even in the grocery store cost about fifty cents. Everything else we "cook" for ourselves probably doesn't even qualify; tuna fish sandwiches, bologna sandwiches, and…No, I guess that's about it.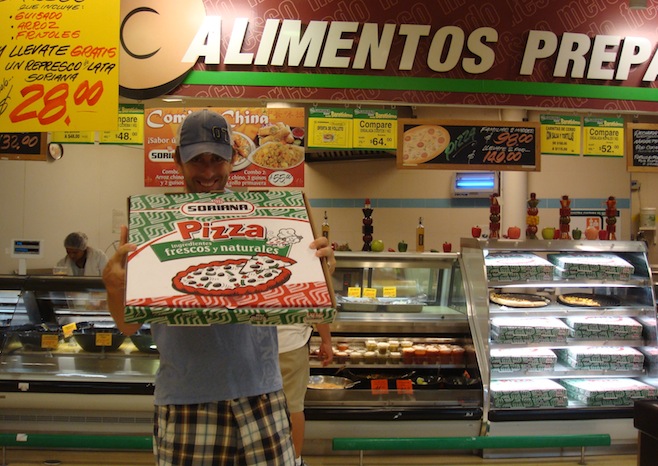 Thank goodness babies don't come out ready to eat grown-up food. We're going to need more time to figure this out. In the meantime we'll think it over while looking at a menu in a restaurant.
08-Nov-2009 9:02 PM
Spent another day on the beach. The weather has really been ridiculous the past couple of weeks. Blue skies and ninety degrees every single day like clockwork. Fantastic.
08-Nov-2009 our life. daily.
This is the section of beach that we've essentially claimed as our own over the past few weeks. I love how Ali appears to be posing for a gaggle of paparazzi in this photo. While actually I was just supposed to be setting up the self timer.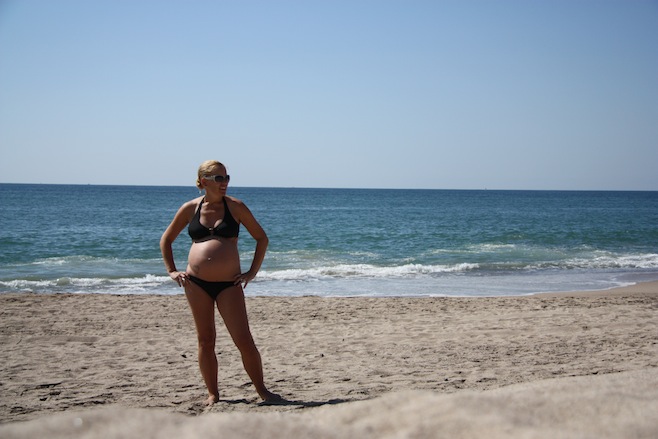 09-Nov-2009 8:51 AM
We don't have a cell phone and we've never been to an Apple store. Are we total weirdos?
09-Nov-2009 11:50 AM
Finished doing some work on the car this morning. Just the normal stuff, oil change, valve adjustment, and some new spark plugs just for the hell of it. The only scary thing I found today was when I crawled underneath the car and saw the state of our exhaust pipes. They are covered in a brand spanking new layer of rust. Clearly our new oceanside location is not working out well for the Porsche.
09-Nov-2009 our life. daily.
Evenings down on the beach are really nice. Puerto Vallarta seems to get a good colorful sunset every night, there is always a sailboat on the horizon, and the temps drop down into the seventies making it absolutely perfect for sitting in the sand with a beer to watch the show.
10-Nov-2009 5:00 PM
Since we've settled down here we've gotten quite a few e-mails from Bum friends to tell us they'd be here this winter and they'd like to take us out. Well that sounds good to us. Today we got together for lunch with some of them. We met at a restaurant named Tacos and Beer. Hats off to the marketing genius behind that one.
We met with four people, just one of whom really follows our website. This is always kind of fun because when we sit down you can sort of sense the rest of the group eyeing us up trying to figure out why in the hell so-and-so is so eager to meet with these complete strangers that she has only read about on the internet. And I admit that I'd probably be thinking the same thing if I were in their shoes. We must have passed the test though, because they were all great and we had a nice lunch and made some new friends.
10-Nov-2009 our life. daily.
I can't even imagine how many small businesses in Mexico would be shut down if the government ever invested the money to purify their water supply to a high enough standard for us to drink from the tap. I'll bet a hundred thousand people make their living off of the water bottling business. By the way, that is a sucker in my mouth, not a cancer stick. Or a joint.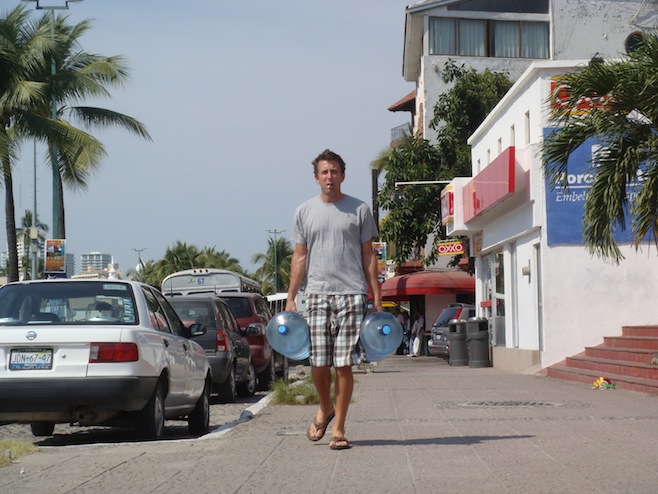 11-Nov-2009 1:23 PM
We've got a doorbell, but we've also got a telephone that can be buzzed from the front gate. This morning while I was in the shower a buzzer went off and Ali picked up the phone, "Hola. Hola. Hola." No response. Then another buzz. "Hola." Nothing. After a minute passed there was a light knock at the door. Our little old maintenance lady was standing there and got the message across to Ali that she needed to use our parking gate button.
So a couple hours later we're both sitting in the living room when the buzzer goes off again. Ali heads straight for the phone and says to me, "I don't know why they keep buzzing if they can't hear me." I just look at her quizzically and say, "What are you talking about, she's at the door." Ali apparently had no idea that we had a doorbell and just started cracking up at this revelation. We're both sure that the maintenance lady was standing at the door earlier listening to Ali say hello over and over again and wondering why in the hell the crazy pregnant gringo lady wouldn't open the door.
11-Nov-2009 our life. daily.
To be perfectly honest this is how much of our days are spent at the moment. Chilling on the couch, reading, tapping away at the computer, and watching Ali's belly contort in previously inconceivable ways.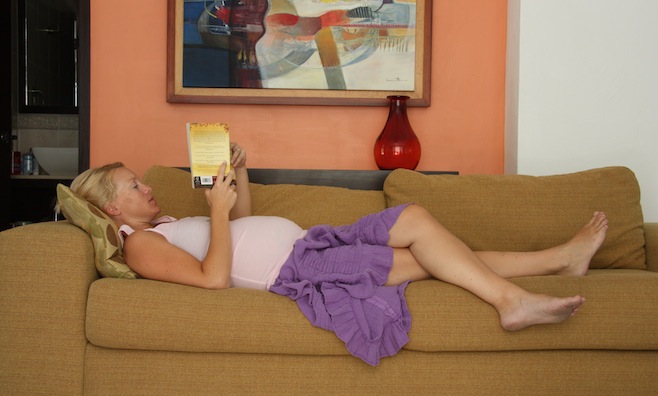 12-Nov-2009 4:54 PM
It is becoming harder and harder for the two of us to come to a decision on any purchase in our everyday life. Purchases of any size. I fear we're taking our own sense of minimalism to levels that are a bit ludicrous.
Yesterday we hemmed and hawed over buying a pot. A generic metal pot that we could make spaghetti in. We had no ideas for dinner other than spaghetti. Still, we just couldn't bring ourselves to buy this pot. I mean, what would we do with a pot when we leave? Would we be keeping it and moving it with us everywhere we went? How would this pot affect our lives? For the better or for the worse? We simply couldn't answer all of these questions. They were far too deep to be contemplated in that moment at the store. So we walked away empty handed and had bologna sandwiches and tomato soup for dinner.
Today we walked up to the mall. Inside is a small boutique kids store. All fancy stuffed animals and clothes so soft we both wish we could buy them in adult sizes. However, inside amongst the luxury is a crib that we've had our eye on for the last month. This crib has consumed quite a number of hours of contemplation and has passed the test to become one of our prized possessions. It reached that coveted position because it folds up into a box about the size of a bocce ball set, has suede-ish panels, nice colors, and some sort of vibrating mattress. It's the Cadillac of the Fold-a-Cribs. We've looked at it three times, but today was to be the day we made the big purchase.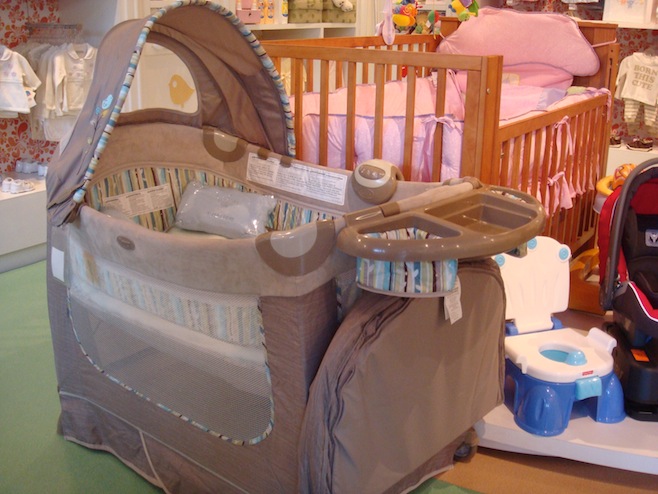 We got the money out of the ATM and walked into the store with purpose. To get the conversation rolling I asked the sales lady how much it cost even though the tag was hanging right on it. Then I asked her if she would give us a discount. I figured she could knock ten percent off and we'd all be happy. She said no. No discount. And with that all the hype of our big purchase was dashed. Not because we weren't willing to pay the full price, but because I felt we needed to at least try walking out. Like I would with a car salesman. She didn't stop us though, and so once again we walked away empty handed. On our way out the door I told Ali to memorize the lady's face. Because we're going back, and we're buying this crib, but not until my discount request is shot down by at least two sales ladies.
12-Nov-2009 our life. daily.
Just get a load of the size of that stamp. This is what I was given when I asked for postcard stamps. In the end we just had to wrap it right over the top and across the front of the card.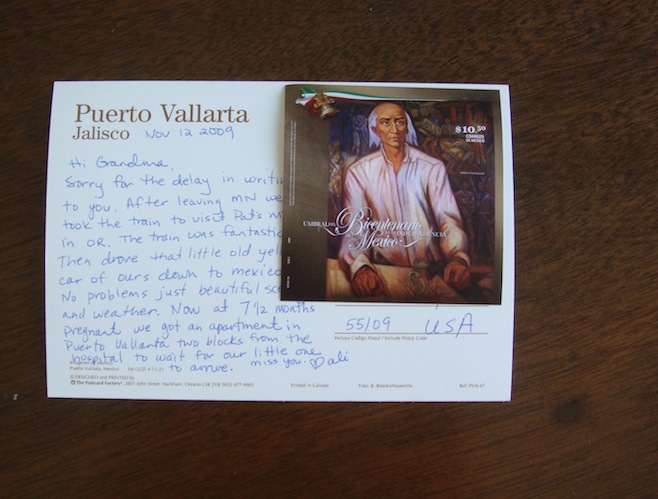 13-Nov-2009 our life. daily.
My Spanish studies continue. I was always a student who could get a B or C without ever looking at a book, so the simple fact that I've stuck with this for a month is an educational miracle.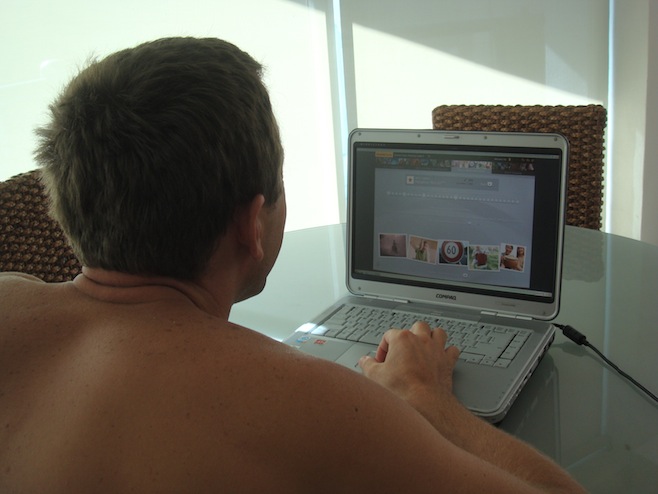 14-Nov-2009 12:31 PM
We just returned from the doctor where we received some good news, some okay news, and some news that neither of us wanted to hear.
First the good news. Our baby is perfect, healthy, and strong. Heart rate is good, weight is five pounds ten ounces, it has fingers and toes, long legs, and all the other good baby bits you hope for.
The okay news is that Ali does still have partial placenta previa. Meaning that the placenta is covering the cervix and the baby will most likely require a c-section delivery. However, the baby has completely turned in the past few weeks and the head is right where it should be. Also, it covers the cervix but is all off to the left side instead of sitting at the bottom. This means less risk to both Ali and the baby during the delivery.
And finally the news we didn't want to hear. Here is how it was delivered.
During the ultrasound the doctor suddenly said, "Well, (he/she) is still a (boy/girl)."
Ali and I simultaneously said, "Huh?"
A slight hesitation, darting eyes, a stutter, then a timid, "(He/She) is still a (boy/girl)."
"So it's a (boy/girl)?"
"Oh my God. I'm so sorry. You didn't want to know. Oh God, I'm so sorry."
Oops.
Ali squeezed my hand and said, "We're having a little (boy/girl)."
Our doctor felt terrible of course. The funny thing about it is that just a minute before when she was starting the ultrasound Ali had said to her, "Remember, no sex." To which the doctor had replied, "Yes, no sex."
Looking back it is clear that our language differences had been the culprit. Ali saying that to a doctor in the U.S. would have probably been understood as, "Remember, don't tell us the sex of the baby." But we think Dr. Laura misunderstood the comment as part of our discussion about the placenta previa. Which, essentially, was that we can't have sex because of the location of the placenta.
Anyway, none of it matters, because we're having a BABY! And no, just because we now know what we're having does not mean that anybody else gets to know. Family included. Mom.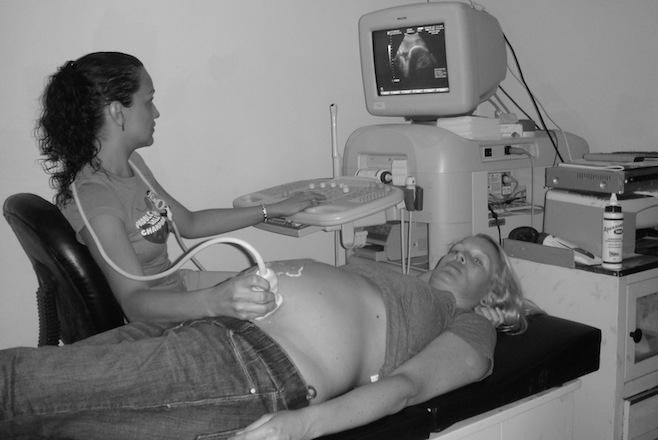 So, we're of course happy that the baby is doing good and is in the right position. We're a little disappointed about the c-section. But it is what it is. And there is still a slim possibility that the placenta will move out of the way. Oh, and the other news we got was that if we do indeed end up needing a c-section delivery it'll be around December 20th. Another full week earlier than we thought. Which is good, because in my mind the baby can't get here soon enough. We are very excited and very ready.
14-Nov-2009 our life. daily.
The cobblestone street view from the door of our doctor's office. For those unfamiliar with the ins and outs of the Mexico beer scene, let me just say that Corona doesn't even make the top three. Not that any of them are all that good, but nothing will peg you as more of an unknowing gringo than a bottle of Corona in front of you.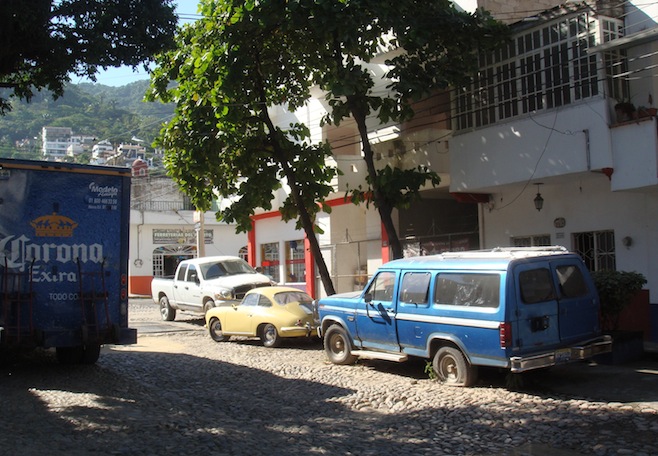 15-Nov-2009 4:45 PM
Right down the street from us today was a VW car show. We went to check out the Mexican bus scene and found it not too exciting. There were a handful of bay windows that were all pimped out with huge stereos and there was one splittie that was just plain ugly. The beetles were pretty cool though and there was a Porsche Speedster there so all in all I'd say it was a pretty good show. It would have definitely been fun to show up there in the bus. I think we would have turned quite a few heads with that. The Porsche we decided to leave at home even though driving around town yesterday we had four people ask us if we were going to the show. Would have been fun, but hey, it's not a VDub.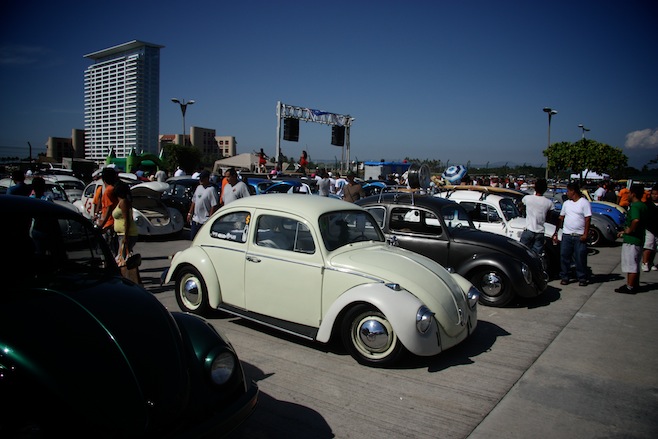 15-Nov-2009 our life. daily.
Yep, we're about to become "those people." Next thing you know we'll have SpongeBob SquarePants window shades and a six inch DVD player strapped onto the seatback playing Toy Story over and over and over again.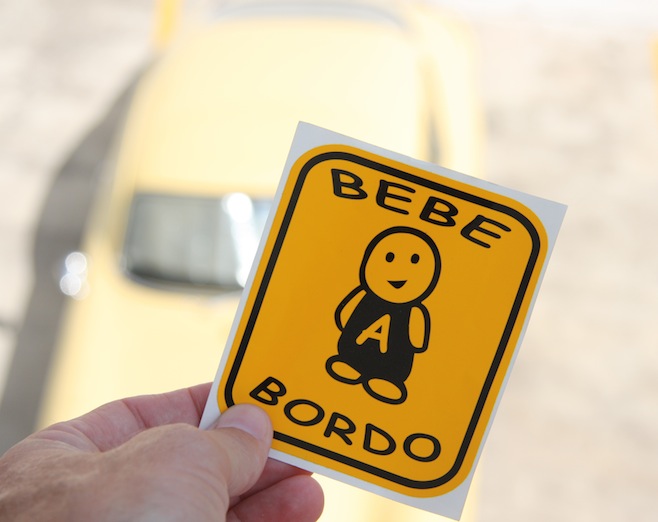 16-Nov-2009 12:31 PM
This is what I was talking about the other day when I was so excited about getting all three things on our list done. Today's list included driving to the rental office to pay our rent. Because that is how it is done here. You don't write a check and drop it in the mail. You don't have it automatically deducted from your bank account. That would be too easy. Instead you make two trips to the ATM during the preceding two days and then get in your car with that big wad of cash and drive to their office. Of course when we arrived at the office there wasn't anybody there. And why would there be on a Monday at 11 a.m.? Who works at such a strange time as that?
We have plans already for tomorrow. So now we've also got plans for Wednesday. It should be fun to see how many times we have to go out in order to pay our rent for one month. You just gotta love it.
16-Nov-2009 our life. daily.
The lovely walkway to the beach. Between our apartment and the beach is a long row of hotels and this is the only chink in their armor that allows us non-paying riff-raff to get to the water.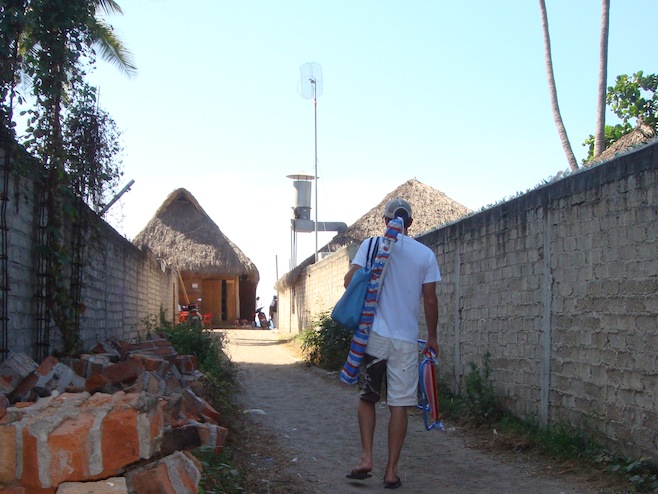 16-Nov-2009 4:08 PM
At the beach this afternoon we saw a tourist buy a wooden moose. Ali and I have had sort of an inside joke about this mass produced in Indonesia moose for weeks now and were one hundred percent certain that this is something that would never in a million years actually sell. We often look at the things the locals are trying to sell to tourists and wonder, What the hell are they thinking? After seeing the moose sell we'll never question them again.
17-Nov-2009 11:47 PM
Well this was a long day. At six o'clock this morning Ali and I hit the road for a six hundred mile road trip. Looking back on that decision now that we're home again we're thinking maybe that wasn't our brightest idea ever.
We drove back north to Mazatlán this morning in order to have a look at a boat. We've been bouncing around the idea of getting another boat for awhile now, though we certainly haven't made any sort of definite decision. It just so happened that there was this trawler in Mazatlán that was one of the main models we'd narrowed our search to. It didn't look to be in great condition but we thought that at least we could have a look and see if it even jibed with the vision we had in our heads. And who knew, maybe it would be better than it looked.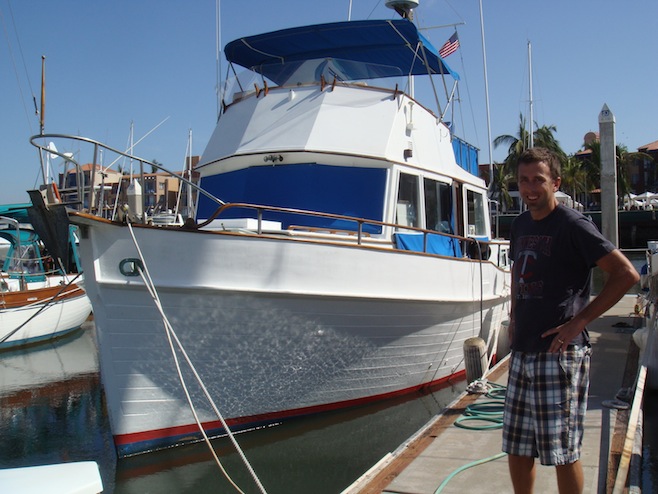 Unfortunately the boat was in horrible condition. The guy that owns it knew we were coming and yet the interior of the boat was in shambles and he had a huge dog running wild all over the place. Sitting as it was I may have offered him a third of his asking price. No, twenty percent. Really about the only thing we got out of the viewing was that the forty-two foot length was definitely big enough for us. Ali even thought it might be too big. Bless her heart, she has become such a good little minimalist.
Anyway, it was fun to climb on a boat again, but the visit sure didn't push us any closer to making a decision on our future. Fortunately the market for sellers of boats doesn't appear to be picking up any time soon, so we can just sit back, have our baby, enjoy Puerto Vallarta together for a little while, and then revisit just what exactly is next for our family. We'll see.
Six hundred miles later we're back home again. I've no doubt this car has never done that many miles in a day before. Now, no more road trips for us.
Funny story. While looking at the boat the owner fired up the engines for me to have a look. About three seconds later I noticed water pouring out of the exhaust fitting. "Uhhh, I think you may want to have a look at that starboard engine. It's flooding your boat." He spent the rest of our visit underneath the floorboards with his tool box.
18-Nov-2009 11:21 AM
Got the rent paid today. The landlady seemed shocked to see me. I thought maybe she thought we were risky renters, but instead it turns out that nobody pays her early. Our rent is due on the 20th, and she thought maybe I didn't understand that. Like maybe I'd prefer to take my money home with me and return in two more days to pay her then.
19-Nov-2009 our life. daily.
Mom is here. Straight out of rainy Portland and into the Mexican heat. For the next few days she gets to lay by the pool and watch the baby roll around Ali's belly while daydreaming of being an abuela for the first time. The view from mom's hotel. The beach right out front to the left is where Ali and I always come and plant our own umbrella and beach chair.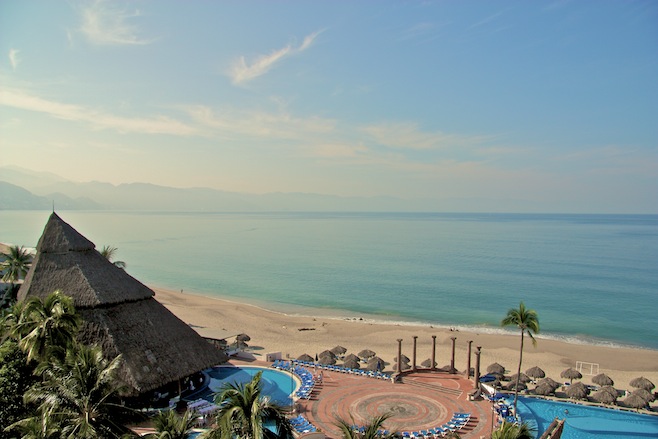 20-Nov-2009 our life. daily.
This is far and away the most hilarious, yet oddly offensive, swim wear we've ever encountered on a Mexican beach. And judging by the guffaws coming out of the locals mouths I'd say it was for them too. Yes, he is rubbing oil in. Oil, not sunblock.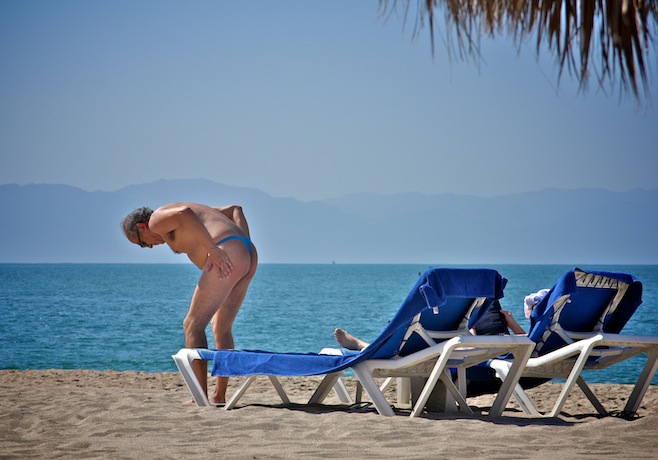 21-Nov-2009 8:25 AM
Just got back from dinner at Outback Steakhouse. I think even dinner there was too Australian/Mexican spicy for mom. Her eating habits are firmly settled in midwestern bland. But damned if she doesn't make the best meatloaf in the world.
21-Nov-2009 our life. daily.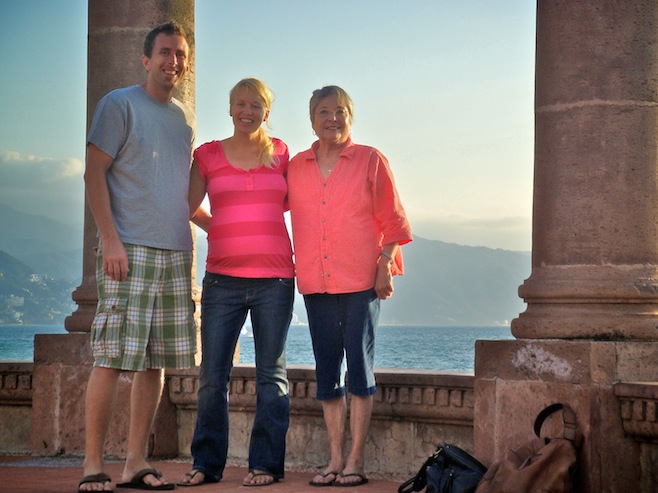 22-Nov-2009 3:05 PM
Mom is back home after a very short visit. Let's face it, staring at Ali's belly isn't nearly as much fun as holding an actual baby.
22-Nov-2009 our life. daily.
I had hoped that being pregnant might quell some of Ali's OCD. It hasn't. Now my only hope is that the havoc that children wreak will knock it into submission.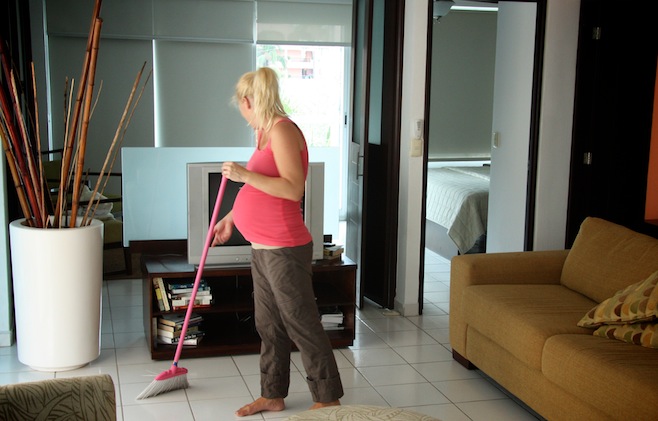 22-Nov-2009 5:34 PM
I'm adopted. Which really shouldn't come as much of a surprise if you have a look at the picture above of me alongside my mom. Clearly I didn't get my height from her. Being adopted has never been something that I gave much thought to. I was told about it from before I was even old enough to understand, so that by the time I did understand I really couldn't have cared less. In fact sometimes years would go by without it even crossing my mind. I had good friends who wouldn't know this about me for years. Then they'd find out somehow and say, "Why didn't you ever tell me that?" and I'd tell them that I'd just kind of forgotten all about it.
The point is that I never gave much thought to just how much it meant to be adopted. My parents were fantastic. I grew up in a loving home where a whole world of opportunity was laid out before me. Maybe I just took for granted that not everyone has such a great life.
Anyway, now I suddenly find myself thinking about it for the first time. Not like obsessing about it or anything, but it actually pops into my head now and then whereas before it simply wasn't there. I watch my unborn baby roll around in Ali's belly and think about what it must have been like for my birth mother. She got to see this too and must have felt the overwhelming love even if she knew the whole time that she couldn't keep me. Seventeen years old. That's about all I know about her.
I guess I'd just like to thank her for doing what I hope was the hardest thing she ever had to do for the rest of her life. Hopefully every decision she has ever had to make since then was easy. What she did was amazing, and being one month away from holding my own baby I realize that now more than ever.
23-Nov-2009 2:39 PM
This was to be our big baby shopping day. In the end this is all we bought. Twenty diapers should be enough right? We debated over a few other things and decided that we need more time to weigh their pros and cons. We don't buy anything without serious consideration any more.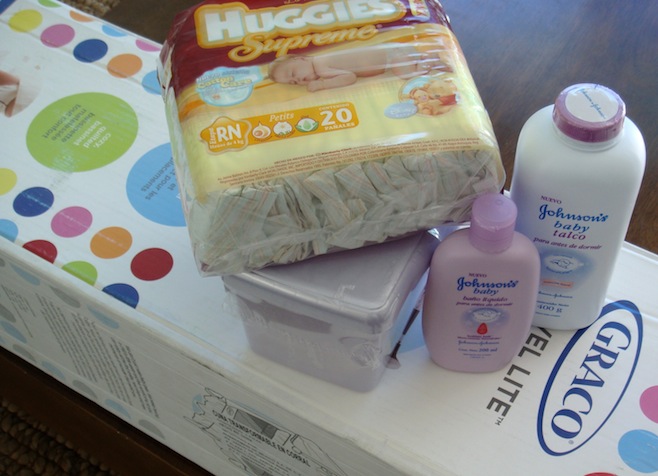 So after another solid week of thinking about it we went to Walmart and bought the far less expensive travel crib today. See, that lady should have just given us the ten percent discount when I asked. We actually spent much of our time considering just buying a laundry basket, but in the end Ali decided that if we're going to continue our wandering ways the least we could do would be to give our child his or her own comfortable bed.
23-Nov-2009 our life. daily.
Some serious thought is going to have to go into figuring out how we're ever going to pack the three of us and all of our belongings into this car. Nothing makes me consider our impact and our consumerist ways more than a trip to Walmart. And I consider us to have a fairly light footprint.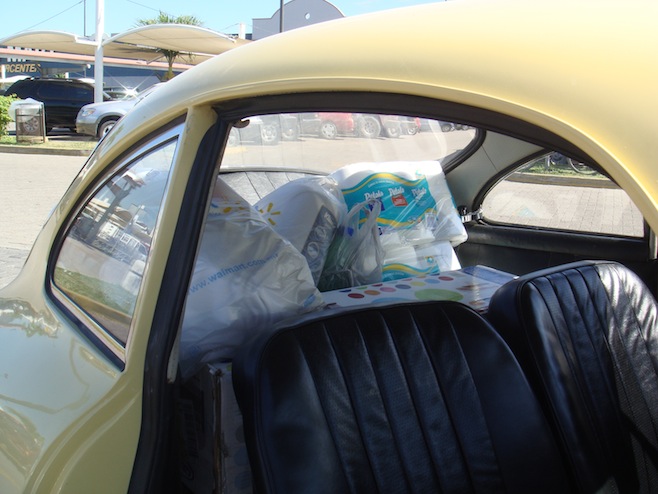 24-Nov-2009 3:48 PM
Naming a baby is a lot of work. Come to think of it, naming a boat, and thus a website, was a lot of work as well. We bought a boat in one day and spent a couple of months naming it. The baby isn't much different. We made the baby pretty quickly. Insert punch line here. And have spent months now on the name game.
We had the name for one sex picked out about five years ago and came up with what is a super fly name for the other sex a while back as well. We thought we were squared away. Then our doctor screwed it all up and told us what our baby is. That threw out the super fly name and zeroed all of our attention back to the five years ago name. Problem with that though is that after some internet searching we discovered that our name had suddenly become popular the past couple of years. Not mega popular, but enough to cast it into the top six hundred, which is simply too normal for the two of us. We simply can't bear the thought of our child being one of those that have to go by the initial of their last name in their third grade class. Mike R., Mike B., Mike S. It makes us cringe.
So anyway, we're back to the drawing board and think we've got it now. Or at least half of it. Well, a quarter of it, depending on the spelling. Or the language it comes from. Our poor baby.
24-Nov-2009 our life. daily.
The only mirror in our house sits way too high behind the bathroom sink for Ali to get anywhere near seeing herself below the chest. So at the mall she was a little surprised by the belly staring back at her.
25-Nov-2009 3:37 PM
Neither of us has ever experienced heartburn before. We hear about it all the time on television commercials, and our friend Paul is famous for whining about it since he was about twelve years old, and yet by eating unhealthy foods for the past twenty years or so we've both managed to avoid it. So the other day when Ali said, "Ooooh, I think I felt something," we both got excited about it. "Really. Do you think it was really heartburn? Cool." We waited expectantly for more but that was it. One ooooh and nothing more. Pregnant ladies apparently are supposed to complain incessantly about this. Ali is no normal pregnant lady.
25-Nov-2009 our life. daily.
Just three blocks down the street from us is the cruise ship terminal. On any given day there can be up to four of these behemoths in port. Because of this there is one street in particular that we can't walk anywhere near because of how badly it annoys us. "Want a massage for your baby? Good price, just forty-five dollars." "You want to take a tour? Good price, almost free." "Taxi? You need taxi?"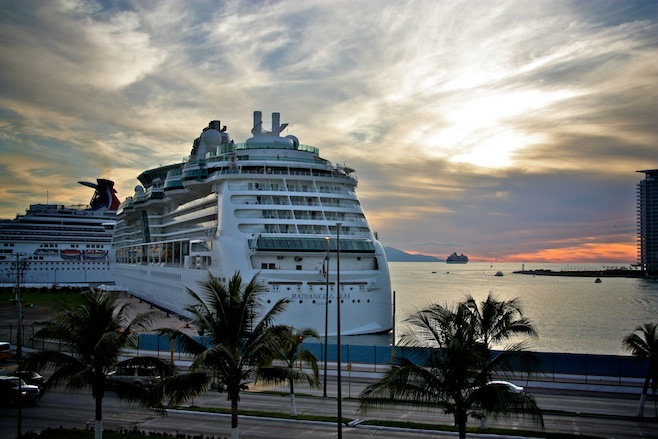 26-Nov-2009 10:34 AM
"Betcha we're the only people we know with sand in their refrigerator," Ali said with sponge in hand.
26-Nov-2009 6:23 PM
Lately I've begun worrying that I don't worry enough. I feel like anybody who is a month away from becoming a father should be in a constant state of anxiousness. How am I going to support a child? Will it be okay with living in a shoebox? What if it is born deaf? My brother is a little bit. It could jump the gene pool. They will have the same last name after all. If it is a boy should it be circumcised? What about religion? Ali and I have no religion. And Christ, look at us. Can I stand changing a diaper? I gag at poop jokes. They are not funny to me one bit. What about holding a baby? I think I have a tendency to squeeze too hard when shaking hands. It could be crushed. How could I possibly be gentle enough to burp an infant? Puke makes me queazy too.
These are all things I think I should legitimately be worried about. But instead my laissez-faire attitude seems to be rolling right on through to my soon to be parenthood. Whatever. It'll all work out. Probably. Seriously, what does it matter in the long run?
That's always been my attitude as an uncle, and man, let me tell you, I am one seriously kick-ass uncle.
"What do you guys want, pizza or ice-cream for dinner?"
"No you don't have to wear a helmet, you're not on a halfpipe for God's sake. Sissy."
"I dare you to jump off from that branch up there."
Though as an uncle I've often been told, "You're just lucky you don't have to put them to bed tonight." And there in lies the rub. How do I transfer my awesome uncle persona into an awesome dad persona?
I guess I'm sort of a big picture guy. I often think, Ten years from now what possible difference is this decision going to have made in our lives? I sure hope this attitude works out for me as a dad. It'll all be fine at the end of the day. Right?
27-Nov-2009 4:29 PM
Mexican construction techniques leave something to be desired. On the ground floor of our brand new building are two small commercial/office type spaces for rent. For the last week two workers have been below us pounding non-stop with a hammer and chisel into foot thick solid poured concrete walls. First they chiseled a channel all the way around the interior to install wiring. Something that didn't cross their minds to do when they first poured the walls. Now they're busy chiseling holes to accommodate air conditioning units. Again, something they must not have anticipated potential renters as wanting. The hammering is driving me mad today. I can't help it. The kicker is that a power tool would have had all of this done in an hour! I guess I should just be thankful they're doing it now and not a month from now when there are three of us in here trying to sleep.
27-Nov-2009 our life. daily.
Ali's sister Katy arrives tomorrow to hang out with us for a week. I hope she's prepared for it. Usually when she visits us we take her on a couple of thousand mile long adventures in the space of just a few days. This time she can probably count on about fifty miles of beach bumming. And not much else. Though I must say that I am looking forward to having somebody to drink with. I'm afraid that my beer intake has plummeted in the past few months. Although it is always fun for Ali and I to take a couple of beers out to the beach with us and watch for the sideways glances of passersby as Ali tugs on a bottle of Sol. Non-alcoholic of course, but you'd never know it without reading the label.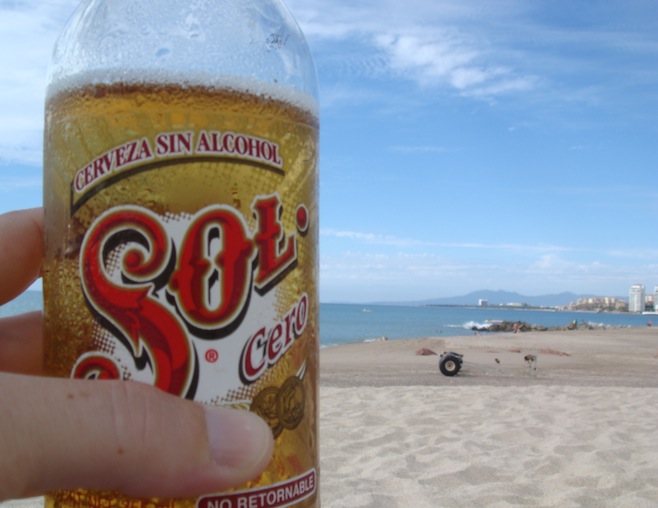 27-Nov-2009 11:27 PM
Do you have any idea how many emails we've gotten explaining how this is the end for us? How our wandering ways are through. Our carefree lifestyle is no more. How nobody can travel with a child in its first five years of life, or second, or third for that matter. How maybe we can think about taking a vacation in about eighteen years. Honestly we don't understand it. How and why would an eight pound human being bring everything in our world to a screeching halt?
Let me just say that if there is one thing we hate to hear more than anything else in the world it is when somebody writes to us about their dream to travel the world, and then concludes it by saying, "Just six more years and my youngest will graduate high school. Then I'm out of here."
At this point we simply can't fathom that. Raising your children surrounded by self pity over the things they kept you from doing instead of making them a part of your life's ambitions and dreams of adventure.
Maybe we'll eat these words. Maybe we'll just settle in, get a cubicle job, and put in our eighteen years in Unhappyville. I doubt it, but I suppose it could happen. Maybe everyone is right, kids can't just go along for the ride. Then we'll start getting those emails saying, "Told you so."
28-Nov-2009 our life. daily.
Katy made it. Her plane arrived twenty minutes early which was enough time for her to be standing outside the airport when we pulled up. The great thing about Katy's visits are that Ali and I don't have to change a thing about our life. She just sort of blends in and goes with the flow. This time she's crashing on our couch instead of luxuriating in her own cabin on the boat or bunking up in dive hotels across the Outback, but all the same she doesn't seem to mind.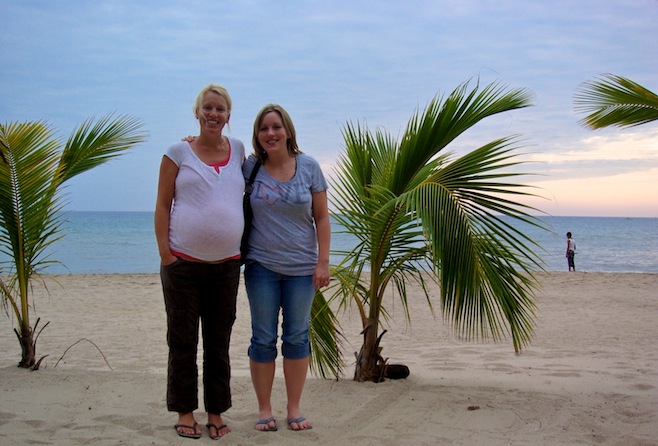 29-Nov-2009 our life. daily.
We are working on acclimating Katy by doing as little as humanly possible. Meaning we walked to the beach, snuck a few chairs and umbrella at a little used hotel, got her moderately sunburned and then picked up a pizza for eating at home. She's a cheap date, just like her sister.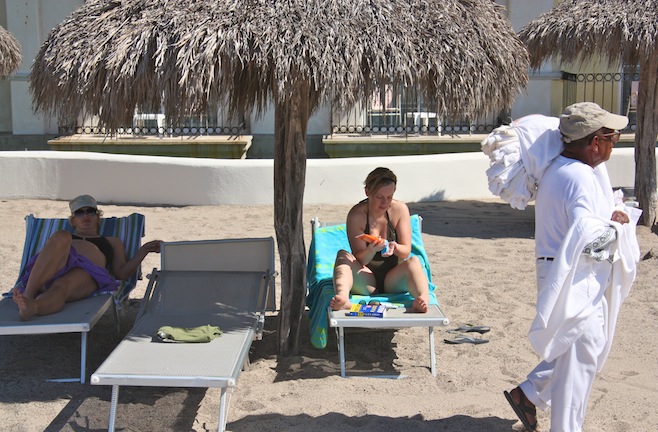 29-Nov-2009 6:24 PM
There was a big swell rolling into the bay today producing big breakers that snuck up and smashed right before hitting the beach. I like the picture below of the guy trying to dive underneath a wave. Unfortunately for him the wave had sucked all the water off the beach and left him high and dry. He got smoked. That was the last of the wave play for him.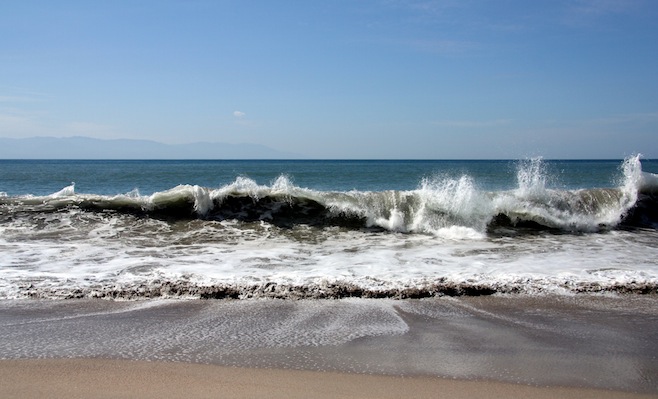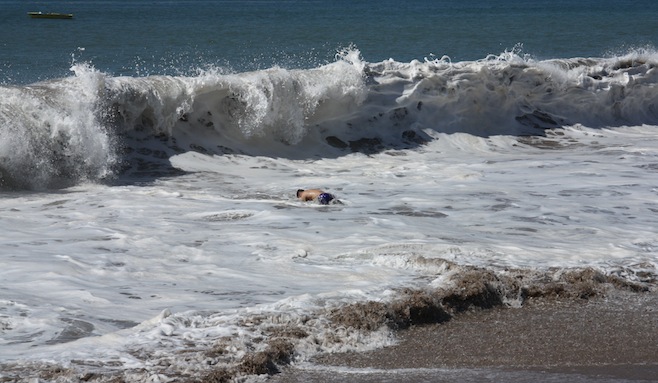 30-Nov-2009 10:13 AM
Ali and I are soooooooooooo ready for the baby. All of this waiting around is painful for us. This morning she was washing dishes (we're not barbarians, we do eat our pizza on plates) when she just looked over at me and said, "Not that I haven't liked being pregnant, but I want my baby now."
30-Nov-2009 our life. daily.
It's not easy getting these girls to pose for a picture. So catching them walking out of the bathroom was about the best I could do. Clouds covered the sky today for the first time in a month so instead of the beaches we spent our time strolling around downtown instead.
Socialize