01-May-2010 7:16 AM
It's been funny that ever since we said we were looking at getting a boat again we have received a constant stream of e-mails and facebook messages telling us exactly what we should get. Everybody has an opinion on boats. And apparently a few of those people have forgotten that we have a tiny bit of experience with boats. Especially catamarans. I can't believe that we still have people explaining to us the virtues of a catamaran. As if we might not be aware.
For the record, we are not looking at cats. End of story. We've done that trip already. We aren't setting out to do the same thing again. It's time for something new. Maybe two years from now we'll be sitting at anchor talking about how we should have spent an extra hundred thousand dollars and bought a catamaran again. Maybe. Who knows. But at least by then we'll have had another new experience, good or bad.
To be honest the boat isn't nearly as important to me this time around. This trip is about the experience of cruising with my family. Raising my daughter in the unique environment that is the ocean.
We'll see what happens. Life is still up in the air.
01-May-2010 6:59 PM
We went to a carnival today at our niece and nephew's elementary school. We were having a nice time watching Lea spray paint younger kids hair and Curt win piles of two liter bottles of pop playing a game in which the rules should have been much tougher. Then a young boy came up to Ouest and started talking to her, being cute, and trying to make her laugh. She seemed fascinated right up until he pulled out a fluffy stuffed green frog. Instantly her face went red and the pressure built until she was able to let out her blood curdling scream. We couldn't get her to calm down for five minutes. That stuffed animal horrified her. Note: Miss Piggy, good. Kermit, bad.
02-May-2010 6:42 PM
Ouest met her extended Williams family this morning. Ali's aunt set up a family get together at the local buffet restaurant where everyone could fawn over the new baby in between heaping plates of lukewarm scrambled eggs and bowls of make your own sundaes. Good times. It was fun to see everyone again. It's been quite a while since we've seen a lot of these family members, but now plans are in the pipeline for a summertime family picnic. It's amazing how much effort is involved to gather together a family on one particular day even though they all live within twenty miles of each other.
02-May-2010 our life. daily.
Ouest is finally starting to reach that point where she'll just fall asleep wherever she is regardless of what is going on around her. She's not full on just yet, but it's getting pretty good, and is making our lives much easier as far as not having to revolve around nap time. My cousin gave us this little folding stroller when we were out in Seattle and it has turned into our new favorite napping tool. Two minutes in that thing and she is out cold, able to be removed and carried straight to bed. And best of all, the other day she fell asleep on my chest while I kicked back on the couch. I've been waiting for that moment since day one.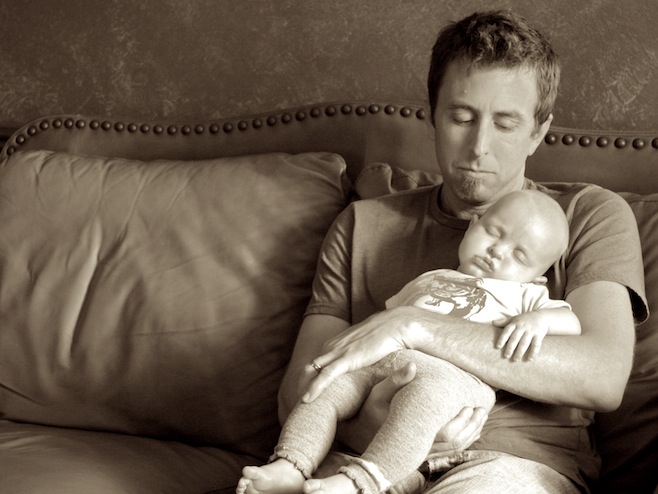 03-May-2010 12:12 PM
Just got back from Ouest's four-month check-up and it turns out she is the epitome of perfection. Doctor's words, not mine. Or maybe it was something more like, "She's right on track." I can't recall exactly. Either way, she's doing great. Tall! Ninety-sixth percentile in height (26.5 inches), eighty-eight in weight (16.5 pounds), and smack dab in the middle on her hat size. This explains the size 9-12 month clothing she's wearing these days.
03-May-2010 our life. daily.
Ouest is finding her voice more and more. I'd say she sounds like her mom. Or her mom's mom.
04-May-2010 7:53 PM
The other day at the doctor's office a Betty White look-alike was watching Ouest and commenting on how cute she was. Then she asked her name.
"Ouest."
She leaned in closer, unsure if she'd heard correctly.
"Wwww-essss-t," Ali repeated.
"West?" She asked.
"Yep, you got it."
Then, silence, except for the sound of her nose crinkling up in disgust. If we could have read her mind we're certain it would have said, "Kids these days."
We should have just told her Betty, or Carol, or some such perfectly acceptable name.
05-May-2010 2:40 PM
The boat search continues. We've got our eye on another and just by chance it is right back in the Seattle area. We're trying to decide if it is worth a trip, and also if there are others out there that we'd like to have a look at. Things would be a lot easier if all boats would simply be located in Mexico.
06-May-2010 our life. daily.
We're no closer to finding a boat. Makes me wish I could go back to Germany and find this bus. As soon as we saw that thing we thought, "We could roll in that. Partridge Family style, only cooler."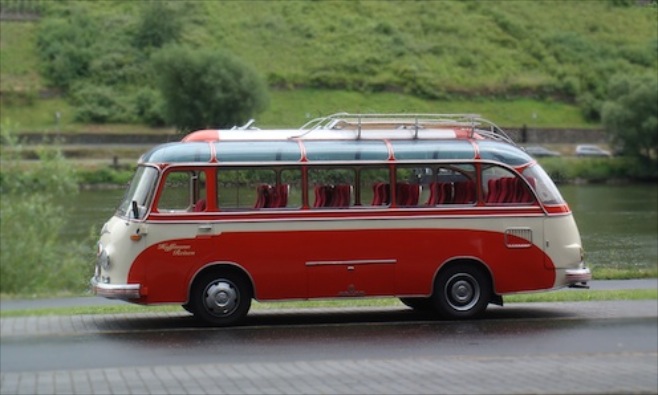 07-May-2010 10:59 AM
Ouest had her fourth laser treatment this morning. All went well as usual. It's always a nerve-wracking ten minutes for us, but when they bring her back to us she is always fine. A little teary, but happy and acting like nothing happened once she is in our arms again.
The doctor is still happy with the way things are going. She is doing so well in fact that you could hardly tell she had the treatment done today. That shows that the hemangioma isn't as near the surface as it was two months back when the same treatment produced a blackened and scabbed nose.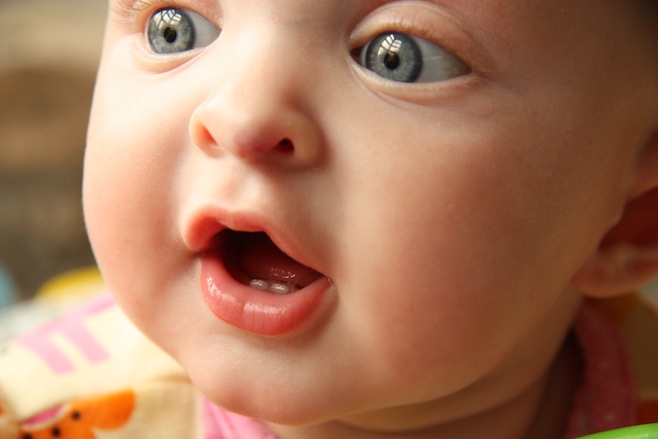 We had hoped that by the time we finished up this treatment that we'd have a plan as to where we wanted to go to see some boats. But despite intensive online searches and talks with brokers we've come up pretty empty.
07-May-2010 1:37 PM
Ali's on the phone right now with a boat broker discussing refrigeration, wood decks, and electronics. Personally I can't stand much chit chat on the phone with these guys. They are spin doctors extraordinaire. "Oh I personally prefer wooden masts. If they break in half at sea they'll float, unlike those fancy aluminum ones."
When she hung up she said the broker told her that the owners have a three million dollar house and aren't really looking to make money on this. Uggghhh. Do the owners know they are paying you to say this to strangers over the phone?
07-May-2010 1:57 PM
I know I am slightly biased, but honestly, is this not the cutest baby ever? And just check out those teeth. This is her latest gadget at grandma's house. Ali calls it the Orbiter because it looks like a spaceship. It's just about as big as one too. Ouest is trying to eat it, piece by piece.
08-May-2010 our life. daily.
Ouest is really becoming interested in food. We are starting to feel guilty for eating or drinking in front of her. But not so guilty that we won't plop her down right in the middle of the dinner table like a side dish.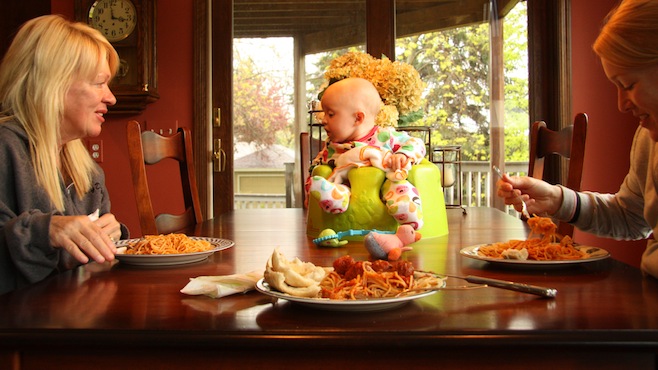 08-May-2010 11:37 AM
There must be about a million boats for sale online and I'd swear that 99.9% of them have owners and brokers who just don't care if they ever sell. The reason is that their ads are so ridiculous. Pictures are the first thing we notice. I won't even look at the specs if the pictures are crap.
With digital photography you'd assume everybody would have updated pics, and lots of them, on their listings. Instead most of the boats have three pictures. One of the boat under sail that looks like it was taken in the early eighties via a disposable camera. Two is of some random room inside stuffed to the gills with so much junk you can't see what is underneath. And the third is of one of the owners sitting in the cockpit with a rum and coke taken four hours into a party. Or worse yet, lying in bed four hours into a party.
The other thing I just can't understand is how half the brokers we contact have never even been on the boat they are trying to sell. We called on one the other day to ask more about the layout of a particular boat and the broker couldn't answer even the simplest question. In the end he admitted he hadn't seen the boat yet. "It's docked, like, a half an hour away from our office."
The next day we talked to him again and found out that the boat did indeed only have one bedroom. The other berths they had listed were in fact couches. This took two days to confirm because the pictures didn't show it and the broker had never seen it. This is not how I would choose to sell my boat.
08-May-2010 6:17 PM
This is why I can't love Minnesota any more. This, thirty-eight degree day in May. That's just plain stupid. Driving to the mall in order to get out of the house and take your baby for a walk. That's just plain stupid. Calling a trip to the mall, "getting out of the house." That's just plain stupid.
09-May-2010 8:42 AM
Not sure what's happened in the past few days, but Ouest's perfect nights of sleep have disappeared. She wakes up yelping and when we go in we find her with her face smashed up against the side of the crib. She's wrapped up tight, but she's strong as an ox and still manages to move all over the place. We're hoping whatever has changed will pass, but for now it appears that hourly wake-ups are going to be the norm.
09-May-2010 our life. daily.
Ouest especially liked doing the underdogs.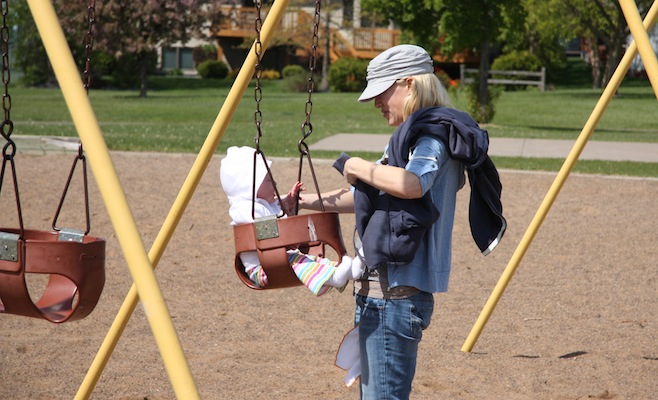 10-May-2010 10:48 AM
I fear I may be corrupting my daughter. I've currently got three main songs in my repertoire that I sing to her. I don't know where they came from or why, but I know all the words and they don't require me to hit any high notes, so they are what she gets for now. The songs are: The Gambler by Kenny Rogers, Should Have Been a Cowboy by Toby Keith, and Please Come to Boston by Dave Loggins.
The reason I fear I'm corrupting her are the underlying themes of these songs. In The Gambler you've got a guy "on a train bound for nowhere." Should Have Been a Cowboy has a chorus in which the young man is encouraged to "Go west…" And in Please Come to Boston is, "Now this drifter's world goes 'round and 'round and I doubt that it's ever gonna stop." Ouest is going to think we want her to run away.
11-May-2010 8:54 PM
Oh how life has changed. Today while Ali was feeding Ouest I was on my knees clipping her finger and toenails. By her I mean Ouest's, not Ali's. While I was maneuvering into position to get that darn pinky toe, that tiny little one that she manages to curl into a tight ball whenever her foot is touched, I found my face very near her bottom. Too near considering she was eating and needs to clear space for that food. And then she let loose. She let blast with all she had in her, and when I looked at her with my eyes tearing up she just stared back at me as if she were the most innocent human being on earth. Which of course she is. Ali, not so much. She laughed a mischievous laugh. I think she may be able to control Ouest's bodily functions.
11-May-2010 our life. daily.
It's twenty degrees below normal outside. The result of which has us spending a lot of time indoors. A lot of time. A lot. Lots.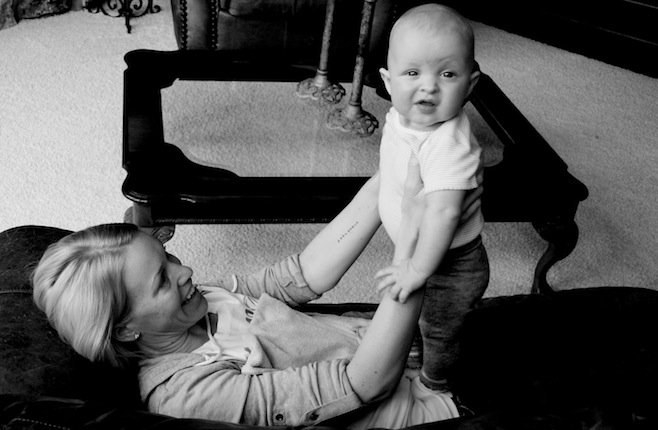 12-May-2010 our life. daily.
The question becomes, just how long can Ali keep her hair this length before going to mom hair?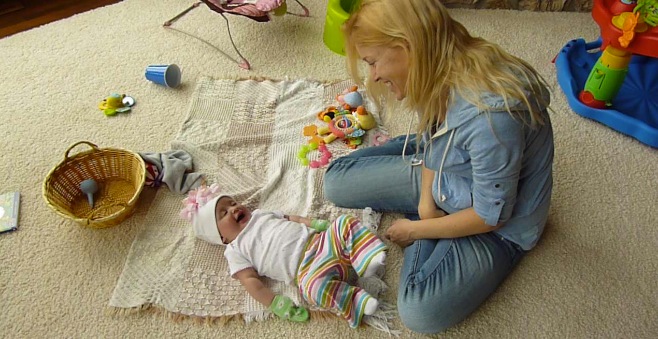 13-May-2010 ouest lill. five months.
Ouest, It's hard to believe you are five months old already. And things just keep getting better and better. This month you really started to find your voice and already you are making us laugh. You are loud and expressive when you want to be, but often quiet and calm also.
We made an offer on a boat this month, but it didn't work out. You had seemed pretty comfortable lying on the couch at the dock. I guess we'll have to see just how comfortable you are when we're at sea rolling from side to side. We've got our eyes on other boats now, so we could find out sooner rather than later.
But we can't stray too far afield right now either. We are still working on your hemangioma and need to be in Minnesota once a month in order to stay on top of it. You've had four treatments now and we all feel like it's going pretty good. The nurses in the surgery unit love you and take good care of you for the twelve agonizing minutes you are out of our arms.
Today, as if knowing it was your birthday, you rolled over from your back to your belly for the first time. We've known it was just a matter of time as you've been trying desperately to roll off of the changing table for a month and at night you struggle to roll yourself face first into the wall of the crib over and over and over again.
It's been a month filled with having a lot of family around you at all times. We've essentially been living with Aunt Katy who I don't think will want you to ever leave her. And your grammy out in Portland said the same.
So anyway, keep on growing little coconut. We're having a fun time watching it happen. Love, Mama and Papa
14-May-2010 11:38 AM
I know I just complained about yacht brokers, but man, Ali just talked with one who couldn't seem to get her off the phone quick enough. She asked if he had any more pictures as the ones on the website didn't show the decks, the galley, the head, the engine, or really anything of any interest to a potential buyer other than the nice new bottom paint.
"Do you have any additional photos?" she asked.
"It's all on there."
"Well, no it's not."
"I suppose I could go take some more, can you send me your email?" he sighed.
"Sure, what's your email address?"
"It's on there." Click.
The amazing thing is that boat brokers skim a whopping ten percent off the sale. It's not like they can't make a lot of money if they do a good job versus doing a crap job. Honestly, I think Ali and I need to start a brokerage. Our qualifications for the job are that we can use a camera, and we tend not to act like total douchbags most of the time. I think we'd be hugely successful.
14-May-2010 4:06
I'm sorry, but these boat brokers just kill me. We called on another boat today only to find out that the broker was in Miami and the boat was in Tampa. He'd never seen it and really had no way of telling us anything more about it. Why in the world would anybody use a boat broker that had no access to their boat? Are there no brokers in Tampa, Florida? So weird.
Then we got an email from the guy who half-heartedly told us he'd send us some more pictures. It was a short email letting us know he could do that for us three days from now. But he did mention, and I got a big laugh out of this, that, "This is a very seaworthy boat. It's been through the Panama Canal twice!" Note to broker: the Panama Canal's waters are very calm. You could go through it safely on a blow up raft. It's really not a testing ground for yachts.
All right, I'll leave the brokers alone for a few hours now.
15-May-2010 our life. daily.
The Jenny Jump Up. What child's life would be complete without it?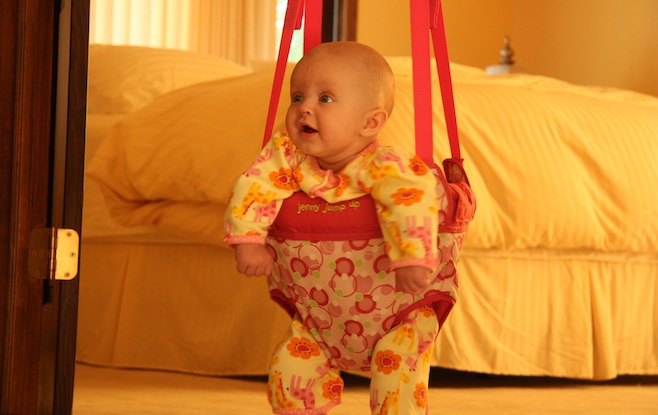 16-May-2010 2:25 PM
We watched the movie The Cove last night and were blown away. Whenever we watch a documentary like this we are left feeling like we've done nothing with our lives. It's amazing that there are people out there willing to dedicate their entire lives to things like saving dolphins. I don't know where they get their fire and drive to do good. Ali and I now feel like we've got to go out and find ours.
16-May-2010 7:33 PM
Wholesome family fun day. We played in the driveway, washed the car, went to lunner at Dairy Queen, and walked around the lake enjoying the first nice weather of the year.
17-May-2010 our life. daily.
We have completely lost our wonderful sleeping daughter. No more thirteen hour nights of sleep and no more seven a.m. wake-ups. Our new reality appears to be random sleep patterns, screaming wakings, and five a.m. alarms.
17-May-2010 11:29 AM
Today we got a call from the owner of the boat in Florida. The boat located in Tampa with the broker in Miami. The broker must have pulled our number off caller i.d. and decided to just give it to the owner and let him deal with it. So though I find that an incredibly strange way for a broker to behave it actually worked out pretty well. We found out the boat had loads of expensive equipment on it that isn't even in the listing. He also cleared up a few other questions for us. But best of all he informed us that he was in the midst of building a home in the mountains of the Carolinas. Meaning he is nowhere near this boat and wants nothing to do with it any longer. He will be getting an especially low offer to start. Thank you boat broker.
18-May-2010 our life. daily.
Look who got her first sippy cup. Ouest grabbed hold of it with both hands, stuck it in her mouth, and wondered why nothing came out. It's going to take a little work to get her to understand the whole tilting the cup up thing.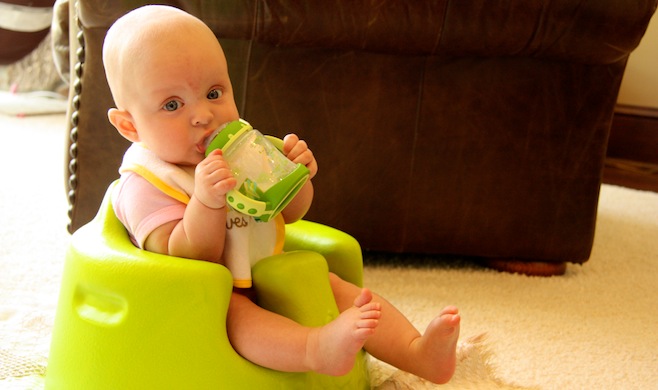 19-May-2010 our life. daily.
We still don't get a lot of down time when Ouest is awake, but every so often something catches her fancy and buys us ten minutes or so. This plastic sea lion toy spends a lot of time clicking against her two teeth.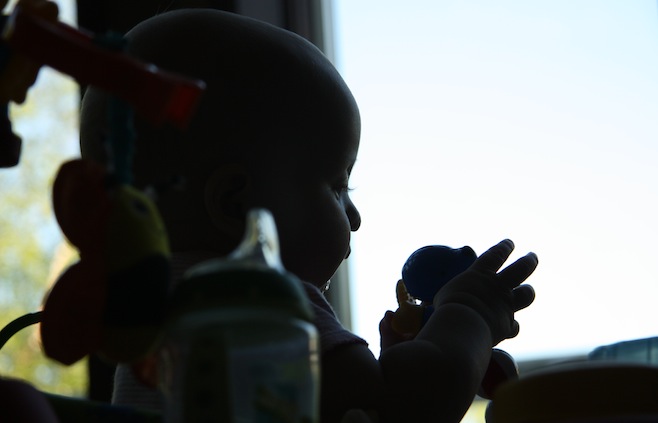 19-May-2010 7:38 PM
We're off to see about a boat in a couple of weeks. After Memorial weekend and Ouest's next laser treatment. It sounds as if some Bum friends have a condo in Naples that is ours for the taking, so we have ourselves a nice little base to bump around Florida in search of two things: a boat, and air-conditioned buildings.
20-May-2010 our life. daily.
We went to the zoo today with Aunt Katy. I'm really not sure just how many times we are going to swear off zoos before we finally follow through on the threat. We managed to stick with our circus boycott for the past fifteen years or so, but damned if these zoos don't just keep luring us back.
21-May-2010 7:22 PM
Ouest had her first bite of "solids" today. Some sort of rice soup concoction. Trying to feed a baby does sort of drive home just how helpless they are. I mean Ouest doesn't even know how to swallow a bite of food. The spoon would go in her mouth just fine, but then her tongue would come out, and with it ninety percent of what just went in. The joke around the house was that she simply didn't like her mama's cooking.
21-May-2010 our life. daily.
I love driving around in the Porsche. It's so small that we can just carry on a nice conversation as if we're all sitting on the couch together. Not at all like those big ol' minivans where the person in row number five can't even hear what the driver is saying. Yep, it's the perfect family car.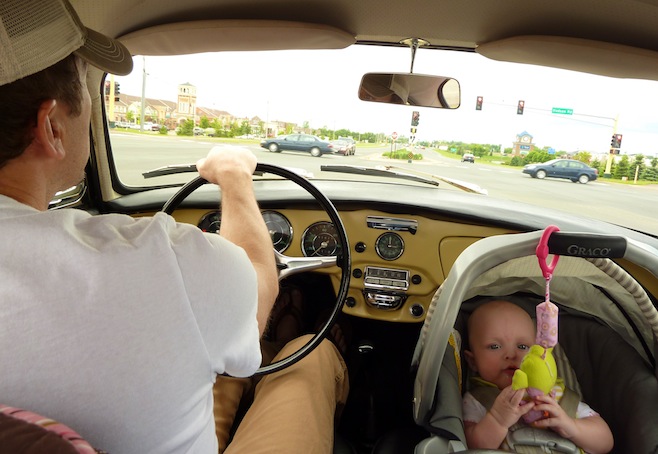 22-May-2010 8:14 PM
Ali's sister Toni had us over for a barbeque this afternoon. Despite only living a couple of miles away we have to plan these things well in advance because getting together just isn't as easy as it used to be. Toni had sort of half hoped that after we had the baby we would move back to Minnesota and be together all the time. The reality is that between Ouest and her two kids none of us seems to have a lot of free time and weeks have gone by without a family sighting. Thus today's barbeque.
Ali and I used to be the cool aunt and uncle. Our niece and nephew loved us and told us repeatedly over the years that we shouldn't have kids. They were our kids, they said. Well, Lea has sort of gotten over the fact that she now has a baby cousin and we aren't nearly as fun as we used to be, but her brother Curt isn't being quite so forgiving. I think this picture says it all.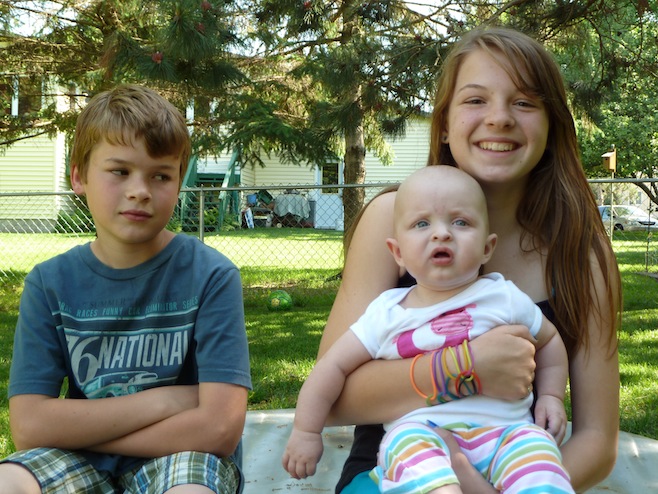 We were able today to get us all together for a group picture. I had to zoom out a little ways on this photo in order to avoid getting my head cut off. It's clear I didn't marry into a family of basketball players.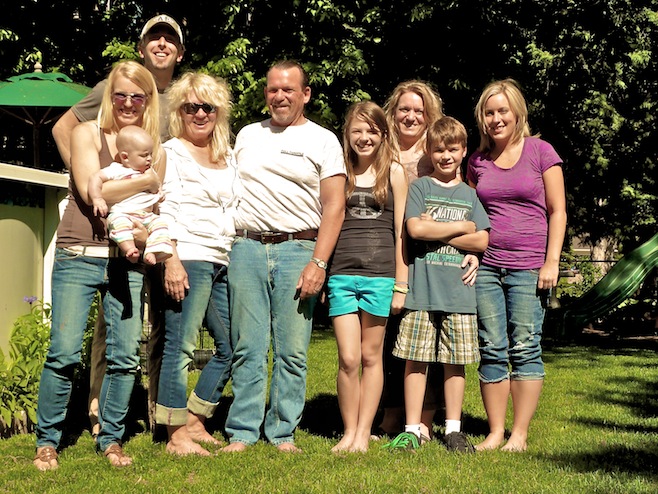 23-May-2010 2:23 PM
Swearing. Fine, we have a baby now, no more swearing. I get it. But put that into practice sometime. It's easy enough on the website to cut out the F word. It looks pretty classless when it is staring back at you on the screen. But cutting it out of conversation when, say, Visa stock is getting pummeled because some moronic D.C. government schmuck is saving the world from the evils of big business, or perhaps some spaz in a giant SUV decides to see if his bumper is actually higher than your roof, is a lot harder to do. Ali and I have been cut off from civilized society for too long. Curse words, even harmless ones like shit and crap, are just a part of our everyday vocabulary. And I have to remind Ali that the word "Frick" is not an adequate substitute.
I fear what will be the first syllables out of Ouest's mouth.
24-May-2010 5:58 PM
Solid food is a rousing success. After just three or four attempts Ouest is taking spoonful after spoonful and has her intake rate up from just 10% to close to 80% being swallowed with the remaining ending up all over her face, in Ali's lap, and in her Bumbo chair. Feeding is now one of the day's highlights.
24-May-2010 our life. daily.
Enjoying the ninety degree heat. Only in Minnesota can you go in just three days from not wanting to go outside because it is too cold, to not wanting to go outside because it is too hot.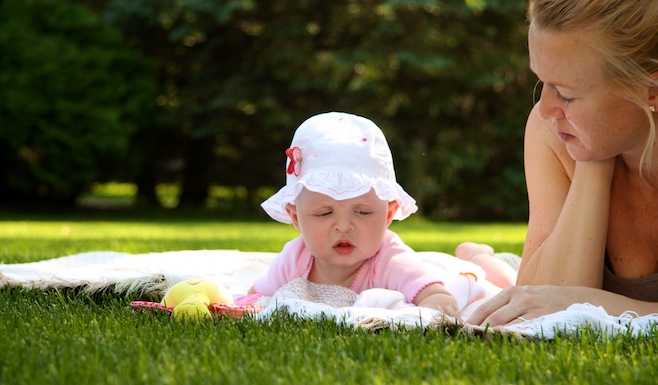 25-May-2010 6:12 PM
So of course the day after we book our trip down to Florida to check out boats a new one comes out on the market in California. A boat that I really like the looks of. This is one of the problems of being based in Minnesota at the moment. There aren't many yachts for sale in the area.
26-May-2010 our life. daily.
"Yo quiero Taco Bell."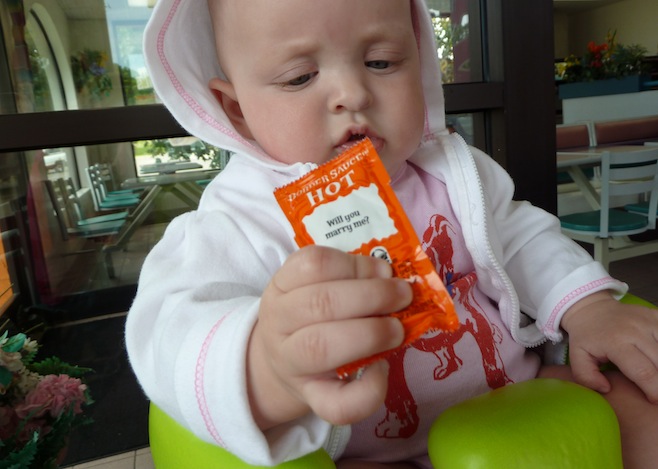 27-May-2010 10:05 AM
Ali has quite possibly the world's worst night vision. Yesterday I was putting Ouest to bed when the cat pushed the door open and started rubbing against my leg. Ali heard me grumbling through the baby monitor and came up to gather up the cat. She came into the room, stood next to me while the cat continued to rub against my leg, and then inexplicably dropped down onto her knees to look under the bed for her. At this point her face was roughly three inches away from the white and gray cat.
"What are you doing?"
"Looking for Simone."
"She's about to crawl on top of your head."
It was hard not to laugh, but that was nothing compared to a few days earlier. I was putting Ouest to bed for the night when Ali came into the room to see how things were going. Then apparently a pair of socks on the floor caught her eye and she decided to pick them up. Next thing I feel a tugging on my foot. Yes, the socks were on my feet. Ali started cracking up and had to leave the room to keep from waking the baby.
I honestly don't know how I could have ever trusted her during night watches at sea.
27-May-2010 our life. daily.
Mmmmmm, cat.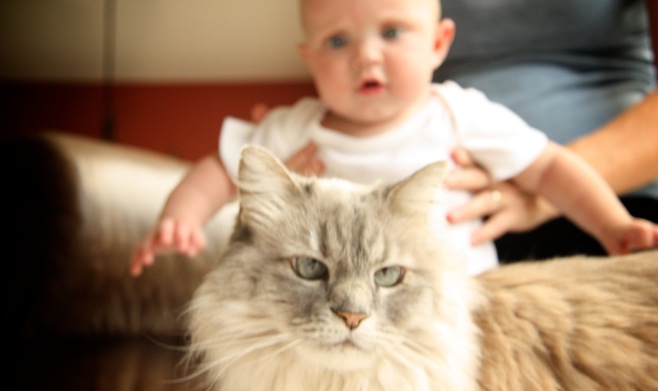 28-May-2010 our life. daily.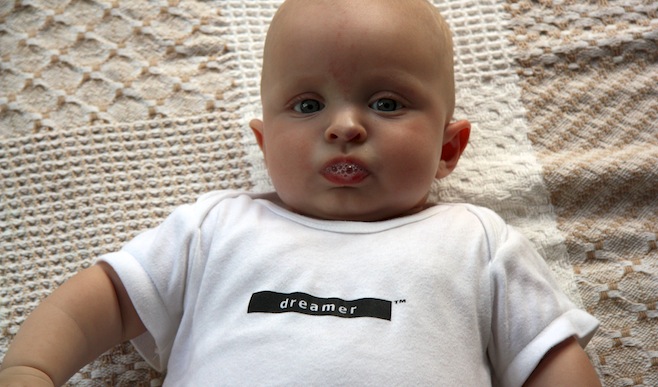 29-May-2010 8:17 PM
The whole family is up at the cabin this weekend for a good old fashioned Wisconsin Memorial Day weekend. Meaning barbeques, furniture moving, pontoon rides on the lake, cabin maintenance, and bedtime games of CLUE with the kids. Games which Grandpa wins. He has no shame.
Ouest enjoyed her first ride on a boat. Right up until the point where she threw up her lunch. Could have been the motion of the pontoon through the three inch waves or could have been that she's a baby and they sometimes just toss their cookies. One never knows.
She also went for a quick swim in the pool. It is absolutely amazing to watch as she is submerged in the water. Her feet immediately begin to kick and her arms go into a perfect paddle routine as well. It seems it's just ingrained in both us and dogs.
30-May-2010 5:12 PM
Ali and I bought Ouest a baby book in Spanish and were reading it to her today much to the consternation of her cousins. They couldn't understand what we were doing confusing the poor baby. "Don't you think she should learn to speak English before Mexican?"
30-May-2010 7:24 PM
Another barbeque, cream soda, and horseshoes kind of day at the lake. This weekend has been one for the record books as far as perfect weather goes. None of us can remember a Memorial weekend as nice as this one. We meant to head out on the boat again today, but between nap times and feedings there hardly seems to be enough time in the day to squeeze everything in.
30-May-2010 our life. daily.
I think it's a sign that Ali's parents want us to go sailing again. Why else would this be on top of their house in the middle of Wisconsin?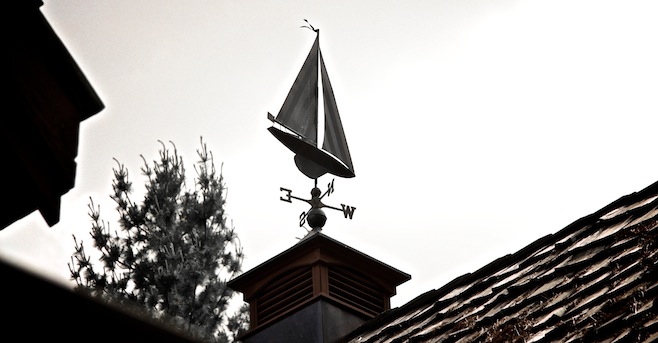 31-May-2010 5:15 PM
We've been hesitant to talk about this for fear of bringing on some sort of jinx, but here goes. Last week some Bum friends mentioned to us that their daughter who is just a couple of weeks older than Ouest has been sleeping through the nights and napping like a champ ever since they began using the Baby Whisperer methods.
Ouest had recently begun a pretty terrible nighttime sleep pattern so we figured what the hell. We bought the book and started the routine first thing the next morning. The very first day she took multiple two hour naps with very little coaxing on our part. She ate well, played happily, and best of all she slept right through the night. Eleven hours with only one quick "dream feed" in the dark.
It's been a few days now and we now have a totally new baby lifestyle. It's a little more routine oriented than our life would usually allow, and we worried a bit about how change would affect things, but a trip to the cabin didn't seem to bother her in the least.
One thing is for sure, Ouest wasn't getting nearly enough sleep before. Now every morning Ali comes in at seven a.m. to wake us both up for the day. Sweet.
31-May-2010 8:10 PM
Ouest's menu now includes pears and rice cereal. Doesn't sound like much, but it has pretty much turned her off of anything else. Meaning the bottle is pretty well despised.
31-May-2010 our life. daily.
Thirteen years of marriage. Ali and I just toasted each other over Taco Bell burritos. We wouldn't want it any other way.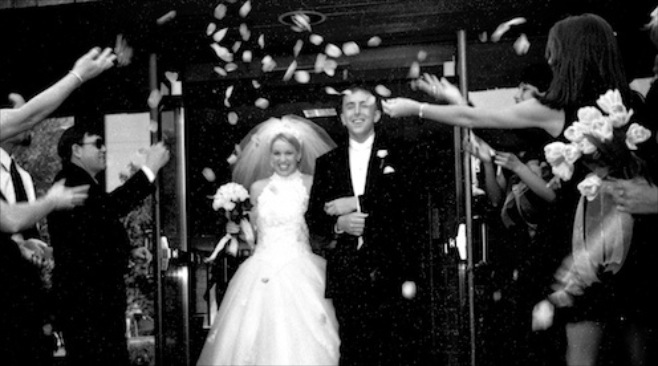 Socialize