01-Oct-2010 our life. daily.
We had a good time today doing something that I've no idea why we didn't do sooner. We went to the beach. Perhaps because we're not accustomed to going to a beach along a river we just didn't think of it. But anyway, that's what we did and it was a blast.
When we got there Ouest was really unsure of things. She sat in the sand perfectly still watching the water lap up nearby. She really wouldn't touch the sand, which is so utterly unlike her that we actually found it quite amusing. But after about five minutes of this she suddenly, and suddenly like she was shot out of a cannon, took off. She zipped fifty yards with sand flying off her hands and back over her head. And then she decided to check out the water. A little tentatively at first, and then boom, face first into the little waves. And this water was not warm by any stretch of the imagination. We played like this for an hour until we finally decided it was time to warm her up. I'd say that was the most fun we've had since we moved aboard. Made me pine a little bit for a beach in Mexico or Nicaragua or anywhere along those lines.
02-Oct-2010 bumfuzzle.
All right I'm putting this inverter/charger issue to bed. Today, on the suggestions of a number of people, I started hooking the inverter up to one battery at a time. The problem a few of you said was probably that this old inverter just wasn't built to handle this big of a load. That six batteries were what was causing it problems. So anyway, one battery, no problem, two batteries, okay, three batteries, click click click click click click click. I'm not really eager to throw money at this but it's time. This thing was installed on this boat about five years before I purchased my first home computer. I'm thinking a new one just might be able to take care of what we're asking it to do, namely charge six batteries and provide AC power for Ali's coffee maker.
02-Oct-2010 our life. daily.
Not sure where the days go sometimes. Today isn't one of those days. I know exactly where it went because we were driving all over the countryside to go nowhere. Running into town for a quick grocery store run we were slowed when immediately after driving onto the ferry it broke down. Fifteen minutes later though they had it going again. A quick stop at the store and Taco Bell and then back home only to find the ferry broke down again. This time we had to drive all the way around to the other ferry. Essentially our six mile as the crow flies round trip errands today took us about three hours. I don't know how anybody can live here long term.
We also managed just a whiff of boat work, and then a role around in the grass before some Bum friends rolled in. A nice couple carrying a case of beer and a buffer. Ali's excited that I can finally get that name off the side of the boat and I'm excited because I can drink big cans of Sapporos while I do it. Thanks Michael and April.
03-Oct-2010 7:04
What I'm really looking forward to is the day that Ouest starts hanging on to me a little bit when I carry her. As it is now she is like carrying a twenty-four pound teddy bear around.
03-Oct-2010 bumfuzzle.
Couldn't get the engine going today. Cranked over nicely and really sounded like she wanted to go but just couldn't make that final catch. I've got a couple of things to check out and work on. In the meantime I started digging out the porthole seals. These should be a nice soft rubber but over the years have turned into a solid brittle mess. It's no wonder they all leak.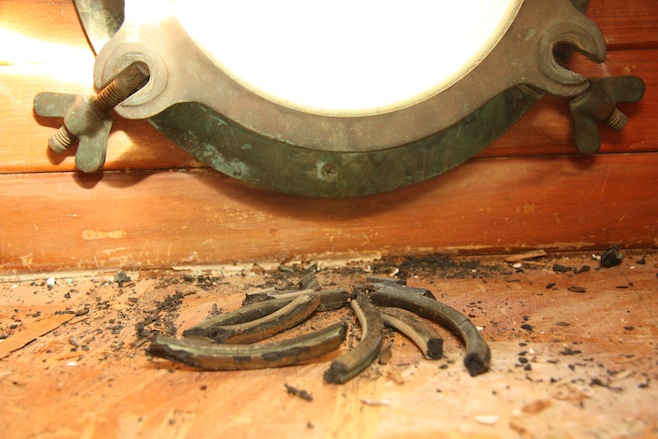 04-Oct-2010 7:18 PM
Ouest has really taken to solid foods. She gobbles up anything we put in front of her. The only problem is getting her to slow down. She tends to stuff her cheeks until she looks like an overloaded chipmunk preparing for winter. More than once we've had a cough or sneeze result in a wide ranging spray of banana, chicken, peas, and green beans all in one blow.
I really can't believe how much fun she is these days. Her personality is really starting to come through and already she seems to be understanding our sense of humor as well as developing her own. Today she played peek-a-boo with us instead of the other way around which I thought was knee-slapping hilarious.
04-Oct-2010 our life. daily.
We went for a walk around the vineyard across the road this morning. I don't know anything about grapes, but the fact that this vineyard had big plump purple grapes overflowing its vines last month and today every last one of them is still hanging on the plants shriveled up to dust seems a little odd.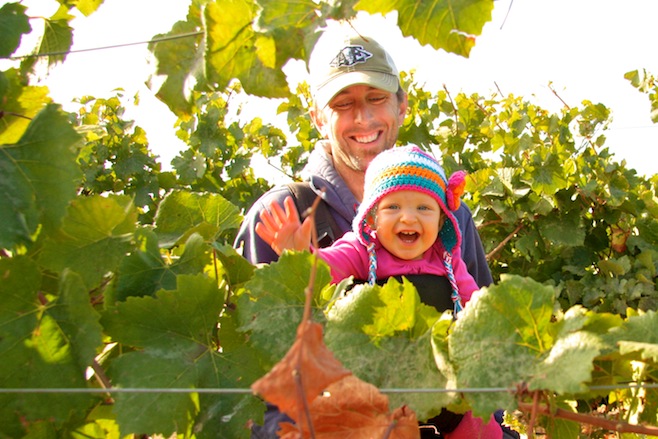 04-Oct-2010 bumfuzzle.
All right, I must have received at least 20 e-mails telling me that the problem with the electrical was that I have 6v batteries and you cannot have a 5 battery 6v bank. For the record let me state that, despite plenty of evidence to the contrary, I am not a complete idiot. The batteries are in fact 12v. Thank you for all the well intentioned, "Boy is this Pat character a thick-headed nit-wit" advice. Now, if you'll all excuse me, I have to go hook up those batteries. Black is positive, right?
04-Oct-2010 9.05 PM
The weather around here is starting to turn. In just days we've gone from a hundred degrees to seventies. With the breeze off the water seventies in the shade is enough for sweatshirts and jeans. Ouest has gotten into the spirit of it, though neither one of us is looking forward to the day when we need to bundle her up just to go outside. Or even worse, the day she needs shoes. She doesn't have the patience for a diaper change, how in the heck will we ever get shoes on?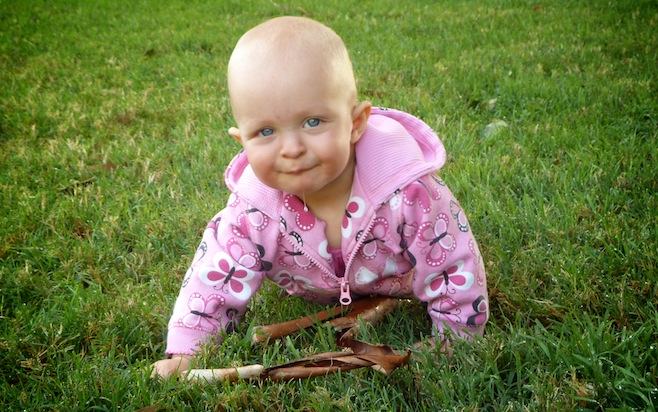 05-Oct-2010 bumfuzzle.
Some days are just like this. Though actually we were just getting ready to paint the bathroom.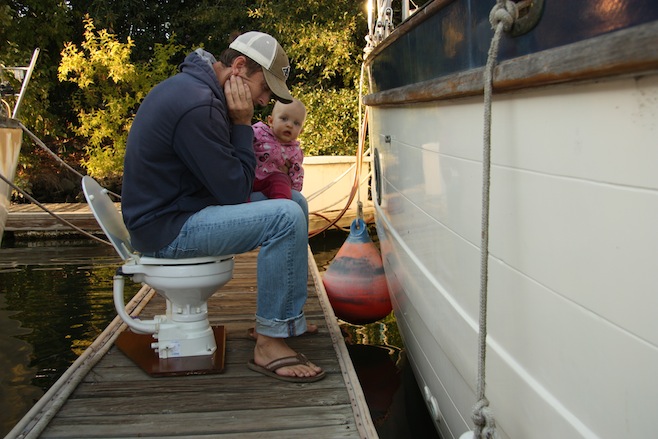 06-Oct-2010 bumfuzzle.
Ali spent a few hours today taping off and painting on a coat of primer in the bathroom. Exhausted later in the afternoon she commented, "I hope that the stuff in the shower covers with one coat." She meant one coat of the main rubberized paint we are using in there. I then pointed out that the directions on that paint call for two to three coats. Her shoulders dropped at least six inches on that news. Who says guys never read directions?
06-Oct-2010 our life. daily.
Boy, I'm looking at this picture and thinking, "Holy Christ I've got a lot of wrinkles. Where is that skin smoothing function on the photo software?" When I should be thinking, "Awwwww, look how much Ouest loves her wrinkly papa."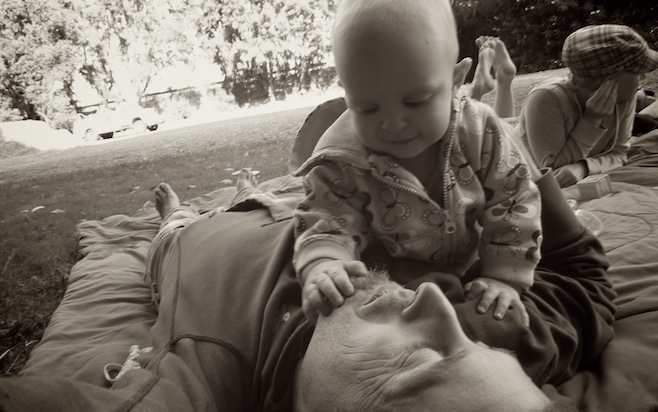 07-Oct-2010 our life. daily.
We went to Shelby's Diner in Rio Vista today. It's a true old school roadside diner with friendly grandmotherly waitresses, a line cook you can talk to from the counter if you're so inclined, leatherette seating at least thirty years old, and heaping portions of homemade grub. It's also the kind of place you get into conversations with everybody around you.
"That Gerber baby food ya'll got there?" said the openly talkative older gent across from us before telling us the story of the Gerber baby picture and proudly showing us his gold ring, "For thirty-five years as the Gerber Western Region Sales Manager."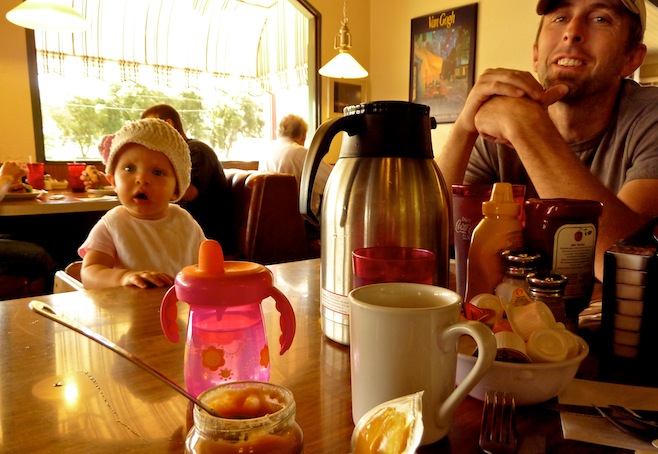 07-Oct-2010 8:44 PM
I can't wait until Ouest is old enough for us to torture her with VW bus adventure stories every time we spot one on the road. Ali and I were looking at this one today and reminiscing on just how much fun they are to drive down the road in. I really don't know of any other vehicle that people get so excited to see coming. For a brief time back in Europe we had even considered keeping the bus to travel in after the baby came along. Maybe even towing a little Puck trailer behind it. But today, looking at the bus, and then back at Ouest, we just shook our heads. Some means of travel are too tough for even us hardened vagabonds.
08-Oct-2010 bumfuzzle.
It might sound silly, but today we took the mainsail cover off for the first time. Really, what is the point? We knew the sail was original to the boat and would need replacing, so looking at it wasn't a real high priority. Anyway, we pulled off the cover and found half a dozen wasp's nests, some sort of mud pack with three giant larvae growing inside, and one very fluffy bird's nest. Let's just say we're still a long way from actually raising the main.
08-Oct-2010 our life. daily.
So today we were lying around in the grass when Ouest spotted a ladybug. She played with it very gently for awhile, letting it crawl all over herself, but then disaster struck for that luckless ladybug. May she rest in peace.
09-Oct-2010 bumfuzzle.
I'm kind of curious to see how these Spin-Tec roller furlers work. Seems weird to me not to have a cage around the barrel, but supposedly this makes it easier. I guess easier to get a kink out, but can't imagine it's easier to roll in.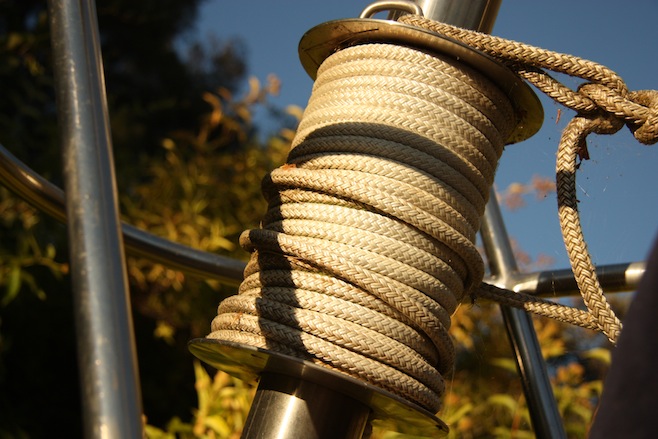 09-Oct-2010 our life. daily.
Rio Vista Bass Derby! Sweet. I have to say that over the years Ali and I have really started to enjoy small town fun. When we left Chicago we really couldn't see ourselves anywhere but a big city, but these small towns have a lot going for them. We really enjoy the friendly atmosphere. The Bass Derby here in Rio Vista is a big to do. Apparently something like a thousand anglers join in, as well as a couple hundred cars for the car show, a big motorcycle show, soap box derby, carnival rides, and all the rest.
Today we strolled through the fair and took in the old cars. I'm not really all that interested in American muscle cars but they were well represented here. I even got to pine over the old Mustangs and wonder whatever happened to my mom's '65 that was sold out from under me when I was twelve years old, despite my having a four dollar and fifty cent down payment ready to put down on it.
We also wandered through the firehouse. I've never really understood firemen. Risking your life to save an insurance covered inanimate object has always seemed a little ludicrous to me. I mean rushing in to save a cat, or a baby, I get that, but to try and save a television and an exercise bike? Anyway, the guys running the show here were super friendly so I guess I should have just asked them and satisfied my curiosity once and for all.
So that was some good honest fun today. So much so that we're going back for more tomorrow. Gotta watch them big striped bass get weighed in. Speaking of which, there wasn't one food stand selling bass at the Bass Festival.
09-Oct-2010 8:23 PM
Ouest is teething again. This time it's molars. Right now she has two dark bruises on her gums which Dr. Google tells us means those big, fat, flat teeth are about to make their way through. We hope so because the last few nights the poor thing has been crying out and moaning in her sleep four or five times a night. Despite us drugging her up. She's got eight teeth at the moment, so only what, twenty-two to go. Brutal.
09-Oct-2010 9:03
Ali was just at the sink washing up when the water pump up and died. The pressure has been slowly weakening the past week, but I had thought it had to do with an inline filter the previous owners had installed. I was going to yank it out of there and figured we'd be flowing fast and free again. No dice. It's now dead and we have no running water on the boat. I foresee myself getting some grief about this tomorrow when it comes time to wash Ouest's bottles, or Ouest's face, or Ouest's highchair, or Ouest's bum. It sometimes feels awfully hard to ever get ahead on a boat. Did I mention that we already had to replace our defective kitchen faucet? And an hour after doing so Ali said, "Did you notice this thing has a huge scratch on it? It needs to go back." Ugh.
10-Oct-2010 bumfuzzle.
We had a CQR anchor on our last boat and hated it. Used it at first in the Bahamas but quickly gave up on it as it never seemed to reset in the middle of the night as the boat shifted. And that was in the nice soft sand of the Bahamas. So we stowed it down below and basically never used it again. Come to think of it, I had to move that thing every single time I wanted to get at the port engine.
I hate CQRs. Now I've got two of them. A big honking 60 pounder, which seems about the right size for a boat this big, and a diminutive 33 pounder mounted alongside the big one that seems completely worthless to me. What could possibly be the reason for securing an anchor that is way undersized to the front of the boat? I know what I would like, and that's one of those Rocnas, but there is no way that thing would fit up there without some serious modifications. So instead what I'd like is to throw the 33 overboard and get a nice big Bruce. The Bruce anchor is what we used all the way around the world without problems last time. Anyway, we'll get to all of that at some point.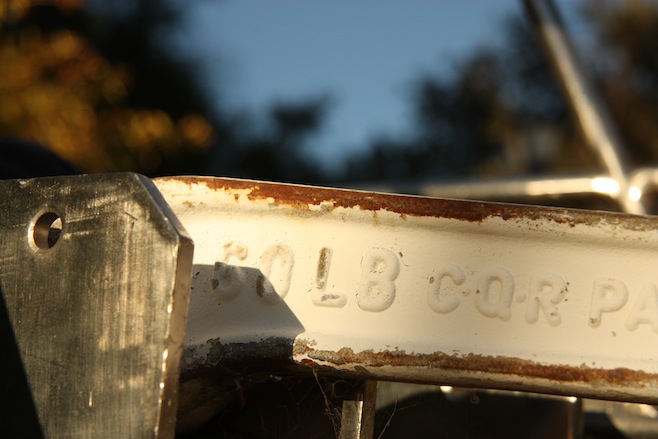 10-Oct-2010 our life. daily.
Another day at the Rio Vista Bass Derby. Today was supposed to be a big motorcycle show, karaoke finals, and bass weigh-in. The motorcycle show was pretty weak with only one bike even remotely interesting to me, but the karaoke was good fun. Ouest had a good time, though basically she is happy and content whenever there is a crowd of people around. Grocery store? Great. McDonald's? Even better. Karaoke finals. Heaven. Even with a couple of drinks from the beer garden the competition seemed a little off. Not bad, but I think it's fair to say Rio Vista won't be producing America's next Idol.
The bass tournament awards ceremony was interesting. Apparently some small type at the bottom of the registration form missed a few people. Winners must be present to claim their prize. The year before I guess people were up in arms because the tickets said that but they didn't follow through on the threat and called winners later on. However today they stuck to their guns. First prize guy was there to claim his dough. Second prize and a thousand bucks? Nope. So I guess third prize gets it. Nope again. Third, uh-uh. Fourth, still no. Fifth, anybody? Finally, sixth prize, who wasn't supposed to win a dime, claimed the thousand bucks. We didn't stick around to see who would be there to claim fifth prize, the last cash payout, but my guess it was probably finisher number 85 or so stumbling in from the bar next door when the Forty-Niners game ended.
11-Oct-2010 3:14 PM
Yesterday we got a used water pump from the guys here at the marina. They'd pulled it off a repo boat and it looked brand spanking new. So I hooked it up and threw the switch, and, still nothing. Now I was completely confused. There was power, the water lines were hooked up and not clogged, what could possibly be the problem? And what were the odds that two water pumps would be blown? Our water pump on the cat had lasted around the world without issue.
So the only way to find out was to hook up a third pump. After a trip to West Marine we returned to the boat, made the quick connections, and with a deep breath threw the switch again. Rrrrrrrrrrrmmmmmmmm. Ah, sweet flowing water. No more brushing our teeth with a hose out on the dock. We're a movin' on up Weesie.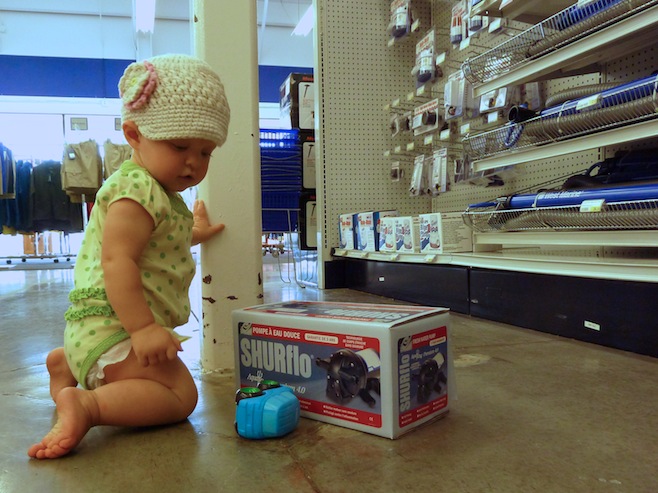 11-Oct-2010 our life. daily.
A little while back Ali and I decided that we hate today's toys. Everything, books included, comes with batteries and makes a ton of ridiculous noise. So we made a pact to only buy non-battery toys for awhile. Old school stuff, blocks, weeble-wobbles, and the like.
We had no idea just how hard that it these days. Walking down the toy aisles now you are assaulted by motion sensored dolls for crying out loud. We eventually found a couple of things. The standard square box with different shaped blocks to push through is a nice mental challenge. Then we found the 50th anniversary edition of the toy we all had, the Fisher-Price red barn with the doors that went mooooo when you opened them. Of course today's version pales in comparison. It only came with one farmer (who is big enough that I couldn't cut him in half and get him in my mouth), no silo, and a barn whose doors don't even open. Pretty lame, but Ouest seems to like it and I guess we can all rest assured it wasn't painted with lead.
Then I decided she needed a car. Just a little car to push around. Aside from tiny Matchbox cars there is almost nothing. It took twenty aisles of searching to finally find a blue van with oversized wheels and a stupid grin and eyes painted on the windshield. I am, no doubt, going to drive Ouest crazy with my childhood reminiscing.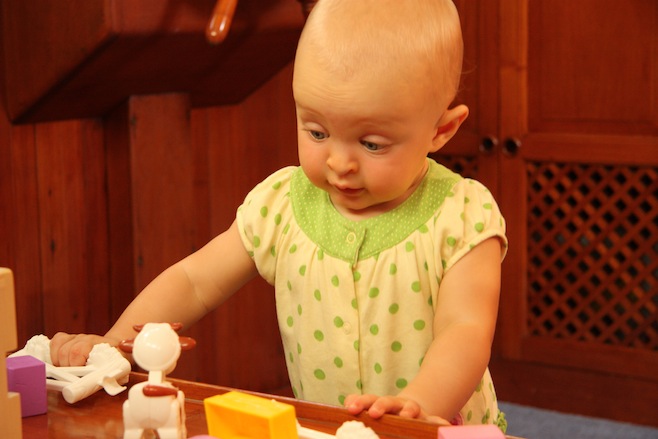 12-Oct-2010 bumfuzzle.
Battery system is finally complete. Ali took Ouest to town today so I could have the run of the house for a while. Meaning I could tear into the engine compartment, battery compartment, and fuse box. I installed a new Magnum inverter. Not a fancy pure sine wave, but just your run of the mill modified sine wave. Basically the same type of inverter we had in both our old boat and even the VW. We got a lot of advice recommending a pure sine, but we simply don't run anything on it that would necessitate that. We need to run our ten dollar coffee maker, two computer chargers, and camera battery charger. That's about it. And all those things ran just fine with the modified sine wave.
As for the install, it was pretty straightforward. Unplug the AC wires from the old inverter and run them into the new one, do the same for the DC cables, hook on the ground wire, and done. The only potential problem came with the White/Black/Green wire combo. I've always understood black=negative, but in this case black=hot. White=neutral. At first I'd begun to hook them up in reverse, but fortunately something made me think about it a bit more and double check myself on Google. Had I left them backwards and thrown the power switch we would have had a big problem. Anyway, with wires straight I flipped the switches and we were back in business. All the batteries are charging perfectly and with shore power turned off we've still got AC power. I breathed a big long sigh of relief when this all worked the first time through. (Only problems I had was that one of the cable clamps was missing, and my ground wire was a little short. Will take care of those later.)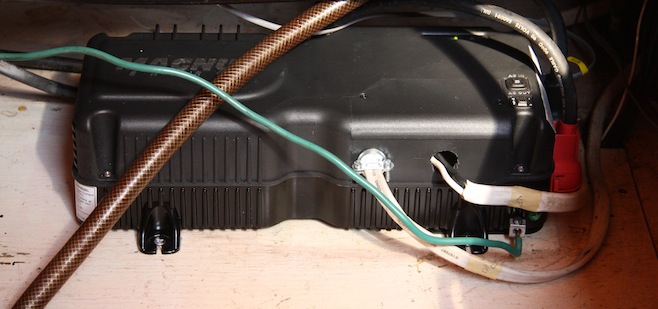 12-Oct-2010 our life. daily.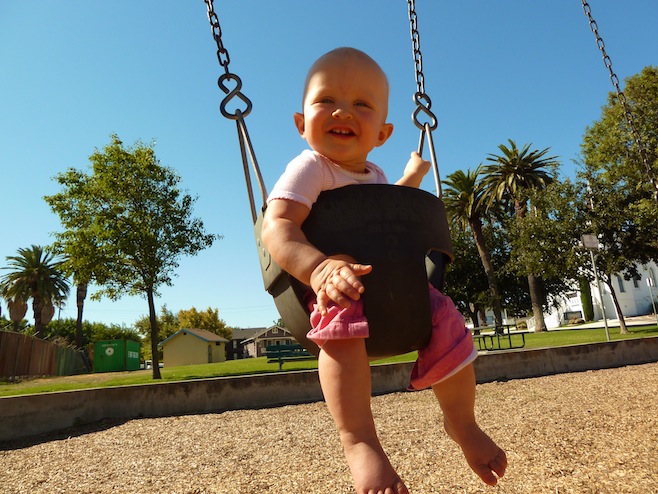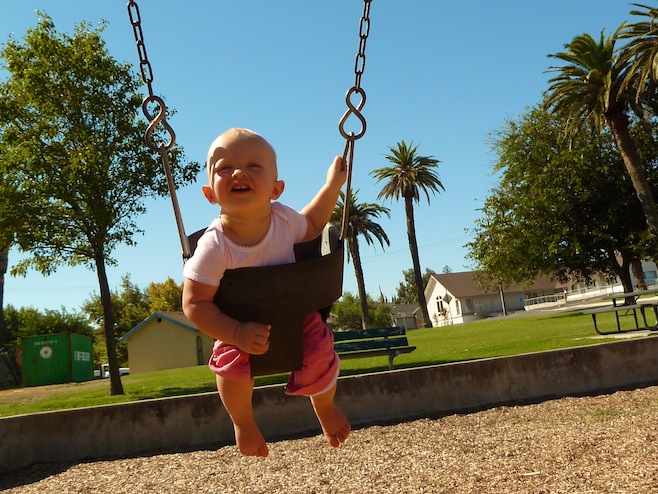 13-Oct-2010 bumfuzzle.
Today marked the third time in as many months that I've replaced the kitchen faucet. First one just plain broke. Second had a nice big scratch in it, and this third one? Well, who knows, it probably won't last. This may just be what happens if you don't buy a proper marine grade, ugly, and expensive faucet from West Marine. I worked on some other small projects today. Replaced a couple toggle switches on the electrical panel, began the process of putting Ouest's bed together, and did a bit of rewiring on our water pump. The new one kept cutting out which I quickly found was due to a bad wiring connection. So today I did away with the flimsy plug wires and just butted them up properly. And wouldn't you know it, the water pressure seems to have doubled.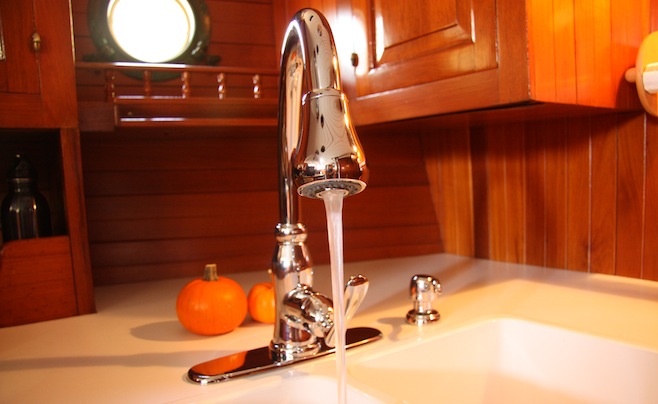 13-Oct-2010 7:58 PM
We've been asked quite a bit what type of cameras we use so I thought I'd just post it. We use a Canon EOS Rebel XSi for most shots. That's our big camera. We also carry around a small Panasonic ZS5 which takes okay pictures, but which we really bought for the HD video. To be honest we are absolutely kicking ourselves for not buying the Canon years and years ago. Up until just a few months ago all we ever used was our little Sony Cybershots. They're okay, but not even in the same ballpark as the DSLR. For photo editing and storage we use Aperture 3 on our Apple. And that's it.
13-Oct-2010 our life. daily.
Spent a lot of time outdoors today. Went to the beach for awhile where Ouest was once again a little tentative about touching the sand at first, but then suddenly attacked it with a fervor. It's almost like she's shy about it and then decides, "Oh, what the hell." And then of course later on in the day we lazed about in the grass drinking beer and playing with sticks and stones and dandelions.
13-Oct-2010 ouest lill. ten months.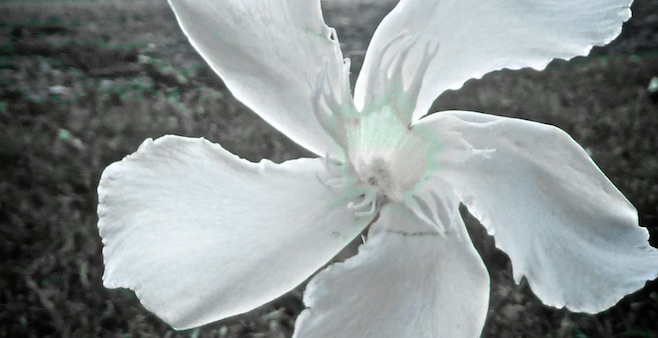 Ouest,
Ten months have gone by. I guess to me that marks the point in which you've been outside longer than you wereinside. Which seems like a pretty big milestone.
This month your eyes have really begun to attract attention. Not a stranger goes by without commenting on them. They're big, they're blue, and they're amazingly expressive. Strangers also comment often on how quiet you are but how you seem to take everything in. And around strangers that's exactly what you do. You stare them down. Almost uncomfortably so for some people. Especially so if they're sitting in the booth next to us at a restaurant and can't take a bite of food without you following their fork from plate to mouth.
Favorite thing this month? Without a doubt, flowers. They're everywhere at the marina and your face lights up each time we yank one off a tree for you. You've learned to carry them gently by the stem and to carefully taste them without eating them. And yes, dandelions are flowers too. Your mama may try to call them weeds, but we know better.
Second favorite thing? Playing peek-a-boo. We play it every day when we go to the grassy area to stretch our legs a bit. We hide in the marina laundry room and peek around the corner waiting for mama to come out of the ladies room. You usually squeal a little early and give up our position before we jump out of hiding yelling, "Peeeeeeeeeeeek!" Your arms and legs flail as you laugh at this every single time.
Life has become easier and easier as you've become more and more independent. I know this should be a good thing, but watching you grow up so fast is a little scary. Your mama and I don't want to see this time slip by, we want everything to just slow down so we can fully enjoy it. Of course the work to be done on the boat could move a lot faster, but we won't blame you entirely for that either.
So anyway my little Ouest-erly, chalk up another fun month of watching you grow and learn. See you next month?
15-Oct-2010 our life. daily.
Sometimes it feels like we're moving a hundred miles an hour but going nowhere. The past couple of days have been like that. We've been working constantly, but in the end have very little to show for it. We're getting there though. I guess.
Today we took Ouest to the doctor. She's had a little rash on her cheeks for a couple of months now. It comes and goes but never really completely disappears. So we tracked down a clinic nearby and went in to find that she has eczema. It appears to be pretty mild so we're hopeful that the lotion she was prescribed will clear her up. Despite our best attempts to keep the mood in the office light-hearted and fun Ouest was not buying any of it and screamed bloody murder as the nurse took her temp and blood pressure. The doctor wasn't treated any kinder.
Ouest weighed in at 23 pounds today and is standing 30 inches tall. Still well into the 90th percentile.
There aren't a lot of things for kids to play with in the exam rooms so we had to get creative.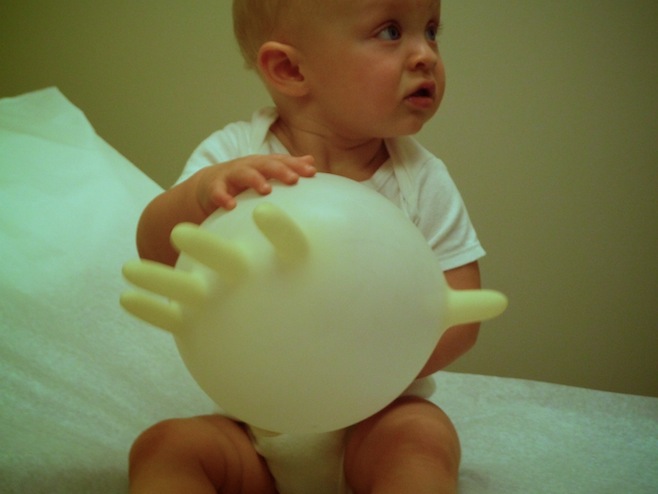 15-Oct-2010 bumfuzzle.
This is in Ouest's bedroom. It's a fold up vanity. What could be better in a little girl's bedroom? I love this thing because it reminds me of some sort of built-in that I would discover around my grandpa's old farmhouse as a kid.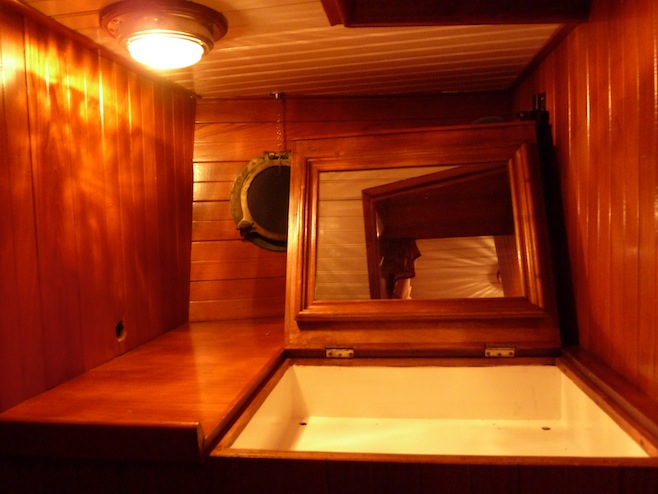 16-Oct-2010 bumfuzzle.
We finally completed putting up Ouest's bed today, which means that we've finally gotten rid of the crib that took every square inch of floor space in her room. I can't tell you how happy we are to finally be able to set her room up, give her a nice safe place to play (yes, the living room cage is going back to the store), open up a ton of space throughout the entire boat, and give us access to things like the steering, autopilot, water tank, etc.. Best of all Ouest went right to sleep in her big new bed as if nothing had changed. A hearty thanks to our friend Laura for making this for us.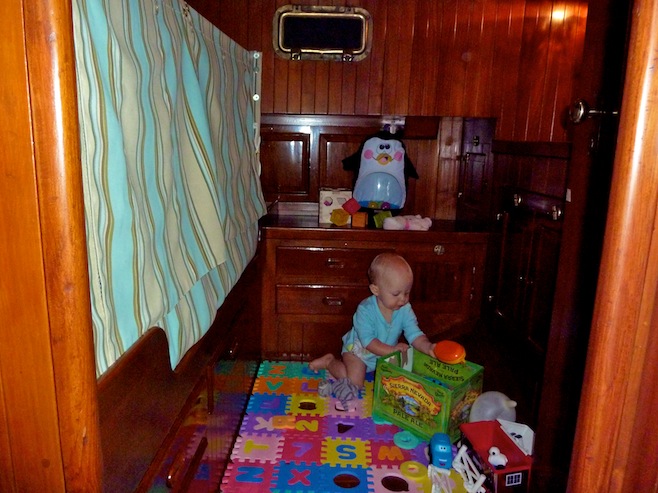 16-Oct-2010 our life. daily.
We drove out to a friend's house for a barbeque today. For Ali and I this is a big deal. I've mentioned it before I suppose, that despite what having a website sharing our lives seems to imply, we aren't actually all that social. Truth be told we quite often find reasons to bow out of social engagements. Even today, just minutes before we were to walk out the door we had to sort of psyche ourselves up to leave. And it's really no reflection on our hosts at all, it is all about us and our sort of laid back life in which we don't generally have to be anywhere and, at least I think, are perfectly content to just hang out together. Now with a baby it's become even harder. Not because she makes going out harder on us, but because we know she needs to get out and socialize occasionally, so bowing out gracefully now means she misses out on an opportunity to have fun with new people and a new experience. Anyway, long story short, we're making more of an effort to get out and take people up on their friendly offers. And wouldn't you know it, we all had a great time today. And still got home just in time to watch the sun go down over the Delta.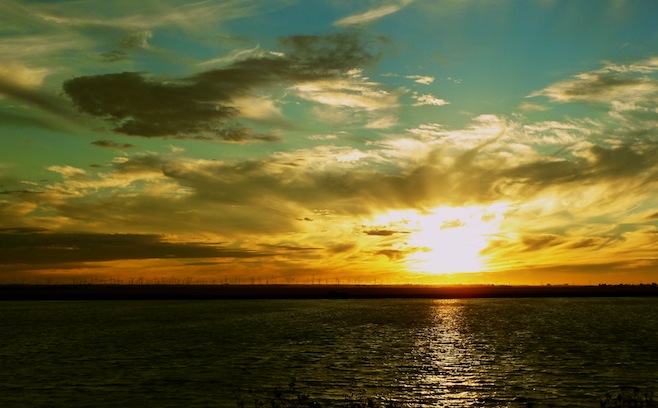 17-Oct-2010 11:55 AM
Ouest was playing on our bed while Ali was putting laundry away. She discovered the porthole and was fascinated by it. Now if only the water was rushing by and dolphins were jumping in the bow wave.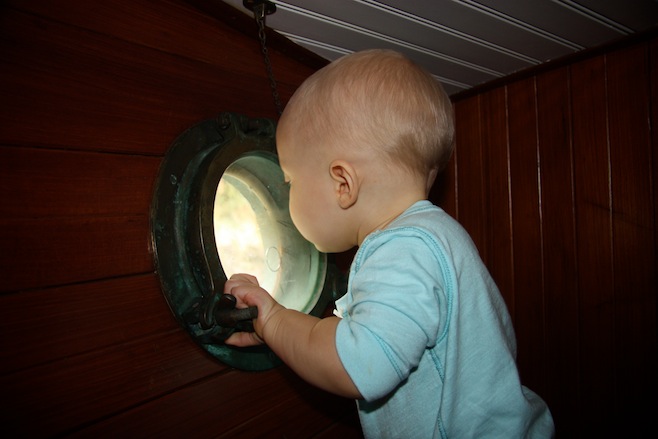 17-Oct-2010 7:21 PM
We had our very first rain since we've lived on the boat today. And let me tell you, it wasn't pretty. Our front door/companionway hatch may as well have been left wide open for all the good it did. We were out at lunch when the rain came and by the time we got back there was a puddle on every step and a soaking wet rug on the floor. That was the big one. The other was one of our big square wooden hatches on the roof. The one right above our couch and table. I'm not entirely sure how the frame of that thing is attached to the roof, but from the looks of things that is the problem.
On the plus side, everything else seemed to be keeping the water out. And from the sounds of things we've got two to three weeks before the November rains begin in earnest.
That companionway hatch is going to take some serious work. The top of it is teak. Made exactly as the old teak decks were I suppose. It's cracked, worn, and sun faded. I'm just thankful that at some point somebody had the good common sense to get rid of the old teak decks.
After seeing just how much water was coming in today we are amazed that this boat didn't have serious, serious, water damage.
17-Oct-2010 8:25 PM
It was cold as well as wet today. We're told the switch to fall has been made.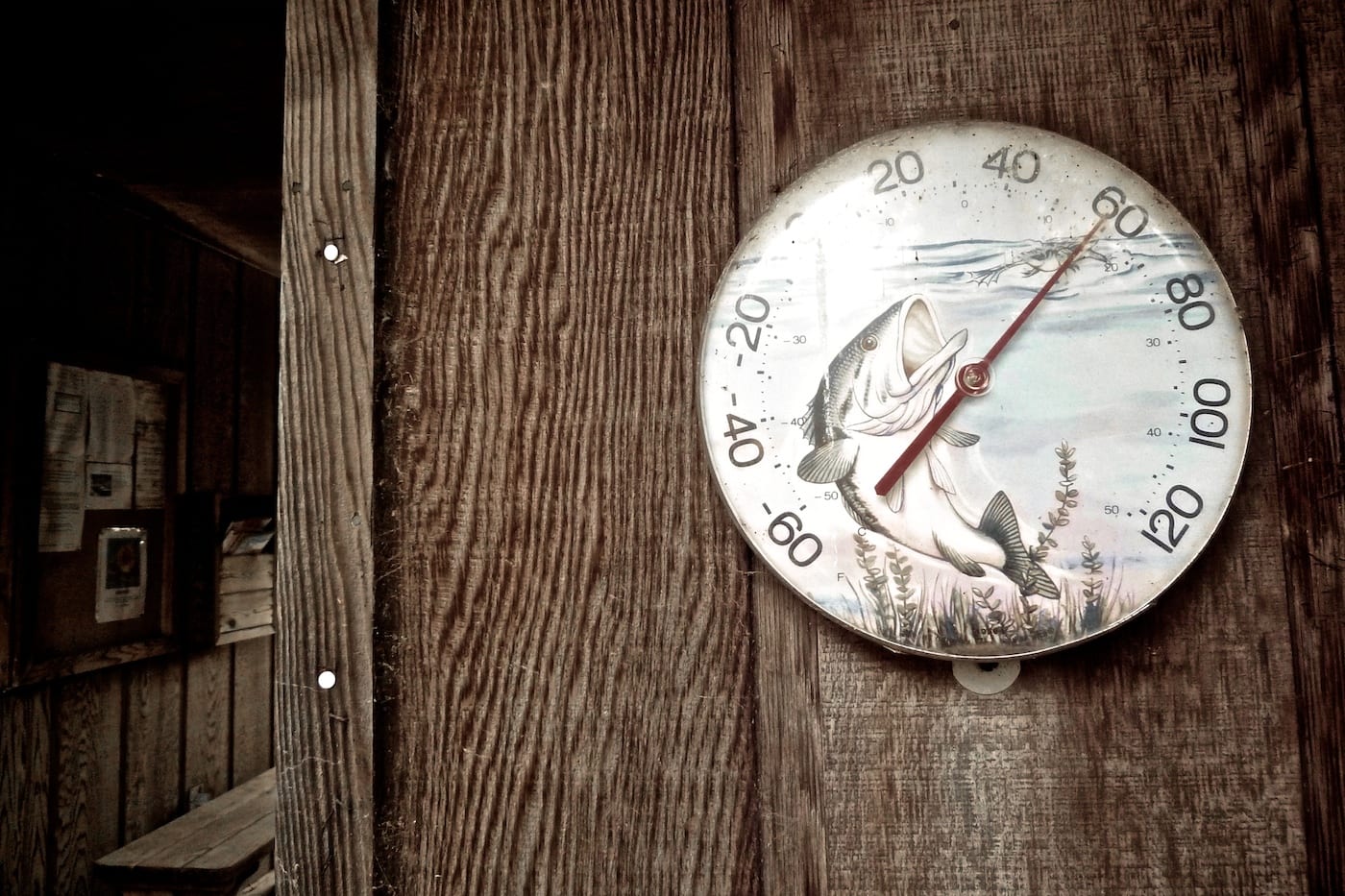 17-Oct-2010 bumfuzzle.
Began replacing porthole gaskets this morning. The round ones work just fine. The rectangles, not so much. The ones we ordered are a good inch too small. I found this out after pulling out the old gaskets, which in reality were little more than cheap foam. They weren't going to keep a boarding wave out, but they had to be better than nothing. Guess the previous owners couldn't track down the right gaskets either.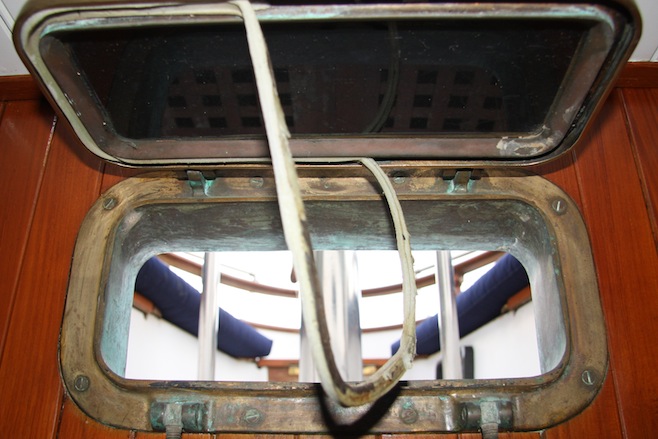 17-Oct-2010 our life. daily.
Ouest gave me a hand today on a couple of projects. She's getting pretty handy to have around. If I need a utility knife, a screwdriver, or a power drill, she's right there to hand it to me.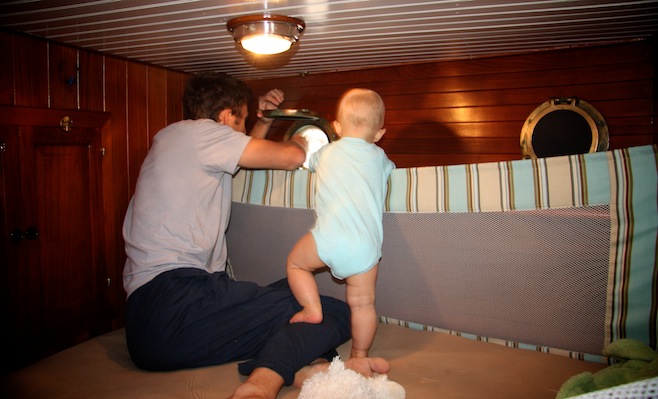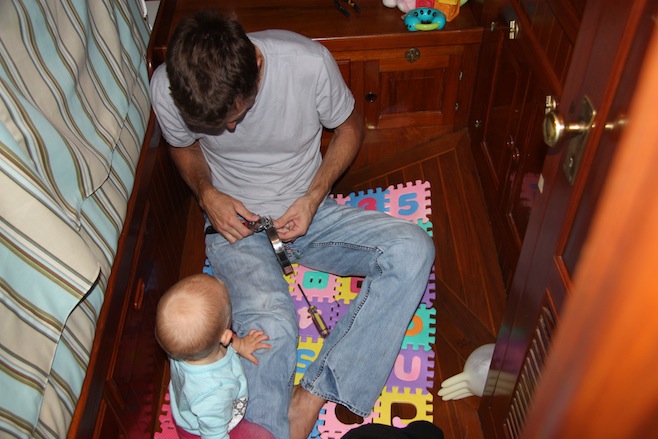 17-Oct-2010 8:53 PM
Enjoying her new bed.
18-Oct-2010 bumfuzzle.
Putting a call out to our friends in the Bay Area. Particularly those who have a bit of woodworking knowledge and have the tools to do something with it. I have neither of these. Our companionway hatch is essentially a big gaping hole in our roof at this point, and I've not got much of an idea where to begin with it. So if you can give us a hand please give us a shout. Signed, Your Humble Servants.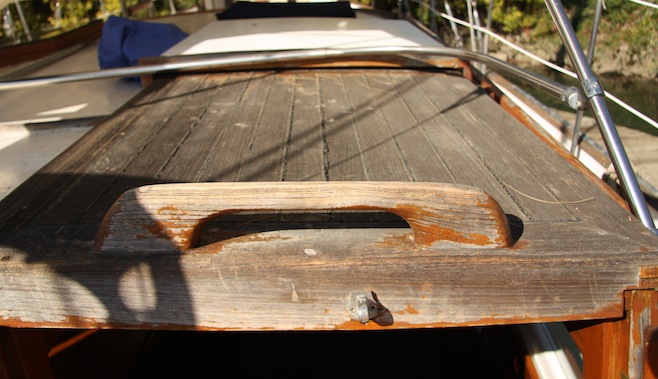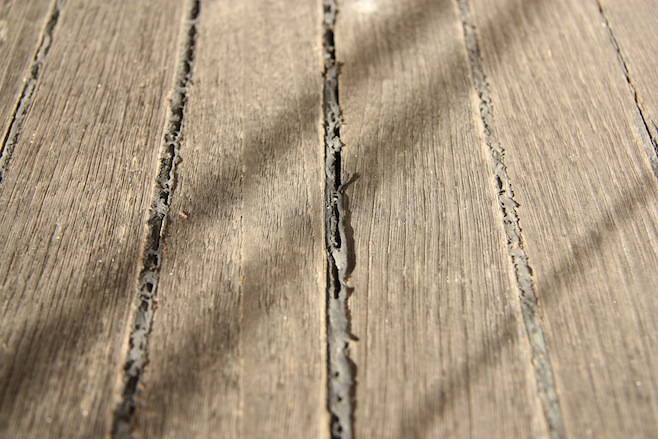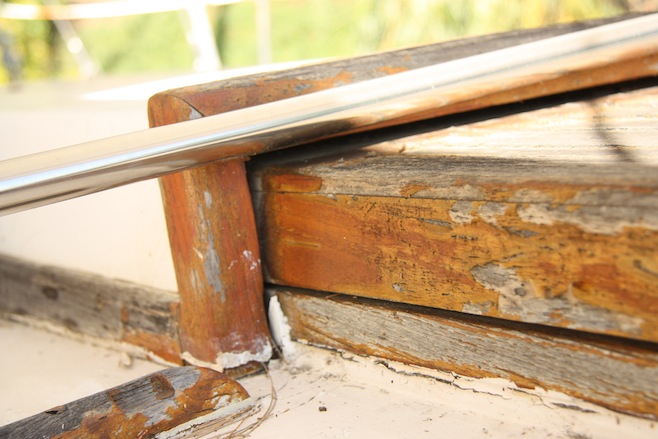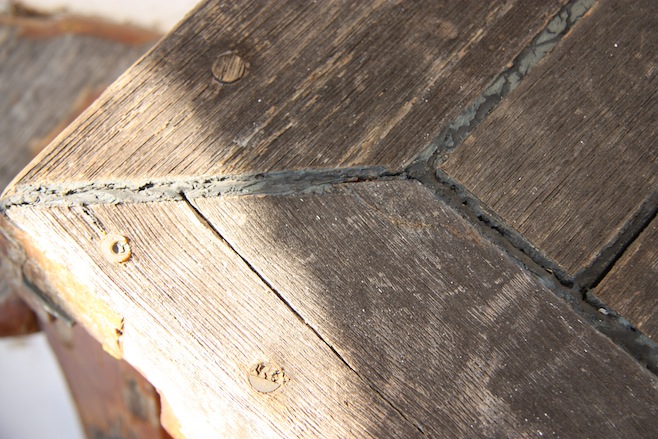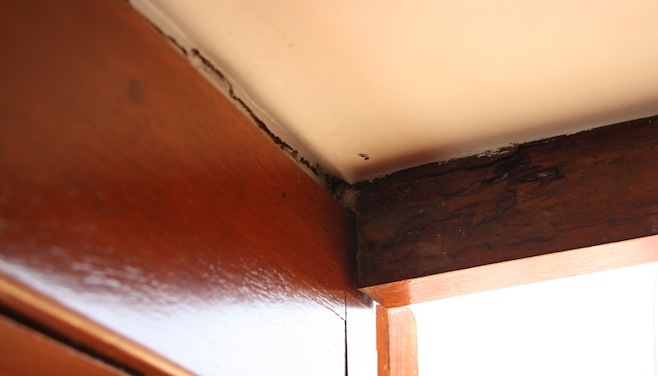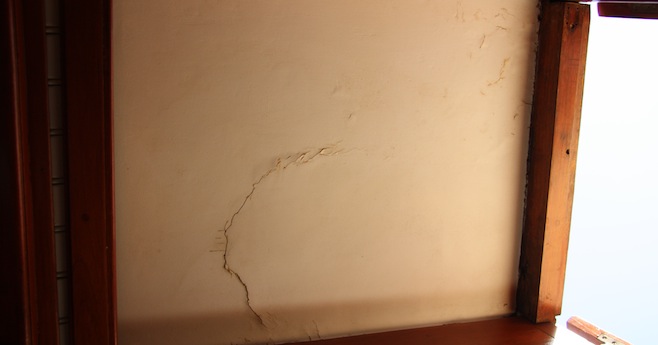 18-Oct-2010 our life. daily.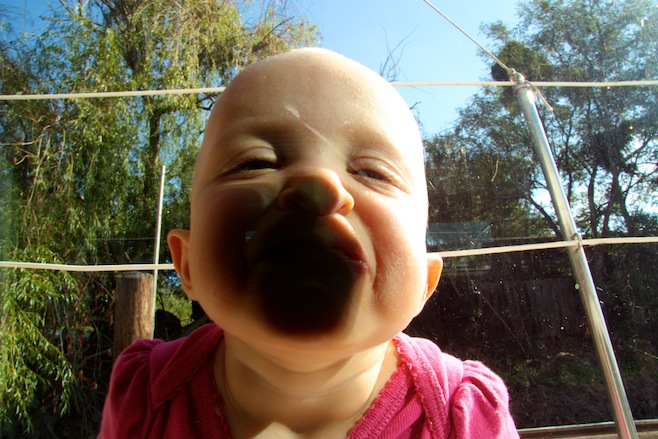 18-Oct-2010 bumfuzzle.
Big news on Bumfuzzle. The engine purrs like a kitten. I was pretty excited last month when the engine started for the first time, though it only lasted for five minutes before stalling. So my excitement then was tempered by Ali's eye rolling and comments like, "Yeah, that engine is not ready to go anywhere."
So today I spent a little time communing with the engine, draining off some dirty fuel, making sure the only thing in the lines was fresh diesel, and bleeding the whole system again. In the process I discovered today that I hadn't actually been bleeding the injector pump properly before, so today it really got a nice full purge. No more air.
And when I turned the key this afternoon she fired up in a split second, ran for as long as I wanted, idled smooth through the whole range, and generally sounded as if she'd been running every few days for the past decade instead of lying dormant for at least six years. So I've declared success on the running of the engine. There are still a few things to be done of course, such as putting it in gear and seeing if she'll actually go forward and backward. That's next on the list. Have to get into Ouest's room to have a look at the stuffing box during that episode and make sure there is a bit of water getting through and cooling things off. But anyway, that's for another day. Today I bask in my triumph.
19-Oct-2010 our life. daily.
When I'm working on something, and there are tools around, there is a certain girl who can't stand it if she's not smack dab in the middle of the action.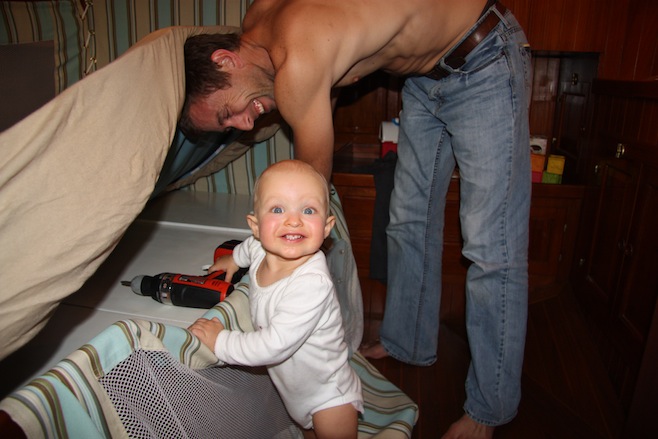 19-Oct-2010 8:11 PM
Ouest has been having a hard time getting these molars to pop out. They say these can take a couple of weeks, and that's about what we're up to now, so we're all ready for them to come through. We've done all the normal pain reducing stuff for her, but every night she's still been waking up with an aching mouth. Oh, but just think of the food she can chomp up when they get here.
19-Oct-2010 9:36 PM
Ali and I officially became high-school sweethearts on this day twenty years ago. So how did that happen? We'd known each other, or at least of each other, for years. Since the sixth grade, I would guess, when we first attended the same school. We had a lot of the same friends, but didn't really "connect" until eleventh grade. That's when one of my friends told me he was totally into Ali, but he was too big a wimp to do anything about it. I told him I'd talk to her about him and see what she thought. That was his big mistake, and probably my greatest moment.
So one night soon after I found myself in Ali's house, sitting on the couch, talking about anything but my friend. We were having fun, getting along great, and then, with Ali cross-legged on the floor in front of me in her green rival high school sweatpants (a gift from another suitor) and white t-shirt, I leaned down and kissed her. For a few weeks we kept it on the down low. It's not cool to go stealing a girl from your buddy, even if the girl wasn't, and never would be, his girl. But on October nineteenth, at a party our entire group of friends were at, it all came out. We were officially dating.
And the rest, as they say, is history.
Moral of the story? I can't choose, there must be a hundred of them. How about, if you want something badly, it's best to go get it yourself.
20-Oct-2010 our life. daily.
We went to the beach today as it appears that this may have been the last warm day we will see for quite awhile. Ouest seemed to really enjoy the extra warmth of the sand today too. She would sit and just gently push her feet deep into the sand, pull them back, and do it again. Slowly, contentedly.
20-Oct-2010 bumfuzzle.
It took a couple of days to get just right, but Ouest's bed is finished and is pretty sweet. It's like having a giant pack 'n play crib for a bed. This should actually work out well for at least a few years as she has plenty of space for herself and at least fifty or sixty stuffed animals. And best of all for a sailboat is that it works perfectly on either tack. She can be rolled over by rough seas and land gently in her bed's walls. Anyway, she loves it, and we love the whole new world of space getting rid of the crib has opened up for us.
20-Oct-2010 8:26 PM
I've sort of taken over the dinner feeding lately. The results are less than perfect. Ali called tonight's dinner, "The messiest yet." And Ouest and I aren't even trying to beat our previous records for filthiness, we just do it.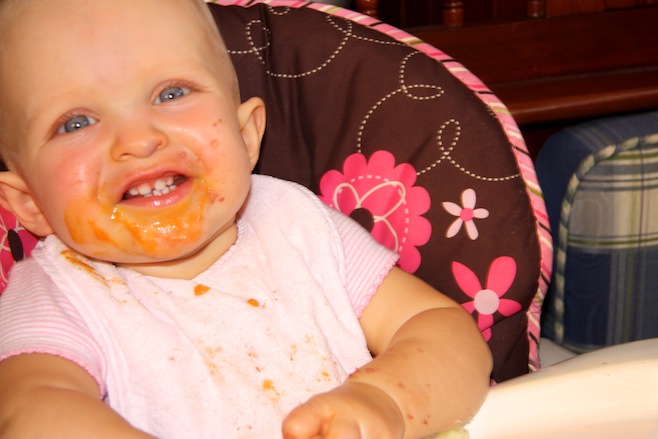 21-Oct-2010 bumfuzzle.
The quest to get the boat water tight continues with the replacing of five more porthole gaskets. When pulling off the old ones I was struck by how each and every one of them is a different material. A couple were incredibly old and just crumbled off, one seemed to be glued in, another was black foam, and the last was gray foam. None of them kept the water out. Fortunately the new gaskets are doing just that. And on the first try no less. Will wonders never cease?
On another note, this picture illustrates what to me makes an older monohull stand out against a modern catamaran. To us this is a home. It's something that I never gave much thought to back on our cat, but that boat just would never have felt like a home to the three of us. To just Ali and I? Sure. It was a home. A sterile modern home. But this? This is a warm, inviting, livable home. A home a little girl can grow up in.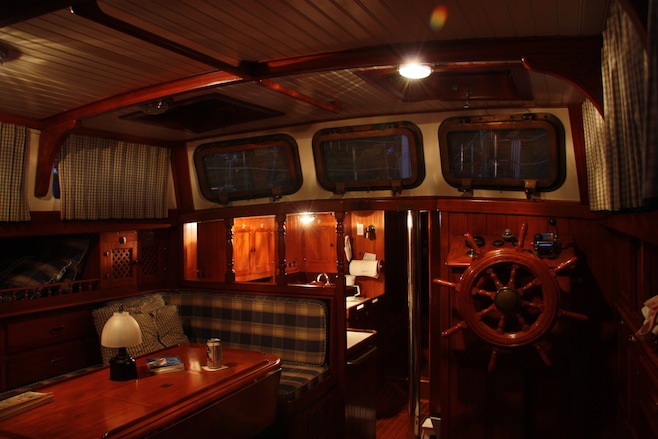 21-Oct-2010 our life. daily.
Ouest has been making a lot of new noises lately. Obviously experimenting with her voice and all that. One of her noises is this sort of crazy fake cough with an inhaling kicker. She has really been getting into this one and belting it out pretty loud. Well yesterday I was reading about this massive outbreak of whooping cough they are having here in California that is killing all sorts of infants. All the story said about whooping cough was that it causes you to cough and cough until you finally catch your breath with a big inhalation that sounds like a whoop. "Oh Christ," I thought. "Is this stupid noise actually something serious?" Of course after consulting Dr. Google I was able to confirm that no, in fact my daughter is not sick, just strange.
22-Oct-2010 11:26 AM
We're going to Minnesota in a couple of weeks to visit family and see Ouest's doctor. She may or may not need another laser treatment. That's what we're seeing the doc about. Anyway, we sent an e-mail to the family to let them all know we were coming back and were going to hang around through Thanksgiving. We sent another one to our thirteen-year-old niece telling her Ouest was looking forward to seeing her and that she'd be a lot more fun to play with than last time. Maybe they'd even be able to play with her dolls. Her reply came back, "Does she chew on the dolls head? Cause I don't know if I would want to play dollies with her if she is always giving them a bath." We can just sense how excited everybody is to see us.
22-Oct-2010 bumfuzzle.
So after three months of warm sunny weather, rain is in the forecast. And what do we do? We tear off a leaky deck hatch. Yeah, wouldn't have wanted to do that while it was dry outside. This is an example of sticking your head in the sand and pretending there isn't a problem. Until of course, like a couple of days ago with our heads stuck in the sand, the water started dripping down the back of our pants.
This was a pretty big project. First there were two dozen teak plugs to remove just to access the screws holding in all the trip pieces. Then there was the actual removal of the trim which was all forty-five degree cuts wedged in tight as can be and covered with countless layers of varnish. Getting this all off without destroying them was tough.
Once it was down the damage was obvious. The balsa core was mush on the starboard side, which is where we had already figured out the leak was coming from. The piece of wood used as a backer board for screwing the outer frame on was mush too. As was the ceiling panel. All of this isn't really all that dramatic. I dug out the rotten wood and everything seems to be dry. As it should be since it's been cooking in the sun for the past three months.
The thing is we weren't really all that prepared to tackle this job today. To do the job right we need to remove all the ceiling panels around the frame so we can get off the other three sides. We also need to fill the fiberglass with something, epoxy I am assuming without actually having researched this yet. But non-stop rain is on the way and we are leaving in a few days as well, so today I used what I had lying around and got it back together as a short-term fix. I used a loose 1×2 as a new backer board and gooped some 4200 on the deck to seal us up tight from the elements. When we're ready to fix it right it shouldn't be a big deal.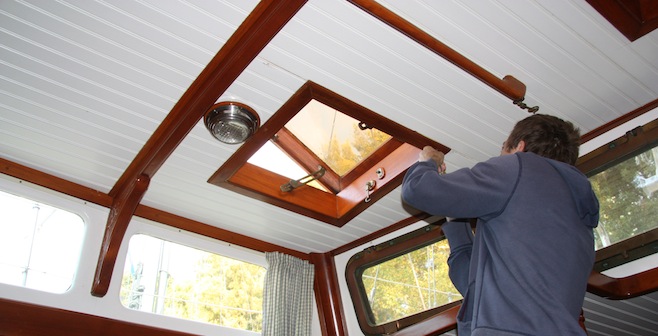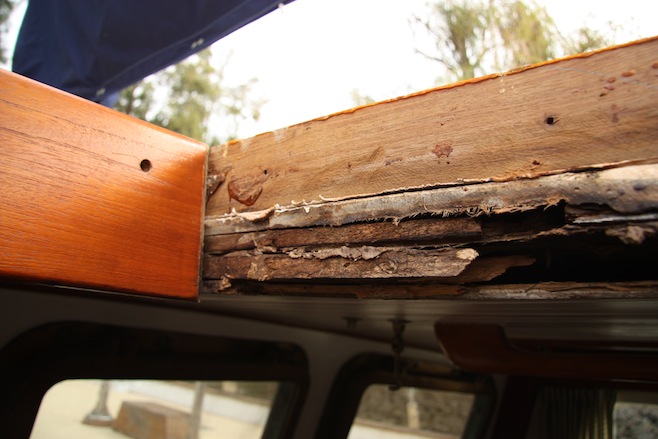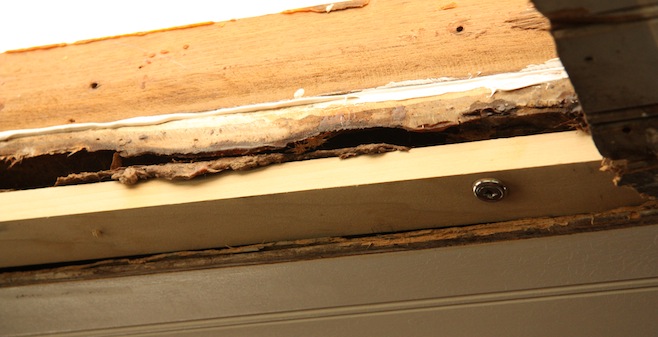 22-Oct-2010 8:16 PM
For the record, Ouest's cheeks are completely rash free. After just a couple of days worth of medicine. The same rash she had for most of the last two months while her parents played let's change her lotion and let's not wash her face. Maybe we should stop acting like we belong to the Christian Science Church and accept that occasionally going to the doctor's office isn't such a bad idea.
23-Oct-2010 7:28 PM
We've been hesitant to really announce any travel plans we might have with this boat. Mainly because the idea of keeping to some sort of schedule and accomplishing much of anything seems to be nearly impossible these days. Originally, when we made our first offer on a boat back in May we figured we'd make it down to Mexico this year. For those that don't know, the main timeframe for making the passage from California to Mexico is November. Earlier than that and you risk hurricanes, later and you have to deal with winter Pacific storm season.
Anyway, when we finally bought this boat in July it became clear that we had a lot of work to do in just four months if we were going to make it. There were two trains of thought. One, we can bust our butts day after day, and not really enjoy ourselves in the process, but have the boat ready to go in time. Two, we can just sort of take it easy, get some work done here and there, and see where we end up.
Obviously we leaned heavily towards option two. Now, with November looming, we have a boat that might possibly be ready for a quick trip down to the Bay, but is in no way ready to take offshore. So, with winter coming, the holidays, and a doctor's appointment in Minnesota, we've decided to just take off and visit with family for a few weeks. Should be fun, and when we come back Ouest will be a couple of months older and we'll be refreshed and ready to bang out some boat projects so we're ready for spring in San Francisco. Whatever spring in San Francisco means.
23-Oct-2010 7:50 PM
Ouest is just ten months old, but she's already comfortably into 18-24 month clothes. And from the reactions we often get, she must look older than her age. If she were seventeen she could go into the liquor store and walk out with a twelve pack. But she's just a baby, and people seem to be expecting more from her. So the other day a stranger stopped right in our faces and said, "Hi." She then waited expectantly for a few seconds before saying, rather haughtily, "I guess she doesn't want to say hello." I probably should have said something, but instead I just shrugged. Like, "Yeah, she must not like you." This lady also took the opportunity to tell me that Ouest should have a pair of sunglasses on. I was going to ask her if she had any advice when it came to discipline, but she left us too quickly.
23-Oct-2010 our life. daily.
Outside. Rain. Inside.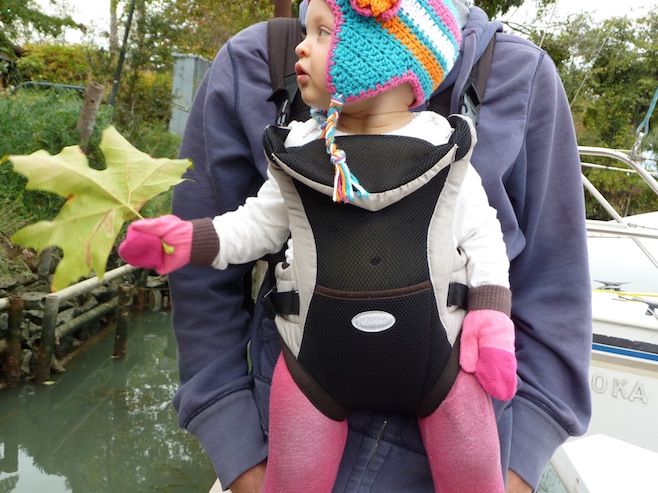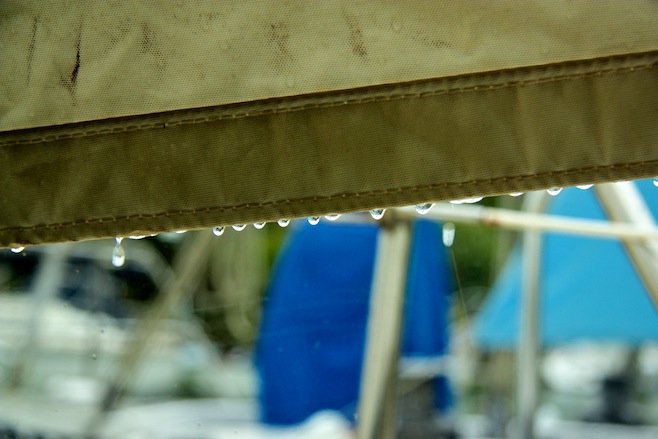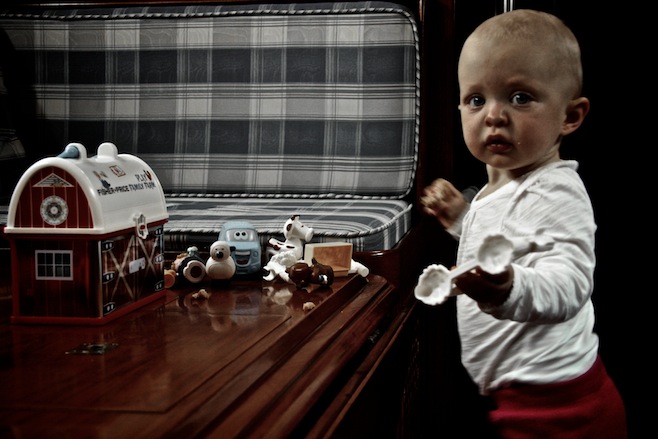 24-Oct-2010 our life. daily.
Lots of rain today. Enough to realize that we've got even more leaks to contend with than we thought. It's a miracle this boat was in the condition it was in when we found it. Based on the water infiltration we're getting now this thing should have been one big rotting pile of moss. So with the rain we found ourselves cooped up inside for a good part of the day. Oh, we still got out for pizza in the afternoon, but we had to get plenty wet to do so. Wet enough that Ali claimed that she might even start cooking onboard. We'll see. I think that was probably just the rain talking.
25-Oct-2010 7:18 AM
The past couple of weeks Ouest has been having a tough time sleeping. She's been waking up five or six times a night crying. All she would need is for us to lay her back down and cover her up with her blankets and she would drift back off to sleep easily enough, but it was making for some restless nights for all of us. Then two nights back she only got up twice, and last night she slept straight through. She's been down for over twelve hours now in fact. The problem with that as parents is that even when she is sleeping this good we worry. "Do you think she's all right?" So we get up, peek in on her, adjust a blanket, and then go back to bed and lie there for two hours trying to get back to sleep ourselves. I can't imagine ever just sleeping through the night again.
25-Oct-2010 7:40 PM
This is the most quiet marina we've ever been in. A hundred boats and yet most days we don't see another soul. I've harped on about it before, but every day I'm amazed that there are actually owners to these boats sitting here. Owners who pay their dockage each month for a boat that they probably won't see this year. Or next. I particularly like this boat because despite the neglect it still tries to beautify itself. See this dockline? It's now been converted into a pretty little planter.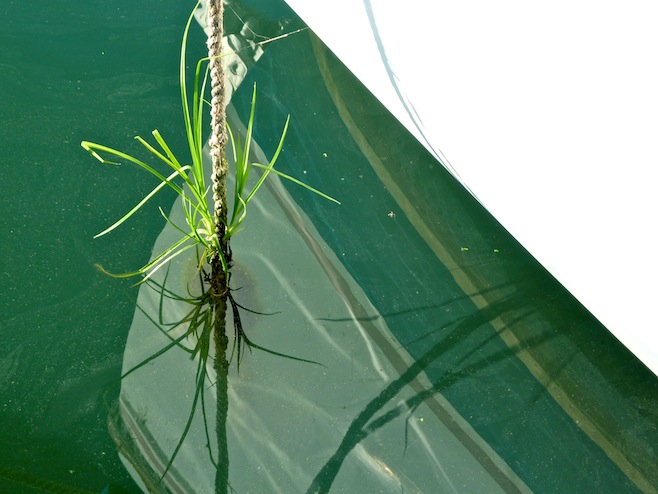 25-Oct-2010 8:14 PM
Ouest took her first steps today. All right, that sounds bigger than it should. She took a step, twice. Thus, steps. She's been lunging around the past few days, standing, thinking, and then diving for her destination. Today she began the first tentative steps. They were good ones, nice and steady, but then she seemed to decide not to take it too far. Yet. Don't think we've got much longer now though.
26-Oct-2010 our life. daily.
A quick walk before nap time. Those are tired eyes. Ali took one look at this picture and said, "You've got her hat on backwards!" If it's not a baseball cap I'm hopeless.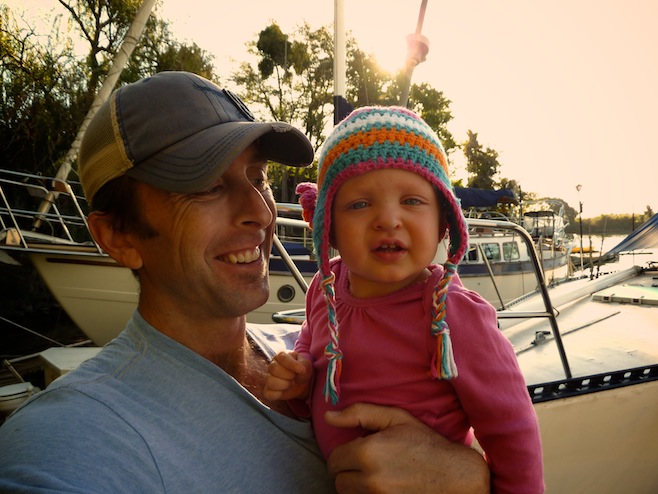 26-Oct-2010 bumfuzzle.
My temporary hatch fix from the other day failed in the rain. The one side I sealed up did well, but it turns out that wasn't all there was to the leaks coming from that thing. So the past couple of days I've been working on the full job. This seems straightforward enough. Just take out the three screws holding on each of the four sides, recaulk, and screw back on.
Of course it's never that easy. To get at the screws would mean removing a dozen ceiling panels. Panels that are nailed on, and that seem to have no intention of ever coming off. So instead I just cut out little blocks of the panels to access the screws. This was an okay workaround since the trim would still cover the area. But then a couple of the screws were stripped. So then I had to get the Dremel in there to slice them off. Okay, three sides are off.
Then the fourth side. Cut the ceiling panels to get at the screws, but there are no screw heads there. Jimmy around for awhile and finally discover that the screw heads are actually in between the fiberglass, screwed to the core. I can't for the life of me figure out how this ever came about other than to assume that at some point in the distant past somebody else dealt with this leaking hatch and decided that when they were finished it would be fixed for life, so there was no point in making it accessible for the future. Anyway, much cutting later, the screws are all out, everything is sanded and clean and ready to be put back together again tomorrow. And in two more days there will be rain. If I've failed at sealing this hatch up we will know it then. And if I've failed, Ali will take the Dremel, cut off my head, and throw it overboard to feed the otters.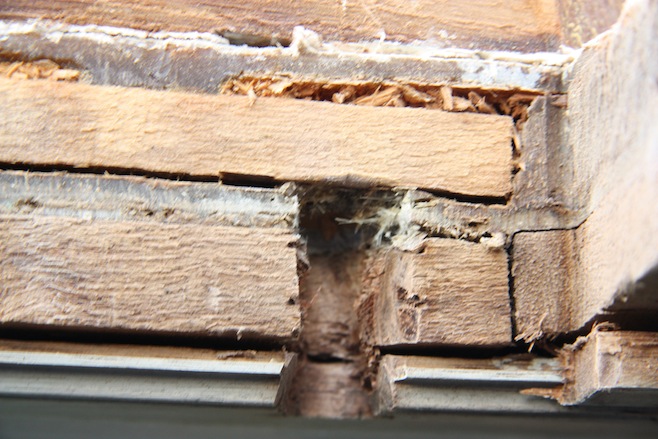 27-Oct-2010 7:21 AM
One of the great things about keeping this website is how global it is. We get to communicate with people all over the world. We've got a counter on our site which allows us to keep track of just where the last 500 visitors at any given time have come from, and think it really goes to show how the internet makes this world of ours so small.
335 United States
44 Canada
25 Australia
22 United Kingdom
14 Germany
9 Hungary
6 Mexico
6 Israel
4 Uruguay
4 Denmark
4 South Africa
3 Japan
3 New Zealand
3 Poland
3 Malaysia
2 Netherlands
2 Sweden
1 Singapore
1 Russian Federation
1 Saudi Arabia
1 Argentina
1 Brazil
1 Indonesia
1 United Arab Emirates
1 Serbia
1 Philippines
1 Hong Kong
1 Luxembourg
27-Oct-2010 bumfuzzle.
It's been a long process getting Ouest's room into shape, but we finally did it. There are still a few things needing attending to, and we haven't touched her bathroom yet, but for the time being we are done in there. This is what it looks like.
27-Oct-2010 our life. daily.
Already knee deep into a twelve-pack.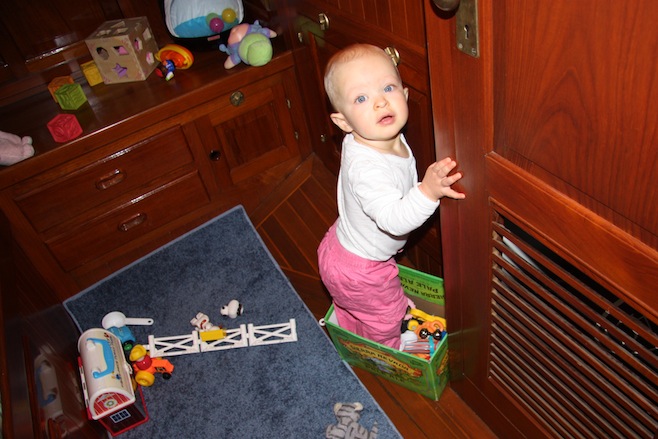 28-Oct-2010 bumfuzzle.
Well over the last couple of days we've fixed the leaky hatch and finished replacing a bunch of porthole seals. What we haven't done is anything about the companionway. The hatch which actually seems to act as a funnel letting the outside in instead of a door keeping the outside out. With only a couple more days before we take off, and the rainy season here approaching quickly we took drastic measures today and dressed the boat up just like all of her neighbors on the dock. Yep, we disgraced Bumfuzzle with a blue tarp. Redneck style.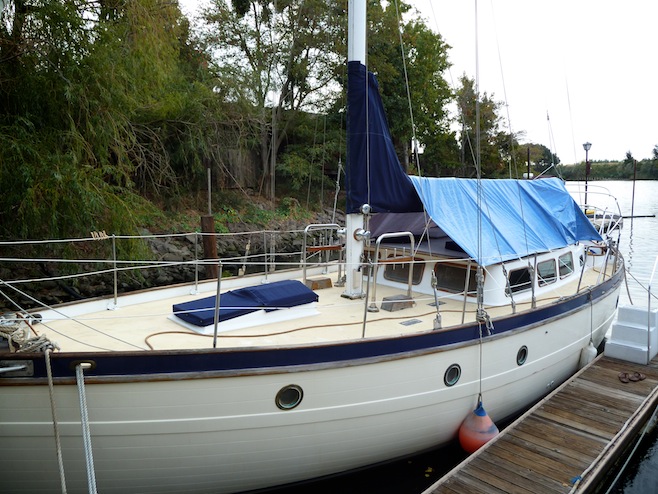 28-Oct-2010 our life. daily.
Things are pretty low key around here lately. Who am I kidding? They're low key every day. But lately it seems we just keep ticking off small projects that need to get done before we take off, then go to lunner in town, and then go play in the grass before coming back and getting ready for bed. Wake up and repeat. That's life on a boat in the sticks.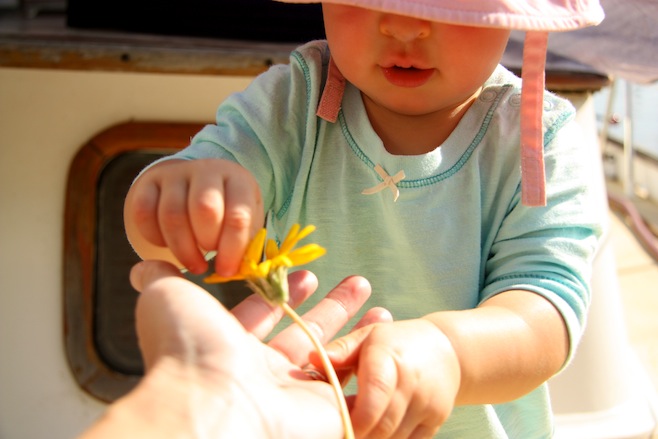 29-Oct-2010 our life. daily.
Ali finished painting the bathroom today and I replaced a couple of light bulbs. I also started the engine up again. It fired immediately and still ran great, so I feel like we can leave and when we get back she'll be ready to go. That was the extent of our project management today. Forecast called for rain all day, so we spent our time getting ready for it and taking advantage of the non-rainy weather while we could. Of course it never did rain.
I'm actually kind of feeling bad about leaving. Like I'm homesick already. Missing the boat, our home. We're only leaving for a few weeks, but I think because we weren't able to get things together enough to get out of this marina and down to at least the Bay I'm feeling like there is unfinished business. I just keep telling myself there is time for everything.
Socialize