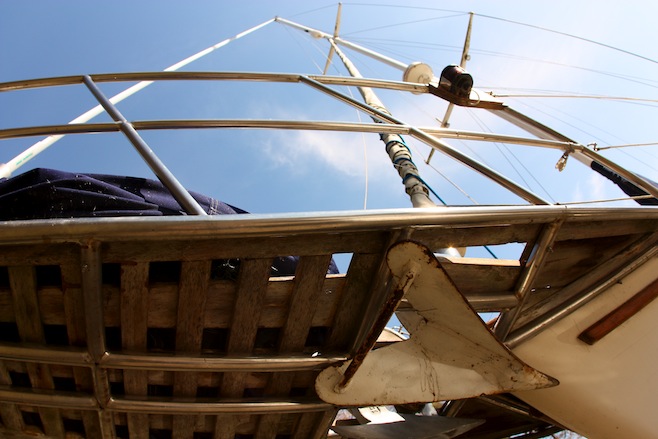 01-Mar-2011 our life. daily.
That picture of Ouest; that is as close as she will ever come to lying around. She's not really lying down there, she is coiling in anticipation of springing up to put that Matchbox car in the plastic container that she is then going to run around Ali with before throwing it all over that piece of luggage. The piece of luggage that has been kept around for months now in order to keep us from having to chase her to the other end of the boat. Ali and I could lounge around for hours not doing much of anything. Ouest is our polar opposite. You know all those cute pictures you see of kids falling asleep in their Cheerios? That photo will never appear here. Those daydreams I used to have of my daughter resting peacefully on my chest? Just that, a daydream. She has got way too much energy for anybody that small.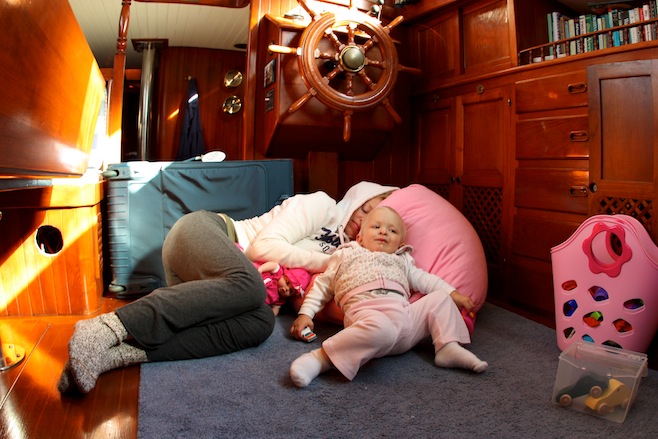 We made the unfortunate lunchtime pairing of pasta followed by blackberries. The results were disastrous.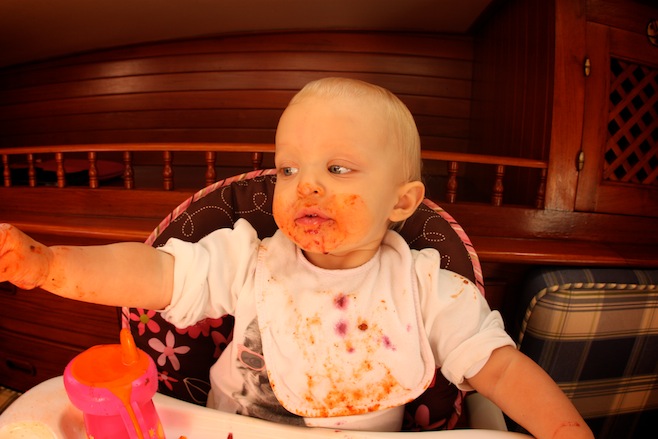 02-Mar-2011 our life. daily.
This cat showed up at the marina a few days ago and fortunately for it the owners of this place are huge animal lovers. So instead of putting it in a sack and throwing it in the Delta they've fed it and pet it. The cat, who Ali now calls Charlie, is in love with any and all persons associated with the marina. He follows Ouest around rubbing up against her like they are long lost friends. Ouest liked it at first, but then tired of it, and tried to get back to her normal routine of picking rocks out of the mud and trying to throw toys into the water, but she was foiled in her attempts every time by Charlie darting head first into her hand as she'd reach for something.
So last night Charlie followed us all back to the boat after our showers, and then wouldn't leave. He sat outside on the dock meowing pathetically for hours. We kept thinking he'd walk back up to the house eventually, but he didn't move. Of course there was a storm on the way as well. Finally around ten o'clock, just as the first raindrops fell we'd had enough and I was nominated to go help him find his way back off the dock.
I went outside and he was in my feet in seconds. We stumbled down the dock a couple hundred yards to the house where he finally picked up his stride a little. And when he was ten full feet in front of me I turned and flew like a bat out of hell. If anybody had been awake they would have thought I'd just committed a robbery. I stole one quick glance over my shoulder and saw him taking a couple of confused steps my way, but by then it was too late, I was gone.
Of course Charlie was just fine and today he and Ouest got back to their normal routine. Charlie rubbing all over her and Ouest acting like she's too cool to care, but still willing to give a little scratch on the head.
For the record, I'm allergic to cats. So stop composing that e-mail right now. Charlie will be adopted by somebody else.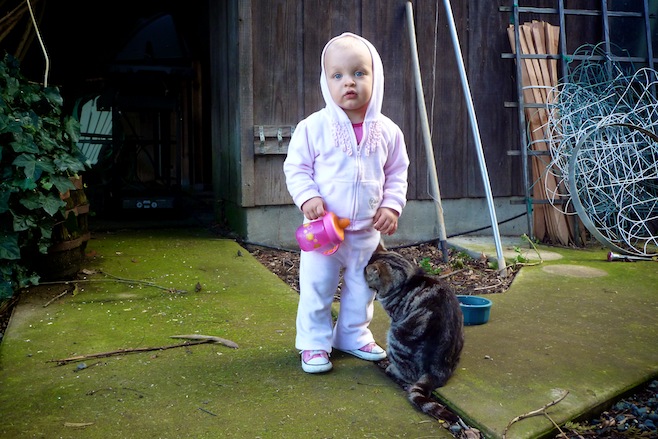 03-Mar-2011 our life. daily.
On 3/3/2011 9:53 AM, jameshudson_1@*****.ca wrote:
I have been reading your blog since the very beginning and even sent off an email to the manufacturer of your Wildcat in your defense. I really enjoyed your adventures and couldn't wait to read your blog everyday.
Please guys, stop with the baby stuff, it is really getting to be old. Don't you realize that the world is filled with babies and yes, what a wonderful experience it is…it's just that everyone seems to have one and everyone thinks theirs is special, so reading about yours has become a boring chore.
The thing is, the world for most people doesn't revolve around their children (I can hear you saying "well it should"). You guys have lost it, lost in your Quest and your quest to do as little as possible for as long as possible…Please, Please, Please write about something that people want to read about (sailing and driving around the world is something everyone dreams about)…NO one wants to read about your kid, except maybe their grandparents!
Your reputation as spoiled rich kids is gone…you're now unemployed, lazy, middle-aged hippies with a kid in tow, and it's all there in your blog…because that is what you write about. I know your more than that…
Kind regards,
Elizabeth Hudson
Through the years we've received all kinds of e-mail: most nice, some not so nice, but this one still managed to take us aback. Thing is, I actually agree with most of what she says. I don't personally read any blogs about babies. I wouldn't find that interesting. But for eight years now I've been chronicling our life, and not in order to satisfy our readership, but to have a diary of our lives. For Ali, for me, and now, for Ouest. It's a public website obviously so doesn't really fulfill the definition of a diary, I suppose, but it does share our lives for our families and friends in ways in which no other medium could. We hope that bumfuzzle hasn't become a boring chore for those people, and for those that it has the answer is quite simple: stop clicking here. You'll feel better, and we won't miss you one bit because we never even knew you existed in the first place.
Anyway, bumfuzzle will continue as it always has. Nobody lives a life of adventure indefinitely. There are always breaks along the way. We sailed around the world. Great. Then we raced across America. Cool. Visited with family for a while. Fun. Drove a long way in an old VW. Groovy. Had a baby. Amazing. And next? There's sure to be something. Do I sometimes wish that I could speed life up and get on with my next big plan? Of course. But it'll come. It always does.
Kind regards from the unemployed, lazy, middle-aged hippies with the kid in tow. (Secretly this is what I've always wanted to be. In my opinion there could be no higher compliment.)
P.S. Our daughter's name is not Quest. It is Ouest. It's the French spelling for West, and is pronounced the same.
03-Mar-2011 bumfuzzle.
We're finally making the push to get out of here and down to the Bay in the next few days. In fact I was even talking with the marina guy about it this morning. So of course it should come as no surprise that when I went back to the boat to do a few things, including run the engine, I turned the key and the starter just went click, click, click. I'm not all that familiar with starters and didn't know if this meant the entire starter was shot or what so I called up the guys at American Diesel whose service, by the way, is reason enough to own a Ford Lehman engine, and was told it sounded like it was just the starter solenoid relay. An inexpensive easy to replace part. So now we've got one more thing on the to-do list for the next few days.
04-Mar-2011 bumfuzzle.
Tried to take off the old starter relay today but ran out of time after finding that I am going to have to cut the bolts off with a dremel in order to remove it. The rust is thick on those things. The good news today was that the Napa in town actually had the exact relay I needed. So tomorrow I finish the job.
04-Mar-2011 our life. daily.
One of the guys at the marina told me that we could drive right on up to the wind power plants up in the hills a few miles out of town, so after lunch today that's where we headed. Driving along the whole place seemed fenced off though, so eventually I just pulled over and told Ali we were hopping the fence. Who gets busted for trespassing with a one year-old in their arms? I love breaking minor laws like this with Ali because she gets all nervous about it and her tick during these episodes is to talk nonstop about it.
So we hop the fence after not having seen anybody for miles and of course after walking fifty yards up the road a truck comes roaring over the crest of the hill right for us. We played it cool and gave him a nod as he passed us and got out of his truck to unlock the gate so he could get through.
We've always liked these wind farms. In New Zealand they were wide open and we could have crashed our car right into the side of them if we'd been so inclined. We thought maybe Ouest would get a kick out of them. She didn't. There was no wind, so they didn't have much attraction for her today. She did like the sheep that were grazing in the fields, though they were the most nervous sheep we'd ever seen. They weren't having anything to do with us.
05-Mar-2011 bumfuzzle.
Project numero uno today was getting that engine running again. I grabbed the Dremel, a handful of tools, a flashlight and disappeared into the engine compartment. The starter relay that I needed to replace is probably the most inaccessible item on the entire engine. Go figure. It took quite a while to cut the bolts off but eventually I got it, and after replacing the wires and connections, as well as cleaning off all the contacts, I hooked up the new relay.
I confidently crawled out of the pit, grabbed the key, turned, and… Click. Click. Click.
There is no feeling quite so disheartening than to be sure that you've fixed a problem only to find out that you've actually accomplished nothing. Instead of going to lunner with Ali and Ouest I was left to sit and ponder my problem further. I tested amperages all over, checked batteries, removed, cleaned again, and replaced all the wires, checked the grounds, everything I could think of.
Then while standing in front of the nav station I looked over at the breakers. They all looked fine, and everything else on the boat was working, but for some reason I reached up popped the Main Breaker off and back on again, walked up to the helm, and VROOOM. Fired right up. I've still really got no idea how that could have fixed the problem. Apparently there is a fuse somewhere along the line that tripped, but for now I'm just happy to be back in business.
Next up was getting the dinghy hung up and ready to go. We went to the nearest West Marine yesterday only to discover that they don't carry blocks. Blocks are only one of the most basic of sailboat hardware needs, but they had not even one. So today I jury rigged things, pretty well actually, and got the dinghy secured up on the davits. I tell you that is one project that is going to be a whole lot more complicated than it ever was on the cat. Especially with our canoe stern. I think the way I've got it will be okay for the trip down to the Bay, but I'm going to have to give some serious thought to how exactly to secure that thing for the open ocean.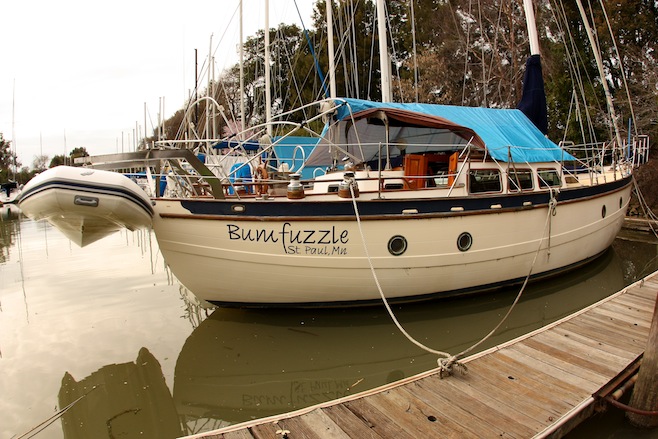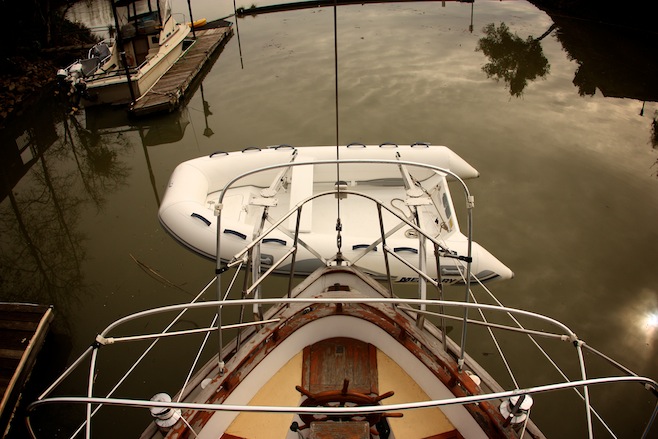 06-Mar-2011 bumfuzzle.
I measured the boat today from bow to stern. We're a forty-three foot boat on paper, but add on that monster bowsprit and the dinghy and we come in at a whopping 51.5 feet.
06-Mar-2011 our life. daily.
I haven't mentioned Ouest's hemangioma in a while, which of course is a good thing. It's been two months now since her last treatment and she is really looking great. In the past we've gone in whenever we started to see a change in the shape, but for these past couple of months there has been no change, which is exactly what we want at this stage. She's old enough now that the hemangioma should be reaching a sort of standby phase where it won't really change. The involution stage usually starts to show up sometime between three and five years then. So, we're nervously hopeful at this point that she won't need any more treatments and that we can just wait and see how things look a couple of years down the line to decide whether anything more needs to be done.
Today was a rain day. We did a little running around in town, trying to get all our ducks in a row for our departure a couple of days from now. There's surprisingly little to do at this point. The real boat work begins in earnest once we hit the Bay. Autopilot, lifelines, rigging, sails, companionway hatch, communications, refrigeration, ground tackle, and on and on and on.
07-Mar-2011 our life. daily.
We're off tomorrow! Almost hard to believe the day has finally come. It may only be thirty miles of river tomorrow, but it's a start. A start to what I'm not sure. I'm not sure either of us really knows at this point, but we're excited nonetheless.
Ouest's car is up on the front of the boat and her car seat is in the cockpit. Even she seems to know something is going on. I wonder if she'll actually have any comprehension that her house is floating down a river to a new "yard" for her to play in?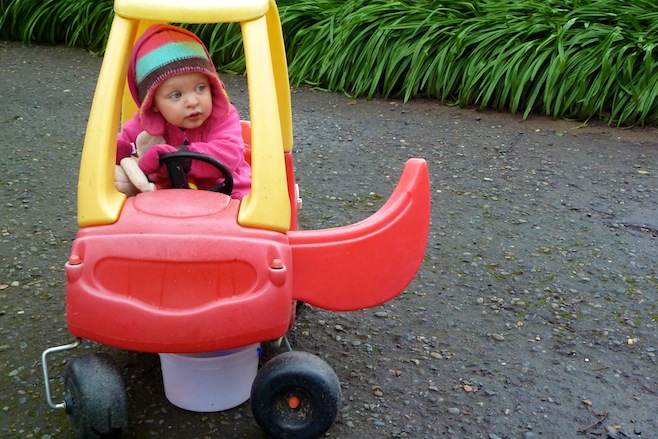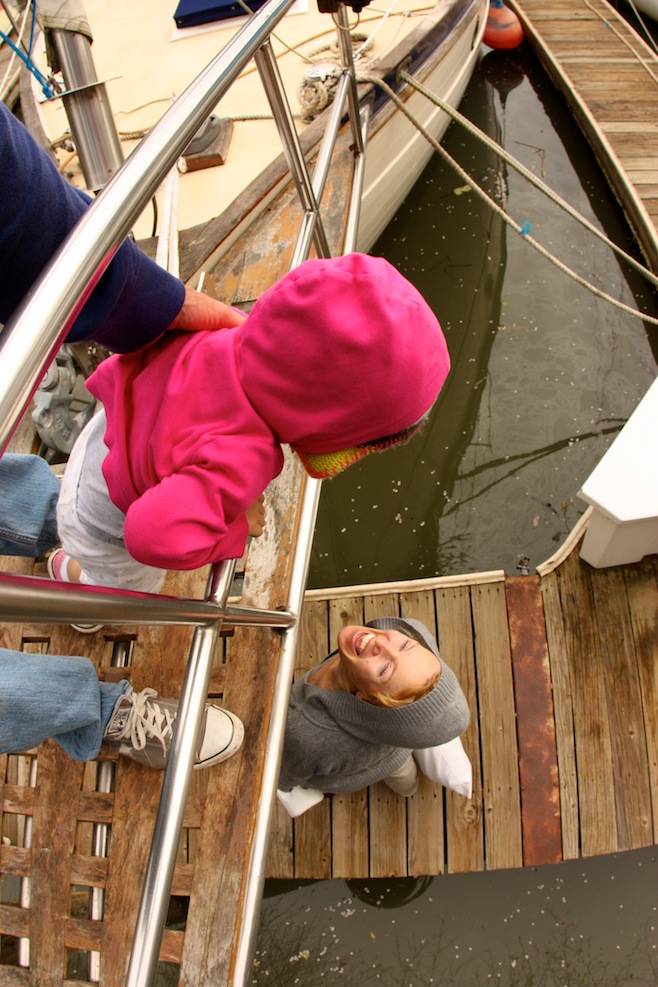 08-Mar-2011 bumfuzzle.
It's inevitable, we're going to be comparing this boat to the cat for years to come. Aside from those eight hours on a twenty-four footer on Lake Michigan, today was our first time sailing/motoring a monohull. First impression was overall very positive. First the downside. There is no maneuverability with this beast. This whole single engine thing is going to take some serious getting used to. Secondly, in a choppy sea with just fifteen knots of headwind the cockpit gets sprayed. Obviously we've got no canvas at the moment, but even with it I can't imagine how you can keep from getting wet. I guess this is why you see so many pictures of monohull sailors bundled up in foul weather gear. You'll never see an advertisement for a raincoat on a guy sailing a cat.
The good news. In that same choppy sea, when the cat would have been bobbing up and down nonstop, this heavy beast just plowed through like it wasn't even there. It also motors much faster than our cat. To get six knots out of the cat required both engines at relatively high RPMs. This thing hit six very low in the range. And like I've said before, floor space. On the cat there would have been nowhere for Ouest and Ali to play indoors other than on a bed, or in a two-foot wide hallway. Here we've got a veritable living room for the two of them to roll around on.
08-Mar-2011 our life. daily.
For the first time since the 90s, from what we've been told, Bumfuzzle has left a wake. Woo hoo!
We woke up a little early with plans to leave at seven to catch the tide for the ride down the Sacramento River. We managed to get things squared away by seven-thirty, and with one last toss of the dock lines, we were on our way. We made it approximately forty feet before I crashed into a piling. Seriously. From our slip was a straight shot backwards into the river, but apparently the boat didn't want to go straight. It also didn't want to respond to the rudder. It's going to take a head of steam to get this big tug to turn.
The dinghy took the brunt of the hit, like a big expensive fender, before we got straightened out and were in open water. Ouest sat in her car seat in the cockpit while we took off, but once we were moving she got out to enjoy the trip with us. We put her life jacket on her and she was instantly in love with it. Later, down below, when Ali tried to take it off of her she put up a fight. Somehow I doubt her love affair with that jacket will last.
The run down the river was simple enough. Keep the boat pointed between the red and green buoys. Green to the left. When we left it was calm and chilly. By mile five it was windy and freezing. Ali and Ouest retreated inside to eat breakfast and play. I was left outside with a baguette, an apple, and a sweatshirt.
As the tide was changing we pulled in at Benicia Marina which has about the easiest guest dock you could ever hope to tie up to. We pulled right up, threw a couple lines out to a friendly marina watcher, and settled in. Twenty-nine whole entire miles behind us.
We both consider this a pretty darn good first outing. Nothing broke, there was no swearing, Ouest sat in her car seat without any fuss, and she even wore her life jacket. She had lunch, played inside and outside as if nothing special was going on, and would have even taken a nap with the diesel chugging away had we not arrived at the marina when we did. All in all, we're very pleased.
09-Mar-2011 bumfuzzle.
Hand steering is for suckers. Two days, fifty-five miles, and I'd be happy to never hand steer the boat ever again. In our entire sail around the world I doubt I hand steered fifty-five miles. Not that we ever considered going without one, but we're not going anywhere else without an autopilot installed.
We were still using the old fish finder as our depth finder until it crapped out on us today. It about gave me a heart attack as I had just ventured outside the marked channel when it did so, but it didn't take long to figure out that it was reading four to seven feet no matter how deep we went. I really don't have any plans to get our new TackTick instruments installed until we haul out, so it looks like we could be sailing the length of California in just four feet of water.
09-Mar-2011 our life. daily.
We had an easy motor today, straight out the Carquinez Straight and out into the Bay. The straight zipped us along at ten knots on flat waters and if the sun had just been out it would have been a lovely morning. We only saw two or three other boats on the water all morning, one of which was right behind us when the Coast Guard came roaring up and pulled them over for a "small boat safety inspection."
It's a good thing it wasn't us, because frankly, I've got no patience for it. That boat was stopped for at least half an hour. And for what? I'd be irate. I really don't understand why we completely hand over our rights to the Coast Guard the minute we go out on the water in a boat. I can't imagine the uproar if we suddenly decided that the cops could stop us anytime, anywhere, for a "safety" inspection. Late for work? Tough, this cop wants to make sure you have current road flares and a spare tire inflated to 30 p.s.i. Oh, and of course if he finds anything illegal that would be cool too. I find the whole thing outrageous. Sure they occasionally stumble on some drugs, or guns, or whatever, but is that worth it? Stopping me because they want to see all my life jackets, be sure my fire extinguishers are at full capacity, and check that my toilet isn't leaking overboard? Ridiculous. For this I have no right to refuse. Safety. We're so much safer than we were thirty years ago aren't we?
Anyway, they didn't stop me, so I guess I shouldn't be so worked up.
Docking. Docking this boat is not going to be easy. Keeping in mind we've never done this before in anything without two engines, I'd say we did pretty good. Ali is slightly less impressed with her captain's captaining ability, but I'm sure she'll come around. Our slip here at Emery Cove Yacht Harbor has a humongous trawler next to it that our big bowsprit needed to drift right past as we swung our way in to the way too narrow space. We had to abort the first attempt after I made the swing too late, but we got turned around, exited the fairway, turned around again, and took another run. It wasn't pretty, there was a lot of loud revving, and maybe some light swearing from one of the females onboard, but we got her in. All I know is that I really hope it gets easier.
Worst part? After we got settled we were offered a different, better slip, for less money. Tomorrow we're moving three docks down. Gluttons for punishment.
10-Mar-2011 our life. daily.
We moved to a different slip this morning. It went better than yesterday. I even think I could eventually get used to it. Ali decidedly less so. She said, "I don't think I'll ever get used to watching that bowsprit swing around." She doesn't seem to have the same depth perception that I do and is certain each time that as it swings around it is about to crush everything in its path. But then it clears cleanly by five feet and all is well.
The view of our new digs. This will be home for at least the next few weeks as we put on the full court press to turn this derelict motorboat heap into a derelict ocean sailer.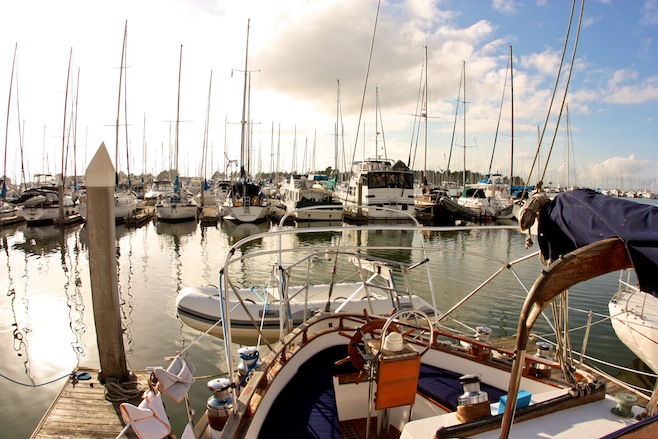 11-Mar-2011 our life. daily.
Ali woke me up this morning with the news that, "A tsunami is coming. It'll be here in about an hour." My first thought was that I had at least another thirty minutes to sleep, but eventually I came around and we surfed the web to find some news besides the e-mails family had been sending us. Ouest got up at her normal time and didn't seem too concerned with tsunamis either.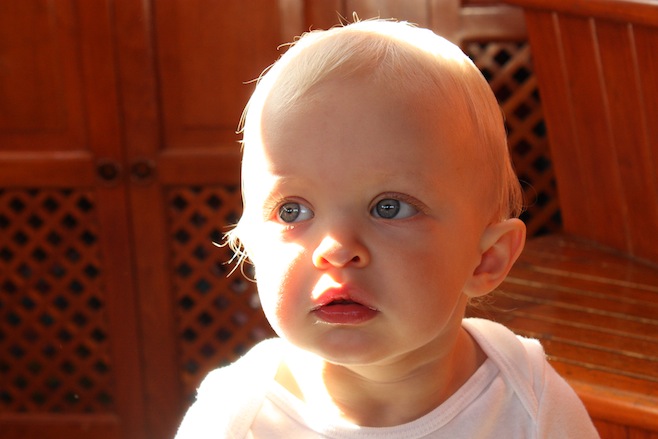 Turns out there wasn't much left of the tsunami by the time it got to San Francisco. We did however get to witness it first hand as a wave perhaps six inches in height rolled through the Bay bringing the marina a whole pile of muddy water. That was about it. Fortunately.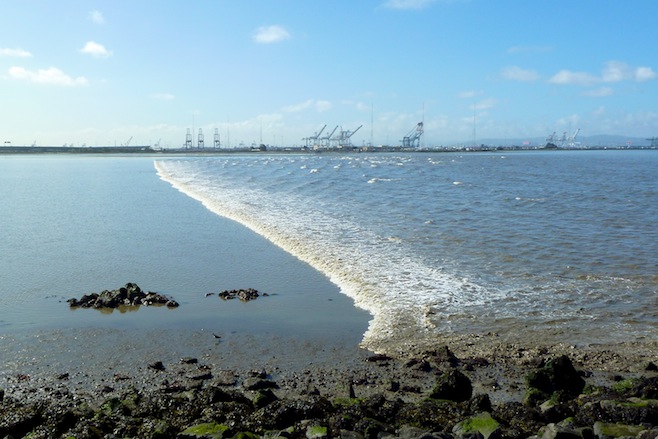 There were at least four or five of these waves throughout the day, maybe more, but we didn't see any others like this because the wind picked up and brought along everyday choppy water. We spent a couple of hours at a park right at the end of our little peninsula with a nice view across the Bay on one side and marinas filled with boats on the other.
12-Mar-2011 our life. daily.
On the boat front there isn't a whole lot to report at the moment. Recently a friend said, "Boat work always takes five times as long as you think, working with a baby around takes five times longer as well, making every job on your boat take twenty-five times as long as it should." Realizing that we have limits to what we can do and that we don't have that kind of time we came to the Bay to hire out a few jobs.
Now it's just a matter of getting estimates and getting it done. Woodworker came out to have a look at the companionway door, refrigeration guy is coming out in a couple of days to see if we can salvage the old engine driven system, and a fabric lady will be out to bid the dodger and bimini job too.
Tomorrow I'm measuring and removing the lifelines to take to the riggers and have the new ones whipped out. Then I can put those back up along with our netting and Ouest can have a little more freedom outside. We'll still be out there with her, just not necessarily right on top of her like we are now.
I'll also be pulling off the old sails, measuring them, and shopping for some used sails that aren't as brittle as dried leaves.
It seems like nothing is happening now, but within a few days some projects should be rolling. It'll feel good to cross a couple of things off.
12-Mar-2011 our life. daily.
It's almost too easy for Ouest to make two perfect tears that sit right on her cheeks. She can squeeze these out in an instant without any effort or concentration. Just, pow, there they are. "Now can I have what I want?"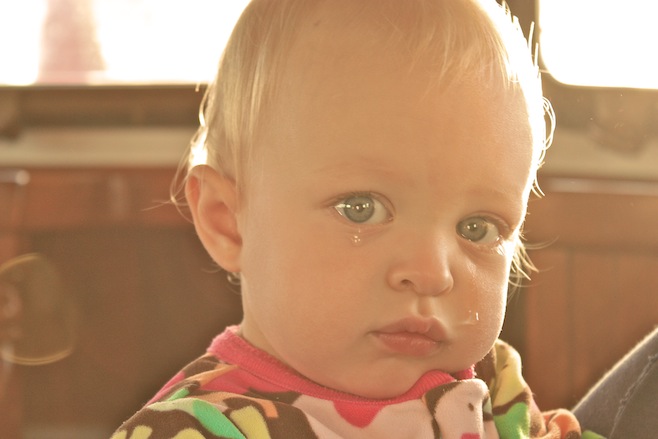 A friend of ours gave me a ride back up to Rio Vista this morning to pick up our car. And as if that wasn't nice enough he even offered to buy it off of us when we finally sail away. So hey, that's one less thing on the to-do list. Thanks Roland.
13-Mar-2011 ouest lill. fifteen months.
My little Ouesterly,
This month disappeared. Completely got away from me. We are a family of floating boaties again and you took right to it. I love the fact that the boat is your home and you'll never know it any other way. You are completely at ease, and even the fact that your bedroom was motoring down a river didn't phase you one bit.
You continue to test us more each day. If we say to stay on the sidewalk, you walk on the curb. If we say not to throw your water bottle, you drop it instead. Everything is a test. And most of the time I don't even mind. I kind of like that you are being assertive so early on. You have a mind of your own. Which isn't to say that we're not going to keep winning these little tests.
You've got a great sense of humor. You do things to make us laugh, and you do them because you know it will make us laugh. We can see it in that sly smile of yours.
You're still not talking. In fact the couple of words you did have seem to have disappeared. However, you understand every single thing we say. So much so that we find we have reached the point that we really have to watch what we say around you. If we mention going to the park you are immediately up and headed for the door. Talk about lunch and you're peeking around the kitchen counter to see what you're having. If we're outside and we ask if you want to hold our hands you run right up between us with your little arms extended. You're smart, and you hear everything, so we know those words will come when you're ready to use them.
Anyway Ouest, thanks for being such a great little girl this month. Mama and I are banging out the boatwork much more easily these days and I swear if you just hang in there a little longer we'll get you back south of the border where we can all enjoy more sun and less clothes.
All my love little one. Papa
14-Mar-2011 bumfuzzle.
The companionway hatch is off the boat and in what we hope are capable hands. The turtle hatch that the companionway hatch slides underneath was barely held on with only a few drops of silicone. That would have been a fun discovery when the first big wave came over the side. Swish. Gone. So anyway, we'll have that back by the end of the week and hopefully will be waterproof and in a position to then remove our tarp. Tarps were de rigueur in Rio Vista, but 100% boat trash here in the Bay.
We brought in our lifelines today to have new ones made. The minute the rigger saw us he knew who we were and was hooking us up with all sorts of deals. It's awesome being in this sailing mecca and finding that we are, however minor, sailing celebs. The rigger is in the same boat as us as far as this minor celebrity status goes and has had many a long thread devoted to himself on the Cruisers Forum website as well, so it was fun to meet him. Because of all of this our lifelines are about half the price I expected, and will be done in a day. How's that for service?
I haven't really talked much about our plans, and I'm still not, but Ali and I do have a self-imposed deadline to get this boat shipshape and moving, and days like today go a long way towards meeting those ends.
15-Mar-2011 bumfuzzle.
The previous owner of our boat put in a new kitchen counter at some point in the distant past, but didn't bother cutting out the hole for the freezer. Since we've got a refrigeration guy coming to take a look at our system tomorrow I punched a hole through it today to have a look. It's huge. I'd estimate that this refrigerator and freezer contain at least five times the space that we had on the last boat. Frankly, it's way too much. We don't eat enough to ever fill it all up. Which leads to me being concerned about all the energy (diesel or battery) going to cool these spaces. I guess that's one of the things to talk to this reefer guy about. Everything about this whole engine driven refrigeration system looks almost brand new so I'm really hoping that we're able to salvage this thing for next to nothing. Wish in one hand and…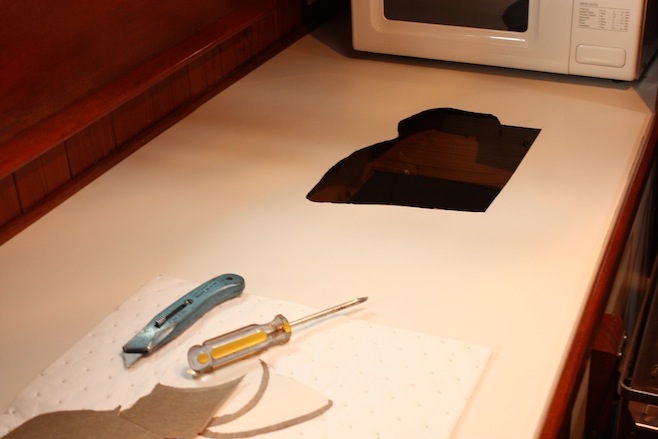 We picked up our lifelines today. Sweet. Now if it ever stops raining maybe I can get them up, along with the netting, and we can have a proper child friendly deck for a change.
15-Mar-2011 our life. daily.
Today was a washout. The ten day forecast is a washout. Life on a small boat in these conditions can be trying.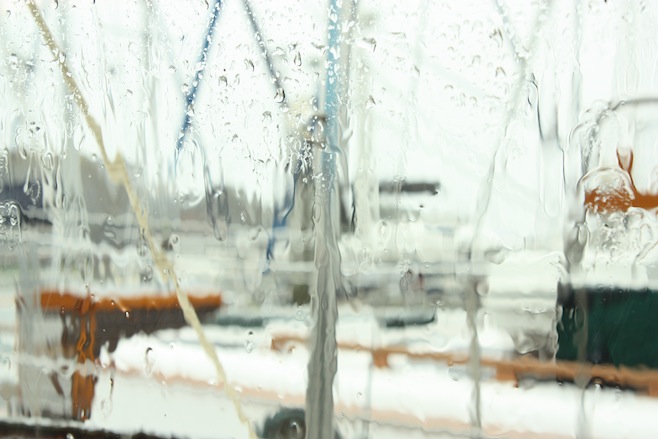 16-Mar-2011 bumfuzzle.
Refrigeration day. I don't know what it is about Bay area marine workers, but they've blown me away so far with their promptness and get it done attitude. Such a refreshing change from what we've become accustomed to over the years with this industry.
Fridge guy came out and immediately gave me good news. Apparently the big box under the couch is a shore assist unit. Meaning we've got A/C refrigeration as well as engine driven refrigeration. Sweet. Ali and I had actually been planning to price out doing this exact thing. The A/C (shore assist) unit will work for us while at the dock like now, and the engine will do the trick when we are out at sea or at anchor.
He got a good laugh out of the antiquity of some of the stuff, but within just a few minutes we had frost on the pipes. The A/C part of the unit worked straight away. Well, after he added coolant to the lines. The engine drive part of the unit is going to take slightly more work. As it was time for Ouest to nap we decided to call it a day and he assigned me homework. Basically I need to do a little wiring and a little plumbing. But all looks good and there shouldn't be any hidden surprises. If you would have told me our twenty year-old refrigeration system would work this easily I would have called you crazy. I'm very pleased.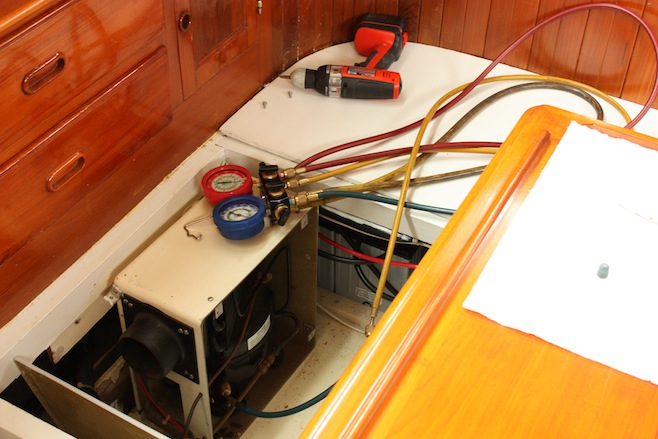 16-Mar-2011 our life. daily.
Ouest has never been sick. Not so much as a sneeze or a sniffle in fifteen months. And then last night, at three a.m., the vomiting began. Some sort of stomach bug got hold of her and the poor little thing was losing it all over the house. She could not have been any more pathetic. She would throw up with this look of confusion on her face, get her mouth wiped off, and then promptly fall asleep on our shoulder only to wake up a little later to repeat the process.
When the sun came up she woke in good spirits. And despite not eating much, and us controlling her fluid intake, she made it through the day happily, if not a little worn out. She never had a fever so we thought whatever it was had hopefully passed along. Then, of course, right before bed, she lost her light dinner. She's asleep now while Ali and I sit quietly worrying about what tonight will bring, and googling a map to the nearest ER.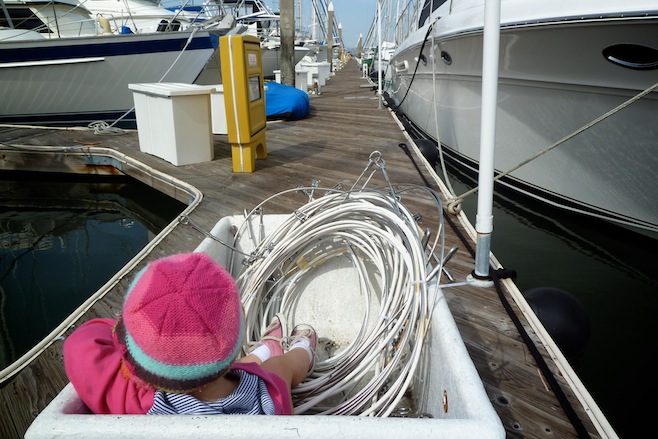 17-Mar-2011 bumfuzzle.
The rebuilt companionway hatch is on and looks great. Should do a good job of keeping water out of the boat too. The only problem with it, as I see it, is that it looks too nice. All it does now is draw the eye to all the messy wood around it. One of these months we'll get the old varnish sanded off, and I'm sure the boat will look beautiful, but for now beauty is going to have to continue to take a back seat.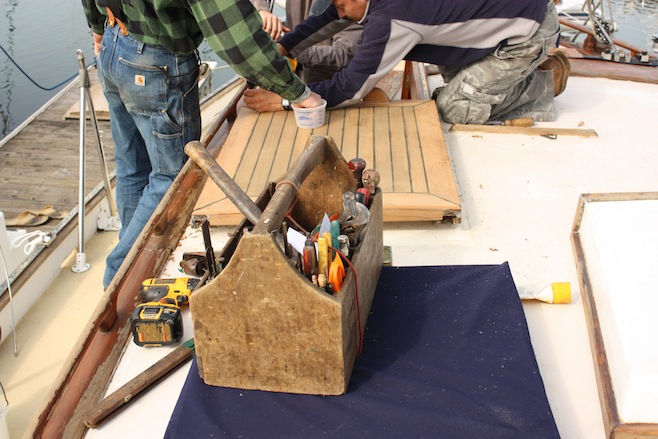 Lifelines are going on as well. It's taking me a while to get them right though since I've got to get the netting all run through and lined up perfectly as well. It's looking good. Ali came back from a walk with Ouest and said, "It looks like a kid boat." And so it is.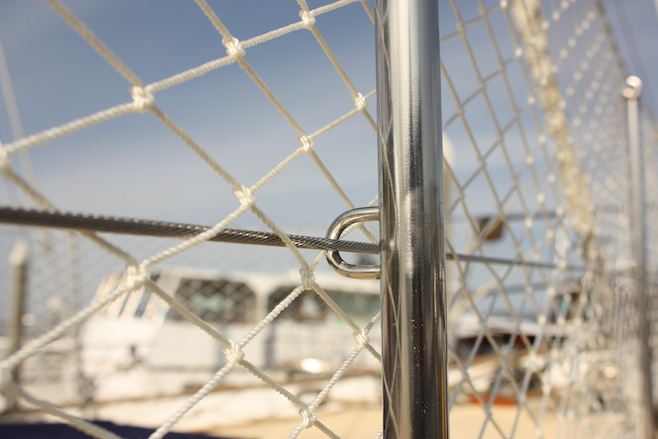 17-Mar-2011 our life. daily.
The wall of post-it notes continues to grow, though it does feel as we're making a little headway these days. It's so much easier these days, with Ouest older, to get work done around the boat. Not that it's that easy. Yesterday for instance, we had to kick the refrigeration guy out early because it was nap time and she'd been sick the night before. Today her nap was pushed back an hour because the guys were reinstalling our companionway hatch. She was in tears by the time we were finally able to get her in to bed. It's a balancing act, but we're getting better at it.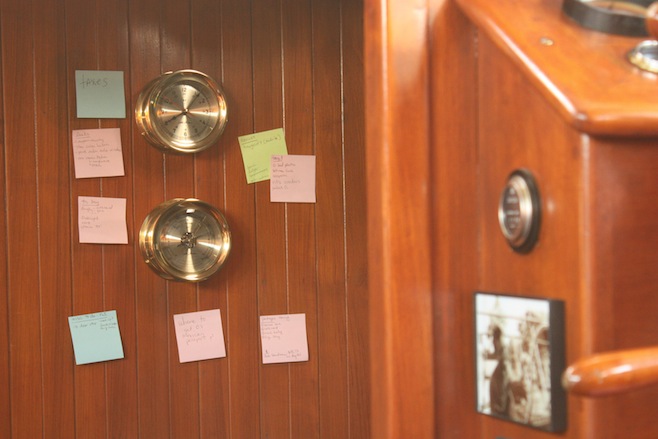 Speaking of her being sick yesterday. We went to bed all worried that she was still having a tough time. But then she slept right through the night with us checking on her what seemed like every ten minutes. This morning she ate pretty well too. She still seems a little run down, but definitely is on the mend.
20-Mar-2011 our life. daily.
We've all been sick the past few days, which combined with the horrendous weather has made life pretty miserable. Last night the wind came through as high as fifty-five knots, according to the news, and was so strong and continuous that the boat heeled over a bit in our slip. Ouest's bedroom door is a slider and it slid all the way open.
We've been trying to do a few projects around the boat when the rains let up, but truthfully there isn't a whole lot getting accomplished. I finished cutting out the countertop where the freezer cover goes only to discover that what we had assumed was the freezer cover itself was in fact way too small for the opening and must have instead been the old fridge cover before it was sealed up. So add building and insulating a freezer cover to the list of to-dos. Also took off the mainsail today so we can give it a washing and assess it's condition. I have been expecting to replace the sails all along, but after pulling this out today I think it feels pretty good. Good enough to give us some use anyway. We may still bring it in to a sailmaker and have them give us an opinion though.
These are the kind of days we could use a grandma right down the street to drop Ouest off at so Ali and I could just lay in bed watching movies all day. Oh yes, occasionally we do yearn for the freedom to have zero responsibility again.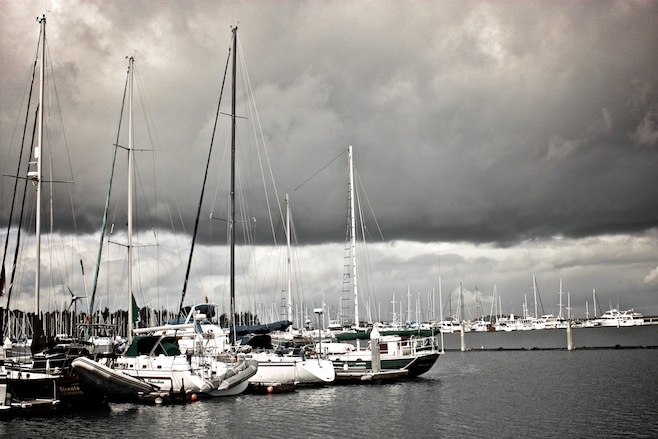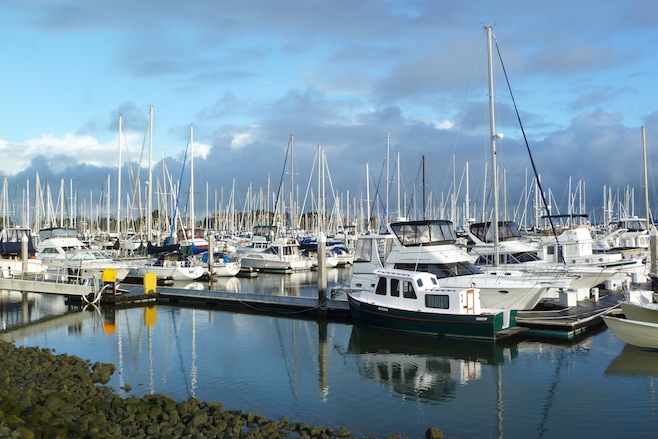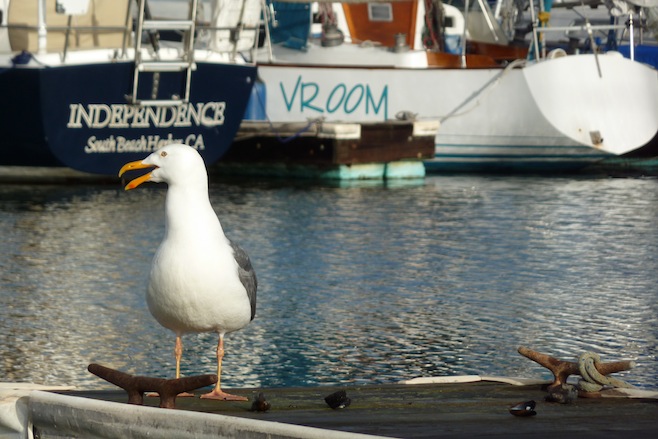 21-Mar-2011 bumfuzzle.
Day two on the refrigeration and we appear to have a complete success on our hands. Last week we got the shore powered (or A/C) system working and today we got to work on the engine driven system. I had already installed new water lines, as this system is water cooled, and a drive belt to the compressor. After that it was up to the pro to purge and fill the system with refrigerant, test for leaks, fix the couple of leaks he found, and then we could fire it up.
Within minutes the lines were frosty and the cold plates were freezing up. Aside from one broken temperature gauge and a thermostat for the refrigerator that is still being tested, the entire system seems to be working just as it was installed two decades ago. Pretty incredible considering it's been a minimum of twelve years since it was last used. Best part of all for me is that to replace this system would cost six to seven thousand dollars. It's like getting a huge freebie on our boat purchase. Well, not entirely free. It did cost about five hundred bucks to get it going again. But that beats twelve times that number.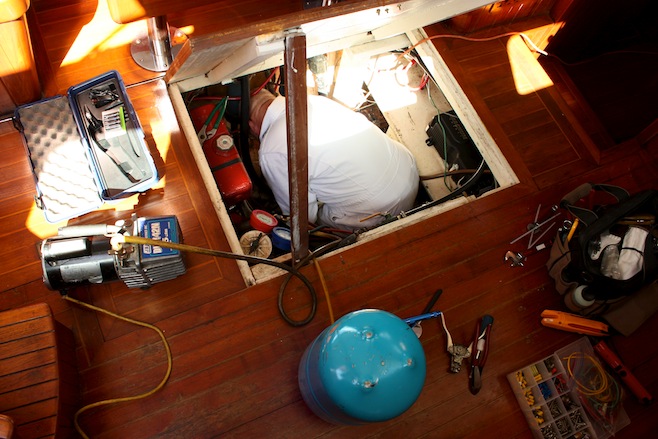 21-Mar-2011 our life. daily.
Our life has revolved around the weather lately, making runs outside whenever possible, and finding ways to hide inside when needed. Yesterday we got lucky and some new Bum friends asked us out to lunch right as we were heading out the door to eat. We therefore got a much needed break and got to meet some new people. Ouest is a big fan of new people.
Today Ali and Ouest disappeared to do some shopping while I hung out with my refrigerator guy. Though earlier on we did manage to get some outdoor time washing the main sail. Even fun time is boat project time these days.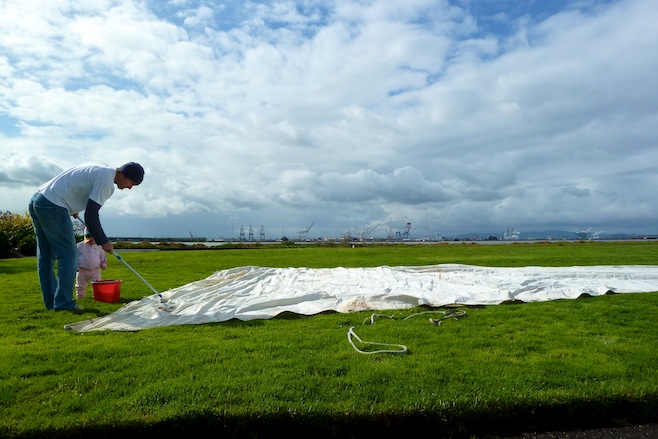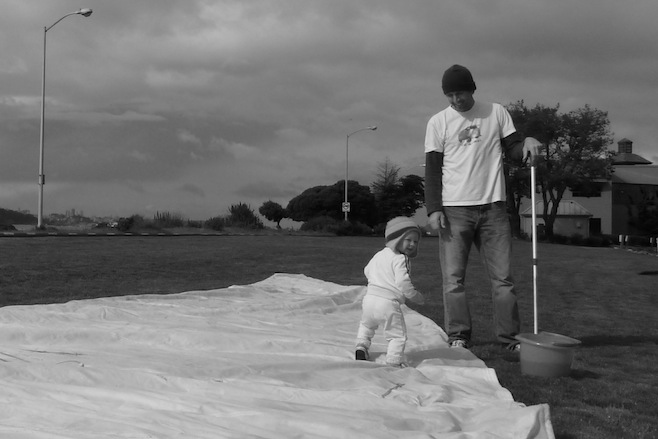 22-Mar-2011 our life. daily.
Today we were able to go to Taco Bell, West Marine, Pineapple Sails, Home Depot, and Safeway, in just one three hour outing. Back in Rio Vista it would have taken us roughly three full days to cover that much ground. As much as we enjoyed life out there in the country, we do love the convenience of proximity here in the city as well.
At the Bell today there were two old ladies having lunch and watching Ouest. We all eventually got talking and Ouest played cute with them. Then when Ouest was looking at the gumball machines one of the ladies called over to her from across the room waving two dollar bills in her hand. Ouest ran right over (she plays with mama's wallet all the time and knows cash when she sees it) and accepted it. The lady laughed and said, "That's good, she's not afraid." Ummm, I'm not really convinced that's a good thing. The lady wouldn't take the money back but insisted that Ouest put that money in her college fund. For two bucks it may have to be one of those online colleges that you can attend in your pajamas.
Not a lot of work got done today, aside from the errands. We took a couple of walks around the marina, played on the boat a bit, and generally tried to enjoy the fact that it didn't rain during daylight hours.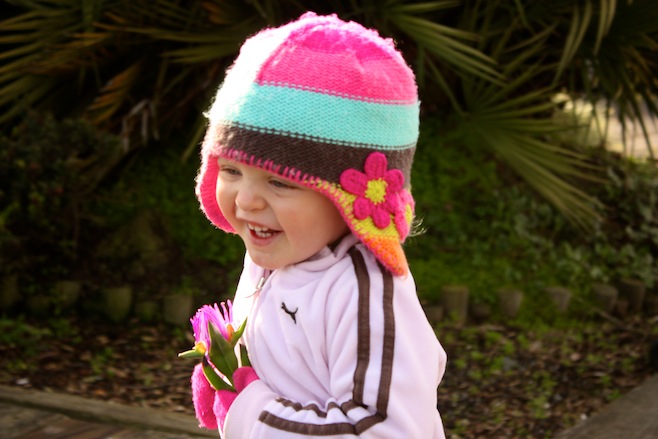 23-Mar-2011 bumfuzzle.
This afternoon was filled with little projects around the boat. First I tackled the engine compartment where I rerouted some hoses, cleaned up some wiring, emptied the bilge, and cleaned the bilge cover. Then I relocated a door stopper in Ouest's room, fixed the door knob on the companionway, and installed a couple of vent covers in the living room. Typing that it sounds like nothing, but it was a relief to get so many small, nagging to-dos off the list.
Inside the boat right now our list has gotten quite small. I've got a little wiring to run for the GPS to the nav station. We've got a bathroom countertop to tile. A freezer door to build. A new thermometer for the freezer to install. A few pictures to hang. And that's about it. Oh yes, and there is that autopilot to purchase and install.
Outside is a different story. Still need to work out the sails. Have a rigger inspect our standing rigging. Purchase three hundred feet of chain. Rebed the pilothouse windows. Replace the halyards. Run all of the running rigging. Finish attaching the lifeline netting. Track a small hatch leak. Install the wind indicator. Get the running lights working. Install foot pedals for the windlass. Get the dinghy set up for secure offshore sailing. And I'm sure there's a bunch more that I can't think of while I'm sitting inside.
Also, I could use a set of world charts if anybody would like to share. Thanks.
23-Mar-2011 our life. daily.
At one point today Ouest had a cut under her eye, another on her chin, a fat upper lip, and a split bleeding lower lip. All from separate incidences. Her legs are perpetually covered in big black bruises, and if she hasn't had a concussion by now I'd be amazed. This girl is a hard charger and is more than willing to try anything, no matter the risks, at least once. Usually two, three, or four times.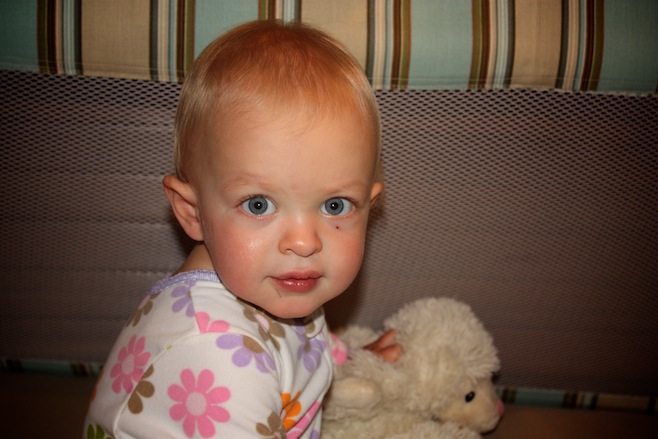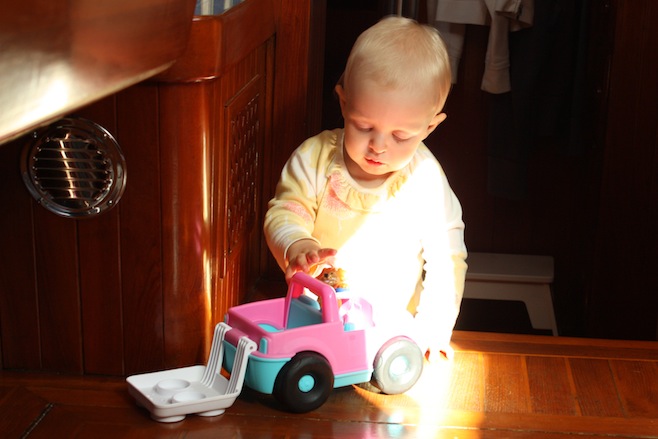 24-Mar-2011 our life. daily.
Rain, rain, wind, rain, and more wind. It's seriously ugly around here. Our options to escape it are limited, but today we did a fairly good job. Last week we went out for pizza at a nearby joint and just about threw it up on the floor. When we left we decided that we wouldn't waste our money on pizza in California again. That's how bad it had gotten. Of course I love pizza too much for harsh words like that, so when we got an e-mail last night from a friend saying he used to drive seventy miles to get a pizza at a place right down the road from us I decided California pizza places deserved a twentieth chance.
Anyway, this isn't a foodie blog by any stretch of the imagination, so suffice it to say that Zachary's has restored my faith in the world order. Chicago style, the only style that really matters. And even better, we had a talkative table of college kids next to us that Ouest was fascinated with. We sat there for ninety minutes. Ninety minutes! Out of the rain!
With full bellies we headed to the library to try and hide out a bit longer. Ouest has yet to fully grasp the concept of a library though, and tends to treat them much more as playgrounds. Fortunately this library is, essentially, a playground with books, so there wasn't much problem. Especially as a full half of the place was dedicated to the children's section.
So that's how we spend our days in the rain soaked Bay. It's not glamorous, and sometimes we feel like a family of hobos seeking shelter in a diner for the price of a cup of coffee, but that's been our life as vagabonds for a long while now.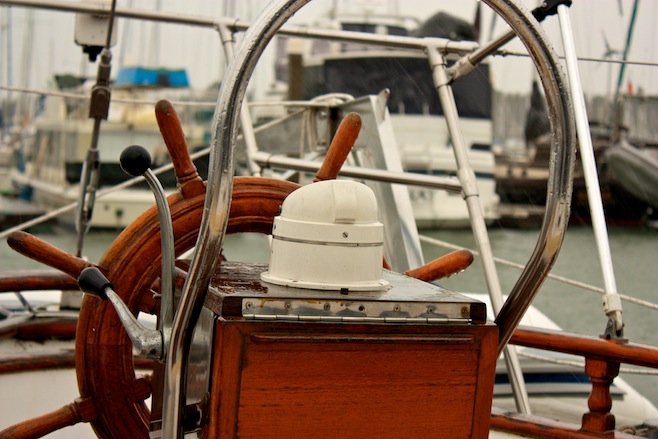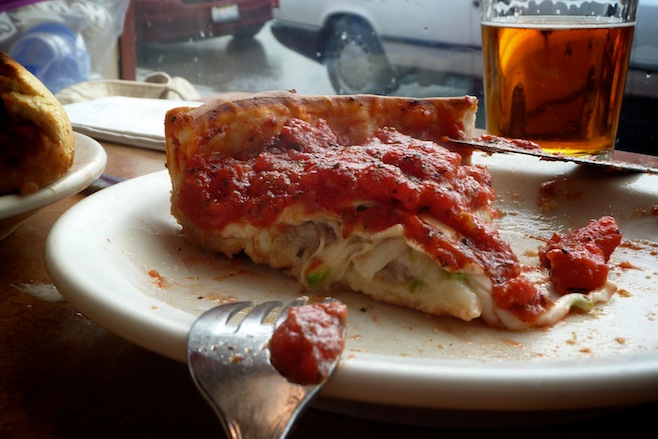 25-Mar-2011 bumfuzzle.
We brought our mainsail into Pineapple Sails a couple of days ago to get their opinion on it's condition. Today we stopped back in and got the rundown. Basically he said, "If you didn't own a sail and somebody was offering this on Craigslist it would maybe be worth picking up for free. I wouldn't pay a hundred bucks though."
We knew the sails were original to the boat and were bound to be in bad shape so this comes as no surprise. What I got out of today's conversation was that the sail will blow out at some point and that when it does we shouldn't waste any money repairing it. Same thing with the yankee jib we rolled out after the main. It looks good, but it's nearly thirty years old and, despite very limited past use, it's not going to last too long. The other jib on the boat has been on the furler in the sun for years and will probably crack and fall apart when we unroll it.
So now the question becomes what to do. My tendency is to let things ride. Hell, we're pretty conservative sailors, we stay out of heavy blows, and we don't carry too much canvas for the conditions. Maybe we'll get one, three, or even five seasons out of these things. You won't know unless you try. Of course the more prudent sailor would outfit a whole new set immediately. I don't know yet. I'm somewhere in the middle. Oh yes, the Pineapple Sails estimate? About $3200 to $4000 per sail and months of backlog. Yeah, that isn't going to happen.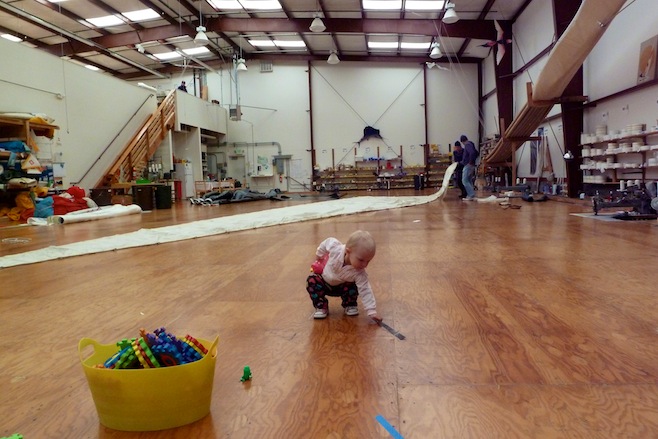 26-Mar-2011 our life. daily.
Today we drove out to Sebastopol to visit some friends we hadn't seen in too long. Good friends we made way back in the days of our first cruise. They cruised with their daughter from the time she was just a baby, so it's fun to hear what we're in for. Or actually, not so fun. They've got a lot of horror stories. Especially considering a few years have passed now. I thought only the good memories were supposed to last. Oh boy.
We spent the afternoon hanging out and building the kids a swing. Their kids absolutely loved it, and so did Ouest. She was sitting on my lap spider style, all smiles, for three or four minutes, right up until the very moment she threw up her entire lunch on my chest. A little too much spinning and floating for a stomach still digesting lunch it would seem. Poor little girl.
27-Mar-2011 our life. daily.
Waiting on friends at a greasy spoon in Sausalito.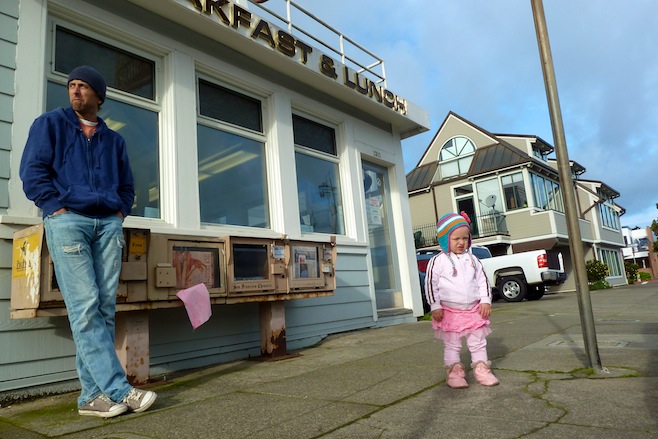 28-Mar-2011 our life. daily.
Today was the first day in as long as any of us can remember in which it didn't rain. We woke up to glorious blue skies with no wind, and it was like the mood of an entire city had suddenly shifted. Every stranger we came across said, "Good day." Whistling could be heard in every direction. And Ali's frown lines disappeared as she lifted up the hatches, threw open the doors, and untied the tarp (or fort as I prefer to call it).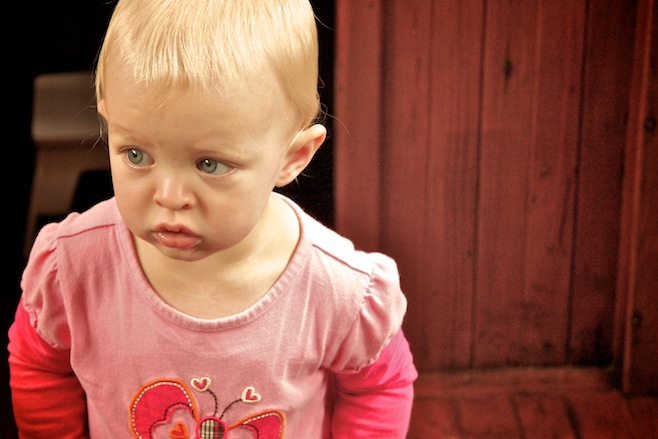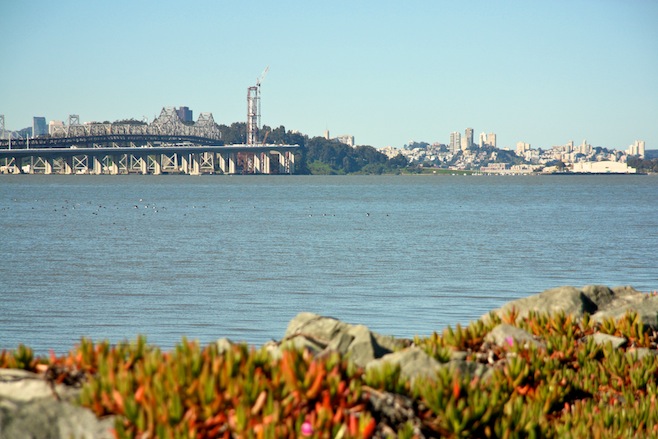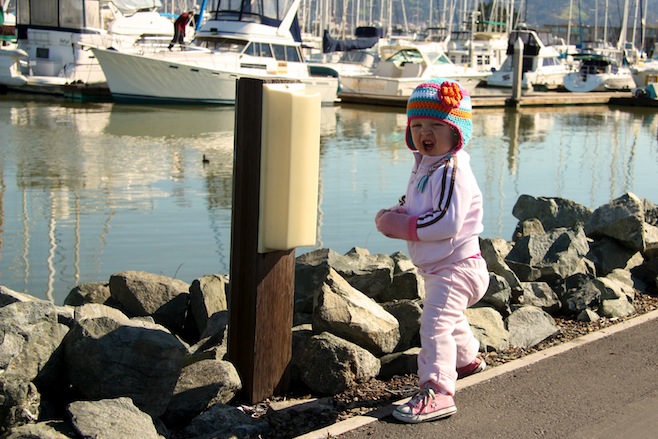 29-Mar-2011 our life. daily.
We should have left last week when it was raining, but instead we flew off to Mexico today to meet my mom for a week of fun in the sun with her grandbaby.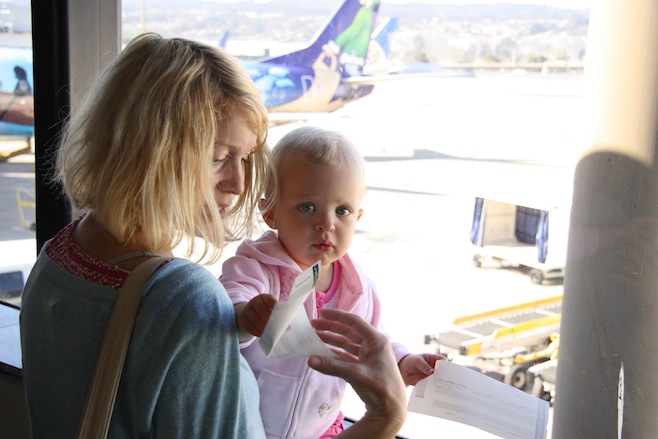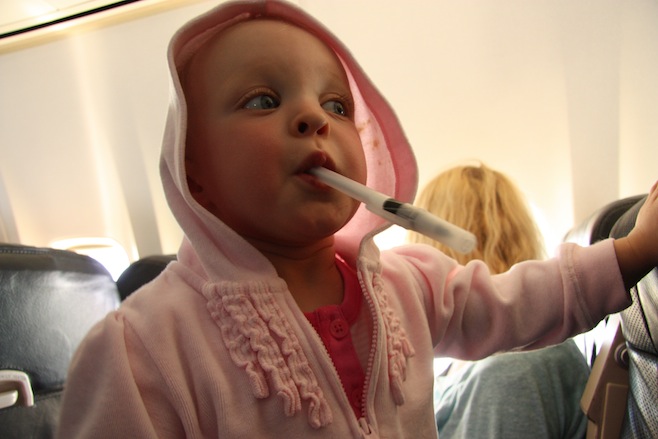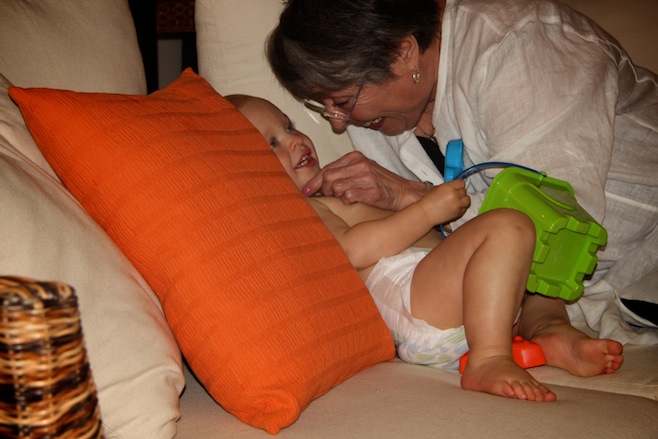 30-Mar-2011 our life. daily.
When we arrived in Puerto Vallarta yesterday I really felt like we were home. There's something about Mexico that I'm so much more comfortable with than the States. The sights, the sounds, the smells, the vibe, everything is so much better here. Ali and I are happier, Ouest is in heaven, it all just adds up. This is where we belong. We need to get back here on a much more permanent basis soon. But for now we're just visiting and hanging out in Sayulita.
Ouest seriously thrives in this environment. She is happy all day long. At one point today she walked away from us, laid her head right down in the sand, and closed her eyes. She just laid there like that for a minute and then got up smiling from ear to ear. In the water she is a fish. She runs right to it without the least bit of hesitation. It won't be long before she is swimming. Today I held her facing the waves, and then right as it was about to get to us I'd turn her around and tell her to paddle, paddle, paddle. She'd kick and splash her hands just like she was trying to catch the wave on a surfboard. I love it.
31-Mar-2011 our life. daily.
All right, all right, maybe we didn't come to Mexico for nothing more than fun in the sun this time. Maybe, just maybe, we had an ulterior motive. Like perhaps Ali is pregnant and wanted to see Dr. Laura to check on the baby.
Wait. What?
Yes, Bumfuzzle is adding another crew member to the fold. Please don't ask me how that happened. I couldn't tell you.
Today was our first trip to the doctor with this pregnancy. It was nice to hear the heart and confirm that everything is going good in there, but truth is neither of us was worried about it. The baby is already moving around and Ali's belly has been growing bigger for months. In fact with this pregnancy she started showing at just a few weeks along, making for a lot of weird angled pictures, or pictures that just couldn't be shown on the website at all.
The baby is due mid-August, and is weighing in at a whopping 10 ounces right now, while measuring in at 22 cm., and pumping blood through that little heart at 136 beats a minute. All of which means very little to me, but means enough to the doctor to say that all is well. All that's left at the moment is some blood work.
Ali's doing great. Just like the first pregnancy she had sort of a lazy feel to her the first trimester, but ever since has acted like nothing is going on.
We don't know what the sex of the baby is, and don't plan to find out. Dr. Laura promised over and over that she wouldn't screw up this time. With Ouest she accidentally spilled the beans at eight months.
We're excited. Excited to see Ouest become a big sister, excited to see our family grow again, and excited to see where it all leads us. Right now the plan remains to get the boat to Puerto Vallarta in the next couple of months. Beyond that we don't really know too much, and don't really care too much either. We could be happy down here in Mexico with nothing, and really just want to keep that in mind. Our mantra at the moment is simply, "Keep your eye on the prize." The prize being two kids, Mexico, beach.
Anyway, a couple of weeks back we decided it was time to touch base with the doctor. About the same time we'd promised Grammy a visit to see Ouest. So we booked ourselves a trip, e-mailed the doc, and flew down. Today we showed up at nine a.m. only to find out our appointment wasn't until one. This is one of those things that happens when you and your doctor are both using your second languages to communicate by e-mail. No big deal though as it wasn't hard to kill a couple of hours downtown Puerto Vallarta. Just walking four or five blocks provides an easy couple of hours of entertainment for Ouest.
We saw Dr. Laura, who was thrilled to have us back for round two, got all the good news, saw the baby, listened to the baby, and then told the baby to sit tight and enjoy the ride for a few months.
So, Elizabeth Hudson, I'm afraid this means it is officially time to un-bookmark Bumfuzzle. Because your worst nightmare is only four short months away.
Socialize