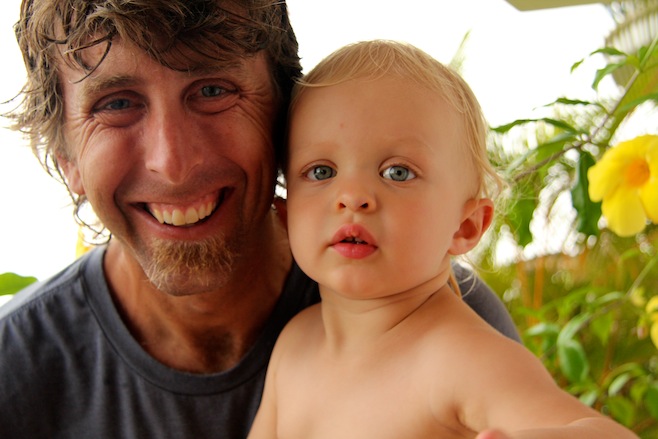 At long last. Man did that feel like a long time being away from my girls and so out of touch.
I sailed into Banderas Bay just as the sun came up this morning, and about four hours later finally made it to the marina. It's a big damn bay. We're hunkering down in Gringoville, also known as Nuevo Vallarta, at the Paradise Village Marina, for the next few months while we wait and then welcome the newest addition to the family. In the meantime we'll do a little boat work, spend a lot of time in the resort's swimming pools, and generally just try and enjoy these last few weeks as a party of three.
But actually for the next couple of weeks we've still got a condo right downtown, so boat be damned. I checked in to the marina, washed the salt off the boat, showered, and lugged my dirty laundry up to the bus stop about as quickly as humanly possible.
When I got to the condo I buzzed and then heard, "Shut up!" Ali wasn't expecting me for at least a few more hours. And when she opened that door I felt like a soldier just returned home from war. I mean, a little dramatic, yes, it was only eleven days after all, but oh man did I miss these two. Ouest crawled up into my arms, laid her head on my shoulder, and didn't move for two minutes. Just laid there and soaked up my love. Sweetest little thing in the world she is.
So we spent our day catching each other up on everything, grocery shopping, swimming in the pool, and eating bean burritos. I couldn't have asked for a more perfect day.
I'm a happy man again. I enjoyed the challenge of single-handing. It's something I always thought about doing at some point. And it really is a challenge, both physically as well as mentally. Maybe especially mentally. My hat is off to those that do it. I'm happy that I got my chance to prove to myself that I had what it takes to do it. But now that I've done that I think I'll happily return to my life as a sailor husband and papa.
Here is my past eleven days in a nutshell. Please excuse the major motion picture length of the video.
02-July-2011 our life. daily. puerto vallarta, mexico.
Let me make one thing very clear, I had the easier job the past couple of weeks. No doubt about it. Taking care of, chasing after, feeding, playing, and everything else that goes along with being the parent of an eighteen-month-old active little girl is much more work than floating around on a boat all day. It's also much more fun. This is what Ali and Ouest were up to while I was away.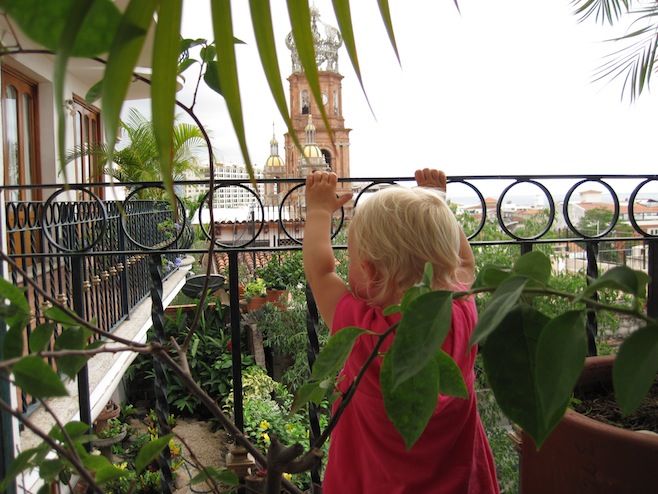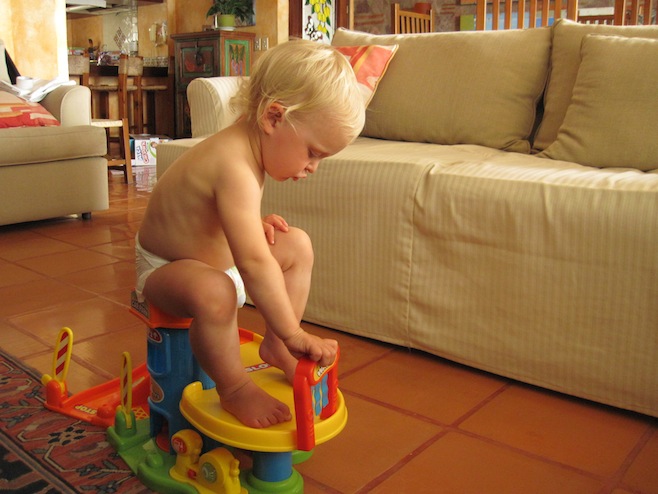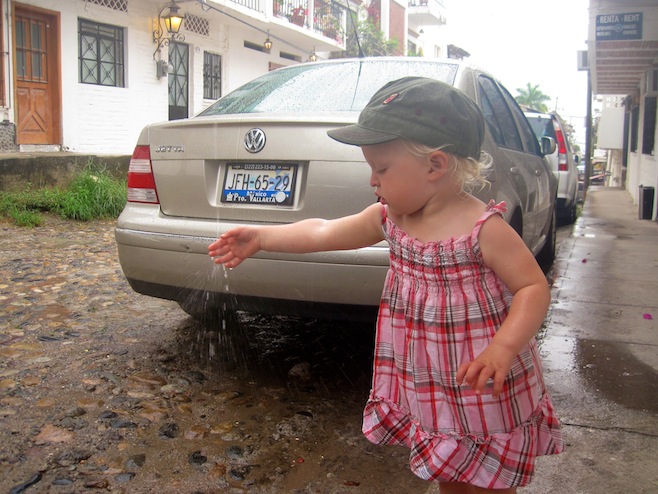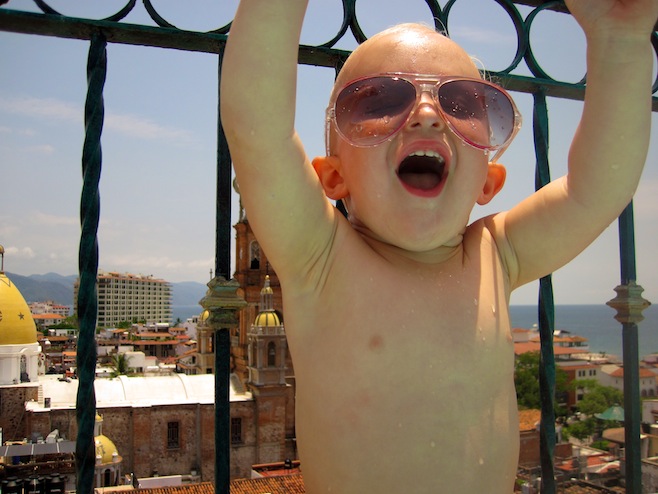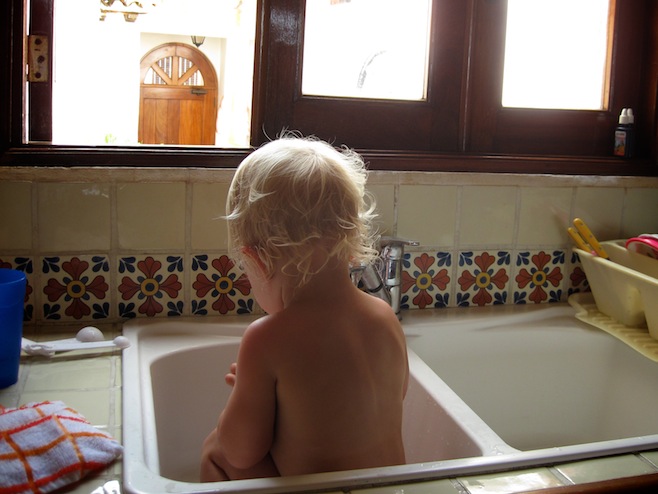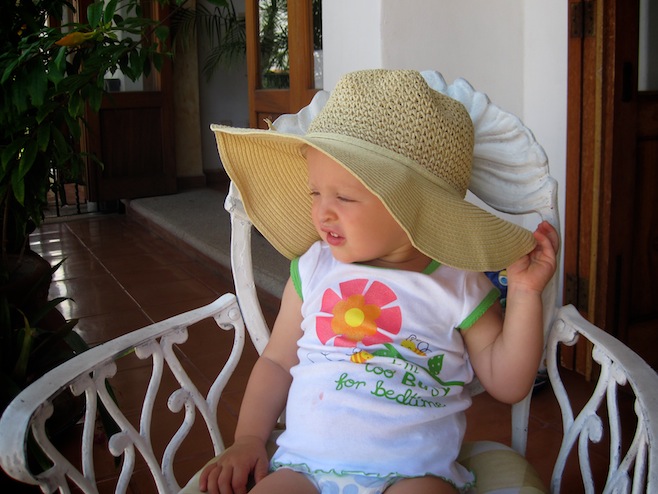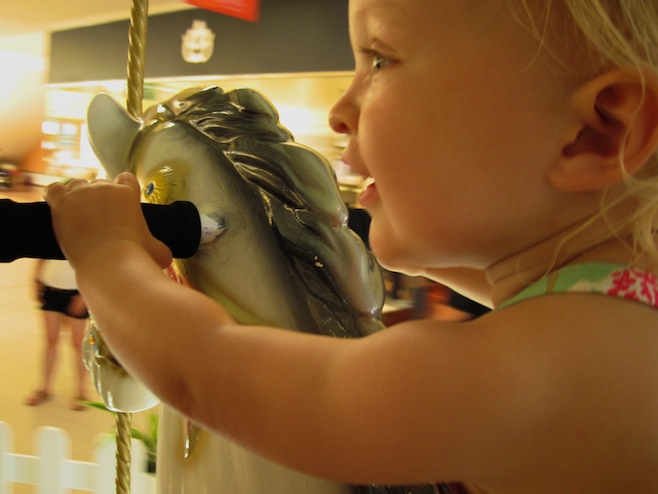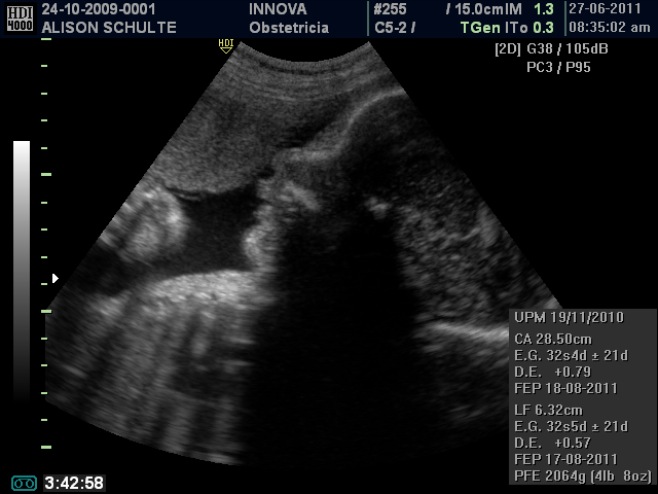 One of the great things about visiting Puerto Vallarta in the summer is that you can rent a condo for one third the price of high season. I'm loving this place. Little six unit building with nobody else here, a rooftop pool, two blocks off the malecon, and a block from the main plaza and cathedral. Ali and Ouest took me along on their daily routine today which includes a morning walk to the plaza, an afternoon walk to a taco stand and the beach, and a late afternoon swim in the pool. All in all a great day. Lots of rain, which is also part of summer in PV, but it's so warm who really cares?
03-July-2011 our life. daily. puerto vallarta, mexico.
The thing I love about Puerto Vallarta is that while it is most definitely on the tourist's Mexico list, they've managed to keep downtown PV, the Old Town, for the locals. The tourists are five minutes down the road in a line of beachfront hotels or fifteen minutes down the road in Nuevo Vallarta with the Jack Nicklaus golf course. Old Town is still a winding maze of cobblestone streets that ascend two blocks from the beach nearly straight up into the hills giving nearly everyone who lives in town a beautiful view of the ocean below. Many streets become too steep for cars and are given over instead to alleyways of stairs and gardens leading upwards until the next relatively flat stretch. It's just an interesting and picturesque town to wander and explore.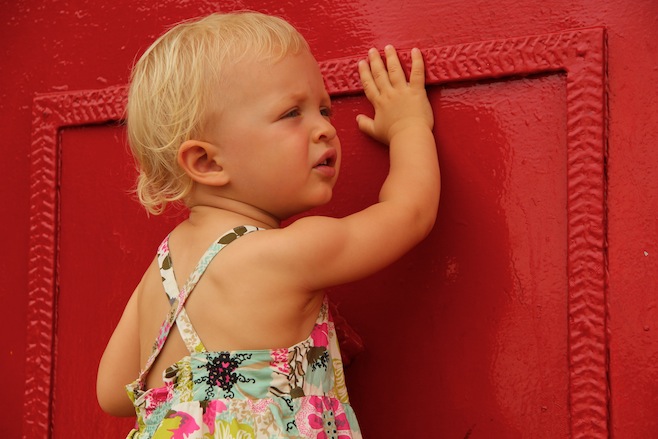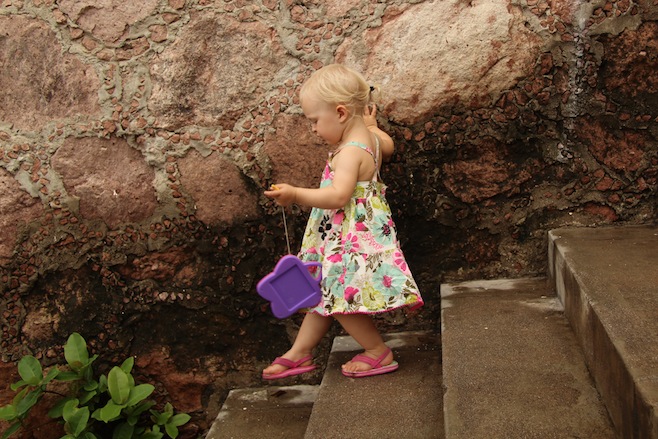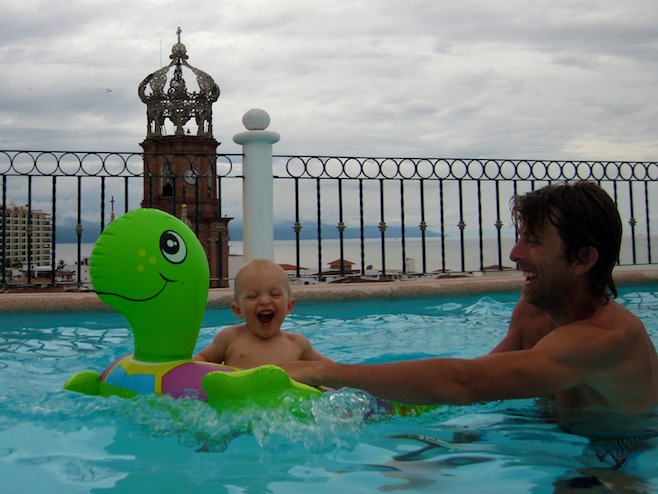 04-July-2011 our life. daily. puerto vallarta, mexico.
Note to Ouest. One of my favorite things that you do happens when you are eating Cheerios in the morning and a couple fall off your spoon. You very carefully pick them up, place them back on your wobbly spoon, and then eat them. You never pick them up and just pop them in your mouth. It's just one of those things that makes me smile each time I see you do it.
We took the bus out to the marina today in order to grab a few things off the boat and to go check in with the Port Captain. We of course got there too late for the Port Captain who apparently works the same hours I used to, nine to two. Tough day. We emptied the fridge and made sure everything else was okay onboard and then turned right around back to town.
Ali's been having a tough time the past few days with a really sore back. It's the first real hardship she's ever had while being pregnant and it is driving her crazy. I think it's all a big hoax to get me to lug around the diaper bag. That ubiquitous bag that travels anywhere a toddler does. Filled at all times with half a dozen different snacks, diapers, wipes, water bottles, an extra onesie, cameras, a wallet, and a couple of small toys. Just going from the condo to the boat today I joked with Ali that we looked like we were preparing to mount an assault on Everest, or at least on Kilimanjaro. But three hours after leaving the snacks were all gone, diapers had been changed, pictures had been taken, and multiple bottles of water had disappeared. There can be no lightening of this bag.
05-July-2011 our life. daily. puerto vallarta, mexico.
Just hanging out around town today trying to take it as easy as possible. We've really got a routine going on here. Walk to the plaza and along the malecon in the morning, Ouest's nap, lunner at our favorite taco joint, a little more walking, then up to the pool, back inside for a leisurely bath, and off to bed for the night. Ouest is wiped out at the end of the day which has been fantastic. To bed at seven and then not a peep until seven in the morning. Ali and I have finally reached this magical point in a parent's life, and in just a few weeks we're going to totally screw it all up again. I can't believe we're only six weeks from being a party of four.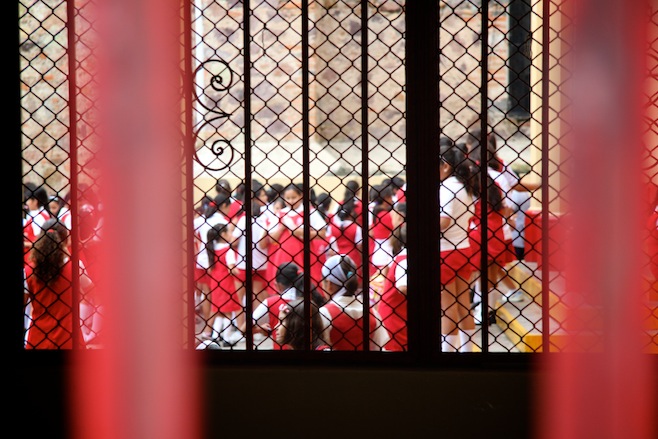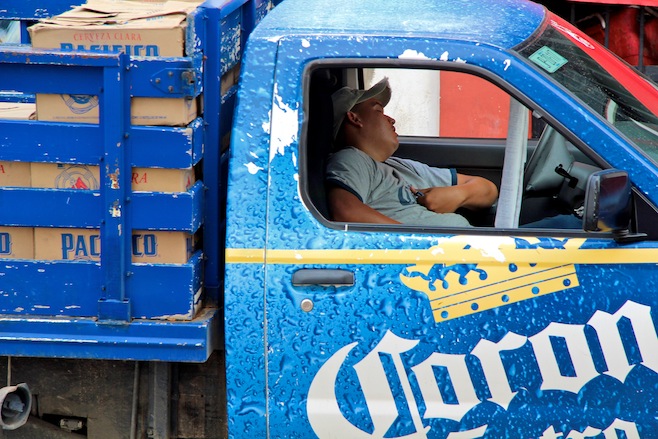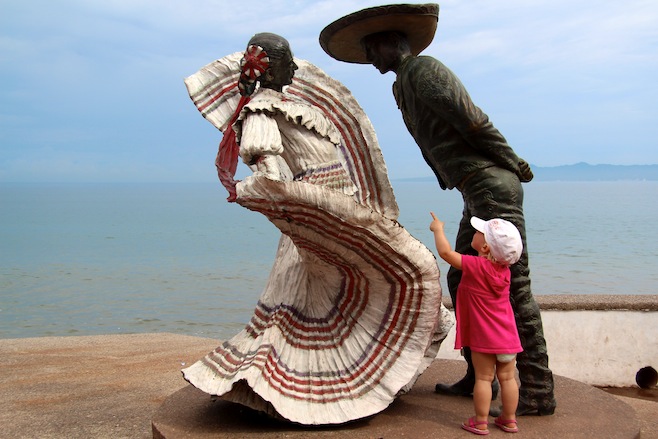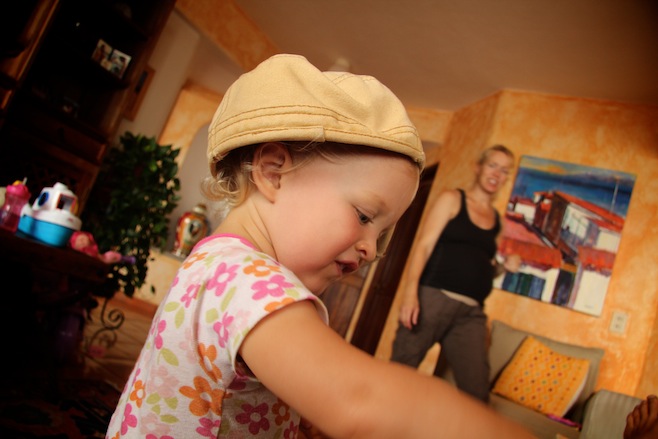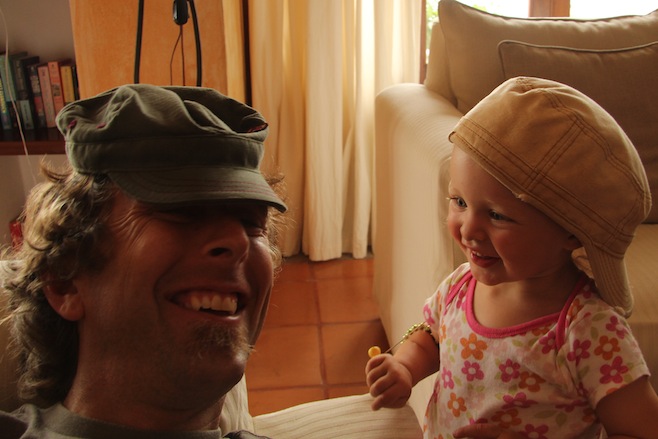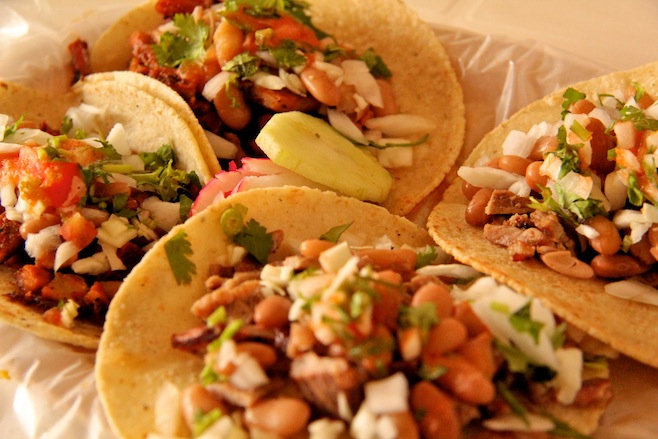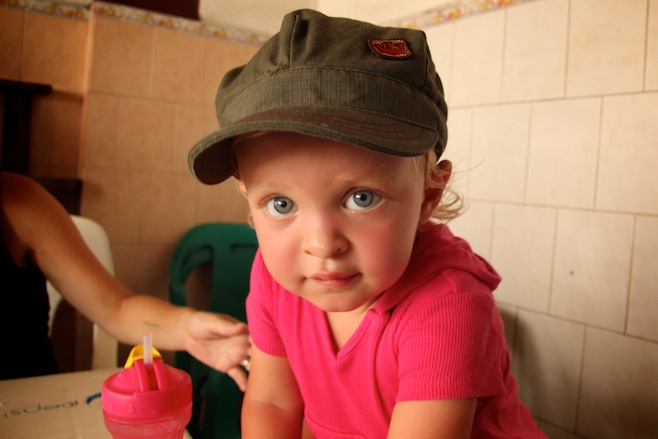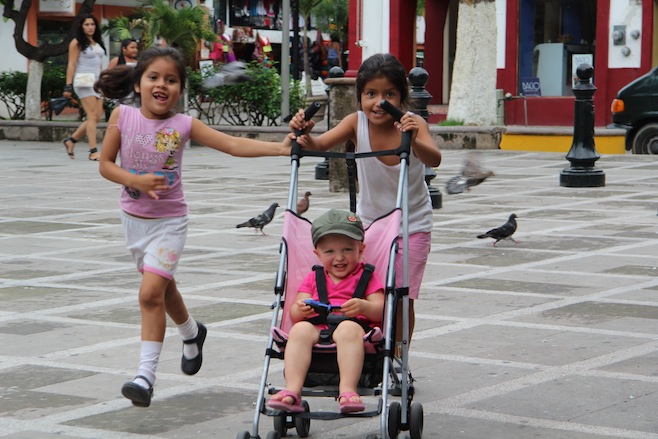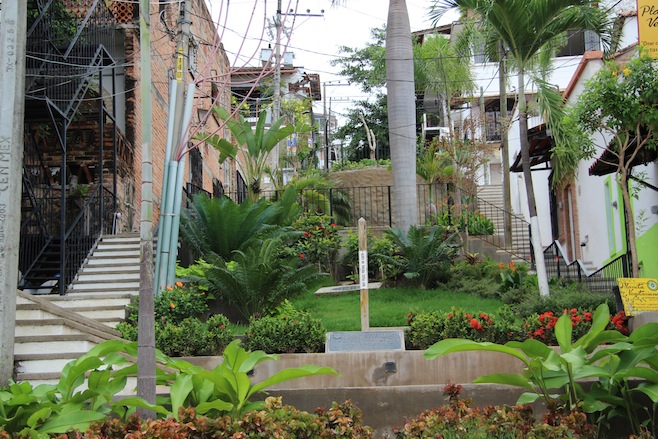 06-July-2011 our life. daily. puerto vallarta, mexico.
Ouest and I hopped a bus out to the boat this morning to visit the Port Captain. What a ridiculous waste of time. He took one look at the exit papers from Ensenada, stamped them, and we were done. For this we spent three hours of our day. But whatever, every country has to have their bureaucrats. Everyone needs to eat.
07-July-2011 our life. daily. puerto vallarta, mexico.
Ouest has this thing where any time she hears dogs barking she immediately starts saying, "Shhhh, shhhhh." It started at her grandma's house where three little dogs spend their days in the back yard yipping away while constantly being told, "Puppies, be quiet!"
Anyway, today she heard a dog barking and told it to shush. Then a minute later we heard a baby crying and instantly she started saying, "Shhhh, shhhhh." Ali and I just looked at each other and laughed. Poor Ouest has no idea just how much she is going to be saying that soon.
We went out to try and get Ouest's Mexican passport today. The big benefit to her having this now would be that she wouldn't be restricted by a tourist visa any longer. She could stay in Mexico indefinitely. We started the process back when she was only a couple months old, but ran into a problem when we were told that because our middle names weren't written on our visas they couldn't do it and we'd have to go to immigration to have them fixed. Well that didn't happen and things happened that sent us back to the States anyway.
So today we stopped at a camera shop and got Ouest's passport photos taken, and then went to the office with our visas, middle names and all. The guy in charge took our stack of papers and started pouring over them. It didn't take him long to find problems. First, the signed letter from our doctor was too old. All the letter says is that she delivered Ouest and could confirm that she was our baby. Then he told us that Ouest's birth certificate was also too old. Her official birth certificate issued to us in 2010. We apparently need to obtain a new official birth certificate stamped 2011.
And then the big problem. When we were getting Ouest's birth certificate they absolutely would not issue it to us unless we used Ali's maiden name. In Mexico women don't change their names to their husband's, instead they just add it on. So they have four names. They didn't care that that isn't how we do it, this is the way we had to do it here in Mexico. So Ali's name on Ouest's birth certificate says Alison Renee Williams. And Ouest's name in Mexico is officially Ouest Lill Williams Schulte. Whatever, we kind of like it.
But now at the passport office they tell us that they can't prove that Ali is actually Ouest's mama because Ali's passport says Schulte while Ouest's birth certificate says Williams. Huh? So now we've got to get Ali's original birth certificate and our marriage certificate. This passport could very well take us the rest of our lives to obtain, but by God we will die trying.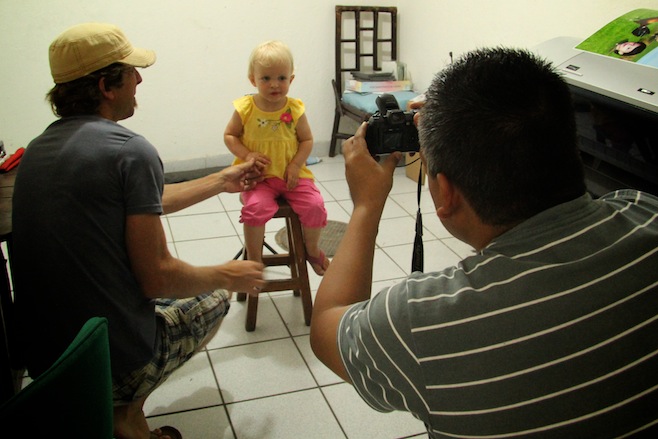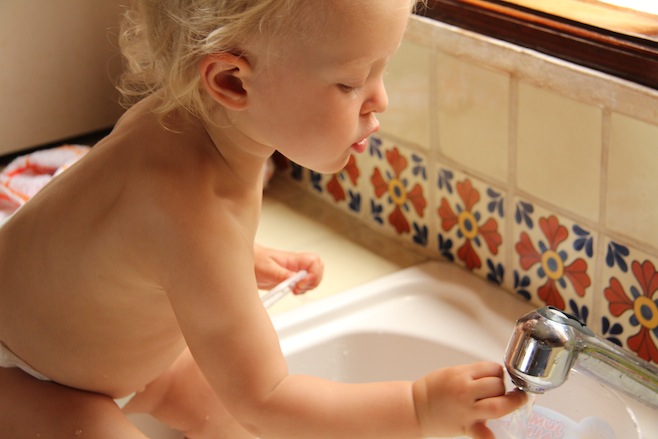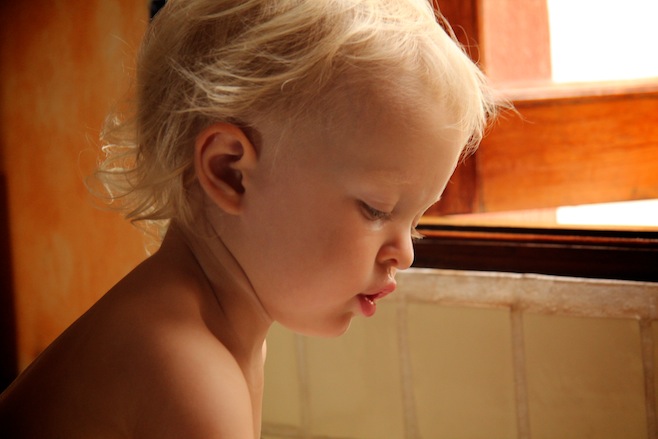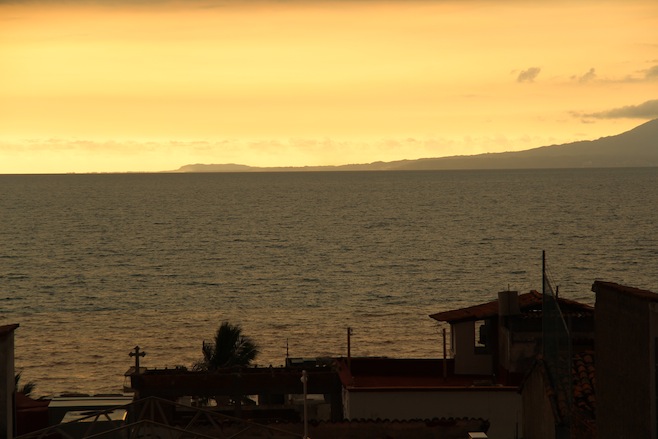 08-July-2011 our life. daily. puerto vallarta, mexico.
We're continuing our lazy ways around here, spending mornings on walks, afternoons in the air-conditioning, and evenings in the pool.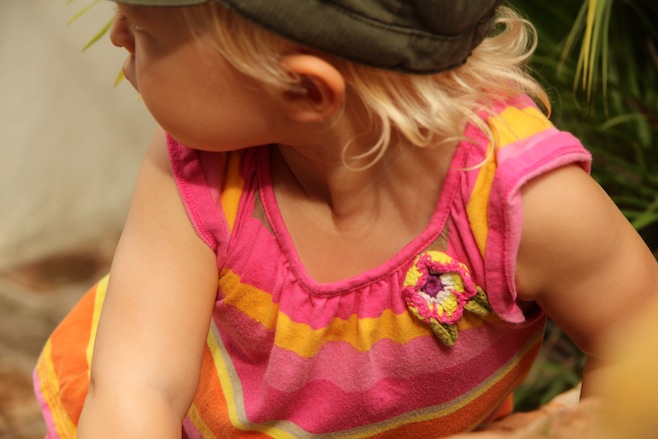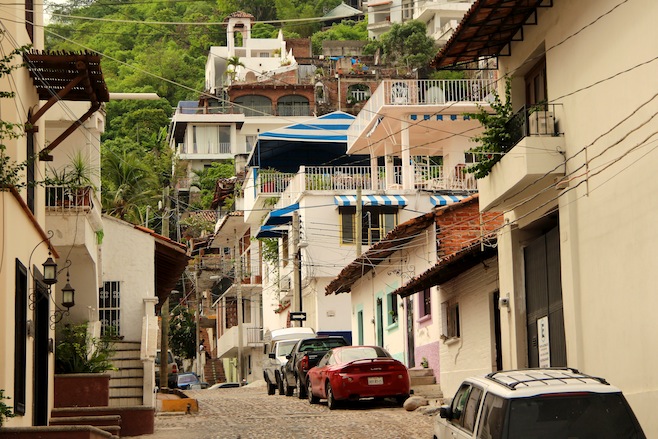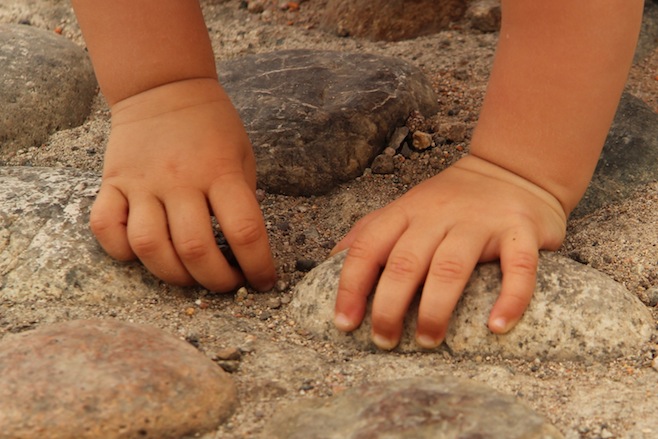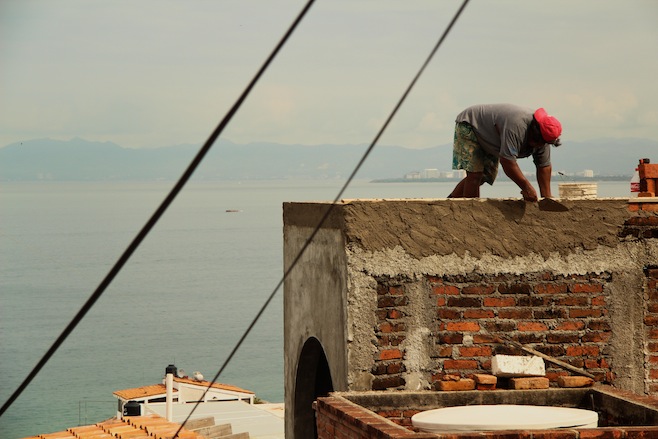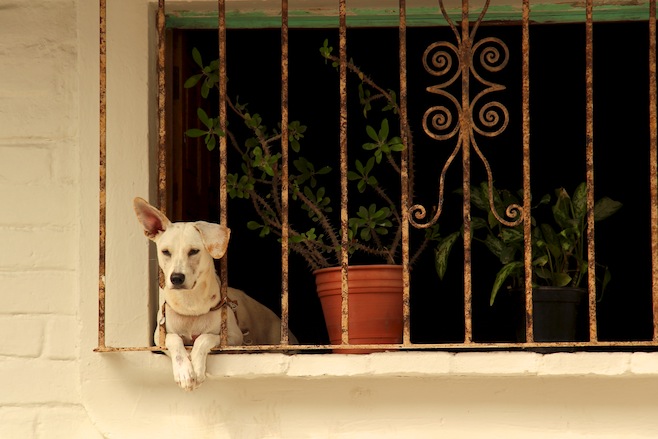 Ouest has a book in which a wombat jumps as high as he can and at least once a day she tries to emulate him. Up until now her jumps constituted her upper body lurching and looking every bit as if she were going to leave the ground, but somehow those feet of hers just never got up in the air at the same time. Today she finally went airborne.
Ali and I are trying to come to grips with our soon to be new reality. In other words we're trying to figure out how in the heck there can possibly be time for two kids and anything else that needs to get done in life. Our days feel stuffed with just the one. We keep thinking of all the things that still need to get done on the boat and that's when we drift off and find ourselves staring at a brick wall for an hour. We know somehow things will happen and projects will get accomplished, we just don't know if sleeping two hours a night is going to be healthy long term.
09-July-2011 our life. daily. puerto vallarta, mexico.
The "sailing" forums. Read them here about my single-handing the boat down to Mexico, Cruisers Forum and Sailnet.
10-July-2011 our life. daily. puerto vallarta, mexico.
We get quite a few requests from locals who want to take Ouest's picture. We're always a bit surprised and aren't really sure why they would want to. By the time they want to take the picture she's usually become shy and is holding on to one of our legs and peaking around at the stranger. Up until now we've been nice about it and let them snap off their picture. But today a guy came up to us smelling of booze at ten o'clock and wanting his picture taken with her. We told him no as nicely as we could and he begged off without a problem, but still, I think that's the end of the pictures of Ouest. We feel conflicted as we want to be friendly and we're sure most people are harmless enough, but we just can't figure out their intentions. She'll have to content herself with me taking a hundred pictures a day of her.
On our walk today we stumbled across a park. You don't find many parks in Mexico and when you do they tend to be sort of like this one, decaying, slightly grungy, and with a homeless man or two lying around under a tree. But ask an eighteen-month-old if she cares. It's only in the last couple of months that she's been able to hold on to a big person swing like this and she still takes great pride in the fact that she can do it.
11-July-2011 our life. daily. puerto vallarta, mexico.
I guess what I really love about Mexico, and specifically about attempting to raise our kids down here for a while, is that I feel life here more closely resembles my early childhood than anything back in the States does any longer. Kids still play in the streets, get dirty, ride bikes without helmets, throw rocks at pigeons, whatever. They just do what kids have always done. And that isn't to say that they aren't sitting in front of televisions too much, playing marathon sessions of video games, and all the rest; they are. But when you wander the back streets, or even sit in the plaza, you see people, lots of people outside living life, laughing, playing, and content just being with their family. It just feels more like home to me now and is more reminiscent of how I'd like my kids to spend their first few years.
Dolly was feeling the love today, getting dragged around the house on every mission. The sticker covered belly is one of Ouest's favorite new projects, and ours too. Buy a sticker book for a buck, doesn't matter what is on the stickers, tear out a page full and spend the next hour applying, removing, and reapplying to various body parts. She loves it. And that little race car she's speeding around in at the grocery store, that's two pesos, or fifteen cents of good fun.
We took the bus down to the government building that houses birth certificates today. We'd been through the routine before so fully expected to fill out our form, turn it in with our money, and return tomorrow to pick up her new official birth certificate. Instead the clerk punched a couple of keys on his computer, reached down under his desk, and came up with a fresh off the printer birth certificate, already signed and stamped with today's date. Ali and I walked outside in a sort of daze. We've never seen anything in Mexico accomplished quite so efficiently.
12-July-2011 our life. daily. puerto vallarta, mexico.
We're not sure we've really talked about the baby's due date. Officially it's August 17th but because this pregnancy so closely resembles Ali's first we are half expecting that she'll deliver two weeks earlier. Hopefully not, but we're preparing for that. Meaning we're just five weeks away, or as little as three.
Ouest is loving the pool. I mean loving. She squeals, literally squeals, with delight the entire time we are in it. Her favorite thing is to stand on the first step, hold my hands, and jump towards me while I pull her slightly underwater and back up again. She goes in with her mouth wide open and screaming with delight but manages to come out most times without having swallowed a mouthful. Good fun. She also kicks the entire time and does a pretty good hand paddle when prodded. I can't wait for the day she can swim, we are going to have some serious fun in the water.
13-July-2011 ouest lill. nineteen months.
Ouest,
What a strange month we've had. We did some sailing together, then you and Mama flew off to Mexico without me while I sailed our house down to you. And now we're all living in a condo with a pool on the roof. How could life get any better right?
You laugh with a genuine sense of humor. You love stickers. You eat so much fruit that we have a hard time keeping a stock on hand. Any and all fruit. You don't eat enough vegetables. That's our fault. We joke that you are a Francophile because it seems you'd be happy to eat nothing all day but bread, fruit, and cheese.
You can jump in the air, and do so every day. You are unbelievably happy when you are swimming. You don't much mind when you're head goes underwater, but get really ticked off when we wash your hair in the bath. You make our day when you give us kisses. You insist on bringing me outside to watch whenever you hear the bells of the cathedral go off. Which here in Puerto Vallarta seem to follow no strict time guidelines. You love to be scared. You never cry when I scare you, you just laugh.
Your best word is still Papa. You whisper Mama except when we're reading Freckleface Strawberry at which point you sing it out in the world's cutest voice. You never throw a tantrum at the store. We let you carry toys up and down the aisles and then at the checkout line we simply say goodbye and wave to them. You still have no idea what chocolate is. You've never once asked for one of our french fries, and no matter what Mama and I are drinking you are perfectly happy when we say, "Oh no these aren't for kids, here is your water." You're going to have great skin.
You do a great job of warning us that you are about to go potty, but a not so great job of actually going on the toilet. You just sit there, and sit there, and sit there, but won't go. We'll get over the hump soon enough I'm sure. You like it when we tell you about the baby in Mama's belly, but we're certain you have no idea what is really in store. You giggle with delight and insist on joining in any time Mama and Papa hug or kiss. And we happily share.
I don't know how many times Mama and I have said, "God this is a great age." But it seems true that each day only gets better. You're a great little girl Ouest.
Love, Papa
14-July-2011 our life. daily. puerto vallarta, mexico.
At eight o'clock tonight there was a huge explosion down the street followed by the eerie silence of a town that has just lost all of it's electricity. It'd be amazing if the whole world could shut off like this for just one day. Preferably not in July though.
15-July-2011 our life. daily. puerto vallarta, mexico.
It's been two weeks off the boat already and both Ali and I are ready to move back aboard. We know that it's going to be a bit of a challenge with the heat and the heavy rains at night, but regardless we're both excited to get back in our own tiny bed and to work on a few of our projects. In anticipation of moving back and tackling the heat we bought an air conditioner. A big, ugly, window unit that is going to save our hides the next few months.
We went out to Marina Vallarta the other day to take a look at a boat a Bum friend is thinking about buying. It was a nice enough boat, but man am I ever happy we stuck with finding ourselves a pilothouse. Regular old monohulls are about the darkest and most depressing places on earth. Where is the light!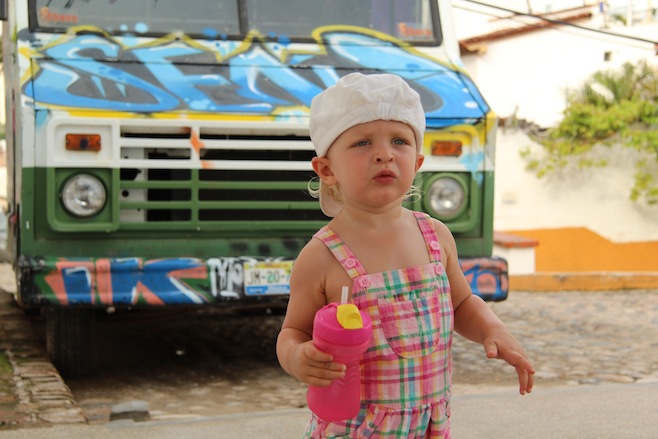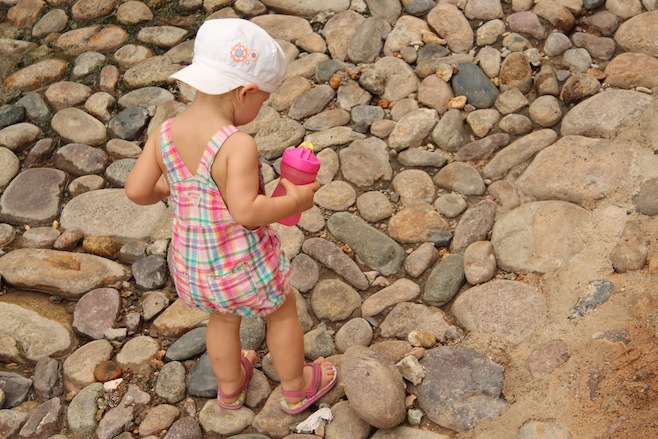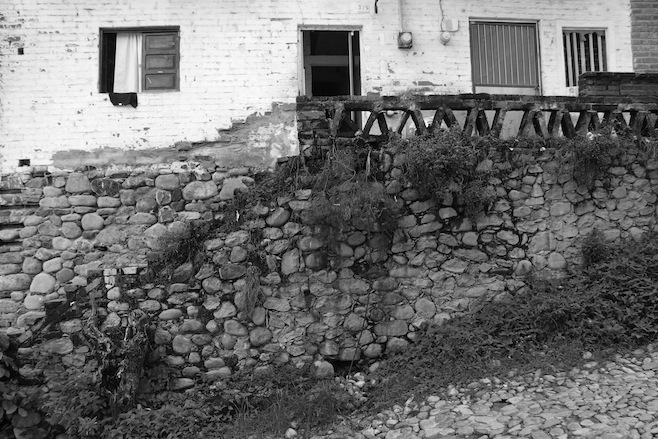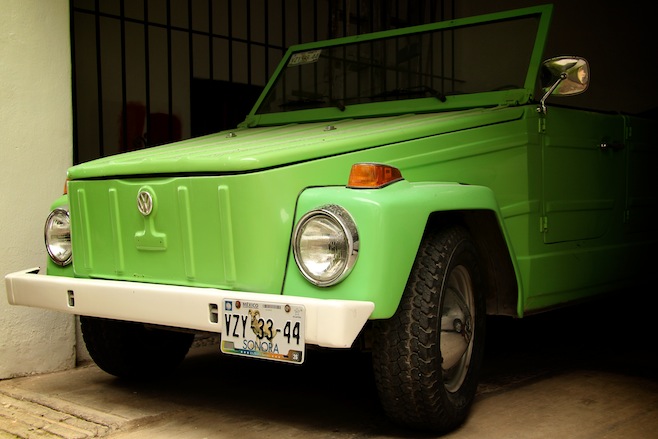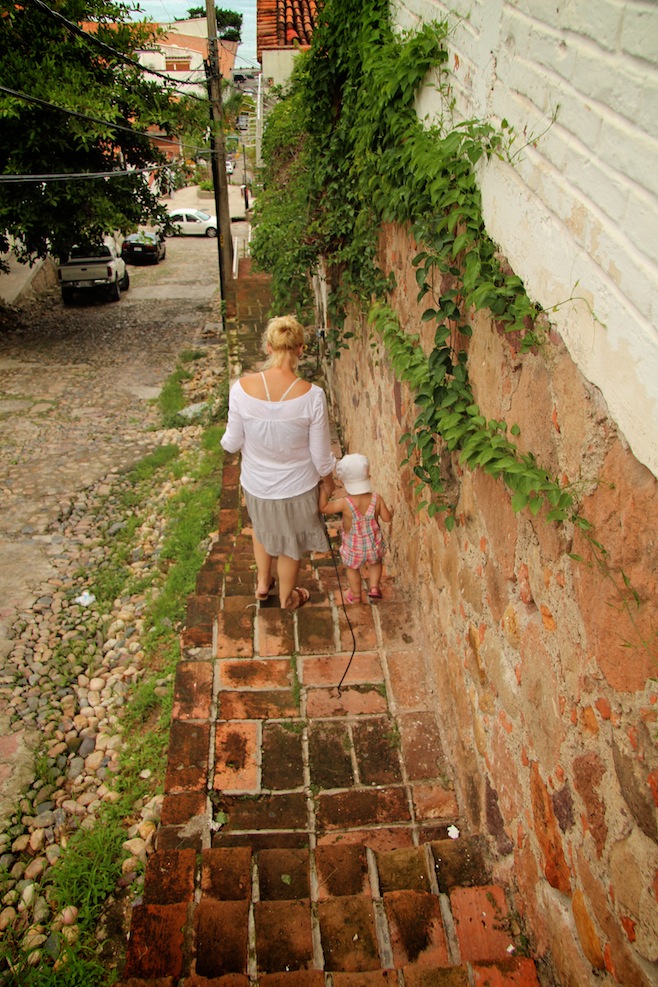 16-July-2011 our life. daily. puerto vallarta, mexico.
It rained hard all night last night and then we woke up this morning to what has to be one of our best days ever in Vallarta. No humidity, everything fresh and clean, blue skies, just pure perfection.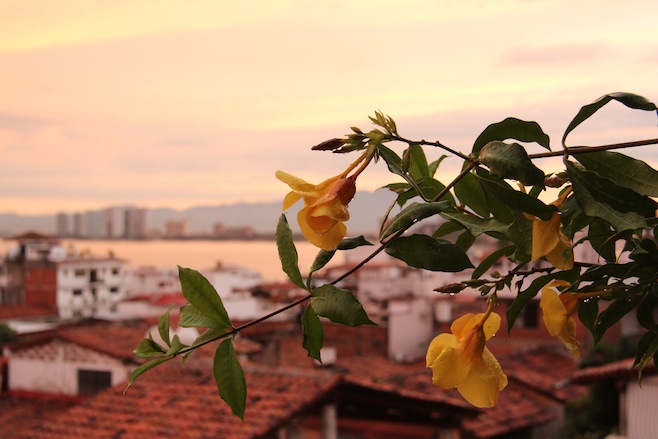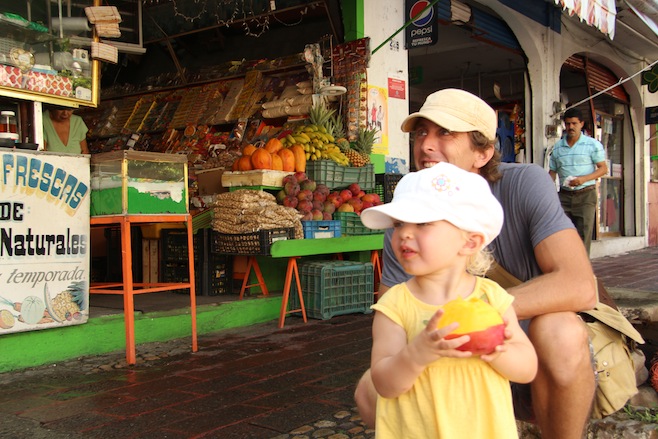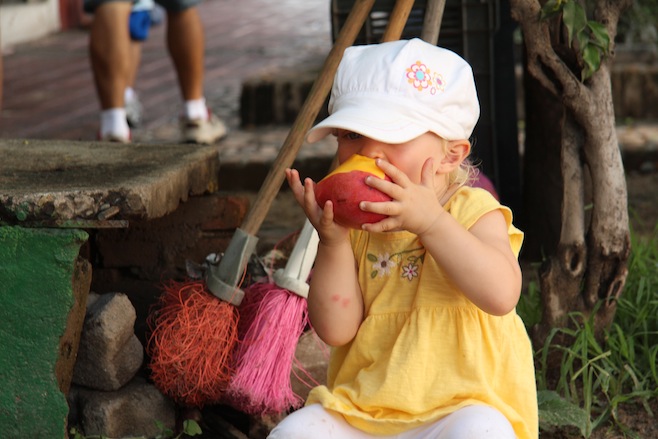 Ouest was digging this mango today. So much so that we had to strip her out of these clothes the second we got home. The mango thing reminds me of a conversation we had with a taxi driver in Zihuatanejo one day. He was dropping us off at our condo complex which was called Los Mangos.
When he saw the sign he turned to us and in halting English asked us, "How you say Mahhhngo in English?"
"Mayngo," we replied.
He laughed and tried to repeat it back. "Mahhhngo."
Close enough.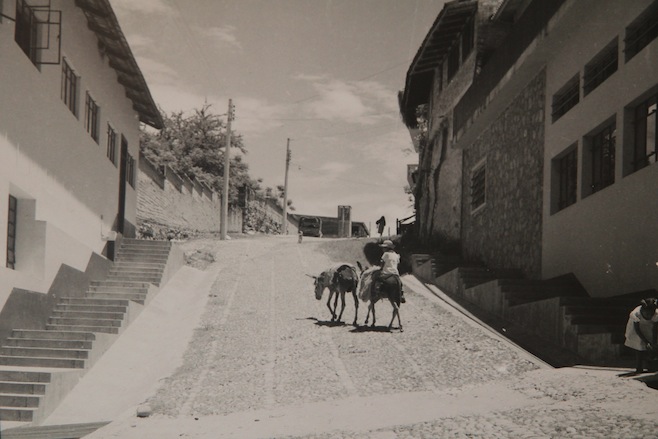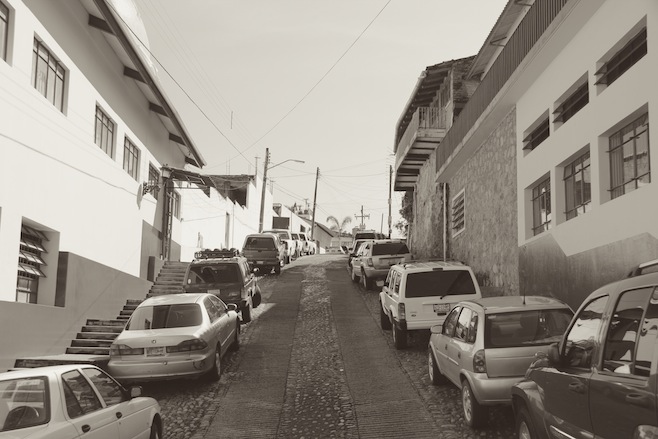 We went to a little restaurant this morning for no reason other than when we had walked by the other day we noticed they had a bunch of those Playskool playsets in a back corner that we knew Ouest would love. Inside we found the walls were covered with dozens of old photos of Puerto Vallarta. I immediately recognized this picture, taken in 1961, of Calle Matamoros. We walk up this hill at least twice a day as our condo is just a block further up the hill. I thought it was pretty amazing just how little things have changed in fifty years. If I could Photoshop out all the cars you almost wouldn't notice a difference. I suppose everyone feels this way, but every time I see pictures like this I wish that I could have been around back then instead. Travel must have been truly adventurous back then. I guess people will be saying the same thing when looking at our pictures in another fifty years. Everything changes, however subtly.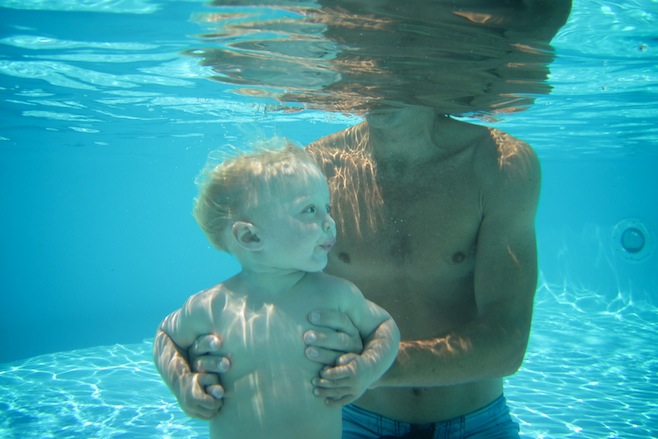 It fills my heart with joy to see how much Ouest loves the water. We can't even mention the pool throughout the day because of the response it elicits in her. She is at the door so fast ready to tear up those stairs and jump in. And only in the last week or so has she really gotten the hang of holding her breath. It's fantastic lowering her into the water and seeing this look of calm on her face. Having her be comfortable with the water and be a strong swimmer are just super important to me and I love the strides she's taking.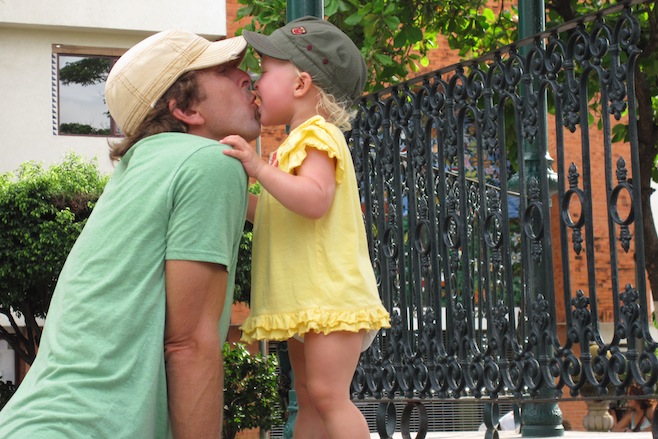 After our post the other day about people wanting to take Ouest's picture all the time and us deciding maybe it wasn't such a good idea we got a lot of e-mails letting us know that most likely the only reason for it is her blonde hair. So fair enough, we'll roll with it as long as Ouest doesn't care. Today we were walking past the Naval museum, a place I really need to visit since I've no idea what sort of history the Mexican Navy might have, when a uniformed lady scooped her up and stood next to a uniformed mannequin to have her picture taken by some lady we hadn't even seen coming up behind us. You have to laugh. Especially when you see how polite Ouest is about it. Like, "I'm not so sure about this, but as long as we move it along I'll let it go."
Later on we were in a convenience store when the teenage boy working there commented to me how beautiful she was and pointed out my eyes in comparison to hers. A teenage boy. I can't fathom that sort of conversation ever occurring at a 7-11 back home.
17-July-2011 our life. daily. puerto vallarta, mexico.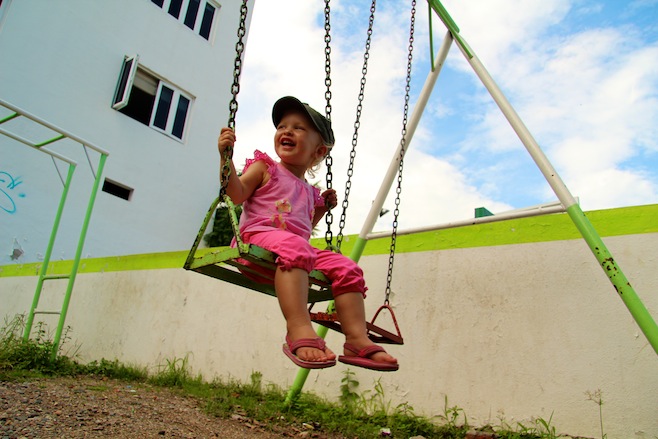 18-July-2011 our life. daily. puerto vallarta, mexico.
Our move back to the boat was not what we had hoped. Things started off bad and only got worse. When we arrived we found our shore power cord disconnected and lying on the dock. Meaning that when we stepped aboard the smell of rotting food was what greeted us. We didn't have a lot of food on the boat, only some of Ouest's favorites. Chicken and some vegetables, a few cartons of butter, condiments, and the like. Probably a hundred dollars worth of food stinking and wasting away.
It also meant our batteries were completely drained. Dead. All but the starter battery anyway. To be honest I'm not sure whether or not the house bank will even come back.
So the first thing on our list was to get the air conditioner hooked up and get the boat cooled off. I took it out of the box and found a 220v plug. It never even dawned on me that they'd have both 110 and 220. It will from now on. We've no way to plug in 220 on the boat, so no air-con.
The boat and the fridge were both sitting at about one hundred degrees, we had no food, nothing cold to drink, and no options other than to jump in the car (which we'd rented just for the day to get all of our crap back to the boat) and hit up Home Depot.
We picked up a 110v air conditioner, went and had lunch, and headed back to make our second attack on the boat. We started up the engine, got the fridge cranking away, hooked up our little air conditioner, blocked off half the boat with a blanket to try and cool down Ouest's room quicker, and then worked on fixing a problem with the BlueSea battery combiner. It would click on to link the starter battery with the house bank, but then immediately click off again. Over and over again. I couldn't see any reason for it so eventually gave up and just linked the two banks directly, bypassing the BlueSea completely.
Eventually we got things somewhat in order onboard so Ouest and I could go have a swim. Like a pig in the mud that girl. Happy little thing.
Writing about it now it doesn't sound nearly as bad as the day really felt. It was all just a big mess of a day in which nothing seemed to work or go right. And man am I still pissed that somebody unplugged our shore power. The office seems concerned but nobody knows anything about it. Ali had a couple meltdowns today which it is hard to fault her for. I don't know, just an all around crap day. One I hope we can just put behind us now that things are slowly coming back together. Life on an old boat, it's never easy.
20-July-2011 our life. daily. puerto vallarta, mexico.
We're slowly coming around to a new daily routine on the boat and the entire thing, from morning until night, revolves around keeping cool.
After a morning bowl of Cheerios we're off to the little playground on the beach and into the ocean for some swimming. Follow that with a nice cold rinse in the outdoor shower, then back to the boat for a snack, some books, and a nap.
After the nap we hang out inside for a while before heading over to the little shopping mall for lunner and the kid's play area. Then a run to the pool, back for showers, some dinner for Ouest, more books, and off to bed. It seems impossible to believe that this could consume an entire day, but it really does.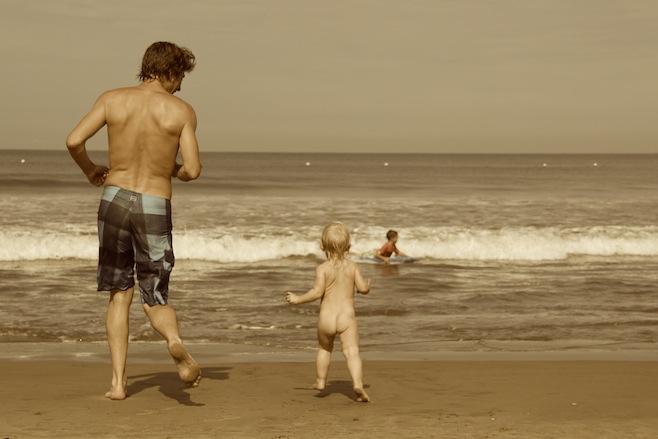 Ouest helped me install a fan in her bedroom today. There is nothing done on this boat that she doesn't want to be a part of.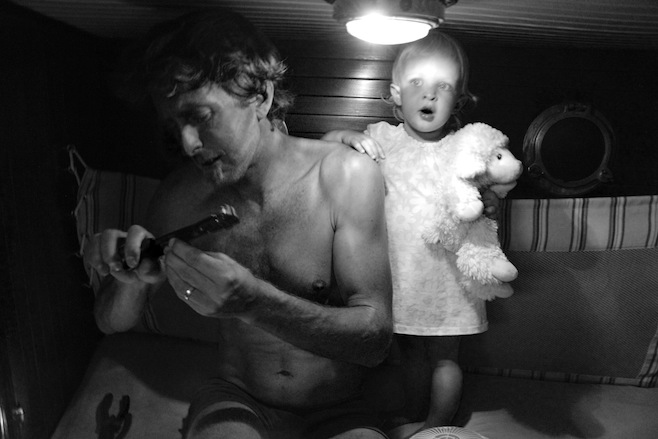 Not having internet for a few days means I only just found out a couple of hours ago that there is a hurricane just to the south of us headed our way. It's forecast to stay out to sea a bit and turn west, but Dora is still closer than we'd like. I brought down our nice canopy tonight and replaced it with our finest blue tarp, then added a couple more dock lines. We blew out another fender today, the second one in a month, one new and one old, so we're going to have to stop at the store tomorrow and replace those as well. It's been an active hurricane season so far, let's hope they continue to stay out in the water.
21-July-2011 our life. daily. puerto vallarta, mexico.
We had a canvas shop lady out to the boat today to give us some quotes. Boat canvas pricing is something that seems to not correlate at all with the brain power needed to perform the function. A dodger is going to cost us about $2500 to $3000. Quotes in the States were from $3500 to $5500. So a fairly good savings on that, and a price that seems fair enough considering the dodger is a moderately complex structure to build. The thing that really gets me is the simple pieces. A rectangle with a few snaps to cover a window, or a big square tent style piece of fabric with a few grommets along the edges for a sun shade. Simple. And yet the quotes almost knocked me right off the boat. For the first time I understand what this fascination cruisers have with $3000 sewing machines is all about. Though to be honest I think a few of the pieces we want made could be done with a simple needle and thread hand stitching. Can it really be that difficult?
Our carbon monoxide detector went off last night. And for the life of me I can't understand how. As I understand it carbon monoxide is only produced in homes by appliances that burn fuel of some sort, or in an internal combustion engine. The only things we had on in the middle of the night were the AC powered refrigerator, and the AC powered window style air conditioner which is properly installed with the venting outside. I just don't see how in the world anything on this boat could be producing carbon monoxide.
Heat index was well over a hundred degrees today. Water is the only thing keeping us alive. Both drinking it and soaking in it as much as humanly possible.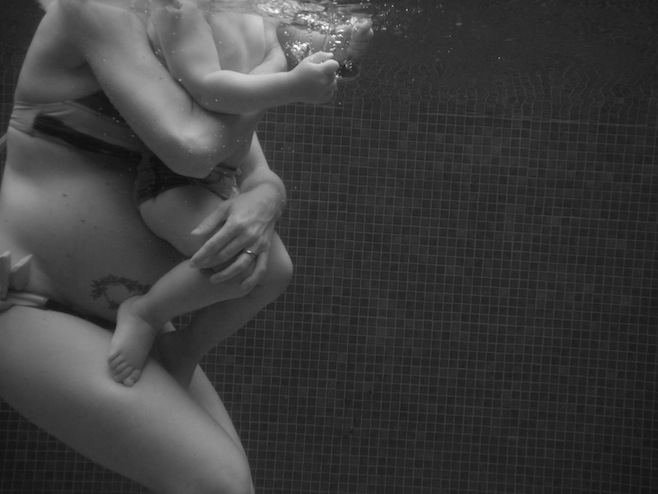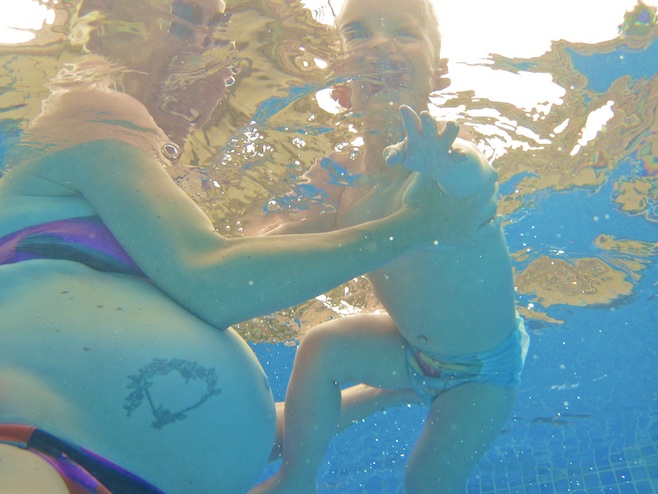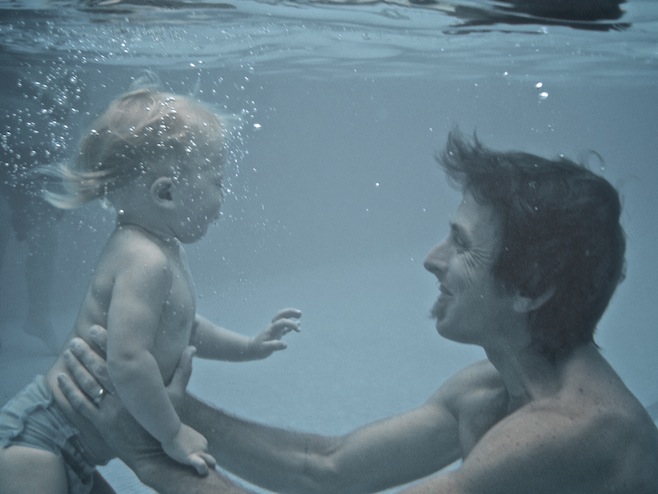 I went out and picked up some chocolate ice cream tonight. Within a minute of eating it the baby was doing somersaults in Ali's belly. Elbows, feet, and god knows what else were conspiring to distort her belly into shapes that gave even me a stomach ache. In the past few days Ali's had quite a few people touch her belly and quite a few more people offer up their opinions on what she is having. I'm sure they'd like to know if their guess is right, but all we can tell them is, "Sorpresa."
22-July-2011 our life. daily. puerto vallarta, mexico.
Carbon monoxide detector went off again last night. Both times it has been at around four in the morning with nothing on the boat but the air conditioner, the shore power refrigerator, and a couple of electric fans running. The propane is shut off too. I've googled this to death but can't figure out what is causing it. I even called our refrigerator guy. Nobody seems to have any idea why this would be going off. The detector is only a couple weeks old and the batteries are brand new. Anybody have any ideas? [Okay, got lots of good ideas and feel pretty confident that we've taken care of the problem now. Thanks.]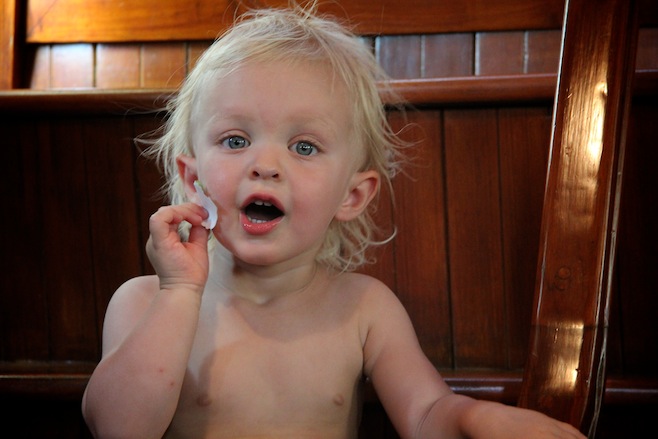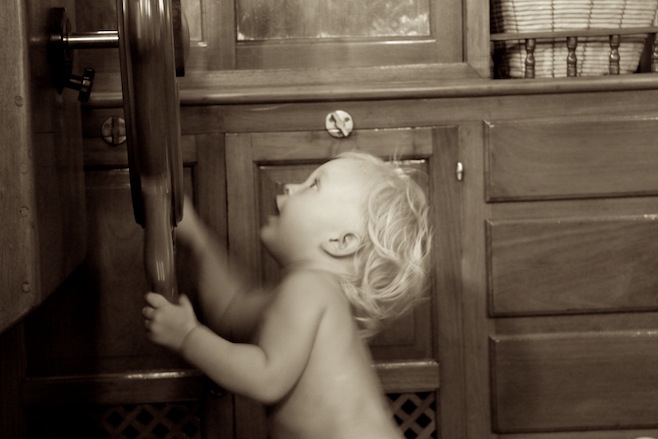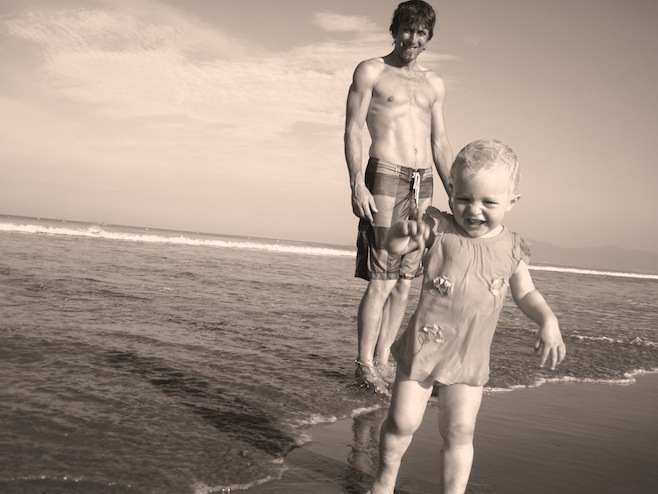 23-July-2011 our life. daily. puerto vallarta, mexico.
I have to admit we are really struggling the past few days. The heat index was around a hundred and ten degrees yesterday. Our air conditioner is running all day long and still can't get the temp below ninety in the boat. It's undersized mainly because it is the only one that will fit in our biggest window. Our slip has us in the sun from sunrise to sundown. About thirteen hours of constant beating. It is impossible to spend any time outside on the boat because even the decks are too hot for bare feet, especially little ones. It's just plain brutal.
We met some people in San Diego who had spent last summer in Mazatlan and they told us they'd never do it again. In their words they spent the entire summer "hiding out." They were a bit older than us and we thought we were made of tougher stuff. We're not. We really are simply hiding out.
We went swimming twice yesterday, we went to the shopping mall twice, and we took cold showers. Despite all of this poor little Ouest got sick and tossed up everything until there was nothing left to toss up. At that point Ali and I just looked at each other and said, "This is stupid." Ouest is sick and Ali is uncomfortably eight plus months pregnant. Life is not a contest to see how miserable we can make ourselves.
First thing this morning we booked ourselves into a condo right here at the marina. My mom is coming for a visit in a couple days and we had already booked the two-bedroom place, so this morning I called up the owner and asked if we could have it for a few more days. A couple hours later we were moved in. Now we're complaining about being too cold.
Nice thing about the location is that I can hop over to the boat in the mornings before it gets too hot and get some boat projects checked off the list. Then the three of us can spend the day popping out the front door to the pool, out the back door to the mall, or just hang out inside comfortably.
As for the carbon monoxide story, we received a ton of e-mails. They came from accountants to chemists to firefighters and the one common theme seemed to be that we did not have carbon monoxide, which at least confirmed my belief that it was an impossibility based on what was going on on the boat. A few common replies were that somebody nearby had exhaust running into our boat. That wasn't happening. Another was that the boat was simply sealed up too tight at night and no fresh air was getting in. A few people mentioned that charging batteries can often make these things go off. Ours were charging.
The manufacturer's website states these detectors are not to be used on boats (or any small space) or places of high humidity. That's us. A few others mentioned that other non-threatening chemicals can make these things go off. And the number one answer was that we simply had a POS Chinese made detector. We do. The fireman said nine out of ten calls that's it. Anyway, long story short, I shut off the battery charger and we opened up two ports fore and aft to allow some air circulation. The detector didn't go off. I still don't know exactly what caused it to go off, but I am confident it wasn't actually carbon monoxide.
24-July-2011 our life. daily. puerto vallarta, mexico.
Current projects being worked on at the boat are cleaning the bilges and cleaning out the water tanks. With the heat and humidity so high the boat has started to smell a bit like a boat again and the culprit seems to be the grimy bilges. Not a fun job, or really a very important job, but one that will feel good to complete. After opening up the water tank's inspection ports I found that they weren't really very dirty, but sitting on the bottom is some rusty looking metal. The metal pieces look like they were once used as cross braces for the tanks, but the spot welds along their sides long ago broke off. Our water hasn't been bad, but when the tanks get low we start to get some gunk in our glasses. Anyway, not too bad a job either.
After a few false starts the past couple of months Ouest is finally getting her last molars. This is never fun. Trouble sleeping, loss of appetite, mood swings. Women.
25-July-2011 our life. daily. puerto vallarta, mexico.
Ali is carrying this baby so much differently than she was with Ouest. It has us guessing and second-guessing what it will be. We have a doctor's appointment tomorrow and Ali was ready to bail out on the surprise. I actually thought she was joking when she mentioned finding out. She backtracked pretty quickly. The surprise is still on.
Some days I want another girl, some days I think a boy would be fun. Most of the guesses by strangers so far have been for a boy, but that doesn't mean much since at least ninety percent of the guesses on Ouest were for a boy as well.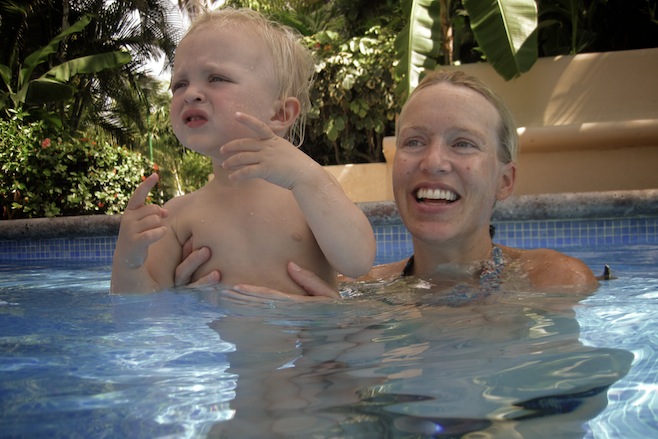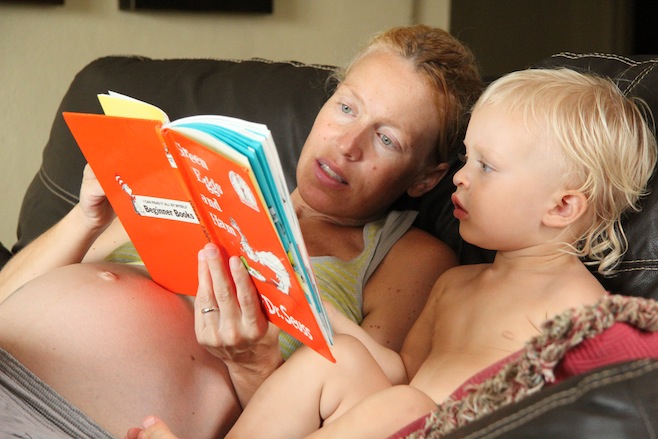 26-July-2011 our life. daily. puerto vallarta, mexico.
We went to the doctor this morning for a baby check-up. All is well. After thirty-five weeks the baby is up to six pounds five ounces and appears healthy in every way. It was a relief to see and hear the baby again. I don't know why, but we both feel more nervous this time around than we did with Ouest. So every time we get a good report we both feel a huge sense of relief. In one way we both want the baby to stay put for a few more weeks and in another way we just want to get it out of there and into our arms.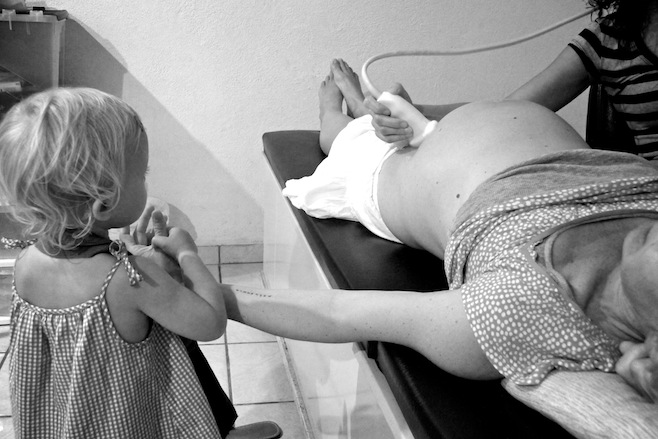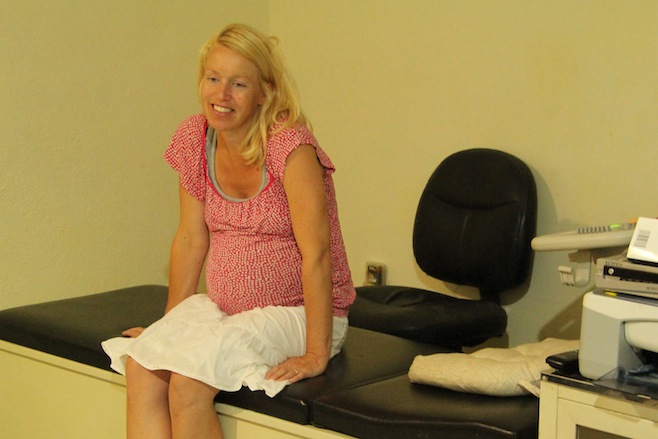 My mom arrived in the afternoon. It's amazing to us how quickly Ouest warms up to her grandmas. There is no hesitation. We could pretty much see Grammy melt right before our eyes.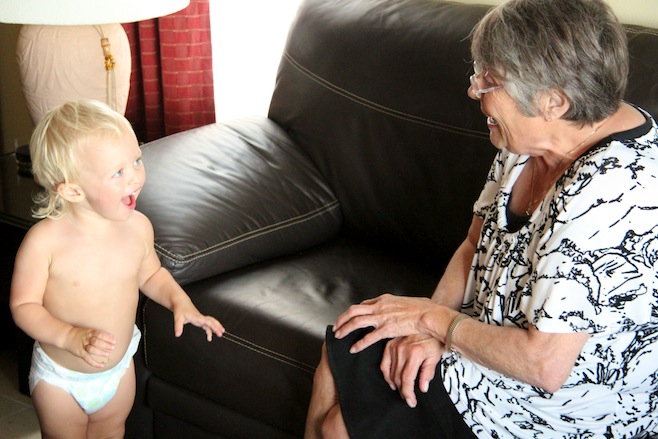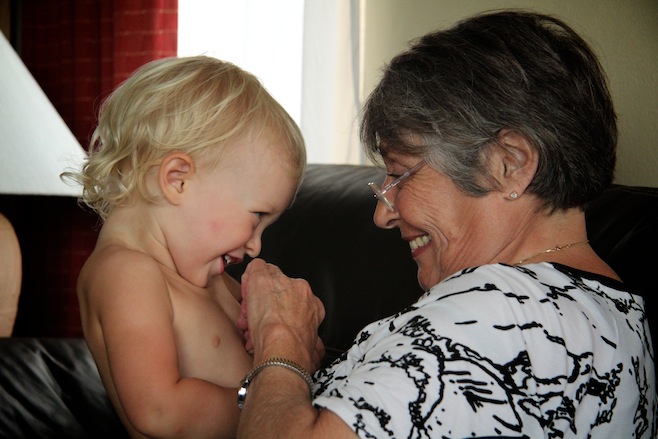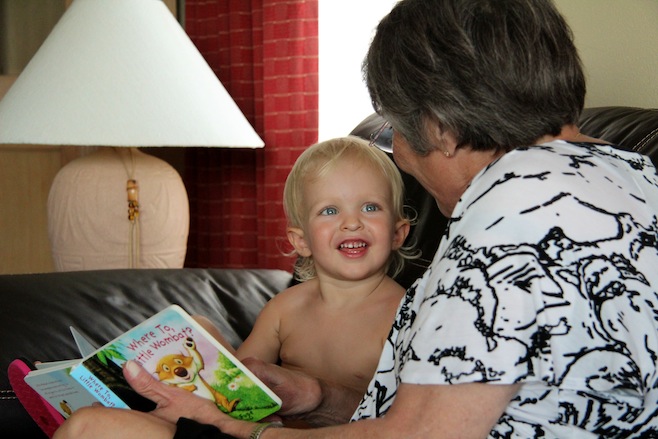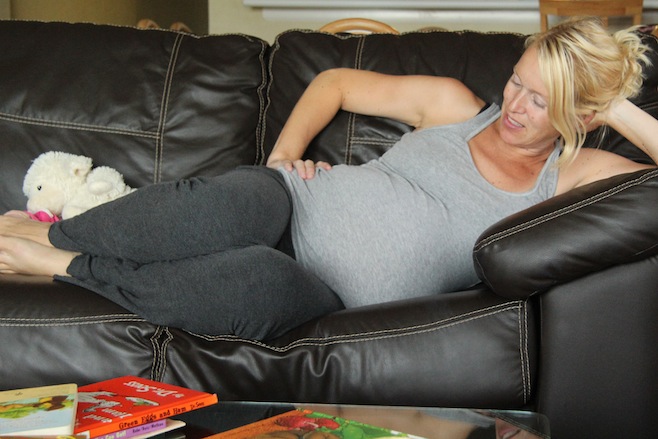 27-July-2011 our life. daily. puerto vallarta, mexico.
I returned our rental car this morning. We'd rented it for a day because it's cheaper than a taxi to the airport and back again. Anyway, when the guy went out to have a look at it he came back in and called me outside. He pointed to the front plastic fender which was dented and scratched. The plastic fender barely cleared the ground by three inches. In Mexico a car with three inches of ground clearance should not be allowed on the road. But there it was, I had no doubt that it wasn't there when I rented it because we'd gone over it together pretty thoroughly. The only explanation was that I'd hit a parking space block at the airport. Yes, the fender was that low.
Fortunately for me these rental companies charge peanuts for the rental of their cars and then turn around and pay their employees those same peanuts. In this guy's case he takes home under two bucks an hour. So it didn't take me long to realize what was going on when he hemmed and hawed over what a travesty this was and how he wasn't blaming me, but that one of us was going to be stuck paying for a whole new fender. He finally came to the point. Fifty pesos and the problem would go away. Hmmm. Such a dilemma.
A few shots from around the marina. I must say that Bumfuzzle does look a little out of place here in Paradise Village. The majority of boats here look down their shiny bows at her.
One of the hardest things about raising a baby in the sun is keeping her safe from that sun. Ouest gets covered from head to toe in 50 SPF every morning and then again before we go out after her nap in the afternoon. In addition she usually gets a dose of spray sunblock in there somewhere. If she is really distracted by something we can lather her up without a fuss, but in general it is a rather squirmy affair. So far so good though, she hasn't had a sunburn yet and that smooth skin of hers remains pretty milky.
28-July-2011 bumfuzzle.
Our companionway doors are anything but leak proof. I can't even imagine a way in which the world's finest craftsman could make them be. So to solve this problem we had a cover made. Two snaps on the turtle shell, two on the corner of the companionway hatch, and then a flap that hangs over the doors themselves. The flap is where the trick is. It has a pocket full of sand at the bottom. Since we obviously can't snap it closed from the inside we can instead just let the weight of the sand keep it in place for us. Pretty slick. And after a major rain event last night it was dry this morning. Cost $183.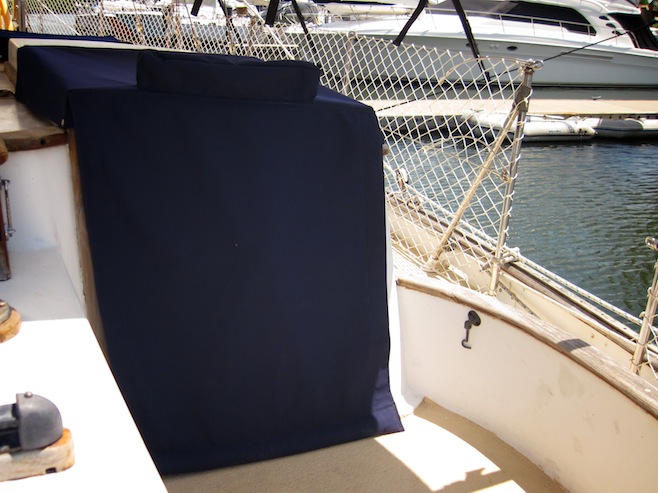 29-July-2011 our life. daily. puerto vallarta, mexico.
This morning I had a friend haul me up the mast to take down our sails. We're ordering new ones soon so it was time to get these down and get them measured. Anyway, simple little project. So Petter is hauling me up the mast and at the second spreaders the pocket on my bosuns chair gets caught on something and the threads rip right out. The two screwdrivers that were in my pocket are suddenly hurtling through the air. I yell, but it's too late for any sort of reaction. Bang, they hit the deck, and maybe five feet behind Petter is a Phillips stuck point in half an inch into the wood of our butterfly hatch. Christ that was too close. That butterfly hatch glass would have been a bitch to replace. Ha ha.
I felt terrible but he made me feel better by relating the story of the time he accidentally dropped an empty can of WD-40 from the top of his mast and it hit his little boy in the head. Again, it was empty, thank goodness, but I think we both realized now that we've really got to figure out a better way of securing our tools when climbing up the mast.
So I got the sails down and hauled them up to a tiny patch of grass at the back of the hotel. The only speck of grass for miles. Five minutes into my project two hotel security guards wandered up. I assured them I'd only be five minutes and they nodded okay while looking really unsure about me. When it came time to do the next sail I tracked the security guy down and asked permission which he gladly gave me now that he was sure I wasn't actually setting up a tent.
Oh, and mom got to see the boat today. First member of our families to see it. She said it's nice, but to be honest I can't imagine what she's really thinking about her son, his wife, and her two grandchildren living in forty-three feet of an old boat.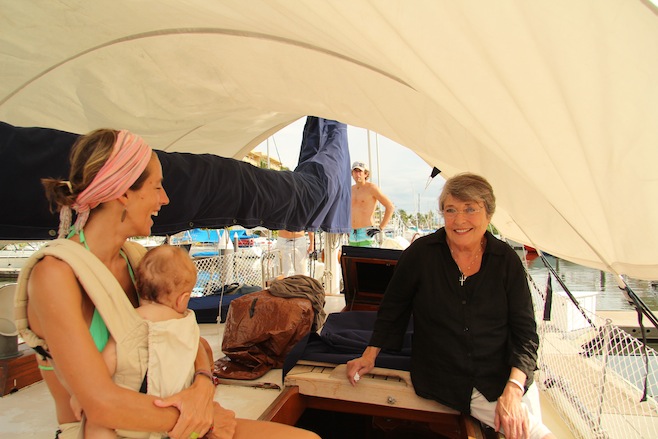 Our new friends here at the marina have a four-year-old and a six-month-old that was recently born in Panama before they beat their way north. It's fun to meet somebody so quickly that resembles ourselves so closely. You might not realize it, but there are a lot of people out here living and traveling around on boats with kids climbing all over the place.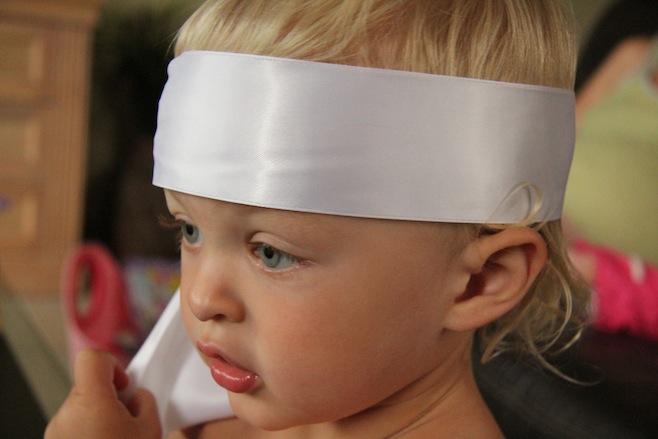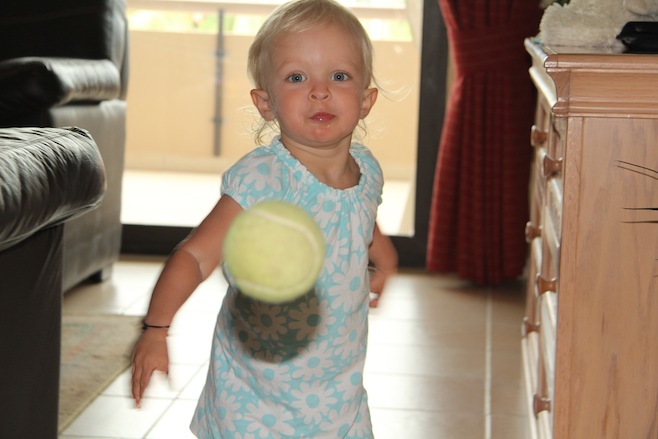 Ouest has an uncanny ability to throw perfect strikes. I mean she really has good form, steps with the right foot, releases cleanly, and throws a strike nearly every time. The Mexican National Fastpitch Softball Team is going to the Summer Olympics in 2028 for sure.
30-July-2011 our life. daily. puerto vallarta, mexico.
Life continues to revolve around the water. Thankfully this is all that Ouest wants to do anyway. She gets upset if we detour to do anything else along the way.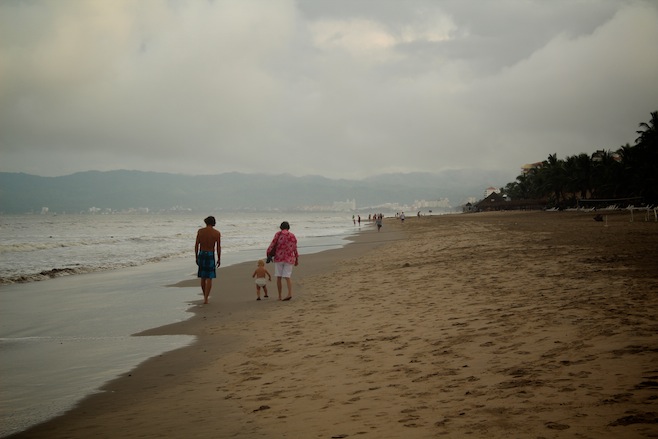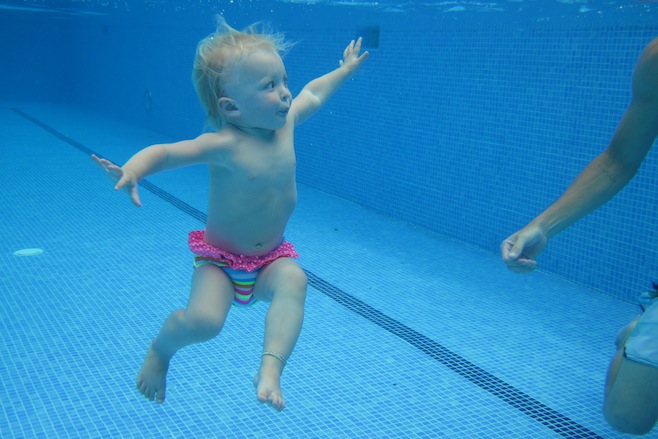 31-July-2011 our life. daily. puerto vallarta, mexico.
I moved the boat yesterday to a different slip that we are hoping will get  a couple of hours less sun per day. Not that docking a boat is much to brag about, but I must say that my docking has improved tremendously since those first forays back in the Bay. As long as there is no wind I'm now a champion monohull docker.
This morning we hung out on the boat, in the shade, and let Ouest wash it down.
I've been working on and off the past few days on a couple of projects around the boat. The big one has been cleaning the water tanks. This of course turned into a much bigger project than I anticipated. Mainly because it is so hard to reach the insides of the tanks through the six-inch inspection ports. My arms are all sliced up but the tanks are now nice and clean and the hoses are all new. I've been cleaning the bilges too. The fun never stops.
Socialize