01-Dec-2011 our life. daily. puerto vallarta, mexico.
Lowe is outgrowing his clothes at an alarming rate. It's pretty clear we're going to have big kids. We've cut the feet out of a couple of his six month-old pajamas to try and extend their life a bit, but mainly we're moving on to the nine month stuff. Ali is already having trouble carrying him for very long. Fortunately for both of us Ouest finally seems to be outgrowing the "carry me everywhere" stage and much prefers to run amok these days. Also, after a few days off Lowe went back into full rolling over mode again today.
We cleaned out the toy cabinet today. Ouest didn't realize we were cleaning out, she just thought it was fun to have all the toys out on the floor. Out went a few tennis balls, piles of random knickknacks that kids just somehow accumulate, and a couple of books that haven't fared very well. Not a lot of stuff to throw out, but always feels better when it's done. Most of the big stuff that we are getting rid of just gets left in the parking lot at night and is gone by morning. Just like back home when we'd set stuff out by the curb and turn around ten minutes later to find it had already been scooped up.
As if Ouest doesn't have enough issues, we were standing around watching the resort's tigers this morning when she suddenly grabbed her throat and cried out in pain. I took a look and could see a stinger sticking right out of her neck. It was big enough that I easily pulled it out. It left a little bloody spot and it swelled up a bit, but fortunately she didn't have any other reaction. That was her first sting, and what a place for it. Right in the jugular.
As for the shingles. It seems pretty clear from Dr. Google and the numerous e-mails we received that she does not have shingles. We're going back in on Monday and seeing a different doctor, so maybe we'll get a different diagnosis then.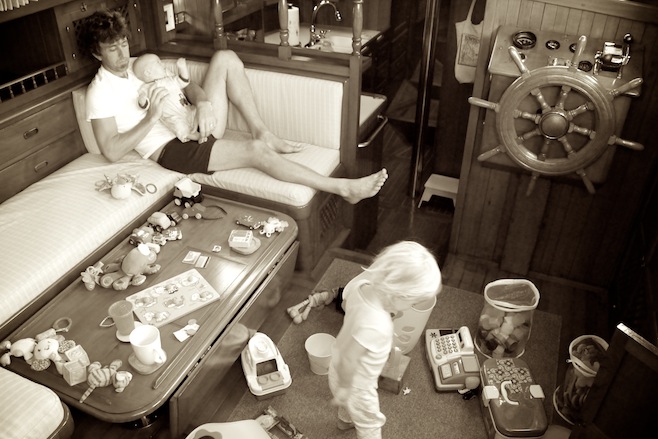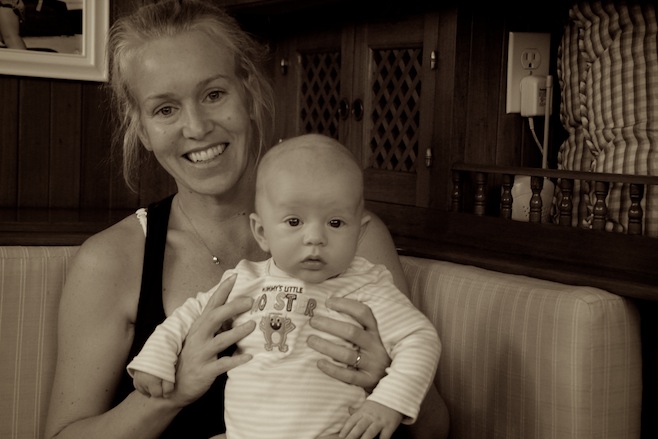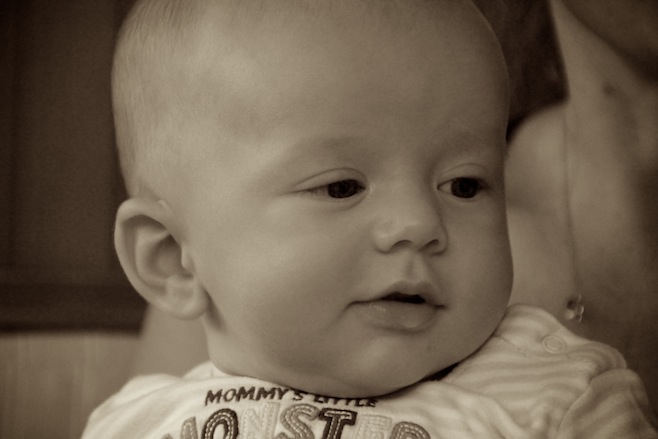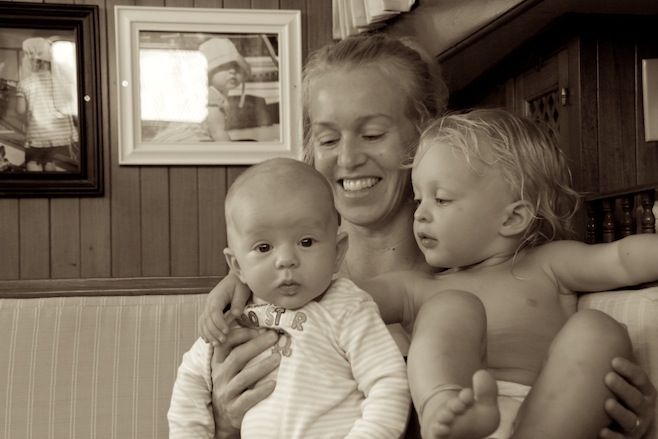 Anybody know where we can get one of these? The little piece at the bottom of this one broke. Seems like it shouldn't be that hard a piece to locate but we haven't had any luck.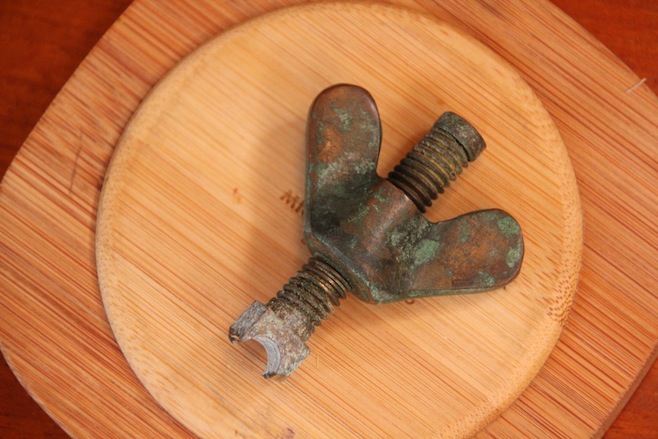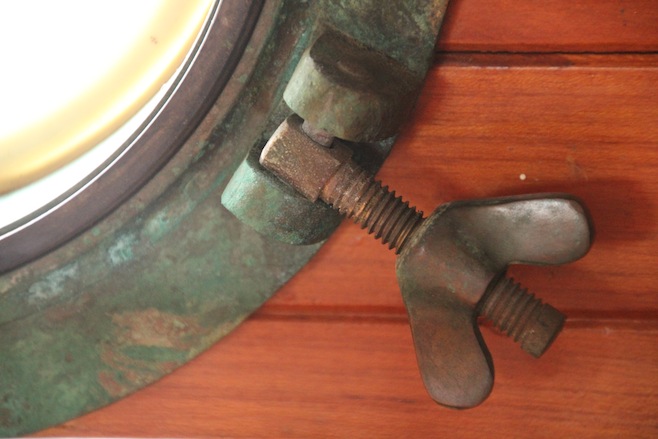 03-Dec-2011 our life. daily. puerto vallarta, mexico.
Lowe touched American soil for the first time yesterday, decided that was enough for now, and walked back in to Mexico this morning.
We needed new visas. We could have easily risked becoming illegal aliens in Mexico, chances are it would have never become an issue. But one can never be sure, and seeing as both our kids are Mexican, and we have every intention of spending a good many years here over the course of our lifetimes, we just couldn't take the risk of being flagged.
So yesterday we flew out to Tijuana, on the least expensive direct flight we could find. The Tijuana airport is literally right on the border, so flying in there, taking a cab to the crossing, and walking across to the nearest hotel was the plan. And everything went well in the beginning. The flight was on time and nearly two thirds empty, the kids were excellent, and we found our way right to the border. And when we turned the corner in the taxi he said, "Woooh." He was commenting on the line. Hundreds and hundreds of people standing in patient resignation.
We hadn't prepared for that. Or for the cold weather. Though fortunately Ali did pack herself and the kids some long sleeves. Thanks honey. Ouest put on her sweatshirt and looked admiringly at the long sleeves. She looked at it and felt it and commented on it and in general acted as if she had never covered her arms in her life.
Walked a few hundred yards to the hotel in the dark, Ali gave the clerk a tongue lashing for telling us the crib would cost fifteen dollars extra, waited five seconds as the clerk took one look at my overtired wife and decided she didn't need that fight, the fee was waived, and we went to bed.
This morning our friend Nick drove down from San Diego for an IHOP breakfast, and then we wandered back across the border and into the immigration office. Let's just say going south across the border is a whole hell of a lot easier than going north. And that goes for both Americans and Mexicans. We paid our tax, received our new one hundred-eighty day tourist visas, went to the airport, flew back to Vallarta, and had the kids in bed thirty hours after leaving. Oh, but first, Ouest fell asleep on my lap in the cab from the airport. When we got to the boat I got out of the car, thought she was awake, set her down to get the money out of my pocket, and watched as she then tumbled right over onto the sidewalk. Apparently she wasn't as awake as I thought she was. Nice papa huh?
Man was that a pain in the butt. We're definitely going to have to figure out an easier way to stay in the country from now on. I'm thinking since our kids are citizens maybe they should just make us honorary citizens as well. That'd be the polite thing to do I think.
04-Dec-2011 our life. daily. puerto vallarta, mexico.
Busy day trying to get the last of the boat projects wrapped up for now. The last of the things that actually need doing, not the last of the projects. There is no such thing as the last of the boat projects. Ask anyone.
Of all the stupid projects I needed to do, cleaning the bottom of the dinghy has to be number one. That thing has been in the water for about five weeks. In that time barnacles claimed every square inch of it and grass grew on the waterline. Ridiculous. Took two hours to get that thing cleaned up.
Not much of interest around here right now. We're bored with Paradise Village. Painfully so. This place grates on my nerves more by the hour.
Notice in this picture there is a little heater on the steps. Yes, a heater. After all my bitching and complaining about how hot it was here this summer, in the course of a week the weather changed so dramatically that there is an actual chill in the air when we wake up in the morning. It's great.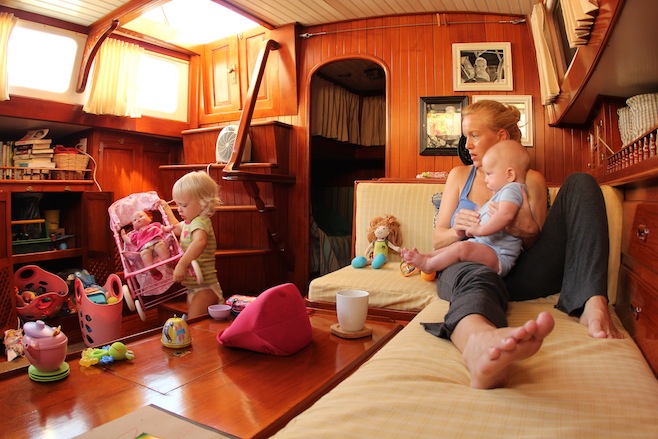 Here is how I get work done with two kids under two on the boat. In the dark, on the dock, with power tools, by flashlight, in my underwear.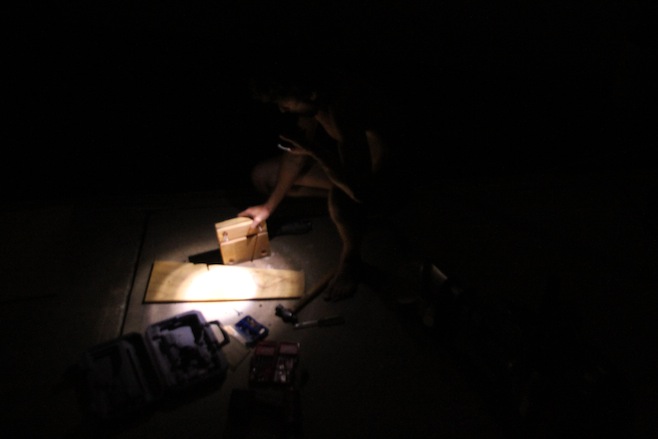 Thanks everybody.

05-Dec-2011 our life. daily. puerto vallarta, mexico.
Be excited, be very excited. The dinghy is up and out of the water. Doesn't sound like a big deal right? But let's just say that was the last project that really needed doing at the moment. Now, just some washing up, filling of the water tanks, grocery shopping, and praying, and we can get out of here.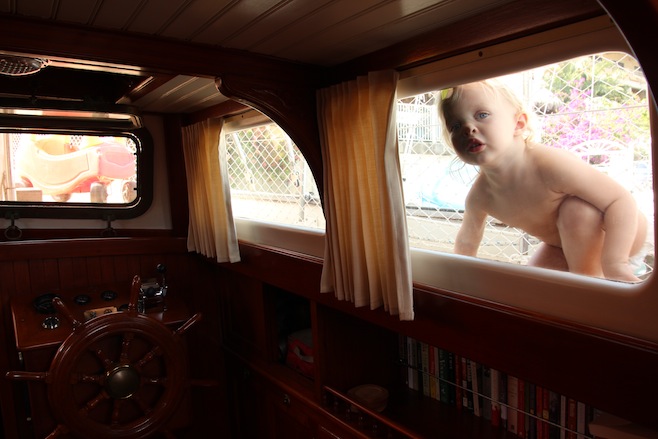 06-Dec-2011 our life. daily. puerto vallarta, mexico.
We're just sort of wrapping things up around here. Today the boat got one seriously hard core washing. The first, really, since we bought her. Feels so good I just want to roll around in the cockpit and rub my cheeks on the coaming. The covered wagon sunshade came down today, got washed, and put away. I crawled around in the engine compartment a bit to make sure everything was good to go in there. That included tapping my knuckles along the fuel tanks to see if we had enough to get us where we're going. I'm super high tech like that.
Ali's busy watching, feeding, and rocking kids to sleep, organizing the boat, and doing all those other things that need doing before we move along.
I'm just excited to move. We could be going anywhere, it wouldn't matter to me. I just need a new place to stretch my legs. A new beach to take my kids swimming. A new restaurant to feed me tacos. A new view from the cockpit.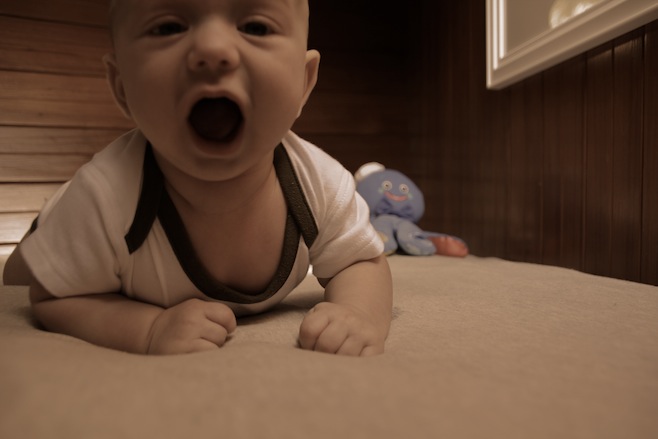 07-Dec-2011 our life. daily. puerto vallarta, mexico.
Ouest went to bed last night just fine. Two hours later she had a runny nose and woke up roughly every thirty minutes to moan for five minutes before drifting off again. Needless to say we did not get enough sleep. So today it was no big surprise to look down at her ten minutes after giving her her lunch and find her slumped over in her chair snoring. Poor little thing.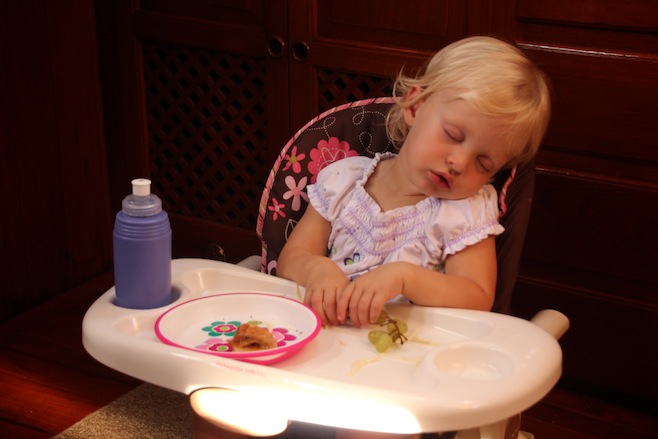 Just continued to tie up loose ends today. This morning we went in to the office to ask them to get our bill ready and they gave us some papers for the port captain to stamp. We went over and saw him, and he took one look at our papers and asked where our new boat registration was. Expired last month. New one is now sitting in Minnesota. I never could understand why the US Coast Guard felt it was necessary to have everyone renew their boat registration every stinking year. They are boats made of fiberglass. Our boat will still be floating somewhere a hundred years from now and somebody will still be scrambling around trying to keep their stupid paperwork all tidy and up to date. The port captain didn't care though and stamped us out.
We had our family forward our replacement credit card to us about six weeks ago. It never showed up so this morning I went ahead and called the bank and told them it never arrived. They cancelled it and sent out a new one. When we got back to the boat an hour later the credit card was sitting on our deck. Timing man, in life it's everything.
Tonight, after five months or so at this place, Ali was walking back from taking a shower. She opened the dock gate one last time and promptly dropped her key in the water. Gone. Seriously, if I were the superstitious type I'd have to believe we were being given sign after sign today.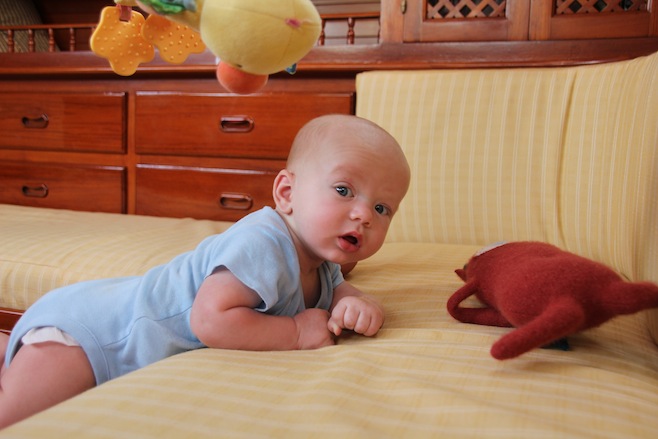 08-Dec-2011 our life. daily. punta ipala, mexico.
Finally time to move on. We were ready this morning when the kids got up, and at eight-thirty, just half an hour behind schedule we were ready to take off. A couple of dock workers were there to throw off our lines and we could be on our way. The engine was warmed up and ready, but just before I put the engine in reverse I turned the wheel to center the rudder. And a good thing I did too, because the wheel wouldn't turn to the left.
Without a clue as to what might cause that to happen I started from the beginning. The inside wheel turned fine and a quick look at the rudder post showed it was indeed turning, so I ruled out the rudder being jammed. Then on to the innards of the steering assembly. First I checked to make sure the hydraulic fluid was full. It was. Second. Oh, there was no second. Beyond that I really had no clue what else could be done. I stared for a couple of minutes while Ali began making new plans for the day. Somehow I don't think she was as upset about not leaving as I was.
I stared some more and then for absolutely no particular reason I flicked this weird sort of switch located right next to the hydraulic fluid fill. I had no idea what this thing was, but lo and behold it seemed to be some sort of pressure relief valve. We were back on our way.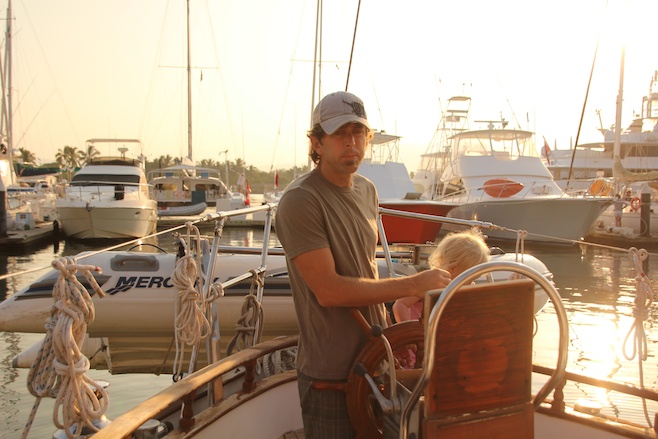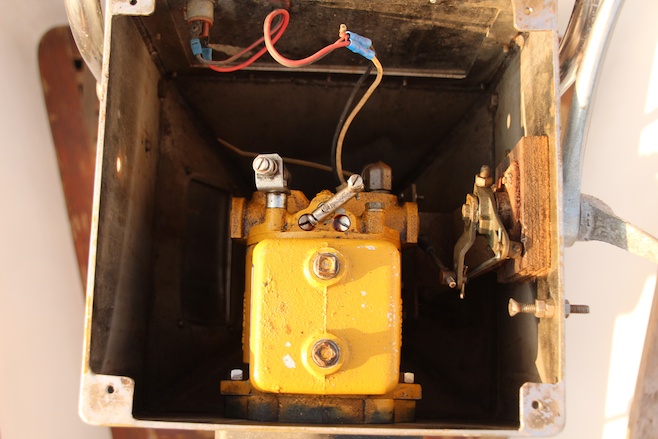 Lowe is officially a sailor. I should have gotten him a hat.
Two hours across the bay the computer started acting funny. Within a few minutes the Macbook Pro was dead. The hard drive was actually making a clunking noise. Charts, gone. Website, gone. Pictures, gone. Life…
We actually backed up just a couple weeks ago, so it's not the end of the world as far as that goes, and who knows, it may still be recoverable. And we weren't actually without charts. Ali's Macbook Air had the program loaded on to it as well. I plugged in the GPS, fired up the chart program and watched as a blank base map popped on the screen. No depths, no landmarks, no nothing.
I got out the chart book and got the waypoints off of that, entered them into the program, and we sailed on, by the looks of things, ten miles up a mountain.
About this time Ouest got sick. She is a seasick baby. Though we haven't done much to try and head it off. In the future we're going to try and be a little more proactive in her care as far as the mal de mer goes.
We lost a bucket overboard trying to fill it to clean things up on deck. Filling buckets of water was much easier on the cat.
We motored on in two knots of wind across the thirty miles or so of Banderas Bay and reached the, apparently, dreaded Cabo Corrientes. It's supposed to be one of those capes where the wind and seas really kick up because of the shape of the land. We motored right around without any issues other than a crappy two knot current slowing us down.
About two hours from our destination the wind picked up a bit and we were able to motorsail with our pretty new yankee pulling us along.
Eventually we pulled in to Punta Ipala which is listed as one seriously horrible anchorage. Fortunately for us the calm seas made it perfectly tenable. We dropped the anchor and began the long process of cleaning up after a long day on the water. A quick dinner, followed by a bucket bath, and the kids were in bed right on time.
So here we are, a sailing family of four, anchored off some dusty, nowhere, Mexican town with a full moon above us. Life is good, though a bit scary. Ali wasn't shy about admitting what a challenge this is, and is going to be for the forseeable future. We had perfect weather and following seas today and it was still all we could do to keep on top of everything. We both shudder to think about twenty foot seas and forty knot winds. How in the world will we cope? We've really got to avoid anything stupid like that for the next couple of years.
Lowe fell off the couch this morning before we left. We were scrambling to get everything ready, he got left on the couch, and seconds later he had rolled himself over and slid feet first to the floor. Feet, followed by head of course. Donk, right on the forehead. We both felt terrible. Ouest was never dropped and now here is Lowe getting the full second kid syndrome. Ali was still feeling sick to her stomach with guilt hours later.
Okay, so a couple of hours after writing this post I popped open the engine compartment to have a look and make sure everything was good down there. That's when I noticed the drive shaft was not where it was supposed to be. It has slid backwards about four inches. The reason I noticed this was that there are two divots where the set screws from the coupler sink into the drive shaft to hold the whole thing together. Those divots are now out beyond the coupler.
This is not good at all. Back in Cabo when I had this fixed in the first place I had to dive under the boat and hit the shaft with a big five pound mallet. I don't have a five pound mallet. I have no idea how I'm going to get that shaft to move forward again. I need to sleep on this one.
I can't wait to spring this on Ali in the morning.
I really hope the weather holds.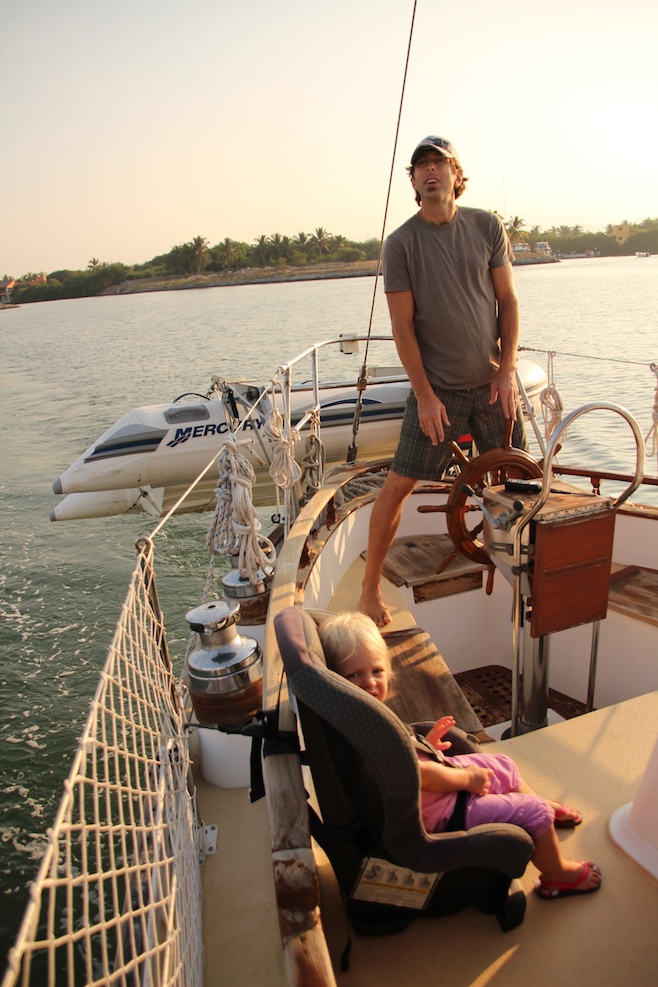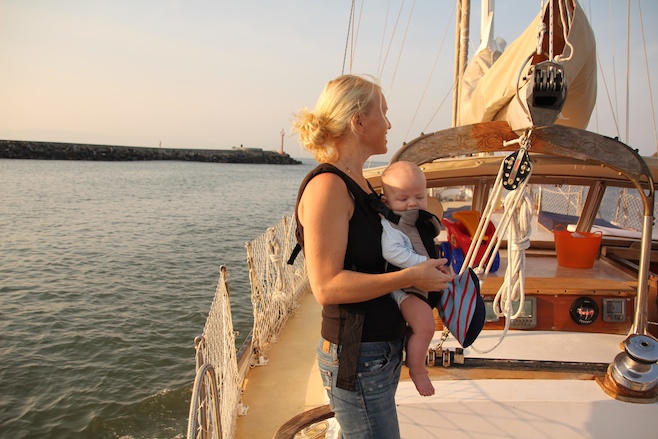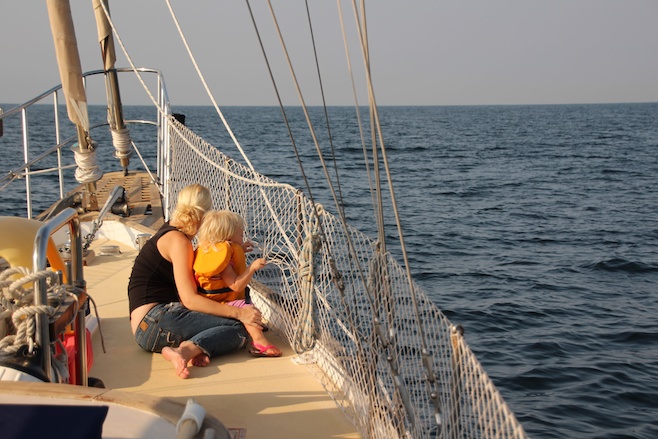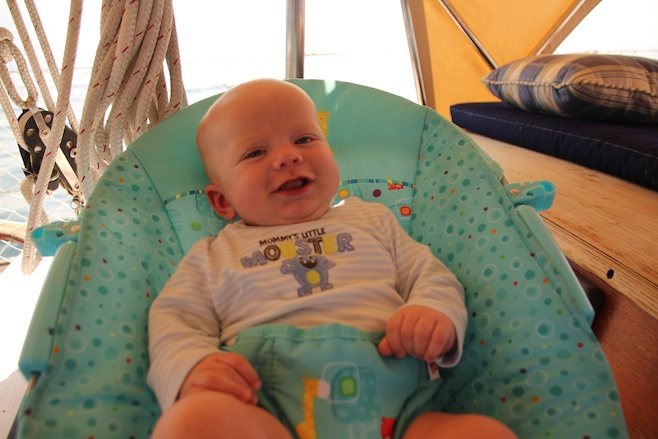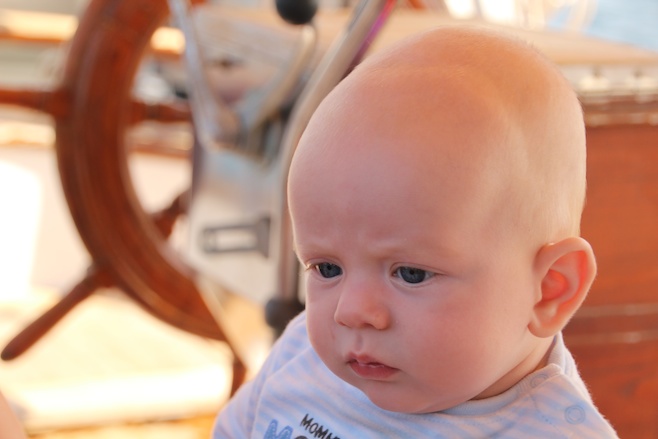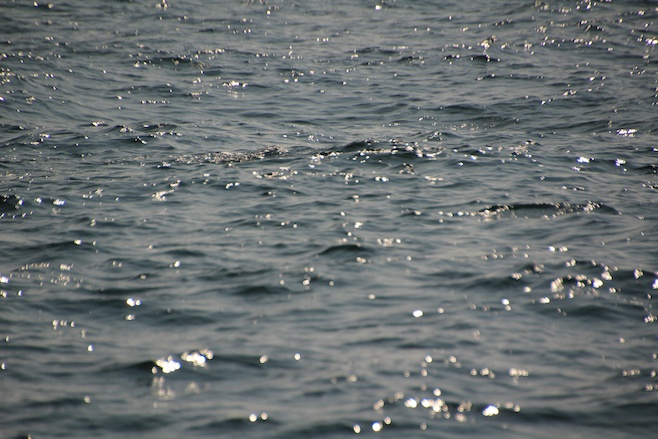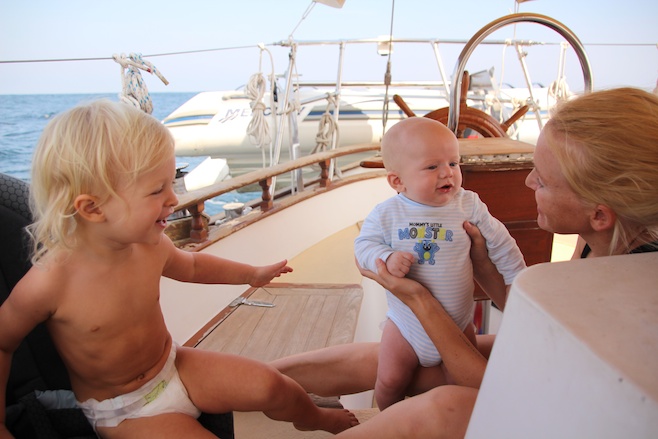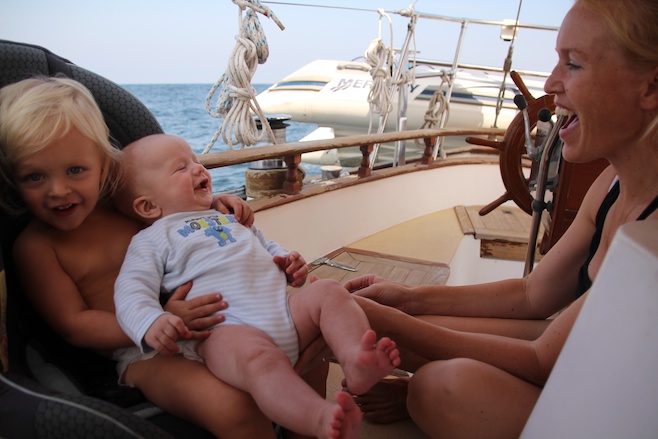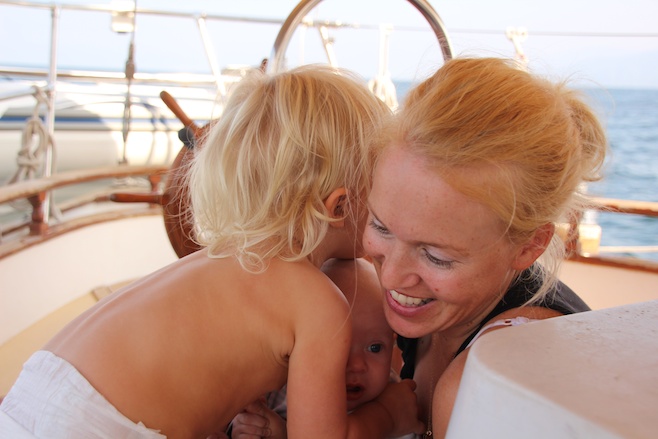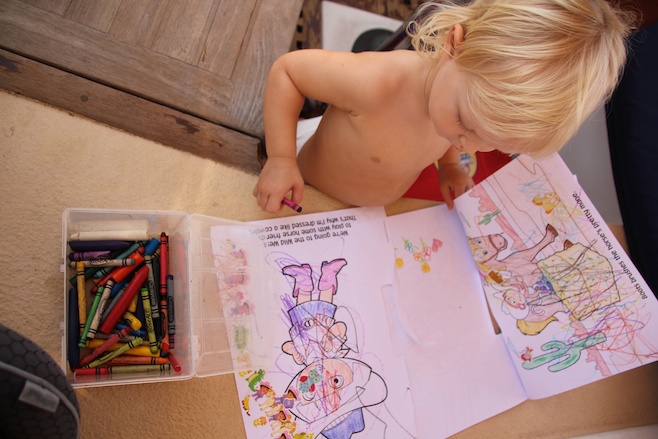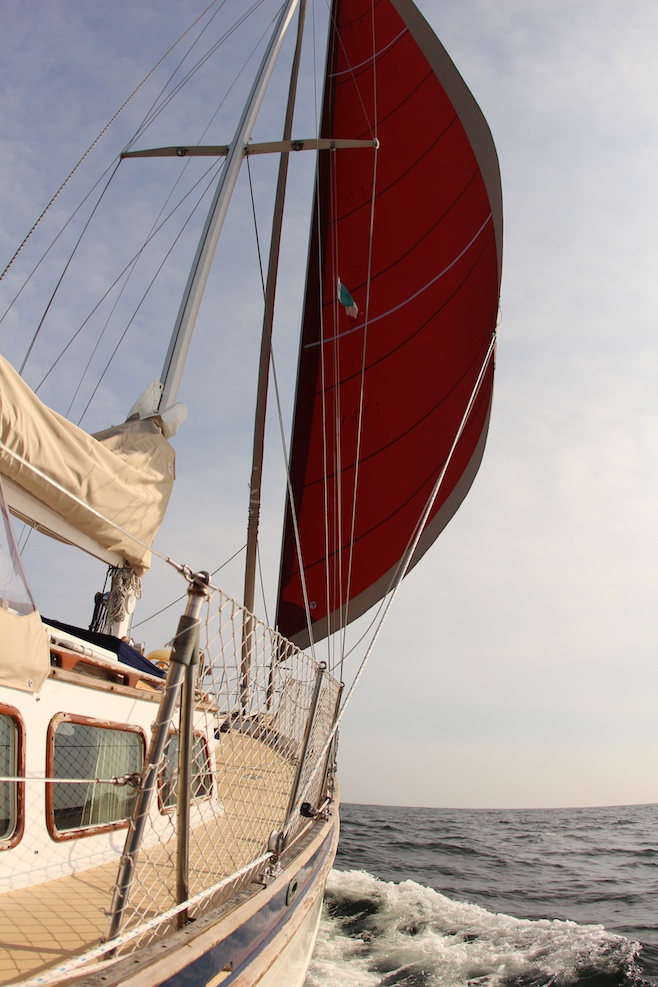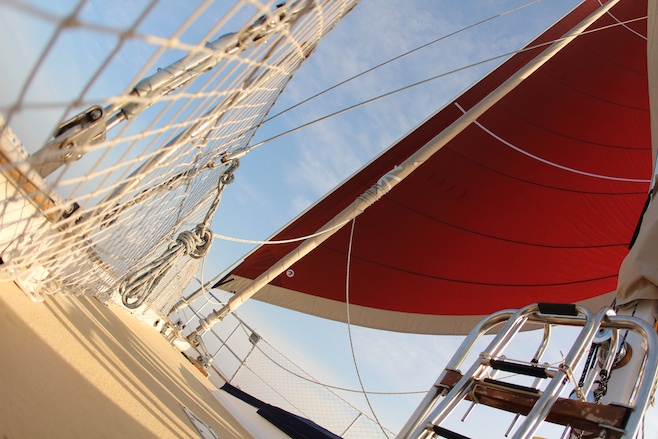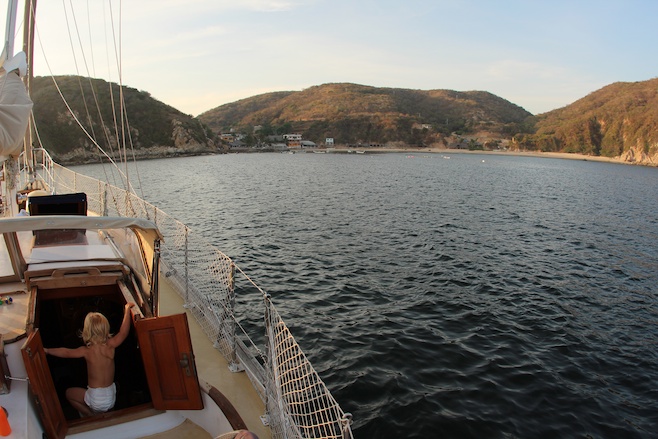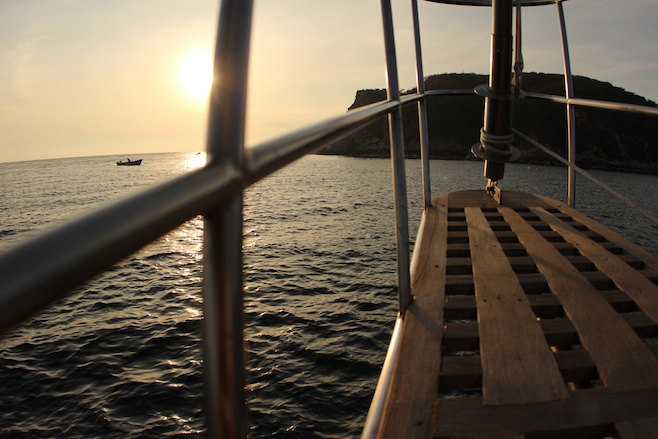 09-Dec-2011 our life. daily. chamela, mexico.
There is no more difficult way to travel one hundred miles than to sail it. Riding bikes would have been a breeze. Jogging with Ouest on my shoulders, no problem. Sailing. My goodness, I'm beat.
Didn't get a lot of sleep last night. Ali was up with a crying Lowe most of the night. He got sick too now. And I couldn't stop thinking about how I was going to get the transmission coupler fixed.
So anyway, the sun came up, beautiful morning, and I crawled inside the bowels of the engine compartment. It didn't take me long to realize what had gone wrong. Explaining it would be laborious, so I'll just sum it up by saying that we hadn't placed a bolt behind the pin which keeps the shaft and the coupler together. A bolt behind the pin would keep it from ever sliding backwards out of its space. Instead we had only installed a bolt on top of the pin. Problem being, as I found out this morning, is that if that bolt comes loose like this one had, then the pin can simply slide its way out, which it had.
With the pin gone the shaft was free to slide backwards right out of the coupler. The amazing thing was that this must have happened last night just as I was finishing backing down on the anchor. If it has to happen there really is no better place to be.
I removed the coupler, gathered up the loose pin, aligned the coupler and shaft, squeezed the pin in, found a big bolt and nut, installed them behind the pin, tightened up the other two bolts that keep the whole thing from wiggling around, and then got to the part that had me up all night long worrying, sliding the shaft forward again.
But the sun shines on a dog's something or rather every now and then, and today was this dog's turn. With the coupler hooked back up to the shaft I was able to get some leverage and the shaft simply slid right straight back into place.
After a half-hearted effort at trying to convince Ali that this would indeed work we set off two hours late. Secretly inside I was thrilled and consider this to be one of my finest on the fly in the middle of nowhere repairs. And it came complete with some bailing wire thrown in on the bolts. Because no good repair is complete without bailing wire.
So we set off and had a nice thirteen knot wind on the beam. We were running along downwind with the main and the yankee when the wind quickly climbed up on us. Ali was down below trying to put Lowe down for a nap, so I strapped Ouest in to her car seat and went about trying to reef us. The wind was up around twenty-five knots now so I thought I'd make a quick turn up into the wind, drop the sails down a reef or two, turn back downwind and carry on.
Seemed simple enough in theory. But as I turned and we came beam on to the wind and waves the boat heeled right over to the rail and we were screaming along with water flying everywhere. Ouest was getting splashed but didn't seem the least bit concerned.
I eventually got us in irons, furled the yankee all the way, and went about dropping the main for a reef. But man that main was flailing so badly I couldn't get anywhere near getting a reef line on. It sounded like the main was about to explode so I gave up and pulled the whole thing down in a heap. A heap because I haven't made lazy jacks yet, and flaking a sail in wind is, for me, an impossibility.
So I scared the crap out of Ali for no good reason, got Ouest salty, and finally got us turned back around. Ten minutes later as we rolled sideways down a big curler I heard a loud ping and turned to see the brace between the two davits bust a weld and slice through the dinghy tube. Sweet. I grabbed the brace before it could cut it up any more, but couldn't let go, and couldn't reach anything helpful. I called for Ali but she was down below playing with Lowe and couldn't hear a thing. "Ali! Ali!" I yelled for five minutes while Ouest just stared at me from her chair.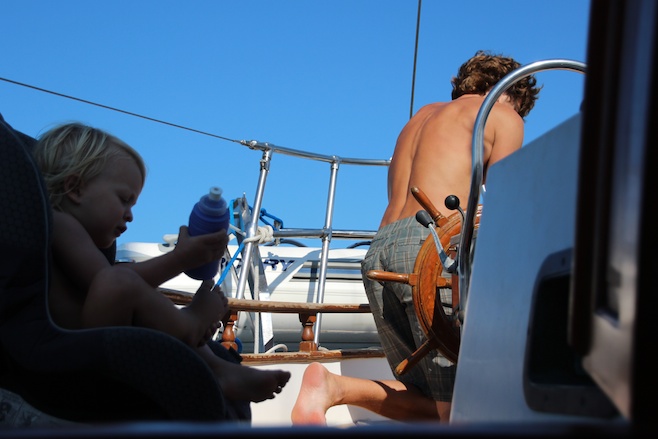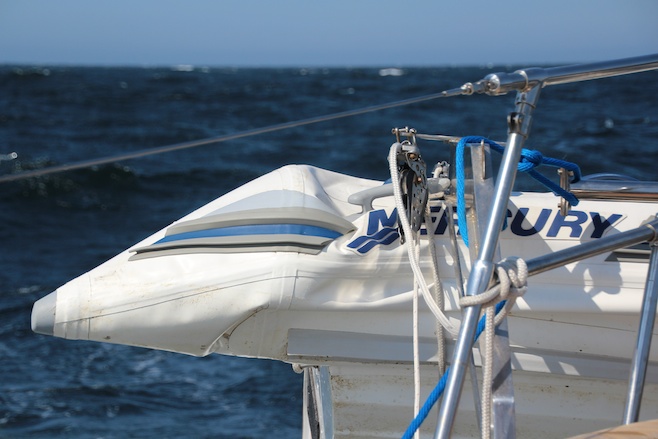 Ali finally wandered past the door, saw me, and came out to help. I got the brace tied off and out of the way and did my best to secure the now one-third deflated dinghy. Three tubes. With the size of the following seas and the wind only seeming to increase I was beginning to feel like we were going to end up losing the dinghy today. I could no longer tie it up securely so that with each roll it would fly from side to side violently. Enough so that another welded brace popped off. I laid out all the lines for the dinghy so that they would be easy for me to cut free if the whole thing busted loose.
Needless to say we need a whole new dinghy davit setup. Clearly the current one is not going to work for us. Maybe if we had a much smaller dinghy and a two horsepower engine, but not like this. I don't want to think about one, just how ugly this contraption will have to be, and two, just how expensive.
The rest of the day passed without any major mishaps. The kids are an incredible amount of work to care for on a moving sailboat though. We really have to be hands on with them the entire time. And by hour eight both Ali and I are about ready to jump off and swim the rest of the way. Has to be easier than sailing.
More than once today Ali said, "I miss our cat." True, the cat would have handled today's conditions much much better. Big following seas just don't work on a mono the way they do on a cat. We would have been loving life today on the cat.
Later in the afternoon Ouest started leaning in the doorway and bellowing out, "Ay-yee! Ay-yee!" She learned today that her mama has an actual name and also that it is okay to simply yell it out when you need something.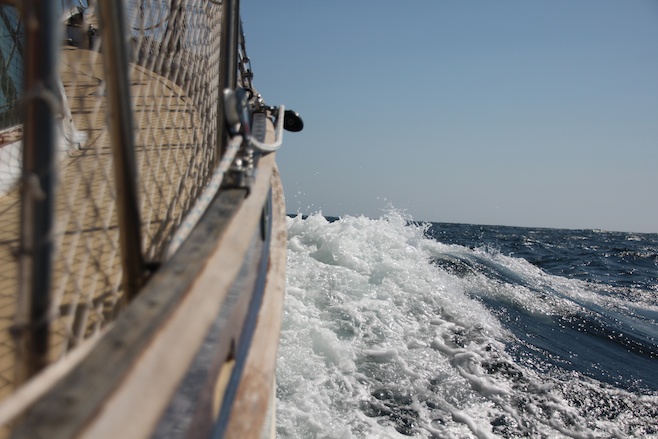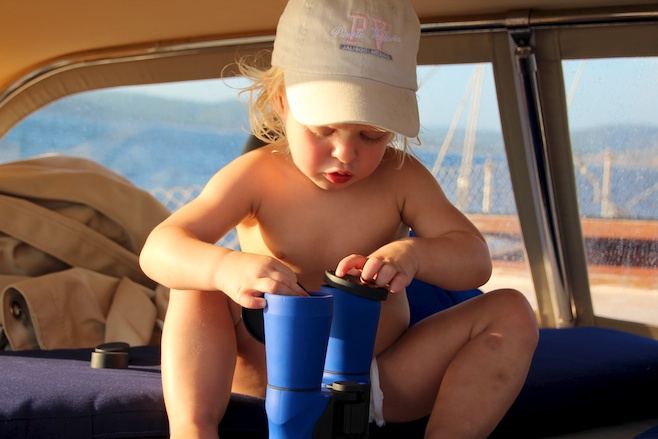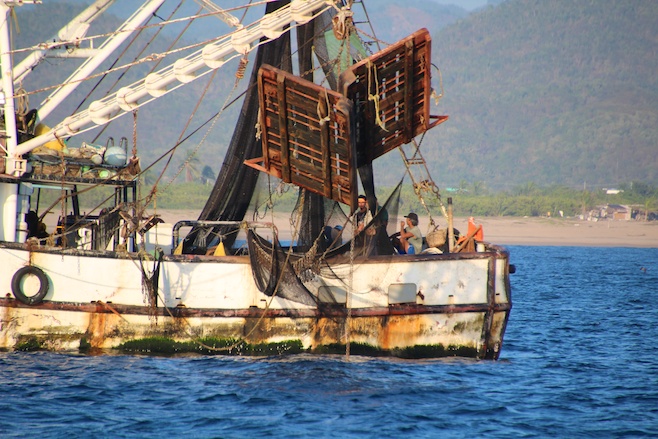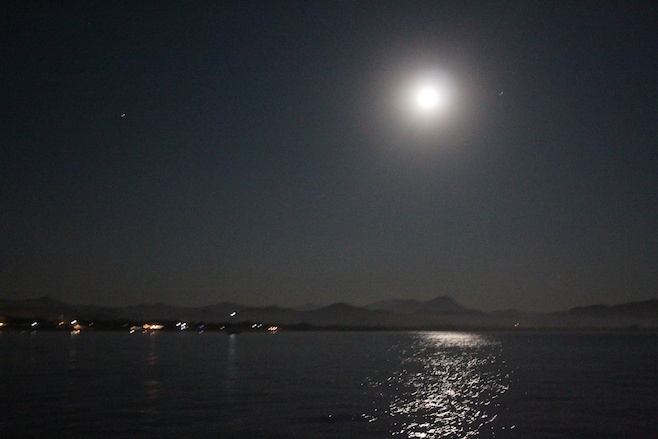 10-Dec-2011 our life. daily. chamela, mexico.
We didn't go anywhere today, not even off the boat. Perfect weather, a beautiful bay, and a tired and sick family made the decision to just lounge around on the boat an easy one. In fact we've been boat bound now for three days and don't really mind it one bit.
I patched the hole in the dinghy. A proper patch this time, and I barely even used my super glue, opting instead for the hyphalon repair kit included with the dinghy. We cleaned the boat up, everyone got showers, we ate tacos and guacamole, and I went for a swim.
We've owned this boat a long time now, but this was the first time I've ever gotten a good look at the bottom of it. And I must say it is an imposing beast. The size of this hull under the waterline is frightening. The rudder is bigger than me, the prop is huge, and the keel, my god it just goes on and on. Really not looking forward to that paint job. But one thing a massive full keel like this does do is instill in you a sense that this is a real cruising boat, not some little plastic toy like our catamaran.
At some point today Ouest began to do what I do, which apparently is to make a big mess of the lines in the cockpit. She spent a good hour on this project, and came back to it often throughout the day. I love watching her when she is like this, totally in the zone, concentrating on a project which to her holds great importance. It's fascinating, as you can literally see the thought process in real time as it unfolds before you in a whirl of hands and line.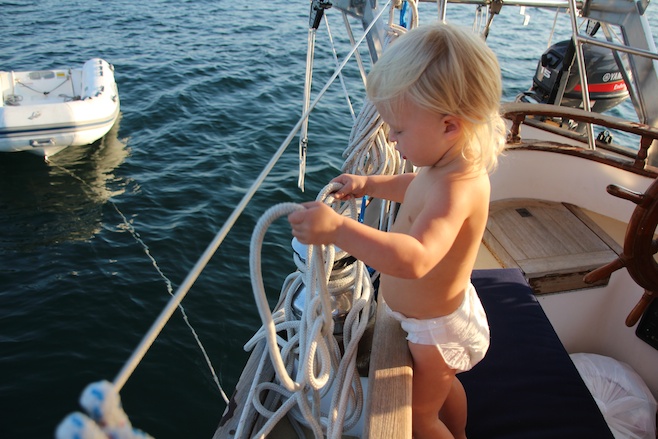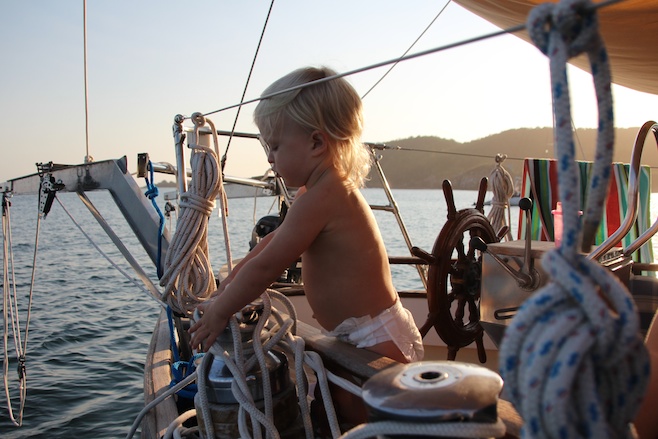 11-Dec-2011 our life. daily. chamela, mexico.
Spent another day solely on the boat. It's amazing to me how we can pass an entire day in this small space without any problem whatsoever. Ouest is the only one who you would really expect to complain about it, but she seems completely content to be bobbing around at anchor spending her entire day surrounded by her toys.
I did take her out with me onto the dinghy tied up behind the boat to do a little work. She helped me pump it up with air where I discovered to my utter disbelief that I still had a slow leak. Granted, these things really should be repaired on land completely deflated, but still, you'd think a tiny little cut could be sealed up easily enough either way. Oh well, half-assed dinghy repairs are the story of my life.
We then went for a swim. Ouest truly is fearless. For a not yet two year-old girl she just amazes me with how nothing seems to slow her down or worry her. I mean, it's the ocean, it's not all that warm, we're a hundred yards from land, I was just pointing out fish to her, and yet she is all gung-ho when it comes time to jump in off the side of the dinghy. Then to top it off she got to climb back on to the boat up a six-foot ladder on a pitching boat. She gets to the top, turns around, and asks, "More?"
And not to leave Lowe out. He's doing good. In fact I'm quite proud of him for exhibiting no signs of seasickness these past few days, despite having caught the family cold. Speaking of seasickness, I didn't mention that we gave Ouest a crushed up third of a dramamine the other morning with a spoonful of yogurt and she cruised through the long rough day at sea without a hitch. Thank goodness too, because there is nothing enjoyable about cleaning up puke on a pitching boat.
12-Dec-2011 our life. daily. tenacatita, mexico.
We set out this morning for Tenacatita. But not before raising the anchor by hand thanks to a dead windlass battery. I later discovered that the battery combiner wasn't working and I was able to just bolt the two wires together for a temporary fix.
The dinghy davits, which it turns out had broken a total of three support welds, was now a web of lines that actually seemed to hold the whole contraption together quite well. Yet another temporary fix.
We had a nice calm morning and were motoring along in just five knots of wind on what should have only been a five hour trip. Then the engine died.
My fault, as usual. In my infinite wisdom I had kept the port tank shut off so that we wouldn't run out of diesel, as I knew that that tank was full. Problem being of course that we would eventually run out of diesel in the starboard tank. When that happened the engine sucked on nothing but air and died.
I heard it sputtering and dashed downstairs to try and switch the port tank on, but too late. So I went about bleeding the engine. I pumped and pumped the fuel pump but didn't seem to be getting anywhere. After a few sweaty minutes of that I stopped, took stock of the situation, and realized that I had actually shut off the starboard tank, not opened the port tank. What a Homer.
So I got us running again, we picked up the house and continued on our way. For ten minutes. More air.
Bled again. Started it, shut it off, rechecked the bleeder valves for air, started it again, and continued on. For ten minutes. More air.
Took a good long look at the system and finally realized that I couldn't leave the fuel line for the empty starboard tank open as all that emptiness was just getting sucked into the line along with the actual fuel in the port tank. Bled again. Started, and ran the rest of the way. I'm thankful for the calm seas during this little episode.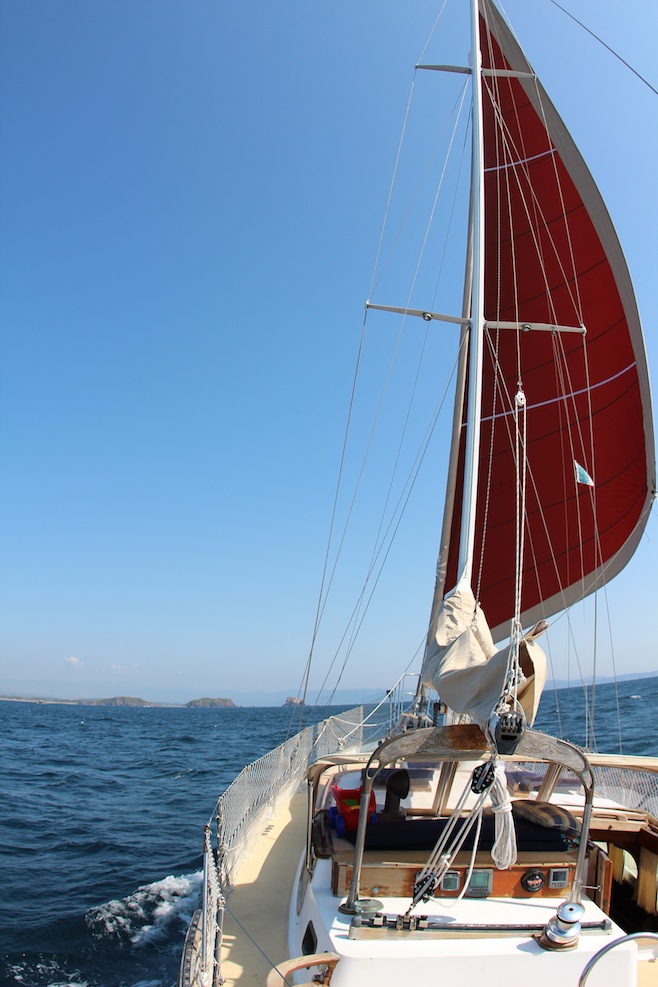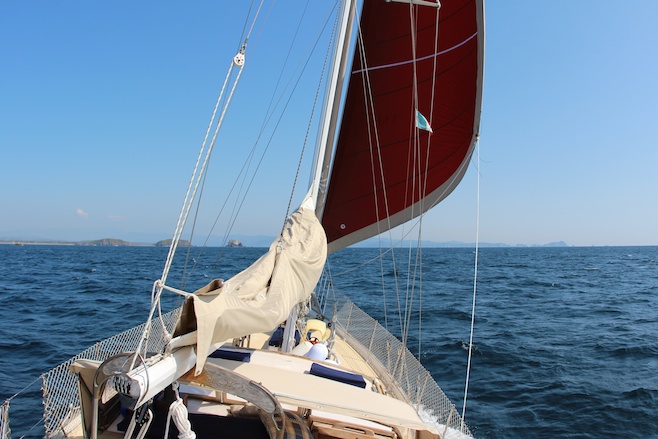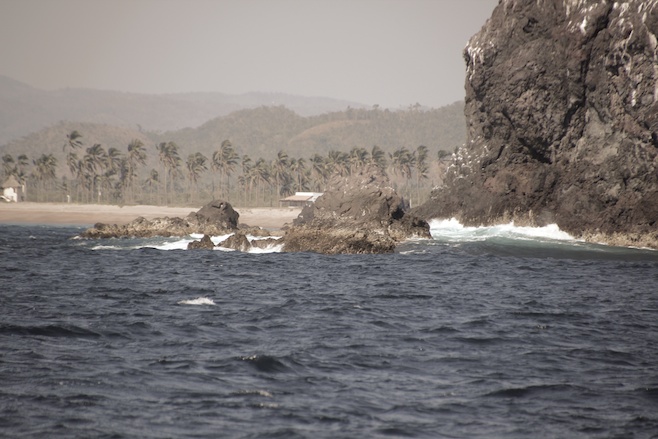 Finally pulled in to Tenacatita, dropped the anchor, backed down, and heard a clunk. Coupler came loose again.
Will the pain never end!
This hundred and fifty miles has turned into a true shakedown cruise. Forget that whole little trip from San Francisco to Puerto Vallarta. We have had more issues in the past few days than we've had in a whole long while.
Once settled in though we tend to quickly forget about all the hardships. We are in a beautiful bay, two bottlenosed dolphins spent the entire afternoon swimming around the boat, and Ouest got to swim. She loves swimming off the boat. She was absolutely giddy. I'd dive in, then climb the ladder, grab her off the deck and jump in. We'd come up for air and she'd be laughing and swimming for the ladder so she could climb up and do it again. We actually had to tell her not to jump off the deck herself. It's a good six feet off the water. I probably would have let her, but I was concerned she wouldn't clear the ladder. The long jump is not her strong suit.
Long jump. That reminds me. During one of the brief periods that the engine was running this afternoon I was out on deck with Ouest. I was holding her in the cockpit and we were just staring off the back of the boat. And then a whale floated past. He was just floating on the surface relaxing as we sailed by, close enough that I could have easily taken a running jump off the pilothouse and landed on his back. We were just ten feet from a collision with a big ol' humpback. Awesome. He stuck up his big arm a couple of times and waved goodbye. I've seen a lot of whales this trip. They are everywhere. But that was as close as you get.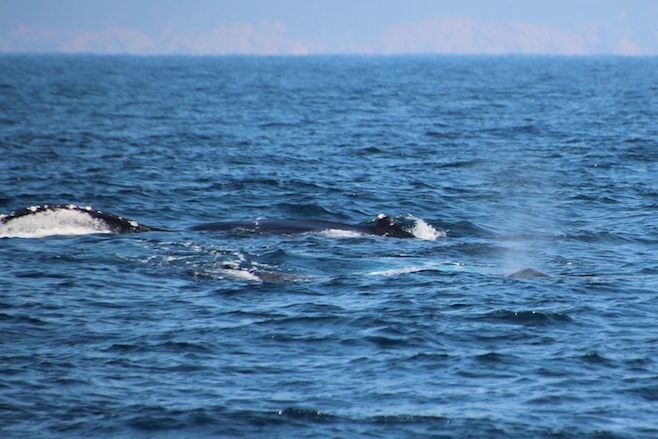 13-Dec-2011 our life. daily. tenacatita, mexico.
Big birthday today! So we started the morning off with some boat work. Because no day, birthdays included, is complete without a couple hours of bloody knuckles in the engine.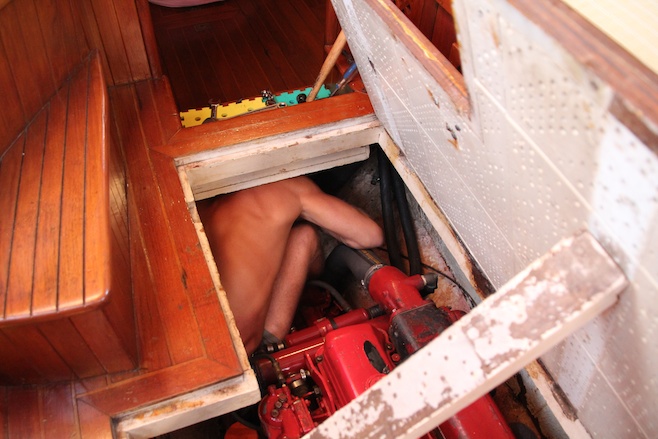 But soon enough the engine work was put on the back burner and the celebration kicked off. We blew up fifty balloons and threw them around the house. The girl loves her balloons. Then Mama went to work on the cake. There is a first for everything, and as we stood there with Ouest helping us stir the batter, we prayed the cake would actually work out.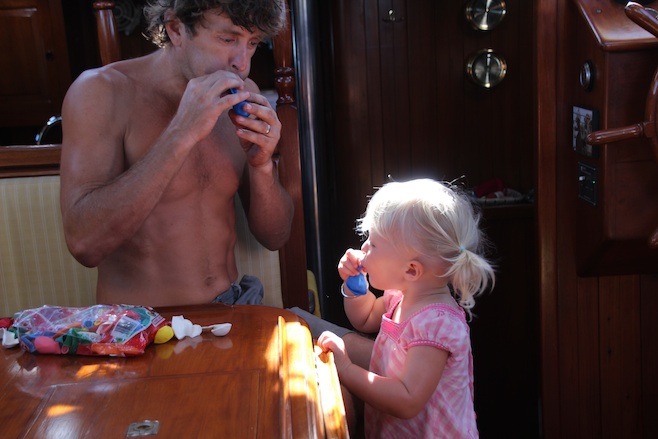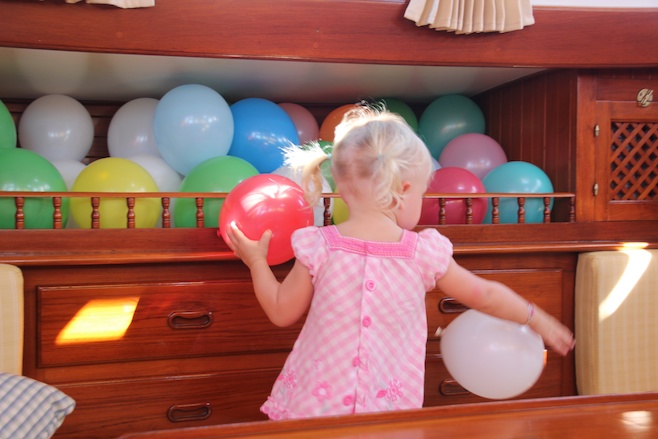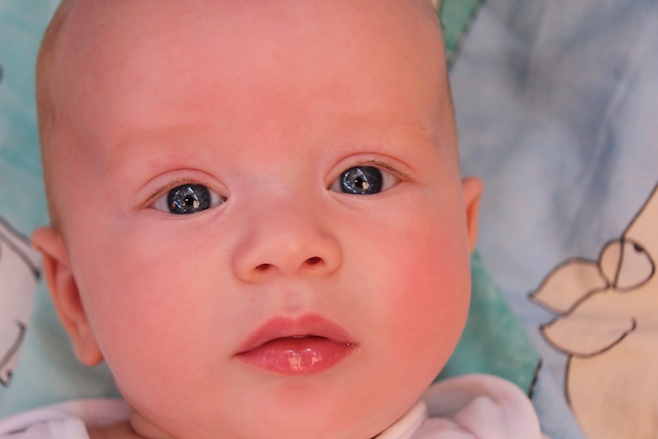 It did, and before long Ouest was at the table hovering over it with a grin a mile wide. She was excited, she didn't know why exactly, being two means nothing to her, but she sensed something special was going on for her benefit and she was happy about it.
She couldn't figure out the blowing thing, so Mama blew out the candles, and then she tucked in to her once yearly sugar intake. It's funny, you'd expect a girl so deprived of sweet sugary things to eat would devour them at the first opportunity, but Ouest just has a few bites and then quietly sets it aside to play with the candles instead.
In the afternoon we headed to shore and swam in the nearby river. The girl cracks us up, she is just so unlike any little princess we've ever known, the way she'll charge headlong into a cold, murky, flowing river. She just goes for it in whatever she does, without hesitation.
We eased Lowe into the water and after a few unhappy seconds he adjusted and loved cooling off too. Ouest threw rocks into the river and swam from one side to the other, with some assistance, half a dozen times, and then we dried off and wandered into the empty nearby palapa restaurant for some fish.
On the way home we swung by to say hi to some friends that had pulled in while we were ashore. Some other people we'd met the day before swung by too, and as we sat in our dinghy, the whole group spontaneously burst into Happy Birthday for Ouest. She sat there at the front of the dinghy looking up, happy, but unsure still why everyone was giving her small gifts and singing to her. The look of confused glee was enough for me. It was the perfect day for a little girl who requires nothing from life but our love and attention. I wish it could always be this easy.
14-Dec-2011 our life. daily. tenacatita, mexico.
This morning I tackled the gremlin that's been taunting me in the engine compartment since we arrived. The problem remains the shaft coupler. I've been calling it a tranny coupler, but have since been corrected. The problem has been that when I back down hard in reverse the shaft is slipping out of the coupler. Once it slips past the pin that holds the coupler and shaft together it simply stops spinning, and we cannot move. We're fortunate in that it only happens when backing down hard because the only time we do that is when we are setting the anchor, which means we are in a relatively safe environment.
Anyway, I thought about it some more and figured that the bolt that goes through the coupler into the shaft was the culprit. It wasn't being set into the shaft far enough, or the bolt was simply backing itself out because I didn't have any Loctite on it.
The problem this morning is that once I had everything apart and then back together again I couldn't get the shaft to move forward. It needed to move a good four inches forward, and yesterday I was under the boat hitting it with my biggest hammer to no avail.
I knew I could secure it badly and maybe limp into Barra de Navidad where I could repair it a little more properly, but wasn't too keen on that idea. What I couldn't figure how I was going to get that drive shaft to move. Then it hit me, I could just loosen all the shaft bolts, start the engine, and put it in drive. This solution scared me a bit because I knew the key (what I've been calling the pin) wasn't seated all the way in, and if that were to get twisted up we'd be screwed. But it seemed like the logical solution, so this morning I fired her up, put the engine in forward, ever so slowly, and watched excitedly as the shaft inched its way forward. When it stopped moving I shut the engine down, drilled a nice deep hole in the shaft through the bolt hole, tightened that bolt down good, and called it a success. If it holds I'm a genius. If not I just go back to being a moron, no big deal.
Sitting in the cockpit this afternoon Ali spotted a huge breaking wave about a half mile away at the entrance to the bay. We watched for it a second time and instead watched as a whale exploded through the surface of the water, arched, twisted, and splashed down. Seconds later her baby tried to do it too. This is the kind of thing we can expect to see fairly regularly at sea here in Mexico, but to watch it while swinging at anchor is pretty amazing. Ouest and I waited a few minutes and then hopped in the dinghy to go have a look. We got out there just in time to watch them breach one last time and then they were gone.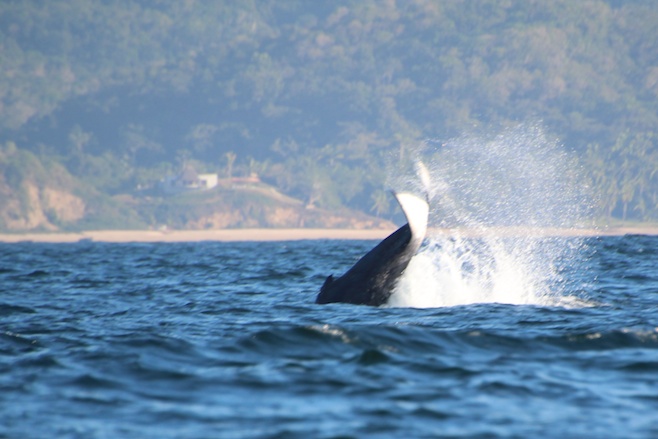 15-Dec-2011 our life. daily. barra de navidad, mexico.
Barra de Navidad for Christmas. Fitting. My mom arrives tomorrow, brother the day after, and Ali's parents a day after that.
We left Tenacatita early this morning and motored the short fifteen miles around the corner in calm seas to Barra. The Barra entrance is a little nerve wracking. There are about five buoys marking the channel, red and green presumably, though you can't distinguish the colors until you are right on top of them. One slightly wrong turn in the narrow channel and you are hard aground. At the end of the marked channel is the lagoon which is completely unmarked. We inched our way in without hitting bottom, and dropped anchor in eight muddy feet of water.
Our families rented a house on one of the nearby canals so we were able to load up the dinghy and cruise right on over to where we'll be spending our Christmas.
16-Dec-2011 our life. daily. barra de navidad, mexico.
Grammy is here. And all is right in the world again. Ouest took about ten seconds to warm up to "Leelee" and spent the next two hours trying to impress her with her jumping ability, her climbing ability, her spitting ability, and her giggling ability. Lowe impressed her just by being Lowe. He's so chill it's ridiculous.
We have this duck that used to be Ouest's and somehow I came up with this silly song the duck sings about flying so high, and so low, and all around the world where all the girls from around the world want to kiss him/her. Androgynous duck. I don't know what starts these things. Desperate attempts to entertain newborns. Anyway, I was singing this to Lowe the other day and somehow my rhyme kept coming back to how all the Mexican girls wanted to kiss him. So yesterday we're all out on the streets of Barra and two Mexican girls walk by, stop, and ask Ali if they can hold him. Or, to be more accurate, practically rip him out of Ali's arms. They were in love, and Lowe, he just ate it up. Mexican lady killer.
A while ago I was bitching and complaining about how Ouest had given up on napping. Was throwing tantrums over nap time and the whole bit. I also mentioned how it seems with kids all you have to do is wait a week and everything is different. It is, she now loves her naps again and actually gets excited by the prospect. I say, "Ouest, we're going to start getting ready for your nap." And she immediately drops whatever it is she was doing and heads for the door. Weird ass kids. You know, I've never been a napper myself, but what I'd give now for that luxury.
Grammy arrived with a new hard drive for me. Ali's parents arrive in two days with all the rest of my computer discs necessary to get Bumfuzzle rolling again. This website relies solely on baby boomers. Therefore I take back everything I ever said about that generation.
Went out to the boat this morning. It didn't sink overnight, so we'll leave it for another day.
This past week we identified about a dozen things that we have absolutely got to get finished on there if we are going to live in harmony. Number one, the outdoor fresh water hose/shower. Number two, the indoor sump pump for the shower. Number three, the engine driven hot water heater connections. Notice a theme here?
Number four, a whole new dinghy davit contraption. Mucho dinero, but going to be so worth it. I hate when I have to think about whether or not to put the dinghy in the water because it is just so much stinking work.
Number five, sleeping arrangements. Ouest, dear, I'm sorry, but you may just be getting booted up to the front of the boat. At least for this season.
There's oodles more of course, but those should at least get us started. Of course, none of this is actually going to be accomplished in the next month or two, but it's important to have lists.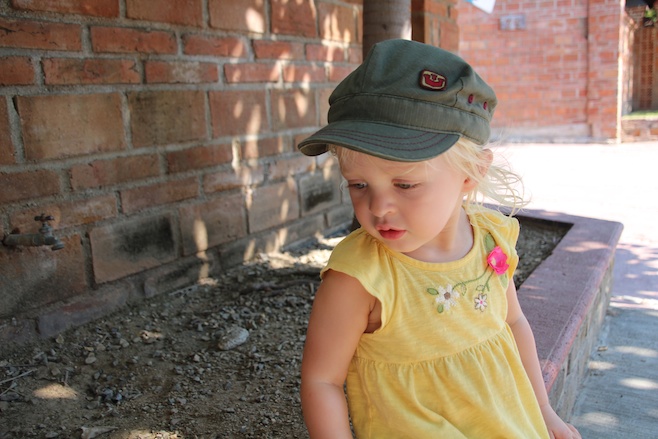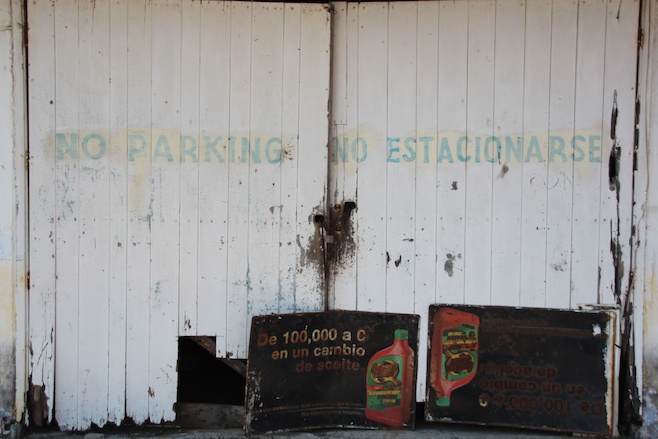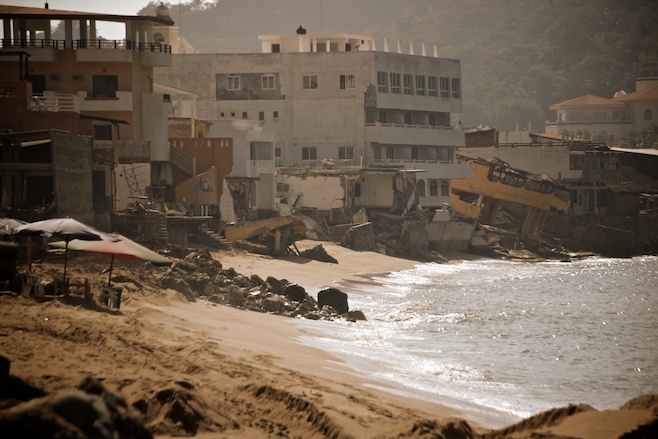 Barra was where Hurricane Jova ended up making landfall a couple months back. Overall the only really noticeable damage is right here on the waterfront.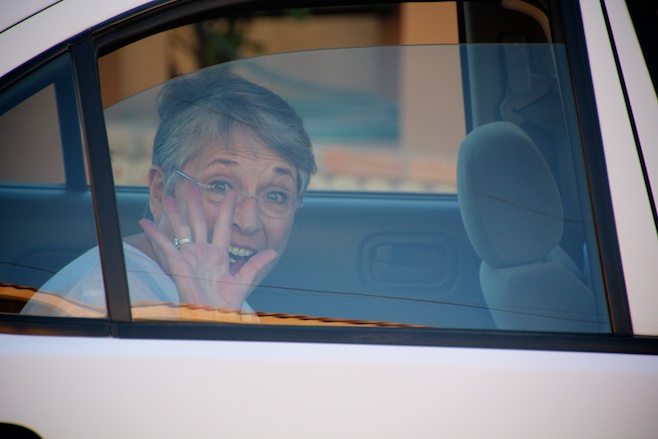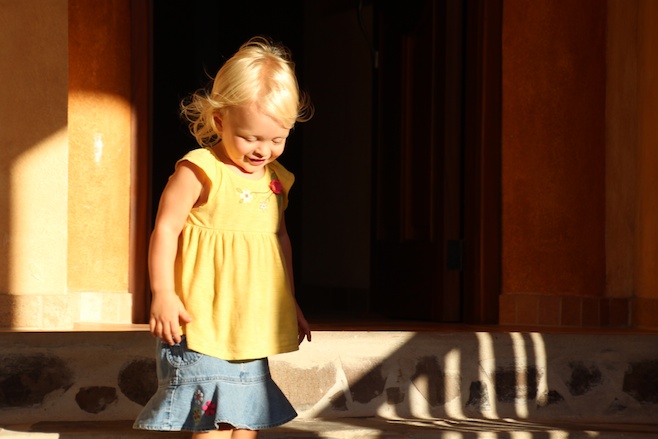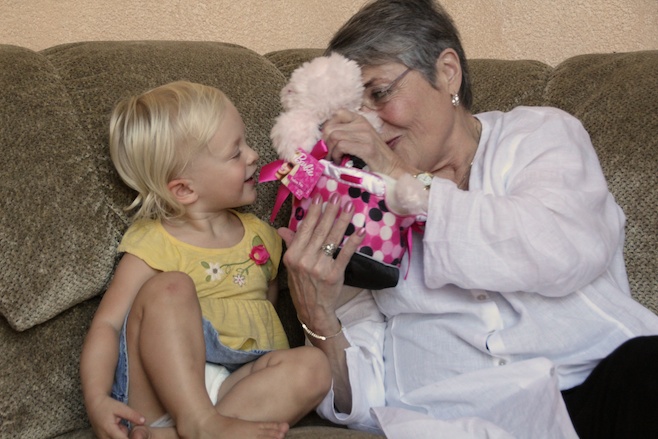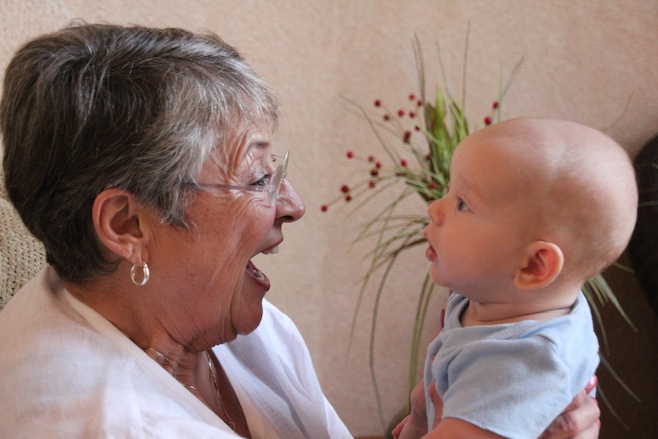 17-Dec-2011 our life. daily. barra de navidad, mexico.
Uncle JJ is here. He's never met Lowe and hasn't seen Ouest in a year, so there were some pretty dramatic changes in store for him. Ouest is currently sizing him up and seems to think he is some sort of bear that shouldn't be messed with. A day or two and she should have him figured out though. He only looks like a bear.
We walked into the bedroom tonight and found Lowe lying on his belly. He rolls around all day long, but this is the first time he's done it in his sleep. And he looked about as comfortable as can possibly be.
18-Dec-2011 our life. daily. barra de navidad, mexico.
You know, I was thinking the other day that I may just be becoming a sailor after all. Not because I am any good at sailing, in fact now that I'm on a monohull I think my sailing abilities have regressed to the point that I'd be considered a beginner again, but instead because of my bowline tying abilities. The other day when the dinghy davit support brace snapped I grabbed it with my right hand to keep it from slicing through the dinghy a second time. With my left hand I grabbed a loose line, used my teeth to form a loop, and proceeded to one-hand a perfect bowline knot on my first try using only my left hand and teeth while running downwind in twenty-five knots and holding onto that violently shifting dinghy davit support with my right. Now let's see the chat room guys do that. I am such a bad-ass sailor.
On the home front, Ali's parents arrived today.
19-Dec-2011 our life. daily. barra de navidad, mexico.
Ouest and Lowe are feeling the love. It's really great to have the family here. It has always lifted our spirits to be with family, but now we can see how much it affects our kids. Especially Ouest. She seems to blossom when she is around them. New words come out of nowhere. She is just a constant ray of light and energy. And she just seems more open and friendly. Maybe it is just the fact that I am able to get some separation. I am able to stand back a bit and be an observer of my daughter instead of an active participant. I really enjoy it.
We gave her a bike today. It's one of these scoot bikes with no pedals or gears so is absolutely perfect for the boat. Some boat friends of ours have one and Ouest fell in love with it. And for the past few months she has fawned over every bike she comes across, big and little, new and old. She simply loves bikes. So we were excited to give her this gift today. Turns out she is still about one inch short. She can get her toes on the ground, but not quite enough to get herself flying along. Won't be long though.
JJ turned thirty today. My thirties have been so amazing that I hope he can experience the same. It's weird, Ali and I both have siblings eight to ten years younger than us and we both feel the same sort of responsibility towards them. Sometimes I think we try to press our ideas on them a little more than they'd like. In our minds they are just at the perfect age to take chances, to do something different, and to act as irresponsibly and outside the box as they'd like.
And yet they are both on the straight and narrow. Work for someone else, pay the rent, save money for the future. There is nothing wrong with that of course, which is what makes it so frustrating for us. I just have this overwhelming feeling that the thirties are tailor made for expanding horizons, not for being a spoke in a wheel. We both just want so much for them. I imagine these are the same feelings we'll be having for our own children a few years from now.
Ouest couldn't stand this little boy, and he knew it. She would stand back and he would flip the beer bottle case closed. She'd say no and flip it open again. They must have repeated this routine fifty times, and both families were getting a good laugh out of it, but I finally had to put an end to the fun and throw the case under my chair.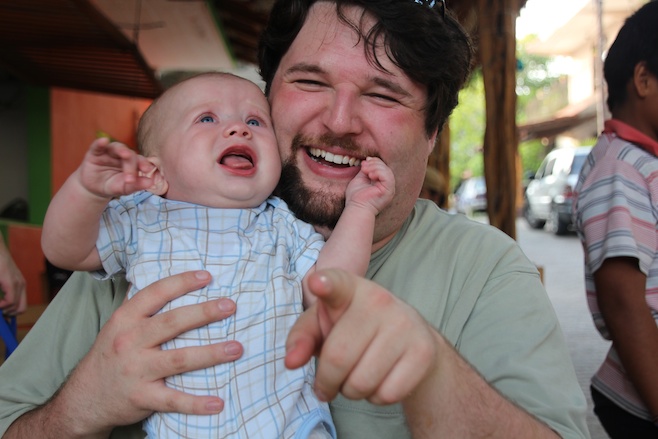 Uncle JJ just has this special way with kids. He holds them and they freak out. Fortunately he doesn't take this personally.
20-Dec-2011 our life. daily. barra de navidad, mexico.
Lowe is teething, and that sucks. We can feel the tooth now, though it hasn't broken through. He's been having a hard time the past couple of days.
We went to dinner tonight at some scubby little beachside place on the lagoon side. We chose the place mainly so Ouest would have a place to play while we tried to enjoy some food and drink. So she was having fun, playing in the sand and wading into the water. Ali walked down to the waters edge at one point and was just standing there watching Ouest when she suddenly decided to do a full belly flop into the water. We didn't see that one coming. Ouest walked home wearing nothing but a diaper.
21-Dec-2011 our life. daily. barra de navidad, mexico.
We went out to the boat this morning along with my brother who was designated the family photographer. Yep, we were determined once again to get a good picture of the four of us. We got ready and before the first frame was shot Ouest decided she wanted nothing to do with it. She wasn't going to be fooled into laughing, she wasn't going to look in the right direction, and hell, she'd even cry a little bit just to really throw a wrench in our plan. Meanwhile Lowe was rubbing his eyes and trying to drift off to sleep. Overall a resounding failure. Really, why do we bother.
22-Dec-2011 our life. daily. barra de navidad, mexico.
Typical day in Barra. Breakfast at the French Bakers, shopping at the market, swimming, fish and chips or chili rellenos at Ramon's, churros for dessert, and a little play time in the town's main plaza.
Ouest is full on when it comes to pool time. She is as crazy about the water as I've ever seen anybody. When I tease her that I am going to go swimming she about falls over herself in a mad scramble to find her swimsuit and get to the water. And then there are the dives. She is seriously diving. Full knee bending, strong push off, and hands out in front of her. The best part is she'll do it even when she knows I am too far away for her to reach me. She'll still just go for it and hit the water paddling. It's sweet. With our lifestyle the one thing we really need are water kids. I'd die if she ever started doing the tip-toe into the water and plug your nose thing. Die I tell you. Not to be outdone Lowe lays around in his inflatable pool without a sound for just as long as we feel like leaving him in there.
23-Dec-2011 our life. daily. barra de navidad, mexico.
Another December birthday? All we seem to eat around here is cake. We had a really nice day. Ali flipped the calendar, her mom got to relive the day all those years ago, and we all got to celebrate and be happy for no particular reason other than that we have a pretty great life. We're all really enjoying Barra. Somehow Ali and I missed it every time we've been down this way. The town itself is really laid back, has a few nice shops, a few dingy shops, a few nice restaurants, and a few dingy restaurants. That sort of place.
25-Dec-2011 our life. daily. barra de navidad, mexico.
In the last eight years we've spent Christmas in the Bahamas, the States, Thailand, Grenada, Mexico, Colombia, Mexico, the States, and now Mexico again. All this really means is that we've managed to a very great extent to spend the holidays with family in exotic locations without spending any time at all in a shopping mall.
The lack of time spent in shopping malls had one negative consequence this year though. We didn't get a picture of the kids with Santa. So today we thought we'd better at least get a picture in front of the Christmas tree. I thought the reaction of the kids pretty well simulated what they would have been had they been sitting with Santa anyway.
26-Dec-2011 our life. daily. barra de navidad, mexico.
Today we took Ali's mom out to see the boat. Our families are not in any way shape or form considered an aquatic people, and even a simple dinghy ride can seem like an adventure on the water. But once they get on our boats they always seem to like them. Ali's mom even said to her dad, "I could do this. Could you do this?" She was referring to the part of cruising that everybody likes, sitting on deck in the warm sun with a cold beer in hand.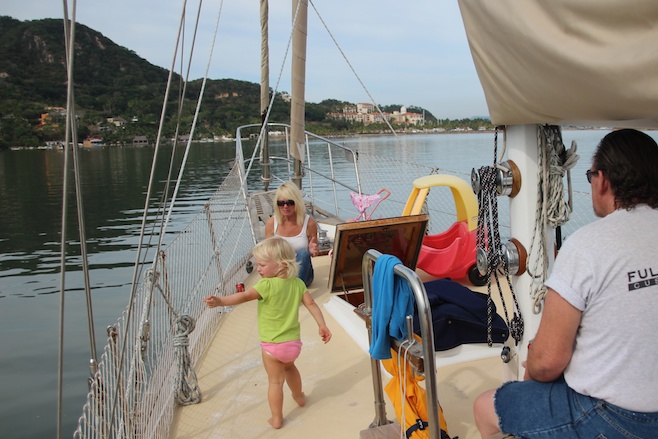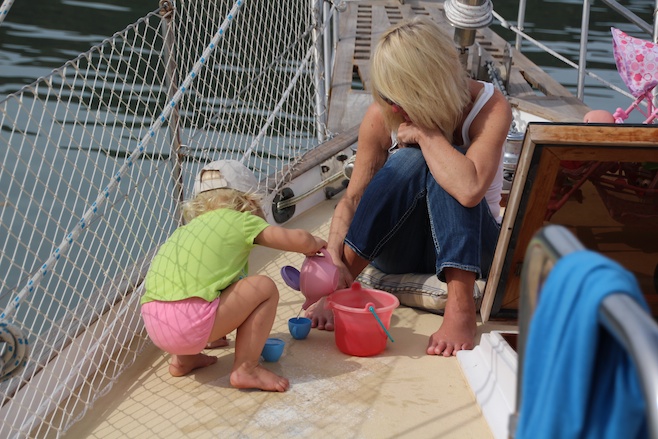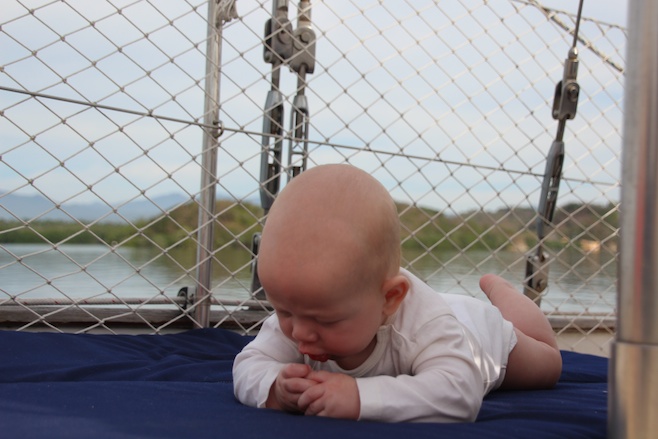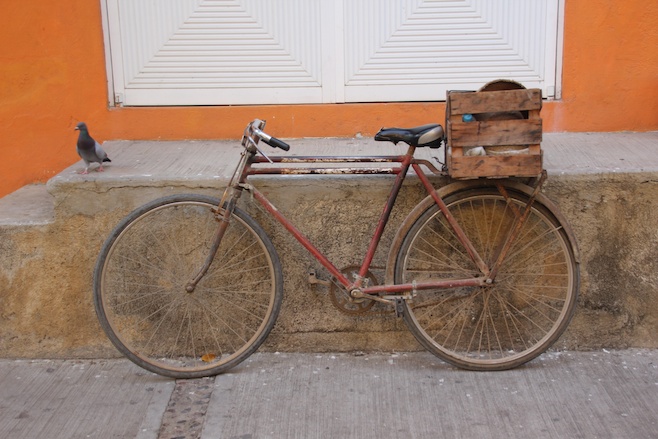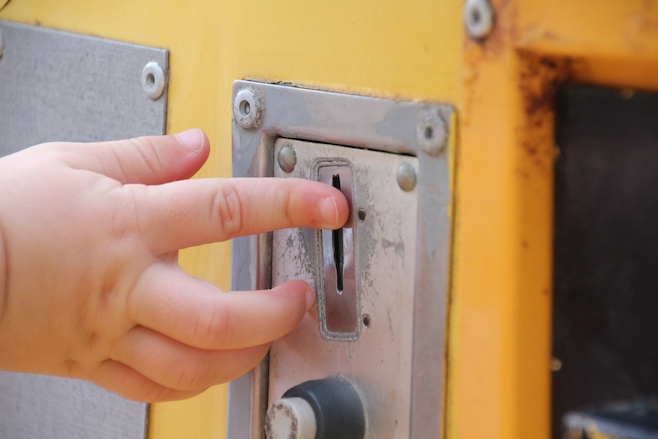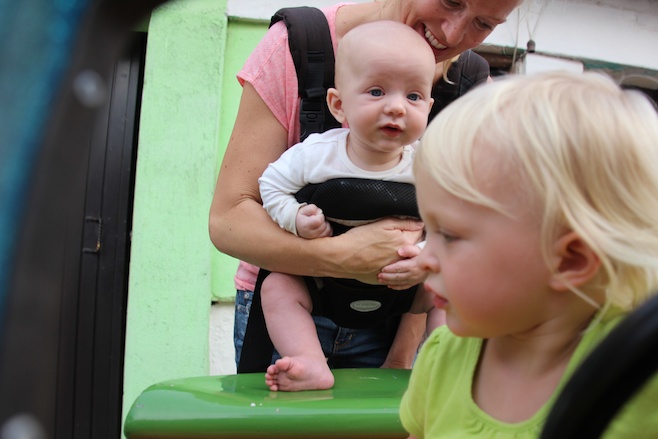 27-Dec-2011 our life. daily. barra de navidad, mexico.
Ali's dad and I went out to the boat today and took it in to fill up the diesel. It's only a couple hundred yards but I took it extremely slowly because of the shallow bars scattered throughout the lagoon completely unmarked. There was one yellow buoy about fifty yards out from the dock and I went ahead and assumed that it meant for us to stay outside of it and then swing straight in from there to the dock. I mean, a straight line into the dock seems logical enough right? Wrong.
A water taxi driver started waving at us and I knew immediately what he was telling me. We were going super slow already so I just slipped us into neutral and watched as the depth finder jumped from fifteen feet to five. We slid to a stop in the mud, put her in reverse and backed back out to the deeper water again.
Since straight in wouldn't work I figured there must be deep water between the nearby marina entrance and the dock so I started to head that way, but despite trying to retrace the route we took coming into the lagoon two weeks ago I ran us aground again. It's a soft muddy bottom lagoon, so as long as we were moving slowly we could always just back right out again, but still, this was getting a little ridiculous. This time I waited until a local boat came by and waved to them. The driver knew without a word what I was trying to do and motioned for me to follow him. I was going so slow that it took a good five minutes of his time to lead me to the dock. I had a handful of pesos ready to thank him with but he simply waved and sped off.
Normally I wouldn't talk about a trip to the gas dock, but this one was unique. Unique to me in that they charged a thirteen percent docking fee. Thirteen percent of your fuel bill! Insane. Another six percent if you planned on charging that fuel. The girl working the dock explained this to me but all I caught was the six percent fee. The thirteen percent I didn't catch on to until afterwards when she tacked on close to five hundred pesos to my bill. Obviously this is not the place to get fuel if it can be avoided.
Anyway, we filled up, reanchored, and that was the end of Al's big sailing adventure. He's the only person in either of our families even remotely interested in going sailing, so I promised him we'd hire him on the next time we have a passage of a few hundred miles. He can't cook and he knows not a thing about sailing other than what he's picked up from reading this site. So, still nothing. But he'd be worth having along just so I could continue beating the hell out of him at cribbage.
There are these little rides in town that have become a part of our nightly ritual. At this point there is no getting around it. Ouest won't even leave the house without two pesos in her hand. She clenches that fist shut for the twenty minute walk and even a bomb going off wouldn't loosen that grip. As we walk along I ask her what she has in her hand and she triumphantly raises that fist and announces, "Money!" She's so serious about having those two pesos that tonight when we were getting ready to leave and nobody had two pesos I had to rustle up two five peso coins instead. But it's not all about her either. She insists that Lolo sit next to her for the ride as well. Such a good sister.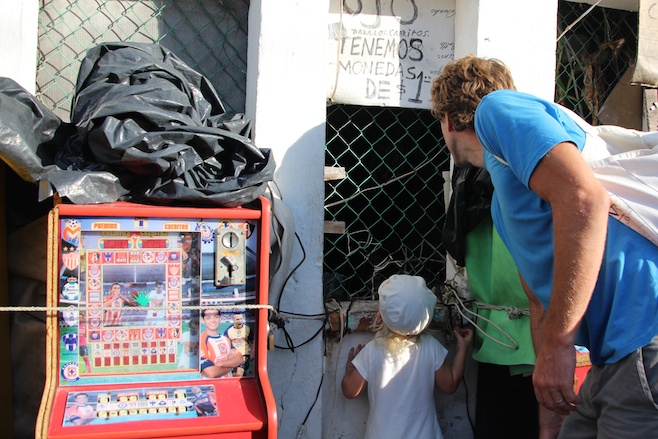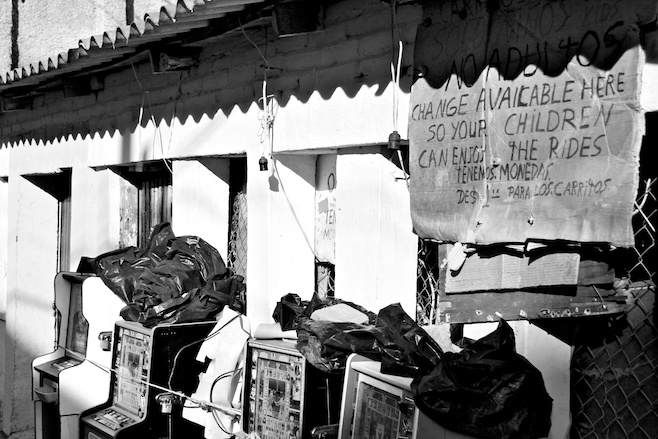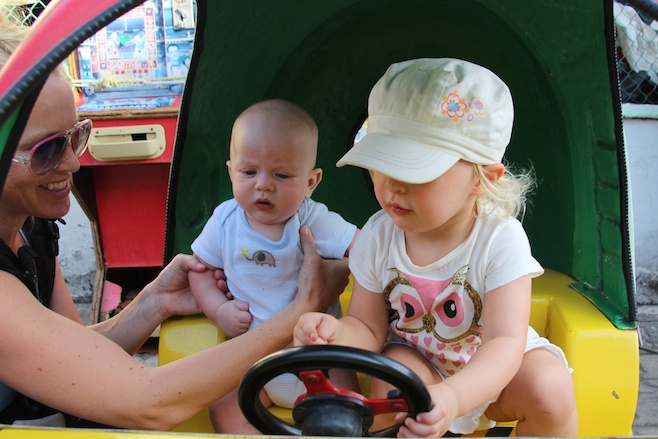 28-Dec-2011 our life. daily. barra de navidad, mexico.
We said goodbye to the last of the grandparents today, leaving just the four of us once again. We move back aboard tomorrow and will set off again whenever the mood strikes. Though I kind of like the Barra de Navidad lagoon and wouldn't mind spending a couple of days on the hook. Only problem I can really see with the place is that we can't swim there.
We have got so much teething going on at the moment that we, all four of us, could cry. Ouest has at least three molars that are partially through at the moment while Lowe has his two front bottom teeth and possibly another on top. Drool and swollen cheeks all around.
Ouest and I were out playing in the courtyard today when the sun came shining in with this amazing light.
29-Dec-2011 our life. daily. barra de navidad, mexico.
Back on the boat in Barra de Navidad lagoon. It took four trips in the dinghy to get everything back onboard. Cribs, bouncy chairs, so many kids clothes they couldn't wear them all in a month, new toys, a bike, a pool, and the list goes on. Don't think I'd want to attempt any backpacking style adventures while the kids were this young.
Something we noticed way back when we were on the boat in California, and which has carried on as true right down here into Mexico, is that there are no catamarans on the West Coast. Of the U.S. or of Mexico. You just never see them. I'm sure they exist, but it's like a rumor that you can't quite prove is true. Right now there are nineteen boats in the lagoon, all monohulls. We haven't shared an anchorage with a catamaran, and back in the marina we only saw one or two languishing in their slips. In Florida you can't throw a rock in the water without hitting a catamaran. I suppose they are all built in Europe and Florida is where they land, but nobody sails them west I guess. Or maybe a more accurate statement is that when they go west they make it through the Panama Canal and then continue on their merry way west, not north. Whatever it is, it's certainly hard to have catamaran envy here in Mexico.
30-Dec-2011 our life. daily. barra de navidad, mexico.
After Ouest and I finished a couple small boat projects this afternoon we were free to head ashore for some R&R. We stayed inside the lagoon and went to a little restaurant with a tiny slice of beach and a view of the boat. Perfect for the kids to get wet, the adults to have a drink, and everybody to have tacos.
We sort of set this cruising season aside as our trial run to decide what things we're going to need on this boat if we want to live happily onboard long term. Mexico is the perfect place to do this since the sailing isn't all that difficult. Distances aren't too far, marinas are plentiful if needed, labor is relatively inexpensive, and if we really really need something it's only a quick flight to the States, or better yet, we have family bring it with them on one of their many trips.
So far we're coming to the conclusion that this engine driven fridge just isn't going to cut it. A twelve volt system is in our future. Which of course will mean more power consumption which will mean solar panels. Those will need a place to be mounted which is fine since we're also going to need a new dinghy davit system. Then there is the watermaker. Life aboard just isn't the same without a watermaker. Let's see, let me just do some calculations here… Ouch.
31-Dec-2011 our life. daily. barra de navidad, mexico.
Went to the supermarket in Cihuatlan today to stock up for the next month or so. This isn't the same as it was back in the days of just Ali and I, no sir, now we've actually got to come up with meals. Meals for Ouest that is. The two of us are still pretty good at getting by on peanut butter toast. But with Ouest we have to be the responsible adults and cook up tasty, healthy meals, and I can tell you that on a boat with two non-chefs and a supermarket that doesn't resemble anything super, we struggle sometimes. If we could just shove chicken nuggets and french fries down her throat life would be so much easier.
This afternoon we went in to the Sands Hotel which is where the dinghy dock is at. It's a run-down twenty-bucks a night kind of place, but they've got an always busy bar and a big pool that they're more than happy to let us use, so being the cruisers that we are we naturally gravitate to the place. Ouest had fun swimming and we met a couple of guys who are sailing south on two little Hoby Cats. Always enjoy meeting people like that and knowing that adventure lives on.
Oh, hey, it's New Year's Eve. You wouldn't know it on our boat. We're exhausted. The fireworks going on at the head of the lagoon may or may not wake us up at midnight, otherwise we'll ring in the New Year around seven o'clock in the morning just like we ring in every other day.
Socialize