In the dark early hours a couple of days back I set off with Ali's dad for the road trip south to pick up the bus. It was about 270 miles away—too far to travel with the kids, in the cold, in an old motorhome—outside of Cedar Rapids, Iowa.
We pulled into the driveway and there she was under a light layer of snow, shivering like the rest of us. I gave her a cursory inspection, but knew I wasn't going home empty handed. A 1966 Dodge Travco pretty much in its original glory. The outside looked like she could use a good wash and wax, but that it would clean up really nice. Inside was a little rougher than I'd hoped, but the fact that everything was in such original condition made up for it. At least it hadn't been hacked up and "renovated" by somebody else with a questionable eye for design.
The engine was running smoothly. It's a 318 v8 which has always been a popular engine, so parts shouldn't be much of an issue.
We shared a cup of soup and a bag of cash with the owners and then hit the road. New brakes and master cylinder smoothed the nerves as I rolled out onto the highway. I quickly gathered speed and soared along at 60 m.p.h. feeling like I was driving a much larger, much more comfortable, much quieter, and much smoother version of the '58 VW bus. Seriously, I couldn't believe how easy it was to drive. I took my hands off the wheel and it steered straight down the lane for ten seconds at least. It braked smoothly, and accelerated zero to sixty in somewhere under sixty seconds. I was well pleased with the performance. Unfortunately the heating system is basically the same as the bus, meaning just a couple of vents letting some engine heat make its way onto my feet. Not having had time to delve into the actual RV furnace, I had to make do with chattering my teeth together and sitting on my hands—one at a time—for heat. It was fifteen degrees and dropping.
We are the fourth owners of the bus. The first owner had it for many years. The second for quite a while as well. The last owners only a year or so before they realized they weren't going to find the time to make everything work again, and to actually get out and use it. And then there is us. All of its life has been spent in and around Cedar Rapids, Iowa, so the mileage hasn't climbed much, only clocking 66,300 miles before we took it on a three hundred mile jaunt through the snow and ice.
We got it back to MN, parked it in the driveway, and that is where it has sat for the past couple of days. It's so cold here I have no idea how we're going to get any work done. I can forget about washing and waxing this thing for the time being, that's for sure. And unless I can get that furnace cranking out some heat I won't be getting much work done inside either. I tell you our timing on all of this really sucked. If our house in Mazatlan had been available we would have hung around there at least until February or March when forty degree days are at least a possibility up around here.
Anyway, here are some shots of our big dirty beast. No interior shots just yet though.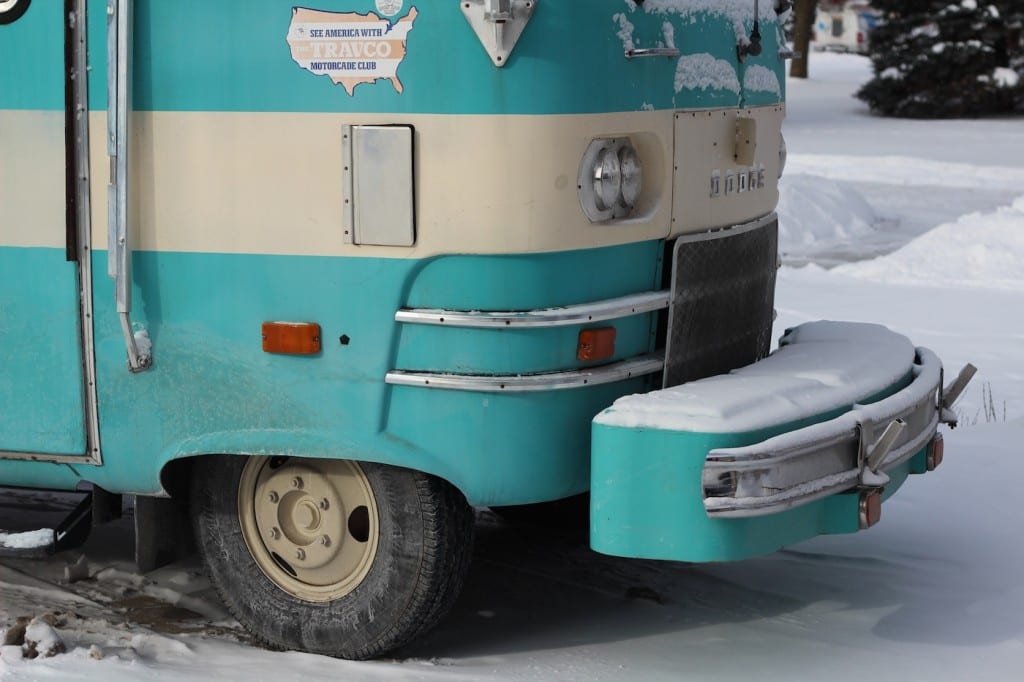 Believe it or not that massive bumper extension was an option. There are three large boxes built in, one of which holds the battery bank. I'm not too keen on the aesthetics, but I'm afraid the practicality of it may outweigh that. We'll see.
The previous owners say they don't even know how the canopies roll down. So they couldn't tell me the condition. My fingers are crossed that they're in good shape, but I'm not about to unroll them in freezing weather for the first time.
We're not planning on towing a vehicle behind us, so the Willie Nelson fringe is going. The massive diesel generator that sits in that rear compartment is still sitting on a pallet in Iowa. The second owner removed it some years ago, and says it has a knock. We'll be tossing a new Honda in there instead, which should also leave us a ton of storage space. Tires have full treads still on them. Unfortunately they are eleven years old and have some weather cracking. They'll have to go too. Entire exhaust system is new and shiny from three years ago. Roof air conditioner is coming down. This thing actually has two good sized air conditioners. The other may or may not work, but either way the roof unit is going. That's the one thing that I crack my head on inside.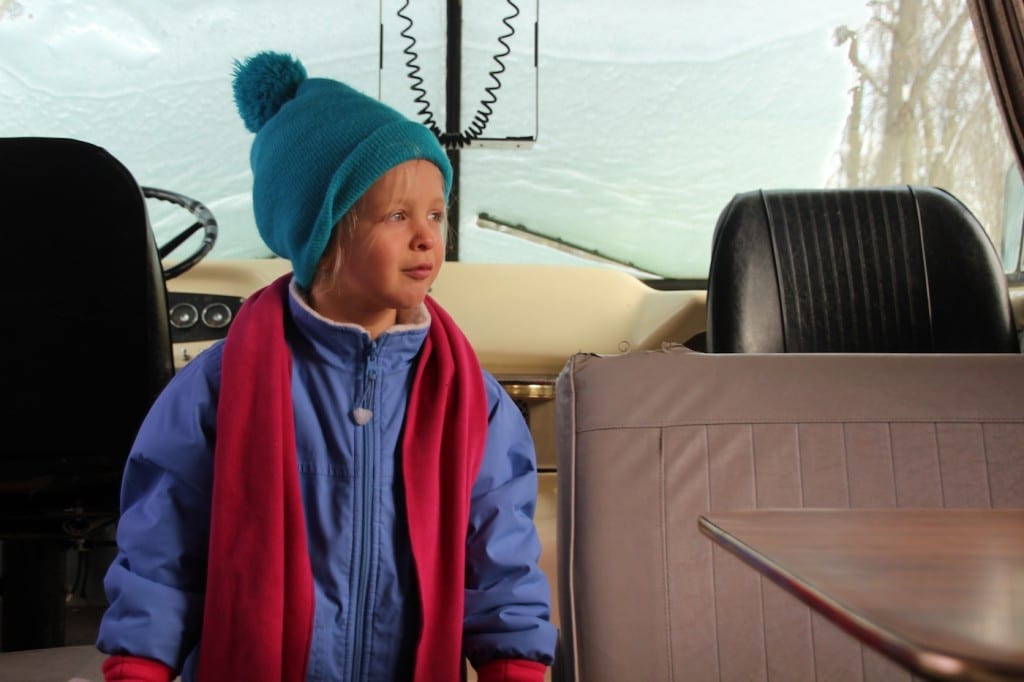 Anyway, overall first impressions are that I really love the size and how easy it is to drive. I'll have to constantly remind myself that there is twenty-seven feet of me out on the road. I also love the style and the overall look of it. It's a fun vehicle and one that was already drawing lots of thumbs-ups on the road and conversations at the gas pump (8 m.p.g. by the way). From the looks of it I'm sure it's going to buff up real nice. The interior is going to be more work than I'd hoped, but we had already planned on redoing a lot of it to make it our home, our style, anyway. The key is going to be finding out just how many of the systems onboard can be made to keep on ticking, and how many will just have to be replaced. Again, we'll see. But from the looks of things, it doesn't appear that it will be too difficult to work on. Because so little has been done to it, I won't be dealing with a bunch of jerry rigged nonsense. Instead I can start with my own jerry rigging nonsense.
Socialize