Port Aransas beach. South Texas is not nearly as warm as you might think it would be—at least not if you grew up in Minnesota and assumed everything south of Iowa was tropical in the winter.
Mexican air-conditioning. Only kids can manage to be hot in this weather.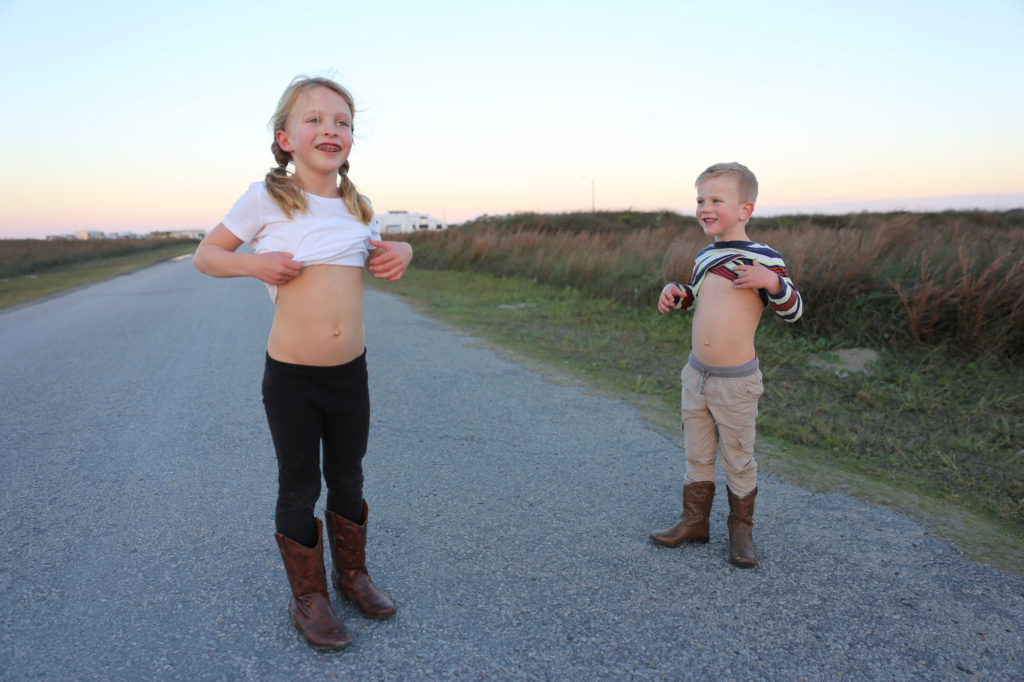 In Port A we got the chance to meet up with some long time Bum friends whom we'd never managed to meet in person before. This picture of Lowe at the skate park is the only evidence of the meeting. After all these years I doubt that we could be anywhere in the U.S. and be more than a few miles from a Bum friend. It's a pretty cool side benefit of the blogging life.
Had to get rid of the way under-rated and falling apart whitewalls. In the end we decided that we actually like the all black tires better—gives Apple a more rugged lived-in look, and matches up with the Travelall better. Yeah, the Airstream has adopted the moniker, Apple, and the truck is called Plátano (banana in Spanish).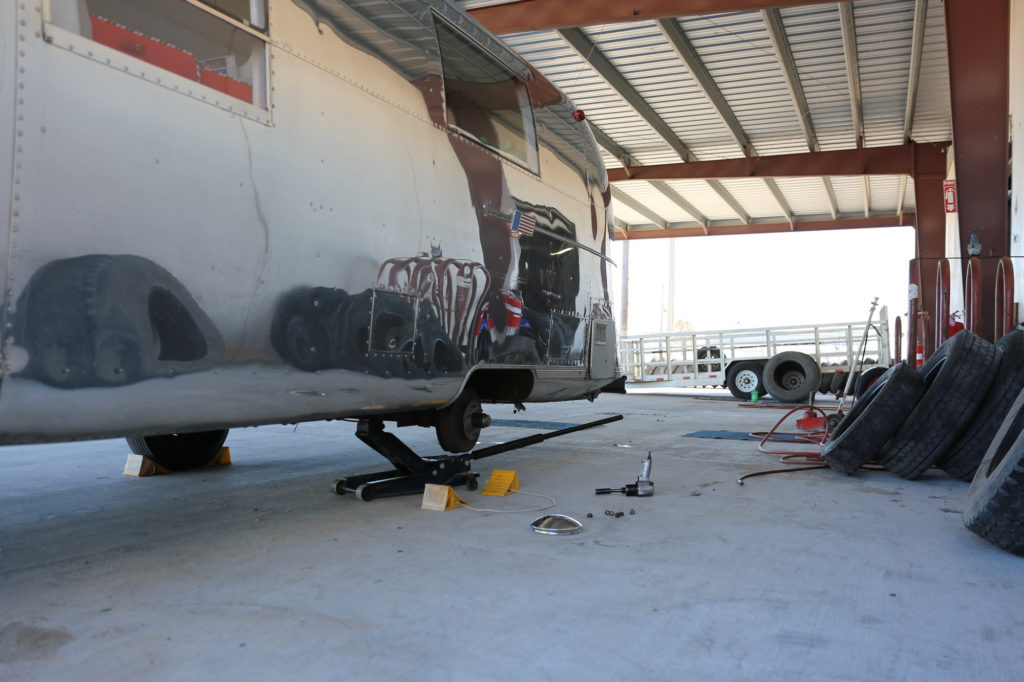 For the first time, we've got a refrigerator that runs on propane (or electric). That one little difference has eliminated any need we have for batteries. We've got one regular old 12V car battery in the Airstream, and even without charging, it's plenty to last us at least five days. If we do throw a solar panel on the roof, we'll only need one, and I won't even bother with upgrading the battery. We barely use lights—up with the sun, down with the sun (old-school lights, no LED). We only run an inverter for a couple of hours to charge computers that last six hours. There is also the 12v water pump. And quite literally, that is the only power usage we have in our life. When we are plugged in we also have a toaster, and an electric kettle. I think we've got ourselves down to just about the bare minimum for our family of four. Though, I suppose we could get a hand pump for the sink, and some candles. [insert Ali's eye roll]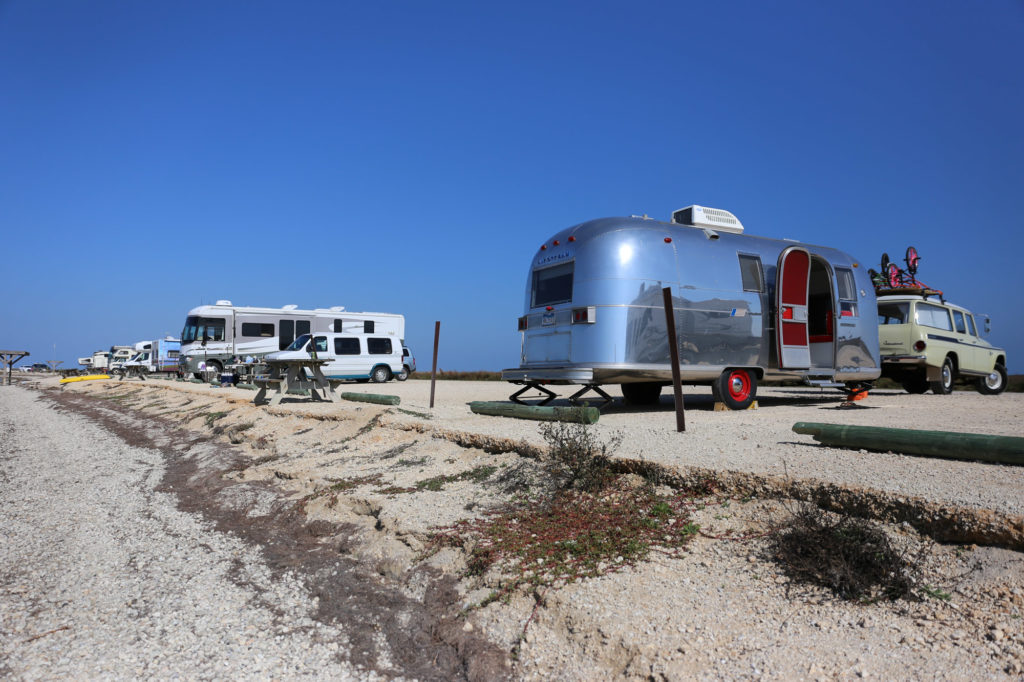 Bird Island Basin—shallow warm-ish waters and plenty of wind.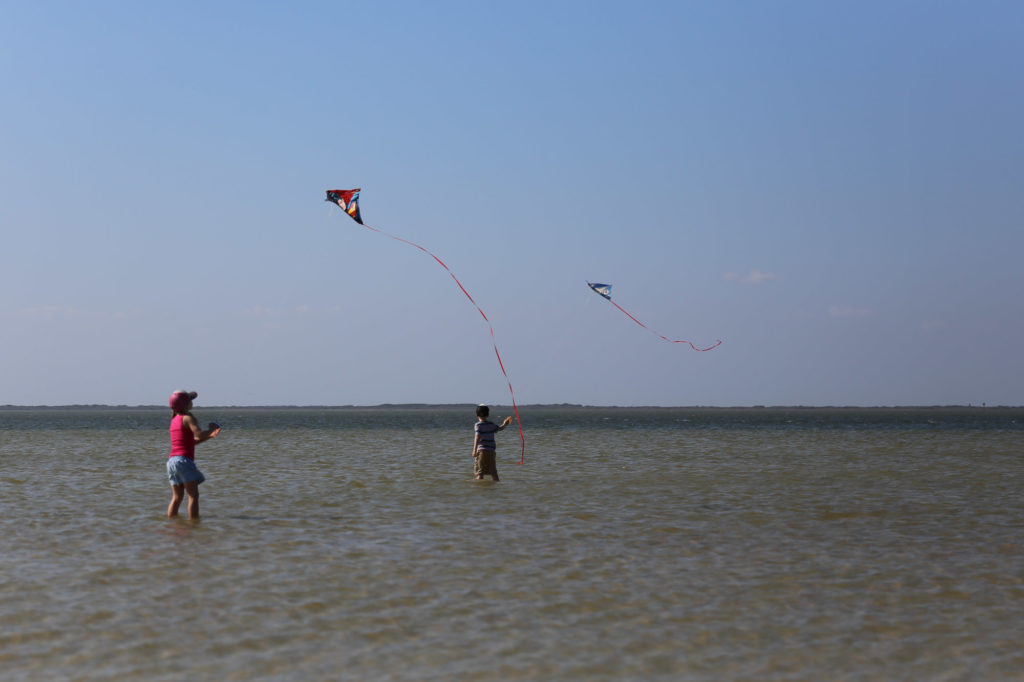 A few shots of the inside of the Airstream. Every week it becomes a little more settled in.
To fully understand just what era this Airstream comes from, all you need to do is notice that 12v cigarette lighter next to the toilet.
We were playing catch with a tennis ball when this pelican came to investigate. He wasn't the least bit afraid of us, or of Ouest's squealing when he'd bump right up next to her trying to intercept the pass. For the record, we got up to 71 despite the interference.