We've said goodbye to Grandma and Grandpa, but not before a walk down State Street turned into some sort of costume buying bonanza. Ouest was wearing hers for a couple of days before she asked who that was a picture of on the brooch.
"That's Barbie."
"Who's Barbie?"
Parenting—so far so good I guess.
Cold Spring Tavern fashions itself as a biker bar, but on a Sunday afternoon apparently costumed kids are acceptable as well. One of the most amazing things kids have that adults don't is a total lack of self-consciousness.
Back on our own we headed north about twenty miles to Refugio State Beach. Sweet place. Well, kind of crappy campground, but once again location trumps all. Steps from the beach.
The beach was great, the water reasonably warm by California standards, and there was a fun beach break to bodysurf in. But it wasn't long before we all had tar on us. The signs around the beach explained that the tar was naturally occurring from the Santa Barbara Rift—or something along those lines—but that's a pretty tough sell when you're staring out at a line of oil rigs a couple of miles off shore. An equally hard sell for the campground, I thought, were the signs saying that they charge for showers so we won't have to wait in line.
Me trying to fix the water temperature gauge. There is never any shortage of help.
Train tracks ran right behind us, so we laid out a buck in change and waited. An hour later we had a bunch of flat worthless change.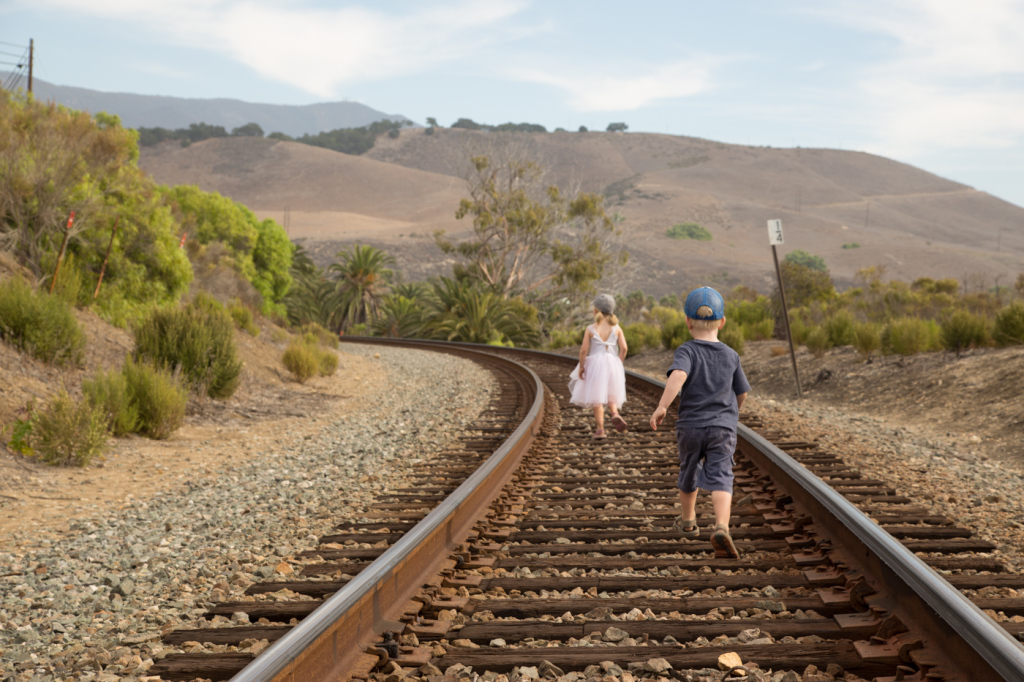 Out of nowhere our friends from MaliMish appeared. Ali later informed me this had been in the works for some time, which I have a feeling will come back to haunt me the next time she asks me, "Do you even pay attention to what I tell you?"
It was fantastic to get together with another family on the road, especially one with three kids, two of which are five and seven-year-old girls. Ouest was in heaven. When we all got ready for the beach and the oldest girl came out wearing a swimsuit that Ouest also owns—well, you can imagine the joy this brought to her heart.
It took Lowe until day two to really get in on the action with the kids. He always takes a bit longer to warm up, and in the meantime he seems sad to lose his buddy Ouest to an outside clan. He eventually came around though and had a lot of fun with the girls. Our friend's little boy is eight months younger and Lowe wasn't quite down for having a fellow truck lover around.
Three little girls in pink getting down and dirty with seaweed. I'm not sure what they thought they were doing, but by the end they had quite a pile there to attract the flies.
This picture was taken while trying to get all the kids together for a group photo, and I think it pretty much says it all—Ouest with her new older friend who she greatly looked up to, and Lowe in a battle for the dump truck with his new friend/nemesis.
Lowe was sort of standing back watching everyone say goodbye, but I could tell he had something on his mind. Then suddenly he just went for it, stepped right up and gave a big hug. Awwwwww.
Great couple of days with new real life friends. All too short, as often is the case with families on the road.