We've very easily slipped into a routine here in Sayulita. In the morning, still in pajamas, we wander out to the beach where the kids play and explore before breakfast. After eating we walk around town a bit, ride bikes, and hang out at the playground. Home for the kids' lunch, and then a walk to town and the south end of the beach where the waves are perfect for beginners. After a few hours on the beach all we need to decide is where to stop and eat on our walk back to the bus. Shower, read, sleep. It's a full day—and intoxicatingly perfect.
The kids saw this hill and immediately asked if they could ride their bikes down it. If they'd gone to the top they would have reached 120 m.p.h. by the bottom, so I reigned them in a bit, but not too much.
Right next door we then discovered a BMX track. I thought it would be perfect for them, so I set them free. In less than a minute they had both crashed and cried—separately.
Coming down the hill they both were extremely focused, which is good because they were bouncing around wildly. At the bottom Lowe would lock up that back brake then spin his head around to see his long black skid mark. In that instant I could see myself in him. I loved those black skid marks. My dad used to get so pissed when I'd inevitably wear a hole straight through the rubber tire. Another twenty bucks down the drain. But to a kid's thinking that twenty bucks was well spent awesomeness.
Lowe isn't quite ready to get on the board, which is surprising because he spends his entire time in the water bum rushing the waves. He's completely waterlogged by the time he finally says he's done.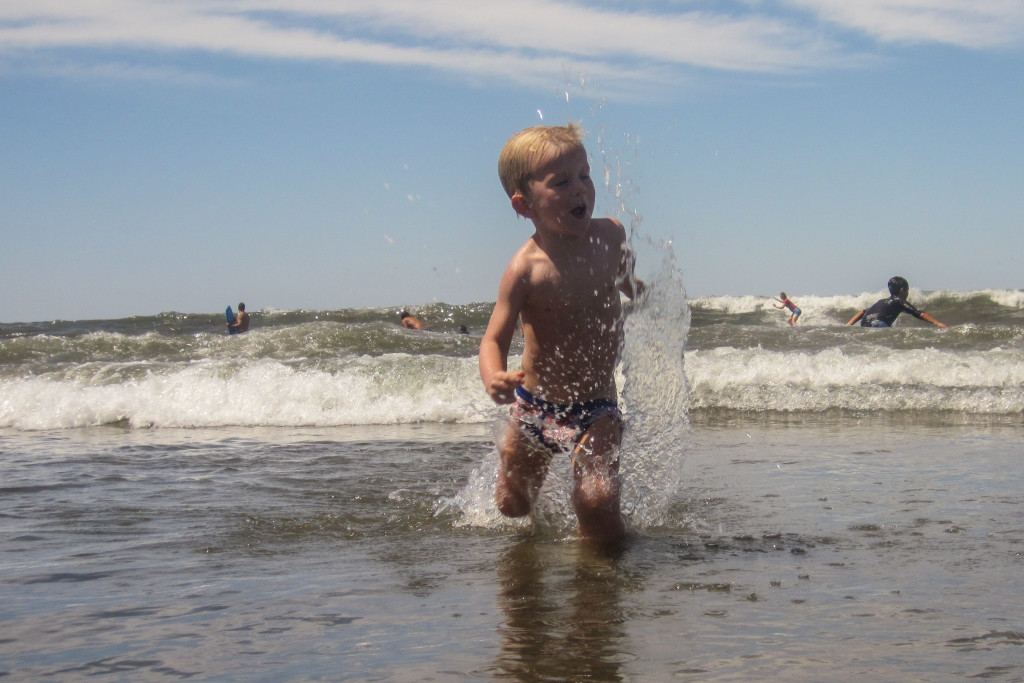 I'm sorry, but there is nothing more adorable than a tiny five-year-old riding a wave. And oh my god, when she hops on the board and starts paddling out—she slays me.