Here's what it took us to turn a nearly fifty year-old motorhome into our current home.
Ali has managed to tally up the numbers on the Travco expenses. I guessed twenty-thousand and came pretty close. I'm pretty happy with that number. The bus turned out exactly as we had hoped it would, and after a month on the road there isn't one thing that we're unhappy with. There are still a few things that we'll change, replace, or add, but overall the bus has been exactly what we hoped it would be when we envisioned this trip.
We'll keep the monthly numbers coming (the link to this post will live at the bottom of the home page with all our other trips expenses). Whenever we start out on a new adventure the first few months are pretty high, but things tend to level out once we get settled in.
This is what it looked like when we first got our hands on it. Cool. Original. But with all the downside that entails. Lay down on some fifty year old carpet anyone?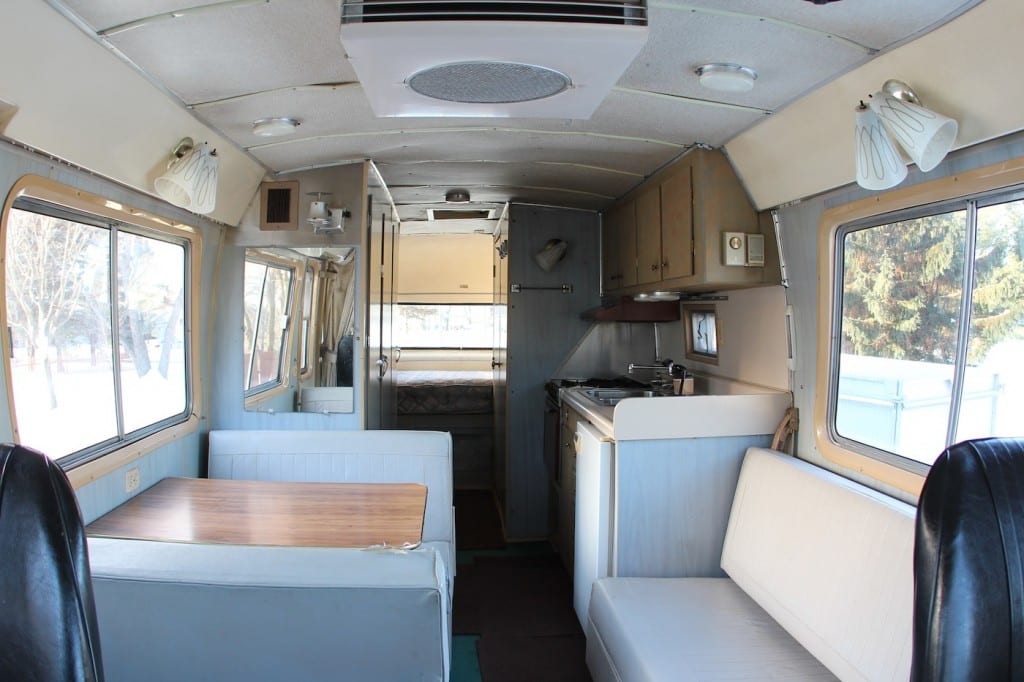 1966 Dodge Travco Motorhome

9,000.00

 

 

 

misc renovation

4,280.28

 

 

 

reupholester original chairs/couches

3,128.00

 

 

 

tires

1,960.91

 

 

 

inverter w/charger

839.84

 

 

 

solar set up

532.96

 

 

 

vinyl plank flooring

510.74

 

 

 

custom mattresses

469.21

 

 

 

interior curtains/window shades

392.66

 

 

 

6V Trojan Batteries x2

301.77

 

 

 

 

21,416.37

 

 

 

misc.

 

 

 

 

DMV (tax, title, plates)

679.75

 

 

 

insurance (1 year)

526.00

 

 

 

Good Sam Roadside Assist (1 year)

79.55

 

 

 

Good Sam Club (1 year)

25.00

 

 

 

 

mar 2014

apr 2014

may 2014

jun 2014

travco expenses

31.15

102.53

2,619.22

1,916.82

gas

462.91

926.38

796.48

760.43

campgrounds

137.00

765.13

742.63

408.01

food

262.14

832.37

1,272.85

968.10

 

893.20

2,626.41

5,431.18

4,053.36

May: Travco brake work 4 shops $2,074; awning replacement part $95

Jun: Travco new window seals $995; new a/c $349; new roof vent $95

 

jul 2014

aug 2014

sep 2014

oct 2014

travco expenses

353.97

22.81

3715.59

353.83

gas

244.15

445.63

471.79

354.54

campgrounds

287.75

610.43

617.26

1042.81

food

957.50

1,317.39

1271.58

1527.99

 

1,843.37

2,396.26

6,076.22

3,279.17

Jul: used/new-to-us exhaust manifold $125

Sept: Portland shop brakes/manifold $3380

Oct: electrical fire (1 week fix): rental car/gas $263, campground (3 nights) $193, parts $324

 

nov 2014

dec 2014

jan 2015

feb 2015

travco expenses

676.27

0.00

292.59

138.03

gas

322.06

479.15

0

0

campgrounds

1,364.86

478.46

940.85

445.82

household/groceries

880.52

1,205.72

1208.37

1463.69

medical

 

 

382.5

661.19

other

353.89

772.41

981.84

752.75

 

3,243.71

2,163.33

3,806.15

3,461.48

Nov: entered Baja Mexico ($105 for vehicle permit and tourist visas, $248 Mexico auto ins)

Dec: ferry from La Paz to Mazatlan $772

Jan: month in Mazatlan

Feb: month in USA

 

 

 

 

 

mar 2015

apr 2015

may 2015

jun 2015

travco expenses

87.92

96.75

10.47

26.87

gas

93.77

267.42

285.95

184.8

campgrounds

596.52

670.20

642.15

289.65

household/groceries

1,482.57

1,438.35

1435.65

1423.52

medical

194.92

319.64

34.13

34.08

other

869.17

258.61

799.85

1631.37

 

3,324.87

3,050.97

3,208.20

3,590.29

Mar: tollroads $43

May: tollroads $66

Jun: Mexico City condo/Puebla hotel $777; rental car Oaxaca $108

 

jul 2015

aug 2015

sept 2015

oct 2015

travco expenses

55.99

254.87

541.68

189.76

gas

275.65

254.49

238.31

239.01

campgrounds

399.49

400.62

984.13

278.45

household/groceries

1,494.97

1,703.77

1485

1844.08

medical

105.52

0.00

0

0

other

730.07

3,596.36

1951.34

1246.26

 

3,061.69

6,210.11

5,200.46

3,797.56

 

 

nov 2015

dec 2015

 

 

travco expenses

87.90

0.00

 

 

gas

56.06

0.00

 

 

campgrounds

300.00

930.00

 

 

household/groceries

1,243.28

1,206.27

 

 

medical

0.00

355.12

 

 

other

356.85

659.66

 

 

 

2,044.09

3,151.05

 

 

Nov/Dec: monthly stays in Sayulita