The other day Lowe asked Ouest if she wanted to play photo booth. I'd never heard of this before, but within seconds he was dressing her up in boas and taking her picture. They played this for days, giggling the whole time. The pictures below are theirs, obviously.
We've been trying to enjoy the great weather as much as possible lately. In Portland it can end at any time now, after which it will be gray and wet for six months.
Hitting up a nearby brew pub with a friend. We go to this place not because the food is any good, or the beer is special in some way—no, we go because they have a children's play area.
Bridge City. My mom only lives about five minutes from downtown, but we don't visit the city very often because the neighborhoods of Portland are so great on their own. But we decided to pop down there and show the kids a few of the sites anyway.
It's funny—or sad if you look at it that way—that we've traveled the world, and spent years in Mexico with our kids, yet I've never felt as uncomfortable walking around with them as I did here in Portland. The homeless situation is completely out of control. Some 1,800 people spend each night on the streets here because the shelters are full. It's a terrible problem. And I'm not saying that in a, "Oh, it's a terrible problem for me," kind of way. I'm saying it's a terrible problem for the homeless. And unfortunately, where you find a lot of homeless you also find a lot of mental illness. It seemed that on every street we walked down we passed someone screaming obscenities at imaginary people, or couples cussing each other out on the brink of assault, or just sleeping on the sidewalk with no clothes on. Not fun while trying to show the kids around.
Portland is a great city, but it has some serious problems to contend with.
This Keep Portland Weird sign is painted on the back of a club, right across the wall of a pay parking lot. I imagine the club owner thinks it's hilarious that hundreds, if not thousands, of people a day walk into this parking lot and take their picture in front of it. Meanwhile, the guy working the parking lot spends his entire day chasing people off. He told us we couldn't take a picture of it because it was private property. So we stepped backwards two steps and took our picture from the sidewalk. Then a car came in and he had to attend to them. While he did so a dozen people in three different groups walked right in and started to take pictures. Clearly, this guy has the worst job in Portland. Oh, and it's also directly across the street from Voodoo Doughnuts, where a line forms around the block pretty much day and night.
On this particular day we drove out to the Hood River area to pick some apples. Picking apples is kind of fun, and when you have a cart and a big box it's also pretty hard to pick with any sort of self-control. We ended up with close to a hundred apples. It's hard to even give away that many apples to friends and neighbors. They are darn good apples, though.
Lowe taught himself how to levitate items between his hands. Kind of cool.
Mount Hood.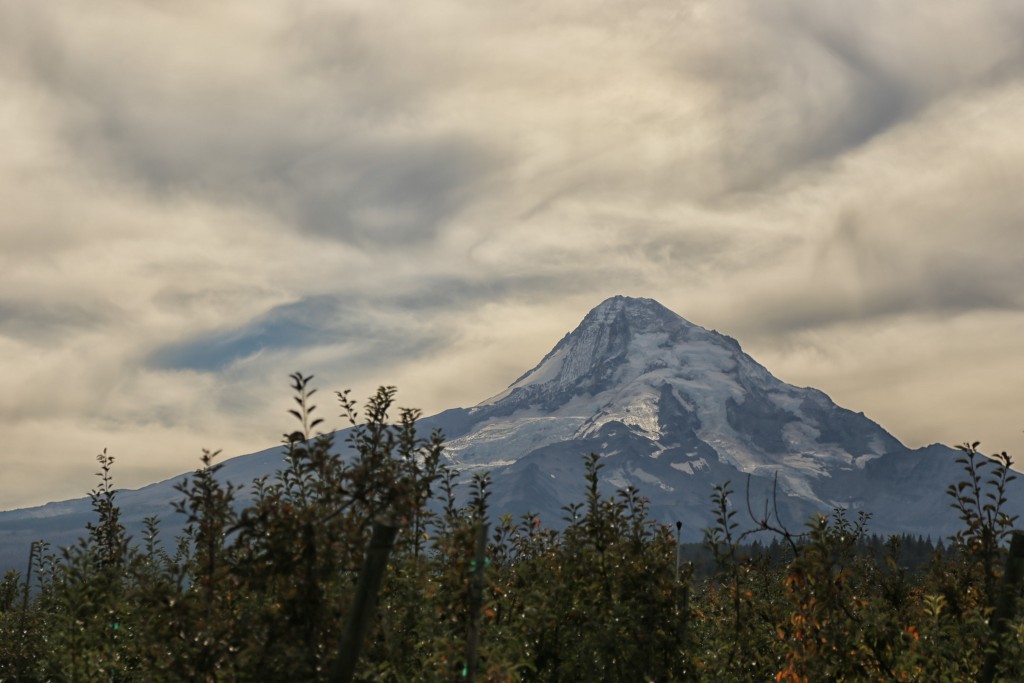 And then we did visit a real photo booth a few days later. This happened.