Highbourne Cay is a pretty typical Bahamas cay. Incredibly clear water, beautiful beach, and nothing else. There is a fancy marina resort around the corner where the giant yachts tie up, and the rest of us can get fuel and dump garbage for five bucks a bag (pro tip: bring along some yard-waste sized garbage bags to shove a few smaller ones in), but that's about it.
I can't even begin to explain how vastly life is improved on this boat by having a watermaker. Now I can't even believe that there was a time we cruised Mexico without one. Between the four of us we must take at least 12 long rinse-offs each day.
This boat has some things that are odd to us, but normal to trawlers—things that we'll likely change in the future, but wanted to see how they worked out for us in practice before we did. One of those things is that the oven/stove is AC power only. There is no propane on this boat. We've been living off of propane for fifteen years, so this takes some getting used to. The problem is that even a brand new 3,000 watt inverter isn't powerful enough to run it on AC, so we need to run the generator in order to cook anything. Fortunately, the generator on this boat has its own built-in noise dampening box, and sits in an engine compartment that is super well-insulated as well. It's so quiet it's sometimes hard to tell if it started or not. Outside, the only noise is the water exiting the exhaust.
But, even if it's quiet, we still find that we've now been turned into generator people. It's the first time we've ever had one. On the upside, our watermaker makes 35 gallons an hour, so just by running it every couple days during dinner, we're all set for water. Oh, did I mention washing the boat while at anchor? Anyway, point is, we're loving the watermaker.
I'm not sure I've ever even bought a set of Legos. How did this happen?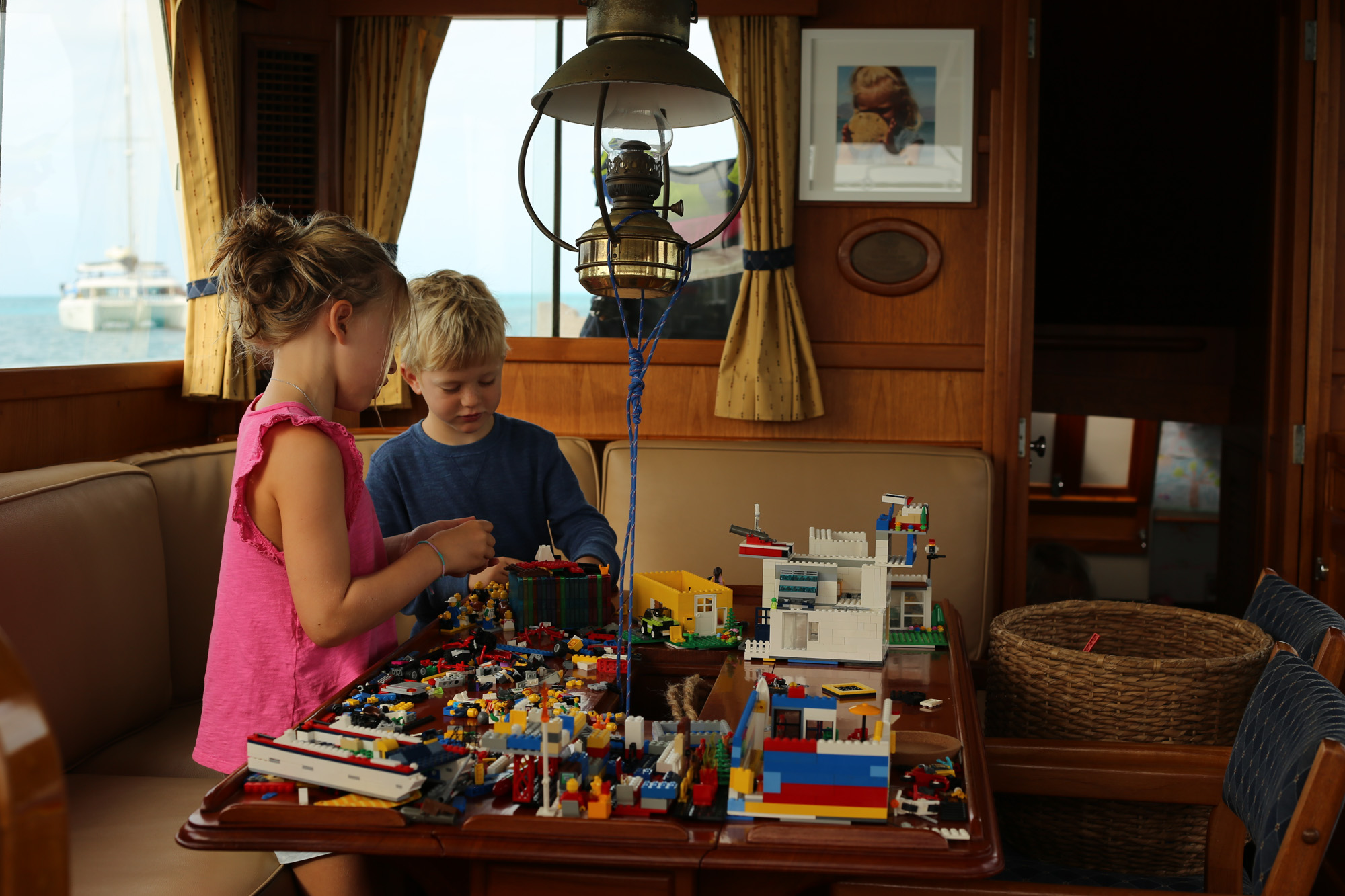 Ouest was diving to fifteen feet this day, picking up a conch shell.
Just about every boat in this picture showed up from Nassau the same day. When a tiny weather window appears these days, you jump on it.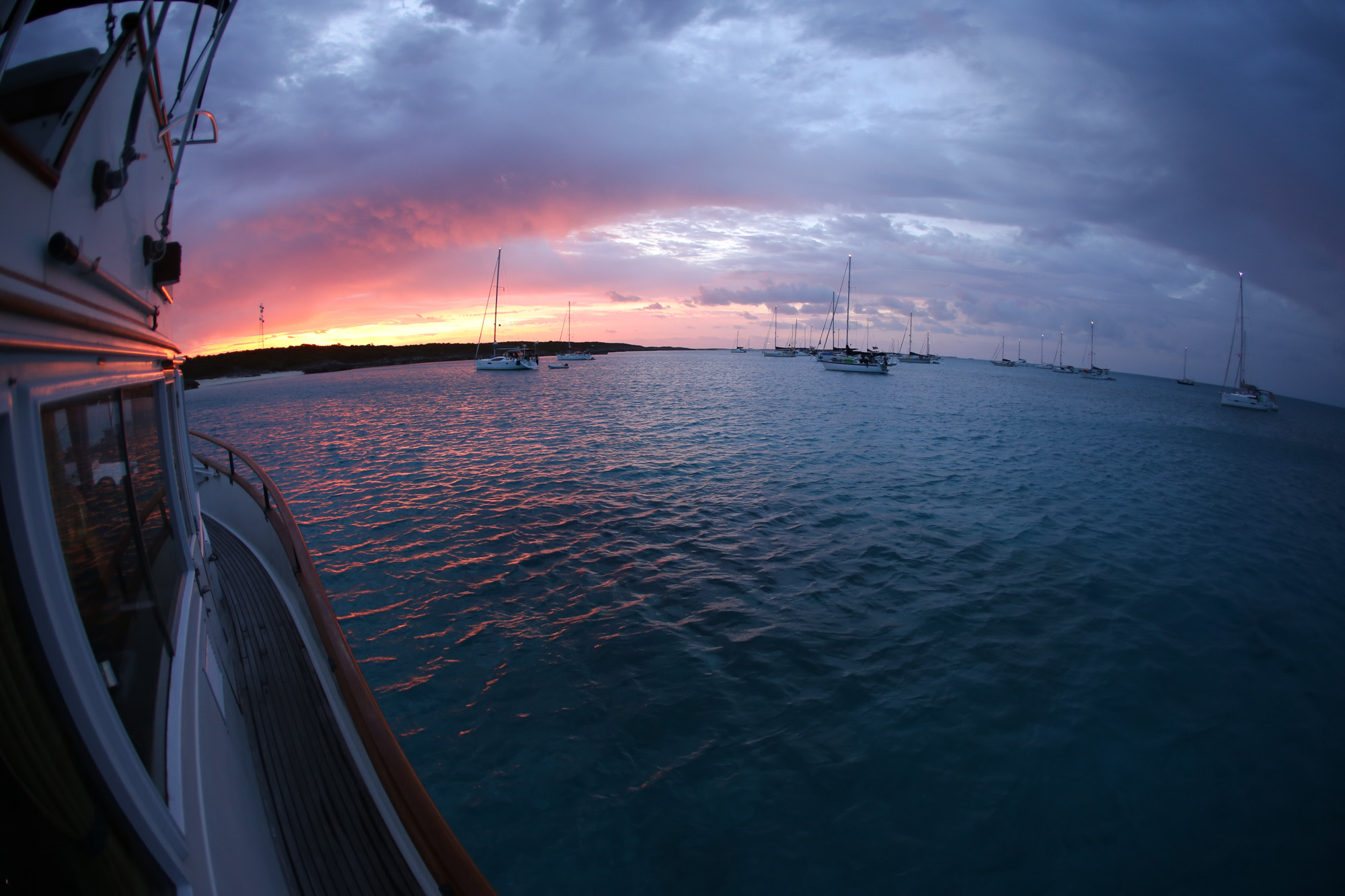 Our draft is just 4′ 2″, which is only 8″ more than our catamaran was. We can tuck in pretty shallow just about everywhere we go, which at least allows us to scoot off to the outside of the pack.
Hitchhikers.
How do we keep the love fire burning? Why, with a big wedge carved out of the bed, of course.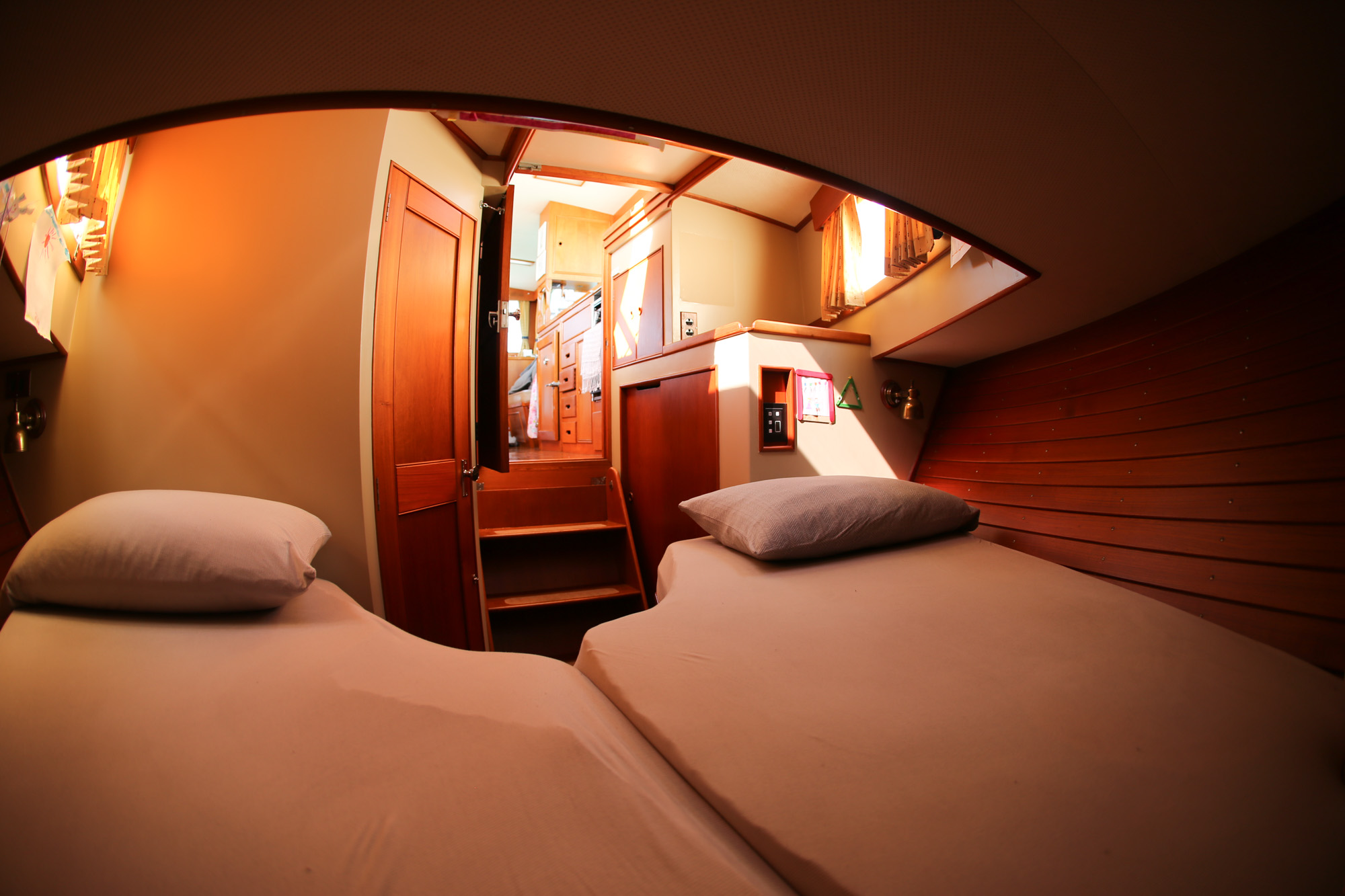 While the kids get actual mattresses on their beds, we get cushions with some foam mattress padding on top. Not bad, not great.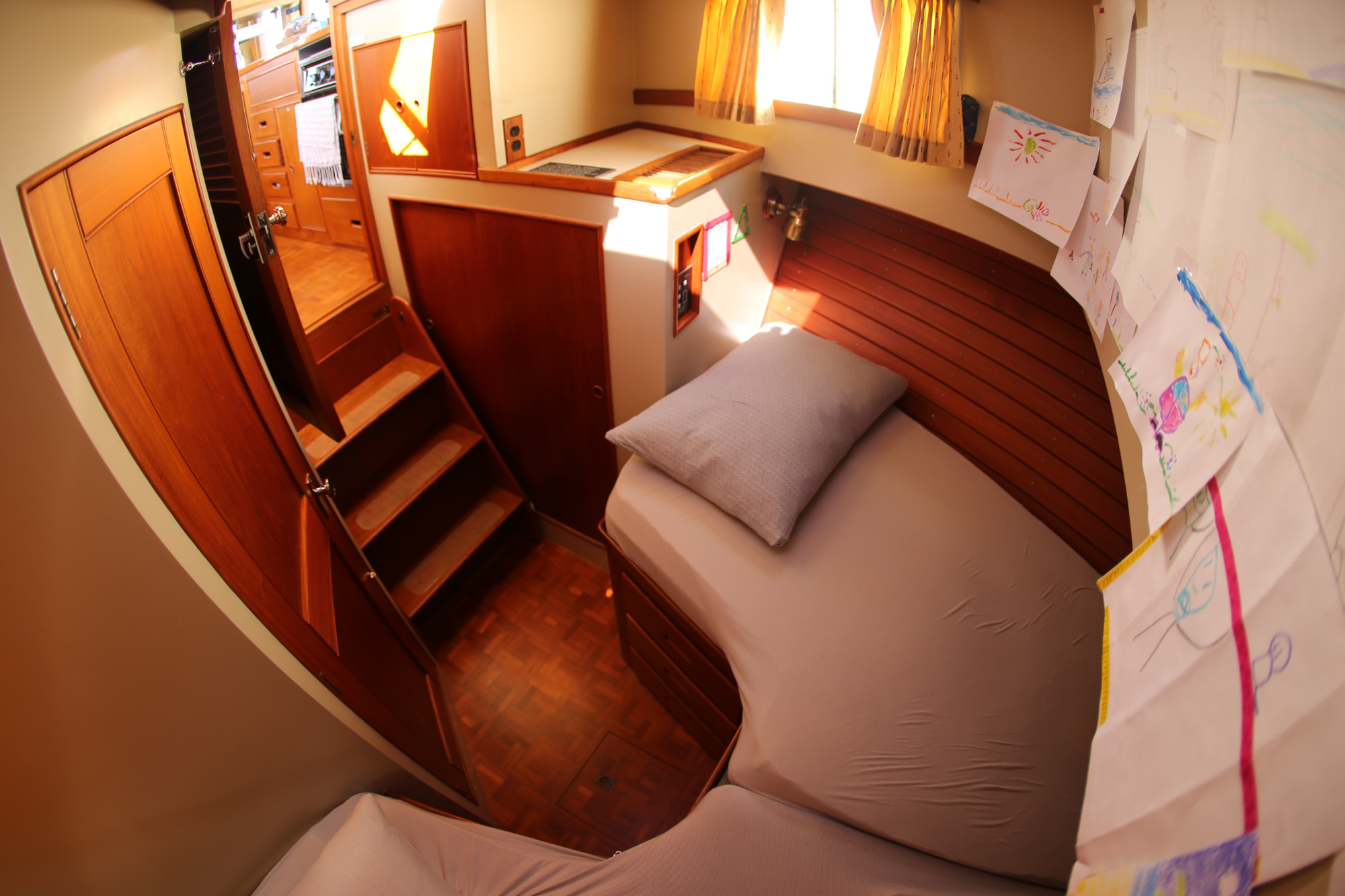 This bathroom has a shower, too, but we don't use this one.
The kids got their first real taste of sand dollar hunting.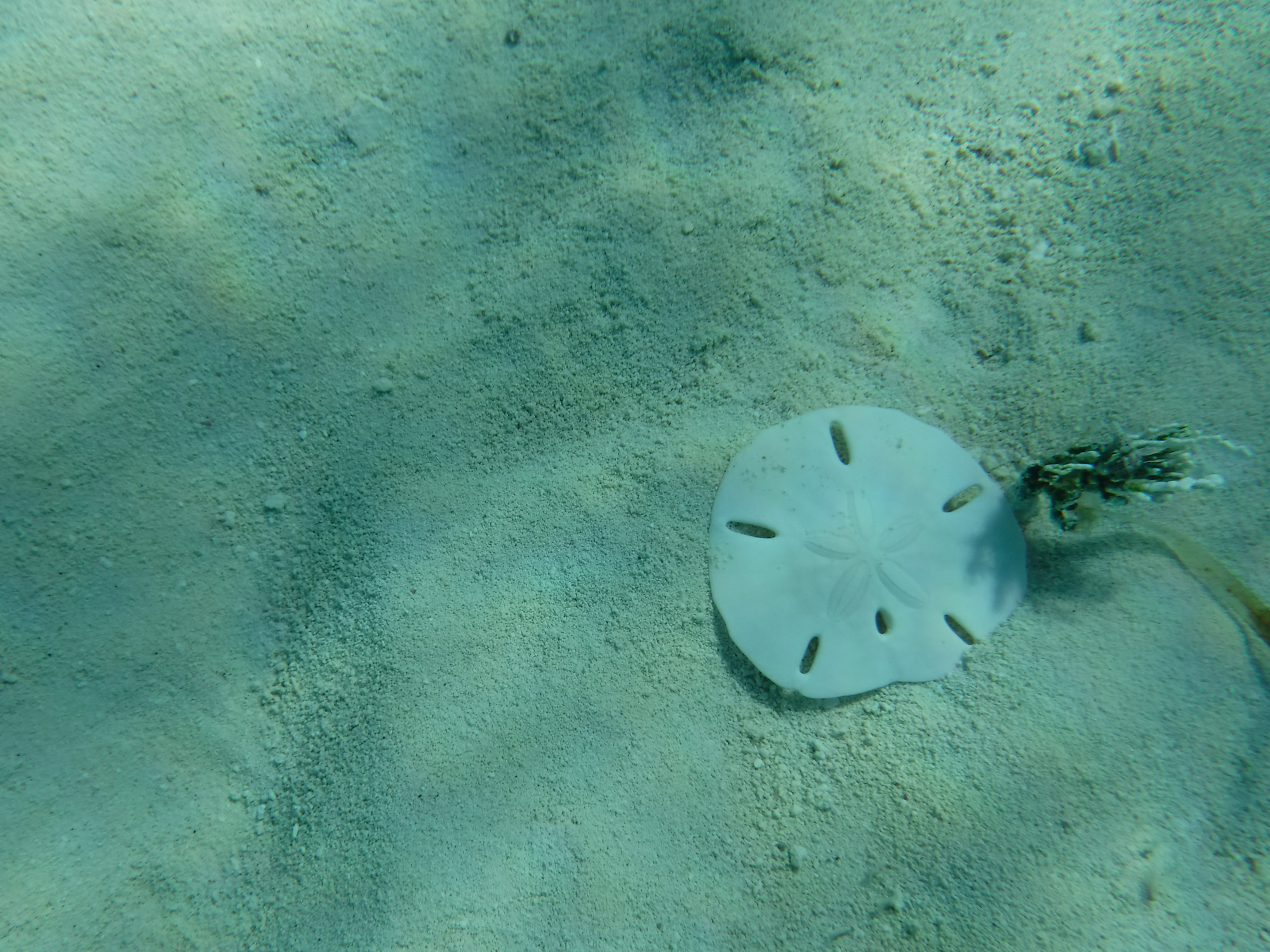 Each morning a mega-yacht would send his minions out to the beach to construct a small beach resort, complete with umbrellas, chairs, lunch service, jet-skis, inflatable toys, and a million-dollar view of Bumfuzzle.