With Christmas right around the corner we let Ouest and Lowe exchange their gifts to each other a few days early—Lowe got a Captain's hat, and Ouest got a Little House on the Prairie bonnet. Both of them were super stoked.
Finally underway. That look pretty much says it all. Ali and I sometimes feel a bit like we've seen and done it all, and could easily take these moments for granted if not for the kids.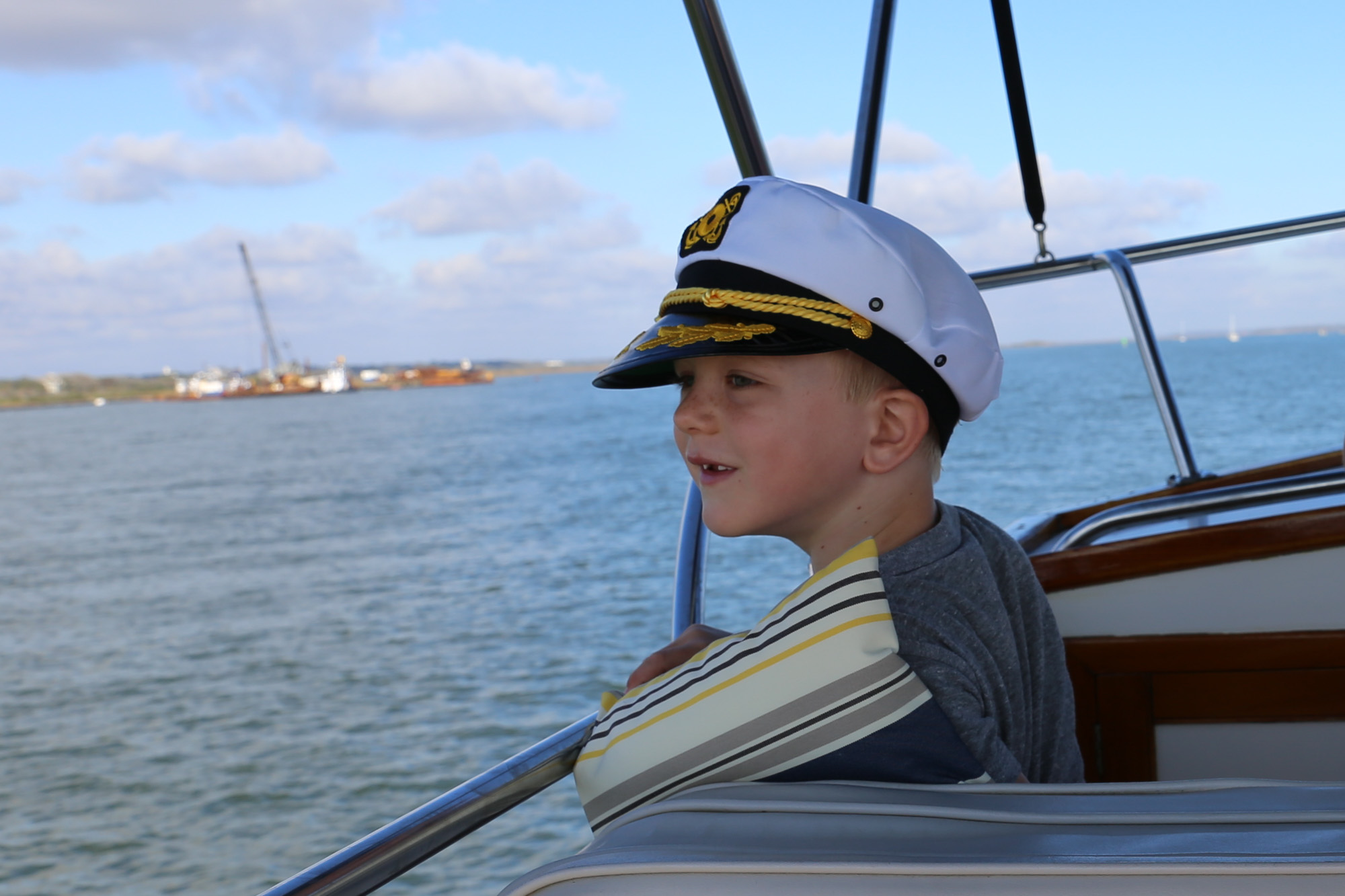 Our first day took us all of about two miles, to a mooring ball right in front of the old fort and downtown St. Augustine for the Festival of Lights. We were still paid up at the marina for a couple more weeks, but when it's time to go, it's time to go. Our friend was picking the truck up the next day, and then we'd be free to roam again.
I suppose I should apologize here—when we sold the Airstream we got dozens and dozens of e-mails from people wanting to buy the Travelall. I promised them that we would post something on the site a few days before we listed it for sale. But then an old friend came along and said he wanted to buy it, he'd pay us what we wanted immediately, we could continue to drive it until it was time to leave, and then he'd pick it up from the other side of Florida. It was impossible to say no. So, goodbye Platano. You were an amazing truck.
Caroline and Laura Ingalls.
Okay, so day one on the water didn't exactly go off without a hitch. We quickly discovered that the voltage was super low on the batteries. I opened them up (something I should have done months ago) and found that they were almost completely dry. I refilled and charged them for a while, but they couldn't hold a charge at all. They were shot. The next day when my friend showed up to take the truck I wouldn't hand him the keys until he had helped me unload the old batteries and drop the new ones in—a job I couldn't have done alone, or one day later without a truck. Serendipitous?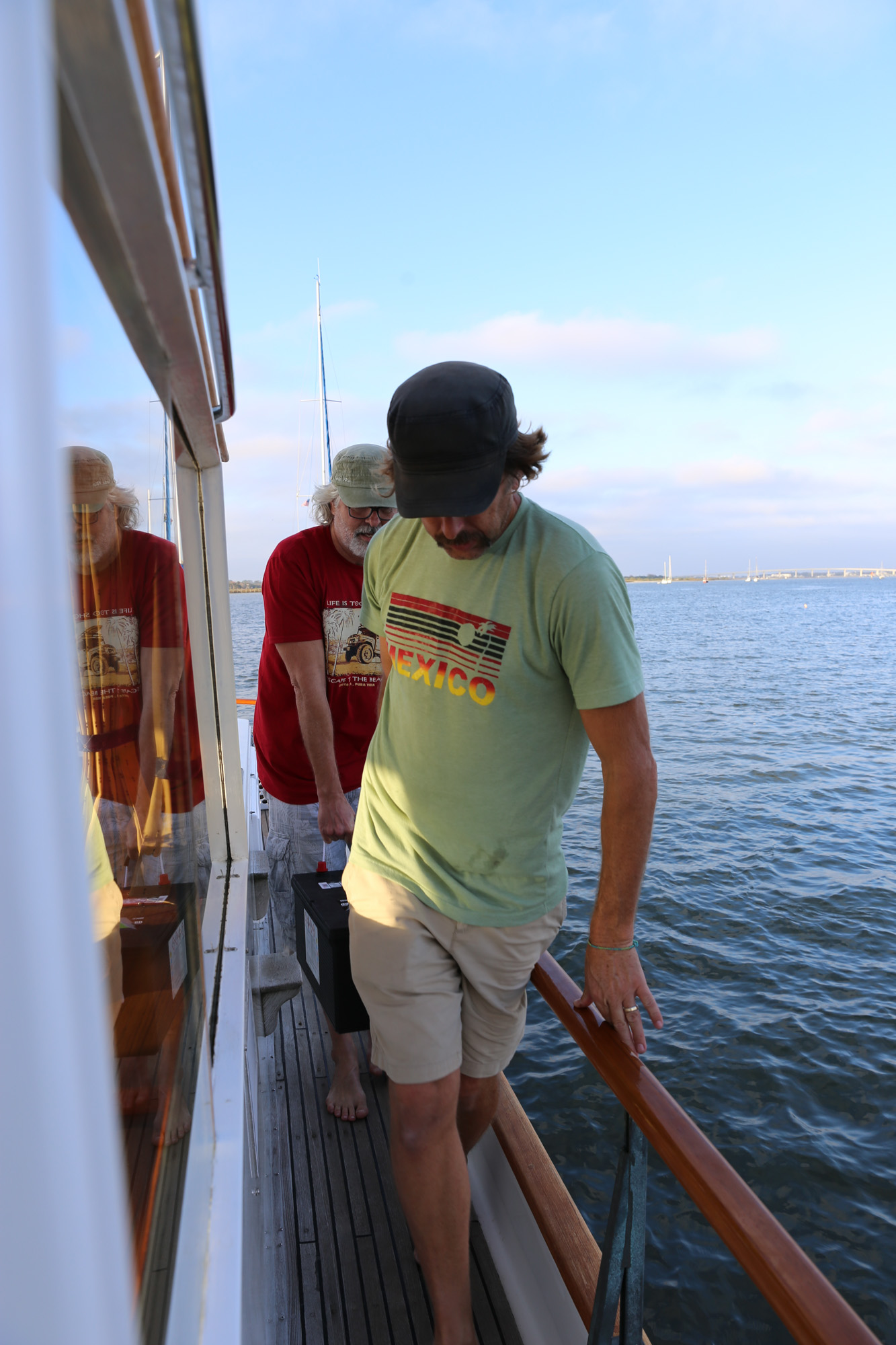 To make matters worse, in addition to bad batteries, the generator spit coolant out all over the place and overheated. Ali was clearly thinking we weren't going to be going anywhere the next day, but she forgot who she is married to. I found the leaking hose, and discovered it was super old and cracked on the inside. I pulled it off, and dug around a bit in my bins. I found a perfect pre-curved hose with only one problem—it was one size too big. I sat in the engine compartment at ten o'clock on Friday night of Christmas weekend and thought it over for a while. What would MacGyver do? Cut off a couple small chunks of the crappy hose, fit them inside the bigger hose, grab the next size hose clamp, and tighten her down. Done. New batteries, and a purring generator. We're off again.
I had no idea dolphins were such a dominant feature on the ICW. They came and went all day long.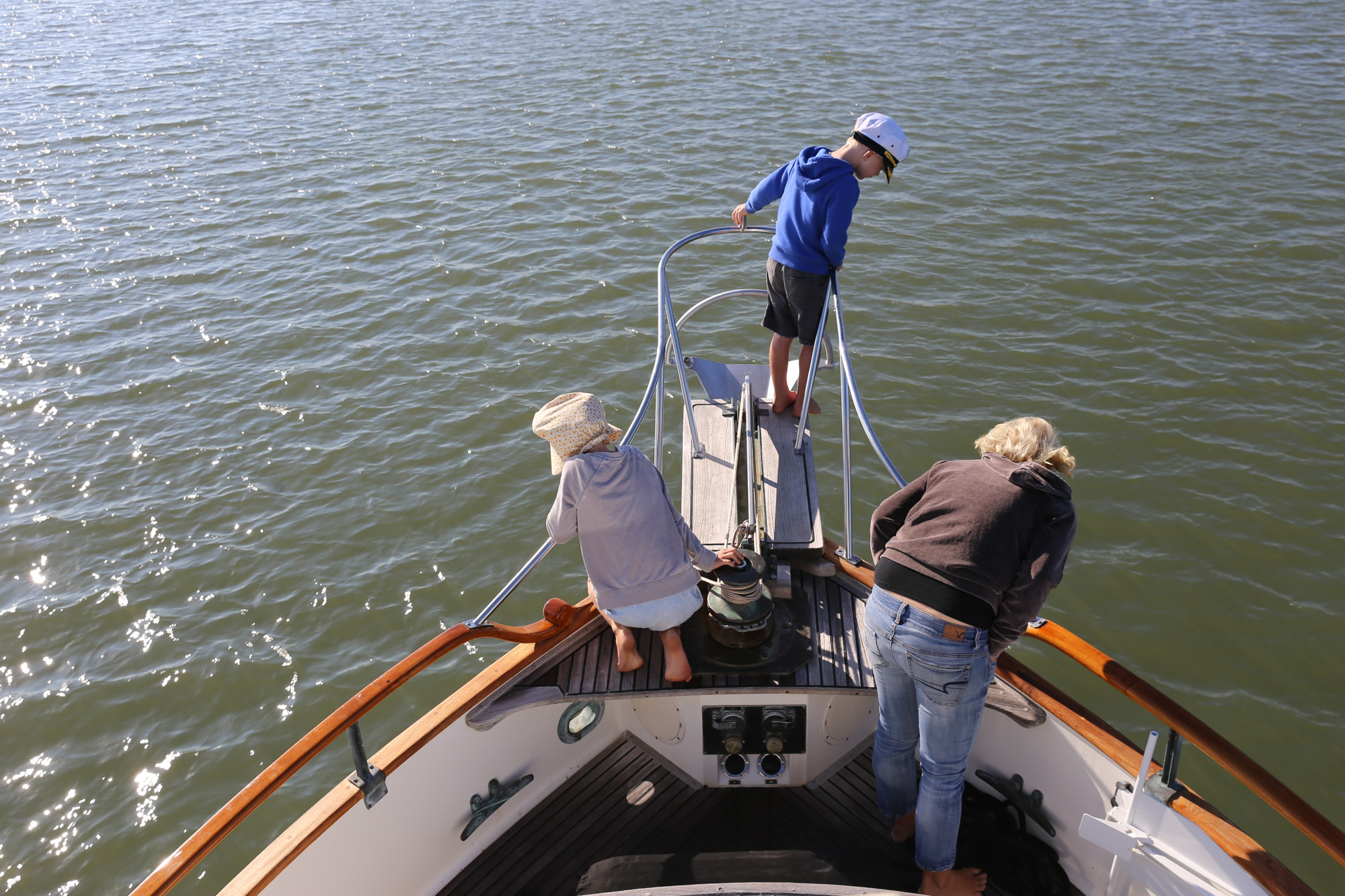 Cruising down the ICW is kind of fun. We enjoyed sliding down the narrow areas especially, just looking around at the homes, watching for dolphins, and having the place almost all to ourselves.
Spying on the kids while they make Mama birthday presents.