About two blocks west of the Zocalo in the Centro Historic neighborhood of Mexico City the sidewalk markets start up. Somehow, these are totally illegal, but they run all day long despite cops being all over the place. Kids with walkie-talkies stand on street corners, some up in the air on ladders, watching for some particular type of cop (I never could figure out the difference), and when a group of them are spotted the whistling begins. The heads of all the street hawkers turn in that direction and they begin to gather in their wares. You can see in the pics below how they lay all of their stuff out on these large bags/tarps, and if you look closely you can see the ropes on the corners that they use to quickly snatch the whole lot up in one movement. Every time we're here we witness the swift cleanup and disappearance of a hundred hawkers in seconds. It's quite a sight.
Today as we walked along we spotted a big group of police, maybe twenty of them, with some street sellers in the mix, yelling at each other. As we were walking past we suddenly saw punches thrown, billy clubs come out, and bottles fly through the air. Whoops! We high-tailed it in the opposite direction with the kids, and managed to avoid getting caught up in the brawl. For the next few minutes dozens of cops came running down the roads from every direction.
We've had to have some interesting conversations with the kids lately.
Elote—cooked to perfection, with lime, chile, and salt.
More illegal street market sellers. These guys roll through the city very slowly, then jump out, make a bunch of sales of some very fresh and inexpensive fruit, then roll on down to the next block. Scored some sweet deals on cherries, blueberries, and raspberries with this one.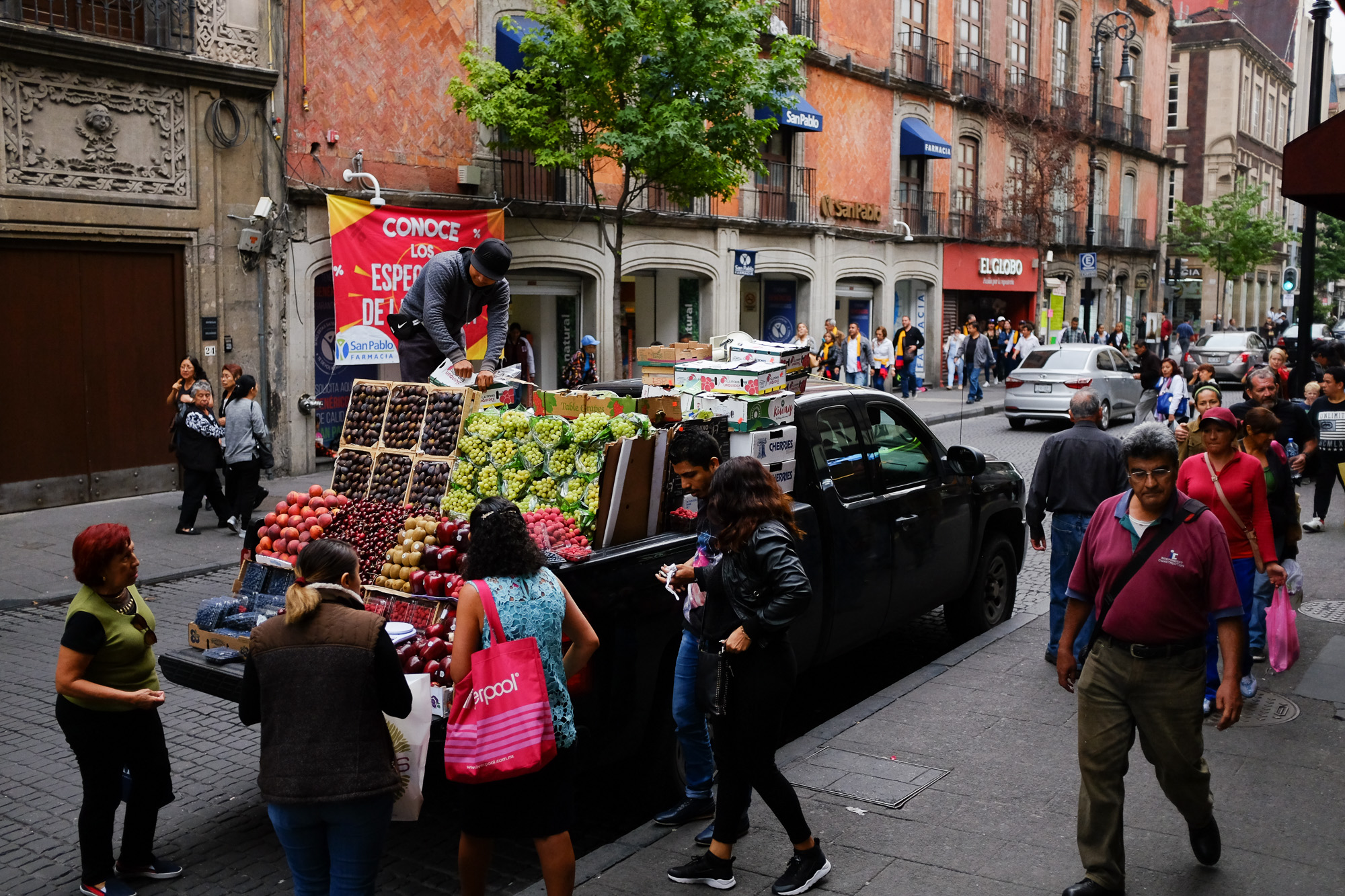 We appreciate how much street art there is in Mexico City, and also how little of it gets defaced by graffiti. The taggers seem to know their place.
---
If you haven't checked out OMentoring, or my Wanderer Financial newsletter yet, you're missing out. We just had a great week. One of the most common questions I get asked is if this is a good fit for someone totally new to trading. Facebook post that just popped up: